16 Things to Do in Inner Harbor, Baltimore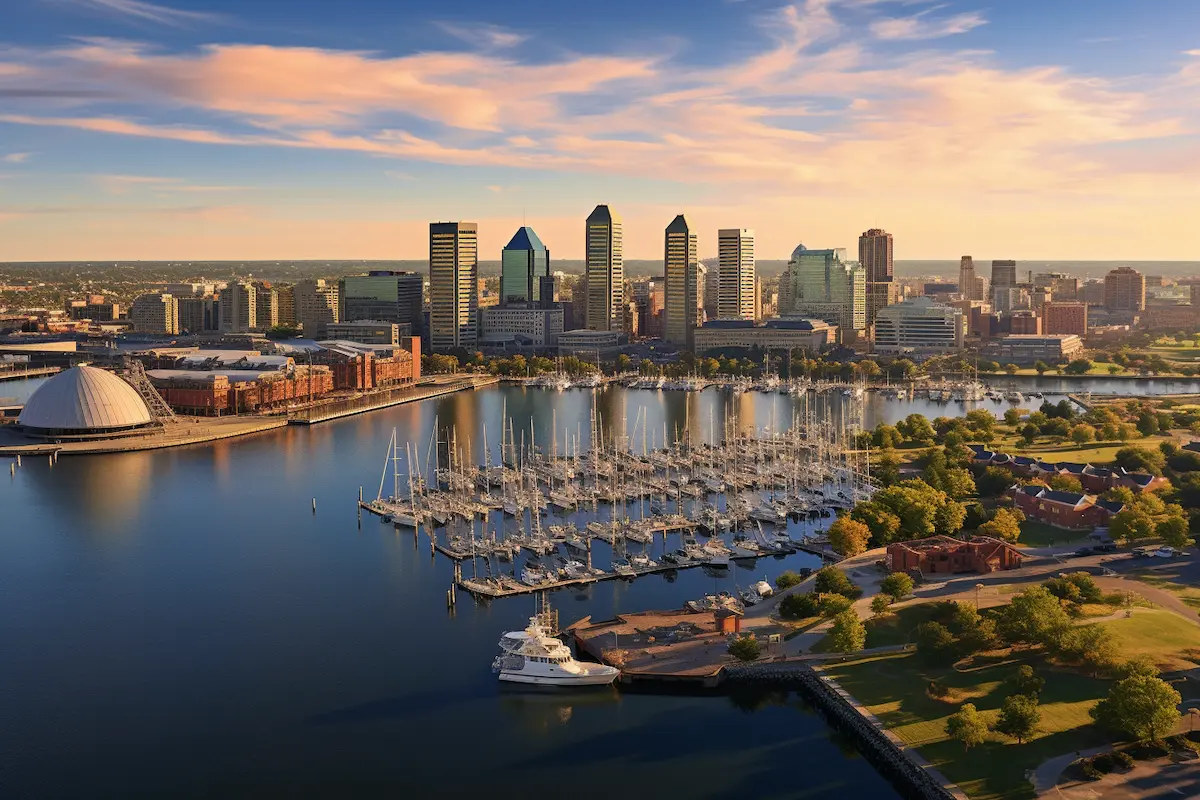 Things to Do in Inner Harbor, Baltimore
Baltimore's Inner Harbor is a vibrant, bustling epicenter of culture, history, and entertainment. This waterfront area, once a neglected space with a tarnished image, has undergone a significant transformation over the years to become a must-visit destination for tourists and locals alike. Whether you're a history buff, a foodie, a shopaholic, or simply someone looking to soak in the diverse experiences that a modern city has to offer, the Inner Harbor will not disappoint. From world-class museums to scenic parks, from unique dining experiences to electrifying sporting events, there's something for everyone. In this guide, we explore the 15 best things to do in Inner Harbor, Baltimore, offering a curated selection that ensures your time here will be both enriching and delightful.
Start Your Visit at the Baltimore Visitor Center
Your first stop at Baltimore's Inner Harbor should undoubtedly be the Baltimore Visitor Center. Situated conveniently at the harbor's edge, this facility offers an all-encompassing resource for tourists and even locals who are looking to explore the area. The center provides comprehensive maps, guides, and brochures that detail the various attractions, dining options, and historical landmarks. Staff members are available to help you tailor your itinerary to fit your interests, whether it's maritime history, food adventures, or cultural experiences you're after. The Visitor Center also sells tickets to many of the local attractions, sometimes at discounted prices. Starting your visit here is like getting a backstage pass to one of America's most vibrant waterfronts, ensuring that you don't miss out on any must-see attractions or hidden gems.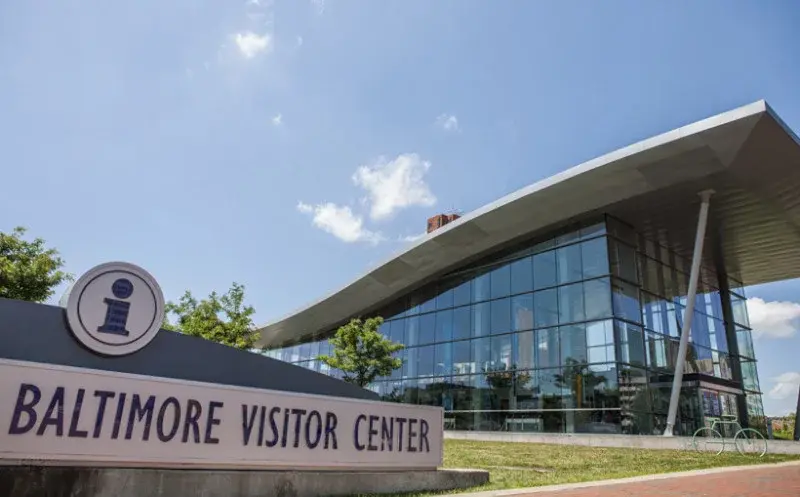 Marvel at the Pavilions of the National Aquarium
The National Aquarium is arguably the crown jewel of Inner Harbor, drawing millions of visitors each year. Housing over 20,000 animals in settings that remarkably mimic their natural habitats, the aquarium offers an educational and mesmerizing experience for all ages. The architecture itself is awe-inspiring, featuring glass pavilions that allow you to wander through a tropical rainforest, an Atlantic coral reef, and even the mysterious depths of an open-ocean shark tank. One of the highlights is the Dolphin Discovery exhibit, where you can witness dolphins perform acrobatic feats and engage in cognitive games that showcase their intelligence. The aquarium also takes conservation seriously, offering various programs and interactive exhibits that educate visitors about the importance of marine conservation. A visit to the National Aquarium isn't just a feast for the eyes, but also food for thought, making it a must-visit for anyone spending time in Baltimore's Inner Harbor.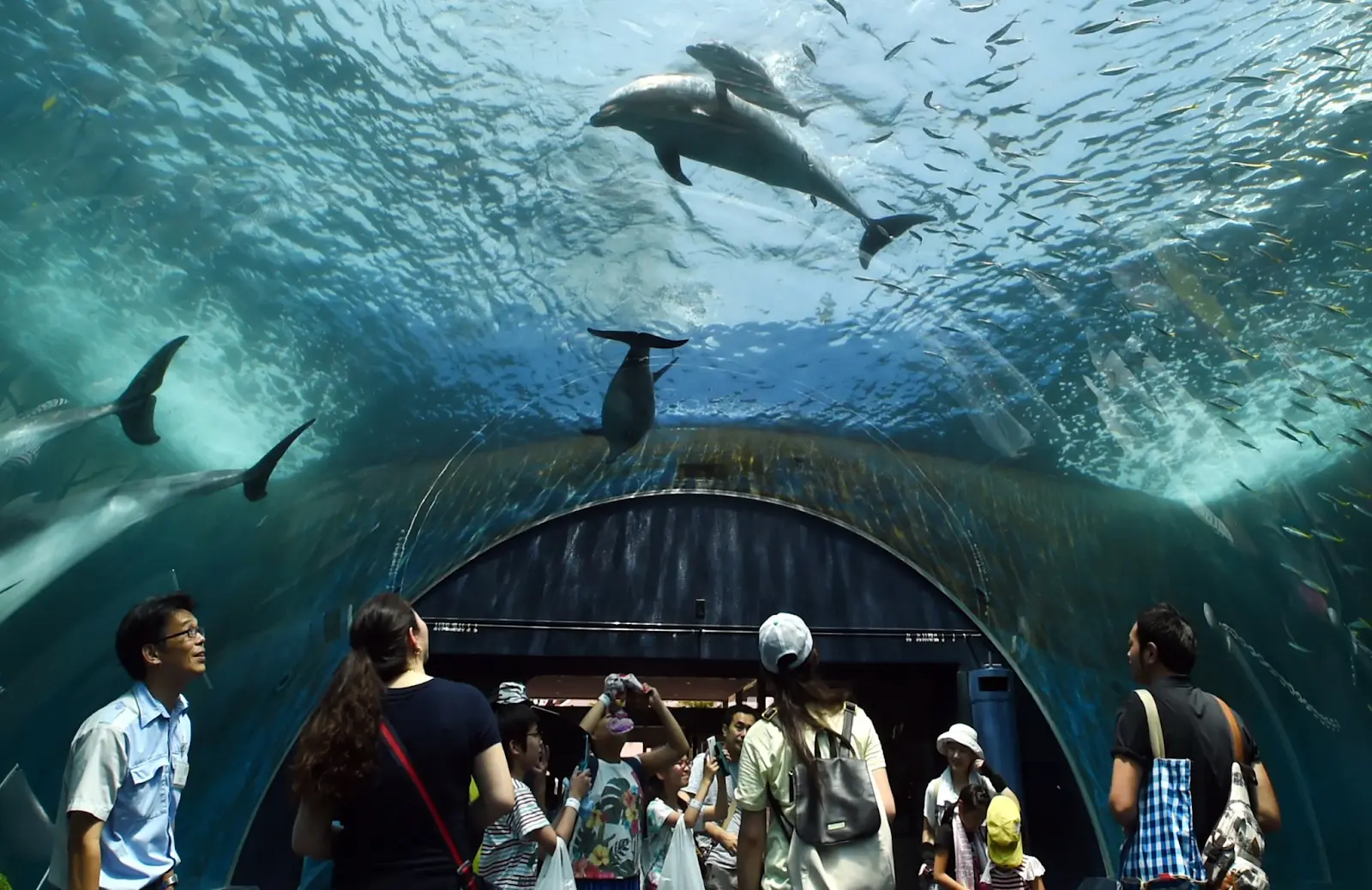 Take in City Views at Federal Hill Park
If you're looking to capture the perfect panorama of Baltimore's Inner Harbor, then Federal Hill Park is the place to go. This historic park sits elevated on a hill and offers one of the most spectacular views of the city skyline, the harbor, and the distant Chesapeake Bay. Originally a lookout point during the Civil War and the War of 1812, the park now serves as a peaceful oasis amidst the hustle and bustle of city life. Besides the views, Federal Hill Park offers jogging paths, playgrounds, and several cannons and plaques that provide a historical context to the area. Whether you're up for a leisurely stroll, a picnic, or some thoughtful moments looking over the harbor, this park provides a relaxing and scenic escape that should be part of any Inner Harbor visit.
Indulge in a Legendary Treat at The Cheesecake Factory
When it comes to dining at Baltimore's Inner Harbor, the options are endless, but a slice of cheesecake at The Cheesecake Factory stands out as a must-try. Located in the bustling Harborplace mall, this venue is famed for its extensive menu and, of course, its legendary cheesecakes. From classic New York-style to unique flavors like Oreo Dream Extreme, the choices are so varied that picking just one might be the toughest decision you make during your visit. The restaurant's interiors are grand and ornate, adding to the overall dining experience. But it's not just about the cheesecake; the restaurant offers a wide range of appetizers, entrees, and cocktails that can cater to all tastes. After a long day of exploring, nothing quite compares to the comfort and indulgence of settling down in the plush seating of The Cheesecake Factory and tucking into a slice of heaven. If you're in the mood for something decadent, look no further.
Climb Aboard a Submarine at the Historic Ships of Baltimore
The Historic Ships of Baltimore offer a unique window into maritime history, allowing you to step aboard vessels that played significant roles in America's past. One of the most fascinating experiences is climbing inside the USS Torsk, a World War II-era submarine. Once you step into this vessel, you'll be transported back in time, navigating narrow corridors and exploring torpedo rooms, the control room, and crew quarters. It's a visceral and enlightening experience that provides a glimpse into the lives of the sailors who called this submarine home. The Historic Ships collection also includes the USS Constellation, a Civil War-era sloop, and the USCGC Taney, the last ship afloat that fought in the attack on Pearl Harbor.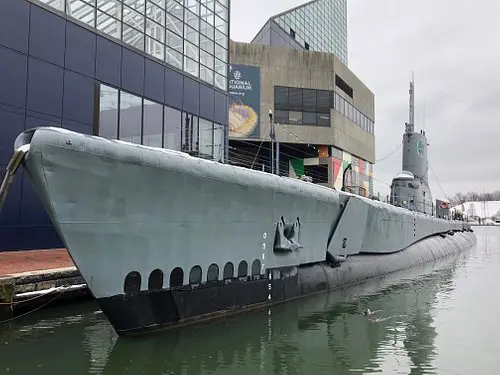 Learn About Dinosaurs and Astronomy at the Maryland Science Center
The Maryland Science Center, located at Baltimore's Inner Harbor, is a paradise for the curious. With three levels of hands-on exhibits, you can delve into topics ranging from dinosaurs and the human body to astronomy and physics. The center's Dinosaur Mysteries exhibit is a particular highlight, featuring life-sized models and actual dinosaur bones that will awe children and adults alike. In the planetarium, you can catch shows that take you on an exploratory journey through the universe, while the rooftop observatory offers a chance to look at celestial bodies through high-powered telescopes. Additionally, the center offers live demonstrations and interactive labs that make science fun and approachable for all ages. It's an ideal destination for families or anyone looking to engage their mind while enjoying a break from traditional sightseeing.
Know about the Stories of Maryland's Black Community at the Reginald F. Lewis Museum
Situated within walking distance of the Inner Harbor, the Reginald F. Lewis Museum serves as a crucial cultural and educational institution dedicated to sharing the history and achievements of Maryland's African American community. The museum's exhibits span 400 years, from early history and the Civil Rights Movement to contemporary issues. One of the largest African American museums on the East Coast, it houses a significant collection of art, artifacts, and interactive displays that are both enlightening and emotionally impactful. Highlights include compelling exhibitions on the Black experience in Maryland, as well as rotating exhibits that spotlight African American artists, activists, and innovators. Whether you're a history buff or someone seeking a deeper understanding of the African American experience, a visit to the Reginald F. Lewis Museum is a poignant and necessary part of exploring Baltimore's Inner Harbor.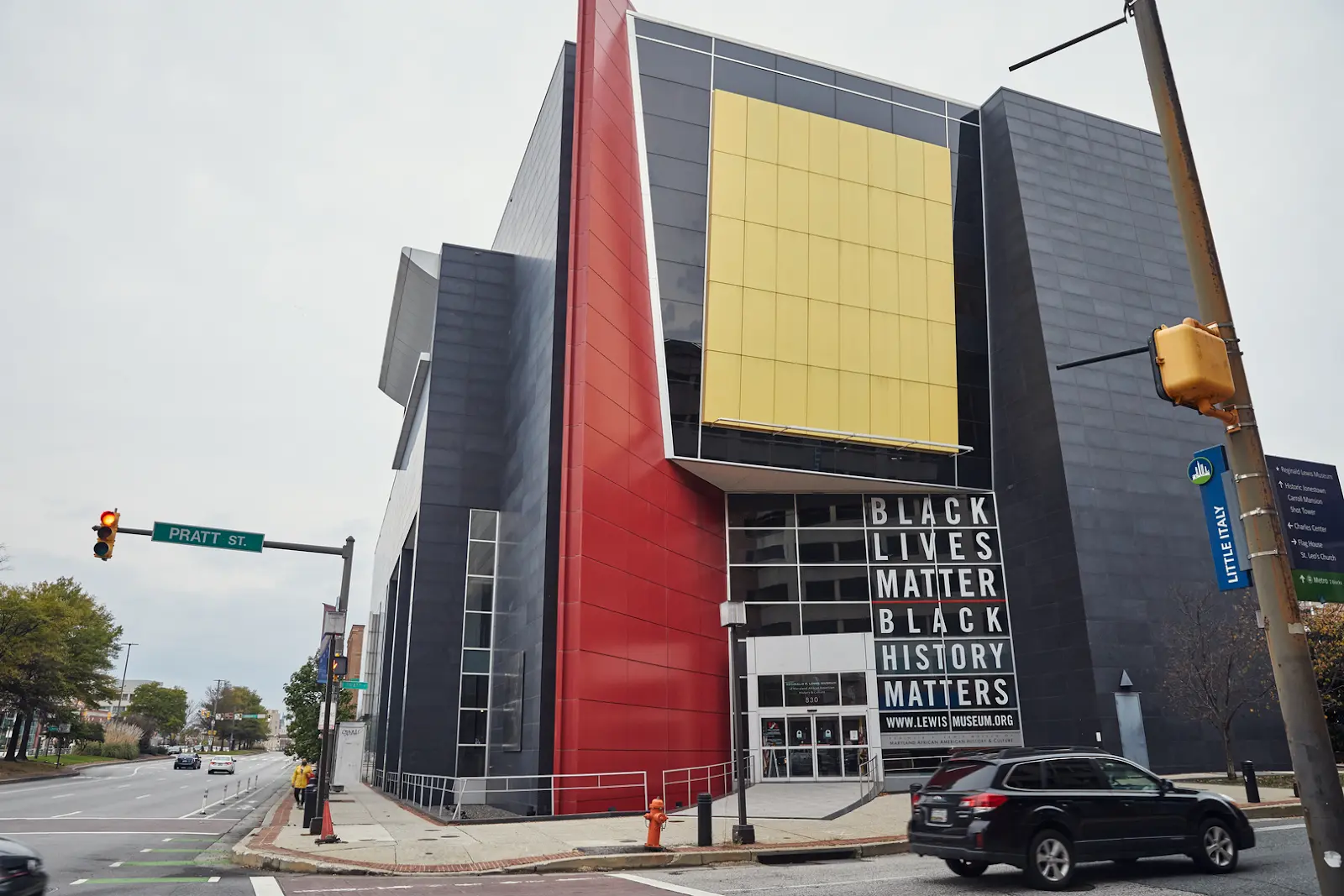 Climb Aboard a Paddle Boat at Inner Harbor's Pier 1
When you think of Inner Harbor, the first things that come to mind might be museums, shops, and restaurants. However, one of the most enjoyable and leisurely ways to experience the harbor is by paddle boat. Rentals are available at Pier 1, and it's a delightful activity for couples, families, or anyone looking to spend time on the water. You can choose from traditional paddle boats or even ones shaped like dragons and flamingos for a more whimsical experience. As you pedal away, you'll get unique views of the harbor's skyline, pass by historic ships, and even float near the iconic National Aquarium. The tranquil waters make for an easy-going adventure, and life vests are provided to ensure safety. Whether you're out for a romantic paddle or an afternoon of family fun, renting a paddle boat at Pier 1 offers a fresh perspective on Baltimore's Inner Harbor.
Enter a World of Fun at the Port Discovery Children's Museum
Just a stone's throw from the Inner Harbor, the Port Discovery Children's Museum is a dream come true for families with young children. Voted among the top children's museums in the United States, it offers three floors of interactive exhibits designed to educate while they entertain. Kids can engage in role-playing at Tiny's Diner, climb through a three-story urban treehouse, or even explore the mysteries of ancient Egypt. The museum is also home to a state-of-the-art indoor soccer field and an interactive water room where kids can learn about fluid dynamics in the most fun way possible—by getting wet! As much as it's geared towards children, adults will find themselves engrossed in the activities too. Whether you are looking to spend a rainy day indoors or searching for a fun and educational outing, Port Discovery is a must-visit for families in the Inner Harbor area.
Admire Mosaics at the American Visionary Art Museum
If you're in the mood for something unconventional and deeply inspiring, head to the American Visionary Art Museum located near the Inner Harbor. This museum is unlike any other, dedicated to showcasing the works of self-taught artists, many of whom have had no formal training but possess undeniable talent and vision. One of the standout features of the museum is its breathtaking array of mosaics, which you'll encounter even before entering the building—the exterior is adorned with thousands of shimmering pieces that catch the light, setting the tone for the unique experience within. Inside, you'll find everything from intricate sculptures made from recycled materials to mesmerizing paintings that challenge traditional artistic norms. Each exhibit aims to provoke thought and stir the soul, often focusing on themes of social justice, hope, and the power of imagination. A visit to the American Visionary Art Museum offers a rich, emotional journey that will leave you pondering long after you've left its eclectic halls.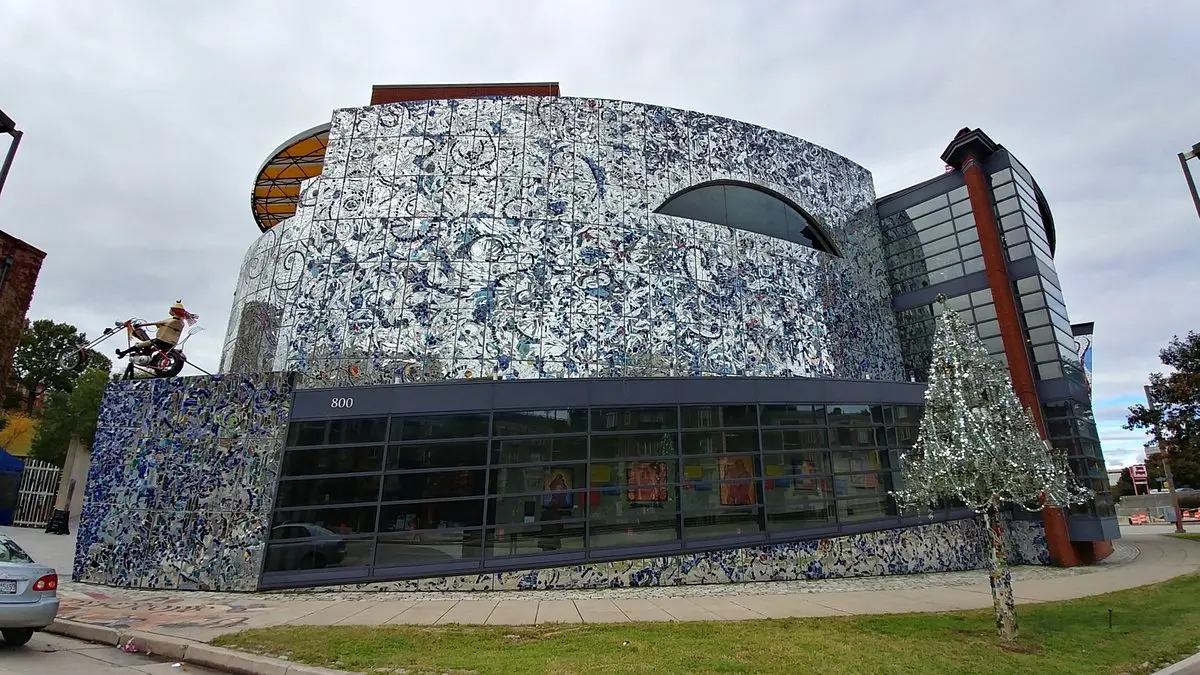 Join a Music Festival at the Power Plant Live
This bustling complex is a favorite among locals and tourists alike, known for its wide array of bars, restaurants, and live entertainment venues. One of the highlights of Power Plant Live! is its frequent music festivals. These events see the plaza transformed into a vibrant sea of music lovers, all gathered to witness performances by top local and national artists. From rock and pop to electronic and indie, there's a festival for every musical taste. Beyond the music, there are food and drink stalls offering local delicacies, making it an all-encompassing experience of fun, flavors, and fervor. If you're looking to immerse yourself in Baltimore's contemporary music scene and want to feel the city's pulse, a music festival at Power Plant Live! is the place to be.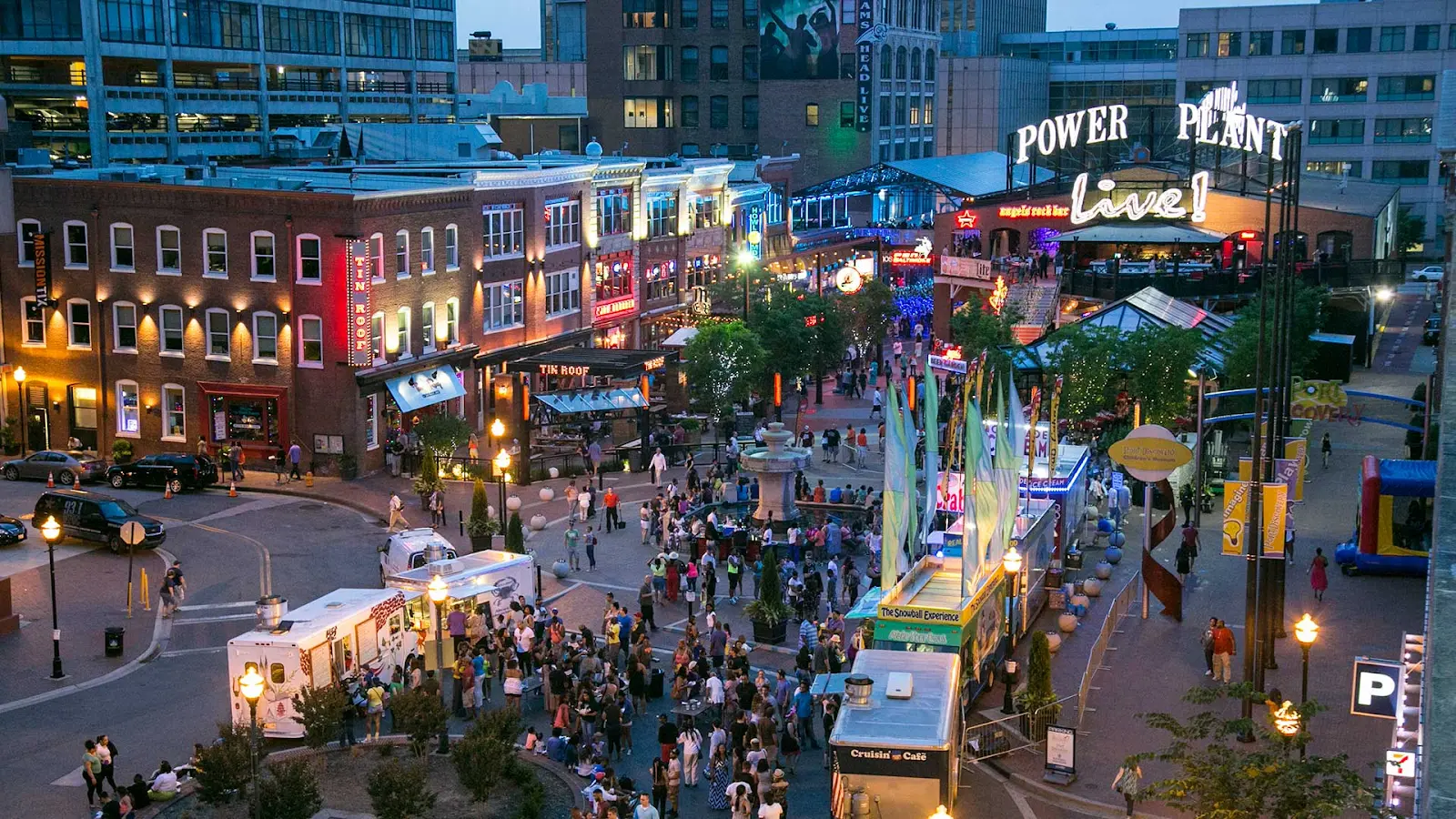 Enjoy a 360-degree view of Baltimore from the World Trade Center's Top of the World Observation Level
Standing majestically at the Inner Harbor's edge is the iconic Baltimore World Trade Center, the tallest pentagonal building globally. While this architectural marvel is a sight to behold from the outside, the real treat lies on its 27th floor—the Top of the World Observation Level. Here, visitors are greeted with a breathtaking 360-degree view of the entire city of Baltimore, the harbor, and beyond. From this vantage point, you can spot many of the city's landmarks, trace the intricate waterways, and watch as ships navigate the harbor waters. Informative displays are scattered throughout the observation deck, offering insights into the city's history and the notable sights visible from this aerial view. Whether you visit during the day to see the city in all its bustling glory or choose a nighttime visit to witness Baltimore illuminated under a starry sky, the panoramic vistas from the World Trade Center promise an unforgettable experience.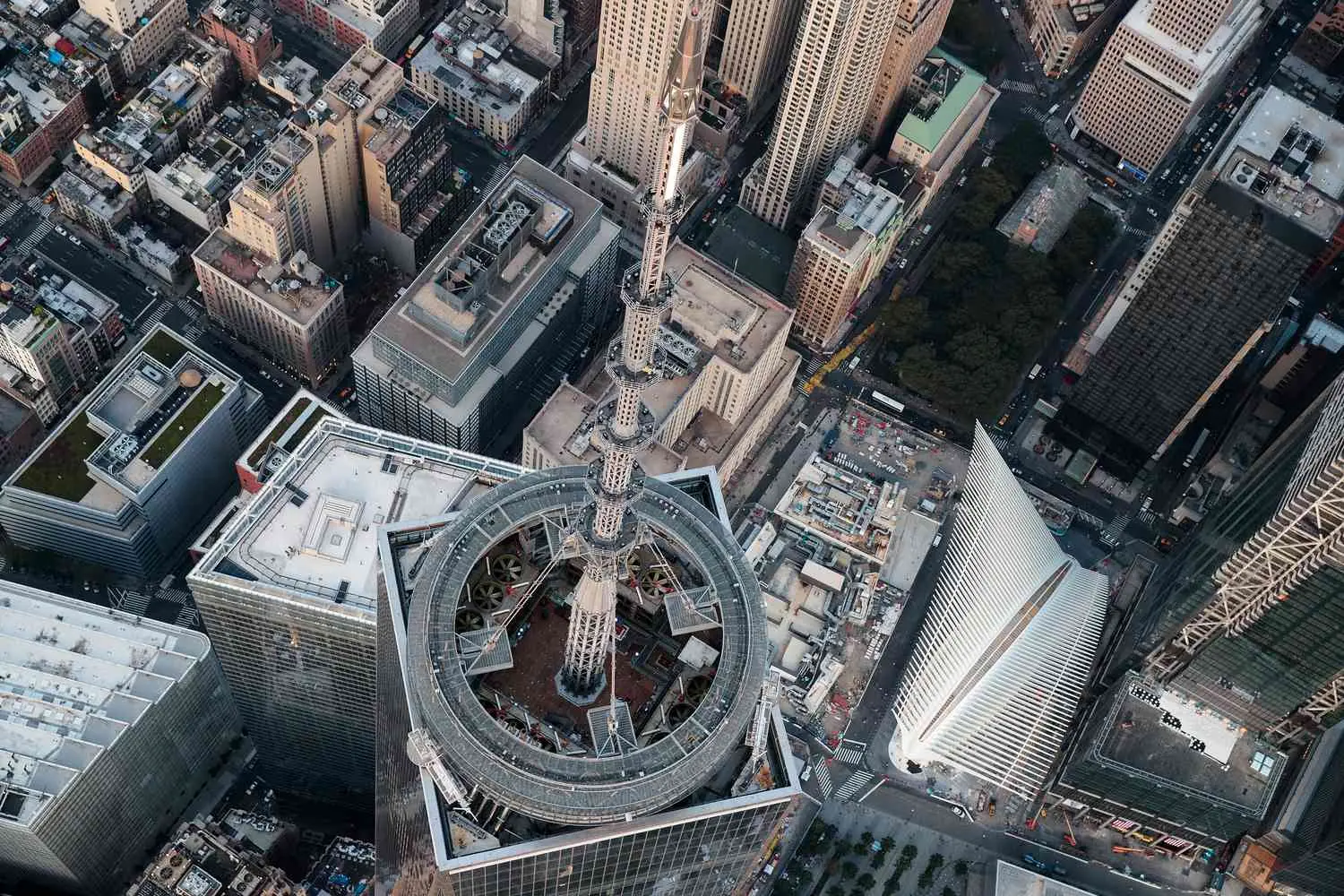 Marvel at Industrial Inventions at Baltimore Museum of Industry
Located on the waterfront, the Baltimore Museum of Industry is a treasure trove for those intrigued by the city's rich industrial past. Housed in a 1860s oyster cannery, the museum pays homage to Baltimore's role as a leader in manufacturing and industry. Through a wide array of exhibits, the museum explores the city's contributions to fields such as manufacturing, printing, and garment-making. The exhibits are thoughtfully designed to be interactive; for example, you can walk through a replica of a 1900s machine shop or take a deep dive into the intricate world of pharmaceuticals. The museum also highlights the people behind the machines, showcasing the labor history of the city. Vintage equipment, historic photographs, and hands-on displays make the experience both educational and engaging.
Dine and Shop at Harborplace Mall
No trip to Baltimore's Inner Harbor is complete without a visit to Harborplace Mall, the retail and dining heart of the area. This bustling waterfront mall offers something for everyone, from high-end boutiques to familiar chain stores. Food options are just as diverse; you can opt for fresh seafood at one of the upscale restaurants overlooking the harbor or grab a quick bite at a fast-food joint. The mall is also home to various specialty shops selling Baltimore-specific goods like Maryland crab cakes or Orioles merchandise. During the summer months, the amphitheater in the center of the mall becomes a hub for live performances, ranging from music to magic shows. For those looking for a comprehensive shopping and dining experience with a side of entertainment, Harborplace Mall offers it all in a scenic waterfront setting.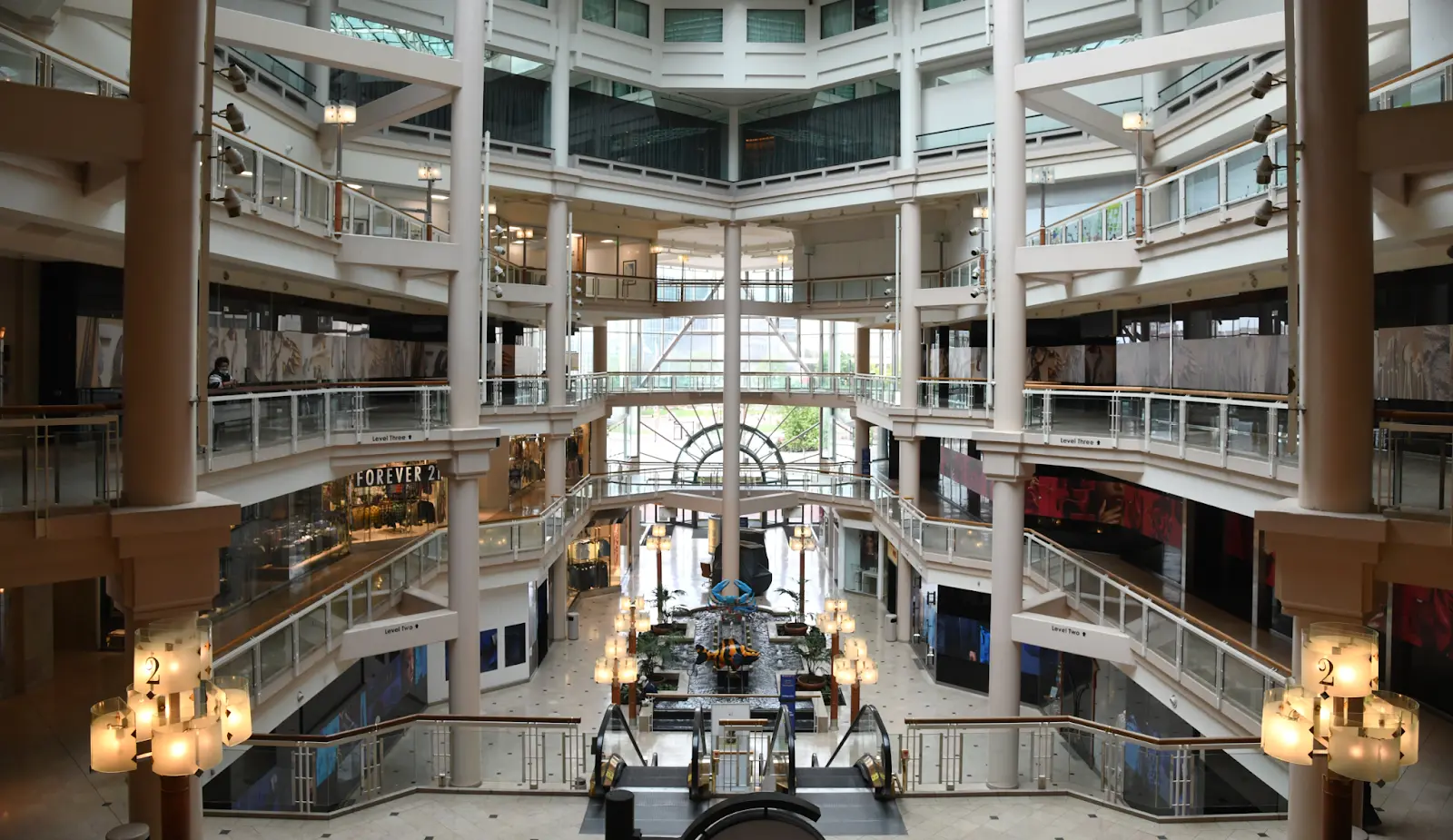 Cruise Around Inner Harbor on the Baltimore Water Taxi at Harbor Boating, Inc.
One of the most enjoyable and convenient ways to see the best of Inner Harbor and beyond is by hopping aboard the Baltimore Water Taxi. Operated by Harbor Boating, Inc., the water taxi service offers a different perspective of the city, allowing you to explore its attractions via its winding waterways. With various stops at key points around the harbor, including Fells Point, Canton, and the National Aquarium, you can easily use the service to hop on and off at your leisure. The boats themselves are comfortable and offer both covered and open-air seating. As you cruise along, you'll pass iconic landmarks, historic ships, and get unique views of the city skyline. Whether you use it as a practical means of transportation or simply to enjoy a scenic boat ride, the Baltimore Water Taxi provides a memorable and functional experience that complements any visit to the Inner Harbor.
Catch an Orioles Game at the Oriole Park at Camden Yards
If you're a sports fan, a visit to Oriole Park at Camden Yards should definitely be on your Inner Harbor itinerary. Located just a few blocks from the waterfront, this baseball park is the home of the Baltimore Orioles and is often considered one of the most beautiful ballparks in America. With its retro design and incorporation of a historic railroad warehouse, the park blends the old with the new in the most charming way. Fans here are passionate, and the atmosphere during a game is electrifying. Even if you're not a big baseball fan, the experience of watching a live game, complete with classic ballpark food like hot dogs and cracker jacks, offers a slice of authentic American culture. Guided tours of the park are also available, giving you a behind-the-scenes look at the dugouts, press levels, and the Orioles Hall of Fame. Whether you catch a game or simply take a tour, a visit to Camden Yards is a home run for any Baltimore trip.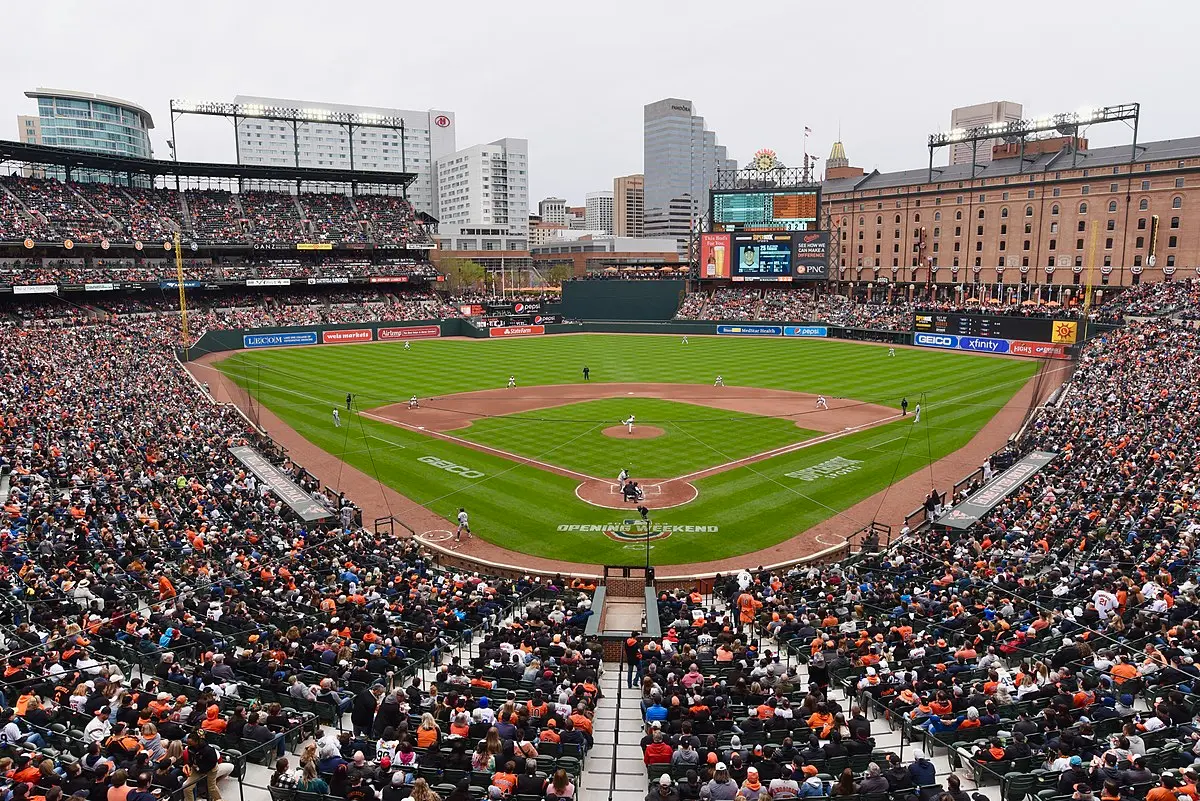 Conclusion
Baltimore's Inner Harbor is a captivating blend of the old and new, where historical landmarks coexist with modern attractions, and where land-based activities meet waterborne adventures. This guide only scratches the surface of what you can do and explore in this dynamic neighborhood. Every corner of the Inner Harbor offers a new experience waiting to be discovered, be it an under-the-radar café, a local shop selling unique crafts, or a street musician providing an impromptu performance. What makes Inner Harbor truly special is its ability to offer a comprehensive yet diverse experience within a relatively compact area. Whether you're visiting Baltimore for the first time or are a long-time resident looking to rediscover your city, the Inner Harbor offers endless possibilities for exploration and enjoyment. So take a walk, hop on a water taxi, or simply sit by the pier—whatever you choose to do, Inner Harbor is sure to leave you charmed and inspired.
Frequently Asked Questions about Baltimore's Inner Harbor
Is Inner Harbor safe for tourists?
While Baltimore has areas with crime concerns like any other city, the Inner Harbor is generally considered safe for tourists, especially during daytime hours. The area is well-patrolled, and many attractions, shops, and restaurants are clustered close together, making it a popular and bustling area.
Can you swim in the Inner Harbor?
Swimming is not recommended in the Inner Harbor due to water quality issues and heavy maritime traffic. However, there are various other water activities available, like paddle boating and water taxi rides.
What are the parking options near Inner Harbor?
Inner Harbor has several parking garages and lots. There is also metered street parking available, although it may be difficult to find a spot during busy times. Many visitors opt to use public transportation or ride-sharing services to avoid parking hassles.
Are pets allowed in Inner Harbor attractions?
Pet policies vary by attraction. Some outdoor spaces like parks are pet-friendly, but most indoor attractions and museums do not allow pets. Service animals are generally an exception.
Is Inner Harbor wheelchair accessible?
Most of the Inner Harbor is wheelchair accessible, including major attractions like the National Aquarium and Maryland Science Center. Many restaurants and shops are also accessible, but it's always best to check in advance.
What are the best times to visit Inner Harbor?
While the Inner Harbor is a year-round destination, spring and fall offer the most pleasant weather for outdoor activities. Summer can be hot and humid but provides a lot of outdoor festivals and events. Winter is quieter but has its own charm, especially around the holidays.
Are there any free attractions in Inner Harbor?
Federal Hill Park offers a great view of the harbor and is free to visit. The Inner Harbor itself is a public space with street performers, public art, and lots of space to people-watch or enjoy a packed meal.
Is it possible to visit multiple attractions in one day?
Yes, one of the advantages of the Inner Harbor is the proximity of its attractions. It's entirely possible to visit the National Aquarium, take a water taxi ride, and catch an Orioles game all in one day, for example.
Can you fish in the Inner Harbor?
Fishing is generally not allowed in the Inner Harbor due to water quality concerns and local regulations.
What are some must-try local foods in the area?
Baltimore is famous for its crab cakes, and you'll find plenty of seafood options around the Inner Harbor. Other local favorites include pit beef sandwiches and Berger Cookies.