18 Things to Do in Williamsburg, Brooklyn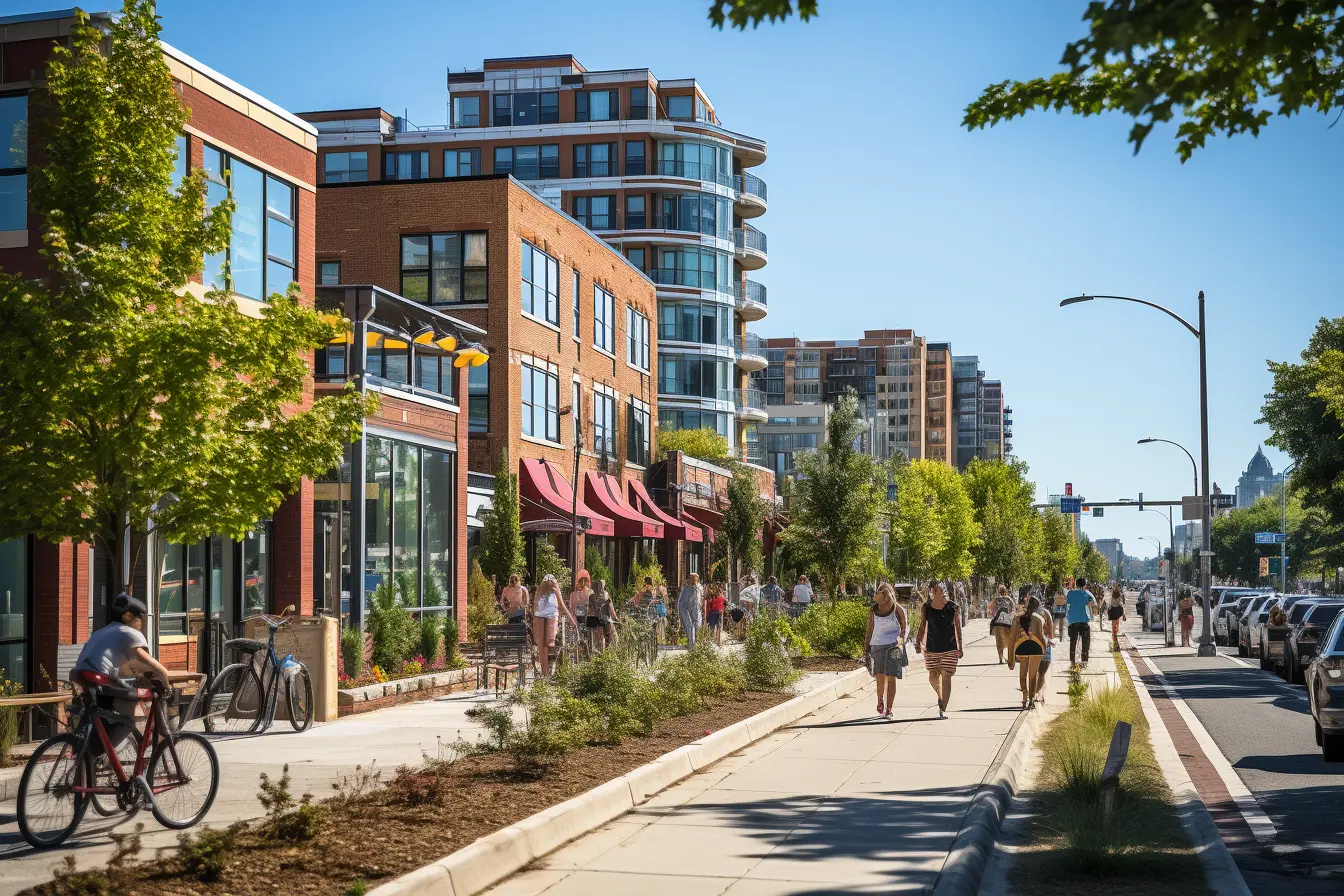 Best Things to Do in Williamsburg, Brooklyn
Williamsburg, Brooklyn—often referred to as the epicenter of hipster culture—is a neighborhood that boasts a rich history, a melting pot of cultures, and an innovative spirit. It's a place where the old and the new coalesce in a captivating dance of sights, sounds, and experiences. Whether you're an art aficionado, a foodie, a music lover, or someone who just enjoys the finer things in life, Williamsburg has something for you. From panoramic skyline views and vibrant street art to thriving music scenes and retro bowling alleys, the area offers a wide range of activities that reflect its diverse community and artistic vibrancy. In this guide, we'll explore some of the must-see spots and hidden gems that make Williamsburg one of the most intriguing neighborhoods in New York City.
An Unforgettable Day at McCarren Park
McCarren Park is a sprawling urban oasis covering 35 acres and offering something for everyone. A focal point of Williamsburg, the park attracts both locals and tourists, blending the eclectic culture of Brooklyn with the tranquility of green space. Start your day with a jog around the running track or head to the tennis courts for a friendly match. Families will find the playgrounds ideal for keeping the little ones entertained. If you're visiting in the summer, don't miss the McCarren Pool, a massive public swimming pool where you can cool off and people-watch at the same time. Beyond recreation, the park often hosts events like outdoor concerts, movie nights, and food festivals. Whether you're having a picnic, playing a game of soccer, or simply lounging on the grass with a book, McCarren Park provides a delightful backdrop for relaxation and community engagement.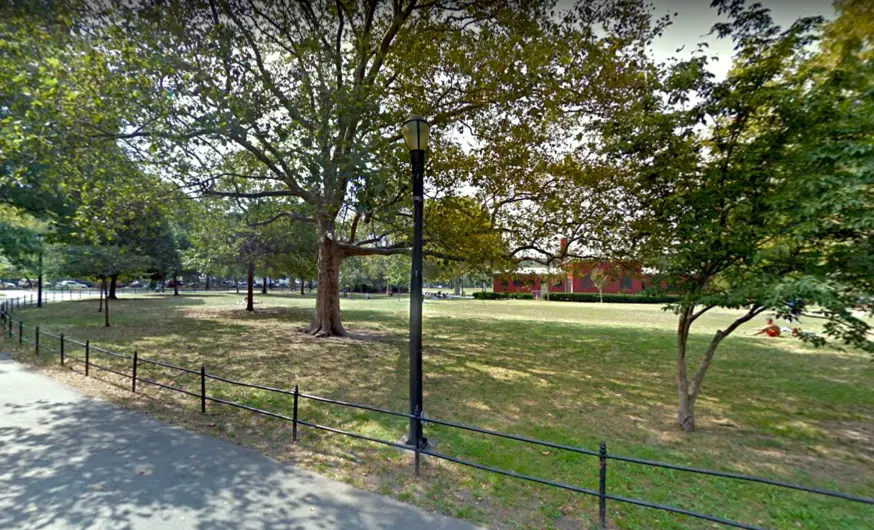 Visit Nitehawk Cinema
For film enthusiasts or anyone looking to catch a flick in a setting far removed from your standard multiplex, Nitehawk Cinema is a must-visit. Located in the heart of Williamsburg, this boutique cinema offers a curated selection of movies ranging from the latest indie releases to beloved classics. What sets Nitehawk apart is its dine-in experience; each theater comes equipped with tables and a full menu, allowing you to enjoy a meal or sip on a cocktail while watching a film. The food is far from your typical movie theater fare, featuring gourmet options like truffle popcorn and artisanal sandwiches. Special events like themed movie nights, Q&As with filmmakers, and the "Live Sound Cinema" series, where musicians perform the score of a silent film live, make for a uniquely immersive cinematic experience. This isn't just a night at the movies—it's a cultural outing that combines the best of Williamsburg's creative spirit with the joy of cinema.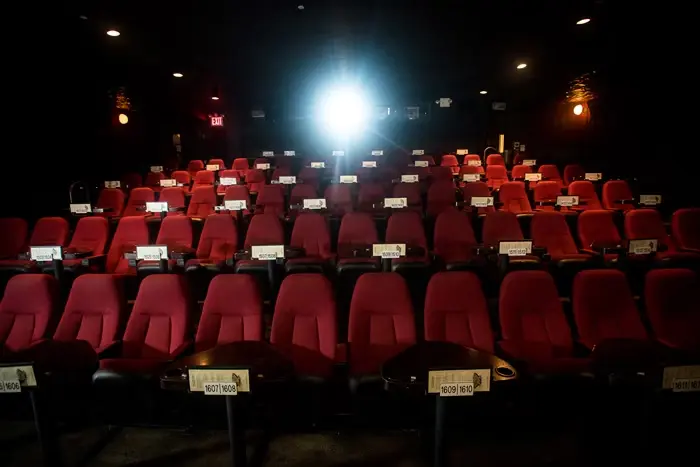 A Spooky Adventure Awaits at Madame Morbid's Trolley Tours
If you're in the mood for something a bit out of the ordinary, Madame Morbid's Trolley Tours offer a truly unique way to explore Williamsburg and greater Brooklyn. Step into a custom, Victorian-inspired trolley for a guided tour that dives deep into the dark and twisted history of New York City. From gruesome crimes to haunting ghost stories, the tour promises thrills and chills at every turn. The expertly designed trolley interior, complete with velvet seats and chandeliers, sets the stage for a captivating journey. Narrated by engaging and knowledgeable guides, the tour reveals the secret corners and hidden stories of Brooklyn that you won't find in any guidebook. As you cruise through the streets, the atmosphere is electric with eerie stories, surprising history, and perhaps even a supernatural sighting or two. Perfect for groups or a unique date night, Madame Morbid's Trolley Tours are an experience you won't soon forget.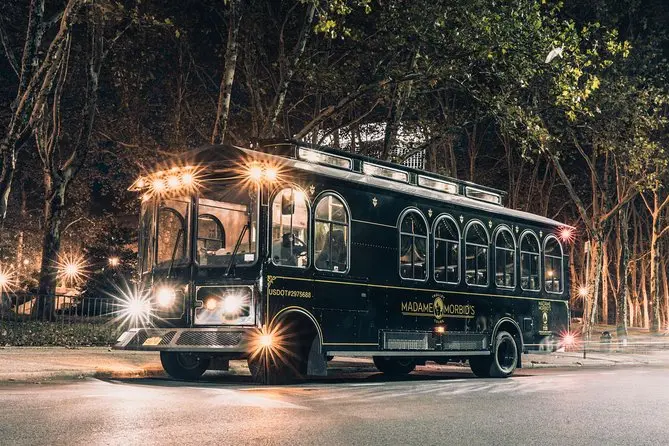 While the skyscrapers and famous landmarks of Manhattan often dominate the narrative of New York City, City Reliquary in Williamsburg offers a humbler yet equally fascinating perspective. This small museum is dedicated to the everyday artifacts and oddities that tell the story of New York's rich history. Located in a former storefront, the City Reliquary houses an eclectic collection of items such as vintage subway tokens, old postcards, and fragments from famous New York buildings. Each artifact, no matter how small, holds a piece of the city's soul, narrating tales from different eras and communities. One of its most endearing features is its commitment to local history and community involvement. Special exhibitions often feature collections from neighborhood residents, and community events keep the spirit of the local culture alive.
My Thrift Shopping Experience at Williamsburg
Williamsburg is a mecca for thrift shopping, offering a plethora of stores where you can find everything from vintage clothing to quirky home decor. The neighborhood's thrift shops are as diverse as the community itself, each having its own unique vibe and selection of goods. One popular spot is Beacon's Closet, a spacious store with racks filled to the brim with second-hand fashion treasures. Whether you're hunting for a '90s grunge flannel or a pair of retro sunglasses, the odds are in your favor. If you're into more curated experiences, check out Awoke Vintage, which offers a selection of handpicked vintage items, from elegant dresses to retro graphic tees. But the real joy of thrift shopping in Williamsburg lies in the unpredictability—the thrill of stumbling upon that perfect, unexpected item that you didn't even know you needed. Aside from clothing, many stores also offer a range of trinkets, books, and vinyl records, making for a complete shopping experience. Thrift shopping in Williamsburg is not just about buying second-hand items; it's about diving into the diverse subcultures that make up this vibrant neighborhood.
Visiting the Brooklyn Art Library
Art aficionados and casual observers alike will find the Brooklyn Art Library a fascinating stop. Tucked away in Williamsburg, this unique space is home to The Sketchbook Project, an ever-growing collection of more than 50,000 sketchbooks from artists across the globe. Visitors are encouraged to explore these sketchbooks, offering a deeply personal look into the creative processes and inner worlds of artists. The tactile experience of flipping through a stranger's sketchbook feels both intimate and expansive, a private tour through someone else's imagination. It's like walking through an art gallery where every piece is a multi-page narrative instead of a single static image. Alongside this, the library hosts events, workshops, and exhibitions, offering a diverse range of art experiences to the community. Unlike more traditional art spaces, the Brooklyn Art Library provides a unique platform for artists of all levels and backgrounds, democratizing art in a profoundly inclusive manner. Whether you're an artist looking for inspiration or a visitor keen to explore the world of art, the Brooklyn Art Library offers an experience that is both enriching and profoundly human.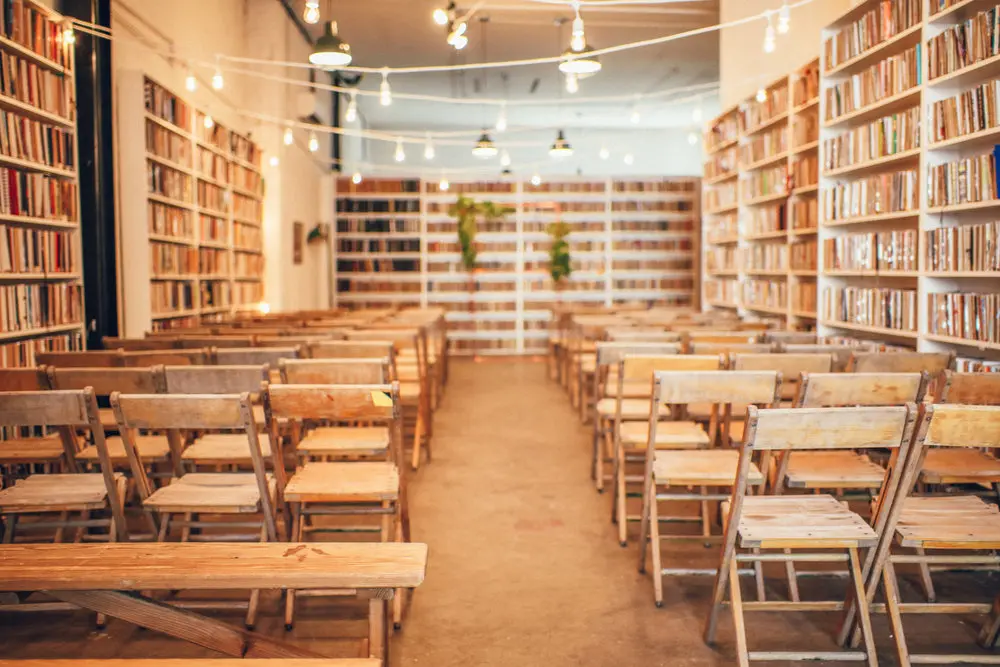 Shop at Desert Island
For fans of comic books, zines, and illustrated works of all sorts, Desert Island is a must-visit destination in Williamsburg. This specialized shop offers a unique collection of graphic novels, independent comics, art books, and small-press publications that you won't find in typical bookstores. The store is an aesthetic experience in itself, with eye-catching window displays featuring handcrafted installations that set the tone for the imaginative journeys waiting inside. From timeless classics to works by emerging artists, Desert Island is both a store and a celebration of the visual storytelling medium. The shop frequently hosts book releases, artist talks, and signings, serving as a hub for the local comic and illustration community. If you're looking for something truly unique to read or gift, the shop's range of quirky, off-beat titles provides ample opportunity to discover something new and unexpected.
Celebrate Diversity at the Williamsburg Art and Historical Center
Situated in a stunning 19th-century building near the Williamsburg Bridge, the Williamsburg Art and Historical Center serves as a vibrant cultural hub in this trendy Brooklyn neighborhood. Known commonly as the "WAH Center," this institution aims to foster connections between diverse artists and communities, reflecting the multicultural fabric of New York City itself. The center showcases a wide variety of artistic mediums, including visual arts, performing arts, and literary works. Their exhibitions often challenge traditional viewpoints, inviting conversations around social issues, cultural diversity, and human rights. In addition to exhibitions, the WAH Center also hosts a multitude of events like poetry readings, musical performances, and cultural festivals that showcase the richness of global traditions. Here, you can immerse yourself in the varied landscapes of human creativity and thought, making it a perfect spot for those looking to engage more deeply with the eclectic and inclusive spirit of Williamsburg.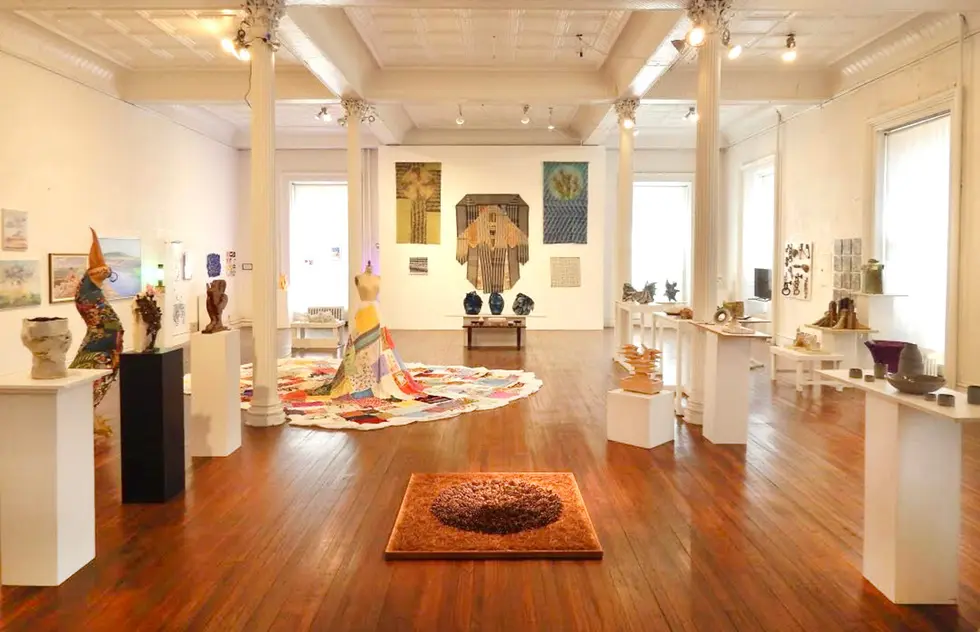 See Memorable Skyline Views from Marsha P. Johnson State Park
Named after the activist and a key figure in the Stonewall Uprising, Marsha P. Johnson State Park offers not just a tribute to an important piece of social history, but also some of the most stunning skyline views in all of Williamsburg. Situated along the East River, the park is an excellent location for those who want to gaze at Manhattan's glittering skyscrapers while surrounded by the serenity of nature. Benches line the waterfront, making it a popular spot for photographers, couples, and anyone looking to take a momentary escape from the urban hustle. The setting sun against the Manhattan skyline creates a mesmerizing spectacle, ideal for reflection or romantic moments.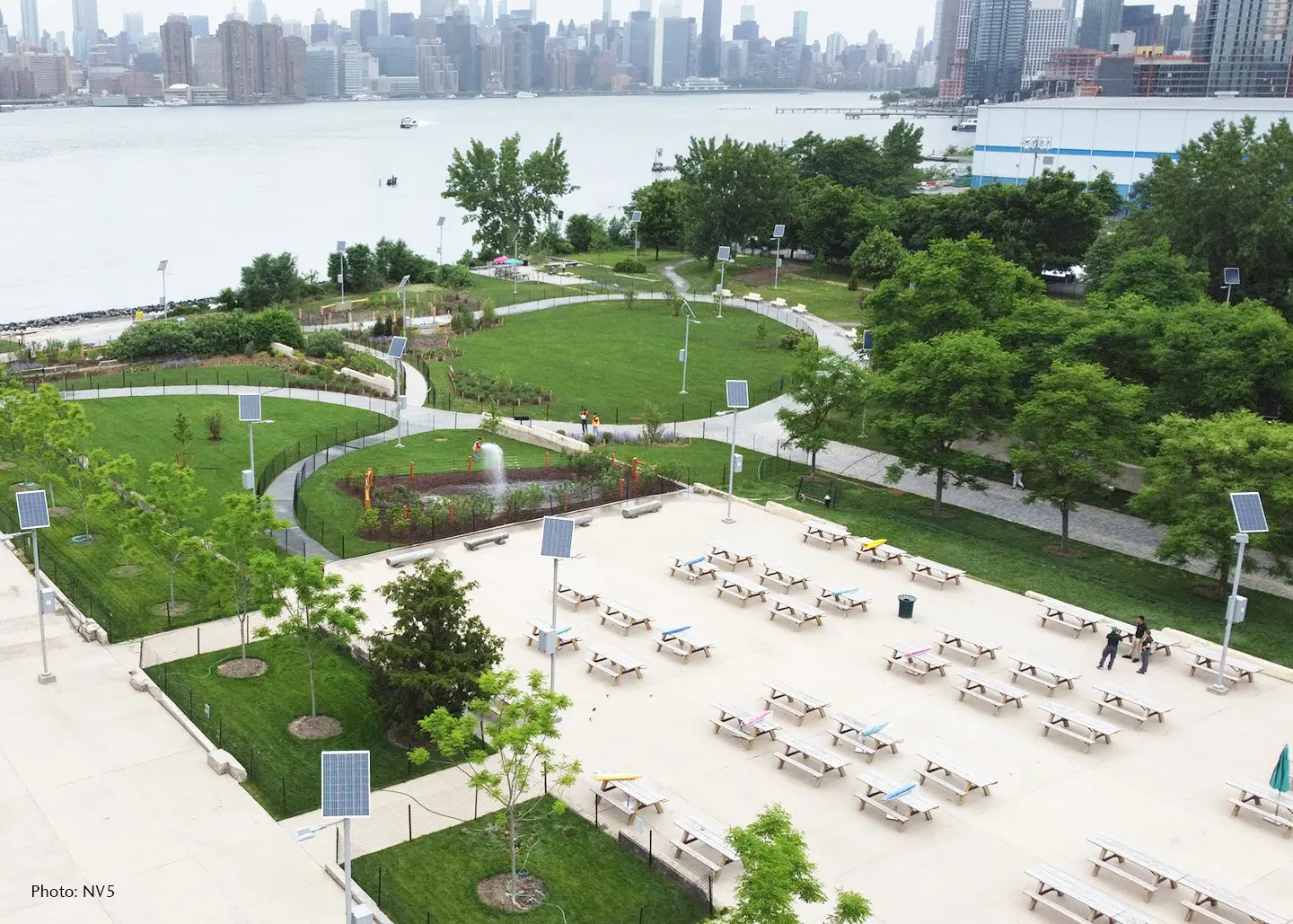 Williamsburg Music Scene
When it comes to live music, Williamsburg is a hotspot that attracts a diverse range of artists and genres. The neighborhood's music scene is as eclectic as its residents, offering everything from indie rock and jazz to electronic music and hip-hop. Music Hall of Williamsburg is one of the more established venues, where you can catch performances by both up-and-coming artists and established acts. For something more intimate, Pete's Candy Store offers acoustic sets in a laid-back environment, complete with a retro bar and cozy seating. Alternatively, if you're in the mood for electronic beats, Schimanski provides a clubby atmosphere with a focus on DJ-driven music.
But it's not just the formal venues that make Williamsburg's music scene so vibrant. You'll often find street musicians playing everything from classical violin to experimental electronic music, adding an impromptu soundtrack to your Williamsburg adventure. Record shops, like Rough Trade, not only sell vinyl but also frequently host live performances, album launches, and artist signings. In Williamsburg, music is more than entertainment—it's a way of life that permeates the air, the streets, and the soul of the neighborhood.
Williamsburg Bar Crawl Experience
Williamsburg's nightlife is as vibrant and diverse as the neighborhood itself, making it an excellent location for a bar crawl. The options are virtually endless, with each bar offering its own unique atmosphere and specialty drinks. You could start your evening at Radegast Hall & Biergarten, a spacious indoor-outdoor venue known for its wide selection of craft beers and live music. Enjoy the communal vibes as you sip on a pint and feast on German fare. From there, head over to The Ides, the rooftop bar at the Wythe Hotel, for a cocktail and an unmatched view of the Manhattan skyline.
For a more intimate setting, duck into Hotel Delmano. This speakeasy-style bar is a treasure trove of artisanal cocktails, from classic concoctions to imaginative mixes featuring unexpected ingredients like lavender and spicy jalapeño. If you're looking to dance, House of Independents often hosts DJ nights where the music ranges from old-school hip-hop to modern electronic beats.
No Williamsburg bar crawl would be complete without a stop at Union Pool, a quintessential dive bar with a large patio and often live music or a DJ. It's a place where you can either wind down or turn up, depending on how your night is going. The eclectic crowd, excellent drink options, and energetic vibe make it a must-visit to cap off your night.
Explore Williamsburg's Modern and Creative Shows
If you're looking to immerse yourself in Williamsburg's modern creative culture, you're in for a treat. The neighborhood is bursting with cutting-edge performances, gallery shows, and unique exhibitions that cater to a variety of artistic tastes. For theater aficionados, The Brick is an avant-garde theater known for its experimental productions that push the boundaries of traditional storytelling. Meanwhile, Triskelion Arts offers a space for contemporary dancers and choreographers to showcase their innovative work.
Art galleries like The Journal Gallery and Pierogi feature rotating exhibitions of modern art, ranging from abstract paintings to conceptual installations. These spaces often host opening receptions where you can meet the artists and discuss their work over a glass of wine.
But Williamsburg's creativity isn't confined to traditional venues. Pop-up shows, warehouse parties, and street performances are common, especially during the annual Northside Festival, which celebrates innovation in music, art, and technology. Interactive experiences, like escape rooms with artistic twists or immersive light and sound shows, offer a different kind of creative engagement. Whether you're a seasoned art critic or someone just looking for a unique, enriching experience, Williamsburg's modern and creative shows provide an endless array of opportunities to engage with the new, the challenging, and the extraordinary.
A Tour at Brooklyn Brewery
For beer enthusiasts or simply those interested in the craftsmanship behind brewing, a tour of the Brooklyn Brewery is an essential Williamsburg experience. Founded in 1988, this iconic establishment has been a major player in the American craft beer movement. Located in a spacious building adorned with its unmistakable logo, the brewery offers tours that are both informative and enjoyable. Led by knowledgeable guides, you'll walk through the brewing process, from the sourcing of ingredients to the final bottling and packaging.
The tour is peppered with interesting anecdotes about the brewery's history and its contributions to both the local community and the global beer scene. Of course, a brewery tour wouldn't be complete without a tasting session. You'll get to sample a variety of beers, including some limited editions that are only available on-site. If you're lucky, you might even get to try one of their seasonal brews. The tour wraps up in the tasting room, where you can continue sampling or purchase some merchandise to commemorate your visit.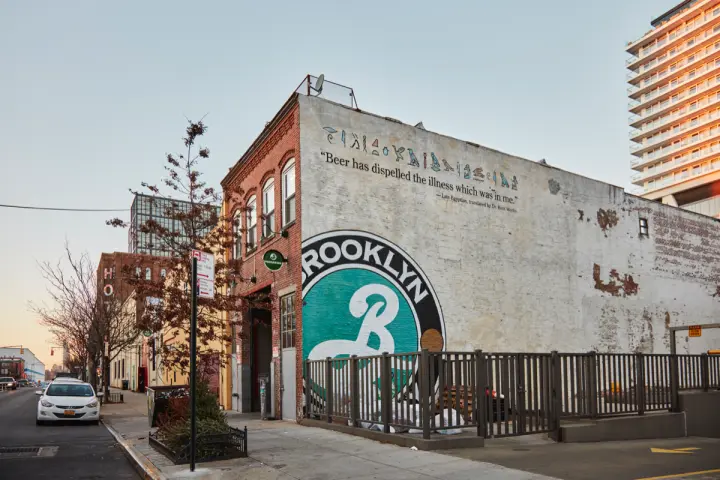 A Fun-Filled Karaoke Night Out in Williamsburg
Karaoke is not just a pastime in Williamsburg; it's a community event that brings people together in a celebration of music and uninhibited expression. The neighborhood offers a wide range of karaoke spots, each with its own unique flair. For instance, Baby's All Right, a live music venue by day, often transforms into a lively karaoke spot at night, featuring a wide range of songs from classic rock anthems to current pop hits.
If you prefer a more private experience, Gagopa Karaoke offers individual rooms that you can rent with friends. With an extensive song list and quality sound systems, it's perfect for both serious singers and those who just want to have fun. Those looking for a wilder experience can head to The Woods, a popular bar that hosts a lively outdoor karaoke night where you can sing your heart out under the stars.
What makes karaoke in Williamsburg special is the crowd. Unlike in some settings where the vibe can get competitive, here you'll find an audience that's supportive and encouraging, no matter your skill level.
Admire Williamsburg's Street Art
Williamsburg is a vibrant canvas of creativity, and nowhere is this more evident than in its eclectic street art. Artists from around the world have left their mark on the walls, alleys, and even sidewalks of this trendy neighborhood. As you stroll through Williamsburg, you'll encounter a myriad of artistic expressions, ranging from elaborate murals to whimsical graffiti. Every corner you turn may unveil a new visual spectacle, making the simple act of walking an artistic journey.
Notable locations for street art include the area around the iconic Bedford Avenue and the walls along the East River. Works often feature a mix of styles—abstract, photorealistic, geometric—and mediums, incorporating everything from spray paint to stencils and even digital projections. The art often captures the zeitgeist of the times, touching on social issues, pop culture, or local history. Some pieces are permanent installations, while others are ever-changing, reflecting the fluidity and dynamism of the community.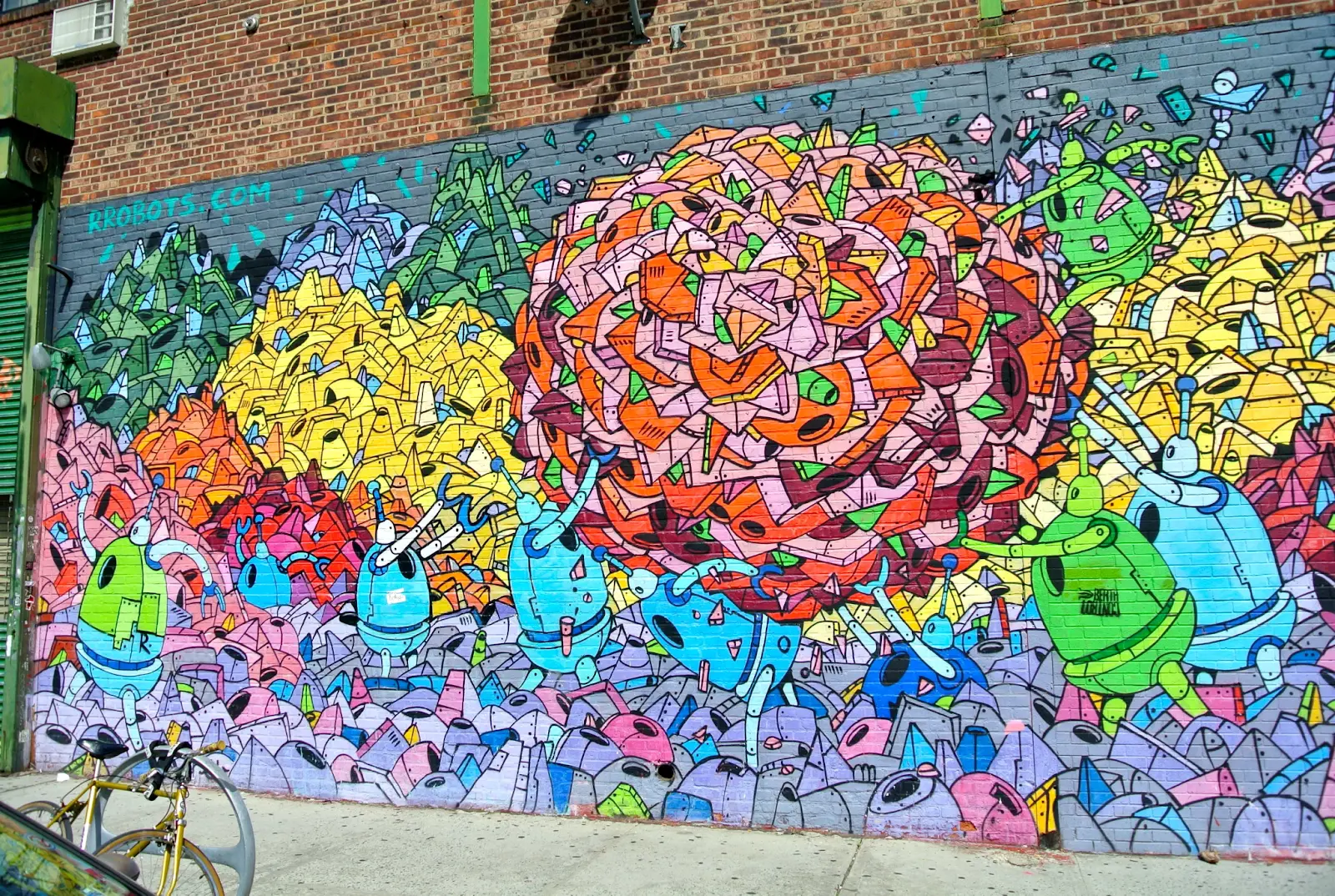 A Night Out at Brooklyn Steel
For a quintessential Williamsburg concert experience, look no further than Brooklyn Steel. This industrial-chic venue, which has a capacity for 1,800 attendees, is one of the newest additions to the local music scene, but it has quickly become a go-to spot for live performances. Built in a former steel manufacturing plant, the venue retains elements of its industrial past, adding to its unique ambiance. The space is known for its excellent acoustics and state-of-the-art lighting systems, which make every performance feel intimate and electric.
Brooklyn Steel has hosted an array of acts, from indie bands to big-name artists in rock, electronic music, hip-hop, and more. The venue also features multiple bars, so you can grab a drink and socialize before the show starts. There's a tiered general admission area, providing excellent sightlines of the stage no matter where you stand. Given its reputation, shows at Brooklyn Steel often sell out quickly, so it's advisable to get your tickets in advance.
Dining With Views at Laser Wolf Brooklyn
For a dining experience that combines stunning views with mouth-watering dishes, Laser Wolf Brooklyn should be on your Williamsburg to-do list. Situated near the waterfront, this trendy eatery offers panoramic vistas of the Manhattan skyline, making it a perfect spot for a romantic evening or a special celebration. The restaurant specializes in modern American cuisine with a twist, ensuring your taste buds are as delighted as your eyes.
The atmosphere at Laser Wolf is relaxed yet sophisticated, with stylish decor that complements the natural beauty seen through its expansive windows. Whether you opt for a table indoors or choose to dine al fresco on their patio, the experience is enhanced by the backdrop of the city's twinkling lights. As for the menu, expect an array of inventive dishes that utilize locally-sourced ingredients. Pair your meal with a glass of wine or a craft cocktail, and you've got the recipe for a memorable evening. If you're looking for dining with an unbeatable view in Williamsburg, Laser Wolf offers an experience that's hard to top.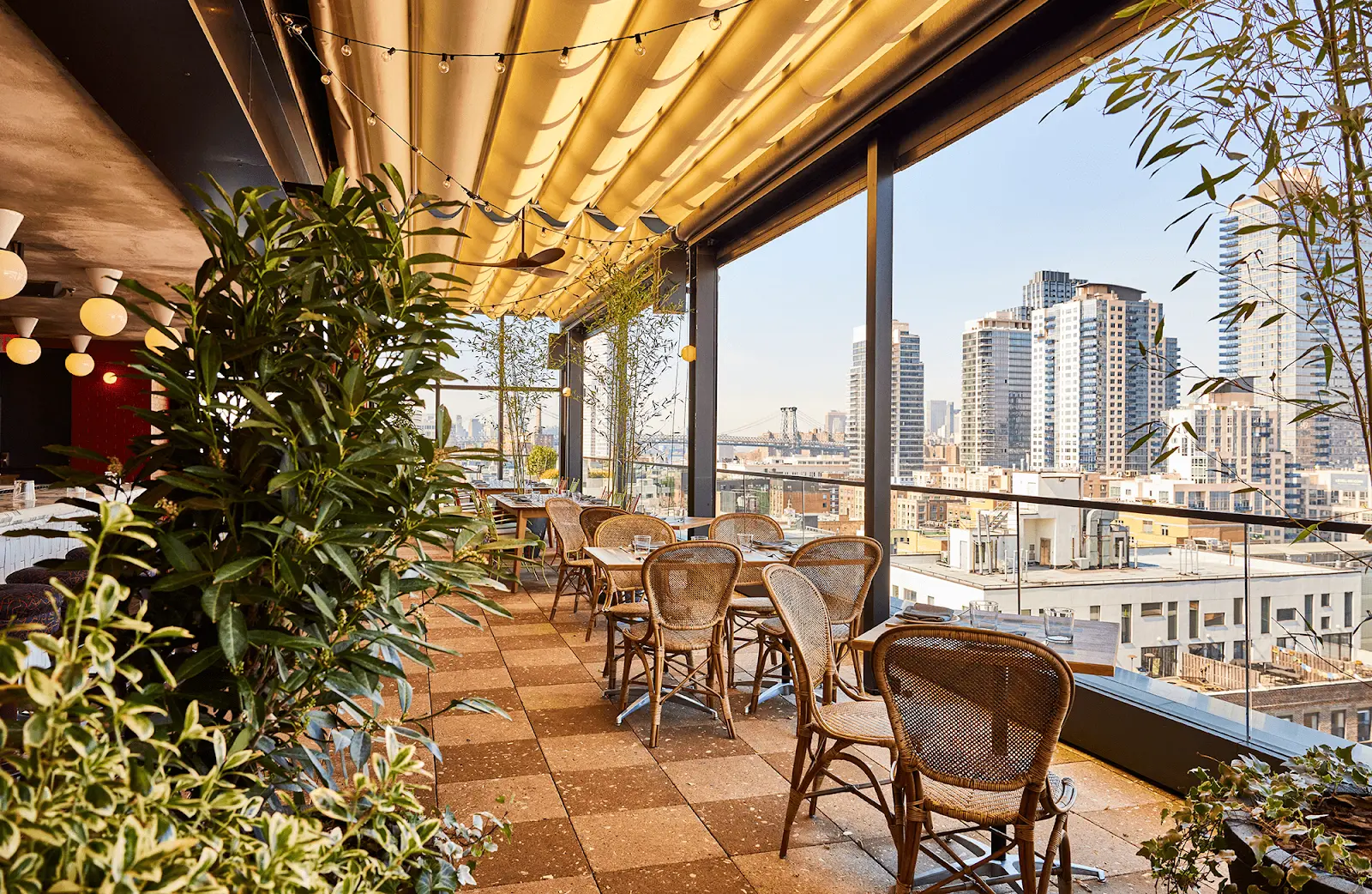 Bowling Fun at The Gutter
If you're in the mood for a laid-back, nostalgic outing, then The Gutter is your spot for good old-fashioned bowling fun. Housed in a retro-style building that takes you back to the bowling alleys of yesteryears, The Gutter combines the charm of vintage bowling lanes with modern amenities. Unlike mega bowling complexes, this venue maintains a cozy, community atmosphere, making it a favorite among locals and visitors alike.
The wooden lanes, manual scoring, and absence of flashy electronic displays give The Gutter an authentic, timeless feel. But don't be fooled by the retro vibe—the bar offers a wide selection of craft beers, cocktails, and pub-style snacks, giving a contemporary twist to your bowling experience. It's a popular spot for both casual bowlers and league play, so lanes can get busy, particularly on weekends. Therefore, it's a good idea to book a lane in advance if you're planning to go with a group.
The Gutter also frequently hosts live music and events, adding to the overall entertainment and making it more than just a bowling alley.
Conclusion
Williamsburg, Brooklyn, is a neighborhood that effortlessly blends tradition with innovation, offering a smorgasbord of activities that can satisfy a wide range of interests. Whether you're indulging in modern American cuisine at Laser Wolf Brooklyn with a captivating skyline as your backdrop, or relishing the nostalgia of a bowling night at The Gutter, Williamsburg promises a multi-faceted experience that goes beyond the ordinary. From its eclectic music venues to its world-class art exhibitions, the neighborhood stands as a testament to New York City's enduring status as a global capital of culture and creativity. The best part? No matter how many times you visit, Williamsburg always has something new to discover, making each trip an adventure in its own right. So put on your most fashionable pair of walking shoes and set out to explore this dynamic Brooklyn enclave—you won't be disappointed.
Frequently Asked Questions about Williamsburg, Brooklyn
What is Williamsburg known for?
Williamsburg is known for its eclectic culture, vibrant arts scene, trendy shops, and diverse dining experiences. The neighborhood is often considered a hub for hipsters and creative minds, boasting everything from cutting-edge music venues to artisanal coffee shops.
How do I get to Williamsburg?
Williamsburg is easily accessible by subway, with the L train being the most direct route from Manhattan. Buses, ferries, and even cycling are also convenient ways to reach this Brooklyn neighborhood.
Are there any parks in Williamsburg?
Yes, McCarren Park and Marsha P. Johnson State Park are among the most popular green spaces in Williamsburg. They offer a range of activities, from picnicking and sports to panoramic views of the Manhattan skyline.
Is Williamsburg family-friendly?
Absolutely. While known for its hipster culture and nightlife, Williamsburg also offers many family-friendly activities. Parks, art classes, and family-friendly dining spots are plentiful.
What are some popular music venues in Williamsburg?
Brooklyn Steel and House of Independents are two of the most popular music venues, hosting a variety of artists and music genres. Williamsburg also has a lively bar scene with live music options.
Where can I find the best street art?
Williamsburg is full of vibrant street art, especially around Bedford Avenue and near the East River. Just walking through the neighborhood, you're likely to encounter a wide range of artistic expressions.