20 Best Things to Do in Mentone, AL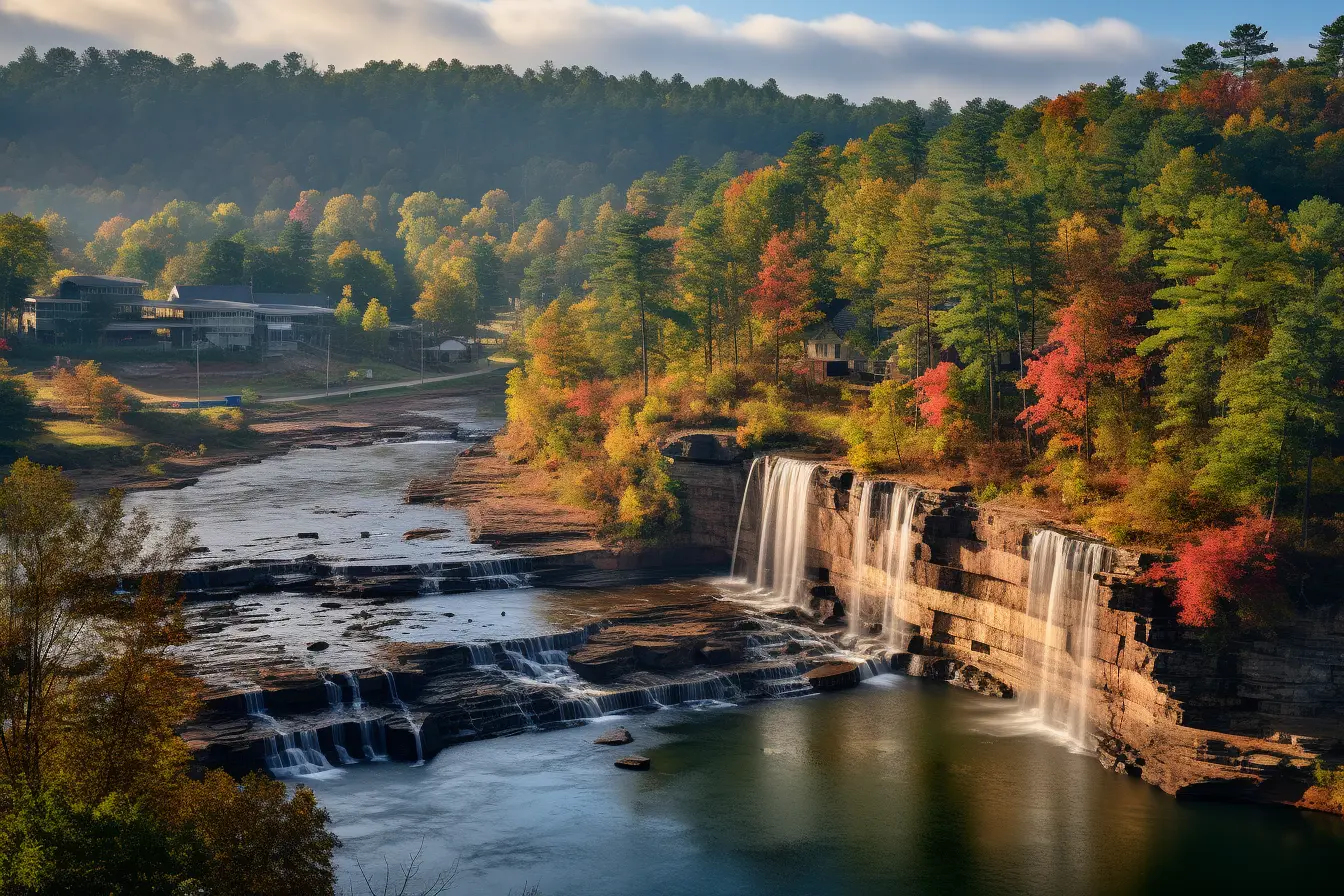 Best Things to Do in Mentone, AL
Nestled atop the scenic Lookout Mountain in northeastern Alabama, the charming community of Mentone invites travelers to a world steeped in natural beauty, rustic charm, and tranquil ambiance. This small, picturesque town is a hidden gem, offering a sanctuary from the hustle and bustle of city life and a gateway to a range of outdoor adventures. Whether it's the serene landscapes, the rich cultural heritage, or the friendly community spirit, Mentone, Alabama provides a wholesome and rejuvenating experience for all who visit. It's a place where the simplicity and beauty of the natural world intertwine with the warmth and hospitality of small-town living.
Savor Delectable Dishes at Wildflower Cafe
When you find yourself in Mentone, Alabama, one of the must-visit spots is the charming Wildflower Cafe. Known for its homey atmosphere and delectable Southern-inspired dishes, this is more than just a restaurant—it's an experience. The café is nestled in a whimsical setting, surrounded by lush greenery, providing the perfect backdrop for a relaxed meal. From the moment you step in, you'll feel the warmth of Southern hospitality, as friendly staff guide you to your table.
The menu is a tour of comforting classics and innovative specials, often focused on locally sourced and organic ingredients. Staples such as the tomato pie or the 'famous chicken salad' have garnered a loyal following. Vegetarian options are also plentiful, ensuring that everyone has something to enjoy. But the real pièce de résistance is their dessert offerings. The homemade pies, cakes, and other treats are the perfect way to cap off a delicious meal.
The café also often hosts live music, adding another layer to the vibrant atmosphere.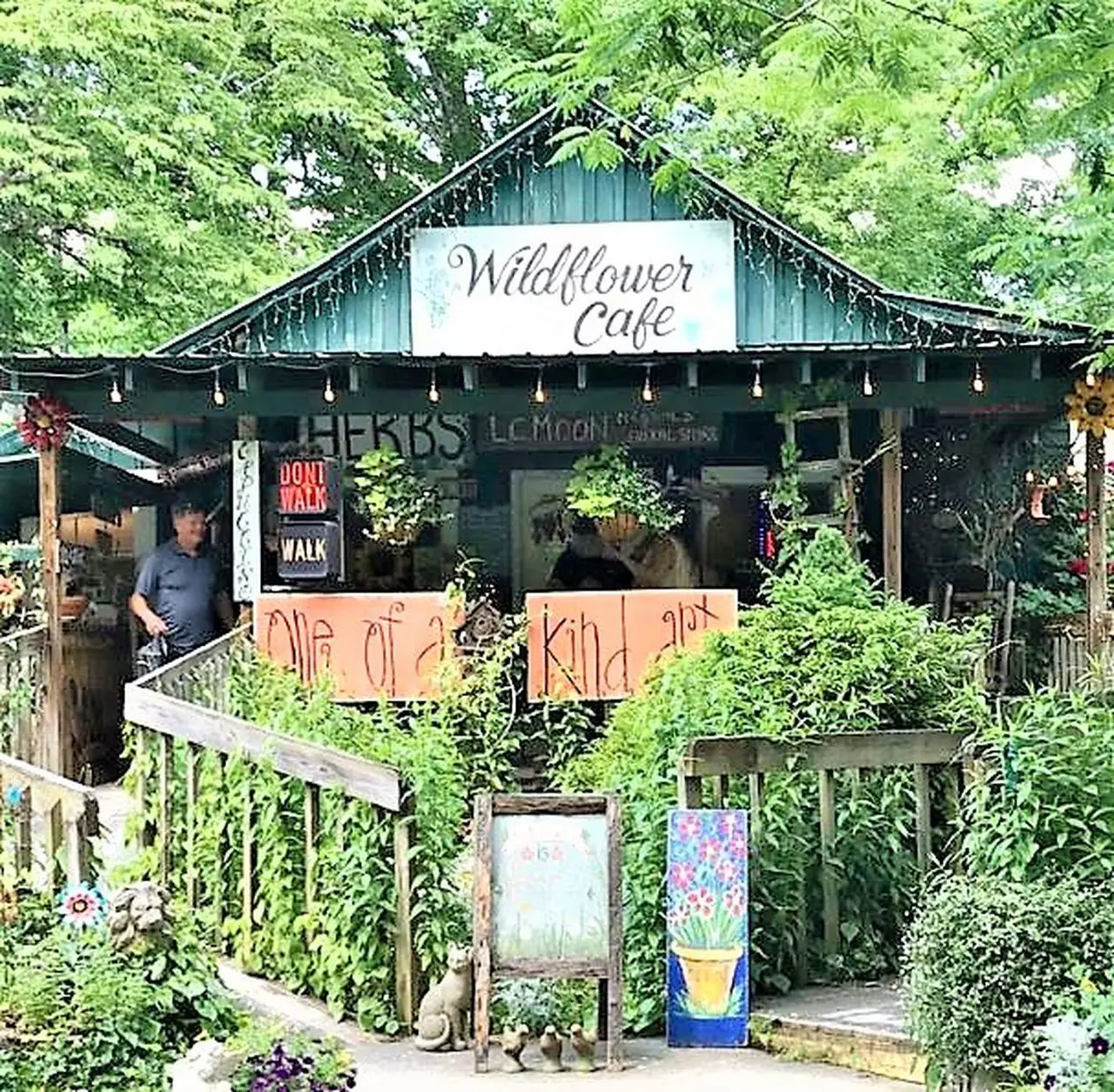 Experience the Natural Wonder of DeSoto Falls
If you're an outdoor enthusiast or simply someone who appreciates the beauty of nature, you can't visit Mentone without checking out DeSoto Falls. One of the tallest and most visited waterfalls in Alabama, DeSoto Falls plunges over a sandstone ledge into a serene pool below, creating a mesmerizing spectacle. The falls are located within the DeSoto State Park, an area filled with scenic vistas, hiking trails, and opportunities for various outdoor activities.
Getting to the falls involves a relatively easy hike, making it accessible for visitors of all ages. The trails are well-maintained and marked, allowing for a peaceful walk through the surrounding woods. As you approach the falls, the sound of cascading water grows louder, building anticipation before you finally reach the viewpoint. The sight of the falls, particularly after a rainfall, is truly awe-inspiring.
The area surrounding DeSoto Falls offers more than just the waterfall. You can enjoy picnicking in designated areas, fishing in the waterways, or even taking a dip in the natural pools. For the more adventurous, there are mountain biking trails and rock-climbing opportunities. Visiting DeSoto Falls is not merely a quick stop but an invitation to immerse yourself in the tranquility and majesty of nature.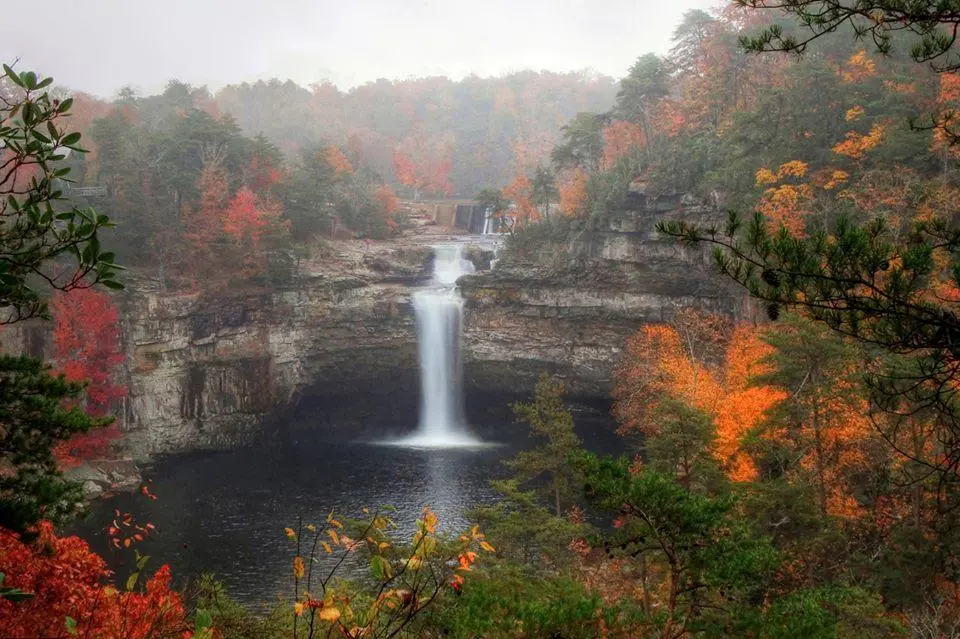 Discover the Countryside on Horseback at Shady Grove Dude Ranch
For those looking to experience the rustic charm and natural beauty of Mentone, Alabama, a visit to Shady Grove Dude Ranch should be high on your list. This authentic dude ranch provides an opportunity for visitors to immerse themselves in a quintessentially American pastime—horseback riding. Whether you're a seasoned equestrian or a total novice, Shady Grove caters to all levels of experience.
The ranch offers guided trail rides that take you through a variety of terrains, from peaceful woodland paths to open fields with stunning views of the surrounding area. The horses are well-trained and friendly, ensuring a safe and enjoyable ride. What sets this experience apart is the knowledgeable and passionate guides who not only lead you through the trails but also share intriguing tidbits about the local flora, fauna, and history.
Besides horseback riding, the ranch has other amenities, such as camping sites and fishing ponds, providing a comprehensive outdoor experience. Visiting Shady Grove Dude Ranch offers a unique blend of adventure and relaxation that can be hard to find elsewhere. It's the ideal way to connect with nature while also stepping back in time to enjoy the simple pleasures of life.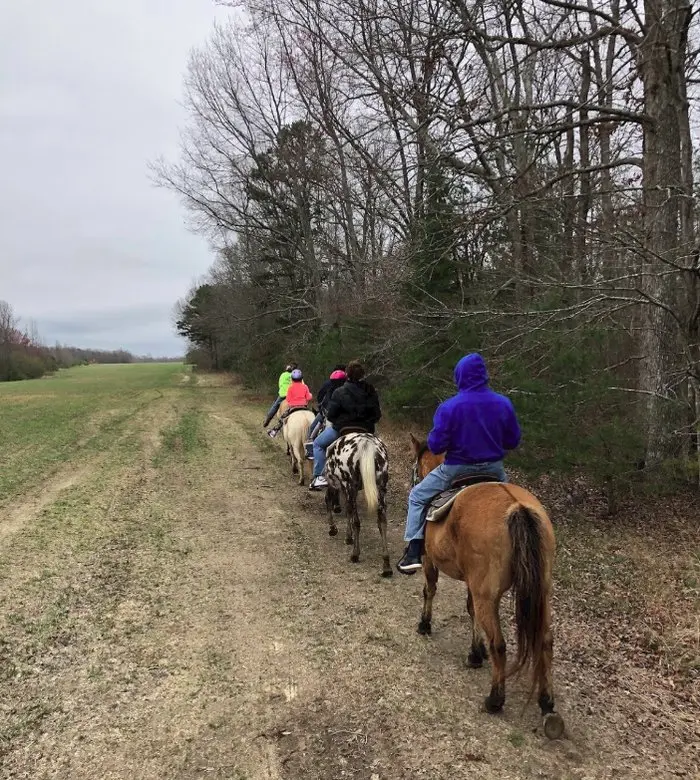 Conquer the Rugged Terrain of Little River Canyon National Preserve
For those who relish a physical challenge set against the backdrop of breathtaking natural beauty, Little River Canyon National Preserve is a must-visit destination when you're in Mentone. The preserve is home to one of the deepest canyons in the southeastern U.S., carved by the Little River, and offers a multitude of recreational opportunities for outdoor enthusiasts.
The park features a network of trails that range from easy strolls to strenuous hikes, allowing visitors to explore the canyon at their own pace. One of the most popular trails is the Eberhart Point trail, which leads down into the canyon and provides magnificent views of the landscape. Here, you can marvel at the towering cliffs, flowing river, and dense forests that make up this unique ecosystem.
Adventure seekers can go beyond hiking and try their hand at rock climbing or kayaking. The Little River offers Class III and Class IV rapids, presenting an adrenaline-pumping experience for experienced kayakers. Rock-climbing sites are also plentiful, with several cliffs that offer varying levels of difficulty.
Experience the Adventure of Scouting at Camp Comer Scout Reservation
For young people interested in character development, skill building, and outdoor adventure, the Camp Comer Scout Reservation offers an unparalleled experience in Mentone, Alabama. Operated by the Boy Scouts of America, this extensive campsite provides a plethora of activities that help Scouts build lifelong skills while enjoying the beauty of nature.
Nestled among the verdant hills and forests of the area, Camp Comer boasts amenities that include a swimming pool, shooting ranges, and boating facilities on a serene lake. The reservation also offers numerous merit badge programs, ranging from woodworking to environmental science, designed to challenge and engage Scouts intellectually.
Camp life is structured but far from dull, as Scouts have the chance to participate in campfires, team-building exercises, and other group activities. The leaders and counselors are dedicated to fostering a spirit of camaraderie, integrity, and respect. While many of the activities are Scout-specific, the camp also hosts family events and other programs that make it a cornerstone of the Mentone community. Spending time at Camp Comer Scout Reservation is not just about camping; it's about building character and friendships that last a lifetime.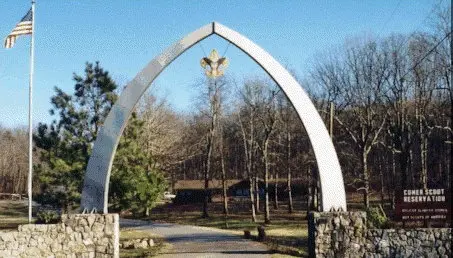 Embrace the Great Outdoors at DeSoto State Park
If you're yearning for a true outdoor experience complete with camping, hiking, and bonding with nature, then DeSoto State Park in Mentone is the ideal location for you. Known for its stunning DeSoto Falls, the park offers much more than just a singular natural attraction. Covering more than 3,500 acres, this state park is a haven for outdoor enthusiasts looking for a wide array of activities in a pristine setting.
You can set up camp at one of the various campsites available, ranging from full hook-up sites for RVs to primitive campsites for those seeking a more rugged experience. Each site is equipped with essential amenities like grills and picnic tables, allowing for a comfortable yet authentic camping adventure.
For daytime activities, DeSoto State Park doesn't disappoint. The area features more than 30 miles of hiking and mountain biking trails, as well as prime locations for fishing, kayaking, and bird-watching. If you're interested in a more laid-back experience, the park also has several scenic spots perfect for picnicking or simply relaxing and taking in the views.
Relax with a Riverside Picnic at A.A. Miller Dam
The A.A. Miller Dam provides a delightful setting for a casual outing or a romantic picnic. This hidden gem in Mentone offers an escape from the hustle and bustle, giving visitors a chance to enjoy nature in a tranquil environment. The dam itself is a sight to behold, with water flowing gracefully over its spillways, creating a soothing ambiance that complements the surrounding natural beauty.
The grassy areas around the dam are ideal for laying out a picnic blanket and enjoying some quality time with loved ones. Whether you're packing a basket full of homemade goodies or grabbing some local takeout, the serene atmosphere elevates the simple act of dining al fresco. Additionally, the proximity to the river offers opportunities for fishing or even a refreshing swim on a hot day.
A.A. Miller Dam is a must-visit spot for anyone looking to enjoy the simple joys of outdoor life. The blend of flowing water, rustling leaves, and birdsong provides a backdrop that makes your picnic feel like a mini-vacation.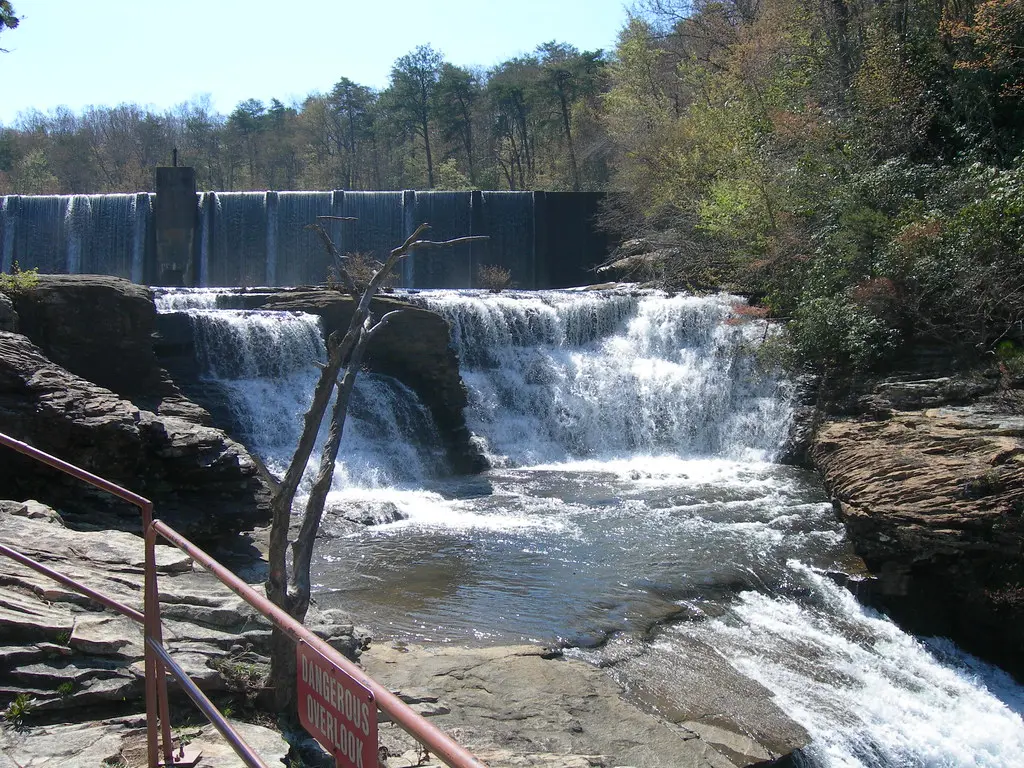 Explore Your Creative Side at Mentone Arts Center
For those looking to engage with the local culture in a meaningful way, the Mentone Arts Center is a hub of artistic activity and expression. This thriving community center showcases the works of local artists, ranging from traditional crafts to contemporary paintings and sculptures. As you wander through the various galleries, you'll gain a deep appreciation for the talent and creativity that abound in this small yet vibrant community.
However, the Mentone Arts Center is not just a place for observation; it's a space for participation as well. The center offers a variety of art classes for both adults and children, making it a wonderful place for visitors to unlock their own creativity.  
Even if you're just passing through Mentone, taking the time to visit the Arts Center can offer a fulfilling and enriching experience. You'll leave not only with a newfound appreciation for local art but also with the inspiration to explore your own creative pursuits.
Witness the Sky's Palette at Brow Park
If you're a fan of nature's grandest spectacles, watching the sunset at Brow Park in Mentone is an experience you won't want to miss. Located on the edge of Lookout Mountain, this charming park provides an awe-inspiring panoramic view of the valley below and the sky above, making it one of the best spots for sunset watching in the area.
The park features a well-maintained green space with benches and picnic tables, giving you plenty of comfortable spots to settle in for the show. As the sun begins its descent, the sky transforms into a kaleidoscope of colors—ranging from warm oranges and pinks to cool blues and purples. The tranquil atmosphere makes it an ideal location for reflection or a romantic outing.
While the sunset is the main attraction, the park itself is worth exploring. You'll often find locals walking their dogs or families enjoying a leisurely afternoon, contributing to the area's warm, community-centric vibe. Brow Park is a simple yet memorable destination, making your visit to Mentone even more special.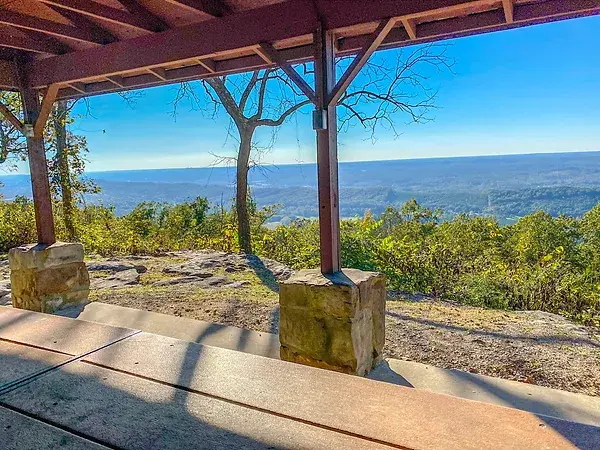 Bring Home Botanical Treasures from Moon Lake Trading Co.
When you find yourself in Mentone, a visit to Moon Lake Trading Co. adds a delightful twist to your trip. This unique store is a gardener's paradise, offering a curated selection of plants, herbs, and garden accessories that can serve as living mementos of your time in the area. Located near the scenic Moon Lake, the shop encapsulates the charm and natural beauty that Mentone is known for.
Aside from the wide array of flora, Moon Lake Trading Co. offers an eclectic range of antiques, local crafts, and artisanal goods, making it a one-stop shop for those looking to bring home something special. Whether you're a novice gardener looking for easy-to-care-for plants or a seasoned horticulturist seeking rare specimens, you'll find something to pique your interest.
Even if you don't have a green thumb, the store is worth a visit for its atmosphere alone. The welcoming staff are knowledgeable and passionate about their offerings, happy to offer tips and suggestions. Wandering through the aisles, you'll feel a sense of tranquility and inspiration, making Moon Lake Trading Co. more than just a store—it's an experience.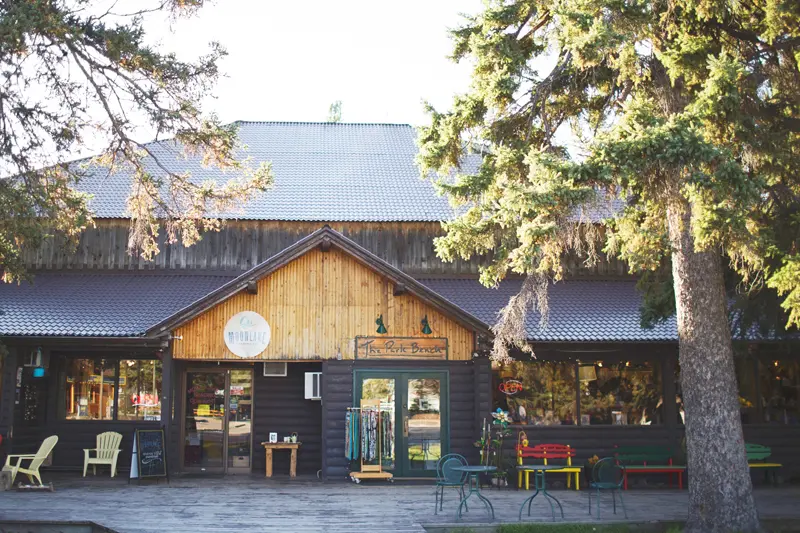 Discover the Art of Gourd Crafting at The Gourdie Shop
Mentone is full of unique attractions, and The Gourdie Shop is no exception. Specializing in crafts and art pieces made from gourds, this fascinating store offers a one-of-a-kind shopping experience. From intricately painted gourds to utilitarian items like birdhouses and bowls, the shop showcases the versatility and artistic potential of this humble fruit.
As you browse through the store, you'll marvel at the level of detail and craftsmanship that goes into each piece. Many of the gourds are adorned with intricate carvings, pyrography, or vibrant paint jobs, transforming them into true works of art. This shop is more than just a retail space; it's a gallery that celebrates the ingenuity and creativity of local artisans.
Visitors often find that gourds make for unique, lightweight souvenirs or gifts that are easy to pack and carry home. But even if you don't plan on buying anything, the shop itself is worth a visit for the sheer novelty and to gain an appreciation for an often-overlooked art form.
Honor the Brave at 1776 RV & Campground
If you're in search of a camping experience that's steeped in both natural beauty and patriotic spirit, look no further than the 1776 RV & Campground in Mentone. This campground is designed to be a tribute to the brave men and women who serve or have served in the United States military, law enforcement, and firefighting services. Even the name of the campground itself evokes a sense of American heritage, referencing the year the United States declared its independence.
The campground offers a range of camping options, including full-hookup RV sites and primitive tent camping spots, all set against the backdrop of Alabama's scenic countryside. Modern amenities like clean restrooms, showers, and electrical hookups ensure a comfortable stay.
What sets 1776 RV & Campground apart is its commitment to honoring modern-day heroes. You'll find American flags and other patriotic symbols displayed proudly throughout the facility, and the campground often hosts events that pay tribute to service members and first responders.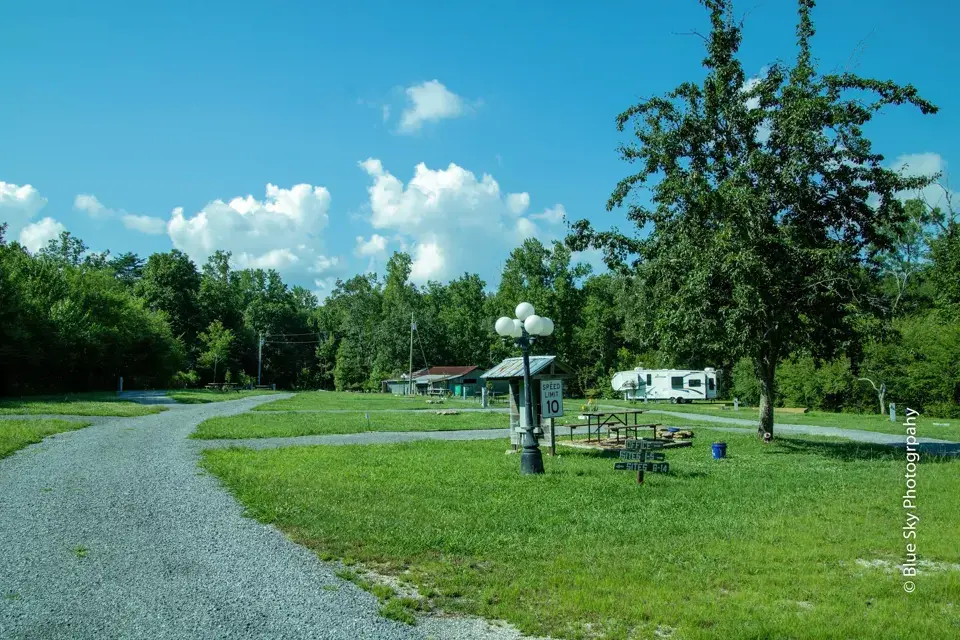 Revel in the Vibrancy of Mentone Colorfest
Mentone comes alive each year with the explosion of color and creativity that is the Mentone Colorfest. This annual festival is a celebration of art, crafts, music, and the changing of the seasons, set against the backdrop of Mentone's charming downtown and scenic surroundings. It's a time when locals and visitors alike come together to enjoy a weekend filled with festivities, food, and fun.
Artisans set up booths showcasing their crafts, from intricate quilts and hand-blown glass to original paintings and jewelry. It's the perfect opportunity to pick up unique, handmade gifts or souvenirs. In addition to shopping, the festival features live musical performances across a variety of genres, ensuring there's something for everyone's musical taste.
Children are not left out of the fun, with plenty of activities geared towards younger festival-goers, including face painting, puppet shows, and interactive craft stations. Food vendors offer a delicious range of options, from classic Southern comfort food to international delicacies.
Mentone Colorfest isn't just a festival; it's an experience that encapsulates the spirit of the community and the vibrancy of life. Whether you're an art enthusiast, a family looking for a weekend outing, or simply someone eager to experience local culture, this festival is a must-visit when in Mentone.
Catch a Big One at Republic Lake
Fishing enthusiasts will find a haven at Republic Lake, a freshwater reservoir located just a short drive from Mentone. This lake is renowned for its abundance of game fish, including bass, crappie, and catfish. The serene environment and lush surroundings make it an ideal location for a day of fishing and relaxation.
Republic Lake is well-maintained and offers several amenities to enhance your fishing experience, such as boat ramps and fishing docks. Whether you're a seasoned angler or a beginner looking to get your feet wet, the lake offers opportunities for both catch-and-release and catch-and-keep fishing.
Surrounded by trees and natural vegetation, the lake is also a hotspot for birdwatching and nature photography. Even if fishing isn't your thing, the scenic beauty of the area makes it a pleasant spot for picnicking or simply enjoying the great outdoors.
The proximity to Mentone makes Republic Lake an easy day trip for those staying in the area. Whether you're aiming to hook a record-breaking bass or simply seeking a peaceful escape, this fishing spot provides a tranquil setting to cast your line and unwind.
Experience the Romantic Charm of Mentone Wedding Chapel
Nestled amidst the natural beauty of Mentone, the Mentone Wedding Chapel offers an idyllic setting for couples looking to tie the knot or renew their vows. This quaint chapel has become a landmark of sorts, charming visitors with its traditional wooden architecture and intimate atmosphere. Even if you're not planning a wedding, the chapel is worth a visit for its historical and aesthetic value.
Built to resemble old country churches, the Mentone Wedding Chapel features intricate woodwork, antique pews, and stained glass windows that create an air of timeless romance. The surrounding landscape, often described as a "mountain paradise," adds to the enchanting setting, making it a popular choice for both local and destination weddings.
Visitors are usually welcome to tour the chapel when it's not being used for ceremonies. The kindness and hospitality of the caretakers add to the overall experience, and you may even hear some heartwarming stories of couples who have exchanged vows here.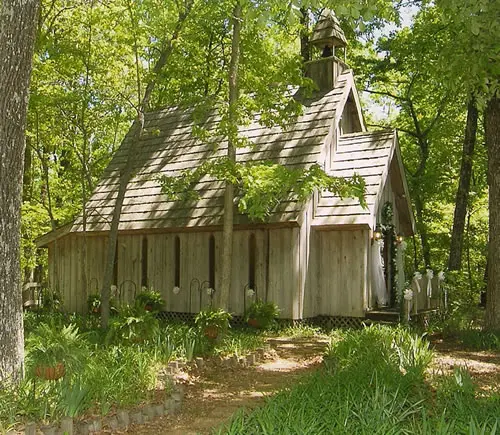 Drift Along the Tranquil Waters of Little River
For those seeking a waterborne adventure that's a bit more laid-back, cruising on Little River is the perfect option. Known as one of the cleanest and wildest waterways in the South, Little River offers an incredibly scenic backdrop for a leisurely boat ride, kayak excursion, or canoe trip.
The river winds through the Little River Canyon National Preserve, providing ample opportunities for wildlife spotting and nature photography. Verdant forests line the banks, while the occasional appearance of rocky cliffs adds drama to the landscape. If you're lucky, you might spot native birds like the great blue heron, osprey, or even a bald eagle soaring overhead.
Several local outfitters offer rental equipment and guided tours, ensuring a safe and enjoyable experience even for novices. While the river does have some rapids and waterfalls upstream, the stretches near Mentone are generally calm and easy to navigate.
Stock Up on Fresh Delights at Mentone Farmers' Market
The Mentone Farmers' Market is a true community hub where locals and visitors alike gather to enjoy the best of the region's produce and homemade goods. Set in the heart of Mentone, this vibrant market offers a delightful blend of sights, smells, and flavors that showcase the agricultural richness of the area.
Rows of stalls are filled with fresh fruits and vegetables, harvested at their peak for maximum flavor and nutritional value. But that's not all; the market also features an array of artisanal products such as handcrafted cheeses, jams, and baked goods. For those interested in non-food items, you'll also find stalls offering handmade crafts, plants, and even natural beauty products.
What makes Mentone Farmers' Market particularly special is the sense of community. Vendors are usually local farmers and artisans who are passionate about their offerings, providing an authentic farm-to-table experience. It's an excellent opportunity to learn about the growing process, get cooking tips, or even discover new varieties of produce you may not find elsewhere.
Explore the Unique Architecture of Sallie Howard Memorial Baptist Church
For a small town, Mentone offers a surprising array of architectural wonders, one of which is the Sallie Howard Memorial Baptist Church. This striking structure is unlike any other church you've seen; it's built around a massive boulder that serves as its natural pulpit. The church was built in memory of Sallie Howard, and the rock pulpit was said to be her favorite meditation spot.
As you enter the church, you'll immediately notice the seamless blend of natural elements and architectural design. The boulder not only forms the backdrop of the pulpit but also extends into the church, creating a sense of being in a sanctuary made by both man and nature. Stained glass windows and wooden pews add to the traditional feel, but it's the rock that captures everyone's attention.
The church is usually open to the public and makes for an extraordinary photo opportunity. Beyond its architectural allure, the Sallie Howard Memorial Baptist Church exudes a sense of peace and spirituality that resonates with many who visit.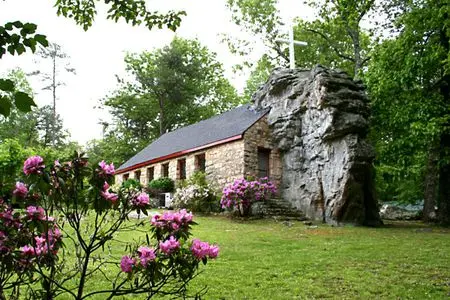 Experience Lakeside Serenity at Achunachi Lake
For those seeking tranquility and natural beauty, spending some time at Achunachi Lake is a must when in Mentone. This picturesque lake, surrounded by dense forests and gentle hills, offers the perfect setting for outdoor activities or simply unwinding by the water's edge. The lake is well-equipped for various water sports including kayaking, paddleboarding, and fishing, making it a versatile destination for outdoor enthusiasts.
Several spots around the lake offer opportunities for picnics, complete with tables and grills. Whether you're having a family outing or a romantic lakeside meal, the setting couldn't be more idyllic. The calm waters and the chirping of birds create a soothing backdrop, making it easy to lose track of time as you immerse yourself in the moment.
For those looking to extend their stay, there are camping options available around the lake. Imagine waking up to a lakeside sunrise and falling asleep to the gentle sound of waves — it's the ultimate way to connect with nature.
Conquer the Slopes at Cloudmont Ski & Golf Resort
While Alabama may not be the first place that comes to mind when you think of skiing, Cloudmont Ski & Golf Resort in Mentone challenges that perception. This unique resort offers an opportunity to hit the slopes, even in a region that's not known for heavy snowfall. Thanks to innovative snow-making techniques, Cloudmont provides a skiing and snowboarding experience that's both exhilarating and surprisingly accessible.
The resort features slopes for various skill levels, from beginner runs to more challenging courses for seasoned skiers. Equipment rental and lessons are available on-site, making it easy for novices to get started. For those who prefer to stay off the slopes, there are other winter activities like snow tubing and sledding to keep you entertained.
But Cloudmont is not just about winter sports; it also features a golf course for those who want to experience the area's natural beauty in a different way. The course offers stunning views of the surrounding landscape and is designed to accommodate both beginners and experienced golfers.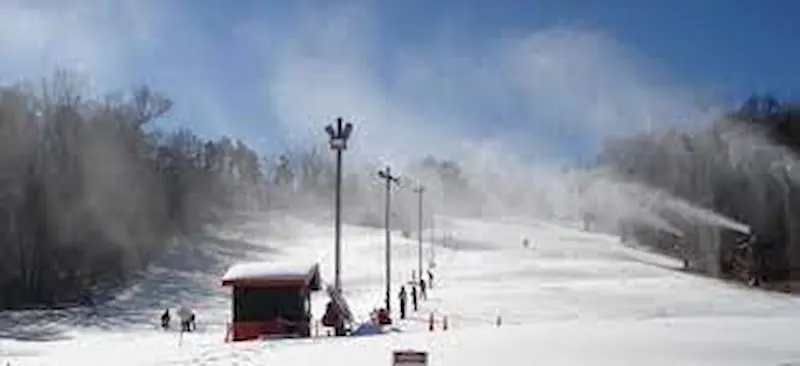 Conclusion
Mentone, Alabama, is a haven of tranquility and scenic beauty, offering a respite to those seeking a break from the frenetic pace of everyday life. The town serves as a timeless reminder of the charms of unhurried living, where each moment can be savored amidst the backdrop of nature's grandeur. Whether exploring the lush trails, participating in local traditions, or simply enjoying the serene views, visitors to Mentone are bound to feel a deeper connection to the natural world and a renewed sense of peace and well-being. In conclusion, a journey to Mentone is not just a physical trip to a beautiful locale, but also a voyage to a state of mind where simplicity, beauty, and tranquility reign supreme. It's a precious retreat where the soul can rejuvenate, and the spirit can soar freely.