20 Best Things to Do in Wicker Park, Chicago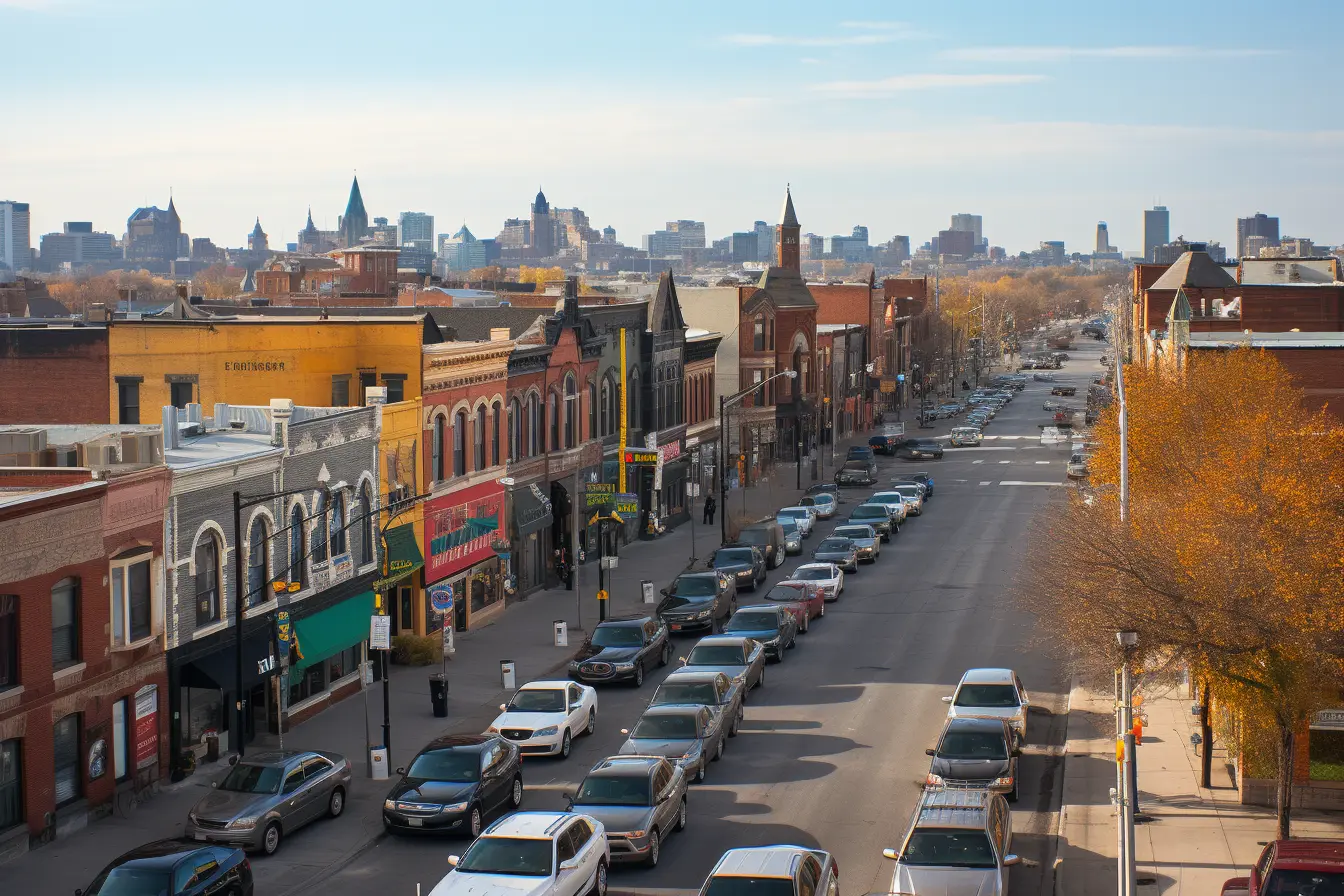 Best Things to Do in Wicker Park, Chicago
Nestled within the larger West Town community area of Chicago, Wicker Park stands as a vibrant and eclectic neighborhood known for its rich history, diverse culture, and artistic flair. It's a hub where the past and the present collide, creating a dynamic environment filled with vintage architecture, trendy boutiques, flavorful cuisine, and lively entertainment venues. The neighborhood's diverse array of offerings attracts a colorful mosaic of residents and visitors, from artists and musicians to foodies and fashionistas, all seeking to experience the unique charm and energy that define Wicker Park. Whether you're wandering through its historic streets, enjoying its culinary delights, or exploring its cultural treasures, Wicker Park offers a multifaceted experience, reflecting the spirited and inclusive essence of Chicago.
Discover Urban Nature Along The 606
Wicker Park, a vibrant neighborhood in Chicago known for its trendy boutiques, art galleries, and bustling nightlife, also offers a slice of outdoor adventure through The 606. Originally a disused railway line, The 606 has been transformed into a 2.7-mile-long elevated park and trail system. It's an urban oasis perfect for joggers, cyclists, dog walkers, and anyone looking to escape the concrete jungle. The trail is well-maintained and offers a range of seasonal landscapes, public artworks, and observation points.
Begin your journey at the western end in the Logan Square neighborhood and make your way east toward Wicker Park, experiencing the changing vibe of the communities as you go along. Along the trail, you'll find multiple gardens, art installations, and even a telescope at the observatory to get a closer look at the Chicago skyline. The 606 also connects parks and public spaces, providing a green artery through the heart of the city.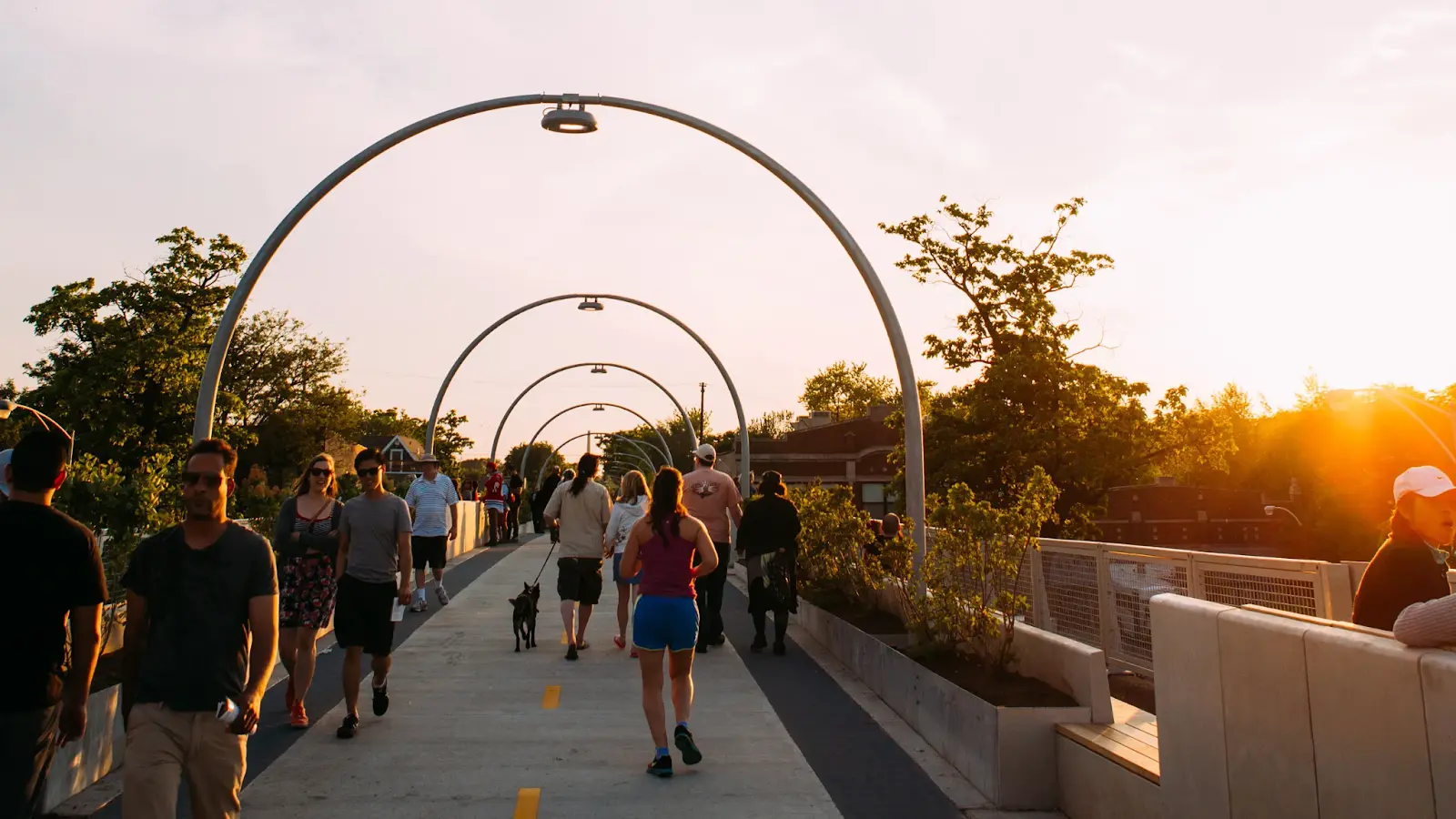 Step Back in Time with Retro Threads at Kokorokoko
For fashionistas with an appetite for nostalgic style, Wicker Park houses the quirky Kokorokoko, a go-to spot for vintage apparel. This boutique is a colorful emporium of 80s and 90s fashion, offering everything from retro Nike windbreakers to neon fanny packs and acid-washed jeans. Each item in the store feels like a curated artifact, promising you a unique look that you won't find in mainstream stores.
Upon entering Kokorokoko, you're immediately transported to a bygone era of pop culture, complete with background tunes from vintage MTV hits and decor that recalls the bold patterns and vibrant colors of the 1980s. The staff are well-versed in the decades they represent, helping you put together outfits that are both authentic and stylish. In addition to clothing, Kokorokoko offers an eclectic mix of accessories like hoop earrings, chunky necklaces, and kitschy pins to complete your look.
Unleash Your Inner Gamer at Emporium Wicker Park
If you're looking for a place to unwind that's a little out of the ordinary, then Emporium Wicker Park should be on your list. This adult playground combines the nostalgic charm of an old-school arcade with the laid-back atmosphere of a neighborhood bar. Rows of retro arcade games like Pac-Man, pinball machines, and even newer classics like NBA Jam fill the space, offering a unique form of entertainment.
But the Emporium experience isn't just about the games; it's also about the drinks. With a wide selection of local craft beers, unique cocktails, and even non-alcoholic options, the Emporium caters to all palates. Special events, like live DJ sets or themed parties, are common occurrences, infusing a dynamic energy into the venue.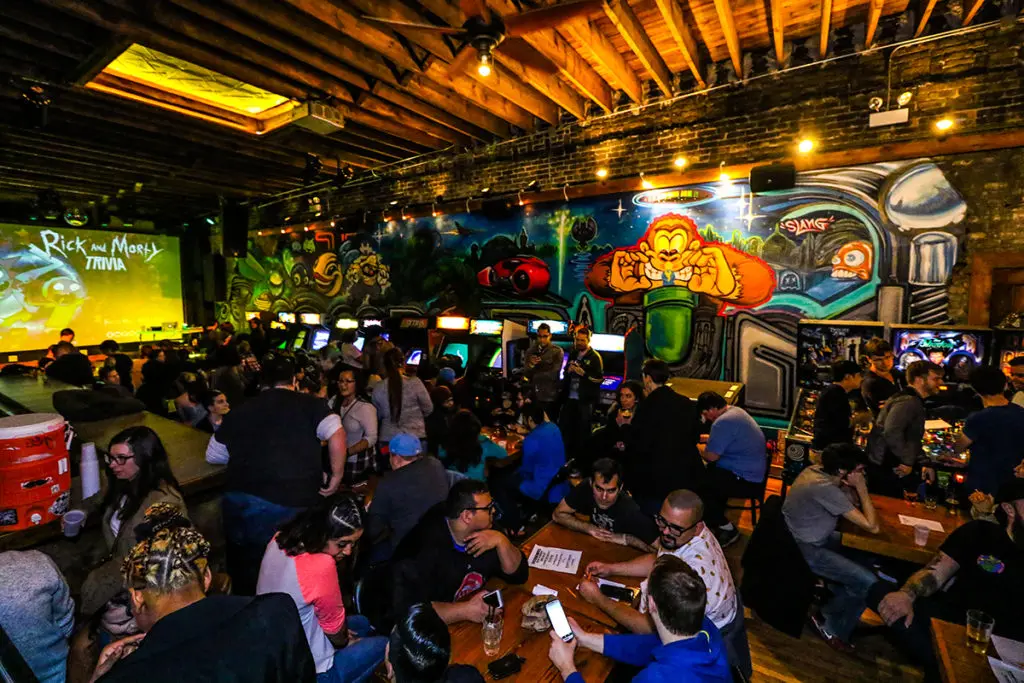 Step into the Time Machine at Dove's Luncheonette
Wicker Park is also home to Dove's Luncheonette, a dining spot that transports you back to the 1960s with its retro vibe and classic comfort food. Decked out in vintage diner decor complete with a long counter and vinyl stools, Dove's offers a cozy ambiance that harkens back to simpler times. The menu is a delectable fusion of Southern-inspired cuisine and Mexican flavors, featuring dishes like chicken-fried chicken and pozole rojo.
The luncheonette serves up not just food but also an atmosphere that oozes vintage charm. With vinyl records spinning classic tunes in the background and historic photos adorning the walls, Dove's provides an immersive experience that goes beyond the culinary offerings. The retro vibe is accentuated by the warm hospitality, making you feel like you've stepped into another era where life moves at a more leisurely pace.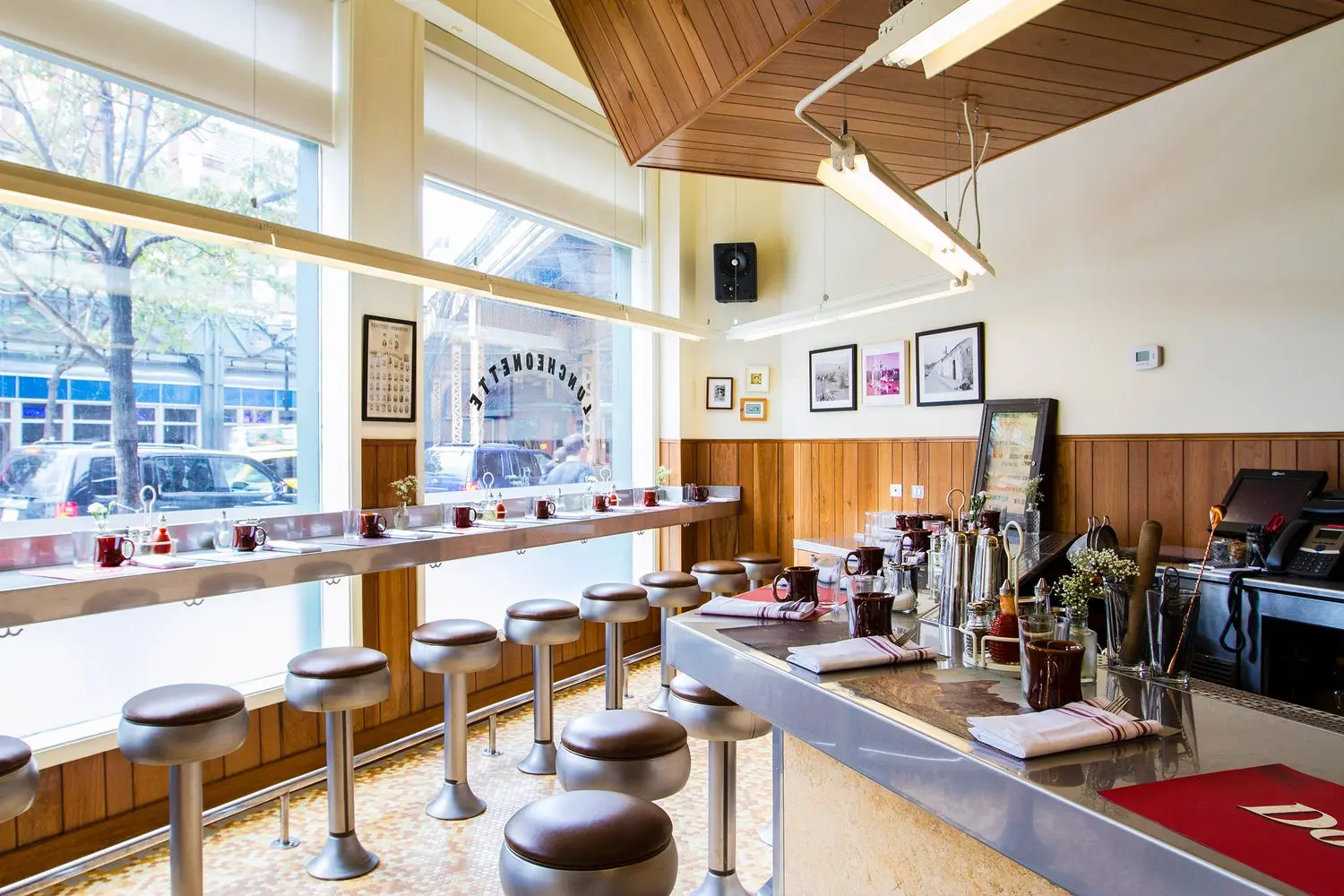 Quench Your Thirst at Dive Bars Along Milwaukee Avenue
Milwaukee Avenue in Wicker Park is a haven for those who appreciate the unpretentious allure of a good dive bar. Whether you're a cocktail connoisseur, craft beer enthusiast, or simply someone who loves the ambiance of a low-key establishment, you'll find something that suits your taste here. This stretch is home to a variety of dive bars, each with its own unique character but all embodying a laid-back vibe and a commitment to serving quality drinks without the fuss.
These bars often showcase local artists, feature retro jukeboxes, and have worn-in pool tables, creating an atmosphere that feels welcoming and authentic. Expect mismatched bar stools, graffiti-covered bathrooms, and maybe even a quirky bartender or two. What these places lack in polish, they make up for in character and community spirit.
Popular options include The Flat Iron, a longstanding neighborhood watering hole open till 4 a.m., and The Violet Hour, which offers artisanal cocktails in a cozy setting. A night out on Milwaukee Avenue is an eclectic experience, where you can hop from a punk rock-themed bar to a hipster joint serving craft beers, all within a few blocks. If you're looking to experience Wicker Park like a local, you can't go wrong with a dive bar crawl along Milwaukee Avenue.
Experience Artistic Flourish at the Flat Iron Building
Another Wicker Park gem is the Flat Iron Building, a triangular structure that is a hub of local art and culture. Although it may look like just another historical building from the outside, inside it houses dozens of artists' studios, making it one of the most important landmarks for the Chicago arts scene. It's an ever-changing space, with paintings, sculptures, and installations that vary as artists come and go.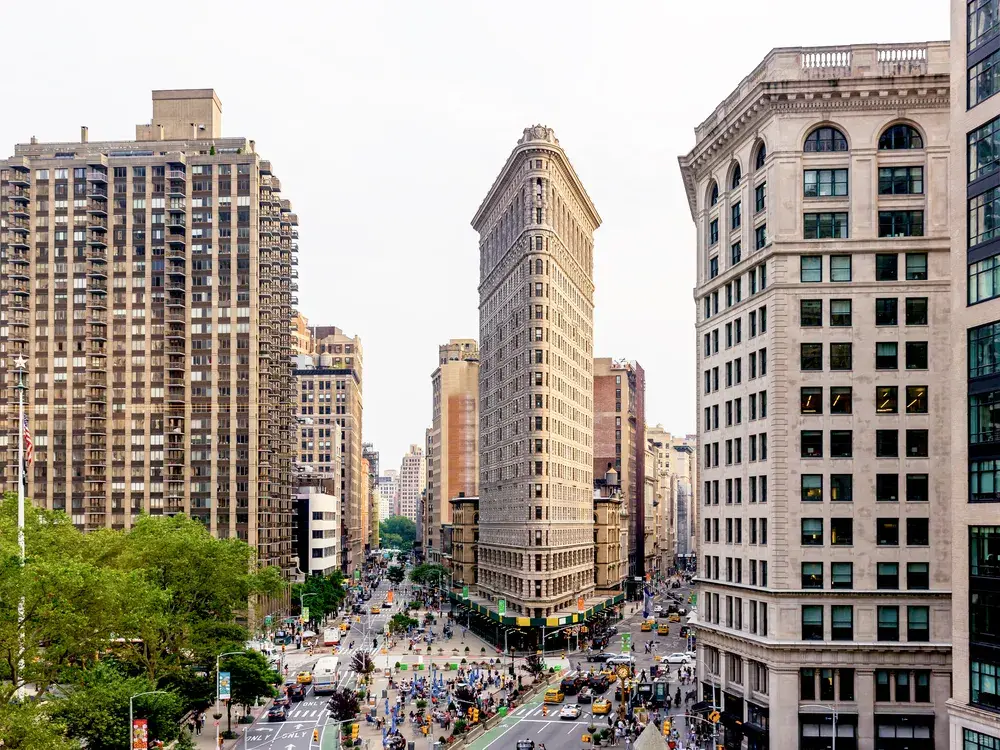 You can visit during the Flat Iron Arts Festival, which is a periodic event where artists open their studios to the public, or simply wander in on a quieter day to explore the hallways adorned with art. The walls themselves serve as a canvas, filled with murals and graffiti art that give a snapshot into the creative minds at work.
A trip to the Flat Iron Building provides a unique opportunity to interact with local artists, offering an inside look into their techniques and inspirations. The studios often feature works-in-progress, allowing you to see art being created in real-time.
Feel the Beat at The Hideout
The Hideout is a live music venue that's been a part of the Chicago scene since the 1930s, and it's a quintessential stop if you're exploring Wicker Park. Located in an actual small house that you might walk right by if you're not looking for it, The Hideout offers an intimate atmosphere that stands in contrast to larger, more commercial venues. With its rustic charm and down-to-earth vibe, you'll feel as though you're attending a secret backyard concert.
Here, you can find a wide range of musicians—from local bands on the rise to established artists looking for a more personal space to connect with their audience. The Hideout offers more than just music, though; it also hosts community events, political talks, and even dance parties, embracing a broad spectrum of cultural activities. It's a place where Chicago's intellectual and artistic scenes intersect, making it a must-visit spot for anyone wanting to understand the soul of Wicker Park and Chicago at large.
Enjoy Stand-Up at The Comedy Clubhouse
If laughter is the best medicine, then The Comedy Clubhouse in Wicker Park is your local pharmacy. This venue serves as a home to comedy troupes and stand-up comedians, offering a range of performances that will tickle your funny bone. Whether you're into improv comedy, sketch shows, or traditional stand-up, there's something for every comedy aficionado.
What sets The Comedy Clubhouse apart from other comedy venues is its commitment to nurturing local talent. It operates as a theater and a training center, providing workshops and classes for aspiring comedians. You might just catch a performance by a rising star before they make it big on the national stage.
The venue itself is intimate, making it easier for the audience to connect with the performers. The bar serves a variety of drinks to keep you refreshed as you enjoy a night full of laughs. With its affordable ticket prices and high-quality performances, The Comedy Clubhouse provides an evening of unbeatable entertainment.
So, if you're in Wicker Park and in need of a good laugh, make your way to The Comedy Clubhouse. Not only will you enjoy a night filled with humor, but you'll also get a glimpse of the next generation of comedians honing their craft.
Embrace Outdoor Family Fun at Wicker Park
At the heart of the bustling Wicker Park neighborhood lies its namesake green space, a welcoming haven perfect for a family day out. Amidst trendy cafes and boutiques, Wicker Park provides a peaceful contrast with its well-manicured lawns, playground, and historical fountain. The playground is a hit among younger kids, complete with slides, swings, and sandboxes, while the surrounding gardens offer a beautiful backdrop for family photos.
On sunny days, you'll find families enjoying picnics, playing catch, or simply soaking up the sun. During the summer months, the park's calendar is filled with child-friendly activities, such as puppet shows, outdoor movies, and even family-oriented yoga sessions. A visit to the park's farmers' market can be both enjoyable and educational as children can learn about local produce while parents stock up on fresh fruits, veggies, and other organic goodies.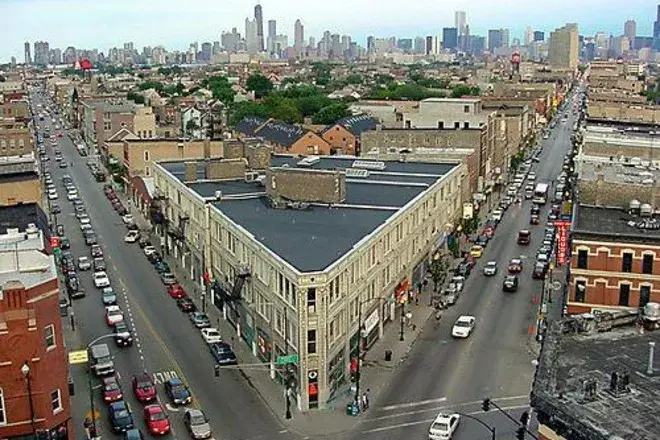 Find Fashionable Gems in Wicker Park's Unique Boutiques
Wicker Park's diverse and stylish spirit is perhaps best exemplified by the multitude of boutiques that line its streets. As you wander through the neighborhood, you'll encounter a wide array of shops that offer something for everyone, from cutting-edge fashion to classic pieces. Far from the uniformity of mall stores, each boutique stands as a testament to individual style, often reflecting the unique tastes and passions of the proprietors.
Places like Penelope's offer a mix of contemporary designer wear and indie brands, providing a chic, minimalist aesthetic. Meanwhile, boutiques like Store B Vintage offer a curated selection of vintage items for those who love retro styles from decades past. Even those who prefer a more rugged or outdoorsy look will find their match at stores like Independence, which features high-quality, American-made products.
What sets Wicker Park's shopping scene apart is not just the range of options, but also the level of personalized service you'll receive. Staff are often more than willing to help you find the perfect garment, offering style tips and even pointing you to the latest arrivals.
Revel in the Performing Arts at The Den Theatre
Nestled within the vibrant landscape of Wicker Park is The Den Theatre, a celebrated venue offering a rich tapestry of theatrical experiences. The multi-stage facility serves as a hub for innovative and thought-provoking performances, from gritty dramas and laugh-out-loud comedies to heartwarming narratives. This intimate space, characterized by exposed brick walls and a cozy ambiance, delivers an immersive experience, connecting audiences closely with the performers.
Not confined to a single genre or style, The Den Theatre's varied lineup promises something for everyone, whether you're a theater aficionado or a curious newcomer. The venue frequently collaborates with local theatre companies, offering them a platform to present fresh, new works. Besides plays, the theatre also hosts stand-up comedy, improv shows, and musical performances, ensuring that its calendar is consistently dynamic and engaging.
Given its commitment to enriching Chicago's cultural scene, The Den Theatre provides more than just entertainment—it offers a deep dive into the artistic soul of the community.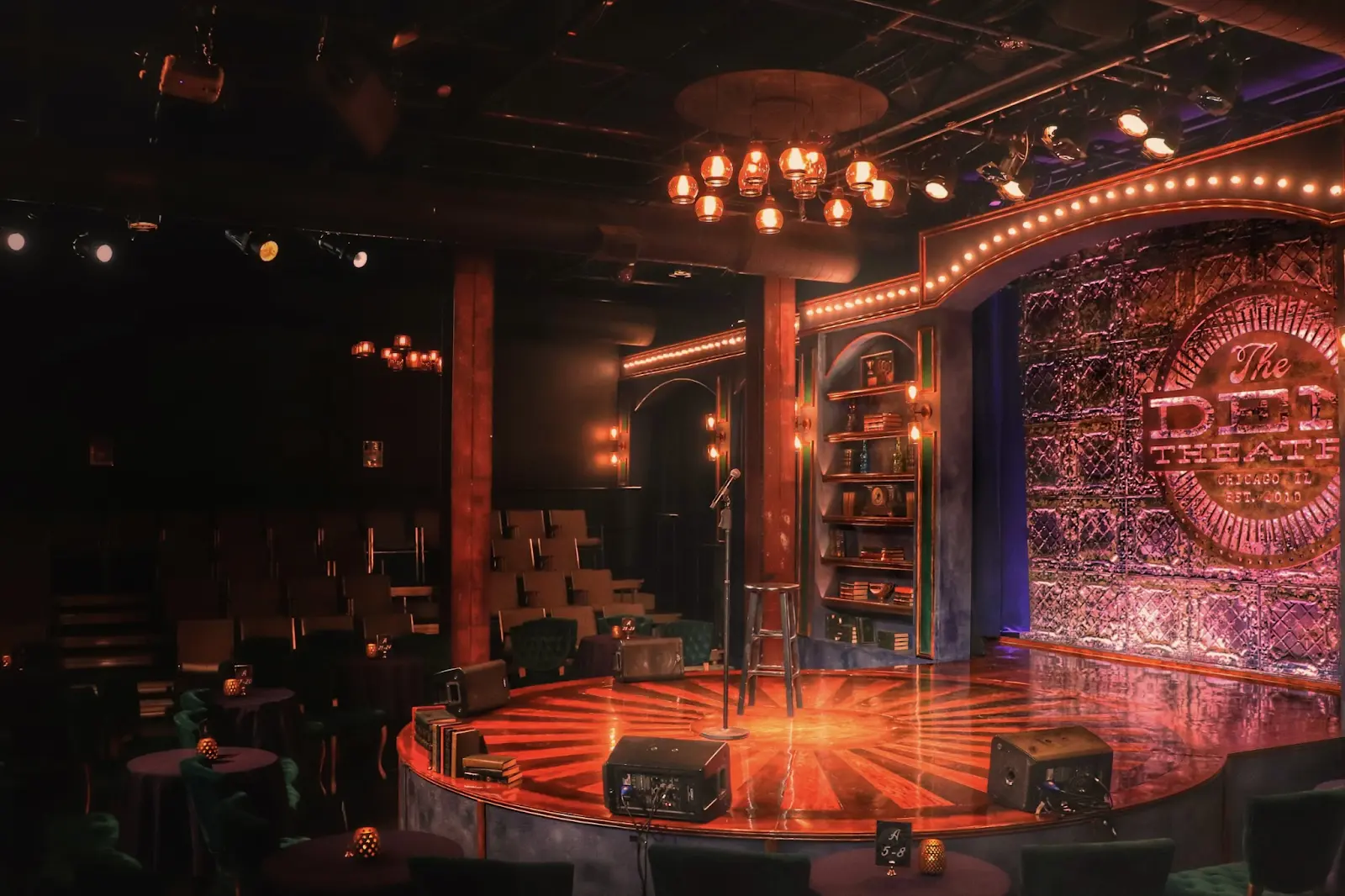 Sip Coffee with a Twist at The Wormhole Coffee
With its retro decor, nostalgic memorabilia, and inventive beverage menu, The Wormhole Coffee offers an experience that's anything but ordinary. As you walk into this unique café in Wicker Park, you'll be greeted by a life-sized replica of the DeLorean from "Back to the Future," setting the tone for what's to come. The Wormhole embraces the 80s and 90s pop culture with gusto, featuring walls adorned with vintage posters, old-school video game consoles, and other quirky knick-knacks.
But The Wormhole Coffee isn't just about the aesthetics; it also takes its coffee very seriously. Using high-quality beans, the café serves an array of coffee drinks, from your classic lattes and espressos to more adventurous offerings like the "Koopa-Troopa," a peanut butter mocha that has gained a cult following. Non-coffee drinkers can also find a home here with options like tea, hot chocolate, and unique seasonal specials.
The Wormhole Coffee stands as a testament to Wicker Park's eclectic personality, combining quality beverages with a unique ambiance. Whether you're looking to work on your laptop, catch up with friends, or simply people-watch, this café offers an unparalleled experience that brings together the best of coffee culture and retro nostalgia.
Dig for Musical Gems at Reckless Records
Music enthusiasts looking for an authentic Wicker Park experience should make a beeline for Reckless Records, a local institution revered for its extensive collection of vinyl records, CDs, and even cassettes. This independent music store captures the essence of Wicker Park's alternative spirit, offering a meticulously curated selection that spans multiple genres, from classic rock and jazz to electronic and indie.
The layout encourages leisurely browsing, and you're likely to stumble upon rare and vintage records that you won't find anywhere else. Beyond the store's musical inventory, you'll also discover a variety of music-related memorabilia, magazines, and even turntables. Knowledgeable staff are always on hand to help you locate that elusive album or recommend hidden gems based on your musical tastes.
The store also buys records from the public, contributing to the ever-changing selection that draws collectors and casual listeners alike. With its rich history and enduring commitment to music culture, Reckless Records is more than just a store; it's a sanctuary for music lovers and an indispensable part of the Wicker Park landscape.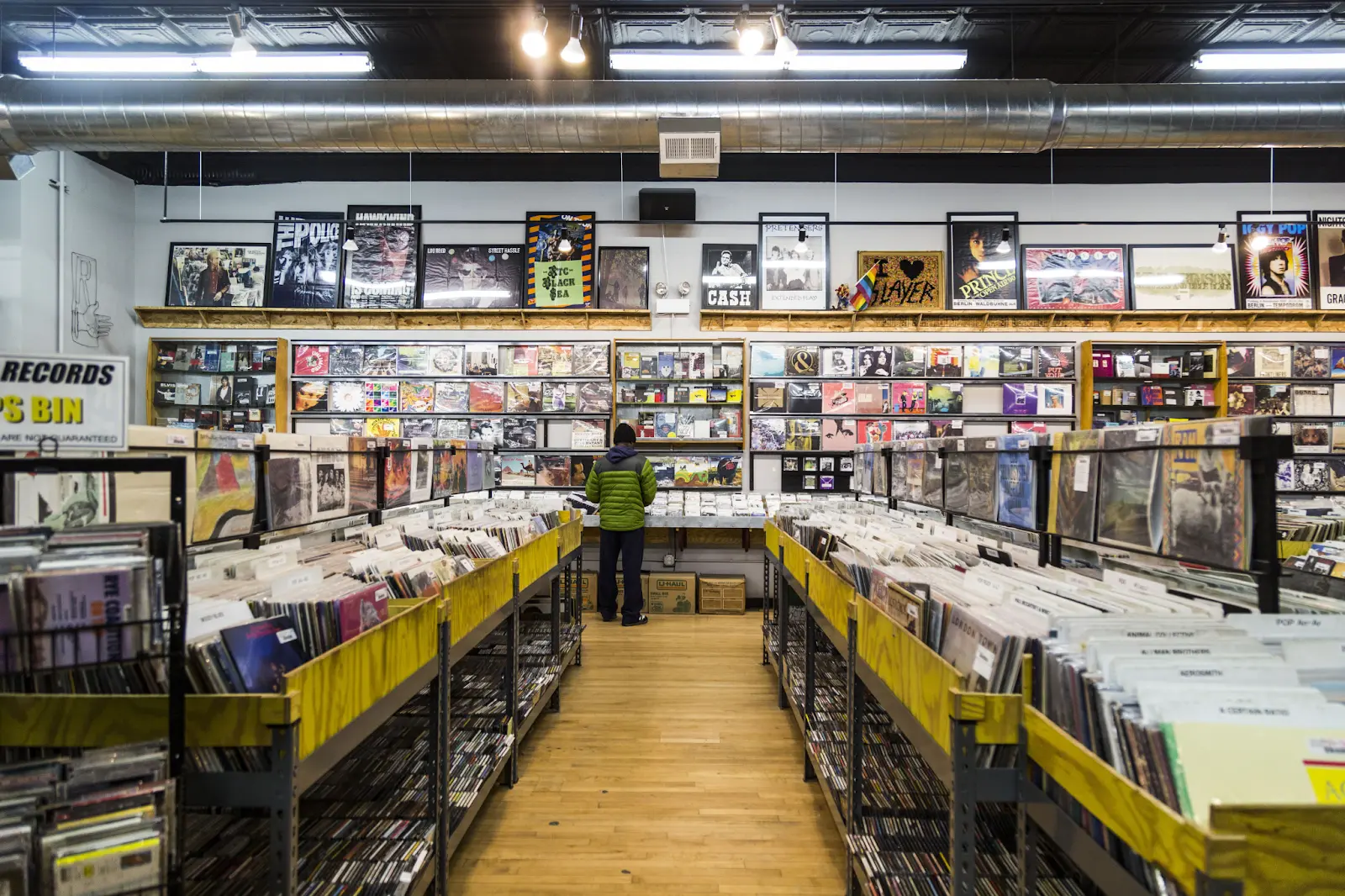 Marvel at Creativity in Wicker Park's Art Galleries
Artistic expression thrives in Wicker Park, and nowhere is this more evident than in the neighborhood's numerous art galleries. From contemporary installations and pop art to traditional paintings and sculptures, the range of art on display is as diverse as the community itself. The galleries serve as vibrant spaces where artists and art lovers converge to celebrate creativity, explore new ideas, and even engage in intellectual discussions.
Popular venues like the Jackson Junge Gallery offer eclectic collections that feature both established and emerging artists, making it a great place to spot the next big thing in the art world. At spaces like LVL3, you'll find a blend of local and international talent showcased in a modern, minimalist setting. These galleries often host opening receptions, artist talks, and special exhibitions, giving you the opportunity to dive deeper into the art and meet the creators behind it.
While some galleries specialize in visual arts, others broaden their scope to include multimedia installations, performance art, and even artisanal crafts.  
Savor Authentic Flavors at Big Star
If you're in Wicker Park and have a craving for Mexican cuisine, Big Star is a destination you shouldn't miss. Known for its laid-back atmosphere and high-quality dishes, this popular eatery captures the essence of a classic taqueria, infused with a touch of Chicago flair. Located in the heart of the neighborhood, Big Star serves up a variety of tacos, from al pastor and carne asada to inventive vegetarian options.
The restaurant's patio is a prime spot for outdoor dining, offering a perfect setting for those warm Chicago evenings. Inside, the vibrant décor—complete with retro signage and string lights—creates a welcoming and festive atmosphere. Alongside its delectable tacos, Big Star boasts an impressive selection of tequilas, mezcals, and custom cocktails, making it an ideal spot for both food and drink enthusiasts.
Unwind in Elegance at The Violet Hour
For those seeking a more refined nightlife experience in Wicker Park, The Violet Hour serves as a sanctuary of sophistication. This award-winning cocktail lounge is renowned for its artisanal drinks, expert mixologists, and an ambiance that exudes understated elegance. From the outside, the venue is deliberately inconspicuous—a mural-covered façade with a single light bulb marking the entrance. Yet once inside, you're transported to a world of dimly lit chandeliers, high-backed chairs, and luxurious drapes.
The Violet Hour's cocktail menu is an ever-changing work of art, offering a range of choices from classic drinks to imaginative concoctions that you won't find anywhere else. Each cocktail is crafted with utmost precision, using high-quality spirits and freshly squeezed juices, often accompanied by house-made syrups and garnishes.
Given its romantic, secluded atmosphere, The Violet Hour makes for a perfect date-night destination. It's also an excellent place to catch up with old friends over meticulously crafted cocktails or to celebrate special occasions in a setting that's both intimate and upscale.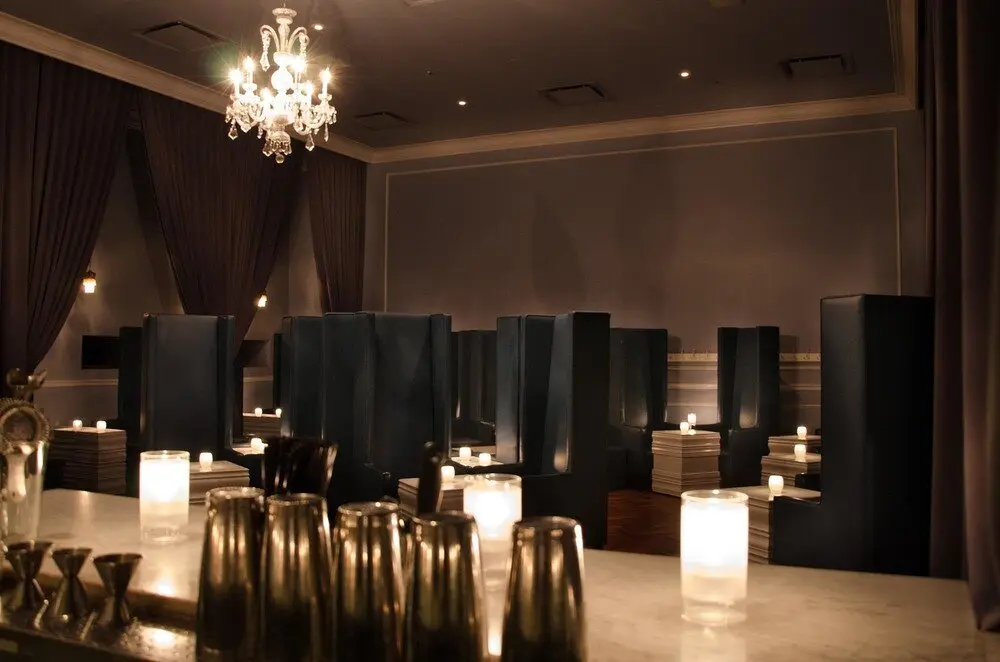 Enjoy Farm-to-Table Goodness at Wicker Park Farmers Market
Nestled in the heart of the vibrant Wicker Park community, the Wicker Park Farmers Market serves as a Sunday sanctuary for food lovers and health-conscious individuals alike. Held in the park from which the neighborhood takes its name, this seasonal market showcases a diverse array of fresh, locally-sourced produce, artisanal cheeses, homemade pastries, and more.
What sets this farmers market apart is its dedication to sustainability and supporting local agriculture. It's a delightful space to wander through, where you can interact directly with the farmers and vendors, gaining insight into where your food comes from and how it's grown or made. Organic fruits and vegetables abound, and you'll also find unique offerings like gourmet mushrooms, farm-fresh eggs, and even small-batch kombucha.
The Wicker Park Farmers Market isn't just a place to stock up on wholesome foods; it's an experience that connects you with the local community and offers a deeper understanding of sustainable living. Whether you're a neighborhood local or a visiting tourist, a trip to this bustling market will enrich your appreciation for quality, local food.
Relish a Culinary Experience at Antique Taco
If you think tacos are merely fast-food staples, a visit to Antique Taco in Wicker Park will quickly change your mind. This charming eatery gives a gourmet twist to classic Mexican dishes, combining high-quality ingredients with inventive recipes. The restaurant itself exudes a warm, welcoming ambiance, filled with rustic decor and vintage furnishings that align perfectly with its name.
The menu at Antique Taco goes beyond traditional fare to offer unique culinary creations. Favorites include the garlic shrimp tacos, packed with perfectly cooked shrimp, guacamole, and a spicy kale slaw, as well as the rosemary margarita chicken tacos that feature a delicious combination of flavors, right down to the house-made tortillas.
But it's not just about tacos; the menu also features seasonal salads, churro donut milkshakes, and even craft cocktails designed to complement your meal. The attention to detail is evident not just in the food but also in the presentation, with dishes often served on charming vintage plates.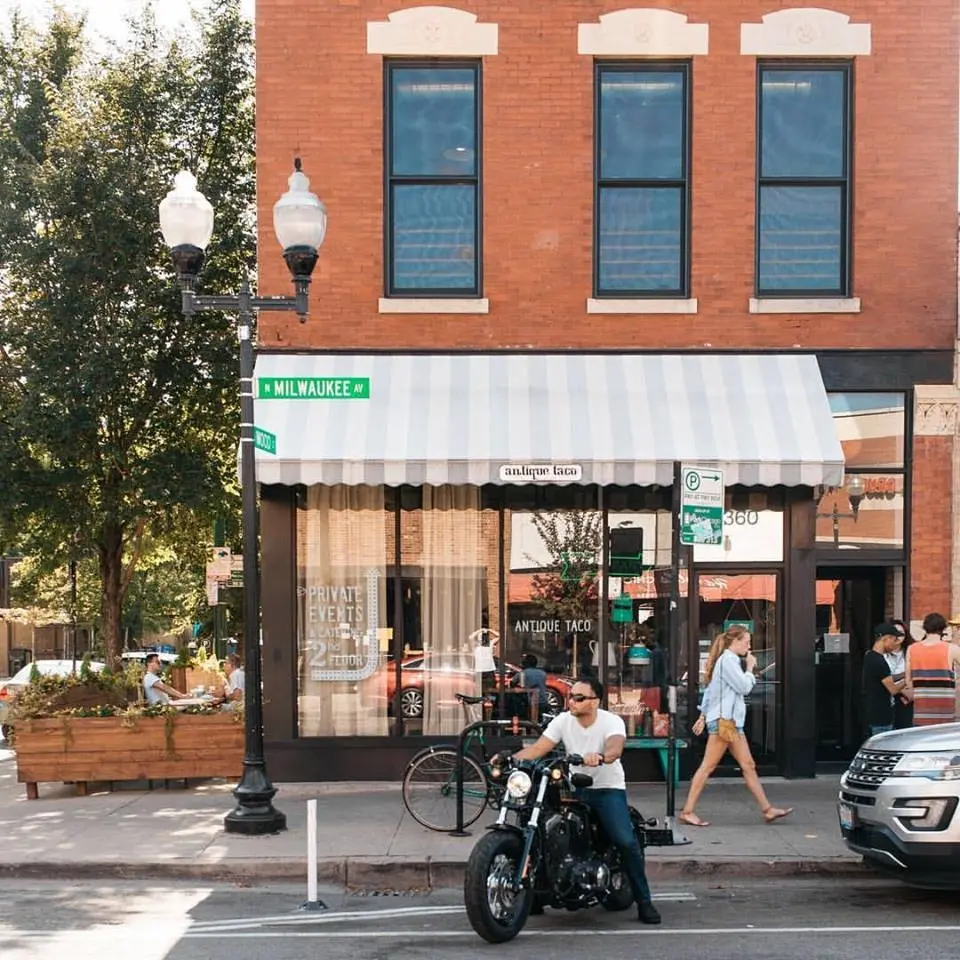 Discover Literary Treasures at Myopic Books
For book lovers exploring Wicker Park, Myopic Books is an essential destination that promises an adventure through a maze of literary treasures. This iconic used bookstore has been a neighborhood mainstay for decades, featuring a sprawling collection that spans three levels and encompasses a wide range of genres, from classic literature and science fiction to philosophy and art.
Upon entering, you're greeted by the cozy, labyrinthine atmosphere of a traditional bookstore, complete with the comforting aroma of old books. The tall, overstuffed shelves and narrow corridors invite exploration, turning a casual visit into an exciting treasure hunt. The store's staff are often passionate readers themselves and can provide informed recommendations if you're looking for something specific or just want to explore something new.
Myopic Books is more than just a retail space; it also serves as a cultural hub for the community. The store hosts a variety of events, including poetry readings, author discussions, and even live music performances.
Explore Vintage Chic at Store B
If antiquing is your form of treasure hunting, then Store B in Wicker Park is a must-visit. This specialty shop offers a thoughtfully curated selection of vintage items, each one a time capsule of past eras. From mid-century modern furniture and classic memorabilia to vintage clothing and unique accessories, Store B transports you back in time through its diverse offerings.
Upon walking into the store, you'll immediately notice the meticulous arrangement of items, which creates a visual narrative that tells a story of bygone decades. Here, antiques aren't merely objects of the past; they're presented as valuable pieces of history that carry stories and sentimental value. Each item has been carefully chosen for its aesthetic, cultural, or historical significance, ensuring that you're not just browsing through random relics but exploring a gallery of carefully curated artifacts.
Store B isn't just for serious collectors. Even if you're not in the market for antiques, it's a fascinating place to explore and perhaps find a unique gift or home accessory you never knew you needed. Staff members are knowledgeable and happy to share stories behind the items, enriching your shopping experience.
Conclusion
Wicker Park, with its bohemian spirit and eclectic offerings, stands as a testament to Chicago's cultural richness and diversity. This vibrant neighborhood, with its blend of historic charm and modern innovation, invites people from all walks of life to explore its treasures and experience its unique vibe. The colorful tapestry of arts, cuisine, fashion, and entertainment that Wicker Park weaves creates a dynamic and inclusive environment where every corner has a story to tell, and every experience is a brush stroke in the larger painting of Chicago life. Whether you're a local rediscovering the myriad of experiences the neighborhood has to offer, or a visitor exploring its multifaceted charm for the first time, Wicker Park leaves you with a richer, more nuanced understanding of the cultural kaleidoscope that is Chicago. It's a place where every visit is an adventure, and every adventure is a memory in the making.