20 Best Things to Do in Yonkers, NY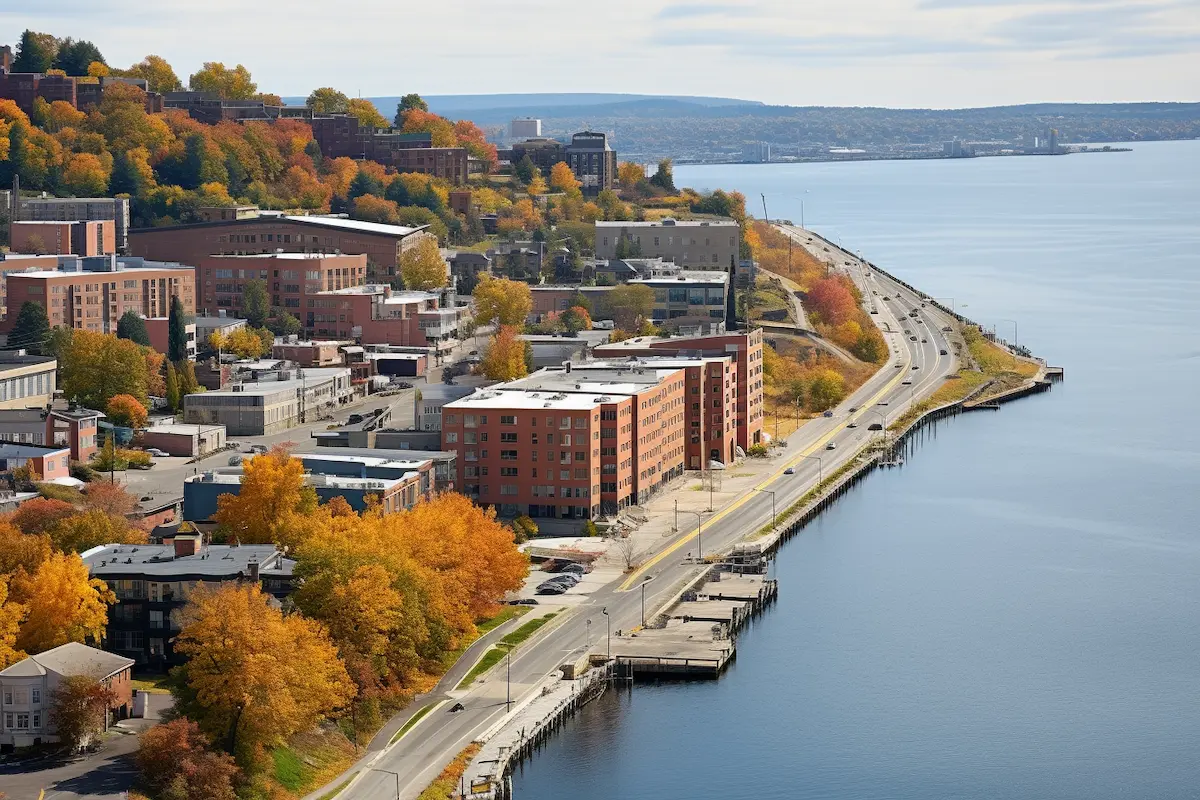 Tucked away in the southern part of New York State, not too far from the hustle and bustle of Manhattan, lies the historic and diverse city of Yonkers. Often overshadowed by its massive neighbor, Yonkers offers a unique blend of urban charm and suburban tranquility, with a rich history and culture that begs exploration. From breathtaking landscapes along the Hudson River to historic mansions, from dynamic shopping venues to parks teeming with activities, Yonkers is a treasure trove for both the avid traveler and the casual visitor. As the fourth largest city in the state, Yonkers seamlessly combines the modern amenities of a big city with the warmth and comfort of a hometown.
Explore the Paths of the Old Croton Aqueduct
Yonkers, NY, nestled along the Hudson River, boasts a rich history and diverse attractions. One of the must-visit spots is the Old Croton Aqueduct. This historic aqueduct was built in the 19th century to supply fresh water to New York City. Today, it serves as a testament to the marvels of engineering of its time and offers recreational opportunities for locals and visitors alike.
The trailway that follows the aqueduct stretches for over 26 miles, but the segment in Yonkers provides an especially scenic route. As you walk, jog, or bike along this pathway, you'll be enveloped by lush greenery, seasonal flora, and occasional glimpses of the mighty Hudson River. Along the trail, you'll find informative plaques detailing the history and architecture of the aqueduct, providing a perfect blend of leisure and learning.
This trail also links several historic sites and parks. Untermyer Gardens, with its beautifully landscaped grounds, is a popular stop. The Walled Garden, inspired by the ancient Persian paradise gardens, is especially breathtaking. Venturing along the Old Croton Aqueduct trail offers a respite from urban hustle, allowing visitors to immerse themselves in nature, history, and the serenity that Yonkers holds.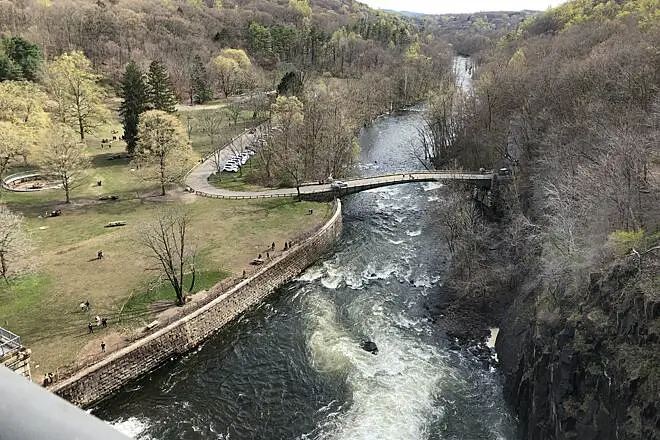 Experience Excitement at Empire City Casino
If you're looking for a blend of entertainment, dining, and the thrill of chance, then the Empire City Casino in Yonkers is your destination. Conveniently located, this sprawling complex offers a myriad of opportunities for visitors to indulge in.
Upon entering, the shimmering lights and ringing sounds of over 5,000 slot machines greet you, setting the tone for an exhilarating experience.  But the fun doesn't end at gaming. Empire City Casino is also home to a variety of dining options catering to every palate. From quick bites to luxurious dining experiences, the choices are varied and delectable. The live entertainment and events calendar is always packed, ensuring that there's never a dull moment.
For those not into gambling, the casino offers a pulsating environment to simply soak in the atmosphere, enjoy a meal, or groove to live music. The venue also hosts special events, concerts, and comedy shows, making it a hub of entertainment in Yonkers.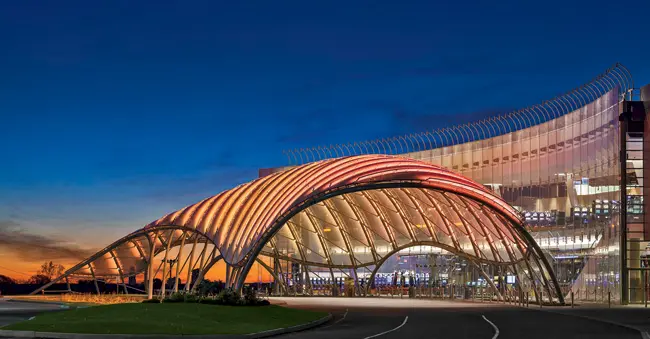 Savor Authenticity at Frank Pepe Pizzeria Napoletana
When it comes to iconic pizzas, Yonkers residents and visitors are in for a treat at Frank Pepe Pizzeria Napoletana. This legendary pizzeria, which originated in New Haven, Connecticut, has extended its culinary magic to Yonkers, and the reception has been nothing short of spectacular. What makes Frank Pepe's stand out is its rich history, dating back to 1925, and its commitment to traditional Neapolitan pizza-making techniques.
As you step into the establishment, you're greeted by the aroma of freshly baked pizzas wafting from the coal-fired brick ovens. The signature thin-crust pizza here has a charred and crispy exterior, with toppings that meld beautifully to offer an explosion of flavors. One must-try is their renowned White Clam Pizza, which boasts fresh clams, grated Pecorino Romano, garlic, oregano, and olive oil.
The ambiance at Frank Pepe's complements the food - it's casual yet buzzing, reminiscent of the old-world pizzerias. Every bite you take here is not just about tasting a slice of pizza; it's about experiencing a slice of history.
Dive into a World of Fun at Legoland Discovery Center
Yonkers has a special treat for families and kids-at-heart: the Legoland Discovery Center. Situated in the Ridge Hill shopping district, this indoor Lego playground is an immersion into a vibrant world of creativity, learning, and fun.
One of the main attractions here is the Miniland, where visitors can marvel at detailed Lego replicas of famous New York landmarks. It's a sight to behold as these intricate models come alive with interactive features, lights, and moving parts. Beyond that, there are multiple building and play areas that encourage kids to unleash their creativity and imagination. From racing Lego cars down ramps to constructing tall towers, the possibilities are endless.
Another highlight is the 4D cinema, where guests can enjoy short Lego-themed films with added physical effects like rain, wind, and even snow, providing an immersive experience. Additionally, themed workshops led by the center's Master Model Builders offer kids a chance to learn new building techniques and create their own unique models.
For parents, the joy lies not just in the play but in witnessing the sheer delight and imaginative growth of their children. Whether you're on a family day out or celebrating a special occasion, the Legoland Discovery Center in Yonkers ensures an unforgettable blend of fun and inspiration.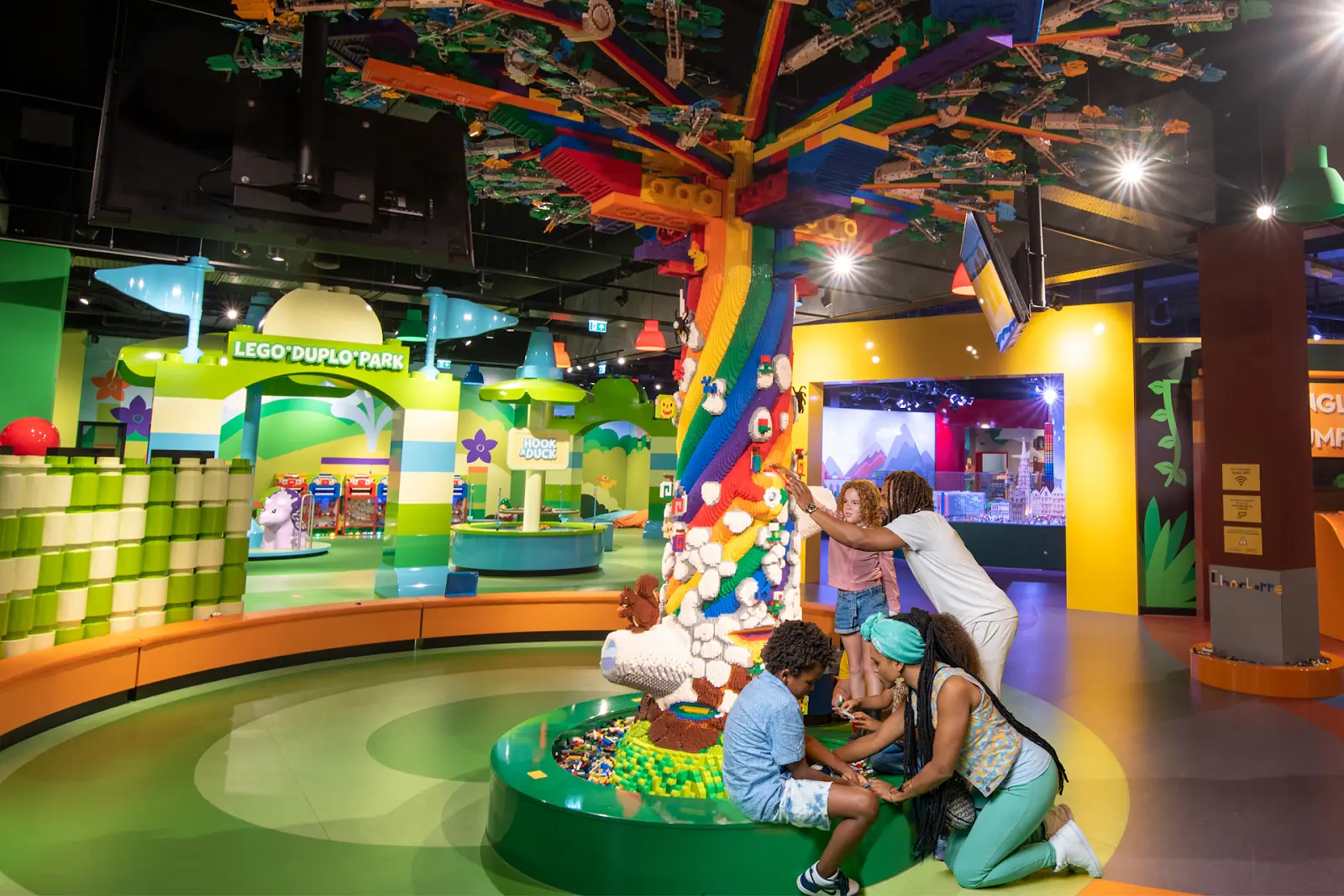 Step Back in Time at the Sherwood House Museum
Yonkers is home to a hidden gem that history aficionados would surely appreciate: the Sherwood House Museum. Built in the mid-18th century, this Georgian-style farmhouse offers a glimpse into the life and times of its past residents, particularly during the American Revolutionary War.
A tour of the Sherwood House is like stepping into a time capsule. The house, preserved meticulously, displays authentic period furniture, artifacts, and tools, painting a vivid picture of colonial domestic life. One of the standout features is its massive central chimney, which served multiple fireplaces—a testament to the architectural design of that era.
What makes the Sherwood House particularly significant is its role during the Revolutionary War. The house bore witness to the trials and tribulations of its inhabitants amidst the tumultuous backdrop of war. These stories are narrated in detail by knowledgeable guides, ensuring visitors leave with a deeper appreciation of the region's history.
The Sherwood House Museum is not just a building; it's a narrative of resilience, survival, and the daily lives of ordinary people who lived through extraordinary times. A visit here is an educational journey, making history come alive in the most tangible way.
Experience Leisure and Fun at Tibbetts Brook Park
Tibbetts Brook Park, sprawling over 161 acres, is one of Yonkers' most beloved recreational spots, offering a plethora of activities for people of all ages. Located in the heart of the city, this oasis is a testament to the harmonious blending of nature and modern amenities.
The park's centerpiece, a meandering man-made lake, invites visitors for paddle boating and fishing. For those seeking more aquatic fun, the park boasts a state-of-the-art aquatic complex with pools, water slides, and a lazy river—making it a favorite spot during the warm months.
But Tibbetts Brook Park isn't just about water activities. It offers a diverse range of facilities, from basketball and volleyball courts to soccer and baseball fields. The vast green spaces are perfect for picnicking, playing frisbee, or simply lounging with a good book. For the more active visitor, winding trails beckon for jogging, walking, or biking.
Children have a special place in the park with multiple playgrounds designed to cater to various age groups. And with the park frequently hosting events, concerts, and community activities, there's always something happening.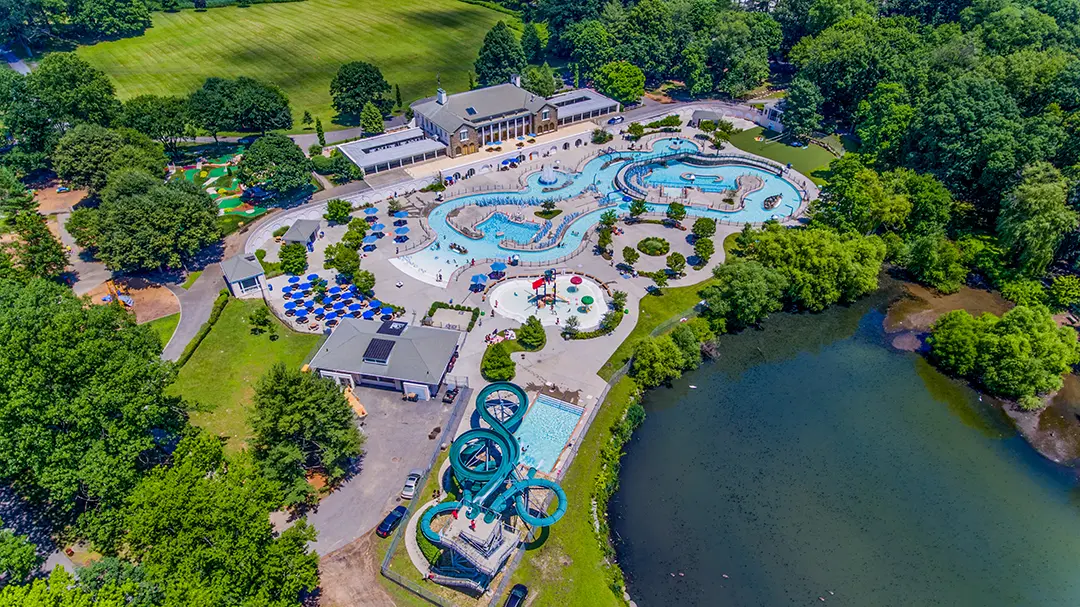 Discover the Enchantment of Untermyer Gardens Conservancy
Hidden within Yonkers is a breathtaking paradise known as the Untermyer Gardens Conservancy. This historic garden, spanning over 43 acres, is a mesmerizing blend of horticultural artistry, intricate design, and captivating history.
As you enter the gardens, you're immediately drawn to the Walled Garden, inspired by the ancient Persian paradise gardens. The intricate patterns of pathways, beautiful tiles, and vibrant floral arrangements evoke a sense of serenity and wonder. The Temple of Love, another highlight, is a magnificent rocky structure adorned with cascading waterfalls and offering panoramic views of the Hudson River and the Palisades.
Throughout the year, the gardens undergo a transformation with changing seasons. Spring welcomes blossoms of myriad hues, summer offers lush greenery, while autumn brings a riot of colors. Even in winter, the snow-clad landscapes provide a unique charm.
Apart from its beauty, Untermyer Gardens also holds educational events, horticultural workshops, and guided tours, giving visitors insights into the garden's history, design, and plant species.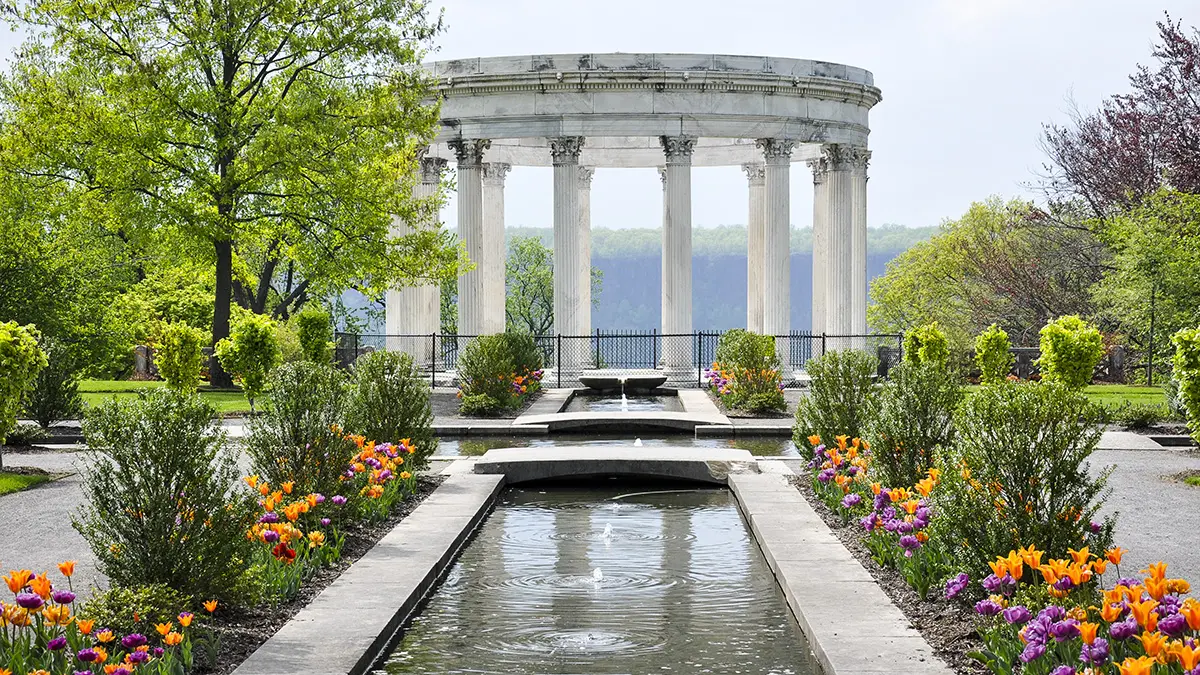 Embark on a Cultural Expedition at the Hudson River Museum
Situated along the banks of the Hudson River, the Hudson River Museum serves as a cultural beacon in Yonkers. This multidisciplinary complex brings together art, history, and science under one roof, offering a rich tapestry of experiences for visitors.
One of the museum's prime attractions is its art collection, which primarily focuses on works inspired by the Hudson River School. The galleries showcase a diverse range of paintings, sculptures, and decorative arts, reflecting the region's vibrant artistic heritage.
For those intrigued by the cosmos, the museum's planetarium is a must-visit. Here, you can gaze at the stars, explore the mysteries of our universe, and attend captivating shows that make astronomy accessible to all ages.
The museum also delves deep into the history of the Hudson River region, with exhibits highlighting its industrial past, environmental challenges, and the communities that have thrived along its banks. Interactive displays, especially designed for children, make learning fun and engaging.
Beyond its indoor attractions, the museum's grounds also feature the historic Glenview Mansion, a stunning example of Victorian architecture. Period rooms, adorned with original furnishings, transport visitors back in time, offering a glimpse into 19th-century domestic life.
Experience Cinematic Delight at Alamo Drafthouse Cinema
Alamo Drafthouse Cinema in Yonkers offers a movie-watching experience like no other. This unique theater seamlessly combines the joy of cinema with a full-service dining experience, ensuring that movie-goers can indulge both their cinematic and culinary senses simultaneously.
The curated movie selections cater to a wide audience. From blockbusters to indie films, and classics to cult favorites, there's something for every film enthusiast. What sets Alamo Drafthouse apart is its strict policy on cinema etiquette. The theater prides itself on ensuring an uninterrupted experience, meaning there are strict rules against talking and using cell phones during the film. This commitment to the purity of the cinematic experience is a boon for true movie lovers.
However, the magic doesn't end with the silver screen. Alamo Drafthouse offers a full menu of gourmet delights and beverages, served right to your seat. Special themed nights and movie parties also pepper the cinema's calendar, offering interactive and immersive events for patrons.
For those looking for a movie experience that's a cut above the rest, Alamo Drafthouse Cinema in Yonkers is the ticket.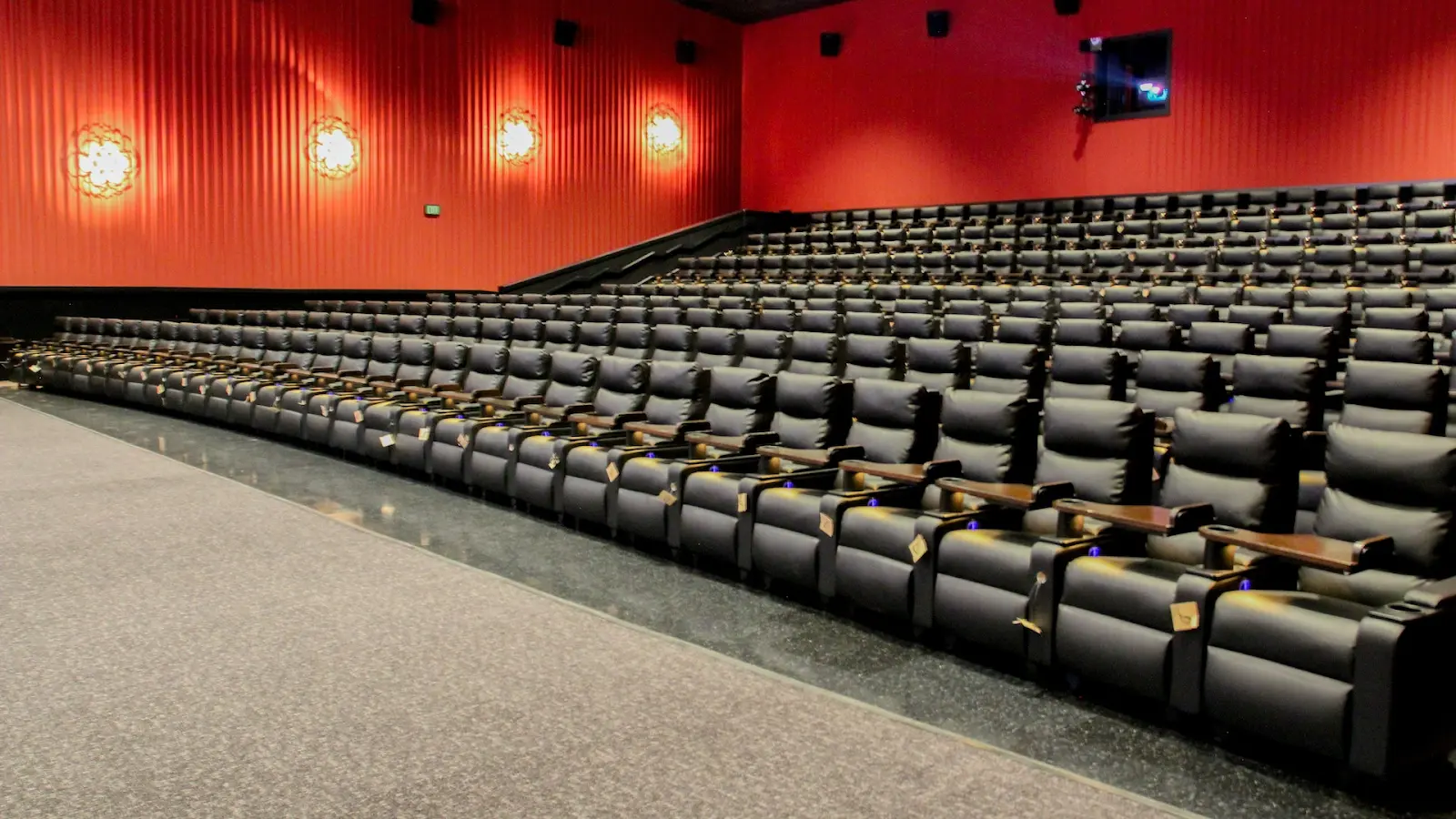 Embark on an Eco-Adventure with the Groundwork Hudson Valley Science Barge
Floating along the Hudson River in Yonkers is the Groundwork Hudson Valley Science Barge, a pioneering initiative that showcases sustainable urban agriculture. This floating greenhouse is entirely powered by renewable energy sources like solar panels, wind turbines, and biofuels, making it a zero-carbon footprint facility.
Visitors to the Science Barge can witness a range of innovative agricultural techniques in action, from hydroponics to aquaponics. The barge grows an impressive array of produce, including vegetables, fruits, and herbs, all without using any soil or synthetic chemicals.
Guided tours, led by knowledgeable educators, delve deep into the science and technology behind the barge's operations. These tours are not only informative but interactive, with hands-on activities designed to engage visitors of all ages. Children, in particular, benefit from the barge's educational programs, which instill in them a deeper understanding and appreciation of sustainable practices.
The Science Barge also regularly hosts workshops, demonstrations, and special events, emphasizing the importance of environmental conservation, sustainable agriculture, and the potential of urban farming.
For those keen on exploring the intersection of science, agriculture, and sustainability, the Groundwork Hudson Valley Science Barge offers an enlightening and inspiring journey.
Indulge in Retail Therapy at Cross County Shopping Center
Located in the heart of Yonkers, the Cross County Shopping Center is more than just a mall—it's a retail haven. With its open-air design, beautifully landscaped walkways, and a vast array of shops, it offers a unique and vibrant shopping experience.
Home to over 100 stores, Cross County caters to every shopper's needs. From high-end fashion brands to trusted departmental stores, there's a delightful mix of options to explore.
But shopping isn't the only indulgence at Cross County. The center boasts an impressive range of dining options. Whether you're craving gourmet cuisine, quick bites, or international delicacies, there's a restaurant or café to satisfy your taste buds.
Throughout the year, the shopping center also hosts a variety of events, from summer concerts to holiday festivities, ensuring there's always a buzz of activity. Ample parking, kid-friendly areas, and its convenient location make Cross County Shopping Center a must-visit destination for locals and visitors alike.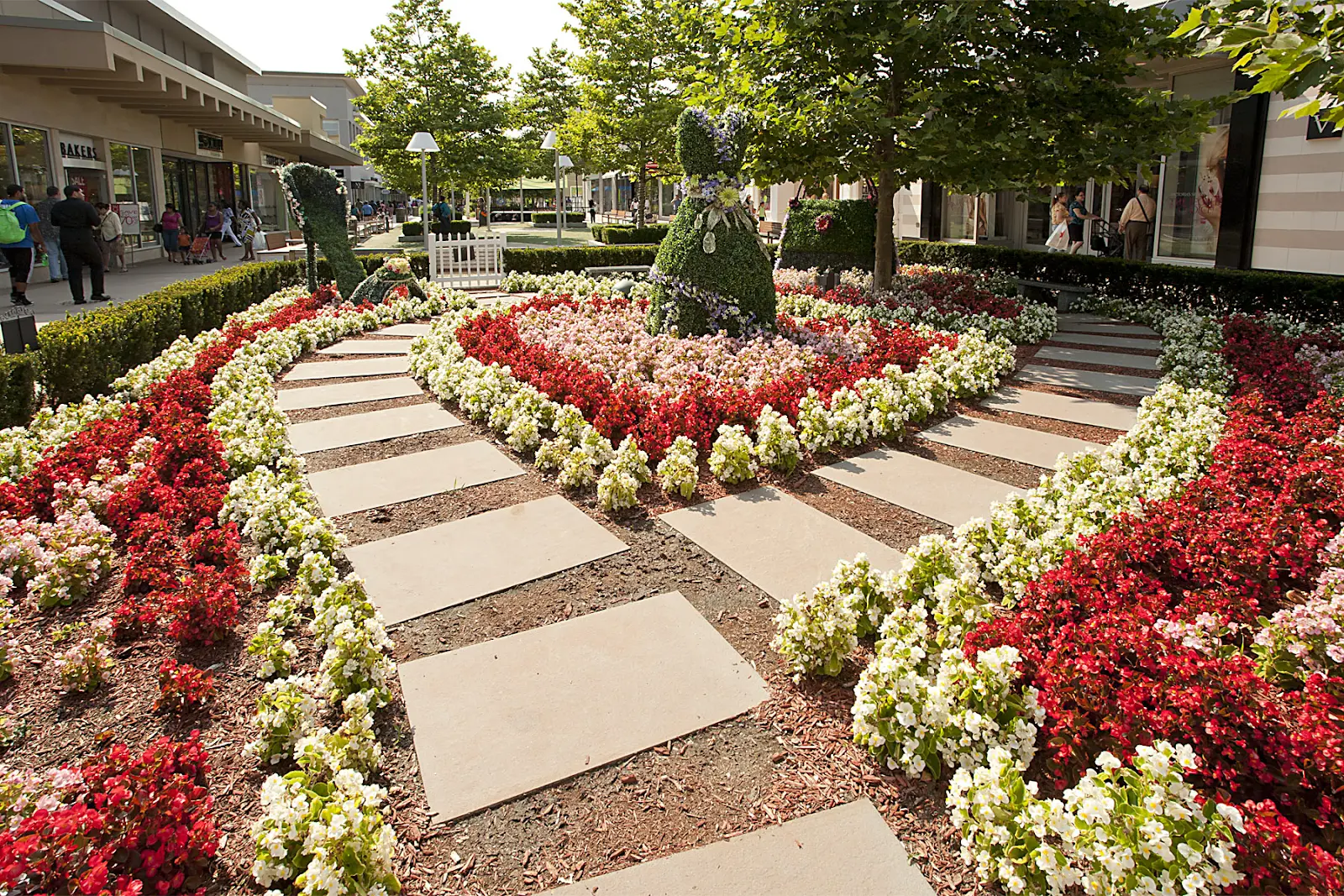 Experience All-In-One Fun at Ridge Hill
Ridge Hill, located in Yonkers, is not just a shopping destination—it's an experience. This beautifully designed urban village combines the best of retail, dining, entertainment, and more, all set against a backdrop of modern architecture and green spaces.
Shopping at Ridge Hill is a delight, with its pedestrian-friendly avenues lined with a curated mix of boutiques, specialty stores, and popular retail brands. Fashion enthusiasts, hobbyists, and everyday shoppers will find everything they need, from apparel and accessories to home décor and beauty products.
However, Ridge Hill's allure doesn't stop at shopping. The dining scene here is eclectic and vibrant. You can savor a sophisticated meal at a fine dining establishment, enjoy rooftop views at trendy bars, or grab a delicious snack from international eateries.
Entertainment options are abundant, with venues like the Legoland Discovery Center and Showcase Cinema de Lux ensuring fun for all ages. For those looking to relax and rejuvenate, Ridge Hill also offers spas and wellness centers.
Experience Serenity at Yonkers Waterfront
The Yonkers Waterfront is one of the city's most scenic and revitalized areas, providing a refreshing blend of urban charm and the tranquil beauty of nature. This picturesque stretch along the Hudson River is perfect for leisurely strolls, where the panoramic views of the Palisades cliffs and the distant Manhattan skyline captivate visitors.
As you walk along the well-maintained promenade, you'll pass by a series of historic buildings, art installations, and modern residential complexes, reflecting the rich tapestry of Yonkers' past and its forward-looking future. The waterfront also boasts an array of dining options. From cozy cafes to waterfront restaurants, there's a spot for everyone to enjoy a meal or drink with a view.
For those seeking a bit more activity, the area often hosts events, farmers' markets, and live performances, infusing the waterfront with energy and vibrancy. Whether you're watching the boats glide by, taking in a sunset, or simply absorbing the sights and sounds, the Yonkers Waterfront offers a peaceful retreat in the heart of the city.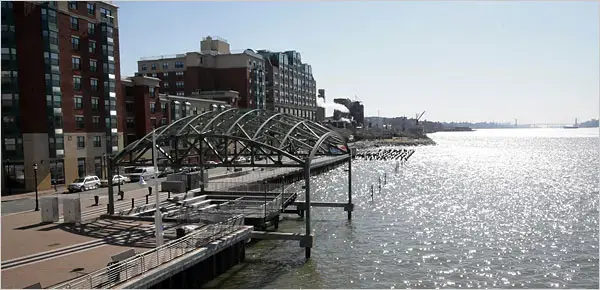 Unwind in Nature at Lenoir Preserve
Covering 40 acres, Lenoir Preserve in Yonkers is a nature enthusiast's haven. This verdant space, nestled between the Hudson River and the Saw Mill River Parkway, offers a serene escape from the urban hustle.
As you embark on a walk through the preserve, you'll traverse a diverse landscape comprising woodlands, meadows, and ridges. The well-marked trails, suited for both novices and experienced hikers, meander through a variety of habitats, providing glimpses of local flora and fauna. Birdwatchers are in for a treat, as the preserve is a recognized sanctuary for migratory birds.
In addition to its natural beauty, Lenoir Preserve is steeped in history. The property features a mansion, originally built in the 19th century, which offers periodic tours, showcasing its architectural elegance and historical significance.
The preserve's Nature Center further enriches the experience, offering educational programs, workshops, and interactive displays about the region's ecology.
Experience the Magic of New York City
New York City, often referred to as "The Big Apple", is a whirlwind of activity, culture, and iconic landmarks. Just a short distance from Yonkers, the city offers endless possibilities for adventure and exploration. Every corner of NYC pulsates with life, from the towering skyscrapers of Manhattan to the diverse neighborhoods of Queens and Brooklyn.
Begin your day at Central Park, a sprawling green oasis in the heart of the city, perfect for a morning stroll or a leisurely boat ride. Then, make your way to Times Square, where the dazzle of neon lights and the energy of the crowds are sure to mesmerize.
Art and history enthusiasts can spend hours in world-class museums like The Metropolitan Museum of Art or the Museum of Modern Art (MoMA). If you're into theater, the Broadway district beckons with its array of spectacular shows and performances.
The city's culinary scene is unmatched, offering everything from gourmet dining to iconic street food like hot dogs and pretzels. As the evening sets, consider heading to the Empire State Building or One World Observatory for breathtaking panoramic views.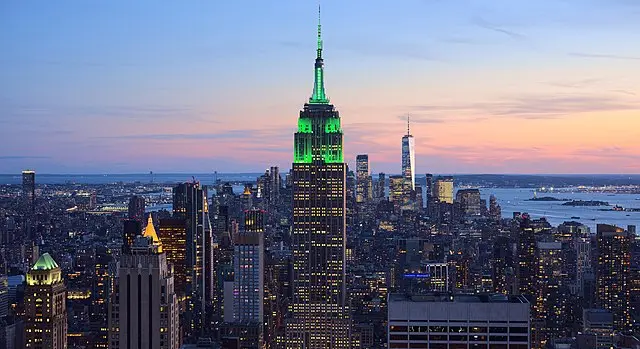 Reconnect with Nature at Edith G. Read Natural Park and Wildlife Sanctuary
Nestled along the Long Island Sound, the Edith G. Read Natural Park and Wildlife Sanctuary is a haven for nature lovers. Spanning over 179 acres, this sanctuary in Rye, close to Yonkers, offers a peaceful respite from the bustle of city life.
The sanctuary boasts a diverse ecosystem. As you wander through its trails, you'll encounter tidal wetlands, salt marshes, and a freshwater pond, each teeming with life. The park is especially popular among birdwatchers, as it's a resting spot for many migratory birds. From ospreys to waterfowls and songbirds, the avian display is captivating.
The Visitor Center at the sanctuary is a treasure trove of information. Through its exhibits and displays, visitors can learn about the region's ecology, the various species that inhabit it, and the importance of conservation.
Embark on a Fun-Filled Adventure at Playland Park
Playland Park, located in Rye, just a short distance from Yonkers, is a dream destination for families with kids. Often referred to as "Rye Playland," this historic amusement park has been providing joy and entertainment since the 1920s, making it one of the oldest continuously operating amusement parks in the United States.
The park boasts a rich assortment of rides tailored for all age groups. Younger kids can delight in the gentler rides like the mini Ferris wheel and kiddie coaster, while thrill-seekers can get their adrenaline pumping on rides like the Dragon Coaster and the Double Shot Tower. The Playland Plunge and Log Flume promise splashing fun, and the famous boardwalk offers stunning views of the Long Island Sound.
Beyond rides, Playland Park features a range of attractions, from arcades and games to live entertainment and seasonal events. In the summertime, the park's beach and pool area become a favorite spot for families looking to cool off.
With its combination of nostalgia, fun rides, and entertainment, Playland Park guarantees a memorable outing for families and children of all ages.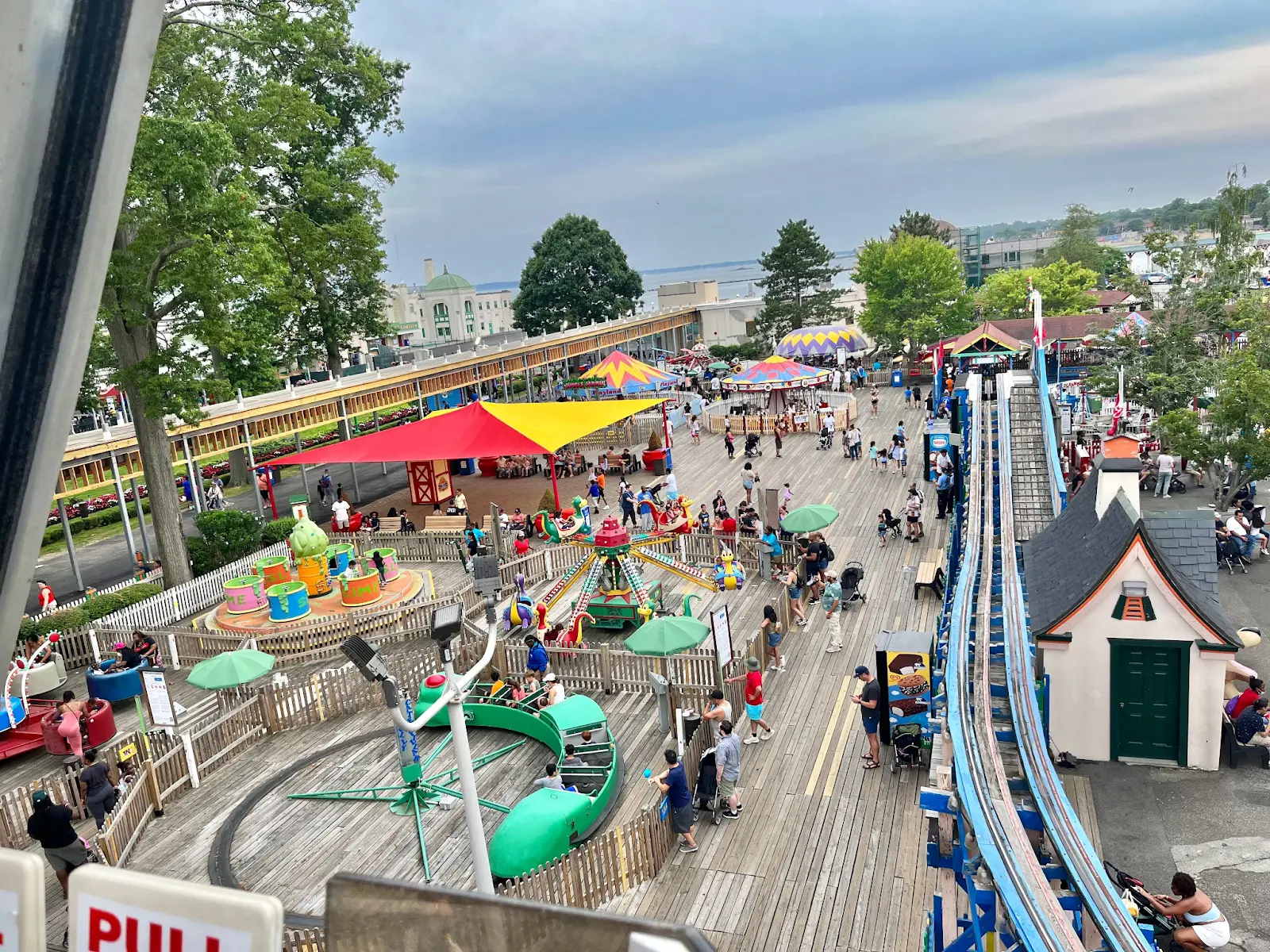 Discover the Wonders of Nature at Greenburgh Nature Center
The Greenburgh Nature Center, situated in the heart of Greenburgh close to Yonkers, is a sanctuary of learning, conservation, and recreation. Spread over 33 acres, this center provides visitors with a deeper appreciation and understanding of the natural world.
As you explore the well-maintained trails of the Nature Center, you're likely to encounter a diverse range of habitats, from woodlands and meadows to ponds and wetlands. These habitats are home to various wildlife, making it an ideal spot for birdwatching and observing nature up close.
One of the highlights of the center is its live animal museum, which houses over 100 specimens, including reptiles, amphibians, and birds of prey. The interactive exhibits and touch tanks allow kids to engage with nature hands-on, fostering curiosity and wonder.
The Greenburgh Nature Center places a strong emphasis on education and offers a range of programs, workshops, and camps tailored for different age groups. Whether it's a guided nature walk, a sustainability workshop, or a seasonal festival, there's always something happening at the center.
For families seeking a blend of recreation, learning, and a deep connection with nature, the Greenburgh Nature Center is a must-visit destination.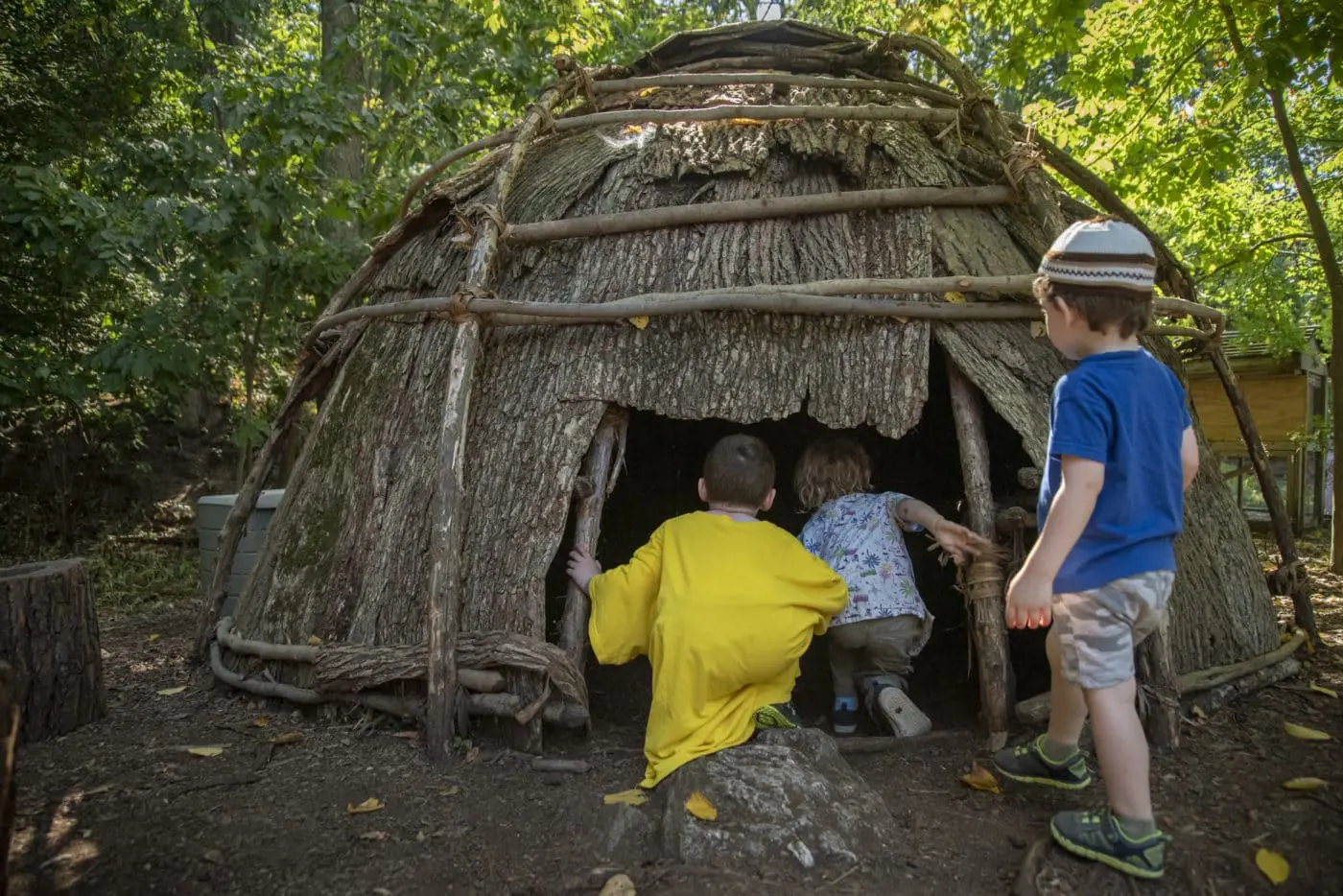 Appreciate Open-Air Sculptures at Storm King Art Center
Nestled in the Hudson Valley, the Storm King Art Center offers a unique and expansive outdoor museum experience. Spread over 500 acres of rolling hills, meadows, and woodlands, this art center is home to more than 100 carefully curated sculptures and installations by renowned artists from around the world.
As you meander through the vast landscapes of Storm King, you'll encounter massive steel structures, stone works, and intricate installations, all harmoniously integrated with the natural surroundings. The ever-changing backdrop of seasons adds a dynamic dimension to the artworks, making every visit distinct and memorable.
Visitors can choose to walk, bike, or even take a tram tour to explore the grounds. Informative plaques and maps provide insights into the artworks and their creators. Periodically, the center also hosts guided tours, workshops, and special events, enhancing the visitor experience.
For art enthusiasts and nature lovers alike, Storm King Art Center offers a rare blend of culture, creativity, and the tranquility of the outdoors. It's a place where art and nature converse, providing endless inspiration and wonder.
Embark on a Journey to Hartford, Connecticut
Just a couple of hours' drive from Yonkers, Hartford, the capital city of Connecticut, beckons with its rich history, cultural offerings, and scenic beauty. As one of the oldest cities in the United States, Hartford boasts a tapestry of historical landmarks interspersed with modern attractions.
Upon reaching Hartford, one can delve into the city's history by visiting the Connecticut State Capitol, an architectural marvel with its ornate design and gold dome. The nearby Old State House, another historic landmark, offers insights into the state's legislative past.
For literature enthusiasts, the Mark Twain House & Museum is a must-visit. This Victorian mansion, once the home of the famed author, provides a glimpse into Twain's life and works. Close by, the Harriet Beecher Stowe Center commemorates the life of another iconic writer and her contributions to American literature.
Hartford is also home to beautiful parks like Bushnell Park, the oldest publicly funded park in the U.S., and cultural institutions like the Wadsworth Atheneum, the country's oldest public art museum.
Dotted with restaurants, cafes, and shops, Hartford ensures that visitors have a blend of historical exploration, cultural immersion, and modern-day amenities.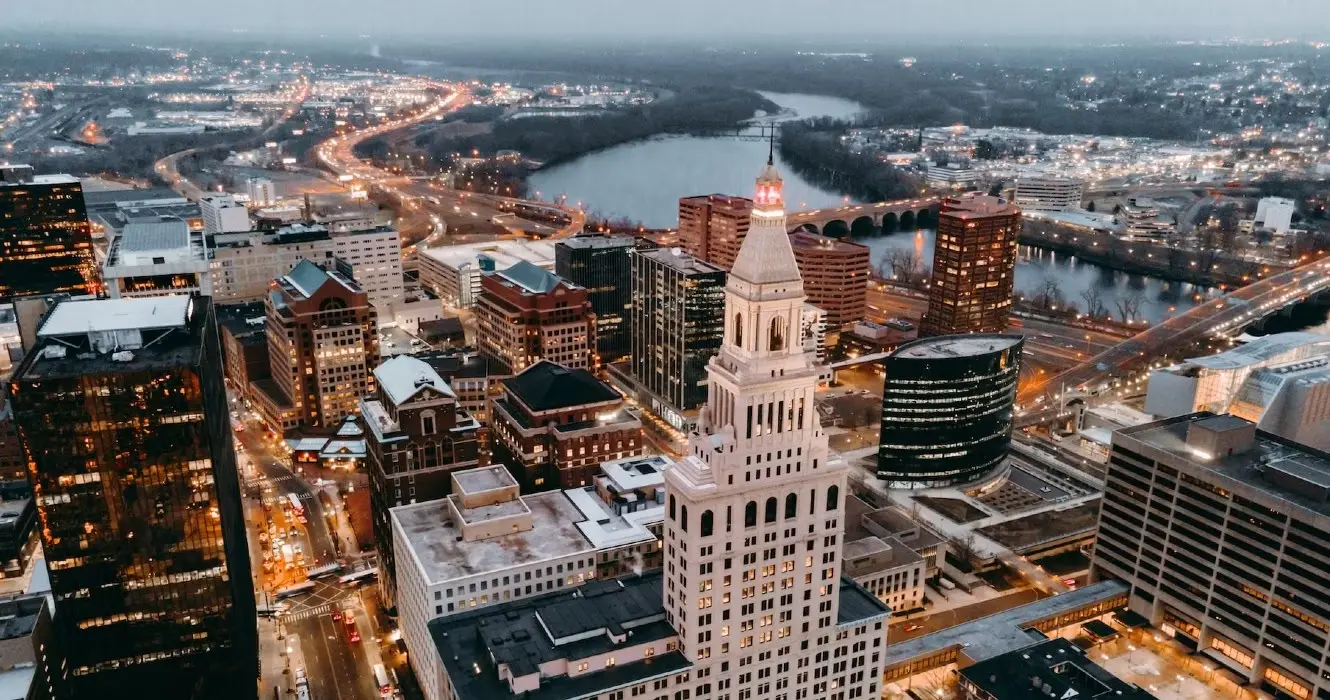 Conclusion
In essence, Yonkers, NY stands as a testament to the ever-evolving American spirit, balancing its rich history with modern attractions. It's a city where the past and present converge, offering visitors a holistic experience that is both educational and entertaining.
So, the next time you find yourself in New York State, take a detour and immerse yourself in the multifaceted beauty and charm of Yonkers. With its blend of history, culture, nature, and modernity, it is a destination that not only promises memorable moments but also delivers them in spades.