21 Things to Do in Greektown, Detroit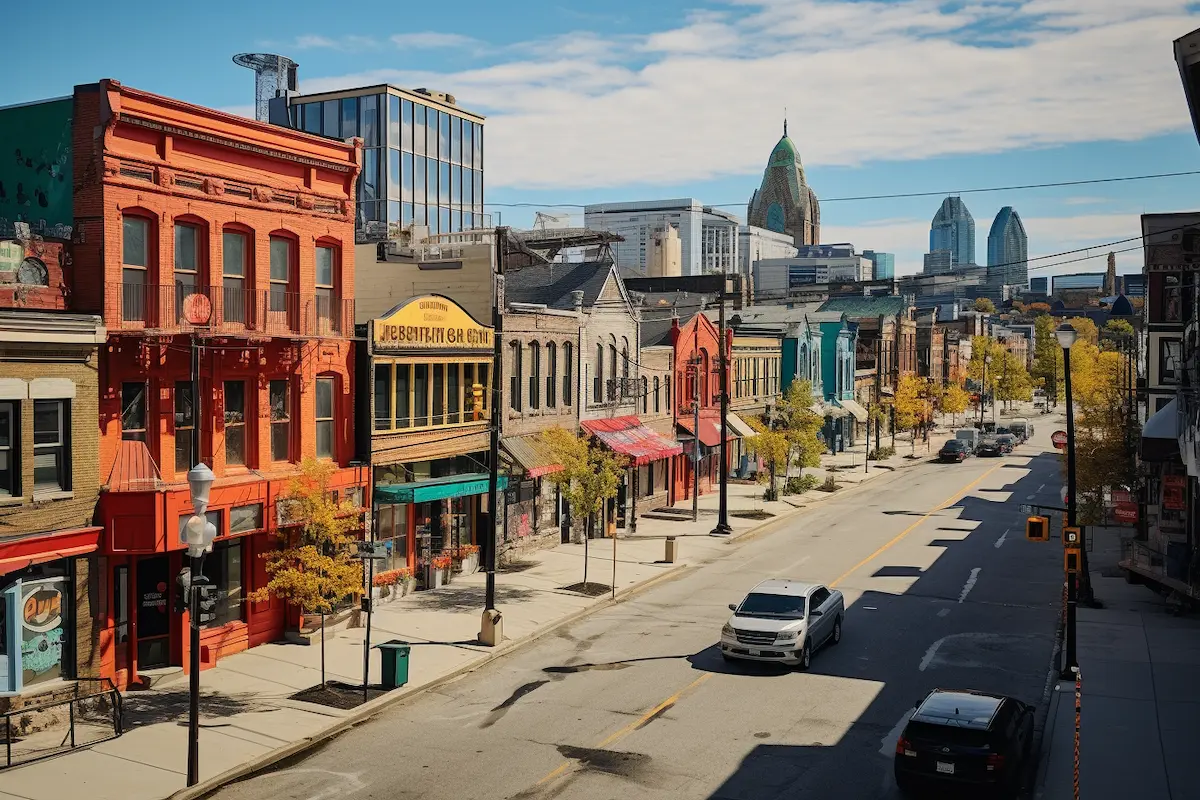 Best Things to Do in Greektown, Detroit
Greektown is a vibrant neighborhood pulsating with culture, history, and an endless array of activities. From its humble beginnings as a hub for Greek immigrants to its modern-day status as a cultural hotspot, Greektown offers something for everyone.
Read on to discover the best things to do in Greektown, Detroit, and why this charming area deserves a spot on your travel itinerary.
Place Your Bets at Hollywood Casino
One of the most iconic landmarks in Greektown, Detroit is the Hollywood Casino. This sprawling entertainment complex offers a delightful experience for both casual visitors and die-hard gamblers. With over 100,000 square feet of gaming space, the casino is home to a variety of games including slot machines, poker tables, and live action table games such as Blackjack and Roulette. What sets Hollywood Casino apart is its glamorous, Hollywood-themed interior which is sure to make you feel like a star. The bright lights and elaborate decorations provide a mesmerizing backdrop as you try your luck and test your skill.
Beyond the gaming, the Hollywood Casino also offers an array of dining options. Whether you're in the mood for a quick snack or a gourmet meal, there's something for everyone. Fine dining restaurants, casual eateries, and a buffet with an extensive range of options can all be found within the complex. As for entertainment, live music shows and comedy acts frequently grace the casino's stages, offering guests a chance to take a break from gaming and enjoy a lively atmosphere.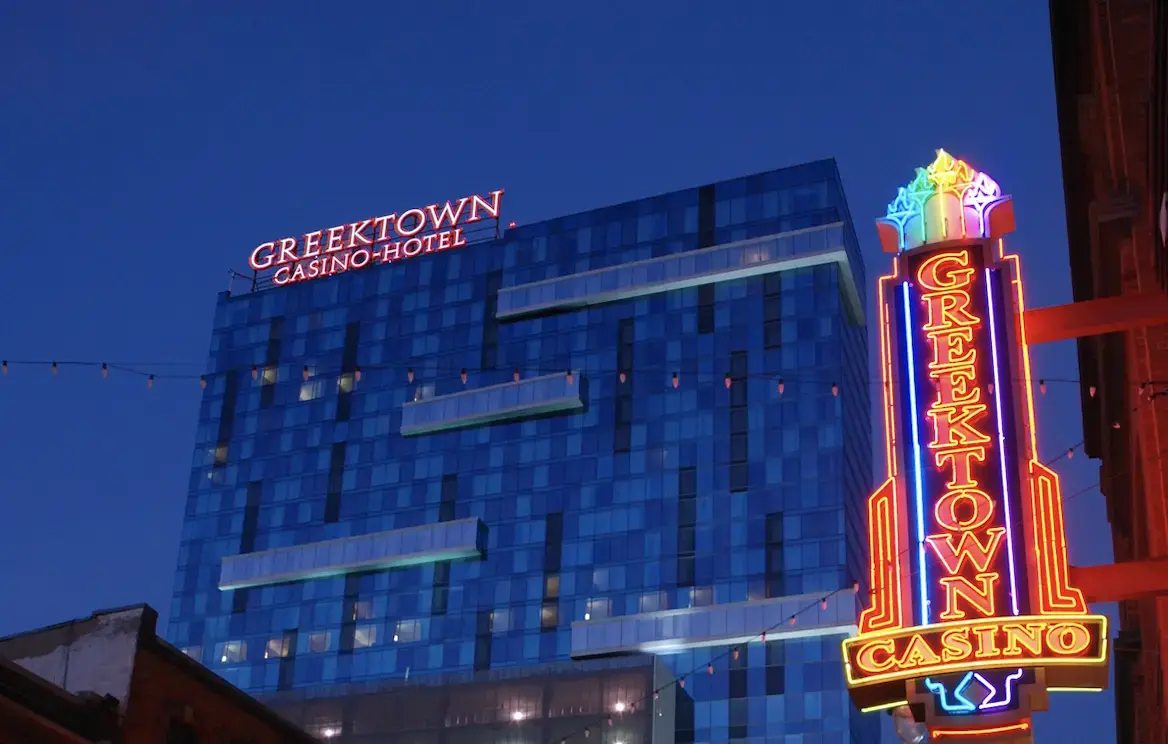 Lastly, the customer service here is impeccable. The staff are trained to provide a seamless experience, ensuring that your time at the casino is nothing short of excellent. Whether you're a seasoned pro or a newcomer, placing your bets at Hollywood Casino offers a one-of-a-kind experience that is quintessentially Greektown.
Celebrate Greek Culture at Greektown Heritage Festival
No visit to Greektown, Detroit would be complete without indulging in its rich Greek heritage, and there's no better way to do this than by attending the annual Greektown Heritage Festival. Held in the heart of Greektown, this festival is a lively celebration of Greek culture, history, and traditions. Imagine streets lined with vendors selling authentic Greek food like gyros, moussaka, and baklava, all while traditional Greek music plays in the background.
The festival features an assortment of activities aimed at all age groups. Children can enjoy a range of fun activities like face painting and games, while adults can participate in Greek dancing or cooking classes. Live performances of traditional Greek music and dance are also a highlight, allowing everyone to feel the vibrancy of Greek culture.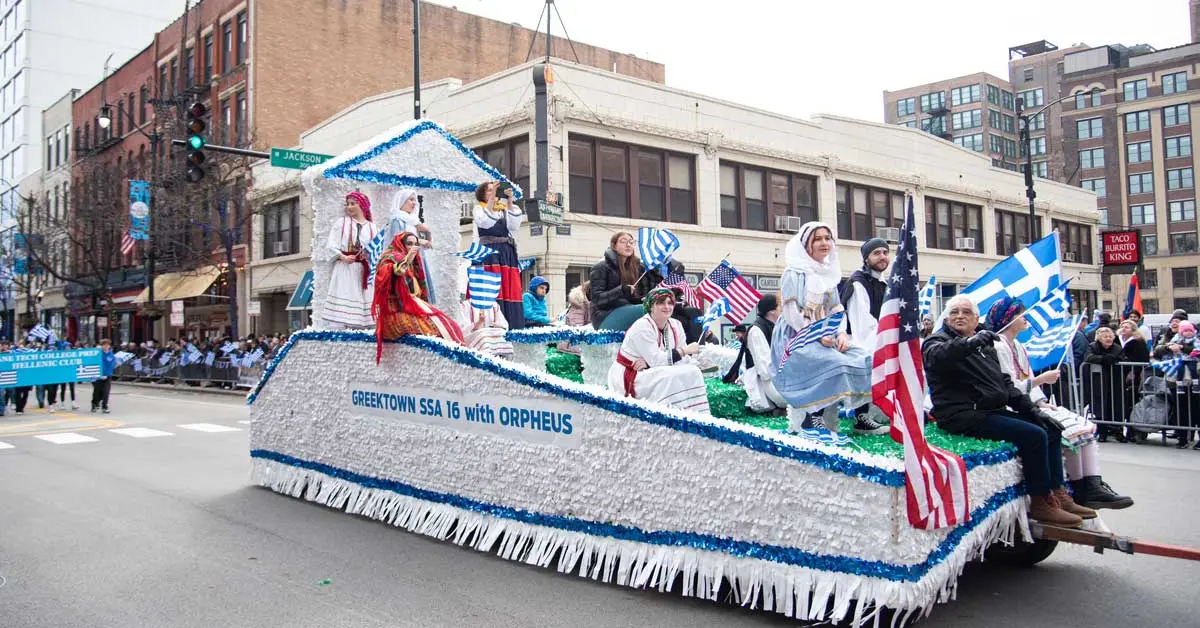 Art and crafts stalls add an extra layer of cultural richness, offering handmade Greek items that range from pottery to textiles. Moreover, various stages host informative talks and performances aimed at educating visitors about Greek history, mythology, and contributions to the world. The sense of community is palpable, with locals and tourists alike sharing in the festivities.
The Greektown Heritage Festival is not just a day of fun; it's an immersive experience that allows you to walk away with a deeper understanding of Greek culture. Between the delicious food, enriching activities, and the warmth of the community, the festival is an unmissable event for anyone visiting Greektown.
Catch the Gigantic Greek Deities at Atheneum Suites Hotel
Nestled in the heart of Greektown, the Atheneum Suites Hotel is more than just a place to rest your head—it's a mini-museum of Greek culture and mythology. The hotel is renowned for its awe-inspiring frescoes and sculptures of Greek gods and goddesses. These larger-than-life representations of figures like Zeus, Athena, and Apollo not only add a dramatic flair to the hotel's interior but also serve as an educational experience for visitors.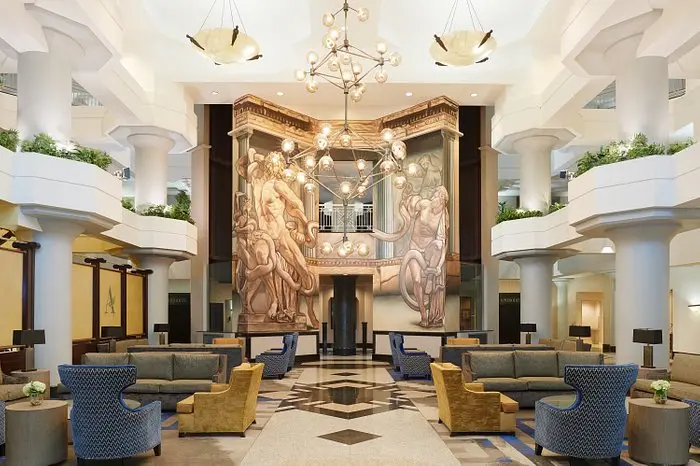 The atmosphere at Atheneum Suites Hotel is imbued with an aura of classical elegance. The décor marries modern comfort with ancient mythology in a way that captivates the imagination. Each suite is designed to offer luxury and spaciousness, but it's the gigantic Greek deities that truly set the place apart. They provide a constant reminder of the rich heritage and culture that make Greektown so unique.
To enhance your experience, the hotel often holds themed nights and events related to Greek mythology and culture. Special guided tours of the hotel's art and architecture can also be arranged upon request, making your visit not just pleasurable but also enlightening.  
Watch the Detroit Greek Independence Day Parade
For a colorful and spirited expression of Greek pride, don't miss the Detroit Greek Independence Day Parade held annually in Greektown. This event commemorates Greece's independence from the Ottoman Empire and is a significant date for Greeks all around the world. The parade is not just a historical tribute; it's a vibrant showcase of Greek culture, tradition, and community spirit.
As you stand along the parade route, you'll witness an array of floats, marching bands, and community organizations adorned in blue and white—the colors of the Greek flag. The streets come alive with the sounds of traditional Greek music, played on instruments like the bouzouki and the lyre, as dancers in authentic Greek costumes perform folk dances like the syrtaki and kalamatianos.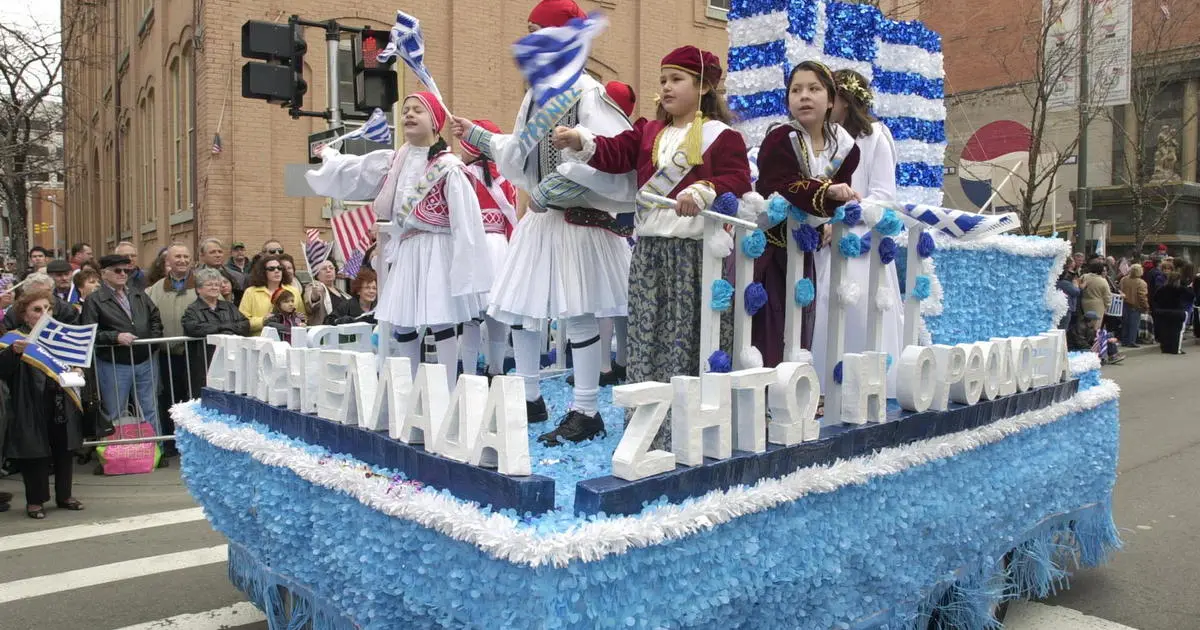 Spectators can also enjoy speeches, poetry readings, and performances that narrate the history and significance of Greek Independence Day. Children from local Greek schools often participate, dressed in traditional outfits and carrying banners that promote Greek heritage. Vendors along the route offer delicious Greek treats, making the parade a feast for all senses.
The Greek Independence Day Parade is a spectacle that unites the Greektown community and educates spectators about the significance of Greek history and tradition. Whether you're of Greek descent or simply interested in learning about different cultures, this event offers a delightful and enriching experience for all ages.
Experience Exquisite Greek Dining at Pegasus Taverna
For an authentic culinary journey through Greek cuisine, look no further than Pegasus Taverna, one of the most popular dining spots in Greektown, Detroit. A mainstay in the area for decades, this restaurant has been serving up traditional Greek dishes that promise to transport your taste buds straight to the Aegean Sea. From sizzling saganaki (flaming cheese) to succulent lamb dishes and fresh seafood, Pegasus Taverna offers a comprehensive menu that caters to all palates.
The dining experience at Pegasus Taverna is as much about the atmosphere as it is about the food. The restaurant boasts an interior designed to evoke the feeling of dining in a charming Greek village, complete with stone walls and rustic wooden accents. Murals of idyllic Greek landscapes adorn the walls, while tables are set with the iconic blue and white tablecloths that evoke the colors of the Greek flag.
Beyond the mouth-watering dishes and beautiful décor, Pegasus Taverna prides itself on its warm hospitality. Servers are knowledgeable and eager to recommend dishes or wine pairings that will enhance your dining experience. The restaurant also offers live Greek music on weekends, turning an ordinary dinner into an extraordinary cultural celebration. Whether you're in the mood for a romantic date, a family dinner, or a lively night out with friends, Pegasus Taverna promises an unforgettable Greek dining experience.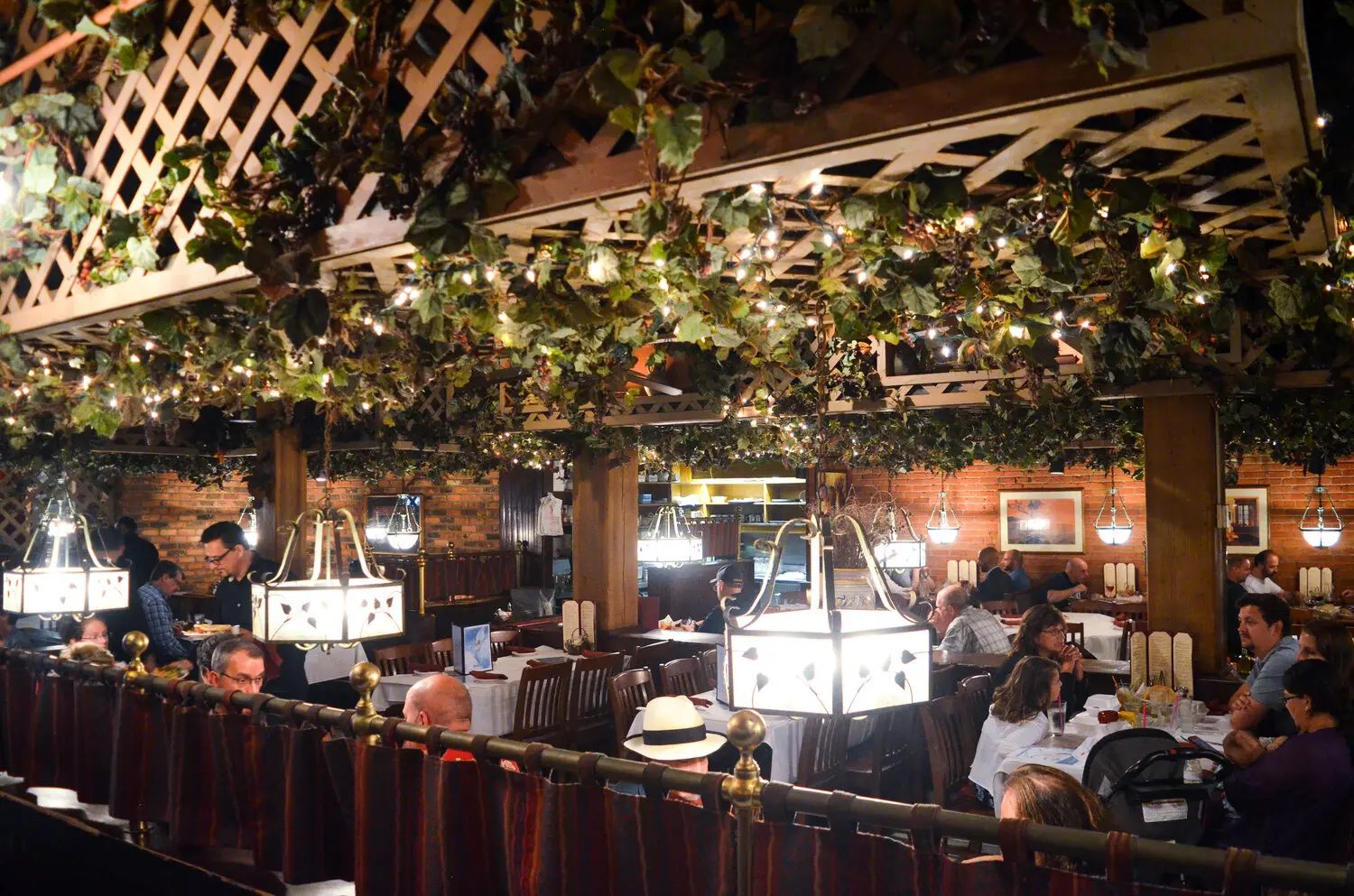 Admire the Architecture of Old St. Mary's Catholic Church
While Greektown is best known for its Greek culture, another must-see landmark is the Old St. Mary's Catholic Church. Located just a short walk from the heart of Greektown, this stunning architectural gem offers a different but equally rich historical and cultural experience. Built in the late 19th century, the church stands as one of Detroit's oldest and features an intriguing blend of Romanesque and Gothic architectural styles.
Upon entering, you'll be immediately struck by the intricate stained-glass windows, which bathe the interior in a mesmerizing array of colors when the sunlight filters through. The church's ornate wooden pews, detailed frescoes, and soaring vaulted ceilings also command attention, and many of the original architectural features have been beautifully preserved or restored.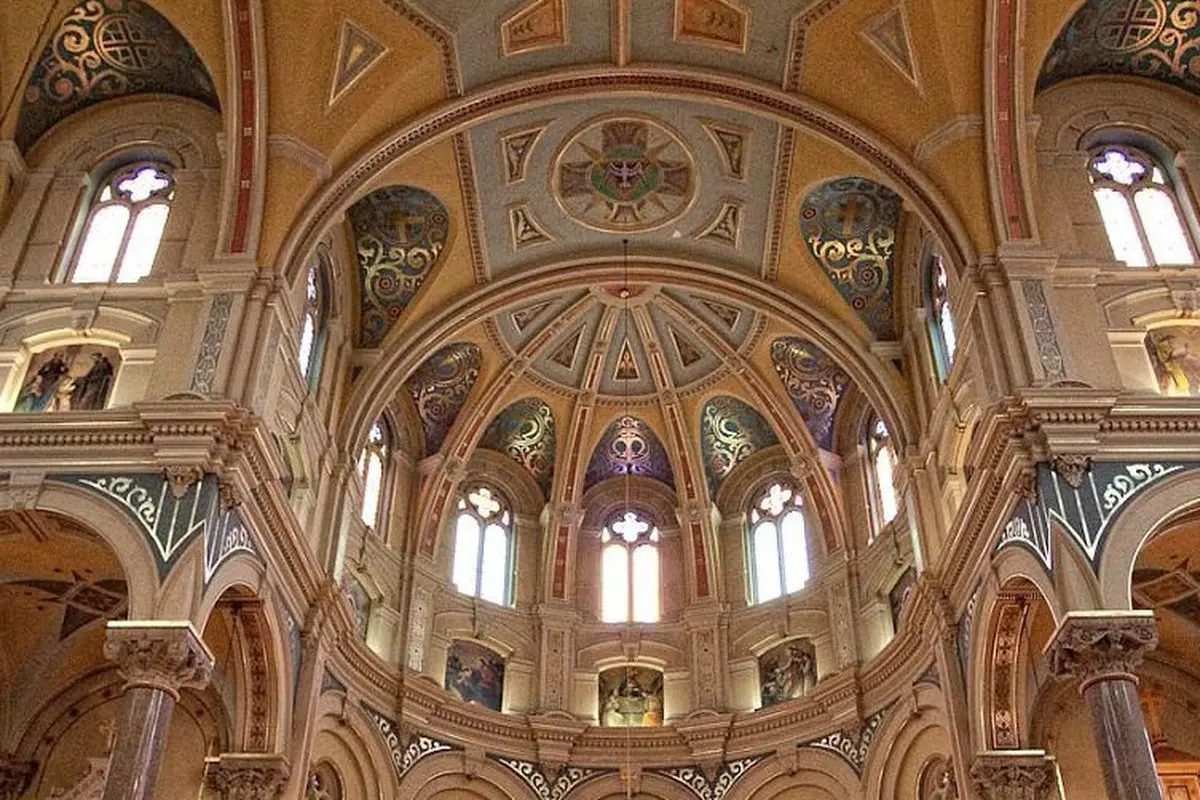 Although it's a place of worship first and foremost, visitors are welcome to explore the church and take in its architectural beauty. Regular Mass services are conducted in both English and German, reflecting the church's historical connection to Detroit's German Catholic community. However, you don't have to attend a service to appreciate the beauty of Old St. Mary's; the church is often open for self-guided tours during non-service hours.
Look Back on Black History at the Underground Railroad
While Greektown is primarily known for its Greek heritage, it's also located near significant landmarks of African American history, including several sites associated with the Underground Railroad. Detroit served as a last stop for many enslaved people seeking freedom in Canada, and the Underground Railroad was instrumental in helping them cross the Detroit River. Although not located directly in Greektown, the historical importance and proximity make it a noteworthy visit during your time in the area.
There are multiple commemorative markers and locations throughout Detroit that pay homage to the brave men and women who escaped slavery and those who aided them. One notable location is the First Congregational Church of Detroit, which houses exhibits and offers interactive experiences to educate visitors about the Underground Railroad. The church itself was a significant stop on the Underground Railroad and even has a "Flight to Freedom" Underground Railroad Museum, where visitors can partake in guided tours that provide a realistic experience of the journey that freedom seekers endured.
Taking the time to explore and learn about the Underground Railroad while visiting Greektown offers a balanced and well-rounded experience of Detroit's multifaceted history. It's an emotional, educational trip that gives insight into the struggles and triumphs that helped shape America.
Taste Authentic Greek Food at Golden Fleece Restaurant
If you thought your Greek culinary experience in Greektown couldn't get any better, think again. Golden Fleece Restaurant is another must-visit dining spot, famed for its authentic, home-cooked style Greek dishes. Tucked away in the bustling streets of Greektown, the restaurant's ambiance is relaxed and casual, allowing the food to take center stage.
From classic appetizers like tzatziki and spanakopita to main courses such as moussaka and souvlaki, the menu at Golden Fleece is a feast for the senses. A standout feature is their Gyro, considered by many locals as the best in town. Cooked to perfection and seasoned with a blend of authentic Greek spices, the Gyro is a delicious indulgence that you won't forget in a hurry.
What sets Golden Fleece apart is its commitment to traditional Greek cooking techniques and the use of fresh, high-quality ingredients. The hospitality is as warm as you'd expect from a family-owned establishment, and it's not unusual for the owner or chef to come by your table to ensure that your meal is up to your expectations.
Indulge in Seafood at Fishbone's
Seafood enthusiasts visiting Greektown, Detroit will find their paradise at Fishbone's. Known for its expansive menu that marries Creole, Cajun, and classic seafood dishes, Fishbone's is an institution in its own right. The restaurant's interior is an inviting blend of maritime and New Orleans themes, complete with marine lanterns, warm wood accents, and Mardi Gras beads that add a festive touch.
When it comes to the food, Fishbone's has a reputation for quality and variety. From the freshest oysters to succulent shrimp and perfectly cooked fish, the seafood options are almost limitless. For those who prefer turf to surf, the restaurant also offers a selection of prime steaks and chicken dishes. One of the standout features is their live lobster tank, allowing diners to pick their own lobster for a truly customized meal.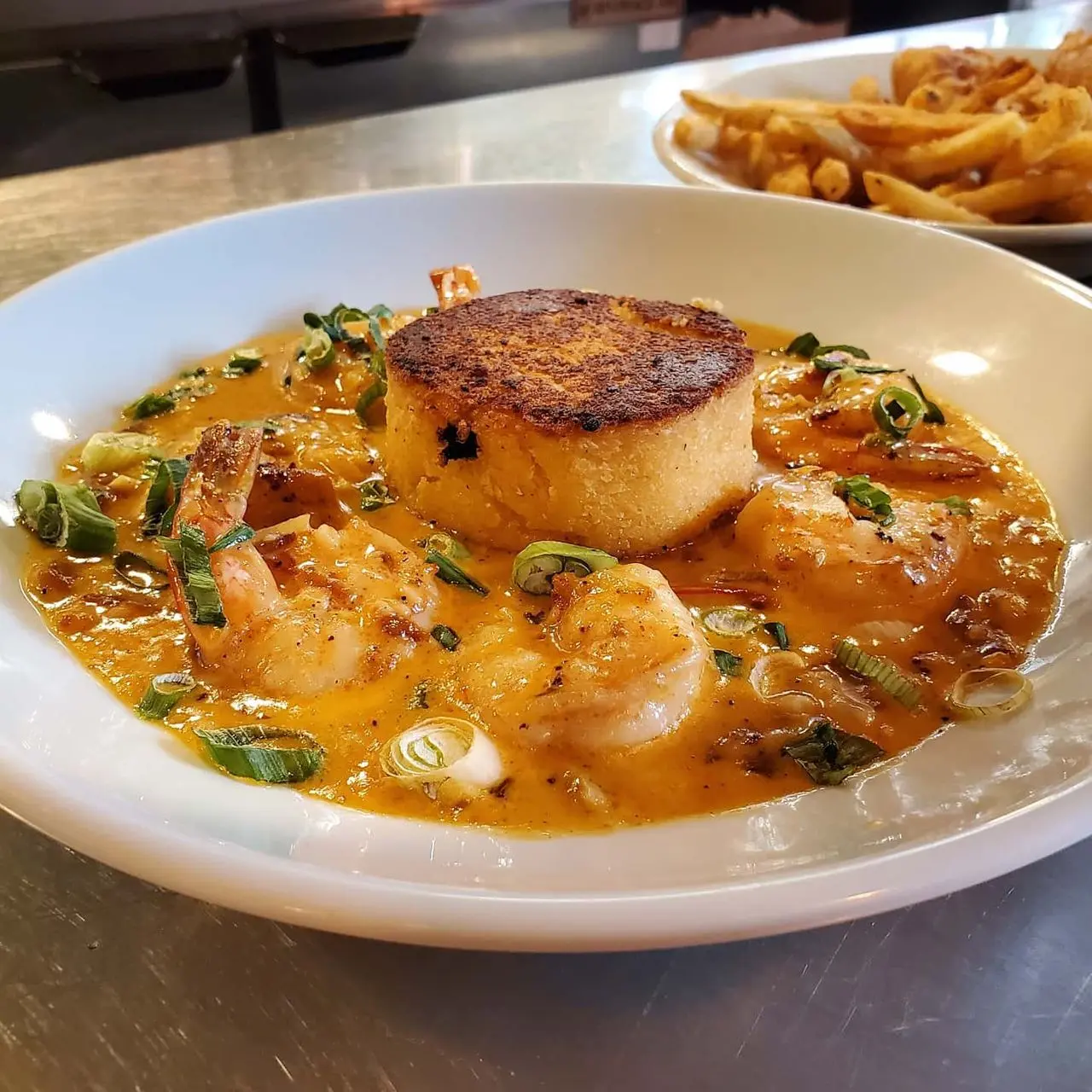 Fishbone's doesn't just excel in food; the drinks menu is equally impressive, featuring a range of cocktails, wines, and craft beers to complement your meal. If you're lucky enough to visit during their famous Sunday brunch, you'll be treated to a buffet replete with seafood options, waffle stations, and more. Live jazz often adds a musical layer to the dining experience, making your visit to Fishbone's a multi-sensory delight.
Bring Home Souvenirs from Motown Museum Store
While the Motown Museum is not located in Greektown, it's a Detroit icon that's worth the short drive. After you've soaked in the rich history of Motown Records and its influential artists, be sure to stop by the Motown Museum Store for unique souvenirs that capture the spirit of this musical phenomenon. The store offers an array of items that will delight any music lover or history buff.
From classic vinyl records and CDs featuring Motown legends like Stevie Wonder, Marvin Gaye, and The Supremes, to books that delve into the history and impact of Motown, there's something for everyone. Clothing items like T-shirts and caps bearing the iconic Motown logo allow you to wear a piece of musical history. The store also offers a range of branded merchandise like mugs, keychains, and tote bags that make perfect gifts.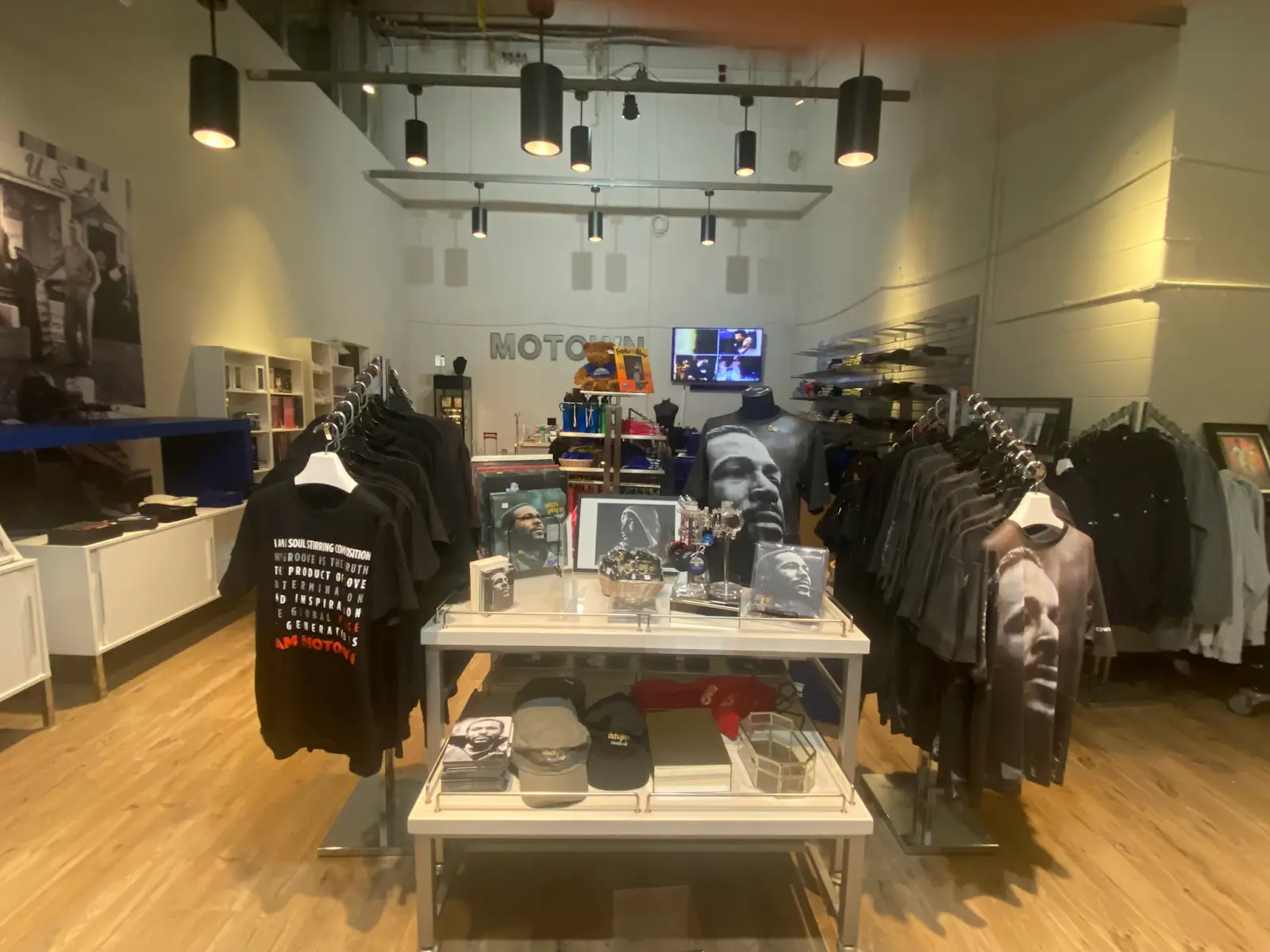 Beyond the tangible products, what you're really bringing home from the Motown Museum Store is a piece of American culture and history. Each purchase supports the museum's mission to preserve and share the legacy of Motown, making your souvenirs meaningful mementos.
Grab Yummy Pastries at Astoria Pastry Shop
A trip to Greektown wouldn't be complete without indulging your sweet tooth, and there's no better place to do so than at Astoria Pastry Shop. This iconic bakery has been a Greektown staple since it opened its doors in 1971 and remains a crowd-pleaser with its diverse selection of delectable pastries, cookies, and cakes. Walking into Astoria feels like stepping into a European pastry haven; the scent of fresh-baked goods fills the air, and the glass display cases are filled to the brim with a mouthwatering array of treats.
Astoria offers a selection of both Greek and American pastries. From traditional Greek baklava and galaktoboureko to American classics like chocolate chip cookies and brownies, there's something for every palate. Coffee aficionados will also appreciate the robust coffee menu, which includes everything from classic American brews to European favorites like espresso and cappuccino.
Cool Down at Cold Stone Creamery
While Greek pastries and Mediterranean cuisine are the obvious food choices when in Greektown, sometimes you just crave a good old-fashioned ice cream. Located in the heart of Greektown, Cold Stone Creamery is the ideal place to cool down, especially during the hot summer months. Famous for its customizable ice cream creations, Cold Stone offers an array of flavors and toppings that cater to every preference and mood.
What sets Cold Stone Creamery apart is its interactive experience. Once you choose your ice cream flavor, you can pick from a variety of mix-ins, ranging from fruits and nuts to candy and cookies. The staff then skillfully blends your choices on a frozen granite stone, creating a unique ice cream treat tailored just for you. If you're feeling less adventurous, you can also opt for one of their pre-designed "Signature Creations," which are equally delicious.
Sip Irish Beer at the Old Shillelagh
While Greektown may be the epicenter of Greek culture in Detroit, it's also home to some hidden gems that add to its diverse cultural landscape. One such place is the Old Shillelagh, an Irish pub that has become a Greektown institution. Established in 1975, the Old Shillelagh has carved a name for itself as a go-to spot for anyone looking for a laid-back atmosphere, live music, and, of course, great beer.
As you walk into this storied pub, you're greeted with an authentic Irish atmosphere that makes you feel as though you've been transported straight to Dublin. From the dark wood furnishings to the quirky memorabilia that adorns the walls, everything about the Old Shillelagh screams Irish charm. The pub offers a variety of beers on tap, including classic Irish brews like Guinness, as well as local Michigan craft beers.
But the Old Shillelagh isn't just about beer; it's also well-known for its live entertainment. Whether it's an acoustic set, DJ nights, or the infectious energy of their weekend dueling piano shows, you're bound to have a good time. The pub's rooftop deck is another highlight, offering panoramic views of Greektown and the surrounding Detroit skyline.
Buy Greek Items and Goodies at Bakaλikon
For a shopping experience that transports you to the streets of Athens, head to Bakaλikon, one of Greektown's hidden gems. This specialty store is your one-stop shop for all things Greek, from food items and wines to crafts and gifts.  
One of the highlights of Bakaλikon is its impressive selection of Greek foods, including olive oils, olives, spices, and traditional sweets like baklava and loukoumi. The store also stocks a variety of Greek wines and spirits, including the famous Ouzo and Metaxa, making it a great place to pick up a unique bottle you won't find in your average liquor store.
Beyond food and beverages, Bakaλikon offers an assortment of Greek crafts and souvenirs, from beautifully crafted ceramic plates and olive wood utensils to religious icons and jewelry. It's the perfect place to find a special gift or keepsake that represents your time in Greektown.
What makes Bakaλikon special is not just its products, but also its warm and friendly service. The staff are knowledgeable about the items they sell and are more than happy to share stories or offer recommendations. If you're looking to immerse yourself further in Greek culture or bring a piece of Greektown home with you, don't miss a visit to Bakaλikon.
Bring Your Kids to the Underground Railroad Reading Station
While learning about history and culture is enlightening for adults, it can be a challenge to engage young minds in the same topics. That's where the Underground Railroad Reading Station comes into play. Located near some of the Underground Railroad historical markers, this unique educational spot aims to make the history of the Underground Railroad accessible and engaging for children. It's an excellent way to introduce kids to a significant chapter in American history, teaching them about the struggles for freedom and the abolitionist movement.
The Reading Station features a collection of age-appropriate books, interactive displays, and activities that are designed to engage kids in a hands-on learning experience. Children can read stories of courage and freedom, take part in scavenger hunts that make them think about the history they're learning, and even engage in arts and crafts that are both fun and educational.
The space is often staffed by educators and volunteers who are skilled in teaching history in a way that captures the imagination of young learners. It's not just a place to read and learn; it's a space where kids can interact, ask questions, and come away with a richer understanding of the past. So if you're visiting Greektown with your family, make sure to stop by the Underground Railroad Reading Station for an experience that's as educational as it is enjoyable.
View the Murals of the Annunciation Greek Orthodox Cathedral
Greektown wouldn't be complete without a touch of the divine, and the Annunciation Greek Orthodox Cathedral offers just that. While the church itself is an architectural marvel, what really sets it apart are the stunning murals that adorn its interior. Painted in the Byzantine tradition, these murals depict various scenes from the Bible and the lives of Orthodox saints, offering a visual feast of rich colors and intricate details.
As you walk through the cathedral, the murals invite you to pause and reflect, whether you're a believer or simply an admirer of art. The skill and devotion that went into these works of art are evident in every brushstroke, making the cathedral not just a place of worship but also a gallery of sorts, showcasing the talents of artists who have dedicated themselves to religious art.
It's worth noting that the cathedral often holds services and events that are open to the public, offering a chance to experience Greek Orthodox rituals and traditions. However, even if you visit outside of service hours, the church often welcomes visitors who wish to explore its interior and admire the murals.
Check Out the Action at the Campus Martius Park
While Campus Martius Park isn't technically in Greektown, it's located close enough that you can easily make the short walk to check out this lively urban space. Often referred to as "Detroit's Gathering Place," Campus Martius Park offers a little something for everyone, regardless of age or interests. This award-winning park is the epitome of urban revitalization and serves as a year-round destination with attractions suited to each season.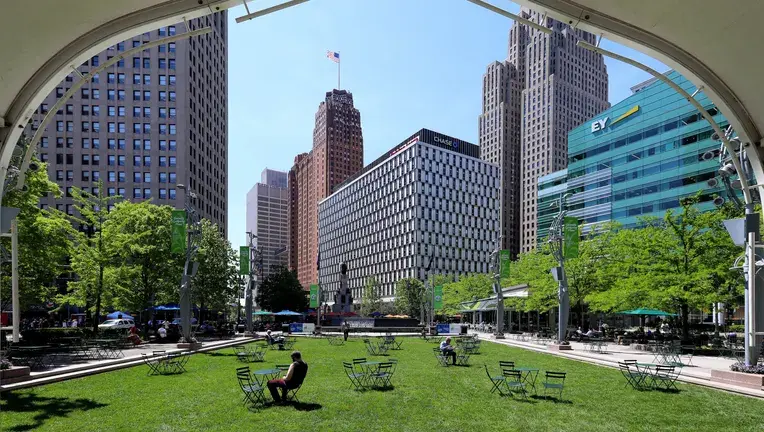 In the summertime, the park bustles with activity — from outdoor concerts and live performances to food trucks offering an array of culinary delights. The park's sandy beach area, complete with lounge chairs and a beach bar, is a surprising and delightful addition to the urban landscape, offering a place to unwind without leaving the city. During winter, the park transforms into a winter wonderland featuring an ice skating rink that rivals the famous rinks of New York City.
The park also has beautiful green spaces adorned with fountains and sculptures, making it a great spot for a leisurely stroll or a quick rest amid a day of sightseeing.
Dig into History at the Soldiers and Sailors Monument
Not far from Campus Martius Park, the Soldiers and Sailors Monument stands as a towering tribute to Michigan's military personnel who fought during the Civil War. Erected in 1872, this monument is rich in history and artistry, serving both as a historical marker and as an example of exquisite 19th-century sculpture.
The monument features various bronze statues representing different branches of the military, as well as allegorical figures that embody concepts like "Emancipation" and "Victory." Each statue and relief tells a story, capturing moments of valor, sacrifice, and freedom. They serve as a solemn reminder of the lives lost and the bravery displayed by individuals during one of America's most challenging periods.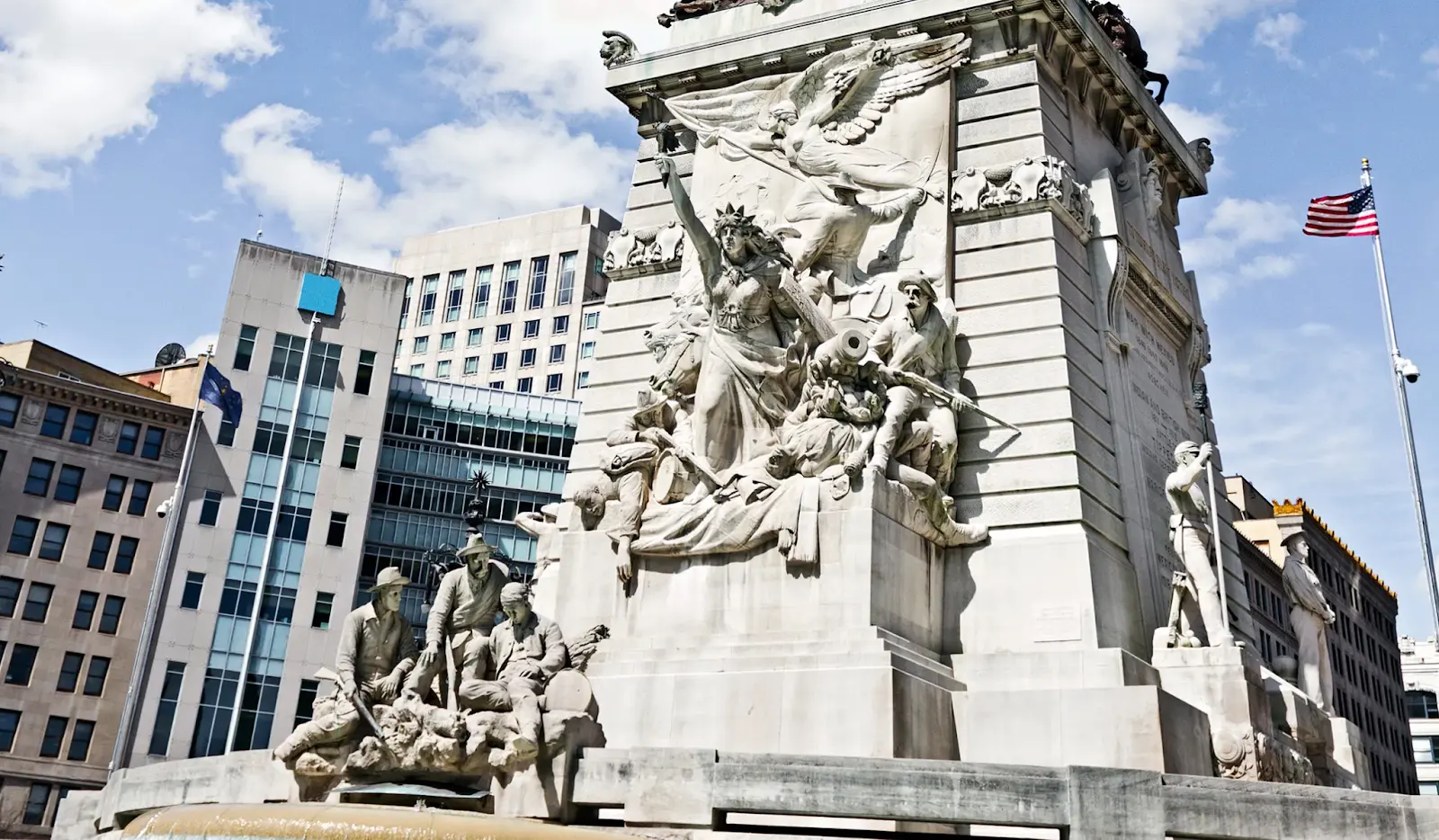 Visitors often find themselves drawn to the intricate details of the monument, from the expressive faces of the figures to the meticulous craftsmanship evident in each element. Informative plaques provide context, helping you understand the significance of the monument and its place in Michigan's—and America's—history.
The Soldiers and Sailors Monument offers a meaningful experience for history buffs, art enthusiasts, and anyone interested in learning more about the United States' past. It's a site of reflection and education, and it adds an extra layer of depth to any visit to the Detroit area.
Have Fun Outdoors at Monroe Street Midway
Monroe Street Midway brings the vibrant atmosphere of a street festival to downtown Detroit, just a stone's throw away from Greektown. This unique outdoor venue has become a hot spot for those looking for an alternative to traditional parks and recreational spaces. Monroe Street Midway offers a plethora of activities that make it a must-visit destination for families, couples, and groups of friends.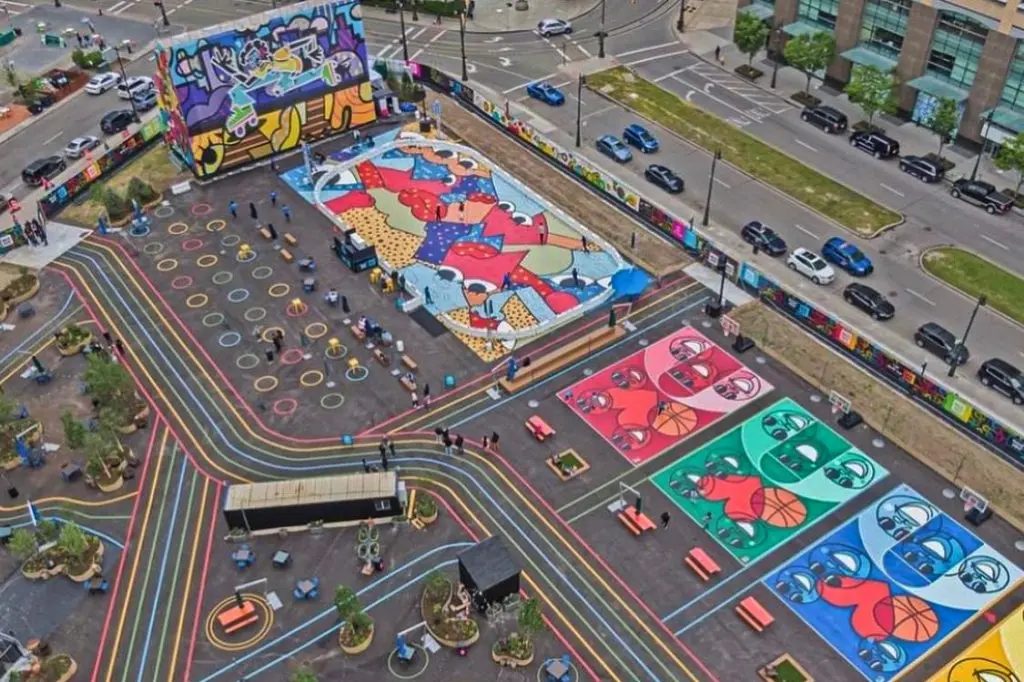 Set against the backdrop of Detroit's skyscrapers, Monroe Street Midway features a range of colorful, art-infused sports courts, from basketball and soccer to skateboarding areas. The courts frequently host pick-up games, leagues, and even tournaments, making it an excellent place for both casual players and sports enthusiasts. If you're not much of a sports fan, don't worry—the area also offers picnic spaces, food trucks, and live music performances.
What really sets Monroe Street Midway apart is its ever-changing art installations, murals, and sculptures created by local artists. These artworks lend the venue a creative and eclectic feel that mirrors the broader artistic renaissance that Detroit is experiencing.
Catch a Big Event at Ford Field
Located not too far from the heart of Greektown, Ford Field is one of Detroit's premier venues for sports and entertainment. Home to the NFL's Detroit Lions, Ford Field is a modern coliseum that can hold up to 65,000 spectators. While football is undoubtedly the main attraction, the stadium also hosts a variety of other events, ranging from major concerts to monster truck rallies and international soccer matches.
From the moment you step into Ford Field, you're enveloped by an electrifying atmosphere. The state-of-the-art facility offers an array of seating options, from luxury suites to general admission, ensuring a comfortable experience for everyone. Numerous concession stands and restaurants around the stadium serve up a wide variety of food and beverages, catering to all tastes.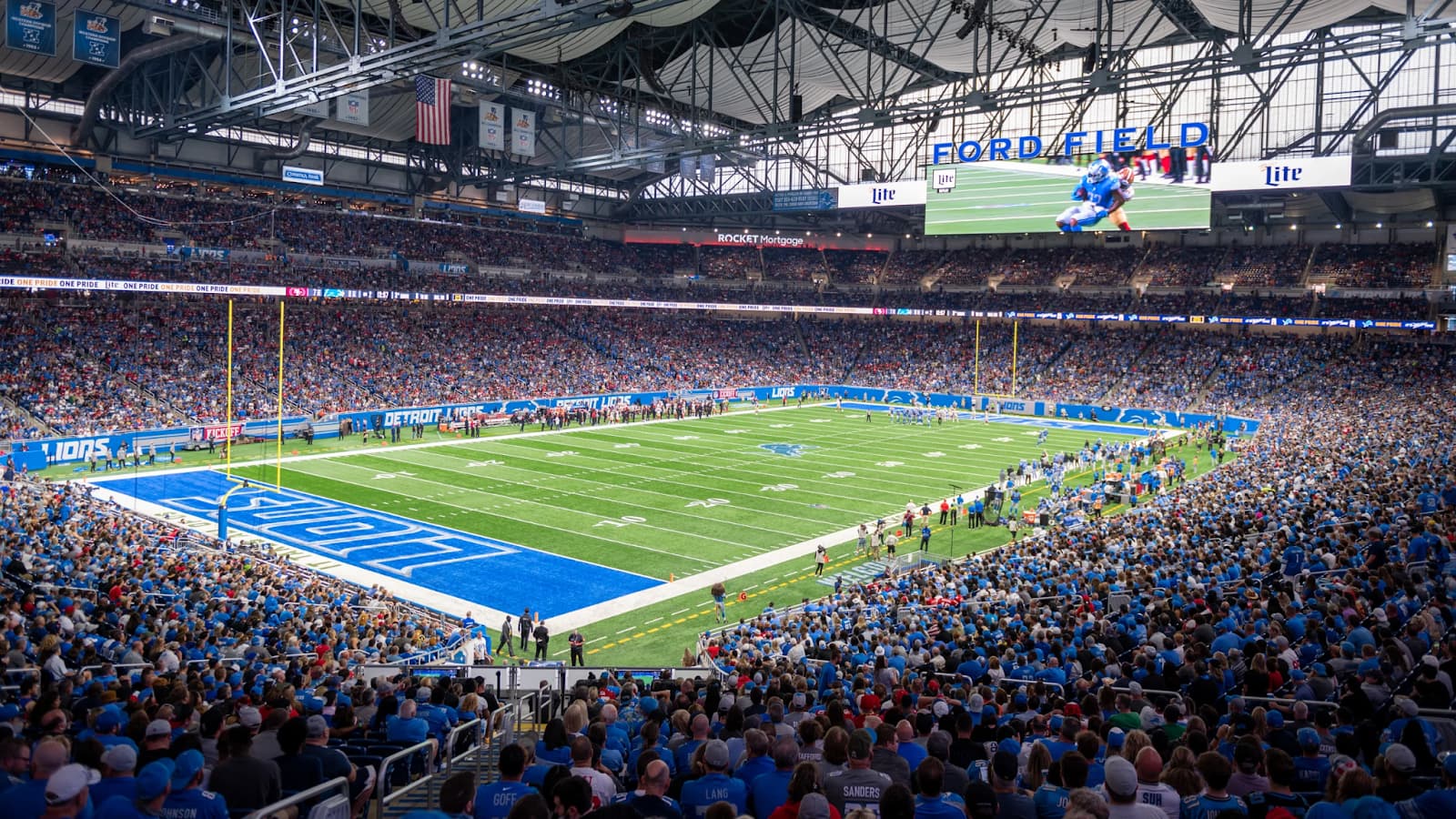 One of the highlights of Ford Field is its retractable roof, which allows for open-air events when the weather is favorable. The acoustics are superb, making it an excellent venue for live music. Big-name artists across genres frequently include Ford Field on their tour schedules, making it a major stop for live entertainment in the Midwest.
Conclusion
Greektown is more than just a neighborhood in Detroit; it's a tapestry of cultures, experiences, and stories waiting to be discovered. From its rich Greek heritage expressed through festivals, cuisine, and art, to its embrace of broader American history and modern entertainment, Greektown offers a captivating blend of the old and the new. Whether you're a lifelong resident of Detroit or a first-time visitor, the neighborhood's unique fusion of tradition and innovation provides endless opportunities for exploration and enjoyment.
As we've seen, you can dive into the thrills of a live game at Ford Field, savor the culinary delicacies of Greek tavernas, experience the tranquility of historical churches, or even engage in some family-friendly education about America's past. And that's just scratching the surface. The blend of authentic cultural experiences and contemporary attractions makes Greektown not just a place to visit, but a place to feel, taste, and truly experience.
So the next time you find yourself in Detroit, make sure to carve out some time for Greektown. Whether you come for the food, the history, the art, or the sheer joy of discovery, you're sure to leave with a richer understanding of this multifaceted community—and perhaps even a piece of baklava or two for the road.
Frequently Asked Questions About Visiting Greektown, Detroit
What is Greektown known for?
Greektown is primarily known for its Greek culture, which is evident in its many restaurants, shops, and festivals. The neighborhood also offers a range of other activities and attractions, including casinos, historic landmarks, and modern entertainment venues like Ford Field.
Is Greektown safe to visit?
As of my last update in September 2021, Greektown is generally considered safe, especially during daylight hours and when events are taking place. However, like any urban area, it's advisable to be aware of your surroundings and take usual safety precautions.
Are there family-friendly activities in Greektown?
Yes, there are several family-friendly activities in Greektown. From the Underground Railroad Reading Station to the cultural festivals and Monroe Street Midway's sport courts, there's something for every member of the family to enjoy.
How do I get to Greektown?
Greektown is conveniently located in downtown Detroit, making it accessible by car, public transportation, and even by foot if you're staying downtown. There is also a dedicated Greektown stop on the Detroit People Mover, an automated light rail system.
Can I find parking in Greektown?
Yes, parking is generally available but can get tight during weekends or special events. Greektown has its own parking garage, and there are several other public parking options nearby.
Is Greektown expensive?
Greektown offers a range of options for different budgets. While some upscale restaurants and shops can be on the pricier side, there are also plenty of affordable dining and shopping choices.
When is the best time to visit Greektown?
Greektown can be enjoyed year-round, but the experience can differ depending on the season. Summer is great for outdoor activities and festivals, while winter offers a cozy atmosphere with fewer crowds.
Are there any annual events in Greektown I should know about?
Yes, Greektown hosts several annual events such as the Detroit Greek Independence Day Parade and the Greektown Heritage Festival. These events offer a deep dive into Greek culture and are highly recommended.
Is Greektown wheelchair accessible?
Most of Greektown's major attractions, restaurants, and shops are wheelchair accessible, but it's always a good idea to check in advance if you have specific needs or concerns.