23 Best Things to Do in Hochatown, OK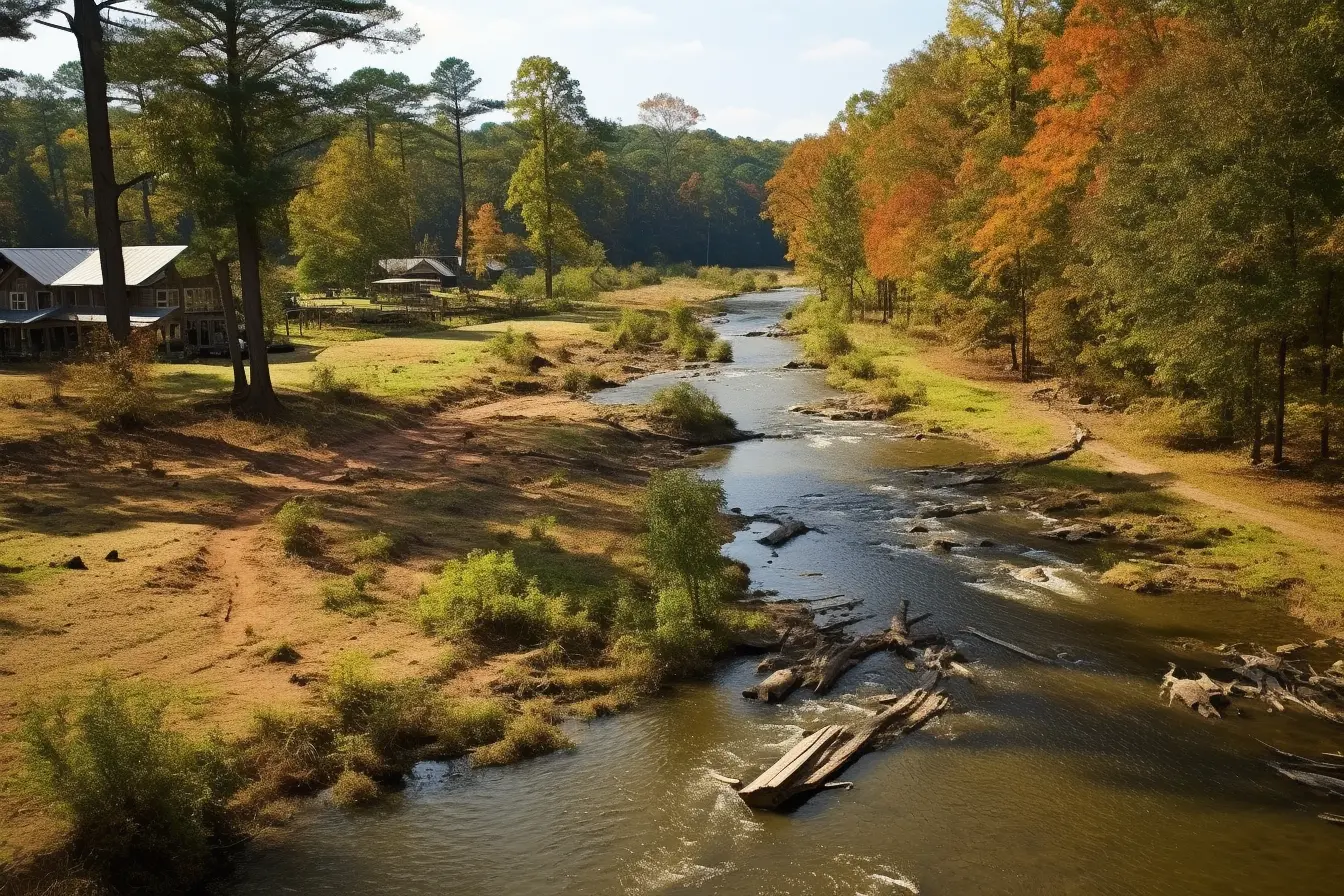 Best Things to Do in Hochatown, OK
Nestled in the southeastern corner of Oklahoma, Hochatown offers a treasure trove of experiences that cater to adventurers, families, couples, and solo travelers alike. From high-adrenaline outdoor activities and up-close encounters with wildlife, to culinary delights and luxurious relaxation, this vibrant area promises a diverse array of attractions that ensure your itinerary will be packed from dawn to dusk.
Race around on go-karts at BigFoot Speedway
One of Hochatown's hidden gems for family fun and adrenaline-pumping action is BigFoot Speedway. This go-kart track is not your typical, everyday circuit; it is designed to give you the exhilarating thrill of speed while weaving through challenging curves and turns. Whether you are a newbie who's never sat in a go-kart before or a seasoned veteran who loves the scent of rubber and gasoline, BigFoot Speedway has something to offer for everyone.
As you buckle up in the comfortable yet snug go-karts, you'll feel the excitement building up. The karts are well-maintained, ensuring a smooth and safe ride, and the staff members are always on hand to offer tips for maximizing your speed and handling corners like a pro. Once the flag is waved, you'll feel an adrenaline rush as you press the pedal and zoom down the track, wind whistling past your helmet.
This is an ideal place for a family outing, a friends' day out, or even a unique date. There's a palpable sense of camaraderie as people cheer each other on, whether they're competing or just enjoying a leisurely race. The track also features multiple layers and overtaking opportunities, making each lap as exciting as the last. After the race, enjoy some snacks and refreshments available on-site or capture the moment in the photo booth. All in all, a day at BigFoot Speedway promises an unforgettable experience that combines the thrill of racing with the laid-back vibes of Hochatown.
Visit the animals that call the Hochatown Petting Zoo home
If you're looking for a more relaxed yet equally entertaining activity in Hochatown, consider spending a few hours at the Hochatown Petting Zoo. This charming facility offers visitors the chance to interact with a diverse range of animals in a well-cared-for environment. From cuddly rabbits and goats to more exotic creatures like llamas and emus, the petting zoo is a haven for animal lovers of all ages.
Kids, in particular, will be thrilled to get up close and personal with these friendly animals. Not only does the petting zoo provide a fun and educational outing, but it also gives young ones a chance to learn about animal care, feeding habits, and even conservation efforts. Knowledgeable staff members are always available to answer questions and provide interesting facts about the zoo's inhabitants.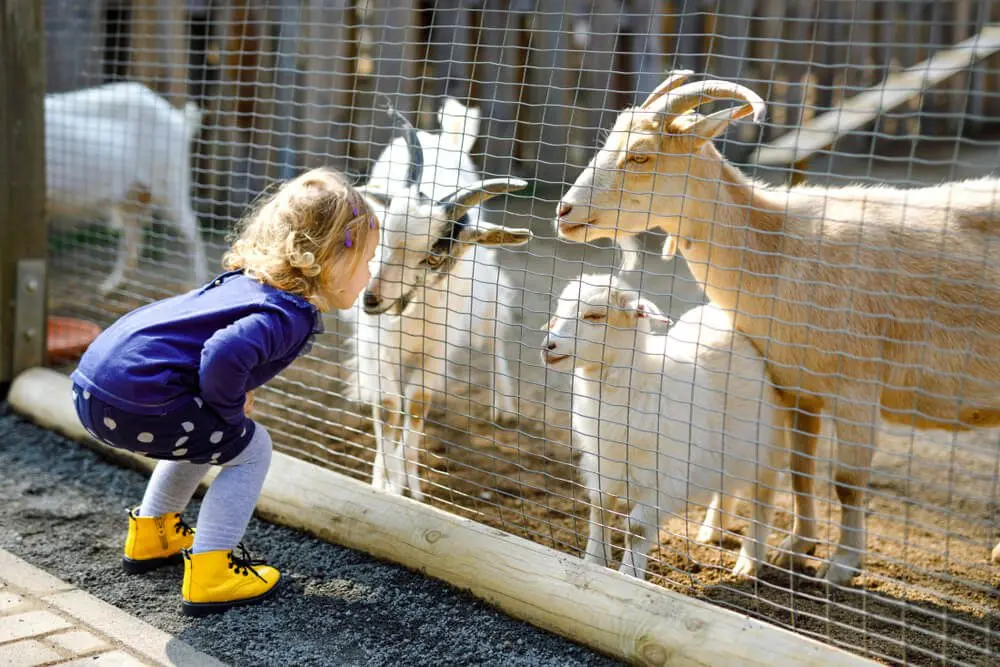 One of the best aspects of the Hochatown Petting Zoo is the emphasis on interaction. Rather than merely observing the animals, guests are encouraged to feed, pet, and even groom some of them under supervision. This hands-on approach allows visitors to form a unique connection with the animals and makes for a truly memorable experience.
Aside from the main petting area, the zoo also features picnic spots, a gift shop, and seasonal events that add a special touch to your visit. Whether you're an animal enthusiast looking to spend quality time with diverse species or a parent aiming to offer your child a fun and educational experience, the Hochatown Petting Zoo is a must-visit when you're in the area.
Stop by Hochatown Amusements
For those looking to add a splash of fun to their Hochatown experience, Hochatown Amusements is a must-visit destination. This amusement park takes the concept of family fun to a whole new level, offering a range of attractions that promise a delightful day out for people of all ages. From classic carnival games to a scenic mini train ride that loops around the park, Hochatown Amusements ensures that you'll never run out of things to do.
One of the highlights is the bumper boat ride. Perfect for hot summer days, this attraction allows you to cruise around a pond in inflatable boats equipped with water guns. The aim is not just to navigate the water, but to engage in a playful water battle with other boaters, all while staying refreshingly cool.
Beyond water fun, the amusement park also boasts an array of arcade games that bring out the competitive spirit in everyone. Whether you're aiming to hit the bullseye in skeeball or collect as many tickets as you can from the claw machine, the arcade offers nostalgic fun combined with modern excitement.
Perhaps one of the most enticing features of Hochatown Amusements is its convenient location. Situated near popular dining spots and other attractions, it's the perfect place to either kick-start or wind down your Hochatown adventure. So grab some cotton candy, try your luck at some games, and let the joyful atmosphere of Hochatown Amusements add a touch of magic to your trip.
Go back in time at Old West Town Mini Golf
If you're intrigued by the allure of the Old West and have a soft spot for mini-golf, then Old West Town Mini Golf in Hochatown is the perfect blend of both worlds. This unique mini-golf course takes you on a journey back in time, allowing you to experience the rustic charm and exciting adventures of a bygone era while enjoying a classic game.
As you move from hole to hole, you'll encounter various elements that evoke the spirit of the Old West, such as wooden wagons, cacti, and even a miniature saloon. Each hole offers its own set of challenges, from tricky water hazards to intricate ramps and windmills, ensuring that the game remains engaging for both first-timers and mini-golf veterans.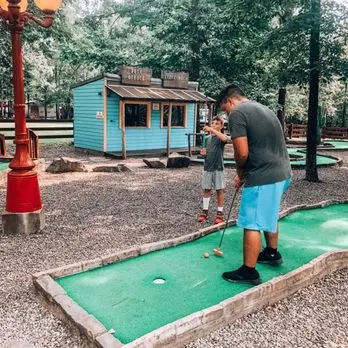 What sets Old West Town Mini Golf apart is its attention to detail and storytelling. It's not just a game; it's an immersive experience that pulls you into the lore and history of the Wild West. Along the course, informational signs provide interesting facts and anecdotes that deepen your understanding of this fascinating period in American history.
After completing your round, be sure to stop by the adjoining snack bar that offers a range of refreshments, from cold drinks to delicious snacks, perfect for replenishing your energy levels after a challenging game. All in all, Old West Town Mini Golf offers a delightful and educational outing that combines sport, history, and fun in a uniquely Hochatown way.
The MAZE of Hochatown will test your navigation skills
If you're someone who enjoys solving puzzles, exploring, or just looking for an exciting challenge, then you must visit the MAZE of Hochatown. This labyrinthine structure of winding paths and dead-ends provides a thrilling and unforgettable experience. While it may look deceptively simple from the outside, once you enter the intricate maze, you'll quickly realize how complex it truly is.
The maze is constructed to challenge your sense of direction, problem-solving abilities, and teamwork skills. As you navigate through the maze's twists and turns, you'll come across various clues and puzzles that help guide your way—or sometimes mislead you, adding to the overall challenge. The thrill of finally emerging on the other side, having conquered the bewildering pathways, offers a sense of accomplishment that is deeply satisfying.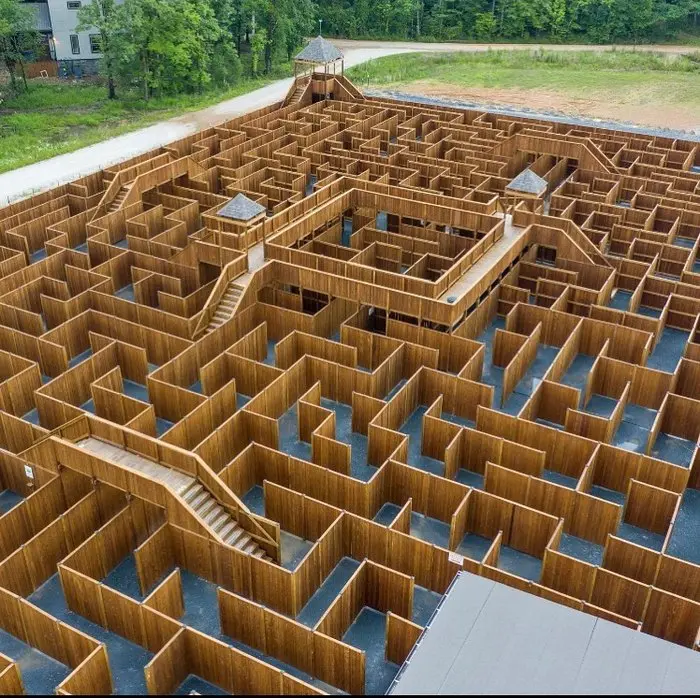 The MAZE of Hochatown is a fantastic outing for groups, whether it's a family looking to engage in a fun, cooperative experience, or a set of friends eager to test their navigation skills against each other. For those who are particularly competitive, the maze offers a time-challenge mode, where you can race against the clock or compete with other groups for the fastest completion time.
Besides the maze itself, the facility offers a variety of other attractions such as picnic areas and snack bars, making it an excellent place to spend an entire afternoon. Whether you're a maze aficionado or a curious first-timer, this challenging labyrinth promises an adventure you won't soon forget.
See how world-class spirits are made at Hochatown Distilling Co.
For adults looking for a different kind of experience in Hochatown, the Hochatown Distilling Co. offers a fascinating glimpse into the world of spirit production. This distillery is renowned for its handcrafted spirits, which include whiskeys, bourbons, and vodkas, all made using traditional methods and locally sourced ingredients.
What makes the Hochatown Distilling Co. special is not just the high-quality spirits they produce, but also the educational aspect of their operation. Upon arrival, visitors are treated to a comprehensive tour of the facility, led by knowledgeable guides who walk you through the entire distillation process. From the milling of grains to the fermentation tanks, and finally, to the copper stills where the spirits are distilled, you'll gain a deep understanding of what it takes to create world-class spirits.
The tour culminates in a tasting session, where you can sample a range of spirits produced by the distillery. Whether you're a connoisseur or new to the world of distilled spirits, the rich flavors and intricate notes of Hochatown's offerings are sure to impress.
In addition to the tour and tasting, the distillery also features a well-stocked gift shop, where you can purchase bottles of their spirits, branded merchandise, and even specialty products like cocktail kits. This allows you to take a piece of the Hochatown Distilling Co. experience home with you.
Catch a live show at Hochatown Saloon
If you're looking to unwind after a day of exploring Hochatown's various attractions, there's no better place to do it than at the Hochatown Saloon. This lively venue offers a quintessential saloon experience that is steeped in rustic charm and local flavor. From its wooden interiors and cowboy-inspired décor to the live music performances that grace its stage, the Hochatown Saloon offers an authentic slice of Americana right in the heart of Oklahoma.
The saloon is best known for its live music shows, featuring a range of artists from local talents to touring musicians. Whether it's country, rock, or blues that gets your feet tapping, you're sure to find a performance that aligns with your musical tastes. The atmosphere is electric, filled with the joyous sounds of guitars, drums, and singing, complemented by an enthusiastic crowd that's always up for a good time.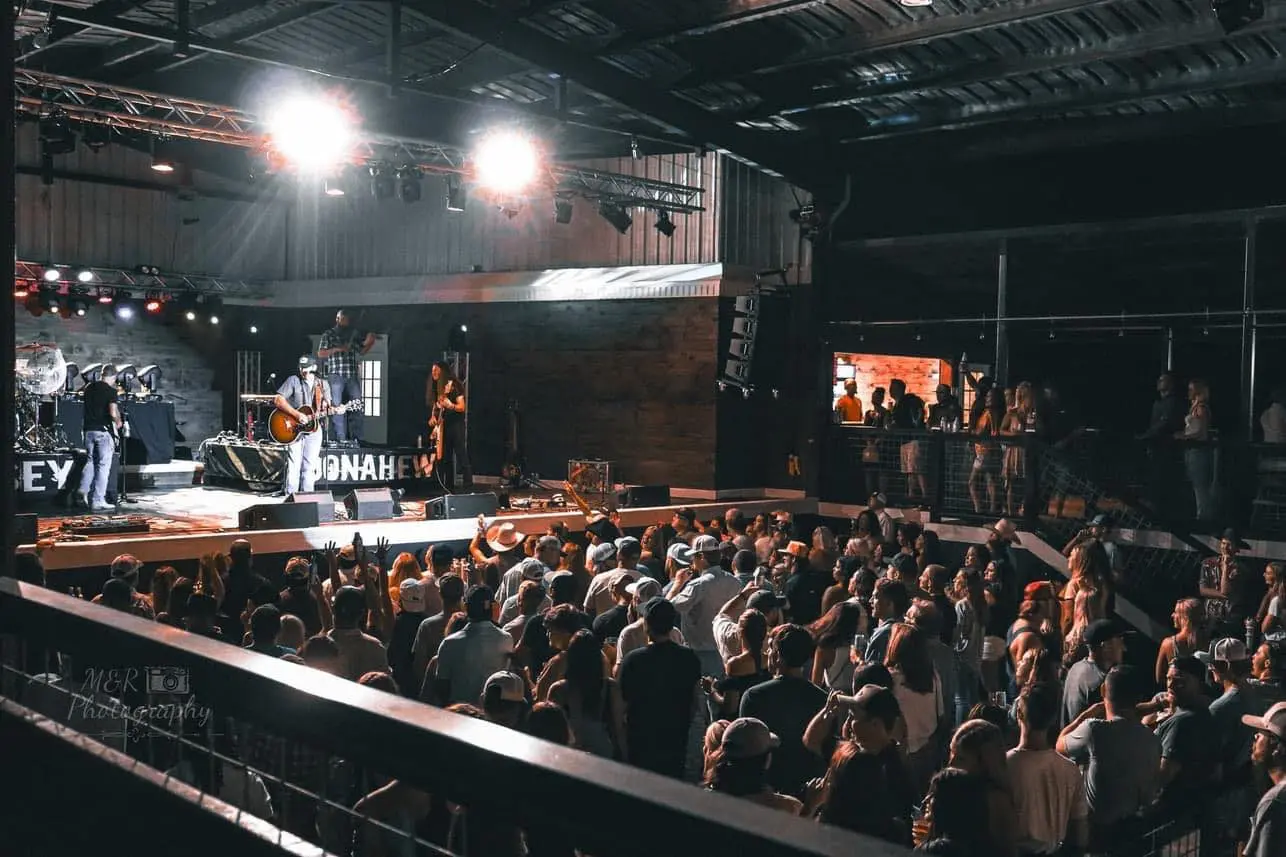 But it's not just about the music. The saloon also offers a wide range of beverages, including craft beers, cocktails, and even some locally distilled spirits. Pair your drink with some classic saloon grub, like wings or a hearty burger, and you've got yourself an unforgettable evening.
So put on your dancing shoes, grab a drink, and let the melodies carry you away. Whether you're a music aficionado or simply someone looking to experience the local nightlife, Hochatown Saloon guarantees a night filled with entertainment, camaraderie, and perhaps even a little two-stepping.
Fly Fishing at the Lower Mountain Fork River with Beaver's Bend Fly Fishing
For those who find solace in the great outdoors, the Lower Mountain Fork River provides a sanctuary unlike any other, especially if you're interested in fly fishing. This river, abundant with brown and rainbow trout, promises a fishing experience that's as rewarding as it is serene. And if you're looking for the best way to navigate these waters, Beaver's Bend Fly Fishing is your go-to guide service.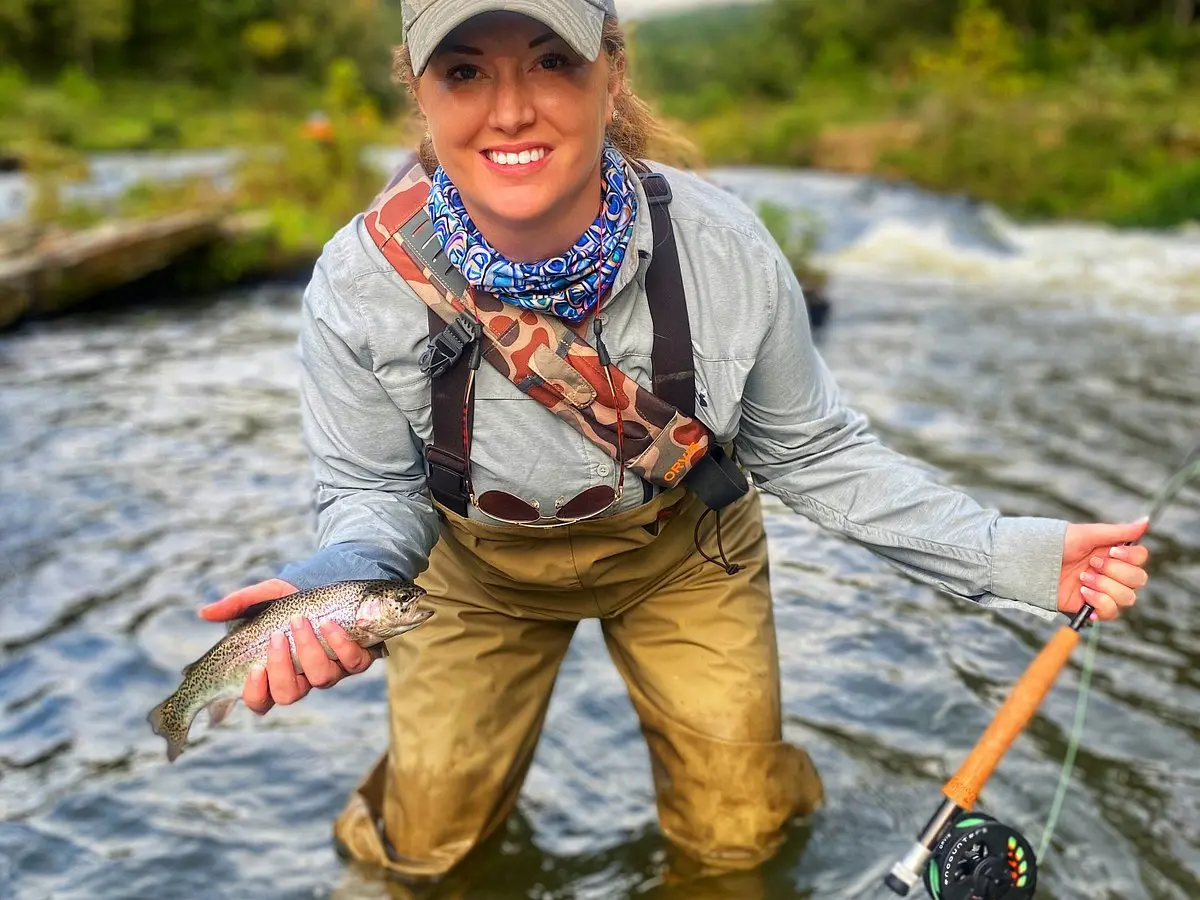 The adventure begins with a quick lesson on fly fishing basics, where you'll learn everything from casting techniques to fly selection. From there, it's a peaceful journey down the Lower Mountain Fork River, your guide leading the way to the best fishing spots. As you cast your line amidst the backdrop of towering trees and rippling waters, it's easy to lose yourself in the natural beauty surrounding you.
The river offers various challenges to keep even the most experienced anglers engaged, with pockets of fast currents and deeper pools that hide larger fish. Whether you catch and release or choose to keep your prize, the thrill of the catch in such a serene setting is an experience to remember.
Grab a Pizza at The Grateful Head
After a day filled with activities and exploration, nothing hits the spot quite like a delicious, hearty pizza. The Grateful Head in Hochatown offers exactly that: mouthwatering pizzas that promise to satisfy both your taste buds and your soul. With a quirky name that evokes a sense of fun and a laid-back atmosphere, this pizza joint is the perfect place to relax and refuel.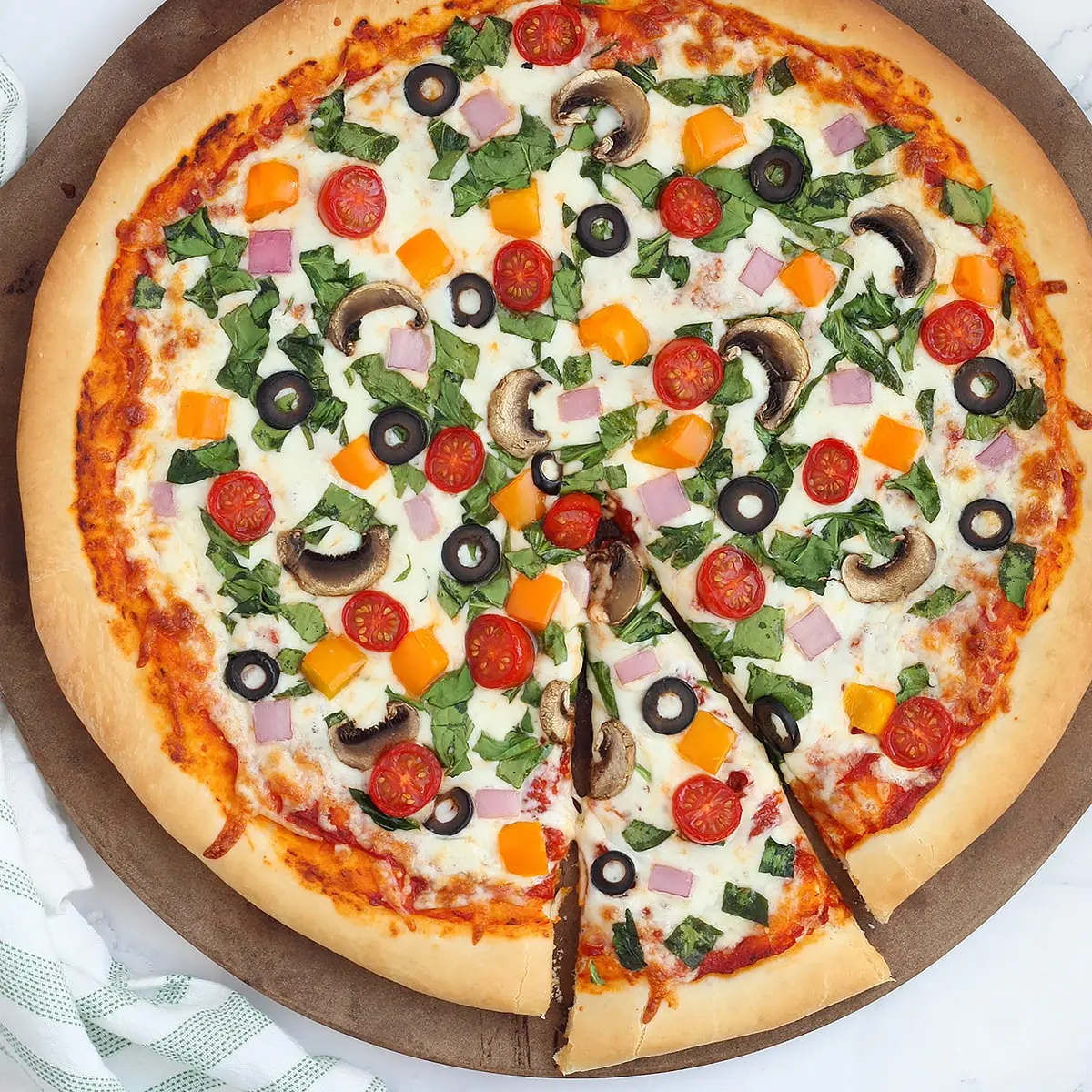 But it's not just about the pizza. The Grateful Head also offers a variety of salads, appetizers, and desserts, making it an ideal location for those with diverse culinary tastes. Add to that a selection of local craft beers and wines, and you've got yourself a complete dining experience.
The best part? The Grateful Head often features live music and special events, creating an environment where you can enjoy great food and great company, all while being entertained. Whether you're with family, friends, or enjoying a romantic evening out, a visit to The Grateful Head is a must for anyone looking to experience the local flavors of Hochatown.
Sew a Masterpiece at Gypsy Sew
If you're searching for a more creative and hands-on experience in Hochatown, look no further than Gypsy Sew. This unique space offers sewing classes that cater to all skill levels, from beginners who've never touched a sewing machine to experienced crafters looking to hone their skills. With an array of fabrics, patterns, and sewing machines readily available, Gypsy Sew provides everything you need to create your own masterpiece.
The environment is casual and inviting, making it easy to feel at home as soon as you walk in. Instructors are friendly and highly skilled, offering personalized guidance and practical tips to help you bring your vision to life. Whether you're interested in making a simple tote bag, a set of cushions, or even more complex garments like dresses or quilts, the range of projects available ensures that you'll find something that piques your interest.
What sets Gypsy Sew apart is the sense of community it fosters. Sewing becomes a social activity here, offering a chance to meet like-minded individuals who share your passion for crafting. Plus, at the end of your session, not only do you walk away with a beautiful, self-made creation, but you also leave with newfound skills and possibly even some new friends.
So if you find yourself in Hochatown and want to take a break from the more adrenaline-pumping activities, consider spending some time at Gypsy Sew. It's not just a sewing class; it's an opportunity to engage in a fulfilling and creative endeavor while experiencing a different facet of what Hochatown has to offer.
Grab a Taco at Tacohoma
When the craving for something spicy and flavorful hits, there's no better place in Hochatown to satisfy it than Tacohoma. This trendy taco spot has become a favorite for both locals and tourists, offering an array of tacos that combine traditional Mexican flavors with a modern twist. Whether you're a meat lover or a vegetarian, Tacohoma's menu has something for everyone.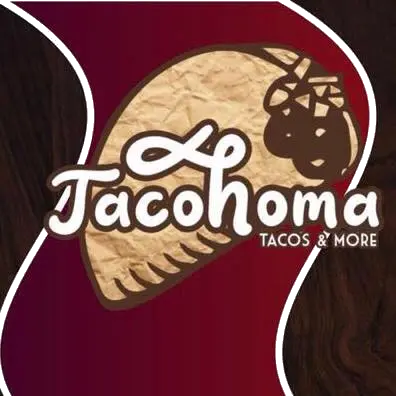 The atmosphere is relaxed yet lively, adorned with vibrant colors and eclectic decorations that immediately set the mood for a fun meal. What really sets Tacohoma apart, though, is its commitment to quality and freshness. From the tortillas to the salsas, everything is made in-house using the finest ingredients. The result is a selection of tacos that are bursting with flavor and texture, each bite offering a culinary experience that is both authentic and innovative.
Pair your tacos with some of their famous house-made guacamole or a refreshing margarita for the ultimate dining experience. With its excellent food, laid-back atmosphere, and friendly service, a visit to Tacohoma is not just a meal; it's a celebration of the rich, diverse flavors that make tacos such a universally loved dish.
Try Beavers Bend Restaurant's Best-Selling Greasy Cheeseburgers
For those who are after something more familiar and comforting, Beavers Bend Restaurant's greasy cheeseburgers have become a staple of Hochatown cuisine. This iconic establishment specializes in classic American fare, but its cheeseburgers are the true stars of the menu. Made with juicy, high-quality beef and cooked to perfection, these burgers are the epitome of comfort food.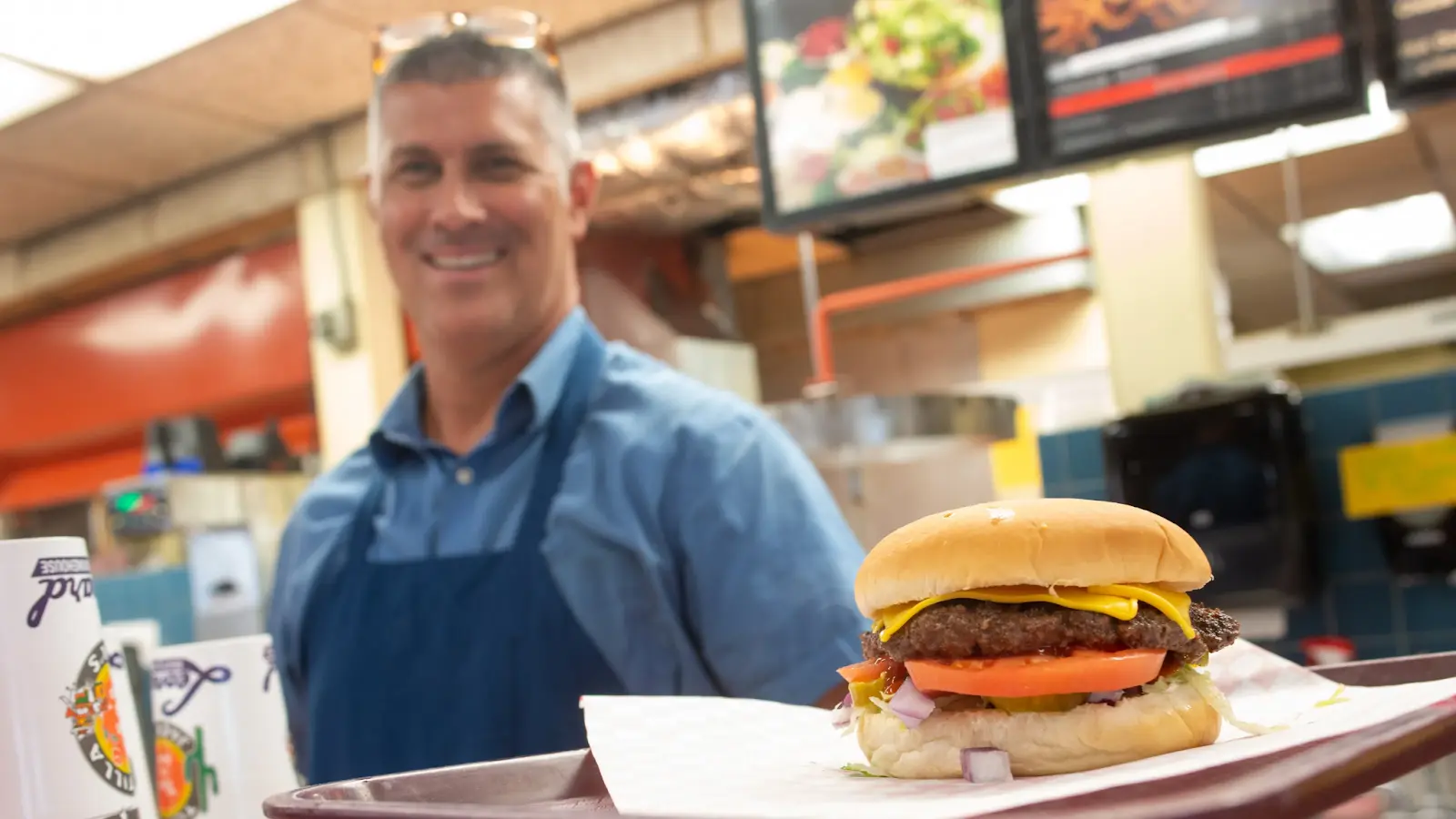 While the word "greasy" may not always inspire culinary confidence, here it's a term of endearment that signifies a burger that is irresistibly indulgent. The burger is generously topped with a slice of melted cheese and served with a side of crispy fries, creating a simple yet deeply satisfying meal. For those looking to elevate their burger experience, the menu also offers various customization options, such as additional toppings and sauces, allowing you to make your burger as unique as you are.
Despite its no-frills approach, Beavers Bend Restaurant has a warm, welcoming ambiance that makes it a great place for a casual meal with family or friends. It's not uncommon to see a mix of locals and tourists enjoying their food, making it a true Hochatown institution.
So if you find yourself yearning for something hearty and delicious, look no further than Beavers Bend Restaurant. Sometimes, the simplest dishes offer the most pleasure, and these best-selling greasy cheeseburgers prove that point deliciously.
Test Your Skills at Hochatown Escape Games
If you're in the mood for an intellectual challenge that will test your problem-solving skills, teamwork, and nerve, Hochatown Escape Games offers just that. Escape rooms have surged in popularity over the years, and Hochatown's own version doesn't disappoint. With intricately designed rooms that feature compelling narratives and complex puzzles, it's a race against time as you work with your team to decipher clues and "escape" within the allotted time.
Upon entering, you'll be briefed about your mission and the story behind the room you've chosen. Whether it's solving a mystery, defusing a "bomb," or finding a hidden treasure, each room has its own unique set of challenges and puzzles that will require all your wits and skills to solve. The tension rises with each passing minute, making it a thrilling experience that can be enjoyed by families, friends, and corporate teams alike.
The rooms are designed to be immersive, often featuring realistic props and background music to make the experience as engaging as possible. The puzzles themselves are a blend of traditional lock-and-key mechanisms, digital clues, and physical challenges that require a mix of different skill sets. This makes Hochatown Escape Games an excellent choice for groups with diverse abilities and interests.
A visit to Hochatown Escape Games is not just a fun diversion; it's an exercise in critical thinking, collaboration, and perhaps most importantly, how to keep your cool under pressure. It's an adventure that promises both suspense and satisfaction, especially if you manage to escape before time runs out.
Enjoy Live Music and Great Food at Hochatown Saloon
If you're looking for a night of relaxation, good food, and live entertainment, Hochatown Saloon has you covered. Already mentioned earlier for its live music, it's worth emphasizing how this venue seamlessly blends gastronomic and musical delights to offer an unparalleled dining and listening experience. The Saloon is designed with a rustic yet modern aesthetic, featuring wood paneling, vintage decor, and a stage set for live performances.
As you sit down to enjoy a hearty meal, you'll find that the menu offers a wide range of options from mouth-watering steaks to delicious seafood. Vegetarian? No problem! The Saloon also features a number of plant-based options that ensure there's something for everyone. And let's not forget the bar, stocked with an assortment of local brews, craft cocktails, and a wine list that can complement any meal.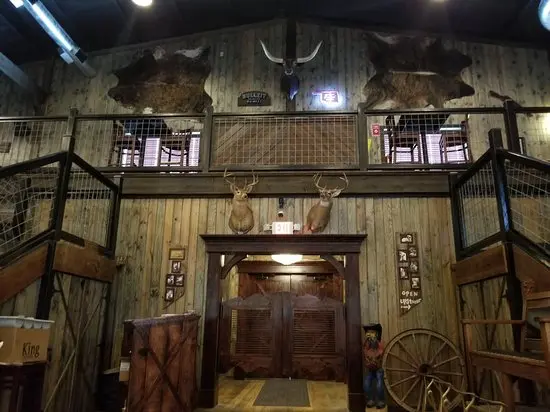 However, what truly sets Hochatown Saloon apart is its live music. With regular performances featuring artists from various genres, including country, rock, and blues, the Saloon is committed to providing quality entertainment for its patrons. Whether you're a local or a tourist, young or old, the music is carefully curated to offer a little something for everyone.
The combination of the Saloon's lively atmosphere, diverse menu, and stellar live performances creates an experience that's more than the sum of its parts. For those looking to make the most of their evening in Hochatown, a visit to Hochatown Saloon promises good food, great music, and memories that will last a lifetime.
Shop for One-of-a-kind Items at Janet's Treasure Chest
If you're looking to take home a piece of Hochatown that goes beyond the typical souvenir, make sure to visit Janet's Treasure Chest. This charming boutique is a paradise for anyone who loves unique, handcrafted items that can't be found anywhere else. From artisan jewelry and vintage finds to home décor and locally made crafts, Janet's offers a wide variety of treasures that reflect the culture and artistry of Hochatown and its surrounding areas.
As you stroll through the cozy store, you'll notice that each item has been carefully curated to offer shoppers an eclectic mix of old and new. One moment you might find yourself admiring a piece of antique furniture, and the next, you could be holding a contemporary piece of art made by a local artist. It's this blend of eras and styles that gives Janet's Treasure Chest its distinctive character.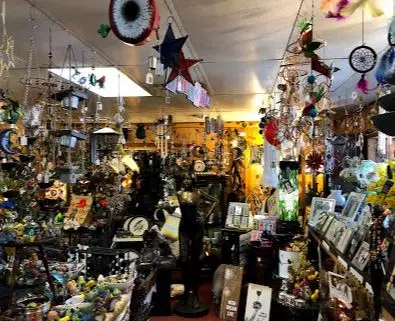 The store itself exudes a homey vibe, with its welcoming staff and the pleasant aroma of scented candles filling the air. Whether you're looking for a special gift or simply want to treat yourself, the wide-ranging collection ensures that you'll find something that captures your heart.
A visit to Janet's Treasure Chest isn't just shopping; it's an experience that allows you to connect with the local community and its artisans. This makes each purchase not just a transaction, but a meaningful interaction that supports local creativity.
Prepare to be Entertained along with Your Kids at the Eat Out
Parents know that dining out with children can sometimes be a challenging affair. However, the Eat Out in Hochatown turns this ordeal into a delightful experience for both adults and kids. This family-friendly venue is designed to be more than just a restaurant; it's a place where families can enjoy good food while being entertained.
The Eat Out offers a varied menu that caters to all age groups, featuring kid-favorites like chicken nuggets and mac 'n cheese alongside more sophisticated options for adults. It's the perfect solution for families who want to dine together without compromising on their culinary preferences.
But what truly sets the Eat Out apart is its entertainment offerings designed to keep children engaged. From interactive games to mini-performances, the establishment ensures that kids are not only well-fed but also well-entertained. This allows parents to enjoy their meal in relative peace, making it a win-win situation for the whole family.
The setting is also ideal for fostering family interactions. With spacious seating and a relaxed atmosphere, families can comfortably spend quality time together without the usual distractions. It's not just a meal but a bonding experience that both parents and children can cherish.
So if you're in Hochatown and are looking for a dining option that caters to the whole family, the Eat Out should be at the top of your list. Good food and good fun await you and your loved ones, making it a dining experience that's likely to become a fond memory of your time in Hochatown.
Relax at Body Harmony Day Spa
Amidst the hustle and bustle of outdoor activities and sightseeing, taking some time to relax and unwind can be a welcome respite. Body Harmony Day Spa in Hochatown offers just that—a sanctuary where you can let go of stress and rejuvenate both your body and mind. Known for its tranquil ambiance and exceptional service, this spa is a haven for anyone seeking to escape the daily grind.
The moment you step into Body Harmony Day Spa, you'll be greeted by a soothing atmosphere, complete with soft lighting, calming aromas, and tranquil music. But what truly sets this spa apart is its personalized services tailored to meet the individual needs of each client. From rejuvenating massages and facials to detoxifying body scrubs, the treatments are designed to provide a holistic wellness experience.
Highly trained therapists guide you through each session, ensuring that you get the most out of your spa day. Whether you opt for a single treatment or choose a full-day package, you'll leave feeling refreshed, rejuvenated, and ready to take on whatever adventures Hochatown has in store for you next.
Visiting Body Harmony Day Spa is more than just a luxury; it's an essential experience for any Hochatown trip, offering a moment of pause that can greatly enhance your overall vacation.
Buy Souvenir at Persingers Jewelry Shop and Fine Arts
Souvenirs often serve as cherished memories of your travels, and if you're looking for a keepsake that transcends the usual trinkets and postcards, then a visit to Persingers Jewelry Shop and Fine Arts is a must. This family-owned store has been a staple in Hochatown for years, offering a variety of high-quality jewelry and fine arts that capture the spirit and beauty of the area.
At Persingers, you'll find an exquisite range of handcrafted jewelry items, from necklaces and bracelets to rings and earrings, each piece uniquely designed and made with utmost craftsmanship. Whether you're in the market for a simple piece of jewelry or a luxurious gemstone, the wide selection ensures that you'll find something that fits your taste and budget.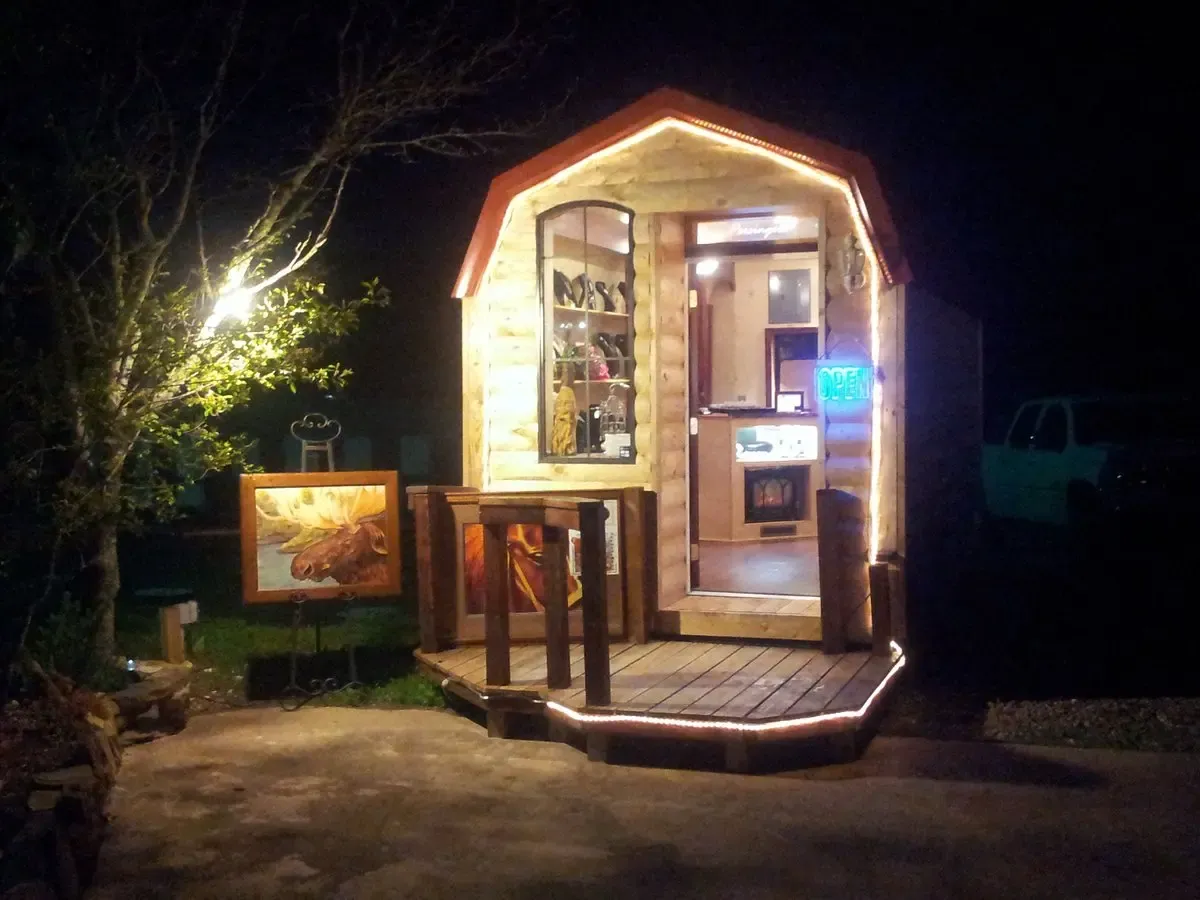 Beyond jewelry, the shop also features a curated selection of fine arts, including paintings, sculptures, and crafts from local artisans. These artworks not only make for great home decor but also offer a slice of Hochatown's rich cultural landscape.
The shop's staff are knowledgeable and welcoming, always ready to share the stories and inspirations behind each piece. This adds an extra layer of significance to whatever item you choose to take home, making it a far more meaningful souvenir.
Whether you're looking for a gift for a loved one or a treat for yourself, Persingers Jewelry Shop and Fine Arts provides a shopping experience that is both enriching and memorable. Each purchase here is not just an item, but a lasting memory of your time spent in Hochatown.
Go Kayaking with Yippie Kayo Kayaks
Exploring the natural beauty of Hochatown is an adventure in itself, and there's no better way to do it than by water. Yippie Kayo Kayaks offers an unforgettable kayaking experience that allows you to get up close and personal with the area's stunning lakes and rivers. Whether you're an experienced kayaker or a complete beginner, this adventure is designed to suit all levels of expertise.
The company provides top-notch kayaks, life vests, and paddles, ensuring that you have all the necessary equipment for a safe and enjoyable experience. Once you're geared up, expert guides will brief you on safety procedures and basic kayaking techniques. Then it's time to hit the water!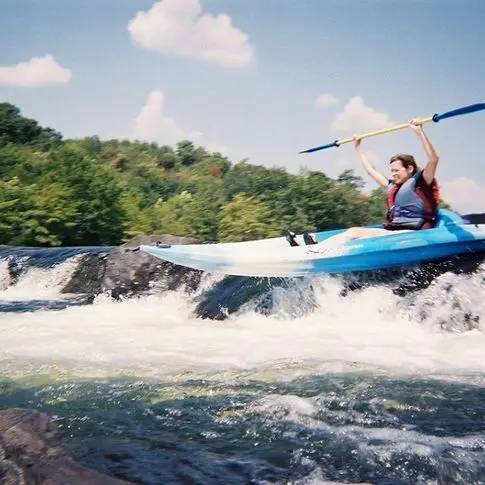 As you paddle through serene waterways surrounded by lush greenery, you'll have the opportunity to observe local wildlife, take in spectacular views, and even catch a glimpse of the sun setting over the horizon if you opt for an evening tour. The peacefulness of the surroundings combined with the physical activity makes kayaking not just an adventure, but a form of meditation on water.
Yippie Kayo Kayaks takes great pride in ensuring that each trip is a unique experience, offering various routes and packages to cater to different interests and skill levels. Whether you're looking for a full-day excursion or a shorter journey, kayaking in Hochatown is sure to be one of the highlights of your trip.
Visit the Tasting Room Hochatown
For those interested in the finer things in life, a visit to the Tasting Room Hochatown is an absolute must. This upscale establishment specializes in offering a curated selection of wines, craft beers, and spirits, making it the perfect place for aficionados and novices alike to explore the world of beverages.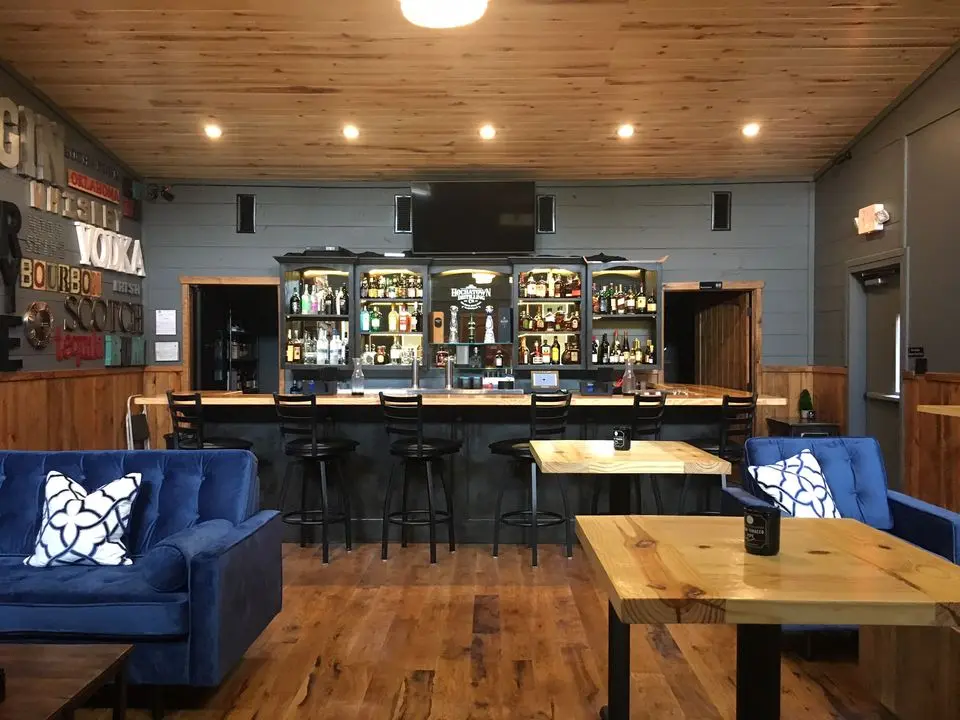 As you step into the tastefully decorated room, you'll be greeted by knowledgeable staff who are passionate about helping you find the perfect drink. Whether you're interested in sampling local wines or are curious about international offerings, the Tasting Room has something to suit every palate.
The experience is further elevated by the addition of expertly paired charcuterie boards, featuring an array of cheeses, meats, and accompaniments that enhance the flavors of your chosen drinks. The attention to detail is evident in every aspect of the Tasting Room, from the temperature at which the wines are served to the elegant glassware that holds them.
But it's not just about the drinks; the Tasting Room Hochatown also serves as a social hub where you can meet like-minded individuals, share experiences, and perhaps even learn something new about the world of fine beverages.
With its sophisticated ambiance, extensive selection, and exceptional service, the Tasting Room offers a unique experience that both educates and delights. It's the perfect way to wind down after a day of exploring Hochatown, offering a touch of luxury that makes any trip truly unforgettable.
Go Ziplining at Rugaru Adventures
If you're seeking a heart-pounding, adrenaline-pumping experience in Hochatown, look no further than Rugaru Adventures. This zipline course offers an exhilarating way to explore the natural beauty of the area from above. With multiple zip lines that traverse through towering trees and over pristine waters, this adventure is both scenic and thrilling.
Upon arrival, you'll be greeted by certified guides who prioritize your safety above all else. After equipping you with harnesses, helmets, and gloves, they'll give a thorough safety briefing and demonstration. Then, you're off to conquer the course, which varies in length and difficulty, offering a suitable challenge for both first-timers and seasoned zipliners.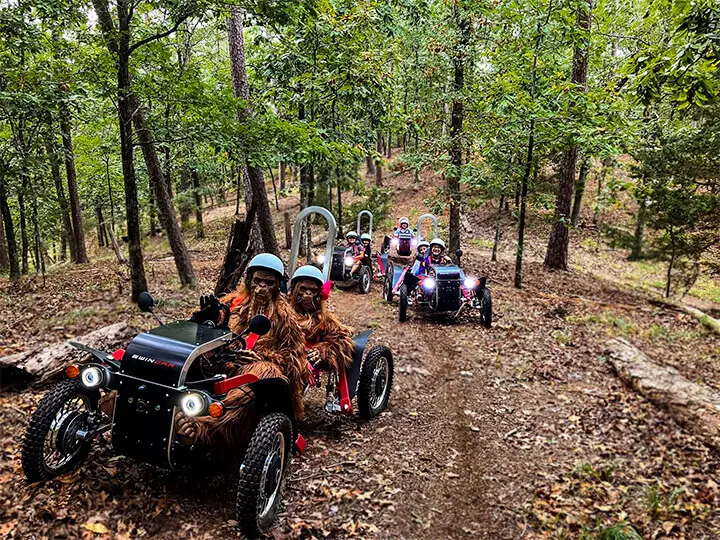 As you soar through the canopy, you'll be treated to breathtaking views of the forest, rivers, and wildlife that make Hochatown such a unique destination. The experience isn't just about the thrill of speed; it's also a fantastic way to appreciate the ecosystem from a vantage point that few get to enjoy.
While the ziplines themselves are the star of the show, the adventure also includes nature walks between some of the platforms, giving you the opportunity to learn about the local flora and fauna. Overall, a trip to Rugaru Adventures is more than just a fun activity; it's a way to immerse yourself in the natural wonders of Hochatown while getting a good dose of excitement.
Go Horseback Riding with Beavers Bend Depot & Trail Rides
For those looking for a slower-paced yet equally thrilling adventure, consider exploring Hochatown's scenic beauty on horseback with Beavers Bend Depot & Trail Rides. Perfect for visitors of all ages, this activity provides a wonderful way to connect with nature and experience the tranquility of the great outdoors.
Upon arrival at the depot, you'll meet your trusty steed and receive a brief orientation. Don't worry if you've never been on a horse before; the guides are excellent at matching riders with horses that suit their experience level and are there to help you feel comfortable throughout the ride.
The trail takes you through a variety of landscapes, from lush meadows to wooded areas, and even alongside water bodies where you can enjoy beautiful reflections of the sky and trees. Along the way, the guides will share interesting tidbits about the history of the area and the natural habitat you are passing through.
One of the standout features of horseback riding with Beavers Bend is the sense of communion with the animal you're riding. The experience encourages a kind of mindfulness, as you focus on the rhythmic movement of the horse and the sounds of nature surrounding you. It's an almost meditative experience that provides a break from the hustle and bustle of modern life.
Search for Treasures at Beavers Bend Mining Company
One of the most unique and interactive experiences in Hochatown, Beavers Bend Mining Company invites you and your family to roll up your sleeves and try your hand at gemstone mining. Modeled after the old-fashioned mining operations that were once common in the American West, this attraction offers a slice of history along with a fun and educational experience.
Upon arrival, you'll be equipped with a mining sluice and a bag of sand filled with a variety of gemstones, minerals, and even fossils. As water flows through the sluice, you'll sift through the sand, eagerly watching as hidden treasures begin to reveal themselves. Children and adults alike will delight in the thrill of discovery, as each sift brings with it the possibility of uncovering a rare gem or ancient fossil.
But the fun doesn't stop at the sluice. Beavers Bend Mining Company also has an identification chart and experts on hand to help you learn about each find. You'll come away not only with a bag full of treasures but also with a newfound understanding of geology and earth sciences.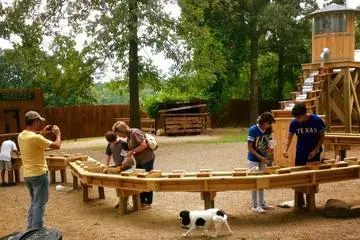 For those interested in more than just gemstones, the company offers expanded experiences like gold panning and even arrowhead hunting. Each activity is designed to be both fun and educational, making it a perfect outing for families or anyone interested in learning something new while having a great time.
The setting is also a big part of the attraction. Nestled amidst the natural beauty of Hochatown, the mining area provides a scenic backdrop for your treasure hunt, making it a genuinely immersive experience. Whether you're a seasoned rockhound or just looking for a unique way to spend an afternoon, Beavers Bend Mining Company offers a memorable adventure that will both educate and delight.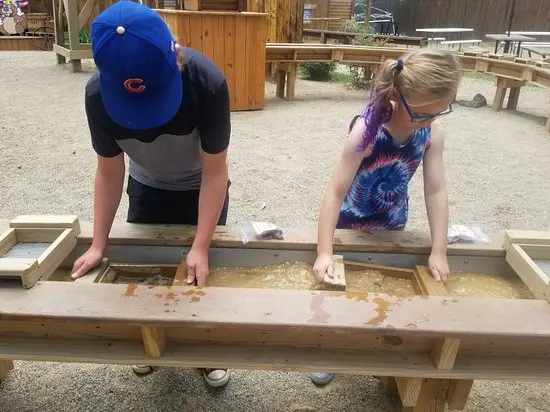 Conclusion
In Hochatown, Oklahoma, the opportunities for adventure, relaxation, and memorable experiences are seemingly endless. From soaring through treetops on a zipline and sifting for treasures at a mining company, to savoring the tastes of fine wines and indulging in spa treatments, you'll find that Hochatown truly offers a balanced mix of activities to satisfy every desire and interest. Here, natural beauty and modern amenities come together in perfect harmony, providing the backdrop for a trip that you won't soon forget. Whether you come for a weekend getaway or an extended stay, Hochatown will not only meet but exceed your expectations, compelling you to return and explore even more of what this incredible destination has to offer.
Frequently Asked Questions (FAQ) About Visiting Hochatown, OK
What is the best time to visit Hochatown?
The best time to visit Hochatown depends on what you're looking to do. For outdoor activities like kayaking, horseback riding, and hiking, late spring to early fall offers the most pleasant weather. However, winter visits can provide a unique experience, especially if you enjoy cozy cabin stays and fewer crowds.
Are there activities suitable for kids?
Absolutely! Hochatown offers a wide range of family-friendly activities. Kids will love the Hochatown Petting Zoo, mining for gemstones at Beavers Bend Mining Company, and playing mini-golf at Old West Town Mini Golf.
Is Hochatown a good destination for couples?
Yes, Hochatown offers a romantic getaway for couples. From enjoying a peaceful spa day at Body Harmony Day Spa to savoring wines at the Tasting Room Hochatown, there are plenty of activities aimed at couples looking for a romantic experience.
Do I need to book activities in advance?
While some activities like kayaking or zip-lining often require advanced bookings, especially during peak season, others like mini-golf or visiting the petting zoo can generally be enjoyed without a reservation. It's always a good idea to check in advance to avoid disappointment.
Are there any dining options?
Hochatown offers a range of dining experiences. Whether you're in the mood for a greasy cheeseburger at Beavers Bend Restaurant, tacos at Tacohoma, or gourmet pizza at The Grateful Head, you'll find a wide array of options to suit all tastes and budgets.
Is it easy to get around Hochatown?
Most attractions in Hochatown are within a short driving distance of each other, making it relatively easy to get around by car. There is limited public transportation, so renting a car is often the most convenient option.
What should I bring for outdoor activities?
If you plan on indulging in outdoor activities, make sure to bring comfortable clothing, sturdy shoes, and sun protection. Water bottles, snacks, and a first-aid kit are also advisable for longer excursions.
Are there shopping opportunities?
Yes, Hochatown offers several shops where you can buy souvenirs, clothing, and local art. Places like Janet's Treasure Chest and Persingers Jewelry Shop and Fine Arts are excellent spots to pick up unique gifts and keepsakes.
Can I go fishing in Hochatown?
Fishing is a popular activity, especially at the Lower Mountain Fork River. You can go fly fishing with Beaver's Bend Fly Fishing or explore other fishing spots on your own. Just make sure to adhere to Oklahoma's fishing regulations and obtain the necessary permits.
Is Hochatown pet-friendly?
Many of the cabins and accommodations in Hochatown offer pet-friendly options, and there are plenty of outdoor activities that are suitable for four-legged companions. However, always check in advance with specific attractions and dining establishments to confirm their pet policies.