25 Best Things to Do in Jersey City, US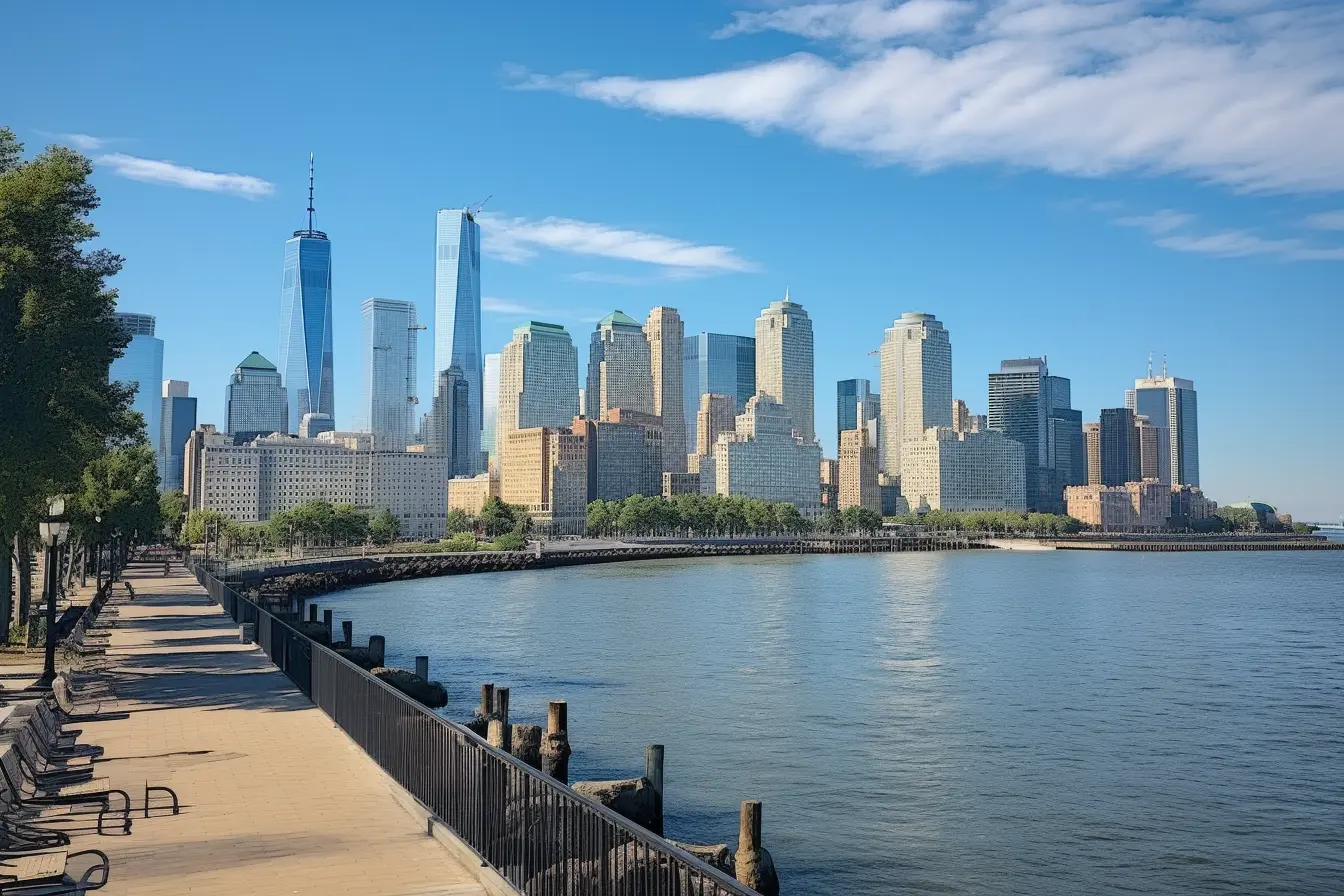 Jersey City, with its unique blend of historic charm and modern vibrancy, boasts an array of attractions that captivate both residents and visitors alike. Nestled on the Hudson River's banks, it offers panoramas of the iconic Manhattan skyline, beautifully juxtaposed against its own evolving urban landscape. One such gem that elevates Jersey City's allure is the Rooftop at Exchange Place—a venue that seamlessly fuses the city's pulsating energy with the tranquility of elevated vistas.
Exploring the Wonders at Liberty Science Center
Jersey City is home to the renowned Liberty Science Center, an interactive science museum that captivates visitors of all ages. As one of the state's leading educational institutions, it consistently offers a combination of learning and fun. Upon entering, you are greeted by an array of hands-on exhibits that dive deep into topics like technology, health, and the environment.
One of the main highlights is the Jennifer Chalsty Planetarium, the largest planetarium in the Western Hemisphere. Here, visitors can immerse themselves in breathtaking shows about the universe, stars, and planets. Equally impressive is the "Infinity Climber", a suspended multi-story play space which is sure to thrill adventure-seekers. For those keen on biology, the "Live From Surgery" program offers a rare chance to witness real surgeries and learn from medical professionals.
Throughout the year, the Liberty Science Center hosts a variety of events, workshops, and special exhibitions, ensuring that every visit provides a unique experience. With its commitment to inspiring the next generation of scientists, inventors, and leaders, a trip to this educational gem is a must when in Jersey City.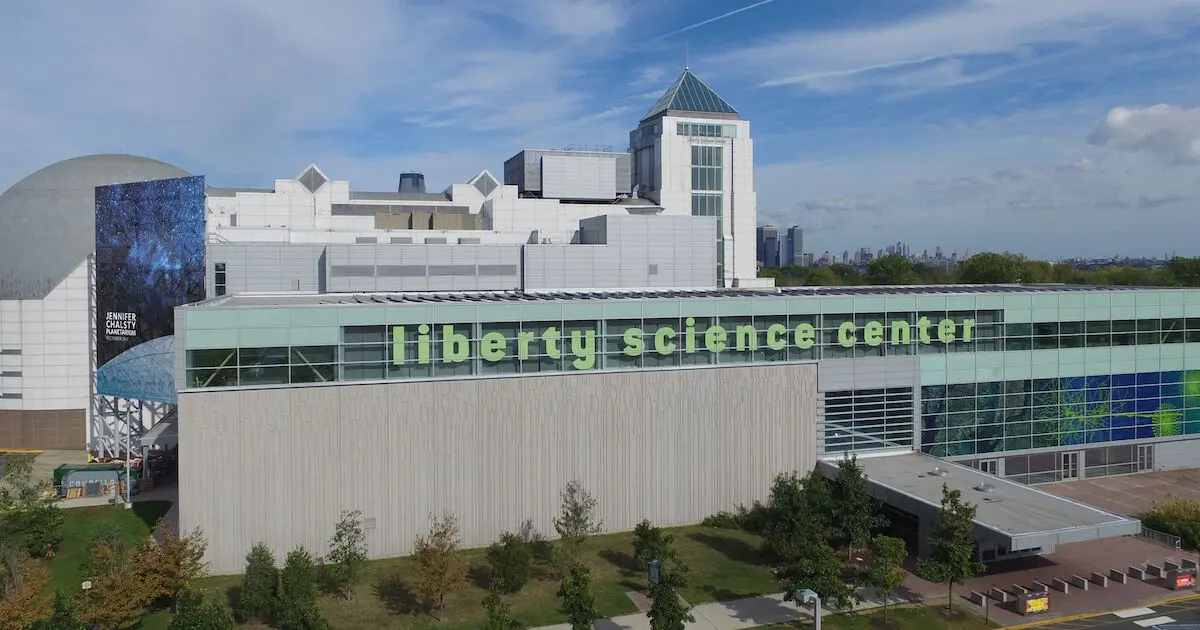 Relaxing and Reveling at Liberty State Park
A stone's throw away from the hustle and bustle of downtown Jersey City lies the expansive Liberty State Park. Sprawling over 1,200 acres, this urban oasis offers unmatched views of the Statue of Liberty, Ellis Island, and the iconic New York City skyline. The park serves as a recreational and cultural hub, making it a favored destination for both locals and tourists.
For those who love outdoor activities, the park boasts a myriad of options. You can rent a bike and traverse the scenic pathways, fish by the water's edge, or even enjoy a picnic with a backdrop of the Manhattan skyline. The Richard J. Sullivan Natural Area is a salt marsh perfect for birdwatching and observing local flora.
A notable feature of Liberty State Park is the Liberty Science Center, but also the Central Railroad of New Jersey Terminal, a historic transportation building where millions of immigrants once arrived in their quest for the American dream.
Special events are also a staple at Liberty State Park. From summer concerts to outdoor movie nights and cultural festivals, there's always something happening. For a serene escape or an action-packed day out, Liberty State Park promises a delightful mix of nature, history, and entertainment.
Reflecting at the Empty Sky 9/11 Memorial
Situated in the heart of Liberty State Park, the Empty Sky 9/11 Memorial stands as a poignant tribute to the New Jersey victims of the tragic September 11 attacks. As you approach the memorial, you are drawn to two parallel walls, each stretching 210 feet in length. These stainless steel structures bear the engraved names of the 749 individuals from New Jersey who lost their lives on that fateful day.
The design is symbolic and evocative. As visitors walk between the walls, they are guided towards a direct line of sight to Ground Zero, the site where the Twin Towers once stood. The "empty sky" framed by the memorial walls serves as a stark reminder of the absence left behind. The serene ambiance encourages contemplation, remembrance, and a deep sense of reverence. Whether you personally remember the events of 9/11 or are learning about them for the first time, a visit to the Empty Sky 9/11 Memorial leaves a lasting impact and emphasizes the resilience of the human spirit.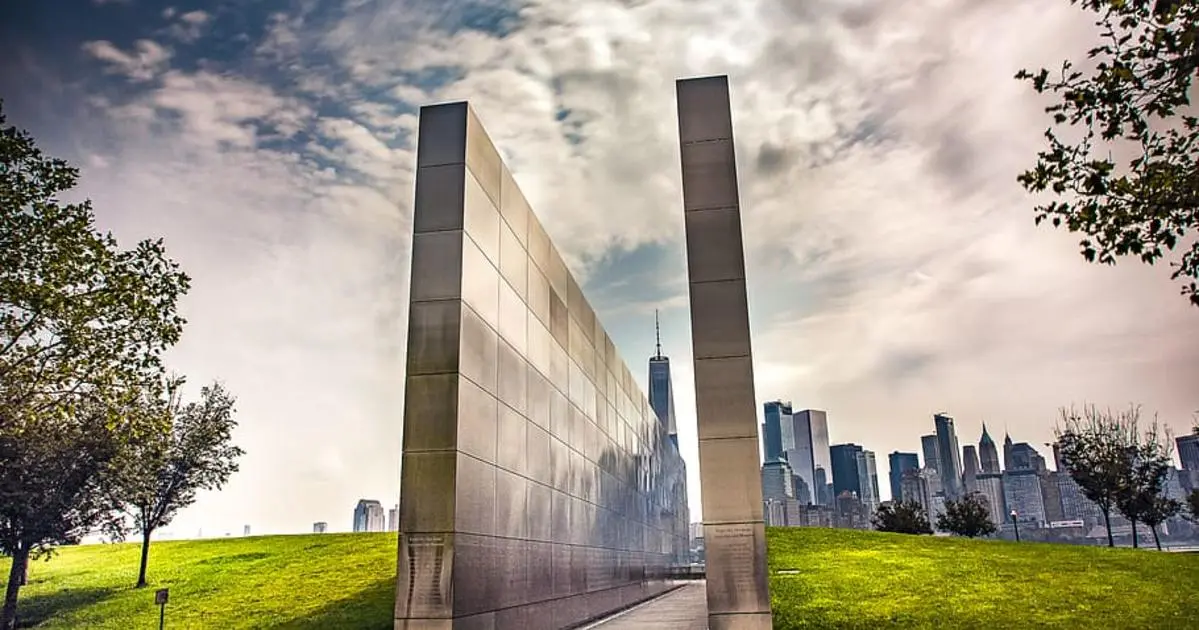 Discovering the Beauty of Exchange Place Waterfront
Jersey City's Exchange Place Waterfront is more than just a scenic spot; it's a blend of history, modernity, and natural beauty. Nestled on the banks of the Hudson River, this location provides panoramic views of the Manhattan skyline, the Statue of Liberty, and the Hudson River's shimmering expanse.
The area has seen significant development over the years, transforming from a historic transportation hub to a vibrant district boasting skyscrapers, luxury apartments, and corporate offices. Amidst this urban setting, the waterfront stands out as a tranquil retreat. The pedestrian walkway is a favorite for joggers, couples, and families alike, offering a peaceful space to stroll and take in the views.
As the sun sets, the waterfront illuminates with the reflections of the city lights, making it an ideal location for evening walks and photography. Numerous restaurants and cafes line the area, offering a culinary journey with views to match. For those interested in the city's history, the Katyn Forest Massacre Memorial and the historic Colgate Clock are noteworthy landmarks to explore.
A Serene Escape at J. Owen Grundy Park
Tucked away in the bustling heart of Jersey City's waterfront is the picturesque J. Owen Grundy Park. Named after a historian and former city official who championed the preservation of Jersey City's rich history, this park provides both locals and tourists with a serene space to unwind and appreciate unparalleled views of Manhattan and the Hudson River.
The park's boardwalk is lined with wooden benches, making it an ideal spot to watch the sunrise, enjoy a peaceful afternoon, or witness the New York skyline illuminated at night. Additionally, the park frequently becomes a hub of cultural activities, hosting various events such as live music performances, festivals, and community gatherings. Historical markers scattered throughout offer insights into Jersey City's past, making it a blend of relaxation and education.
Conveniently located near the Exchange Place PATH station, J. Owen Grundy Park is a must-visit, ensuring that amidst urban growth, pockets of tranquility and beauty remain accessible to all.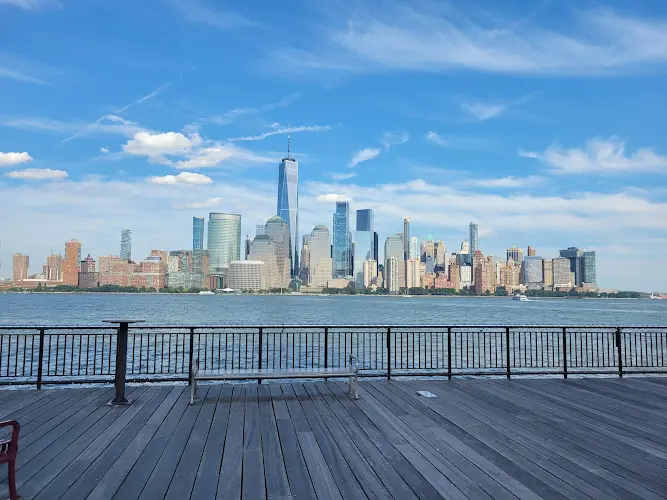 Sailing Adventures at Liberty Landing Marina
Nestled in the protected Liberty Harbor, the Liberty Landing Marina stands as a testament to Jersey City's nautical heritage and modern-day luxuries. With its world-class facilities and breathtaking views of the Statue of Liberty and Manhattan skyline, the marina is both a haven for boating enthusiasts and a destination for those seeking waterfront leisure.
Offering over 500 boat slips, state-of-the-art amenities, and top-notch services, Liberty Landing Marina is a premier spot on the East Coast for yachts and boats. For those who prefer to keep their feet on solid ground, the marina provides a delightful experience with its selection of upscale restaurants, shops, and the scenic Liberty Landing Marina Promenade. This pedestrian pathway allows visitors to leisurely stroll alongside docked boats, creating a serene maritime ambiance.
Water's Soul: The Tranquil Essence of Jersey City
In a bustling urban environment, water often serves as a symbol of serenity, reflection, and life. In Jersey City, the intricate weave of its waterways and waterfronts, notably the Hudson River, provides residents and visitors with spaces that encapsulate the city's 'Water's Soul.' These tranquil spots serve as sanctuaries from the urban hustle, offering a momentary escape into nature's embrace.
The gentle ebb and flow of the tides, the shimmering reflections of the skyline on the water's surface, and the occasional splash of marine life underline the city's close connection with its aquatic surroundings. The waterfront walkways, with their views of the Manhattan skyline and the Statue of Liberty, offer not just scenic beauty but also a moment to reflect, rejuvenate, and reconnect with nature. Every sunrise and sunset, witnessed from these waterside havens, paints a picture of serenity, reminding everyone of the water's soulful impact on the city's character and the lives of its inhabitants.
Retail Oasis: Newport Centre Mall
Positioned in the heart of Jersey City, Newport Centre Mall stands as a testament to the city's modern flair and cosmopolitan vibe. Spanning multiple floors, this shopping haven boasts an impressive array of stores, catering to every fashion taste, tech need, and lifestyle preference. From high-end brands to popular retail chains, Newport Centre offers a shopping experience that rivals the best.
Beyond its extensive retail offerings, the mall is also a hub for entertainment and dining. Its food court presents a world of culinary delights, featuring a diverse mix of cuisines that reflect the city's multicultural fabric. For movie enthusiasts, the state-of-the-art cinema ensures an immersive experience, showcasing the latest blockbusters.
Given its strategic location, with easy access to public transport and its proximity to waterfront attractions, Newport Centre Mall is more than just a shopping destination. It's a place where residents gather for weekend outings, tourists come to shop for souvenirs, and everyone enjoys the vibrant energy that is distinctly Jersey City. Whether you're on a shopping spree or simply enjoying a day out, Newport Centre Mall promises a blend of retail therapy and entertainment in one dynamic setting.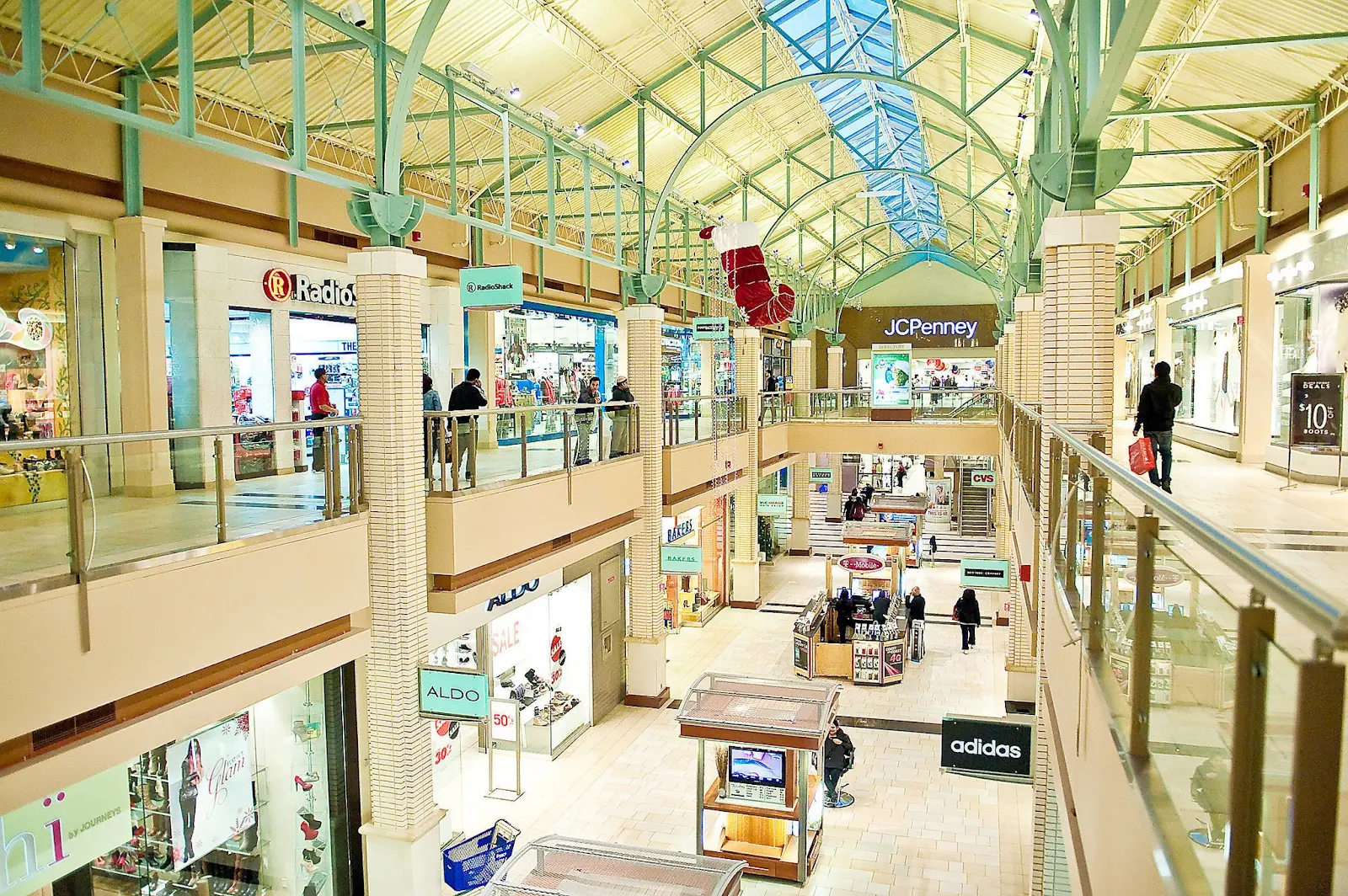 The Pulse of the City: PATH Train Station
Jersey City's PATH Train Station is not just a transit hub; it's the pulse of a city constantly on the move. Serving as a vital link between New Jersey and New York City, the Port Authority Trans-Hudson (PATH) system facilitates the seamless movement of commuters, tourists, and locals, bridging the two states with efficiency and speed.
The stations, especially the ones at Journal Square and Exchange Place, buzz with activity, mirroring the city's vibrant, cosmopolitan energy. Modern amenities ensure passenger comfort, while the frequent schedules offer convenience for daily commuters. For visitors, the PATH provides an affordable and efficient way to explore the highlights of both Jersey City and Manhattan.
Additionally, the surrounding areas of these stations have developed into commercial and recreational hubs, with a plethora of restaurants, shops, and cultural venues. The PATH Train Station is more than just a transit point; it's a symbol of Jersey City's connectivity, growth, and dynamic urban life.
A Green Respite: Van Vorst Park
In the midst of Jersey City's urban landscape lies Van Vorst Park, a green oasis that offers residents and visitors a tranquil spot to relax, play, and reconnect with nature. Established in the 19th century and named after one of the city's earliest settler families, this park is a delightful blend of history and modern-day recreation.
Covered with lush green lawns, mature trees, and vibrant flowerbeds, the park serves as a perfect backdrop for picnics, leisurely walks, or simply lounging with a book. For families, the playgrounds and splash pads are a hit among children, while the pathways attract joggers and dog walkers.
A highlight of Van Vorst Park is its gazebo, which often becomes a stage for community events, live performances, and gatherings. The park also features a community garden, where locals cultivate flowers, fruits, and vegetables, promoting sustainability and community bonding.
Situated in a historic district, the park is surrounded by beautiful brownstones and period architecture, adding to its charm. A visit to Van Vorst Park not only provides a break from city life but also offers a glimpse into the community spirit and rich heritage of Jersey City.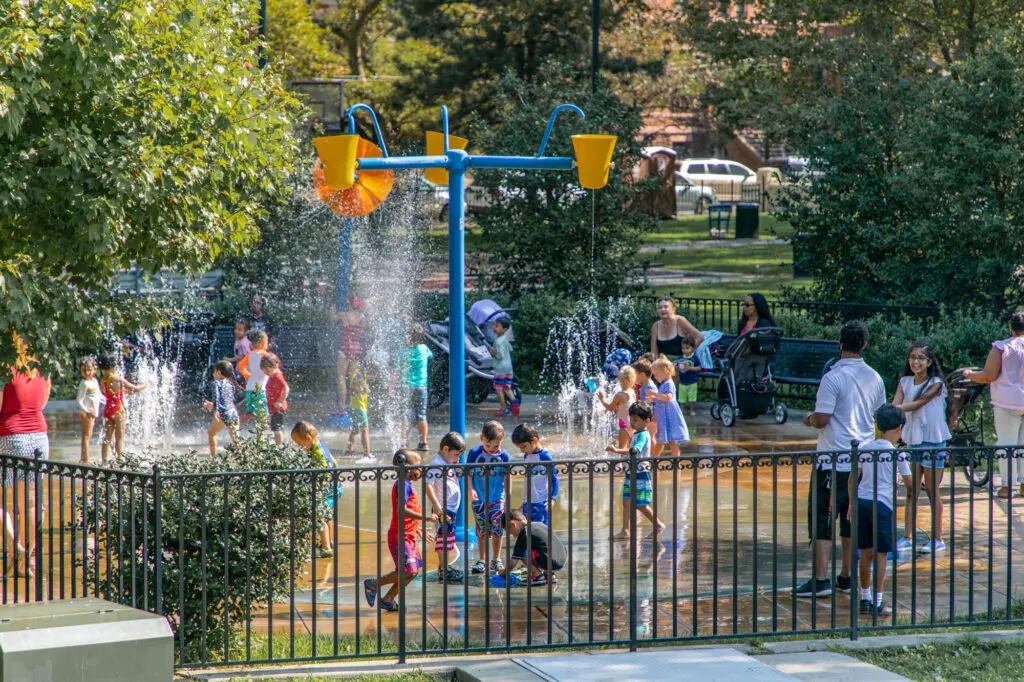 Urban Oasis: Newport Green Park
Nestled in the vibrant Newport neighborhood of Jersey City is the Newport Green Park, an urban haven that artfully combines nature, recreation, and community activities. Designed as an eco-friendly initiative, this park spreads over four acres, offering residents and visitors a green space amid the city's modern skyscrapers.
Newport Green Park is notable for its urban beach—a sandy stretch complete with lounge chairs and umbrellas, offering a unique seaside experience without leaving the city. The park also boasts meticulously landscaped gardens, walking paths, and a state-of-the-art playground that captivates children with its innovative designs.
In summer, the splash pad becomes a hotspot for families, providing a delightful escape from the heat. Throughout the year, Newport Green Park serves as a venue for various community events, from open-air concerts to movie nights under the stars.
Overlooking the Hudson River and offering a splendid view of the Manhattan skyline, Newport Green Park epitomizes the perfect blend of urban living and natural tranquility, making it an essential visit when in Jersey City.
A Glimpse into the Past: Landmark Loew's Jersey Theater
Stepping into the Landmark Loew's Jersey Theater is like being transported back in time. This historic movie palace, located in Journal Square, stands as a testament to the grandeur and elegance of early 20th-century cinema. Built in 1929, the theater's baroque architecture, ornate interiors, and magnificent chandeliers showcase the opulence of a bygone era.
While it primarily served as a movie theater in its early days, the Loew's Jersey now hosts a variety of events, from film festivals and classic movie screenings to live performances, concerts, and community gatherings. Its majestic stage, expansive seating capacity, and impeccable acoustics make it a favored venue for many events in Jersey City.
Over the years, dedicated preservation efforts have ensured that the theater retains its historic charm while incorporating modern amenities. Volunteers and community members have played a pivotal role in keeping the legacy of the Loew's Jersey alive, transforming it into a cultural and community hub.
A visit to the Landmark Loew's Jersey Theater offers more than just entertainment—it provides a journey into the cinematic history and architectural splendor of Jersey City.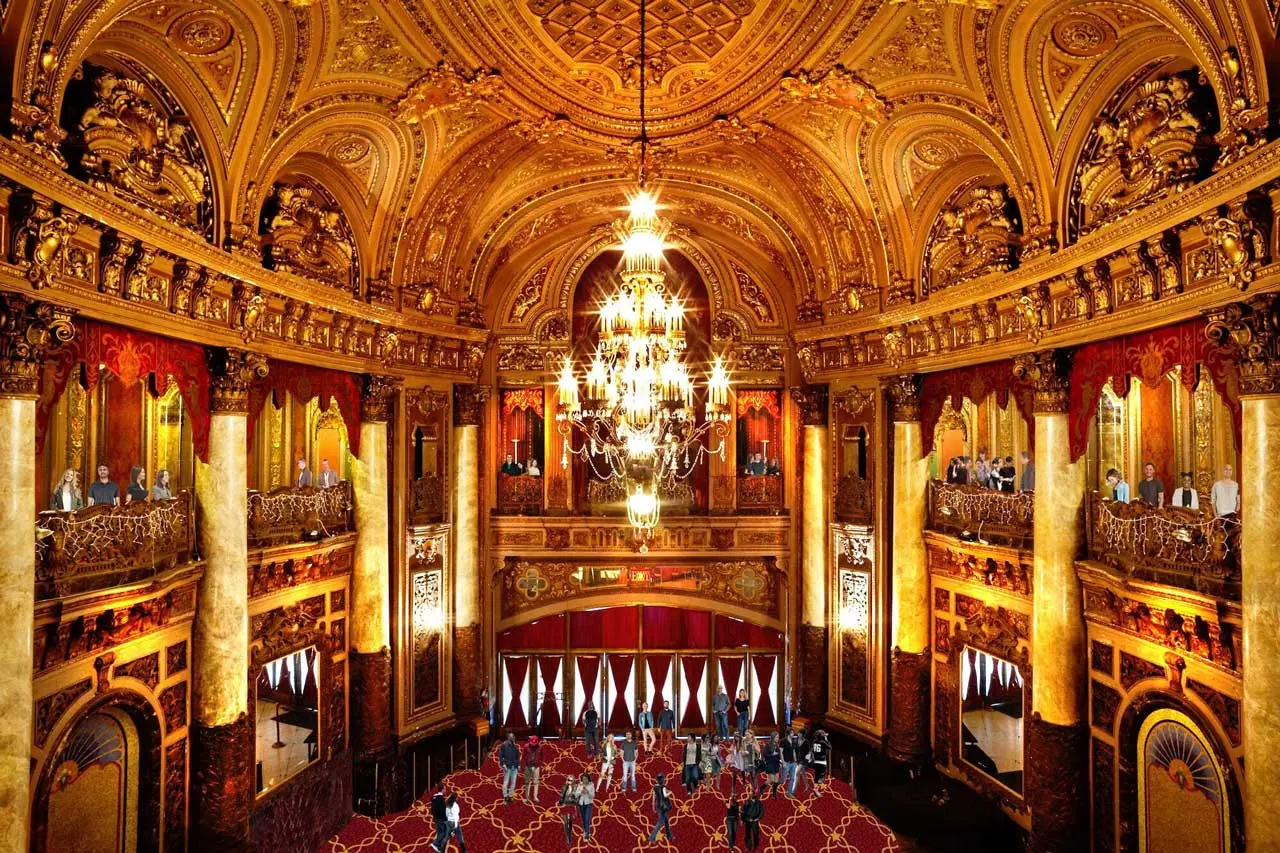 The Majestic Revival: Stanley Theater
The Stanley Theater, located near Journal Square in Jersey City, stands as a brilliant emblem of the golden age of movie palaces. Built in the late 1920s, its ornate design and architectural elegance were a testament to the era's love for grandeur and opulence. With its majestic façade, lush interiors, and exquisite detailing, the theater was designed to offer attendees an experience that was as much about the ambiance as it was about the performance or film.
For many years, the Stanley Theater was a hub of entertainment, hosting movie screenings, vaudeville acts, and live performances. However, as times changed, the theater faced periods of decline and was repurposed for different uses. Today, after restoration efforts, it has been revived as a place of worship, still maintaining its beautiful design and historic significance.
Walking into the Stanley Theater today, one can still feel the echoes of its glorious past, as the architectural wonders, from its expansive domes to intricate moldings, transport visitors to a bygone era of cinematic splendor.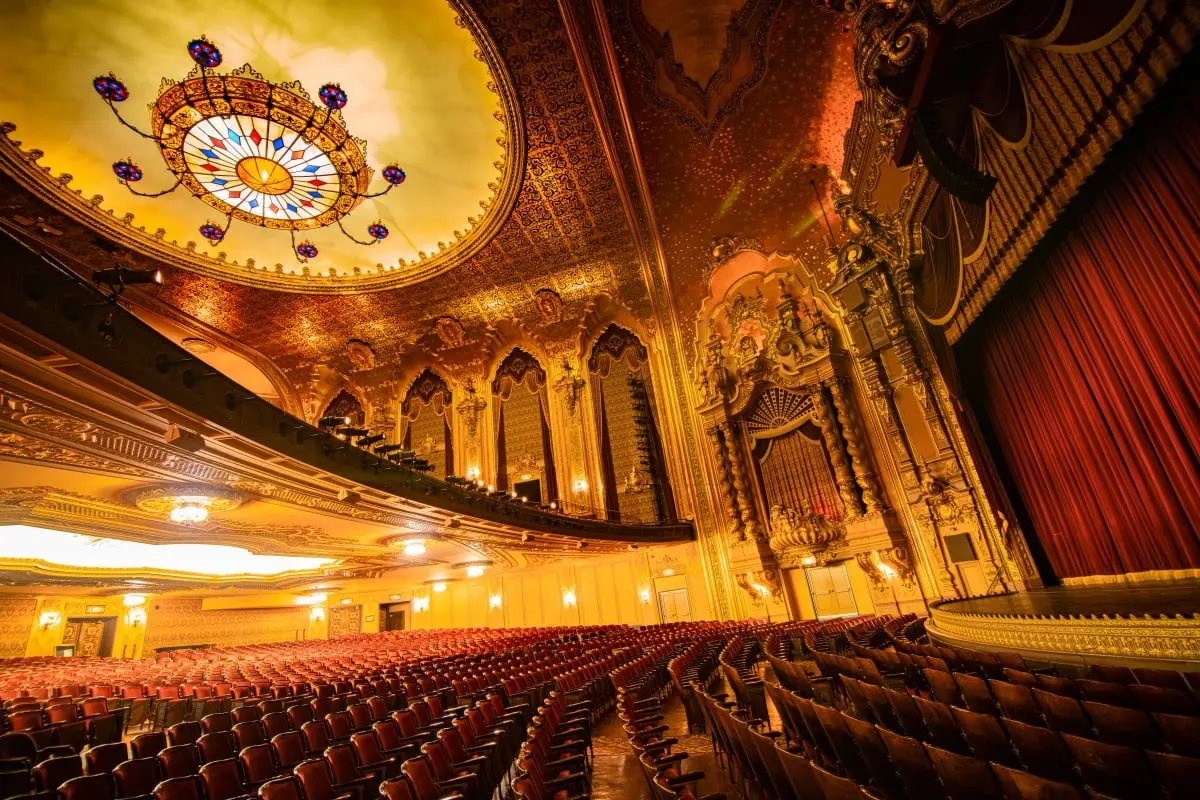 Cultural Beacon: White Eagle Hall
White Eagle Hall, a cherished landmark in Jersey City, has witnessed the transformation of the city over the years, evolving in its roles but always remaining a hub of cultural and communal activity. Originally built in the early 20th century, the hall began as a venue for community events, theater performances, and ballroom dancing. It later served various purposes, including being a bowling alley.
Thanks to meticulous restoration efforts in the 21st century, White Eagle Hall has been reborn as a modern performance venue while preserving its historical charm. Today, it boasts state-of-the-art sound and lighting systems, making it a sought-after location for concerts, theater productions, and other live performances.
Beyond its technical upgrades, the hall retains many of its original architectural elements, including the beautifully crafted wrought-iron balconies and stained-glass skylights. Its intimate setting ensures that every event feels personal, making it a favorite among performers and audiences alike.
A Culinary Adventure: Midnight Market – Jersey City
Jersey City comes alive in a unique way when the sun sets, especially during the renowned Midnight Market events. This nocturnal foodie festival, often hosted in the city's vibrant downtown, is an eclectic blend of food, music, and culture. Inspired by the night markets of Asia, Midnight Market offers a modern, urban twist, making it a one-of-a-kind experience in Jersey City.
Vendors from across the region set up stalls, serving a myriad of international cuisines, craft beverages, and mouth-watering desserts. Each dish, often priced affordably, is curated to offer a sample-sized taste, allowing attendees to explore a diverse range of flavors in one evening. Beyond the culinary delights, the market pulsates with the rhythm of live music, DJ sets, and occasional dance performances.
Artistic Hub: Novado Gallery
Tucked away in the heart of Jersey City is Novado Gallery, an artistic space that celebrates contemporary art and design. Housed in a historic building that once served as a warehouse, the gallery seamlessly blends its industrial aesthetics with the vibrant creativity of modern art.
Novado Gallery showcases a diverse range of mediums, from paintings and sculptures to mixed media and design pieces. It frequently rotates its exhibitions, ensuring that visitors always encounter something fresh and thought-provoking. The gallery has hosted works by both local and international artists, spotlighting emerging talents alongside established names.
Beyond its exhibitions, Novado Gallery fosters a sense of community through various events, workshops, and artist talks. It serves as a platform for artists and art enthusiasts to engage, learn, and draw inspiration. A visit to Novado Gallery not only offers visual delight but also an opportunity to immerse oneself in the dynamic art scene of Jersey City.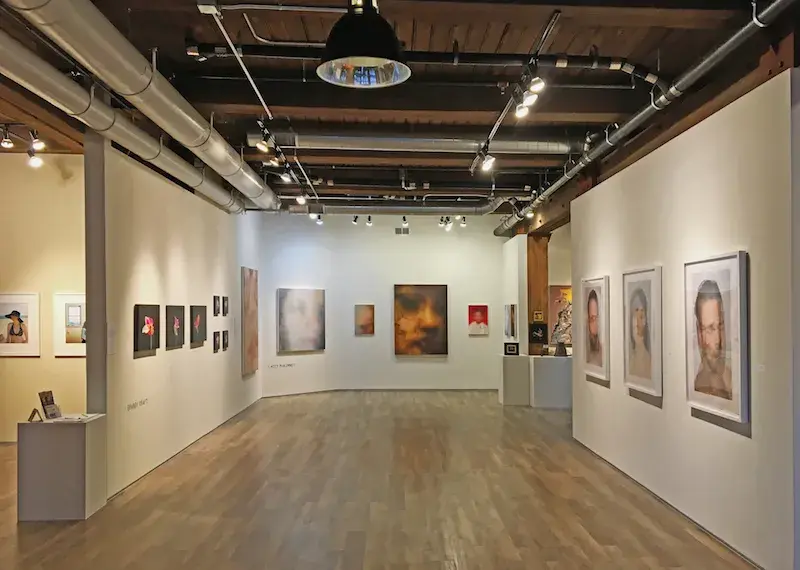 Epicurean Waterfront: Battello
Perched on the edge of the Newport waterfront, Battello presents an epicurean experience that transcends mere dining. With panoramic views of the Manhattan skyline serving as a backdrop, this elegant establishment seamlessly combines culinary artistry with an unparalleled ambiance.
Battello's menu, inspired by coastal cuisines, is a testament to fresh ingredients and innovative flavors. Seafood takes a prime spot, with dishes crafted to showcase its freshness and natural taste. Yet, the diverse menu caters to a range of palates, ensuring every diner finds something to savor. Each plate is not just a meal but a work of art, reflecting the chef's passion and dedication.
The restaurant's interior, with its high ceilings and expansive windows, allows guests to drink in the views, making every meal a picturesque affair. Whether for a romantic dinner, a special occasion, or a casual brunch, Battello promises an experience that tantalizes the senses and remains memorable.
Adrenaline on the Waves: Sea The City Jet Ski Tours
For those seeking to experience Jersey City and its surrounding areas from a fresh perspective, Sea The City Jet Ski Tours offers an exhilarating adventure. Riding the waves of the Hudson River, these tours present an exciting way to explore the iconic landmarks of the region.

Starting from the marina in Jersey City, riders can zoom past landmarks such as the Statue of Liberty, Ellis Island, and under the majestic spans of the city's bridges. The Manhattan skyline, viewed from the water's surface, offers a stunning panorama that's hard to match. Experienced guides lead the way, ensuring riders are safe, informed, and thoroughly entertained.
Beyond the regular tours, Sea The City offers special packages, including sunset rides and more extended adventures into the New York Harbor. Whether you're a local seeking a unique weekend activity or a tourist looking for an unforgettable experience, the jet ski tours promise adrenaline, awe, and a splash of fun.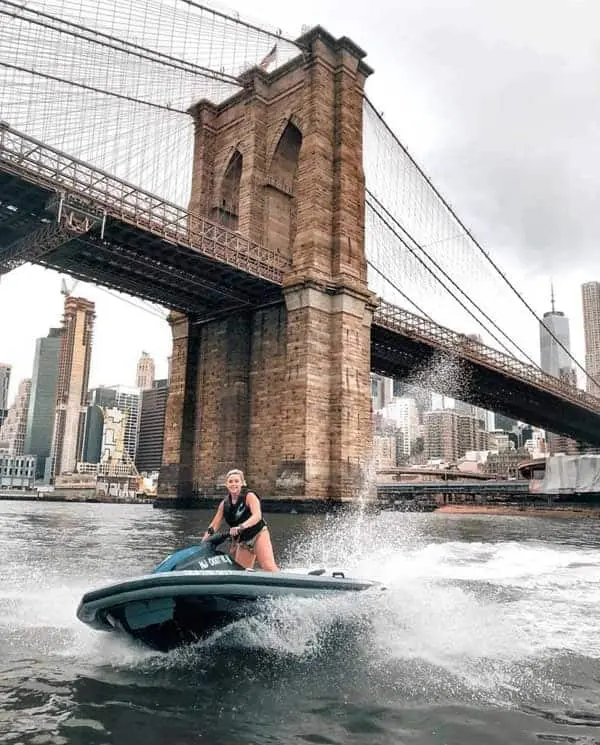 A Haven of Relaxation: Zahara Day Spa
In the midst of Jersey City's bustling landscape, Zahara Day Spa emerges as a sanctuary of calm, offering a retreat from the fast-paced urban life. With its serene ambiance, mood-lit interiors, and the soothing aroma of essential oils, guests are instantly transported to a realm of relaxation upon entering.
Zahara Day Spa prides itself on a holistic approach to well-being, combining age-old therapies with modern techniques. Their menu of services is vast, ranging from rejuvenating facials and invigorating massages to body treatments that detoxify and refresh. Each treatment is tailored to the individual, ensuring a personalized experience that addresses specific needs and concerns.
Thrills on Track: RPM Raceway
For adrenaline junkies and racing enthusiasts, RPM Raceway in Jersey City offers a high-octane experience that gets the heart racing. This indoor go-karting facility is not just about speed; it's about skill, precision, and the sheer thrill of the race.
Equipped with electric go-karts that offer impressive acceleration and top speeds, riders can navigate the challenging tracks, complete with twists, turns, and long stretches to test their mettle. The state-of-the-art timing system ensures that racers can track their performance, igniting the competitive spirit and the urge to beat one's own best time.
Beyond racing, RPM Raceway is a hub of entertainment with arcade games, a bowling alley, and a VR zone, making it a perfect destination for families, friends, and corporate outings. With safety as a top priority, the facility ensures that even novices can enjoy the thrill of racing without worry.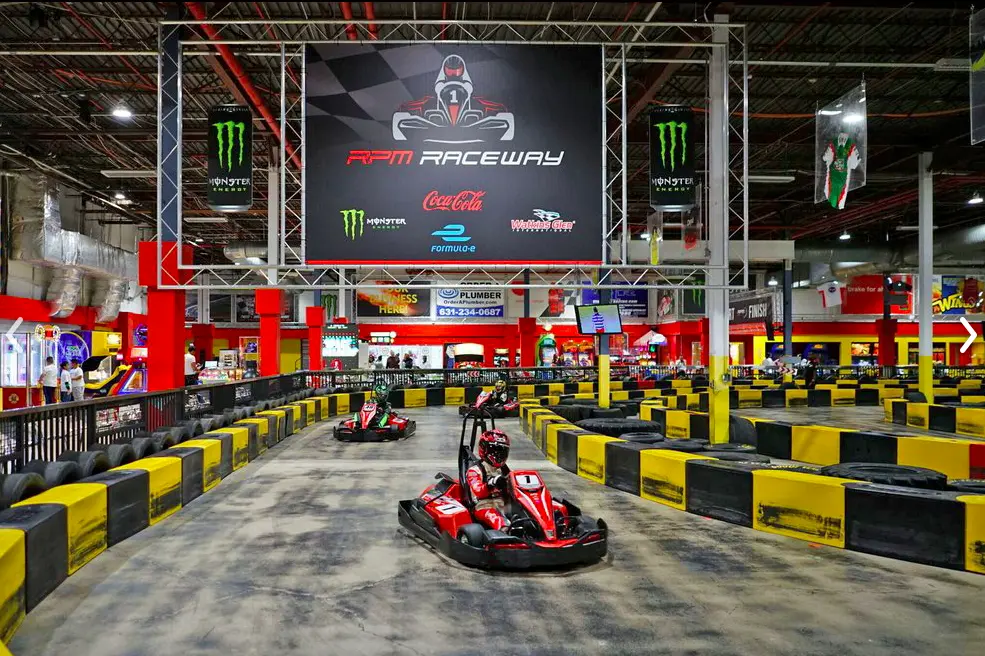 Gastronomic Delight: Smorgasbar
A culinary journey like no other, Smorgasbar in Jersey City offers a smorgasbord of flavors, capturing the essence of the city's diverse gastronomic scene. An evolution of the traditional food market, Smorgasbar combines the concept of street food with a contemporary, open-air setting, making it a hotspot for food lovers.
The array of stalls and pop-ups at Smorgasbar brings together some of the best local chefs and culinary artisans. From gourmet burgers and artisanal pizzas to international delicacies and sumptuous desserts, there's something to satiate every palate. Each visit becomes an adventure, as visitors meander through the stalls, sampling and savoring a myriad of dishes.
Tropical Vibes and Tantalizing Cocktails: Cellar 335
Stepping into Cellar 335 is like entering a tropical haven hidden beneath the streets of Jersey City. With its dimly lit interiors, adorned with tiki decor and lush greenery, this underground spot transports guests to a Polynesian-inspired paradise.
Cellar 335 is renowned for its craft cocktails, each meticulously curated and presented. The drinks menu is an eclectic blend of traditional tiki beverages and innovative concoctions, each bursting with flavors and made with top-quality spirits and fresh ingredients. The "Suffering Bastard" and "Zombie" are fan favorites, but every cocktail promises a unique experience for the taste buds.
Complementing the drinks is a menu of delectable bites and dishes inspired by Asian fusion cuisine. From small plates perfect for sharing to hearty mains, the culinary offerings are as impressive as the beverages.
With its vibrant ambiance, exceptional drinks, and mouth-watering food, Cellar 335 offers a tropical escape right in the heart of Jersey City, making it a must-visit for those seeking a unique night out.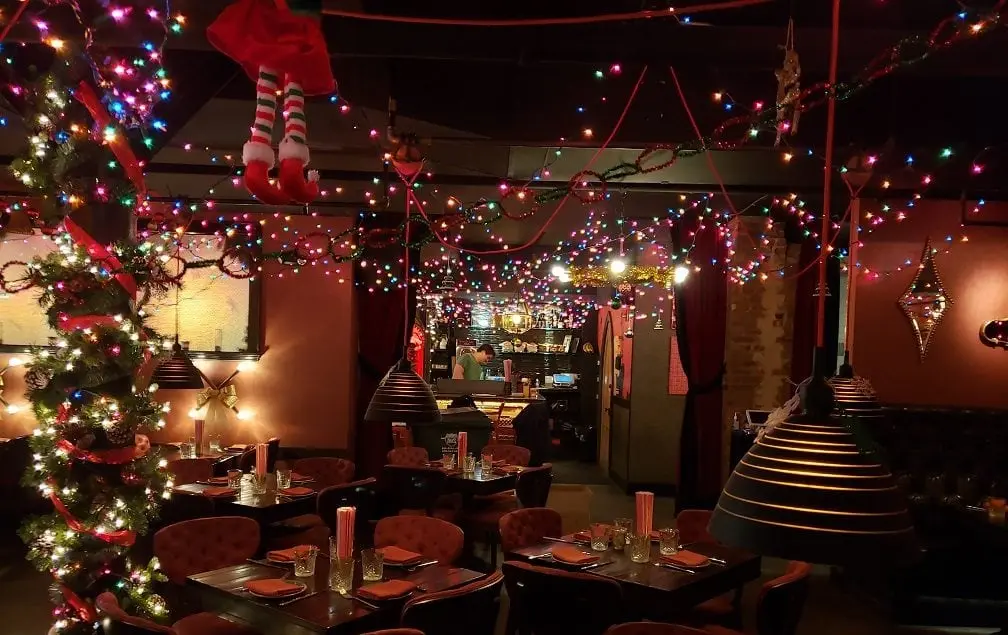 Sushi Excellence: DOMO DOMO
In the vibrant culinary landscape of Jersey City, DOMO DOMO stands out as a beacon for sushi connoisseurs and Japanese cuisine enthusiasts. With its minimalist yet chic interiors, the restaurant embodies the essence of modern Japanese dining, striking a balance between tradition and innovation.
At the heart of DOMO DOMO's success is its dedication to quality and authenticity. The sushi menu is a testament to this, with every roll and nigiri showcasing the freshest seafood and artisanal craftsmanship. Beyond sushi, the restaurant offers a range of dishes that capture the breadth and depth of Japanese cuisine, from savory ramens to delicate tempuras.
The dining experience is elevated by the attentive staff, who guide guests through the menu, ensuring an immersive gastronomic journey. Paired with a curated selection of sake and Japanese whiskies, a meal at DOMO DOMO becomes a celebration of flavors and culture. For those seeking the pinnacle of Japanese dining in Jersey City, DOMO DOMO promises an experience that is both memorable and authentic.
Gateway to Exploration: Paulus Hook Ferry Terminal
Strategically positioned on the Hudson River's edge, the Paulus Hook Ferry Terminal serves as a vital link between Jersey City and the broader New York metropolitan area. Every day, countless commuters and tourists traverse this terminal, making it a bustling hub of activity.
Operated by NY Waterway, the ferries provide a scenic and efficient alternative to traditional road transport. The short ride offers breathtaking views of the Manhattan skyline, Ellis Island, and the Statue of Liberty, turning a routine commute into a picturesque journey.
Beyond its functional role, the Paulus Hook Ferry Terminal area has also developed into a recreational spot. With its waterfront promenade, visitors can enjoy leisurely walks, capturing the beauty of the river and the city beyond. Nearby cafes and eateries offer delightful options for a meal or a quick snack with a view.
Whether you're a daily commuter, a tourist looking for a scenic ride to Manhattan, or someone seeking a serene spot by the river, the Paulus Hook Ferry Terminal is a gateway to diverse experiences in Jersey City.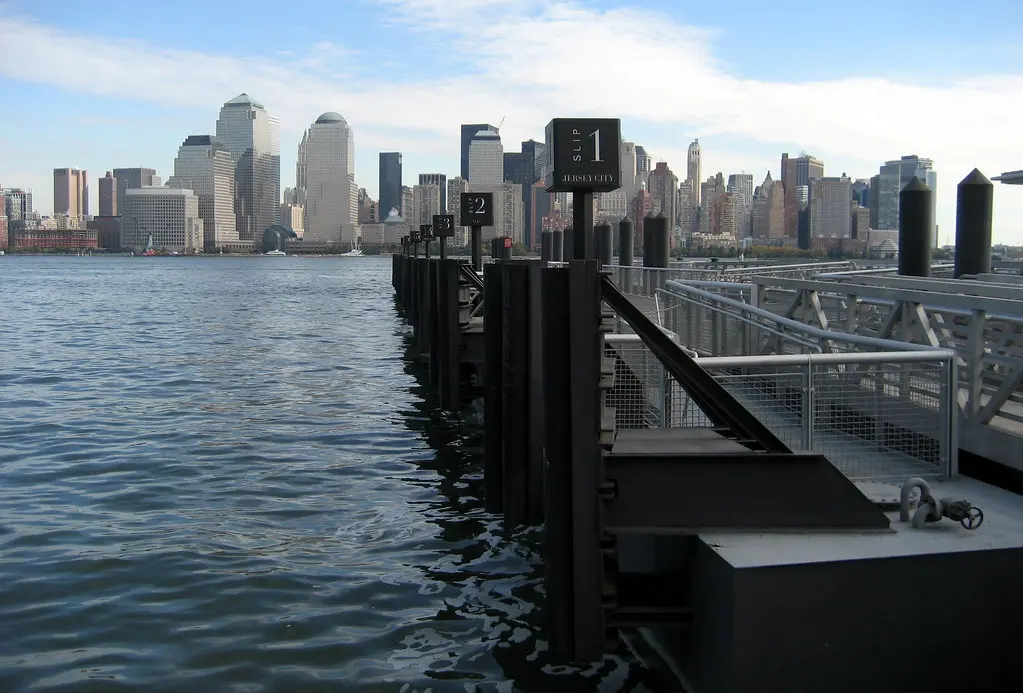 Skyline Serenity: Rooftop Exchange Place
Soaring high above Jersey City's dynamic landscape, the Rooftop at Exchange Place offers a breathtaking vantage point that combines urban sophistication with panoramic splendor. Located in the heart of the city's financial district, this upscale rooftop bar and lounge provides an unparalleled view of the iconic Manhattan skyline, the Hudson River, and the sprawling city below.
As the sun sets, the space transforms into a luminous haven, with ambient lighting and the city lights painting a mesmerizing backdrop. Guests can indulge in a curated selection of cocktails, wines, and spirits, each crafted to perfection by skilled mixologists. The beverage offerings are complemented by a menu of gourmet bites, designed to tantalize the palate while allowing guests to remain engrossed in conversation and the stunning vistas.
The ambiance is further elevated by a lineup of events and entertainment options, from DJ nights to live performances. Comfortable seating, including plush lounges and cozy nooks, ensures guests can relax and soak in the atmosphere.
Beyond the nightlife, the Rooftop at Exchange Place is also a sought-after spot for brunches, private events, and corporate gatherings. Its blend of luxury, ambiance, and unparalleled views make it one of Jersey City's crown jewels and a must-visit for both locals and tourists. Whether you're raising a toast under the starlit sky or simply gazing at the mesmerizing horizon, the Rooftop promises an experience that lingers long after the night ends.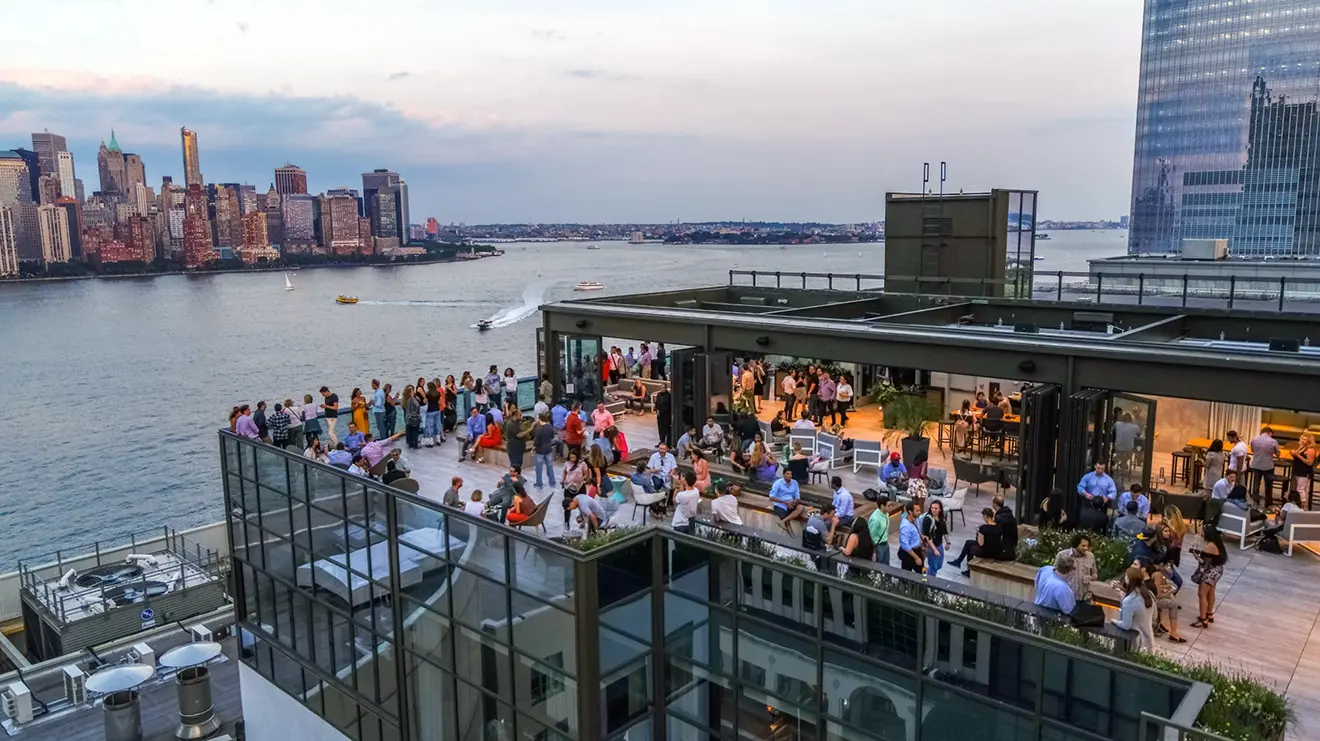 Conclusion
As the sun dips below the horizon and the city lights begin to shimmer, venues like the Rooftop at Exchange Place stand testament to Jersey City's multifaceted appeal. It's not just about the views or the upscale offerings; it's about the memories crafted, the moments cherished, and the promise of an experience that epitomizes the city's essence. In the heart of a bustling metropolis, the Rooftop offers a serene escape, reminding everyone of the beauty that lies both within and beyond Jersey City's borders.