29 Best Things to Do in Las Vegas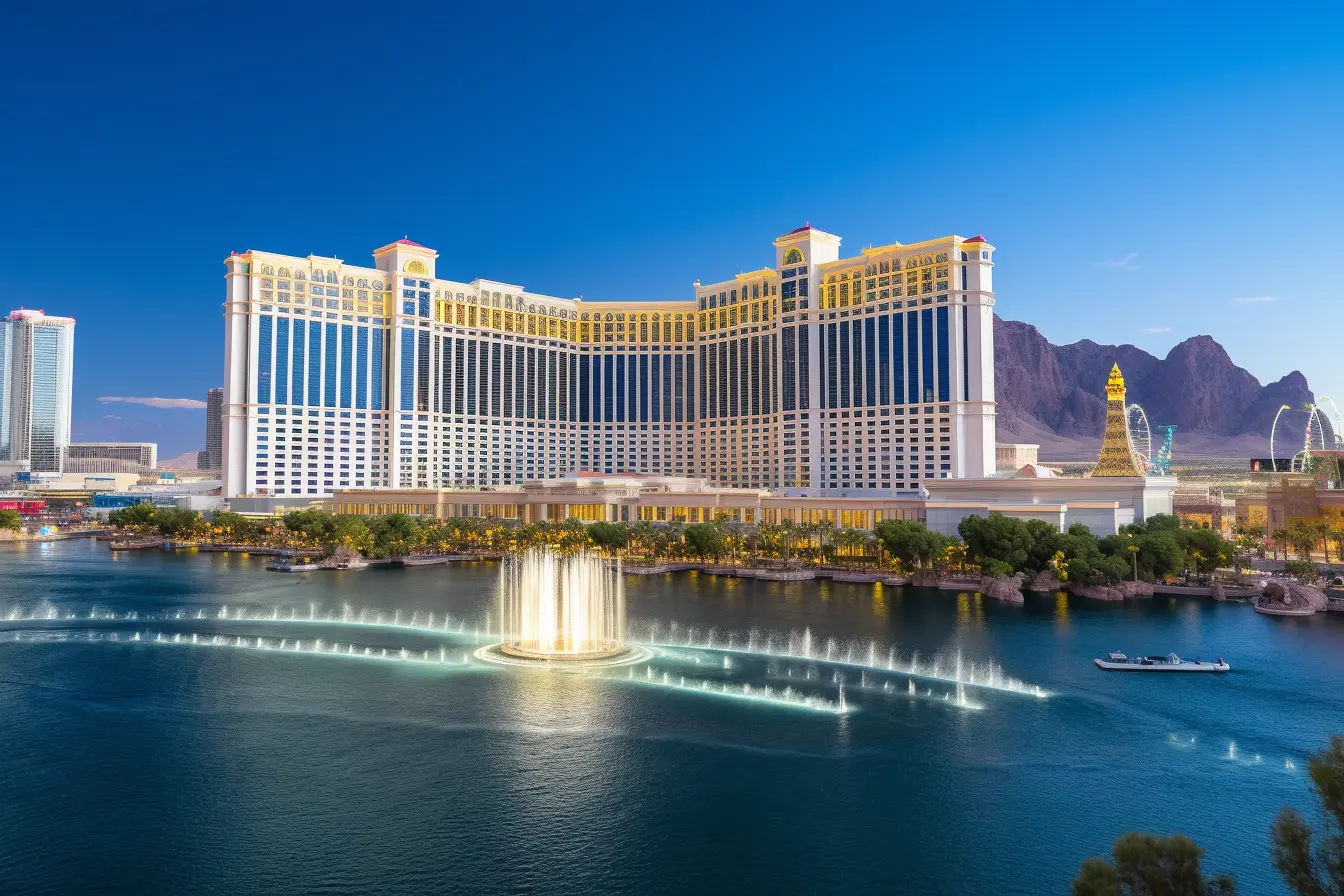 Best Things to Do in Las Vegas
Las Vegas, often simply known as Vegas, is a dazzling oasis situated in the midst of the Mojave Desert, in the state of Nevada, USA. Renowned as the "Entertainment Capital of the World," Las Vegas vibrates with a pulsating energy, offering a plethora of entertainments, from the iconic casino resorts and extravagant shows to gourmet dining experiences and world-class shopping destinations. With its brilliant neon lights, lavish accommodations, and a continually evolving landscape, Las Vegas has become a symbol of indulgence and excitement, drawing millions of tourists from around the globe each year, all in pursuit of experiencing the unique allure and thrill that the city promises. This piece explores the multifaceted charm of Las Vegas, delving into its rich history, diverse offerings, and the continuous transformation that keeps it at the forefront of the world's top tourist destinations.
Sway to the Music at the Bellagio Fountain Show
When it comes to unforgettable experiences in Las Vegas, the Bellagio Fountain Show is undoubtedly at the top of the list. This mesmerizing spectacle combines the beauty of choreographed water, lights, and music in a way that leaves visitors in awe.
Set in front of the iconic Bellagio Hotel and Casino, the fountain show occurs daily and is free for all to enjoy. The real magic happens at night when the fountains come alive with a dazzling display of water that dances to the rhythm of carefully chosen music.  
The selection of music is diverse, ranging from classical pieces to modern pop hits, and it changes regularly, so every visit offers a fresh experience. There's something undeniably enchanting about watching the water sway and twirl to the tunes of renowned artists, such as Frank Sinatra or Bruno Mars.
To make the most of this experience, consider dining at one of the Bellagio's restaurants with a view of the fountains. You'll have the perfect vantage point to enjoy a delicious meal while witnessing this captivating spectacle.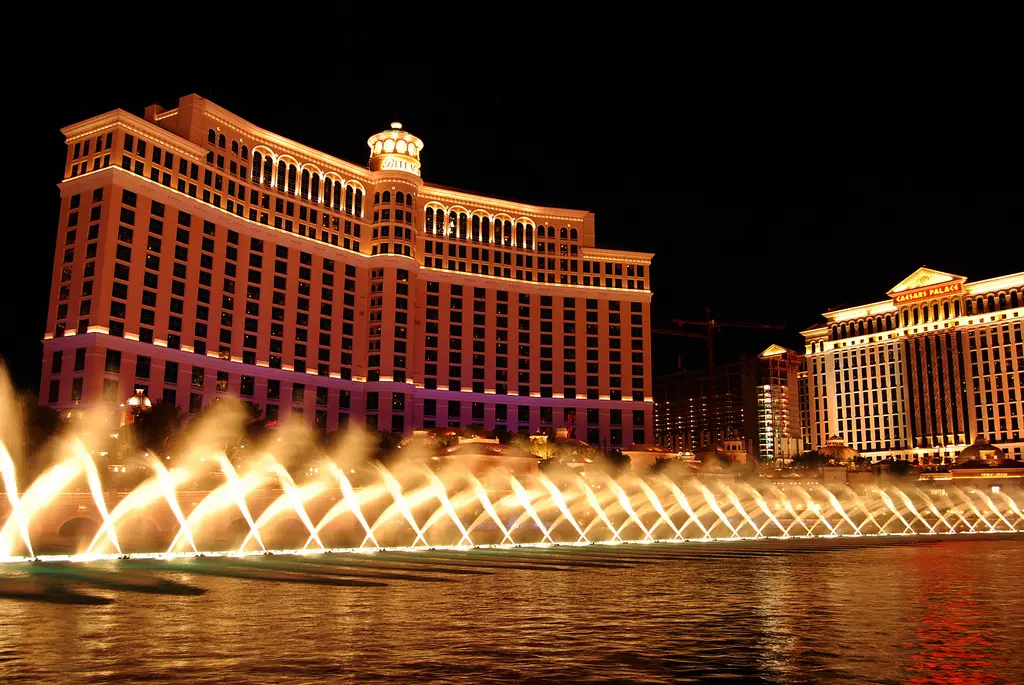 Observe the Las Vegas Strip from Above
The glittering Las Vegas Strip is a sight to behold from the ground, but to truly appreciate its grandeur, you must take to the skies. Observing the Strip from above provides a perspective that showcases the city's extravagance and scale in all its glory.
One of the most popular ways to do this is by taking a helicopter tour. Several tour operators offer thrilling helicopter rides that soar over the Las Vegas Strip, offering panoramic views of the city's iconic landmarks. As you hover above the dazzling lights and towering hotels, you'll gain a newfound appreciation for the city's unique architecture and its ability to continually reinvent itself.
For a more laid-back experience, you can also opt for the High Roller Observation Wheel. Located at The LINQ Promenade, this massive observation wheel takes you 550 feet above the Strip. The air-conditioned cabins provide a comfortable and stylish vantage point, and the 360-degree views are particularly breathtaking at sunset when the city transitions from day to night.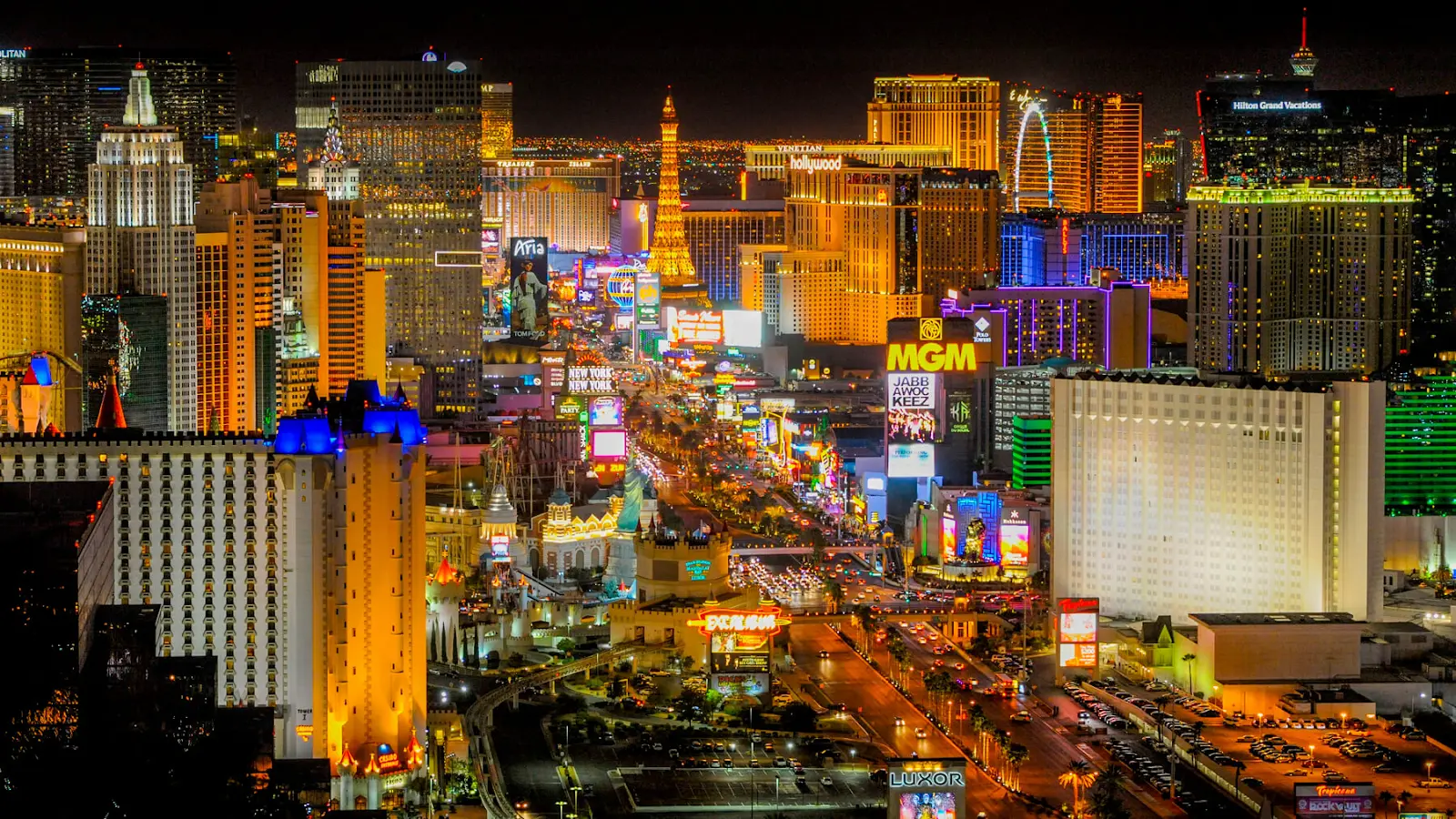 Visit Shark Reef Aquarium
Diving into the depths of the ocean is a rare treat in the heart of the Nevada desert, but Las Vegas offers just that at the Shark Reef Aquarium. Located at Mandalay Bay Resort and Casino, this world-class aquarium is an aquatic wonderland that's perfect for families, marine enthusiasts, and anyone looking to escape the desert heat for a few hours.
The Shark Reef Aquarium is home to over 2,000 animals, including a mesmerizing array of sharks, rays, sea turtles, and exotic fish. As you navigate through its winding tunnels and glass-enclosed walkways, you'll find yourself surrounded by the serene beauty of the underwater world. The highlight, of course, is the 1.3 million-gallon shipwreck exhibit, where you can watch in awe as giant sharks and rays glide majestically overhead.
In addition to the incredible marine life, the aquarium offers educational programs, feeding shows, and interactive touch pools, making it a great place for visitors of all ages to learn about and connect with the ocean's inhabitants. The conservation efforts promoted by the Shark Reef Aquarium also make it an important destination for those passionate about marine life preservation.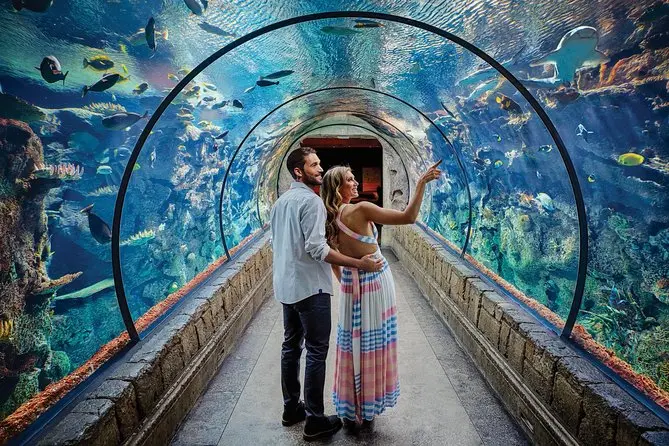 Enjoy Skydiving at Vegas Indoor Skydiving
For those seeking an adrenaline rush in the heart of Las Vegas, look no further than Vegas Indoor Skydiving. Located just off the famous Las Vegas Strip, this indoor skydiving experience allows you to defy gravity without jumping out of an airplane.
Vegas Indoor Skydiving provides the thrill of freefalling in a safe and controlled environment. After a brief training session, you'll suit up and step into a vertical wind tunnel, where powerful fans create a cushion of air that lifts you off the ground. As you hover and float in the wind tunnel, you'll experience the sensation of skydiving without the need for a parachute.
This activity is suitable for individuals of all ages and fitness levels, making it a great choice for families, friends, or solo adventurers. Experienced instructors guide you through the process, ensuring a safe and exhilarating experience.
The feeling of weightlessness and the rush of wind in your face make indoor skydiving an unforgettable adventure. Plus, you can purchase photos and videos of your flight to relive the excitement or share it with friends and family.
Topgolf Las Vegas
Topgolf Las Vegas isn't your typical golf experience. It's a fusion of golf, entertainment, and nightlife, and it's taking the city by storm. Located just a short distance from the Las Vegas Strip, this sprawling entertainment complex offers a golfing experience like no other.
At Topgolf, you can enjoy hitting microchipped golf balls at colorful targets on a vast driving range. The technology behind it all keeps track of your score while you and your friends compete for bragging rights. But it's not just about the golf; it's about the atmosphere. The facility features climate-controlled bays, pool tables, a sports bar, and live music, making it a fantastic spot for both golf enthusiasts and those just looking for a fun night out.
The combination of golf, entertainment, and a vibrant social scene makes Topgolf Las Vegas a must-visit attraction that provides a unique and memorable experience for everyone.
Drive a Ferrari, Lamborghini, or Go-Kart
If you've ever dreamed of getting behind the wheel of a high-performance sports car or racing around a track in a go-kart, Las Vegas offers thrilling opportunities to turn those dreams into reality.
Several companies in Las Vegas offer exotic car driving experiences, allowing you to drive iconic vehicles like Ferraris, Lamborghinis, and Porsches. You'll have the chance to unleash the power of these incredible machines on open roads or racetracks, all under the guidance of experienced instructors. It's an adrenaline-pumping experience that combines the thrill of speed with the glamour of luxury sports cars.
For those seeking a different kind of speed, go-kart racing tracks are scattered throughout the city. These go-karts are specially designed for racing and provide an exhilarating experience for drivers of all ages. Some venues even offer competitive races where you can test your skills against friends or other racers.
Bellagio Conservatory & Botanical Gardens
Escape the hustle and bustle of the Las Vegas Strip by immersing yourself in the serene beauty of the Bellagio Conservatory & Botanical Gardens. This hidden oasis, nestled within the luxurious Bellagio Hotel and Casino, offers a breathtaking display of nature's splendor that changes with the seasons.
Throughout the year, the conservatory transforms into a living work of art, featuring meticulously crafted floral arrangements, lush plants, and whimsical sculptures. Spring ushers in a riot of colorful flowers, while summer brings fragrant blooms and vibrant greenery. In the fall, you'll find an enchanting autumnal display, and during the winter holiday season, the conservatory becomes a dazzling wonderland with towering Christmas trees, twinkling lights, and festive decorations.
The Bellagio Conservatory is a sensory delight, with the fragrant scents of flowers filling the air and soothing music playing in the background. It's a tranquil spot perfect for a leisurely stroll, photography, or simply finding a peaceful moment amid the excitement of Las Vegas.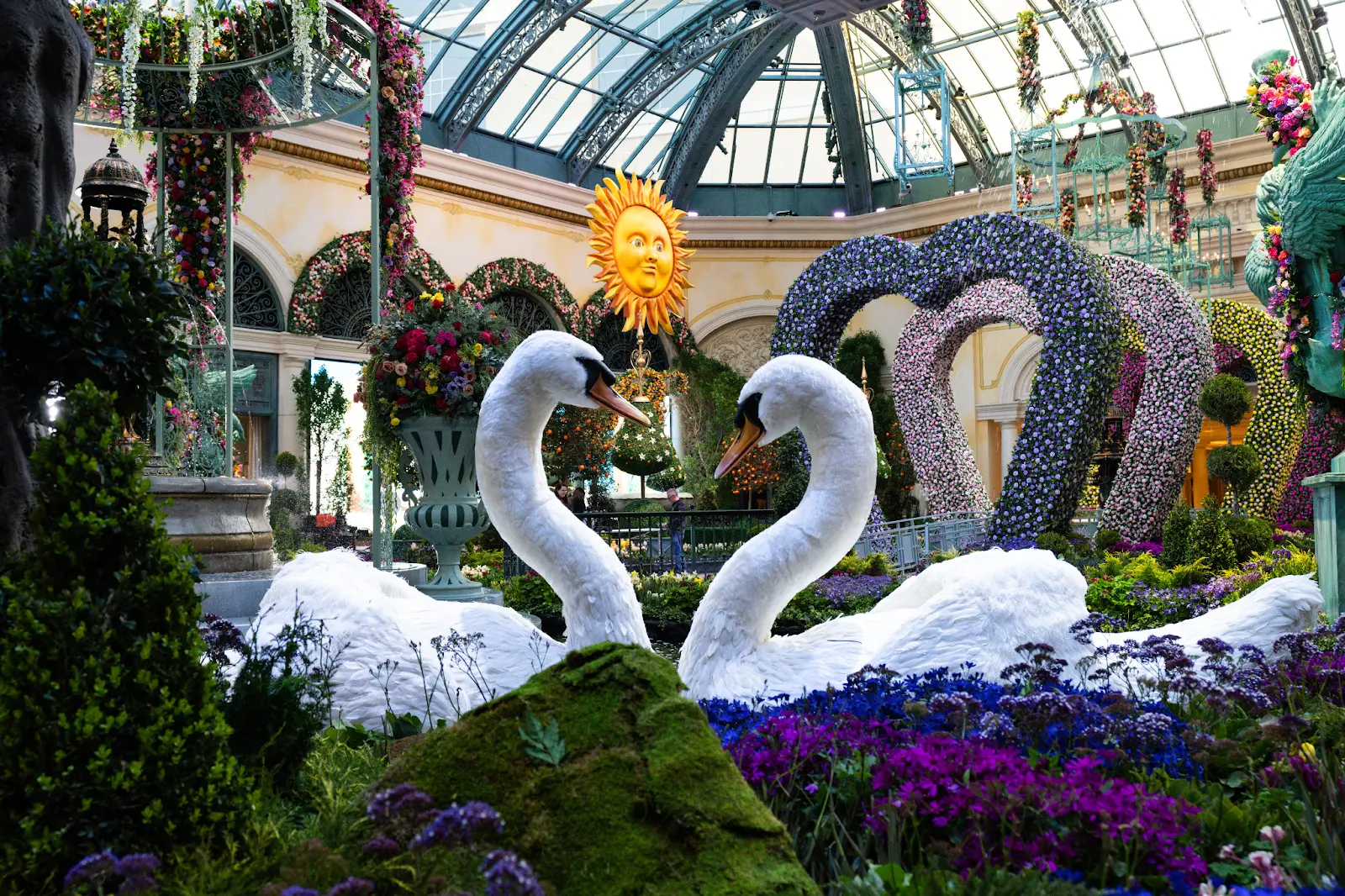 Ride a Gondola and Stroll Through St. Mark's Square
While Las Vegas may be a desert city, it's also a place where the world's most iconic destinations are reimagined, and that's certainly the case with the Venetian Resort. Step into the Venetian and transport yourself to the romantic ambiance of Venice by taking a gondola ride through the picturesque indoor canals and strolling through a meticulously recreated St. Mark's Square.
The gondola ride is a unique experience that allows you to drift along peaceful waterways while being serenaded by your gondolier. Couples find it particularly romantic, making it a popular choice for proposals and special occasions.
After your gondola ride, venture into St. Mark's Square, where you can enjoy open-air cafes, street performers, and the stunning architecture that mimics the famous Italian piazza. It's a perfect spot to people-watch, savor a gelato, or simply take in the Venetian atmosphere.
Catch the Light Show on Downtown's Fremont Street
When you think of Las Vegas, the dazzling lights of the Fremont Street Experience are likely to come to mind. Located in the historic downtown district, this pedestrian mall is home to one of the most spectacular light shows in the world.
The Fremont Street Experience boasts a massive LED canopy that spans five city blocks, creating a dazzling overhead display known as the Viva Vision light show. As night falls, the canopy comes to life with a mesmerizing array of high-resolution visuals and animations set to a soundtrack that ranges from classic rock to contemporary hits.
The light show isn't just a one-time event; it runs continuously throughout the evening, providing multiple opportunities for visitors to be wowed by the immersive visuals and vibrant colors. The experience is free to enjoy, making it accessible to all.
Beyond the light show, Fremont Street is packed with energy and entertainment. You'll find street performers, live music, and a vibrant atmosphere that captures the spirit of old-school Las Vegas. It's a must-visit destination for those looking to witness the city's iconic neon lights and experience a slice of Vegas history.
Experience Illuminarium
Illuminarium is a cutting-edge, immersive entertainment experience that takes storytelling to a whole new level. Located in Las Vegas, this state-of-the-art attraction uses a combination of advanced technology, visual effects, and soundscapes to transport visitors to different worlds and narratives.
At Illuminarium, you'll step into a massive 360-degree immersive theater with floor-to-ceiling screens that surround you, creating a fully immersive environment.
One of the most remarkable aspects of Illuminarium is its ability to make you forget you're in a simulated environment. The attention to detail, stunning visuals, and realistic sounds make it an incredibly immersive and captivating experience for all ages. It's perfect for solo visitors, couples, families, and groups looking for a unique and memorable outing.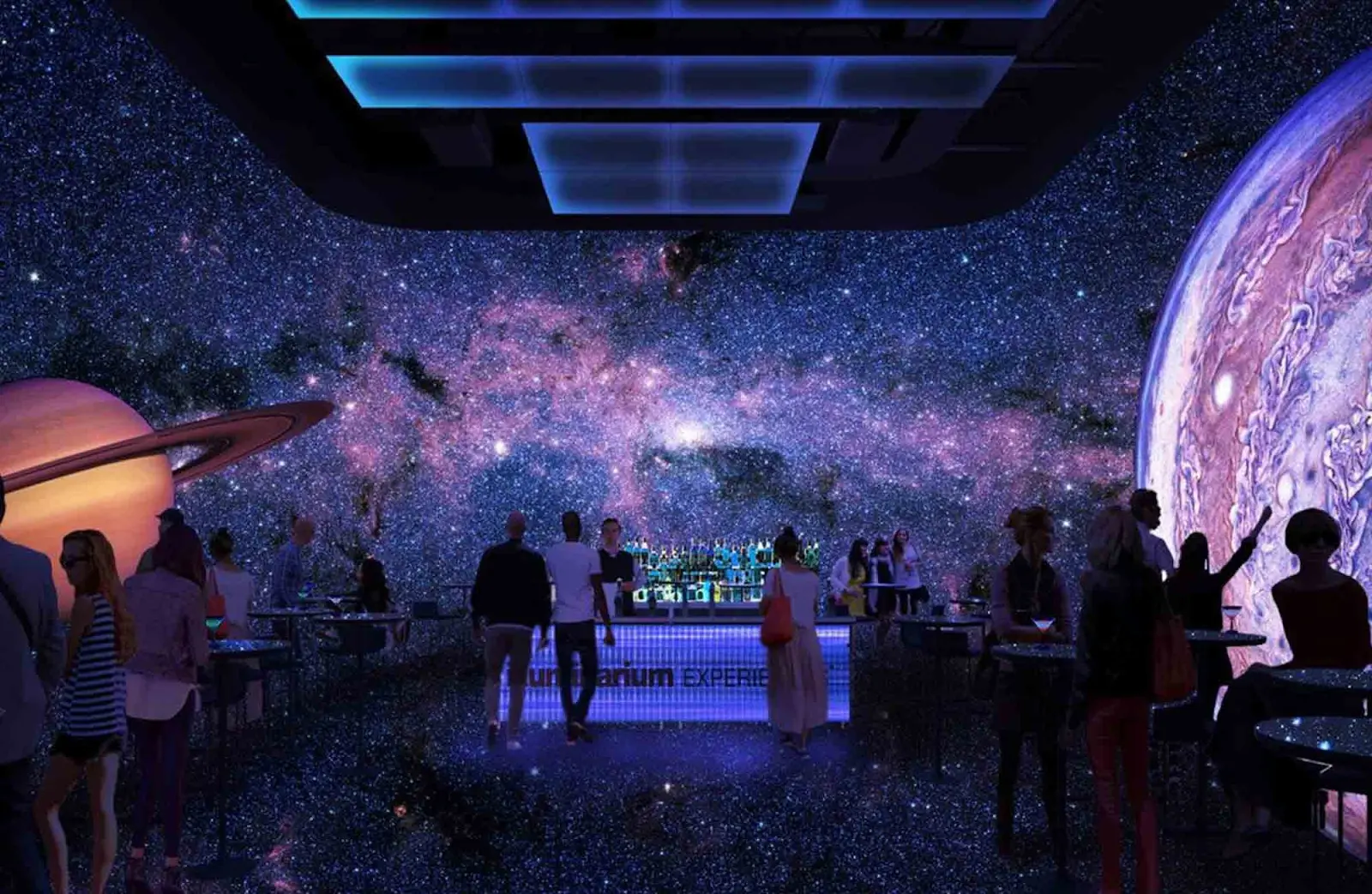 Tee Off at the Only Golf Course on the Las Vegas Strip
Golf enthusiasts visiting Las Vegas have a unique opportunity to tee off in the heart of the city at the Wynn Golf Club. This pristine 18-hole championship golf course is the only one located directly on the famous Las Vegas Strip, offering golfers breathtaking views of the city's iconic skyline.
Designed by renowned golf course architect Tom Fazio, the Wynn Golf Club is a lush oasis amidst the desert landscape. The course features meticulously maintained fairways, greens, and water features, making it both a challenging and visually stunning golfing experience. Golfers of all skill levels can enjoy this oasis, with various tee options to accommodate different playing abilities.
What sets the Wynn Golf Club apart is its convenient location. After a morning or afternoon of golf, you can easily transition to the resort's world-class amenities. Relax by the pool, dine at one of the resort's award-winning restaurants, or try your luck at the casino—all just steps away from the golf course.
Take a Master Class at Wynn Las Vegas
Wynn Las Vegas is synonymous with luxury and exclusivity, and their Master Class experiences are no exception. If you're looking to elevate your skills or knowledge in various fields, from mixology to culinary arts, these classes offer a unique opportunity to learn from experts in a sophisticated setting.
One of the most popular Master Class experiences at Wynn is the cocktail-making class. Led by the resort's talented mixologists, you'll have the chance to learn the art of crafting signature cocktails, from classic martinis to innovative concoctions. Sip and shake your way to becoming a home bar expert, all while enjoying the elegant surroundings of Wynn.
For food enthusiasts, the culinary Master Classes provide hands-on experiences with the resort's world-class chefs. You can learn the secrets of gourmet cooking, pasta making, or pastry artistry. These classes are not just educational; they're also a lot of fun, allowing you to indulge in your passion for food and drink.
Take a Side Trip to Red Rock Canyon
While the glitz and glamour of the Las Vegas Strip are undoubtedly captivating, the natural beauty of the surrounding desert is equally mesmerizing. A side trip to Red Rock Canyon National Conservation Area offers a stark contrast to the city's bright lights and entertainment.
Located just a short drive from the Las Vegas Strip, Red Rock Canyon is a haven for outdoor enthusiasts and nature lovers. The area is characterized by its stunning red sandstone formations, which provide a striking backdrop for hiking, rock climbing, and photography. There are numerous trails catering to all skill levels, from easy walks to challenging scrambles, all offering breathtaking vistas of the rugged desert landscape.
The 13-mile Scenic Drive is a must-do, providing access to several overlooks and trailheads. It's a scenic route that allows you to soak in the beauty of the canyon without strenuous hiking. Keep your eyes peeled for wildlife, including desert bighorn sheep, as you explore the area.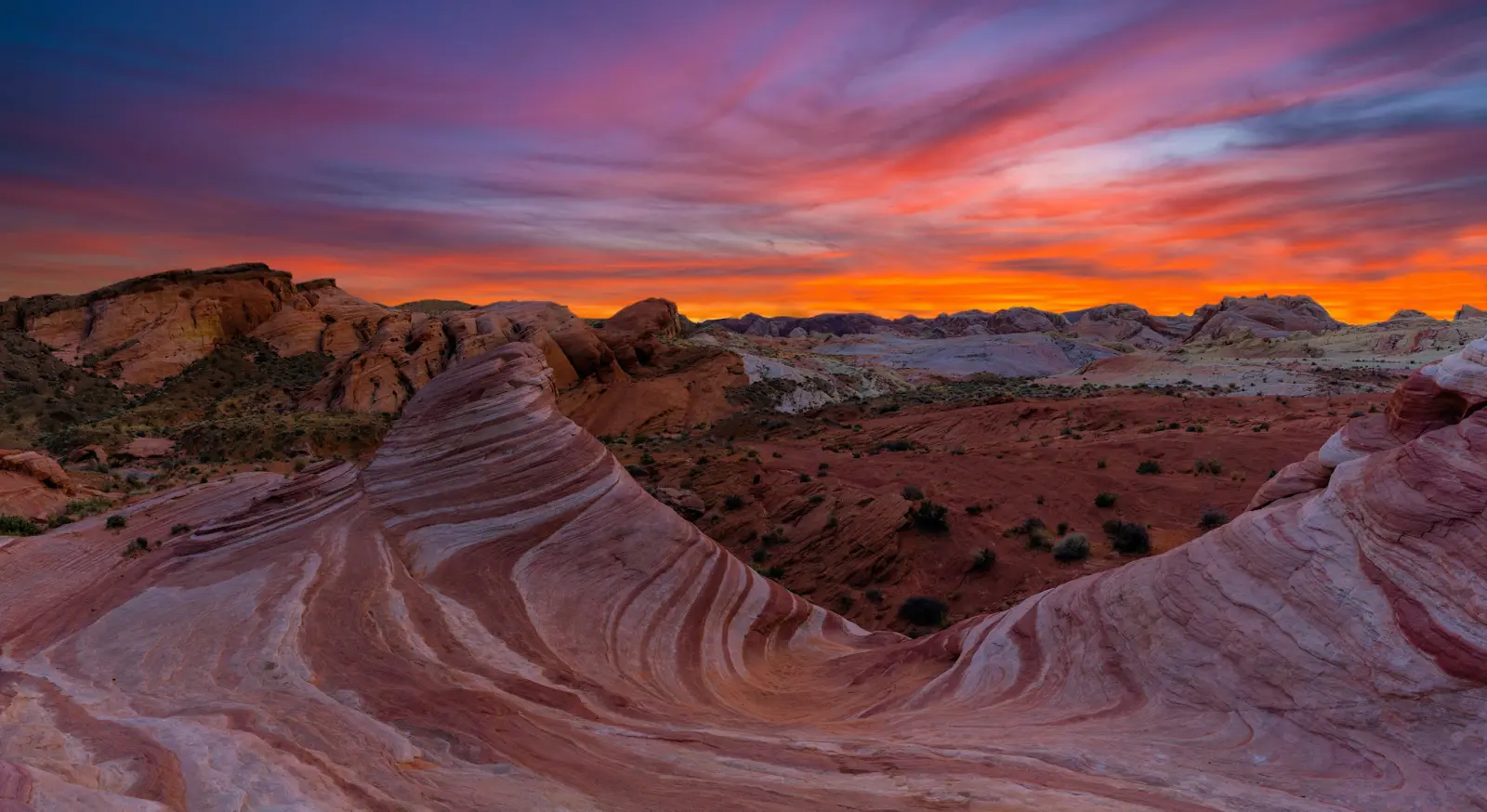 Watch a Professional Sports Game
Las Vegas has quickly become a sports destination in its own right, with a range of professional sports teams and state-of-the-art venues that rival any major city. If you're a sports fan, catching a game while you're in Las Vegas is an exciting way to experience the city's thriving sports culture.
The city is home to the Vegas Golden Knights, an NHL hockey team that plays at the T-Mobile Arena, a world-class facility known for its electric atmosphere during games. If basketball is your sport of choice, you can catch the action with the Las Vegas Aces, a WNBA team also playing at the T-Mobile Arena.
In addition to ice hockey and basketball, Las Vegas boasts several minor league baseball, soccer, and rugby teams, ensuring that there's always a game to watch regardless of the season.
Get a Las Vegas History Lesson at the Mob Museum
The Mob Museum, officially known as the National Museum of Organized Crime and Law Enforcement, is a unique and compelling attraction that delves deep into the fascinating history of Las Vegas. Located in the heart of downtown Las Vegas, this museum provides visitors with a captivating glimpse into the city's connection with organized crime and its evolution into a thriving metropolis.
Housed in a historic former federal courthouse, the Mob Museum offers a rich and immersive experience. You'll explore exhibits on notorious mobsters, Prohibition-era bootlegging, the rise of Las Vegas as a gambling mecca, and the efforts of law enforcement to combat organized crime. The museum's collection includes artifacts, interactive displays, and engaging multimedia presentations that bring the stories of the past to life.
One of the museum's highlights is the courtroom where the Kefauver Committee hearings on organized crime took place in 1950. You can sit in the same seats where the hearings were held and gain a firsthand perspective on this critical chapter in American history.
Visiting the Mob Museum is not just an opportunity to learn about Las Vegas's gritty past; it's also a chance to reflect on the city's transformation into a world-renowned entertainment and hospitality destination. For history buffs, true crime enthusiasts, or anyone interested in the colorful history of Las Vegas, the Mob Museum is a must-visit attraction.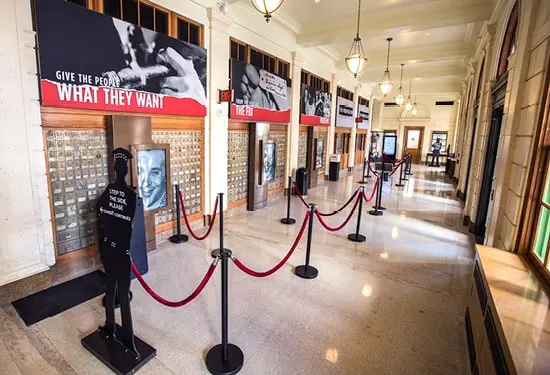 Experience Vegas Deep into the Night
Las Vegas is known as the "City that Never Sleeps," and experiencing it deep into the night is an essential part of the Vegas experience. The city comes alive after dark, with a dazzling array of entertainment, nightlife, and activities that cater to night owls and revelers.
The Las Vegas Strip is the epicenter of the city's nightlife scene. Here, you can explore a multitude of world-class nightclubs, bars, and lounges that offer everything from live music and DJ sets to theatrical performances and celebrity sightings.
Las Vegas is also renowned for its late-night dining options. Many restaurants and eateries stay open into the early hours, serving everything from gourmet cuisine to classic comfort food. It's the perfect way to refuel after a night of fun and excitement.
For those who prefer a quieter evening, the city's numerous 24-hour casinos offer a chance to try your luck at the gaming tables or slot machines. The vibrant atmosphere of the casino floors is always buzzing, no matter the time.
Score Tickets to a Live Show
Las Vegas is renowned for its world-class entertainment, and one of the best ways to immerse yourself in the city's vibrant performing arts scene is by scoring tickets to a live show.
For music lovers, the city hosts residencies by some of the biggest names in the industry, including pop icons, rock legends, and international superstars. These performances are often held in state-of-the-art theaters and arenas, providing an intimate yet grand setting to enjoy live music.
Comedy shows are another staple of Las Vegas entertainment, with renowned comedians taking the stage to keep audiences in stitches. The city also boasts a long history of magic and illusion shows, with magicians performing awe-inspiring tricks and mind-bending feats.
If you're in the mood for a theatrical experience, Las Vegas offers Broadway-style productions featuring elaborate sets, costumes, and choreography. From classic musicals to modern hits, these shows bring the magic of Broadway to the desert.
Show Off Your Skills at the Pinball Hall of Fame
For a nostalgic trip back in time and a chance to show off your pinball skills, the Pinball Hall of Fame in Las Vegas is a must-visit destination. This quirky and entertaining attraction is a paradise for pinball enthusiasts and anyone who appreciates classic arcade games.
The Pinball Hall of Fame is home to an extensive collection of vintage pinball machines and classic arcade games from various eras. With rows upon rows of machines, you can immerse yourself in the history of pinball and arcade gaming. The best part? All the machines are playable, and your admission fee goes towards maintaining and restoring these mechanical marvels.
What sets the Pinball Hall of Fame apart is its dedication to preserving and sharing the heritage of pinball and arcade gaming. It's a nostalgic trip down memory lane and a fun-filled way to spend a few hours in Las Vegas, away from the glitz and glamour of the Strip. Plus, knowing that your visit supports a non-profit organization that aims to keep these classic games alive makes the experience even more enjoyable.
Watch the Free Show at Las Vegas Lake of Dreams
Tucked away within the Wynn Las Vegas resort, the Lake of Dreams is a mesmerizing outdoor spectacle that combines water, lights, music, and stunning visuals to create a one-of-a-kind experience. The best part? It's completely free for visitors to enjoy.
The Lake of Dreams is a captivating multimedia show that takes place every night, starting at dusk and continuing until the late evening. The centerpiece of the show is a 40-foot waterfall that seemingly emerges from the side of a mountain. As the waterfall descends, it transforms into a dynamic canvas for a series of ever-changing, dreamlike visuals and animations, accompanied by a carefully curated soundtrack.
The show is best viewed from the outdoor seating area at the Lakeside restaurant, where you can enjoy a meal or drinks while taking in the spectacle. However, you can also watch it from various vantage points around the resort, including the Wynn's esplanade and the Parasol Up bar.
The Lake of Dreams is a serene yet exhilarating experience that provides a welcome respite from the hustle and bustle of the Las Vegas Strip. It's a perfect way to unwind, savor a beautiful Las Vegas evening, and be captivated by a magical show that combines artistry and technology in a natural setting.

Snap a Few Photos for the 'Gram
For classic Vegas shots, head to the iconic "Welcome to Fabulous Las Vegas" sign, located at the south end of the Strip. It's an iconic symbol of the city and a must-visit spot for a memorable photo.
The Las Vegas Strip itself offers a plethora of photogenic moments, with its dazzling lights, themed hotels, and lively street scenes. The Bellagio Fountains, with their choreographed water displays set to music, provide a stunning backdrop for photos, especially at night.
If you're into architecture and design, explore the interiors of the city's resorts. The Venetian's picturesque canals and gondolas, the Paris Las Vegas' Eiffel Tower replica, and the lush gardens at the Wynn are just a few examples of Instagram-worthy spots within the hotels.
For a dose of natural beauty, consider a day trip to Red Rock Canyon or Valley of Fire State Park, where you can capture the stunning landscapes and unique rock formations of the desert.
Remember to use popular Las Vegas hashtags like #LasVegas, #VegasStrip, and #SinCity when posting your photos on Instagram to connect with other travelers and share your Vegas experience with the world.
Join an Immersive Show at a Rum Distillery
For a unique and immersive experience in Las Vegas, consider visiting a rum distillery that offers more than just tastings. The city is home to a few distilleries that host entertaining and informative shows centered around the art of rum-making.
One such distillery is the Las Vegas Distillery, which not only produces award-winning spirits but also offers tours and tastings that feel like an immersive show. You'll get a behind-the-scenes look at the distillation process and learn about the history of rum, all while enjoying a theatrical presentation by knowledgeable guides. These tours often include tastings of various rum varieties, allowing you to savor the flavors and complexities of this beloved spirit.
Another option is to visit the Mob Museum's Underground Speakeasy, which often hosts events and tastings featuring rum and other spirits. This unique venue provides an immersive experience, transporting you back to the Prohibition era with its speakeasy-style ambiance and interactive exhibits.
Joining an immersive show at a rum distillery in Las Vegas is a delightful blend of entertainment and education, making it a perfect choice for those looking to broaden their horizons while enjoying some of the city's finest libations.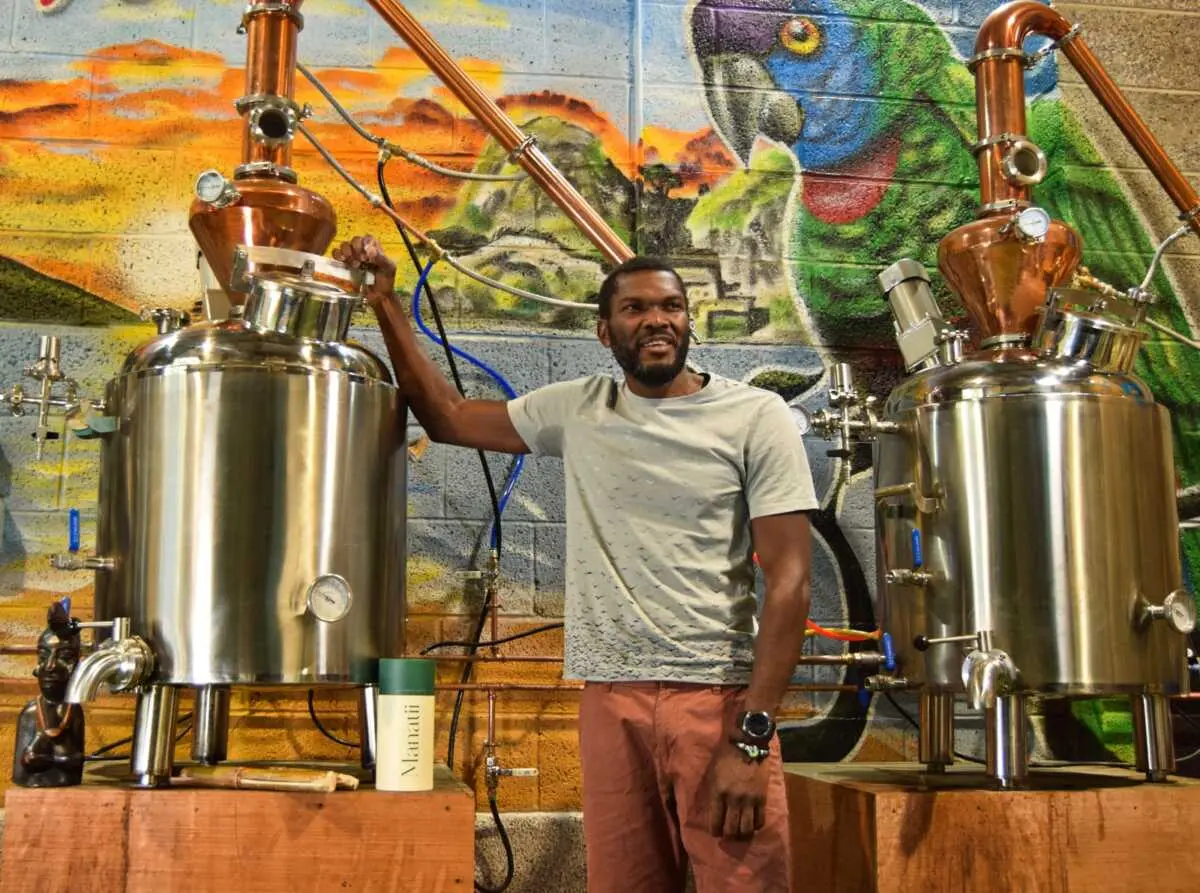 Dance to Live Tunes
The Las Vegas Strip is dotted with world-class music venues and nightclubs that regularly feature live performances. You can catch big-name artists at venues like the Park Theater at Park MGM or the T-Mobile Arena. These venues host concerts by some of the music industry's biggest stars, providing an unforgettable live music experience.
For those looking for a more intimate setting, explore the numerous bars and lounges that offer live music throughout the week. The Fremont Street Experience in downtown Las Vegas often features live bands performing on its outdoor stages.
If you prefer a more eclectic music scene, visit local music venues and dive bars, where you can discover up-and-coming artists and indie bands. These smaller venues offer an authentic and intimate atmosphere where you can dance the night away to live tunes.
No matter your musical preferences, dancing to live music in Las Vegas is a fantastic way to soak in the city's vibrant nightlife and create lasting memories. From the classics to the cutting-edge, the live music scene in Vegas has something for everyone.
Visit the MSG Sphere — Once It Opens
The MSG Sphere, developed by Madison Square Garden Entertainment Corp., is a massive, spherical-shaped arena designed to offer an unparalleled immersive experience. Located near the Las Vegas Strip, this state-of-the-art venue will feature advanced technologies that create stunning visual and audio effects. Some of the key highlights include:
1. Immersive Audio: The MSG Sphere is equipped with an advanced audio system that provides crystal-clear sound from every seat, ensuring an exceptional audio experience for all visitors.
2. Incredible Visuals: The exterior of the sphere will be covered with programmable LED panels that can display a wide range of visuals and animations, creating a dynamic and ever-changing facade.
3. Interior Projection: Inside the sphere, cutting-edge projection technology will envelop the audience in high-definition imagery, making it feel as if you've stepped into another world.
4. Adaptive Acoustics: The venue will use adaptive acoustics to tailor the sound experience to different types of events, whether it's a concert, sports event, or immersive theatrical performance.
5. Capacity: The MSG Sphere is expected to have a substantial seating capacity, accommodating a large number of spectators.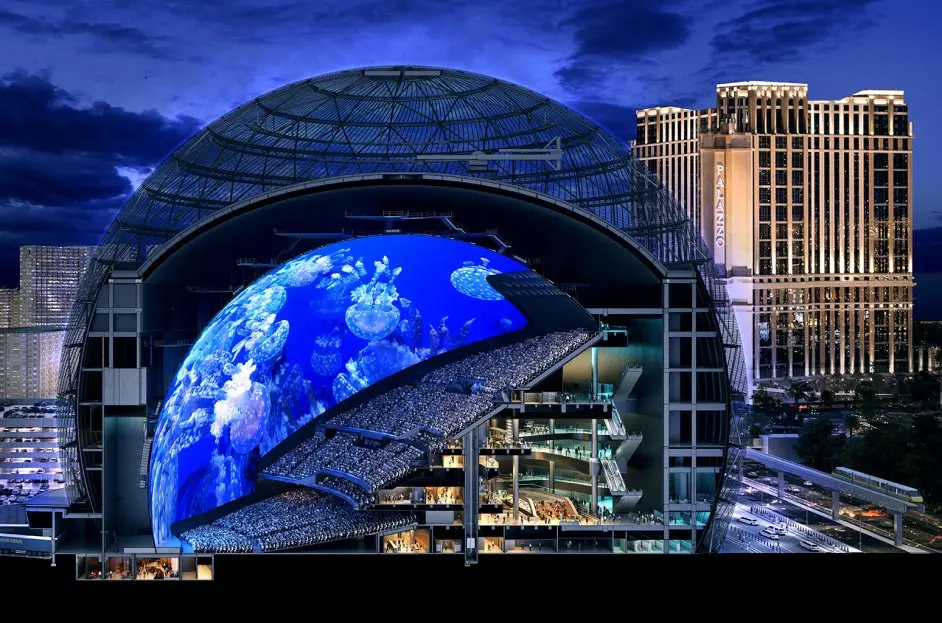 Visit the Las Vegas Arts District
The Las Vegas Arts District, also known as 18b, is a vibrant and eclectic neighborhood located just south of downtown Las Vegas. It's a haven for art enthusiasts, foodies, and those seeking a more bohemian and creative atmosphere away from the hustle and bustle of the Las Vegas Strip.
When you visit the Arts District, you'll discover a diverse array of galleries, studios, boutiques, and eateries. Here are some highlights:
1. Art Galleries: The district is home to numerous art galleries showcasing the work of local and international artists. You can explore contemporary art, photography, sculpture, and more.
2. Street Art: The area is adorned with colorful murals and street art, transforming the neighborhood into an ever-evolving outdoor gallery.
3. Boutique Shopping: You'll find unique boutiques offering everything from handmade jewelry to vintage clothing and quirky home decor.
4. Monthly First Friday: If you're visiting on the first Friday of the month, don't miss the First Friday event, when the neighborhood comes alive with art exhibits, live music, food trucks, and a lively street fair atmosphere.
The Las Vegas Arts District offers a refreshing change of pace from the glitz and glamour of the Strip, making it a perfect destination for those looking to explore the city's creative side and support local artists and businesses. It's a vibrant and welcoming community that celebrates the arts in all its forms.
Ride FlyOver
FlyOver Las Vegas is a thrilling, immersive flight simulation attraction that takes you on a virtual journey over some of the world's most iconic destinations. If you're seeking an exhilarating and visually stunning experience in Las Vegas, FlyOver is a must-visit.
This attraction combines cutting-edge technology with an innovative motion platform and special effects to create the sensation of flying. You'll be suspended in the air with your feet dangling as you soar over stunning landscapes, famous landmarks, and breathtaking scenery. The high-definition, 180-degree screen wraps around you, providing a truly immersive experience.
FlyOver Las Vegas offers different flight experiences, each showcasing a unique destination and its natural beauty. You might find yourself flying over the Grand Canyon, swooping through the skyscrapers of New York City, or gliding above the glaciers of Iceland—all without leaving the comfort of your seat.
What sets FlyOver apart is the sense of movement and realism, making you feel like you're actually flying. It's suitable for all ages and is a fantastic option for families, thrill-seekers, or anyone looking for a memorable adventure in Las Vegas. Be prepared for an adrenaline rush as you take off on this unforgettable virtual journey.
Go on Another Adrenaline-Pumping Thrill Ride
Las Vegas is a haven for adrenaline junkies, with numerous thrilling attractions that cater to those seeking an extra dose of excitement. If you've already experienced some of the city's adrenaline-pumping rides and are looking for more, here are a few options to consider:
1. Stratosphere Tower Rides: Head to the top of the Stratosphere Tower, one of the city's iconic landmarks, and try its daring thrill rides. The Big Shot, X-Scream, and Insanity will test your nerves as they dangle you over the edge of the tower with breathtaking views of the Las Vegas Strip below.
2. SlotZilla Zip Line: Soar above the crowds on Fremont Street with SlotZilla, a thrilling zip line experience. You can choose between the lower Zipline or the higher Zoomline, which sends you flying superhero-style.
3. Adventuredome Theme Park: Located at Circus Circus, the Adventuredome is an indoor theme park filled with roller coasters, thrill rides, and family-friendly attractions. It's a perfect choice for a fun-filled day of adrenaline-pumping adventures.
4. Speedway Experiences: If you have a need for speed, consider booking a driving experience at the Las Vegas Motor Speedway. You can race high-performance cars or even drive a real NASCAR vehicle.
5. Indoor Skydiving: If you enjoyed the Vegas Indoor Skydiving experience, consider going for a repeat or trying indoor skydiving at another facility in the area.
Shop 'til You Drop in a Classic Vegas Shopping Center
Las Vegas is not only a paradise for entertainment and dining but also a shopper's dream destination. While the city is known for its high-end boutiques and designer stores, it also offers classic shopping centers where you can shop 'til you drop.
One such shopping destination is the Forum Shops at Caesars Palace. This iconic shopping center on the Las Vegas Strip combines luxury shopping with a Roman-themed atmosphere. As you stroll through the impressive architecture and winding streets, you'll find an array of boutiques, fashion brands, jewelry stores, and more. The shopping center is also home to The Cheesecake Factory and a variety of dining options, making it a perfect place to take a break and refuel between shopping sprees.
Another classic shopping center to explore is Miracle Mile Shops at Planet Hollywood Resort & Casino. With over 200 shops, it offers a wide range of retail experiences, from fashion and accessories to electronics and souvenirs. Miracle Mile Shops also features live entertainment and events, creating a dynamic and vibrant atmosphere for shoppers.
For outlet shopping, consider visiting Las Vegas North Premium Outlets or Las Vegas South Premium Outlets, both offering discounted prices on designer and brand-name merchandise.
Remember to keep an eye out for deals and discounts, especially during shopping festivals and holidays, to make the most of your shopping spree in Las Vegas.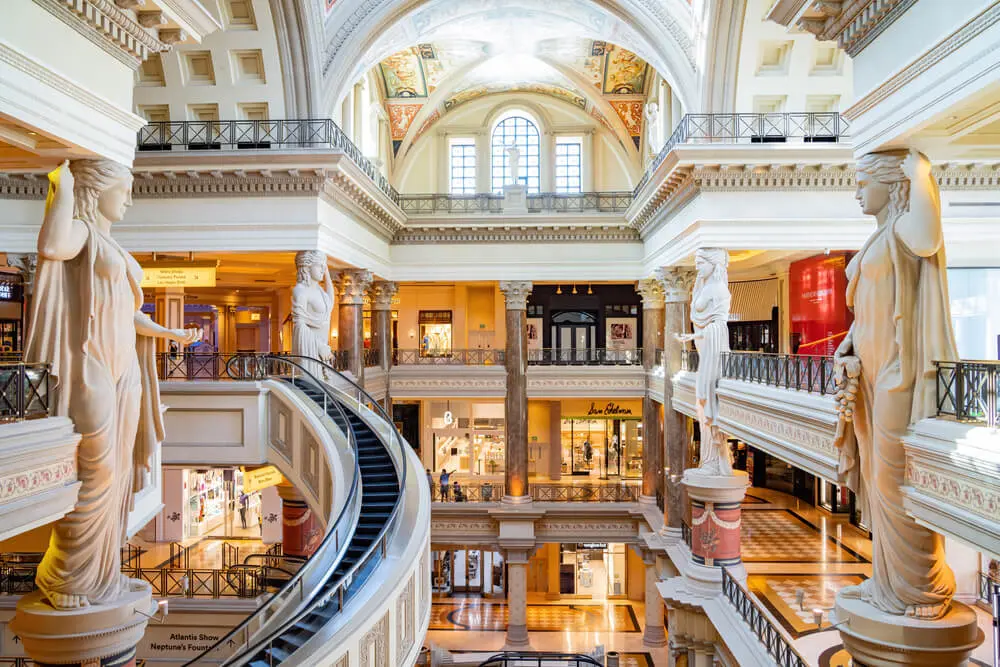 Conclusion
Las Vegas, with its blazing neon lights and incessant energy, stands as a testament to human ingenuity and the desire for entertainment and excitement. As the world's entertainment capital, it provides a one-of-a-kind experience, showcasing a harmonious blend of opulence, creativity, and diversity. Visitors can delve into the vast array of entertainment options, reveling in everything from the high-stakes thrill of the casinos to the world-class performances and culinary delights. However, beyond the glitter and glam, Las Vegas is also a city of continual transformation and reinvention, adapting to the changing times and emerging trends, ensuring its status as a timeless and dynamic destination.