30 Best Things to Do in Florence, SC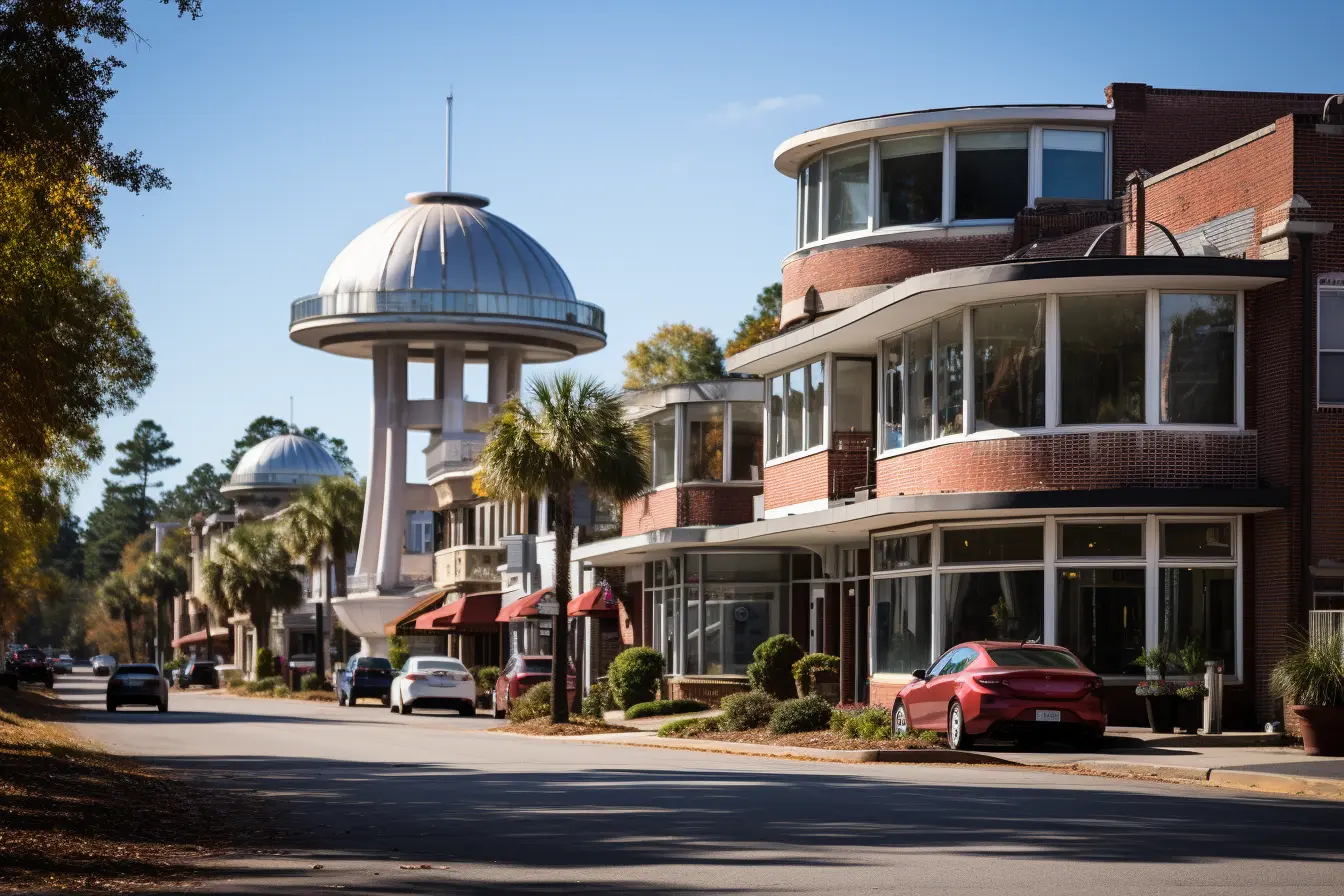 Best Things to Do in Florence, SC
Florence, South Carolina, a charming city steeped in history and rich in culture, offers a wide array of experiences for both visitors and locals alike. Whether you're a history buff, a foodie, a shopaholic, or simply someone looking to explore, Florence has something for everyone. From wandering through local farmers markets and indulging in Southern coastal cuisine, to diving into the craft of spirit-making and hunting for antiques, the city is a vibrant tapestry of attractions and activities. It's a place where Southern hospitality is not just a phrase but a way of life, welcoming everyone with open arms and ensuring that there's never a dull moment. In this guide, we'll explore some of the best things to do in Florence, giving you a glimpse of the experiences that make this city a true Southern gem.
Immerse Yourself in History at the War Between the States Museum
Florence, South Carolina, is a town steeped in rich history, and nowhere is this more evident than at the War Between the States Museum. Opened to the public in 1988, this establishment showcases an extensive collection of artifacts and memorabilia from the Civil War era. The museum's primary focus is on the War for Southern Independence, shedding light on the narratives that have shaped this critical period in American history.
Visitors to the museum are treated to a plethora of authentic artifacts, including original uniforms, weapons, flags, and personal items belonging to soldiers from both the North and South. Every piece on display tells a story, offering a glimpse into the lives of the men and women who lived during these tumultuous times. The museum's comprehensive exhibits aim to educate and enlighten visitors, emphasizing the significance of the events that took place during the war and how they have shaped the nation's legacy.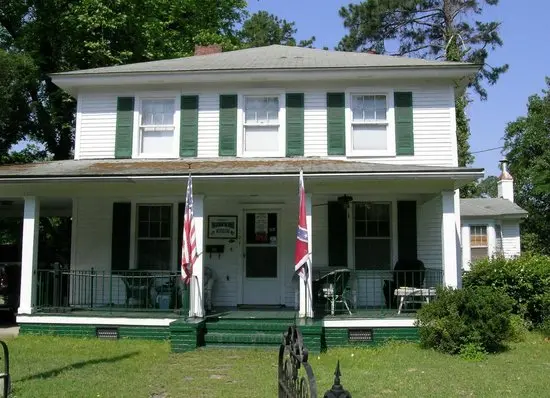 What sets the War Between the States Museum apart is its dedication to preserving genuine, untouched pieces of history. Many items have been donated by descendants of soldiers, ensuring the authenticity of the collection. Whether you're a history buff or just curious about the past, a visit to this museum in Florence, SC is an experience that will transport you back in time.
Take on a Challenge at Locked Inn, an Award-Winning Escape Room
For those seeking a contemporary adventure, Florence, SC offers an exhilarating challenge at the Locked Inn. Recognized as an award-winning escape room venue, this attraction presents an opportunity for groups to test their wits, teamwork, and problem-solving skills. Locked Inn has quickly become one of the most sought-after recreational spots in the area, attracting locals and tourists alike.
Escape rooms are all about immersive experiences, and Locked Inn does not disappoint. Each room boasts a unique theme, complete with detailed set designs, intricate puzzles, and a gripping narrative. Participants are given a set amount of time to unravel the mystery, decode clues, and escape from the room. The challenge is not only intellectually stimulating but also promotes collaboration and teamwork, making it a perfect activity for families, friends, or corporate teams.
The success of Locked Inn can be attributed to its dedication to offering top-notch experiences. From the moment you enter, you are transported into a different world where every minute counts. The exhilarating rush of racing against the clock, combined with the satisfaction of solving a complex puzzle, makes for an unforgettable adventure. So, if you find yourself in Florence, SC, and are itching for a challenge, Locked Inn promises an experience that will keep you on the edge of your seat.
Check Out the Florence County Museum
Nestled in the heart of Florence, SC, the Florence County Museum is a testament to the region's rich cultural, historical, and artistic tapestry. A visit to this museum is not just an afternoon's activity, but a journey through time, offering insights into the very fabric of the region, from its prehistoric times to its contemporary arts scene.
The Florence County Museum is designed to captivate visitors of all ages. Its exhibits span a diverse range, from Native American artifacts to works by William H. Johnson, a celebrated African-American artist hailing from Florence. The museum prides itself on its rotating exhibits, ensuring there's always something new to explore. Whether it's delving deep into the agrarian history of the region, understanding the influence of the Civil Rights Movement, or admiring the vibrant works of local artists, the museum offers a comprehensive overview of Florence County's legacy.
In addition to its permanent and rotating exhibits, the museum frequently hosts workshops, lectures, and special events, making it a hub of community activity and engagement.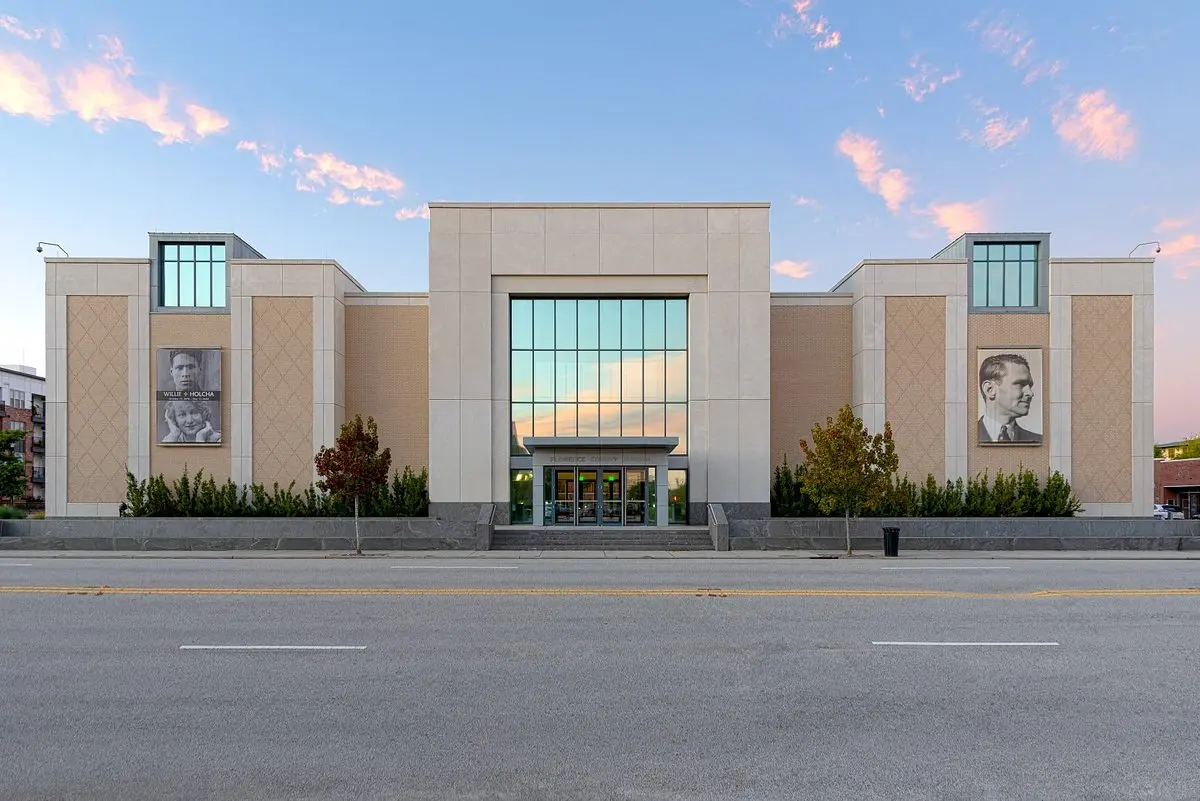 Visit Florence Veteran's Park
Paying homage to the brave hearts that served the nation, the Florence Veteran's Park is a poignant reminder of the sacrifices made by countless individuals in the line of duty. Situated amidst the serene backdrop of Florence, SC, this park stands as a beacon of gratitude and respect, honoring veterans from all branches of the military.
One of the most striking features of the park is the "Whispering Wall," an architectural marvel that allows visitors to experience its unique acoustic properties. When you whisper at one end, the sound travels clearly to the other end, symbolizing the silent yet powerful voices of the veterans.
Scattered throughout the park are multiple monuments and plaques, each dedicated to different wars and military operations, ensuring that no sacrifice is forgotten. The serene landscape, combined with the symbolic installations, makes for a contemplative environment. Visitors often find themselves immersed in deep reflection, gratitude, and respect for the individuals who have served.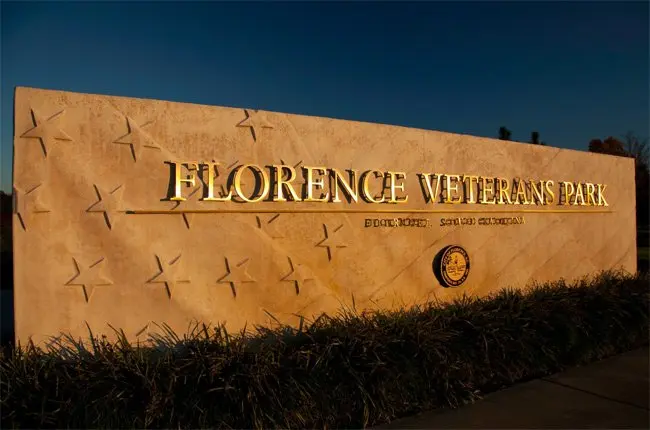 Beyond its role as a memorial, the Florence Veteran's Park also serves as a communal space, hosting various events, ceremonies, and gatherings. On special occasions such as Memorial Day and Veteran's Day, the park becomes a focal point of city-wide commemorations.
Tour the Florence Stockade Visitor Center
The Florence Stockade Visitor Center stands as a significant landmark, representing a dark period in American history. Located in Florence, SC, the site was originally used as a Confederate prison camp during the Civil War. Today, it serves as a poignant reminder of the hardships faced by Union prisoners of war who were detained there.
Visiting the Florence Stockade Visitor Center is a journey into the past. As you walk through the well-preserved grounds, you can almost feel the echoes of history reverberating. Interactive displays, authentic artifacts, and detailed accounts provide a vivid portrayal of life within the stockade during the war. In its prime, the stockade held over 12,000 prisoners, and the conditions were notably harsh, with scarcity of food, medicine, and shelter.
The visitor center itself is an invaluable resource for history enthusiasts and scholars. Informative exhibits and knowledgeable staff provide insight into the daily struggles of the inmates, the construction of the stockade, and the broader context of the Civil War. The center also emphasizes the importance of remembrance, ensuring that the sacrifices and sufferings of those confined are never forgotten.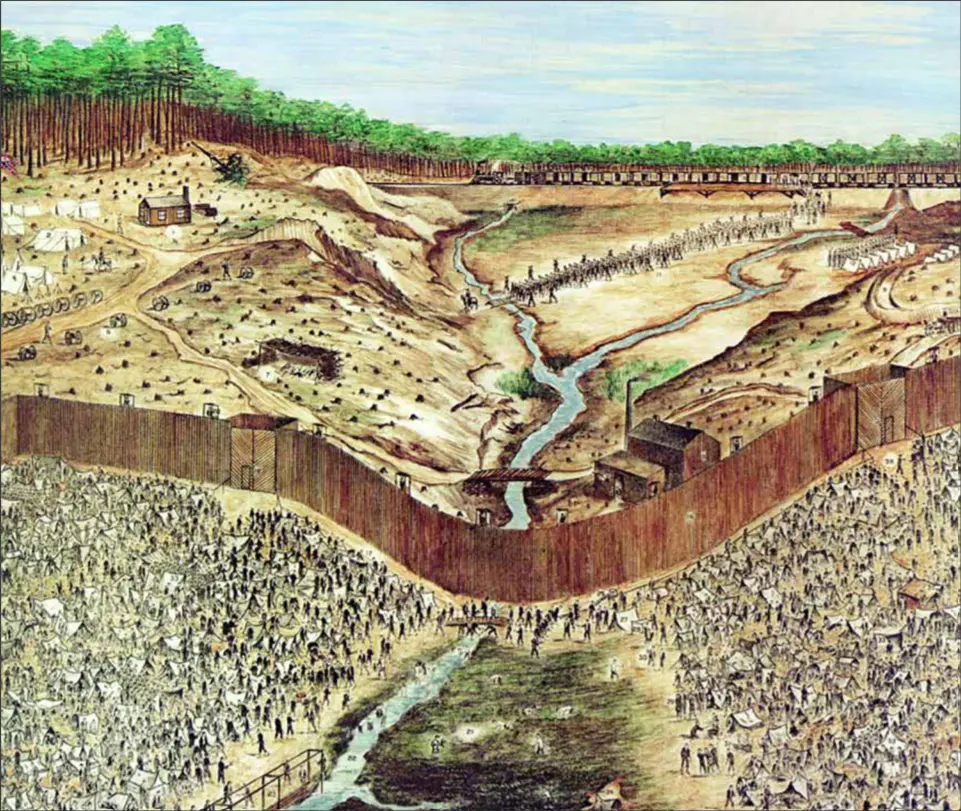 Pay Your Respects at the Florence National Cemetery
A solemn sea of white headstones, the Florence National Cemetery is a sacred space where one can pay respects to those who dedicated their lives to serving the United States. Established in the late 1800s, the cemetery is the final resting place for many military personnel and their families.
Each headstone tells a story, marking the resting place of soldiers from various wars and conflicts, from the Civil War to more recent engagements. As you wander through the meticulously maintained grounds, the gravity of sacrifice and service becomes overwhelmingly palpable. The serene ambiance, accentuated by the tall pine trees and well-manicured lawns, provides a contemplative environment where visitors can reflect on the profound impact of each individual interred there.
The Florence National Cemetery also features a memorial pathway, lined with commemorative plaques and markers honoring veterans from all branches of the military. Special ceremonies are held on Memorial Day and Veterans Day, gathering large crowds to remember and honor those who have served.
In Florence, SC, the Florence National Cemetery stands as a powerful reminder of the costs of freedom and the indomitable spirit of those who have fought to preserve it. It beckons visitors to take a moment, remember, and express gratitude for the brave souls who have come before.
View Footage Straight from NASA at Dooley Planetarium
One of the most awe-inspiring attractions in Florence, SC, the Dooley Planetarium offers visitors an immersive journey through the cosmos. Located on the campus of Francis Marion University, this planetarium has been fascinating visitors since its establishment in 1974.
The most striking feature of the Dooley Planetarium is its capability to showcase footage directly sourced from NASA. With its state-of-the-art projection system, visitors are treated to high-definition visuals that bring the universe to life. Whether it's a sweeping view of distant galaxies, an up-close look at planets in our solar system, or stunning nebulae, the planetarium provides an unparalleled visual experience.
Regular shows are scheduled, catering to audiences of all ages. These informative sessions are not only visually arresting but are also educative, led by knowledgeable presenters who explain complex celestial phenomena in an accessible manner. The planetarium's mission extends beyond entertainment—it aims to foster a deeper appreciation for astronomy and the vast universe that surrounds us. For anyone visiting Florence, SC, a trip to the Dooley Planetarium promises a celestial adventure like no other.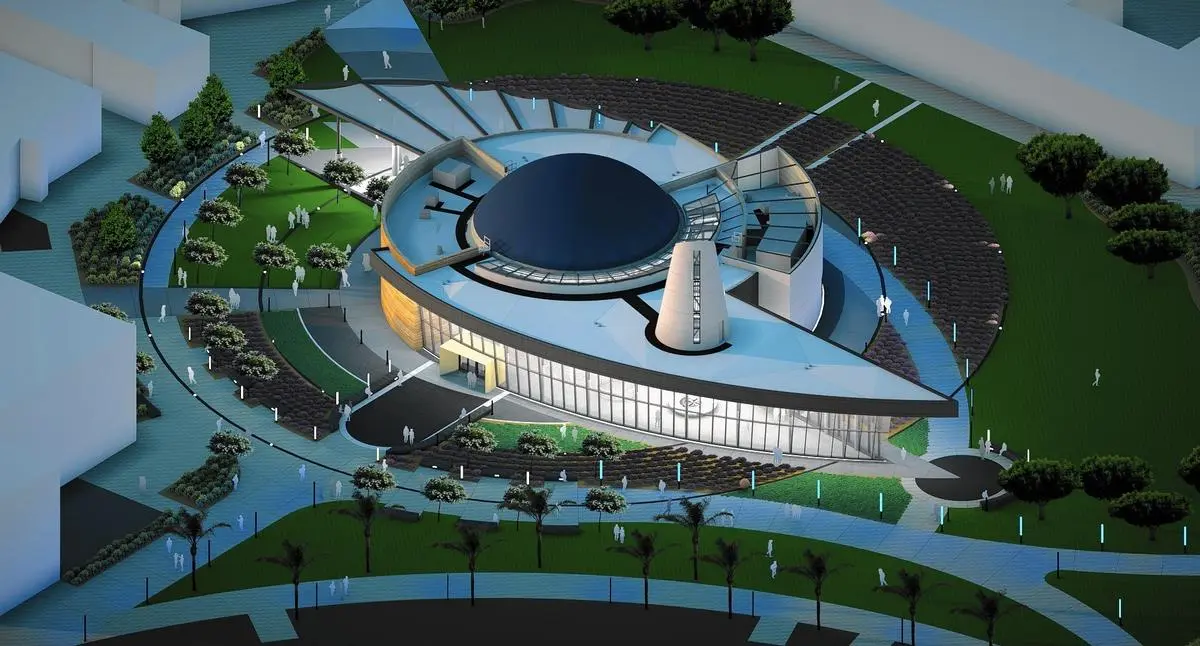 Witness the Mars Bluff Atomic Bomb Impact Crater
A remarkable yet somber historical site, the Mars Bluff Atomic Bomb Impact Crater is a testament to an inadvertent event during the Cold War era. Located just a few miles from Florence, SC, this site is where, in 1958, an atomic bomb was accidentally dropped from a U.S. Air Force plane. Thankfully, the bomb did not contain the nuclear core, thus preventing a nuclear explosion. However, the resulting conventional explosion created a sizable crater and caused damage to a nearby residence.
Today, visitors can witness the crater and learn about this unexpected incident. Interpretive signs provide context, detailing the events of that fateful day and the aftermath. The sheer size of the crater offers a chilling reminder of the immense power and potential devastation of atomic weapons.

The Mars Bluff Atomic Bomb Impact Crater also serves as an educational site, emphasizing the importance of safety protocols and the grave responsibilities associated with handling nuclear weapons. For history enthusiasts and curious visitors alike, a trip to the crater offers a unique, thought-provoking experience, highlighting an unusual chapter in Cold War history.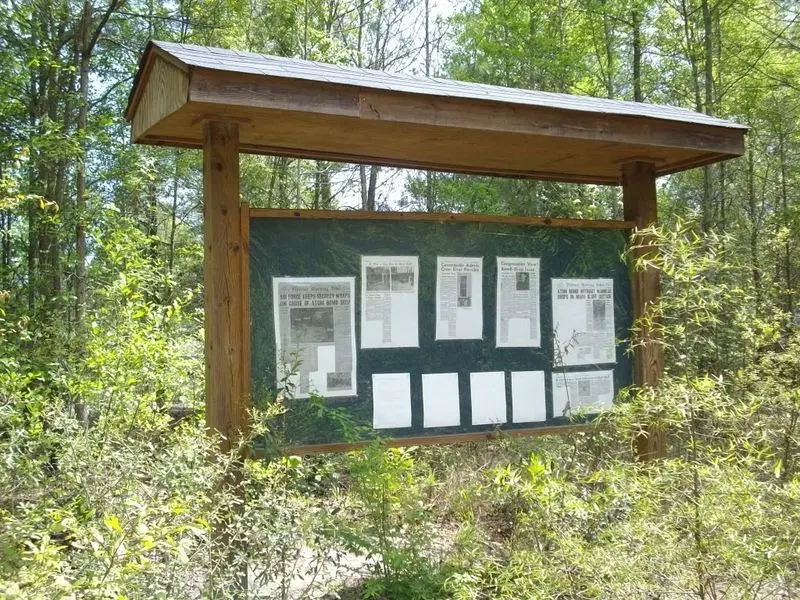 Explore Columns Plantation Home
Nestled among the scenic landscapes of Florence, South Carolina, the Columns Plantation Home is a captivating attraction that transports visitors back to the antebellum era. This stately mansion embodies Southern elegance with its Greek Revival architecture, featuring large columns that give the estate its name, expansive porches, and intricate detailing. A tour of the Columns Plantation Home provides an intimate look at life in the 19th-century South, offering glimpses into the cultural, architectural, and social history of the era.
As you step through its grand entrance, you'll find the interior to be just as impressive, adorned with period furnishings, ornate chandeliers, and elaborate decor that evokes a bygone era. Each room is a historical exhibit in itself, filled with artifacts and curios that tell the story of the families who once lived there, as well as the broader context of the plantation society they were part of.
The grounds surrounding the home further enrich the experience. Well-manicured gardens, stately trees, and charming pathways provide opportunities for leisurely strolls. Often, the venue also hosts special events, educational programs, and reenactments that bring the past to life in vivid detail.
Shop Till You Drop at Palmetto Peddlers Antiques Mall
For those who love shopping with a nostalgic twist, Palmetto Peddlers Antiques Mall in Florence, SC, is a paradise of vintage curiosities. This expansive emporium hosts a myriad of vendors selling an eclectic range of items—from antique furniture and vintage clothing to collectibles like old books, vinyl records, and rare trinkets. Covering a generous space, the mall offers endless possibilities for exploration and discovery.
What sets Palmetto Peddlers apart is the sheer diversity of items on sale. You can find beautifully crafted jewelry from past decades, intricately designed porcelain, or even historical memorabilia. Whether you're a serious collector, an interior designer in search of unique pieces, or simply someone who enjoys the charm of the old and unique, this mall has something for everyone.
The vendors themselves are often knowledgeable and passionate about their offerings, ready to share fascinating stories or helpful information about the items you're interested in. This enriches the shopping experience, making it more than just a retail venture but an educational journey through time.
The Palmetto Peddlers Antiques Mall is more than just a shopping destination; it's a cultural experience that offers a delightful blend of history, artistry, and the joy of discovery. For anyone visiting Florence, SC, a trip to this enchanting mall is highly recommended.
Join a Beer Tasting at Seminar Brewing
When you're in the mood for some artisanal brews and a laid-back atmosphere, Seminar Brewing in Florence, SC, is the place to be. As one of the city's premier craft breweries, Seminar Brewing has cultivated a reputation for producing high-quality, innovative beers that appeal to both casual drinkers and beer aficionados alike.
Walking into Seminar Brewing, you're immediately struck by the inviting ambiance, which combines rustic charm with modern comfort. The atmosphere is designed to encourage conversations and connections, whether you're seated at the bar or enjoying the cozy lounge area. Knowledgeable staff are always on hand to guide you through the extensive beer menu, which showcases a rotating selection of brews that cater to a variety of taste profiles—from hoppy IPAs to smooth stouts.
One of the highlights of a visit to Seminar Brewing is the opportunity to join a beer tasting session. These tastings allow you to explore the nuances of different brews, gaining insights into their ingredients, brewing process, and unique flavors. Often, the brewers themselves are present to discuss their creations, making it an educational as well as enjoyable experience.
Enjoy Thrift Shopping at Thieves Market
If you're the type who relishes the thrill of hunting for hidden treasures, then Thieves Market in Florence, SC, is your kind of paradise. Unlike your typical retail store, this expansive thrift market presents a labyrinth of stalls and booths, each overflowing with an eclectic assortment of items. From vintage clothing and antique furniture to quirky decor and rare books, the market offers an ever-changing inventory that promises new discoveries with every visit.
The moment you step into Thieves Market, you're immersed in an atmosphere buzzing with excitement and curiosity. Each vendor brings their own unique flavor to the market, whether it's a curated collection of retro fashion, hand-crafted jewelry, or even niche collectibles like old vinyl records or comic books. The range is so diverse that you can find everything from mid-century modern furniture pieces to kitschy knick-knacks from the '80s and '90s.
What really sets Thieves Market apart is the community vibe. The vendors are often as passionate about their wares as the shoppers are, eager to share the backstory behind each item or offer tips on how to integrate it into your life. There's a sense of camaraderie among regulars, but newcomers are quickly welcomed into the fold.
With its fascinating array of products and the endless potential for treasure-hunting, Thieves Market offers a shopping experience that is as entertaining as it is rewarding. A trip to this market is a must for any visitor looking to capture the eclectic spirit of Florence, SC.
Browse Dr. Bruce & Lee Foundation Library
The Dr. Bruce & Lee Foundation Library serves as a hub of education, culture, and community engagement in Florence, SC. Far from being just a repository of books, this modern facility offers a wide range of services and activities that make it a must-visit for residents and tourists alike. The library is housed in an architecturally striking building that combines classical and contemporary design elements, making it a visual treat from the moment you walk in.
The library's collection is vast and varied, featuring thousands of books, digital media, and academic journals that cater to all age groups and interests. Whether you're a student seeking scholarly articles, a history buff interested in local archives, or a parent looking for children's books, the Dr. Bruce & Lee Foundation Library has something for everyone. Free Wi-Fi, comfortable seating areas, and private study rooms further enhance the visitor experience.
One of the standout features of the library is its emphasis on community engagement. It regularly hosts workshops, seminars, and special events that cover a range of topics—from arts and crafts sessions to tech tutorials and literary discussions. Its children's section is particularly vibrant, offering various programs designed to foster a love of reading and learning among younger patrons.
In short, a visit to the Dr. Bruce & Lee Foundation Library is not just about borrowing a book—it's an experience that enriches the mind and strengthens the fabric of the Florence community.
Pick Berries at Cottle Strawberry Farm
For those looking to escape the hustle and bustle of city life, Cottle Strawberry Farm offers a delightful respite with its lush fields and family-friendly atmosphere. Located just outside Florence, SC, this popular local farm invites visitors to roll up their sleeves and indulge in the simple joy of berry picking.
From late spring to early summer, the fields at Cottle Strawberry Farm come alive with rows of ripe, juicy strawberries. Armed with a basket, visitors can roam the fields, enjoying the fresh air and pastoral scenery while searching for the perfect berries. It's an activity that appeals to all ages, making it a perfect outing for families, couples, or anyone looking to connect with nature.
What makes the experience even more gratifying is the taste of the freshly picked strawberries. Whether you consume them on the spot or take them home to use in your favorite recipes, the flavor is incomparably sweet and rich—something that store-bought berries rarely match. The farm also has a quaint shop where you can buy homemade jams, jellies, and other strawberry-themed goodies.
A visit to Cottle Strawberry Farm not only lets you enjoy the fruits of your labor but also gives you a greater appreciation for the local agricultural community. It's an outing that combines leisure, learning, and the timeless pleasure of enjoying fresh, homegrown produce.
Gather Blessings at the First Presbyterian Church
In the heart of Florence, SC, stands the First Presbyterian Church, a spiritual haven and architectural gem that invites visitors to experience a sense of community and reverence. The church is not just a venue for religious worship; it also serves as a cornerstone of the local community, offering various outreach programs, workshops, and social events that resonate with people of all ages.
As you enter the sanctuary, you are immediately struck by its peaceful ambiance and timeless beauty. Stained glass windows cast a gentle, colorful light, while the intricate woodwork and grand altar serve as focal points for contemplation and prayer. Whether you attend a Sunday service or simply visit to explore the church's architecture, you can't help but feel a sense of solace and inspiration.
The First Presbyterian Church is renowned for its dynamic congregation that fosters inclusivity and spiritual growth. Traditional hymns blend seamlessly with modern worship songs, while sermons often touch upon contemporary issues, encouraging dialogue and reflection.
For tourists and locals alike, a visit to the First Presbyterian Church offers more than just religious fulfillment. It provides an opportunity to connect with a welcoming community, appreciate the beauty of its architecture, and gather blessings that uplift the soul.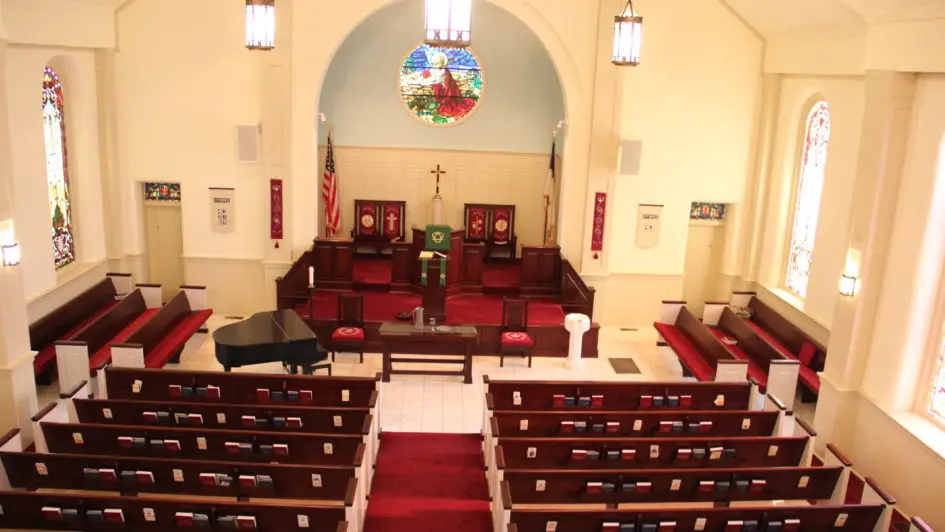 Have a Picnic at Timrod Park
When it comes to enjoying the outdoors in Florence, SC, Timrod Park offers a delightful setting for a day of relaxation and leisure. This charming urban park is a green oasis, featuring well-manicured lawns, scenic walking trails, and an assortment of amenities that make it a popular spot for families and outdoor enthusiasts.
One of the most enjoyable activities you can indulge in at Timrod Park is having a picnic. The park provides a range of designated picnic areas, some complete with tables and grills, offering the perfect setting for an alfresco meal. Large trees provide ample shade, and the gentle sound of birds singing in the background adds to the serene atmosphere.
But a picnic is just the beginning. Timrod Park also boasts tennis courts, a playground for kids, and a pond that adds a picturesque element to the landscape. Whether you're looking to engage in some light exercise, entertain the kids, or simply enjoy a good book in a tranquil setting, this park has something to offer everyone.
Visitors are also drawn to the park's seasonal features, such as blooming azaleas in the spring and vibrant foliage in the fall, making it a year-round destination for nature lovers. For residents and tourists looking to escape the urban rush and enjoy a day in nature, a picnic at Timrod Park provides the perfect respite.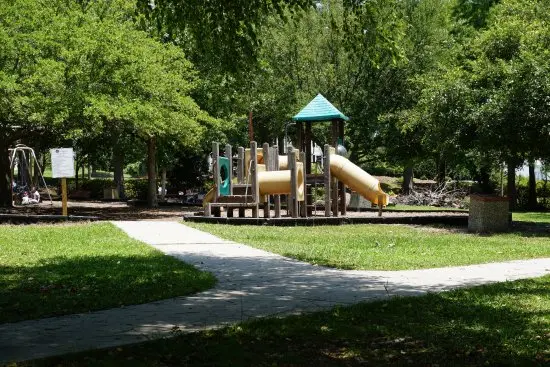 Catch a Show at Francis Marion University Performing Arts Center
Francis Marion University Performing Arts Center is a beacon of culture and entertainment in Florence, SC. Located near the university's campus, the center serves as a multi-purpose venue, showcasing an impressive array of performances that range from concerts and ballets to theatrical plays and stand-up comedy. With its state-of-the-art acoustics and seating designed for optimal viewing, the center offers an immersive experience that delights both the eyes and ears.
One of the standout features of this venue is its commitment to bringing high-quality performances to the community. Whether it's hosting internationally renowned artists or showcasing local talent, the center aims to cultivate an appreciation for the arts in all its forms. The diverse lineup ensures there's something for everyone—classical music aficionados can revel in symphony concerts, while fans of contemporary performance can catch cutting-edge theater or modern dance.
The architecture of the Performing Arts Center is also worth mentioning. Its modern design blends aesthetic appeal with functionality, ensuring that every visit is a pleasure. Spacious lobbies, art installations, and comfortable seating areas create an inviting environment where visitors can socialize before and after the show.
A visit to the Francis Marion University Performing Arts Center is not just an evening out; it's an experience that enriches the cultural fabric of Florence and provides a feast for the senses.
Get Fit While Having Fun at Florence Family YMCA
If you're looking to stay active and engaged while in Florence, SC, the Florence Family YMCA offers an all-in-one solution. This community-centric facility goes beyond being a traditional gym; it's a hub for fitness, wellness, and social interaction for people of all ages. From modern exercise equipment to swimming pools and sports courts, the YMCA provides a wide array of options to get your heart rate up and your muscles moving.
One of the most appealing aspects of the Florence Family YMCA is its emphasis on fun as a pathway to fitness. Whether it's through group exercise classes, team sports, or family-friendly activities, the YMCA offers numerous ways to break a sweat without it feeling like a chore. Popular programs include Zumba, aquatic aerobics, and yoga, allowing members to choose a fitness routine that aligns with their interests and lifestyle.
Children aren't left out either. The YMCA has a host of youth programs aimed at fostering physical activity and teamwork from a young age. From swim lessons to basketball leagues, kids have plenty of opportunities to stay active and make new friends in a safe, supervised environment.
But it's not just about physical well-being; the Florence Family YMCA is also a social space where community members come together. The welcoming atmosphere, friendly staff, and broad range of activities make it a place where relationships are forged and healthy living is celebrated.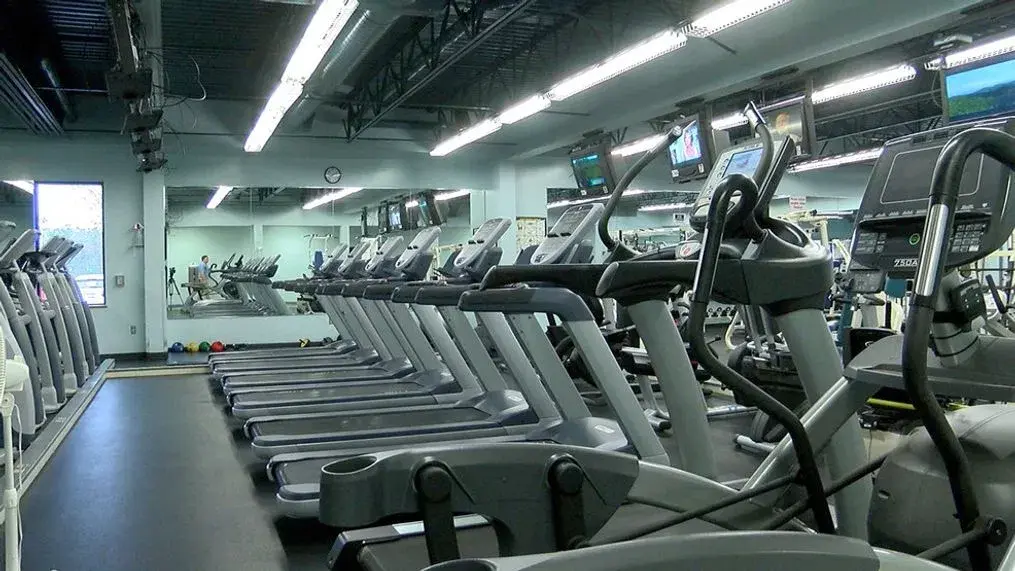 Go Antique-Hunting at Thieves Market
Thieves Market in Florence, SC, is an antique lover's dream come true. A sprawling space filled with an eclectic mix of vintage items, curiosities, and one-of-a-kind finds, this market is a treasure trove for anyone with a penchant for the past. Whether you're a seasoned collector or a casual browser, you'll be enamored by the endless possibilities for discovery that await you.
The atmosphere at Thieves Market is akin to stepping back in time. With aisles filled with period furniture, retro d←cor, old books, and vintage clothing, each stall offers a unique journey through history. The market is also home to specialized collections, such as rare coins, classic toys, and antique jewelry, catering to specific interests and hobbies.
One of the greatest pleasures of antique-hunting at Thieves Market is the thrill of the find. Each visit promises new arrivals and hidden gems, requiring a keen eye and a sense of adventure. It's not just about the items; it's about the stories they tell and the nostalgia they evoke.
But perhaps what makes Thieves Market most appealing is its community feel. Vendors are often knowledgeable and passionate about their collections, happy to share the history and details of their wares. Even if you walk away empty-handed, the experience of exploring this fascinating market is a reward in itself.
Grab a Bottle of Wine and More at Hyman Vineyards
For wine enthusiasts and curious tourists alike, Hyman Vineyards offers a unique and enjoyable experience right in Florence, SC. As a local vineyard specializing in muscadine wines, Hyman Vineyards has carved out a niche in producing beverages that capture the essence of the region's terroir.
From the moment you enter the vineyard, you're greeted with rows of lush grapevines stretching as far as the eye can see, creating an atmosphere of rural tranquility. A guided tour offers insights into the intricacies of winemaking, from the cultivation of grapevines to the fermentation process and the final bottling. Of course, no visit would be complete without a tasting session, where you can sample a range of wines and learn about their distinct characteristics.
But Hyman Vineyards offers more than just wine. The vineyard also produces a variety of muscadine grape products, including jellies, juices, and even skincare items. These products allow you to take a piece of the vineyard home with you, whether it's a bottle of your favorite wine or a jar of homemade grape jelly.
With its scenic setting, quality products, and warm hospitality, Hyman Vineyards offers a delightful outing for those looking to explore the flavors and landscapes of Florence, SC. Whether you're a wine connoisseur or simply someone who appreciates the finer things in life, a visit to Hyman Vineyards is sure to leave a lasting impression.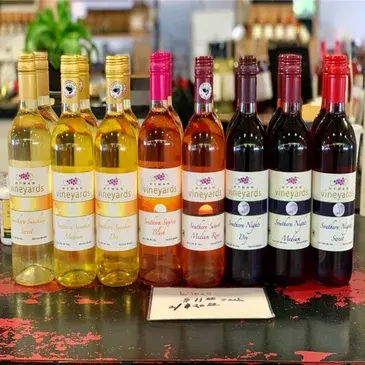 Dine and Watch Your Favorite Sporting Game at Red Bone Alley
Red Bone Alley in Florence, SC, combines the best of Southern hospitality with the electric atmosphere of a sports bar, making it the ultimate destination for food enthusiasts and sports fans alike. Situated in a unique, multi-level setting that mimics an old Southern town square, the restaurant has a charm that sets it apart from your average eatery.
The atmosphere inside is as vibrant as the variety of dishes on the menu. Specializing in Southern cuisine, Red Bone Alley offers a plethora of options, from mouth-watering ribs and fried chicken to succulent seafood and vegetarian dishes. Their extensive menu ensures that there's something to satisfy every palate, all prepared with a touch of Southern flair that you can't find just anywhere.
But what really sets Red Bone Alley apart is its sports-viewing experience. With multiple flat-screen TVs strategically positioned around the restaurant, you can enjoy your meal without missing a second of your favorite game. Whether you're a die-hard football fan, a basketball enthusiast, or just someone looking to catch the highlights, Red Bone Alley offers a seamless blend of dining and entertainment.
The restaurant also features a bar area serving an assortment of craft beers, cocktails, and wines, providing the perfect setting to cheer on your team in good company. With its welcoming atmosphere, delicious food, and sports-centric focus, Red Bone Alley guarantees a dining experience that's both enjoyable and exhilarating.
Prepare for Hours of Entertainment at Florence Center
Florence Center is the city's premier venue for large-scale events, providing a myriad of entertainment options under one roof. Located conveniently near major highways, this expansive facility hosts a wide range of events throughout the year, from concerts and theatrical productions to trade shows, sporting events, and even circus performances.
When you step into the Florence Center, you immediately sense its grandeur. With a seating capacity that can accommodate thousands and state-of-the-art sound and lighting systems, the venue is designed to offer an unforgettable experience. Whether you're watching a live performance from a renowned artist or enjoying a local talent showcase, the Florence Center delivers a level of spectacle that is both intimate and expansive.
Beyond the main events, the facility often has side attractions like food vendors, merchandise stalls, and interactive exhibits, ensuring that there's always something to see or do. For families, the center hosts kid-friendly events, such as educational shows and fairs, making it a versatile destination for people of all ages.
Parking is ample, and the venue's location near hotels and restaurants means you can easily make a day or a weekend of your visit. With its wide array of offerings and top-notch amenities, the Florence Center stands as a testament to the city's commitment to providing quality entertainment to both residents and visitors. Prepare for a day or an evening packed with excitement when you make plans to visit this dynamic venue.
Walk around and Shop at Magnolia Mall
Located in the heart of Florence, SC, Magnolia Mall is a shopping destination that offers a wide range of retail stores, dining options, and entertainment facilities. Whether you're on the hunt for the latest fashion trends, electronics, or home goods, Magnolia Mall provides a one-stop solution for all your shopping needs.
As you stroll through the mall, you'll be greeted by a well-curated selection of both large chain stores and unique local boutiques. This mix offers shoppers a rich and diverse retail experience, catering to a variety of tastes and budgets. Whether you're in search of designer apparel, tech gadgets, or handmade crafts, there's a good chance you'll find it here.
But shopping isn't the only activity Magnolia Mall has to offer. The mall also features a range of dining outlets that serve a multitude of cuisines. From fast food to sit-down restaurants, you can enjoy everything from a quick snack to a leisurely meal.
For those looking for more than just retail therapy, the mall frequently hosts special events, sales, and promotions, adding an element of excitement to your shopping experience. Seasonal decorations, particularly during the holidays, transform the mall into a festive wonderland that adds to the overall atmosphere.
With its convenient location, ample parking, and a diverse range of shopping and dining options, Magnolia Mall is not just a place to shop—it's a place to spend quality time, whether you're alone, with friends, or with family.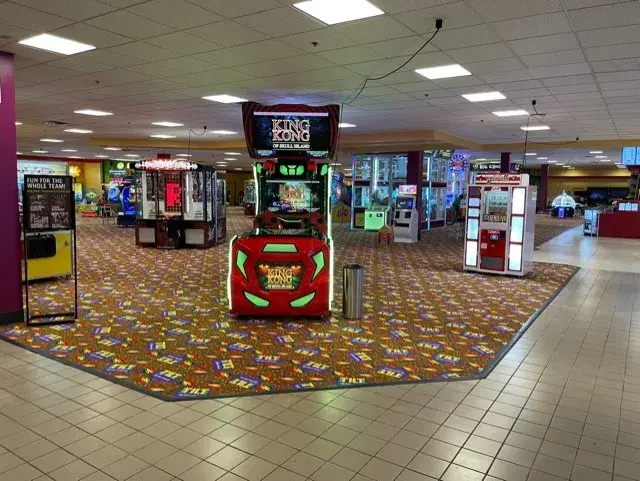 Take a Tour and Have a Taste at Straw Hat Distillery
For those intrigued by the craft of spirit-making, a visit to Straw Hat Distillery in Florence, SC, offers an educational and flavorful experience. The distillery specializes in a variety of handcrafted spirits, ranging from whiskey and rum to unique flavored liqueurs. What sets Straw Hat Distillery apart is its commitment to traditional distilling methods, which allow for a richer, more nuanced taste.
When you arrive at the distillery, you're not just a visitor—you're a guest. The tour begins with a walk-through of the distillery, where you'll get an in-depth understanding of the distillation process. From the milling of grains to fermentation, distillation, and finally aging, each step is explained in a way that's both informative and engaging.
But a visit to Straw Hat Distillery would not be complete without a tasting session. Under the guidance of knowledgeable staff, you'll have the chance to sample a variety of spirits. You'll learn how to distinguish the subtle flavors and aromas that make each product unique. The experience is both educational and enjoyable, as you discover how different ingredients and distillation methods influence the final product.
Straw Hat Distillery also offers a gift shop where visitors can purchase their favorite spirits, making it easy to bring a piece of this artisan experience back home. Whether you're a connoisseur of fine spirits or simply curious about the distillation process, Straw Hat Distillery provides a fascinating and flavorsome outing.
Stock on Items at Pee Dee State Farmers Market
For those looking to experience local flavors and a slice of community life, the Pee Dee State Farmers Market in Florence, SC, is a must-visit destination. This expansive market serves as a hub for local farmers, artisans, and food vendors to showcase their produce and wares. From the freshest fruits and vegetables to locally-made cheeses, meats, and baked goods, the market offers an array of options that celebrate the richness of South Carolina's agricultural heritage.
Walking through the market, you'll immediately notice the vibrant colors and inviting aromas that fill the air. Each vendor offers something unique, whether it's organic produce, handmade crafts, or specialty foods like jams, jellies, and sauces. What's more, because you're buying directly from the producers, you have the opportunity to learn about the farming practices, the origins of your food, and even pick up some preparation tips.
The Pee Dee State Farmers Market also features seasonal items, allowing you to enjoy the best of what each time of the year has to offer. From summer berries to autumn pumpkins, there's always something special and timely to be found.
Conveniently located with ample parking, the market makes for a pleasant outing for individuals and families alike. It's more than just a place to shop; it's a place to engage with your community, learn about local agriculture, and of course, stock up on delicious, fresh items for your home.
Delight in an Evening Meal at Tubb's Shrimp & Fish Co
When it comes to seafood dining in Florence, SC, Tubb's Shrimp & Fish Co stands out as a local favorite. Known for its laid-back atmosphere and scrumptious menu, this restaurant offers an authentic Southern seafood experience that leaves a lasting impression.
As you walk into Tubb's, you're immediately greeted by the welcoming ambiance — rustic décor, maritime accents, and a warm, friendly staff set the stage for a delightful dining experience. The menu is a tribute to Southern coastal cuisine, featuring a variety of seafood options, from classic fried shrimp and flounder to more adventurous dishes like oyster po'boys and seafood gumbo.
One of the standout features of dining at Tubb's is the quality of the ingredients. The restaurant prides itself on sourcing fresh, local seafood, ensuring that each dish is as flavorful as it is satisfying. Whether you're a fan of traditional Southern fried seafood or looking for something grilled or blackened, the menu offers something for every palate.
But it's not just the food that makes Tubb's special. The restaurant also offers a selection of local beers and cocktails, providing the perfect complement to your meal. Whether you're in the mood for a romantic dinner, a family outing, or a casual meet-up with friends, Tubb's Shrimp & Fish Co offers an inviting setting to enjoy some of the best seafood Florence has to offer.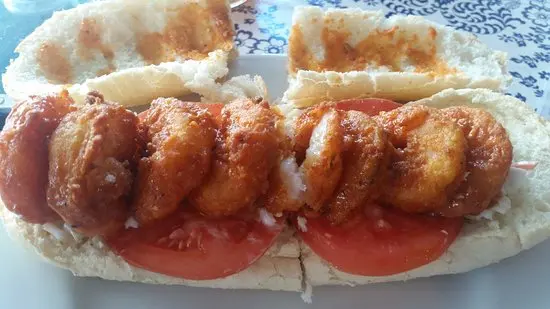 Conclusion
In conclusion, Florence, South Carolina, serves as a diverse and enriching destination that encapsulates the best of what the American South has to offer. From its historical landmarks and educational centers to its culinary delights and retail havens, Florence is a city that beckons with a wealth of activities and experiences. Whether you're looking to connect with the past, tantalize your taste buds, or simply enjoy quality time with friends and family, this charming Southern city is more than equipped to meet and exceed your expectations. It offers not just attractions, but a lifestyle steeped in genuine hospitality and a community spirit that makes every visitor feel like part of the local fabric. As you plan your visit, each venue and activity in our guide offers a unique lens through which you can appreciate the rich, multifaceted character of Florence. So come and explore, and let yourself be swept up in the myriad of wonders that make Florence, SC, a destination worth experiencing.
Frequently Asked Questions about Florence, SC
What is Florence, SC, most famous for?
Florence is known for its rich history, vibrant culture, and Southern hospitality. It's a hub for various activities ranging from historical tours to modern entertainment and dining experiences.
Is Florence a good place for families?
Absolutely, Florence offers a range of family-friendly activities, including parks, museums, and recreational centers like the Florence Family YMCA. The city is also host to numerous family-friendly events throughout the year.
What are some must-visit historical sites in Florence?
Some must-visit historical sites include the War Between the States Museum, Florence Stockade Visitor Center, and the Florence National Cemetery. These sites offer a deep dive into the area's rich history.
Are there any unique food experiences in Florence?
Yes, Florence offers a variety of dining experiences that showcase Southern coastal cuisine. Restaurants like Tubb's Shrimp & Fish Co and Red Bone Alley are local favorites.