31 Best Things to Do in Queens, New York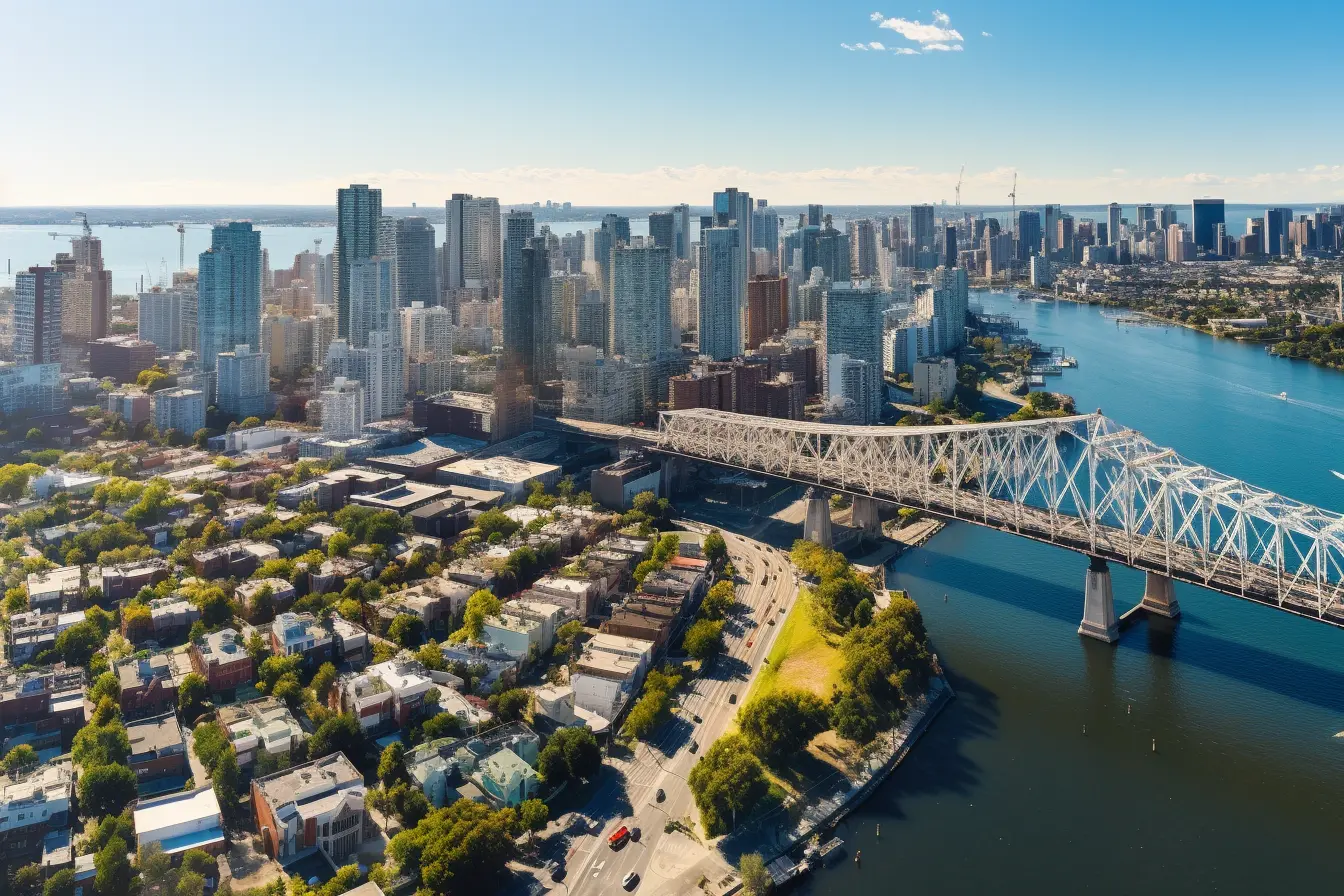 New York City is a treasure trove of experiences, with each borough boasting its unique charm and history. Queens, often overshadowed by its glitzy neighbor, Manhattan, holds a wealth of stories, landmarks, and cultural experiences waiting to be uncovered. From the mysterious allure of Harry Houdini's grave to the vast expanses of Calvary Cemetery and the iconic Queens Museum—home to the memories of the World's Fair—Queens invites visitors to embark on a journey of discovery.
Discovering The Mystique: Harry Houdini's Grave
Queens, New York, isn't just a vibrant borough brimming with cultural diversity; it's also home to the resting place of one of the most famous magicians and escape artists in history, Harry Houdini. Located in the Machpelah Cemetery, Houdini's grave stands as a testament to the legacy of a man who could escape anything but time. A bust of Houdini graces the site, drawing the attention and admiration of visitors from around the world.
Visiting the grave is akin to stepping back into a world of wonder and disbelief. Stories of Houdini's escapades come alive as you stand at the foot of his monument. It's common for admirers to leave behind playing cards or magic paraphernalia as a sign of respect. To enhance the experience, consider visiting during Halloween, the anniversary of his death. Local magic enthusiasts often hold ceremonies and performances, celebrating the life and times of this exceptional artist. While there, don't forget to take a moment of silence, pondering over the magical moments he has left behind in the annals of history.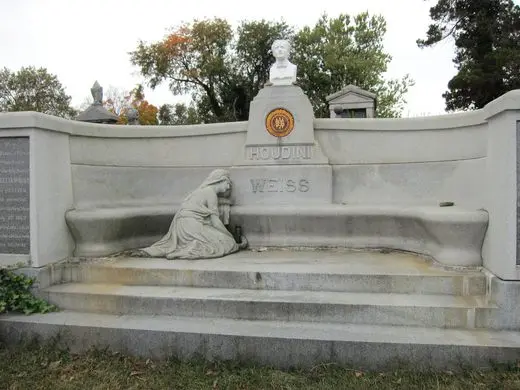 Calvary Cemetery: A Historic Stroll Through Time
Calvary Cemetery, with its vast expanse, offers a panoramic view of the Manhattan skyline and serves as the final resting place for over 3 million souls. As one of the oldest and largest cemeteries in the U.S., its rich tapestry of history is palpable as you wander its grounds. Established in the 19th century by the Roman Catholic Archdiocese of New York, the cemetery's ornate headstones and mausoleums stand as stoic reminders of eras gone by.
But it's not just about the past. The serenity and beauty of Calvary Cemetery make it a peaceful spot for contemplation. The meticulously maintained grounds are adorned with mature trees, providing ample shade and creating a tranquil environment amidst the urban surroundings of Queens. As you traverse the pathways, you'll encounter gravestones of various shapes and sizes, each telling a story of its own. Prominent figures from the realms of arts, politics, and more are buried here, inviting visitors to discover and appreciate their contributions. To add depth to your visit, consider hiring a local historian or joining a guided tour to unearth the many tales and legends that are woven into the fabric of this sacred ground.
Reliving Grandeur: Home to The World's Fair
Nestled in the heart of Queens, New York, is Flushing Meadows Corona Park – the iconic site that hosted not one, but two World's Fairs, in 1939 and 1964. These grand events showcased innovations, culture, and global unity, leaving an indelible mark on the borough. Today, remnants of the fairs, like the Unisphere – a towering stainless steel globe – and the New York State Pavilion, stand as majestic reminders of a time when the world converged in Queens.
Visitors to the park can't help but feel a sense of nostalgia as they wander its expansive grounds. The World's Fairs were all about envisioning the future, and many of the displays and exhibitions presented during those times went on to shape the latter half of the 20th century. From introducing color television to the concept of world peace, the fairs were a blend of optimism and technological advancement.
Inside The Treasures of Queens Museum
Adjacent to the historic grounds of the World's Fair lies the Queens Museum, a cultural jewel that captures the essence of Queens and its rich tapestry of stories. Housed in the New York City Building, originally constructed for the 1939 World's Fair, the museum is a bridge between the past and present.
One of its most mesmerizing exhibits is the Panorama of the City of New York – a detailed and scaled model of the five boroughs that offers a bird's eye view of the city. The museum also offers an array of ever-changing exhibitions that reflect the diverse cultures and histories of its residents. From contemporary art to historical retrospectives, the Queens Museum ensures there's something for every curious mind.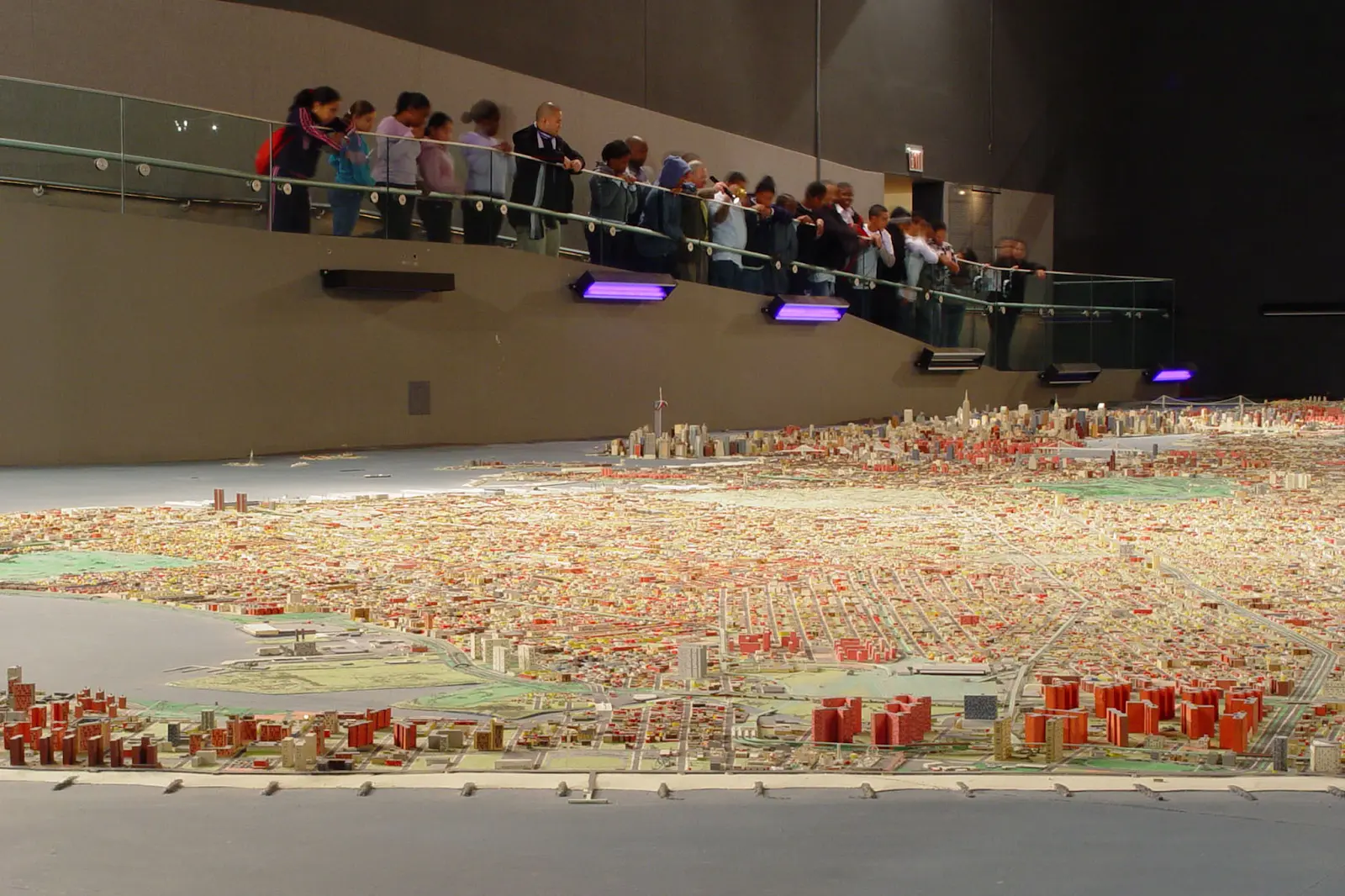 Aces and Ambience: USTA National Tennis Center
When tennis enthusiasts think of Queens, New York, their minds invariably drift towards the sprawling USTA National Tennis Center in Flushing Meadows. This iconic sports complex isn't just any tennis venue—it's home to the US Open, one of the four Grand Slam tennis tournaments. Every year, towards the end of summer, the world's best tennis talents descend upon this hallowed ground, vying for supremacy and etching their names in the annals of sports history.
The Center itself is a marvel, with numerous courts catering to both professional matches and public play. The crown jewel is the Arthur Ashe Stadium, named after the legendary tennis champion and civil rights activist. With its retractable roof and seating capacity of over 23,000, it stands as the largest tennis-specific stadium in the world.
Batter Up at Citi Field
Just a stone's throw away from the USTA National Tennis Center is Citi Field, the proud home of Major League Baseball's New York Mets. Inaugurated in 2009, Citi Field, with its classic brick facade and modern amenities, offers a baseball experience that's both nostalgic and cutting-edge.
Fans entering the ballpark are greeted by the Jackie Robinson Rotunda, a tribute to the groundbreaking Brooklyn Dodger who shattered baseball's color barrier. Inside, the ambiance is electric, especially when the Mets are in action. But it's not just about the baseball. Citi Field prides itself on offering a holistic entertainment experience. From a diverse array of food options celebrating New York's culinary scene to interactive areas for kids, the ballpark ensures an enjoyable time for all.
If you're a sports aficionado or just someone looking for an authentic New York experience, the USTA National Tennis Center and Citi Field are must-visits in Queens. These venues aren't just about the games—they're about community, history, and the spirit of competition.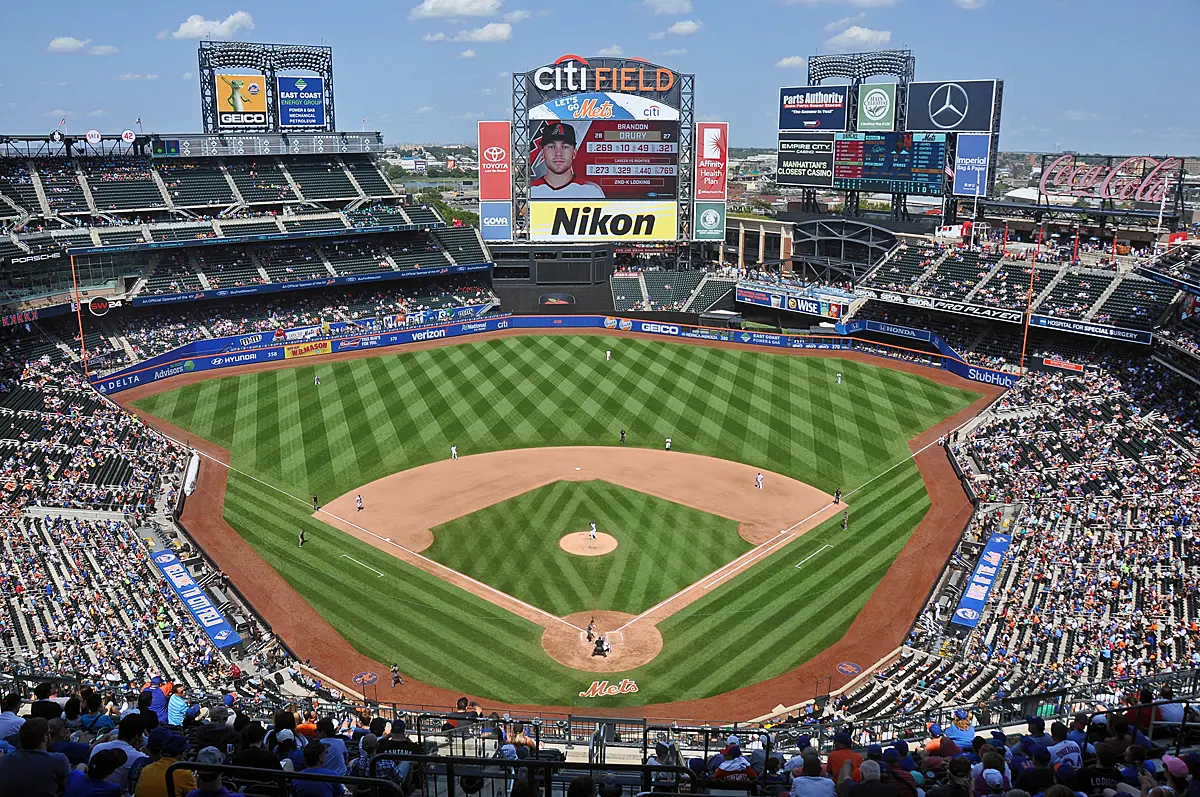 Journey Through Discovery: New York Hall of Science
Situated in the heart of Flushing Meadows Corona Park in Queens, the New York Hall of Science (often referred to as NYSCI) offers a dynamic fusion of learning and entertainment. Established as part of the 1964-65 World's Fair, this interactive science museum has since become a beacon for inquisitive minds of all ages.
Upon entering NYSCI, visitors are immediately enveloped by over 450 hands-on exhibits. From delving into the intricacies of biology and chemistry to exploring the wonders of physics and space, the museum invites guests to touch, play, and engage. One of the standout attractions is the "Design Lab," where visitors can participate in activities that challenge their problem-solving and design-thinking skills. Not to forget, the Science Playground and Rocket Park serve as outdoor extensions of the learning environment, merging fun with foundational scientific principles.
Satchmo's Sanctuary: The Home of Louis Armstrong
Tucked away in a modest neighborhood of Corona, Queens, is a national gem - the home of jazz legend Louis Armstrong. Known affectionately as "Satchmo," Armstrong and his wife Lucille lived in this house for nearly three decades, making it a treasure trove of history, music, and personal memories.
Today, the Louis Armstrong House Museum stands as a testament to the musician's immense legacy. Every room is meticulously preserved, transporting visitors back in time to Satchmo's era. Personal artifacts, photographs, and recordings offer an intimate glimpse into the life of a man who not only revolutionized jazz but also became a global ambassador for peace and love.
One of the highlights of the museum is the audio tour, where Armstrong's own voice, culled from homemade reel-to-reel recordings, guides visitors through the house. From his cozy den to the ornate blue kitchen that Lucille adored, every corner reverberates with stories and melodies.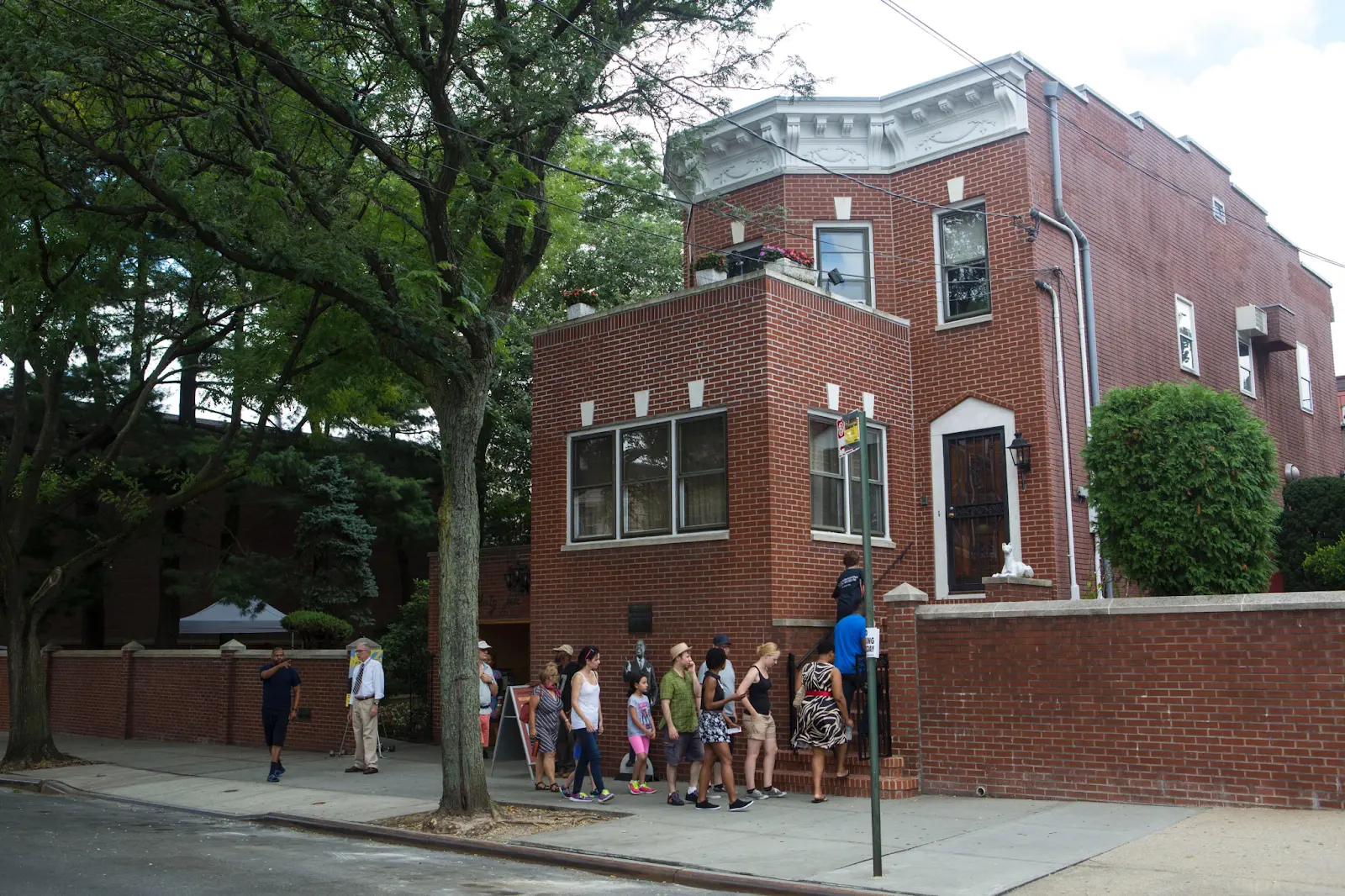 Grooving Along the Queens Jazz Trail
Queens, often overshadowed by Manhattan's dazzling jazz scene, holds its own as a vibrant hub of jazz history. The Queens Jazz Trail celebrates this rich heritage, taking enthusiasts on a musical pilgrimage through the borough that was home to many jazz legends. Icons like Louis Armstrong, Ella Fitzgerald, Dizzy Gillespie, and Billie Holiday, among others, have called Queens their home, leaving behind an indelible mark on its cultural fabric.
Walking the Jazz Trail, one can almost hear the mellifluous strains of a bygone era. The trail takes you through neighborhoods, showcasing homes of jazz legends, venues where impromptu jam sessions birthed new compositions, and spots that inspired many of the greats. Along the way, historical markers and interpretive signs offer insights into the artists' lives and their contributions to the genre.
Wordplay and History: The Birthplace of Scrabble
Nestled in Jackson Heights, Queens, is a rather unassuming street corner that holds a special place in the hearts of word enthusiasts worldwide. This is where Alfred Butts, an architect by profession, conceptualized the beloved game of Scrabble in the 1930s.
Today, a sign at the intersection of 35th Avenue and 81st Street proudly proclaims it as the "Birthplace of Scrabble." Though the original building where Butts lived and devised the game no longer stands, a commemorative plaque has been placed in its stead. The nearby park even boasts Scrabble-themed playground equipment, paying homage to the game's origins.
For fans of the game, visiting this spot is akin to a pilgrimage. It serves as a poignant reminder of how a simple idea, conceived in the heart of Queens, went on to become a global phenomenon, bringing joy to millions and turning ordinary folks into wordsmiths. A visit to this site not only offers a brush with history but also a renewed appreciation for the power of words and creativity.
Timeless Elegance: The Greaser Clock
In the midst of Queens' bustling streets and soaring skyscrapers stands the Greaser Clock, an emblem of both history and artistry. This ornate timepiece, with its intricate details and mechanical precision, dates back to an era when craftsmanship was paramount and clocks were more than mere functional objects—they were symbols of status and sophistication.
Positioned prominently in a public space, the Greaser Clock isn't just a mechanism to tell time; it's a testament to Queens' rich history and the changing paradigms of design through the decades. Over the years, it has silently witnessed countless stories, from whispered conversations beneath its shadow to the daily hustle and bustle of life swirling around it.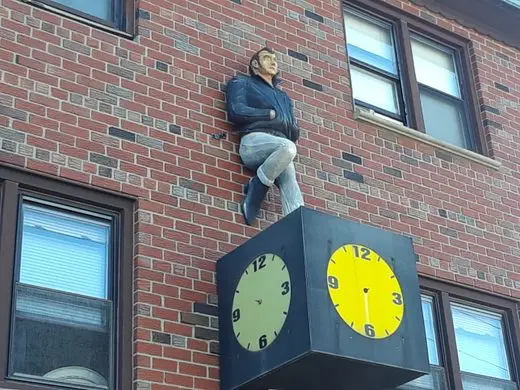 Adventures at The Ramp
The Ramp, located in the heart of Queens, is more than just an architectural structure; it's a convergence point for community, culture, and recreation. Designed with both aesthetic appeal and functionality in mind, The Ramp has become a favorite spot for locals and tourists alike.
On any given day, you might find skateboarders showcasing their tricks, children playing, or couples enjoying a serene walk. The undulating design of The Ramp, combined with its strategic location, offers panoramic views of the city, making it a popular spot for photographers and nature enthusiasts.
Cultural events, from music performances to art installations, often grace The Ramp, turning it into a vibrant hub of creativity and entertainment. Its significance, however, goes beyond recreation. As a symbol of urban regeneration and community integration, The Ramp stands as a testament to Queens' commitment to fostering spaces that cater to the diverse needs and interests of its residents.
Futuristic Elegance: TWA Flight Center
The TWA Flight Center, located at John F. Kennedy International Airport in Queens, is an architectural marvel that transports visitors back to the golden age of air travel. Designed by the renowned Finnish architect Eero Saarinen in the 1960s, this iconic terminal stands as a testament to a time when flying was as much about the experience on the ground as it was in the air.
The Flight Center's swooping curves and spacious interiors, reminiscent of a bird in flight, were revolutionary in their time. Today, while no longer serving as an active terminal, it has been meticulously preserved and repurposed as the TWA Hotel, a nod to its storied past. Inside, visitors can find a rich array of TWA memorabilia, from vintage uniforms to old airline advertisements, painting a vivid picture of the jet-set era.
For architecture aficionados and history buffs alike, the TWA Flight Center offers a unique blend of design mastery and nostalgic allure. It serves as a poignant reminder of the romance and optimism of early jet travel.
A Cinematic Odyssey: Museum of the Moving Image
In the vibrant neighborhood of Astoria, Queens, lies a sanctuary for film and media enthusiasts: The Museum of the Moving Image. As the nation's leading institution dedicated to the art, history, and technology of the moving image, this museum offers an immersive journey into the world of film, television, and digital media.
Boasting an extensive collection of artifacts, ranging from historic movie cameras to iconic film memorabilia, the museum provides a comprehensive look at the evolution of the moving image. Interactive exhibits invite visitors to try their hand at animation, sound mixing, and even video game design. The museum's state-of-the-art theater often showcases classic films, contemporary cinema, and avant-garde pieces, making it a haven for cinephiles.
But the experience isn't limited to the screen. The museum also delves into the intricate processes behind filmmaking, from the artistry of costume design to the magic of special effects.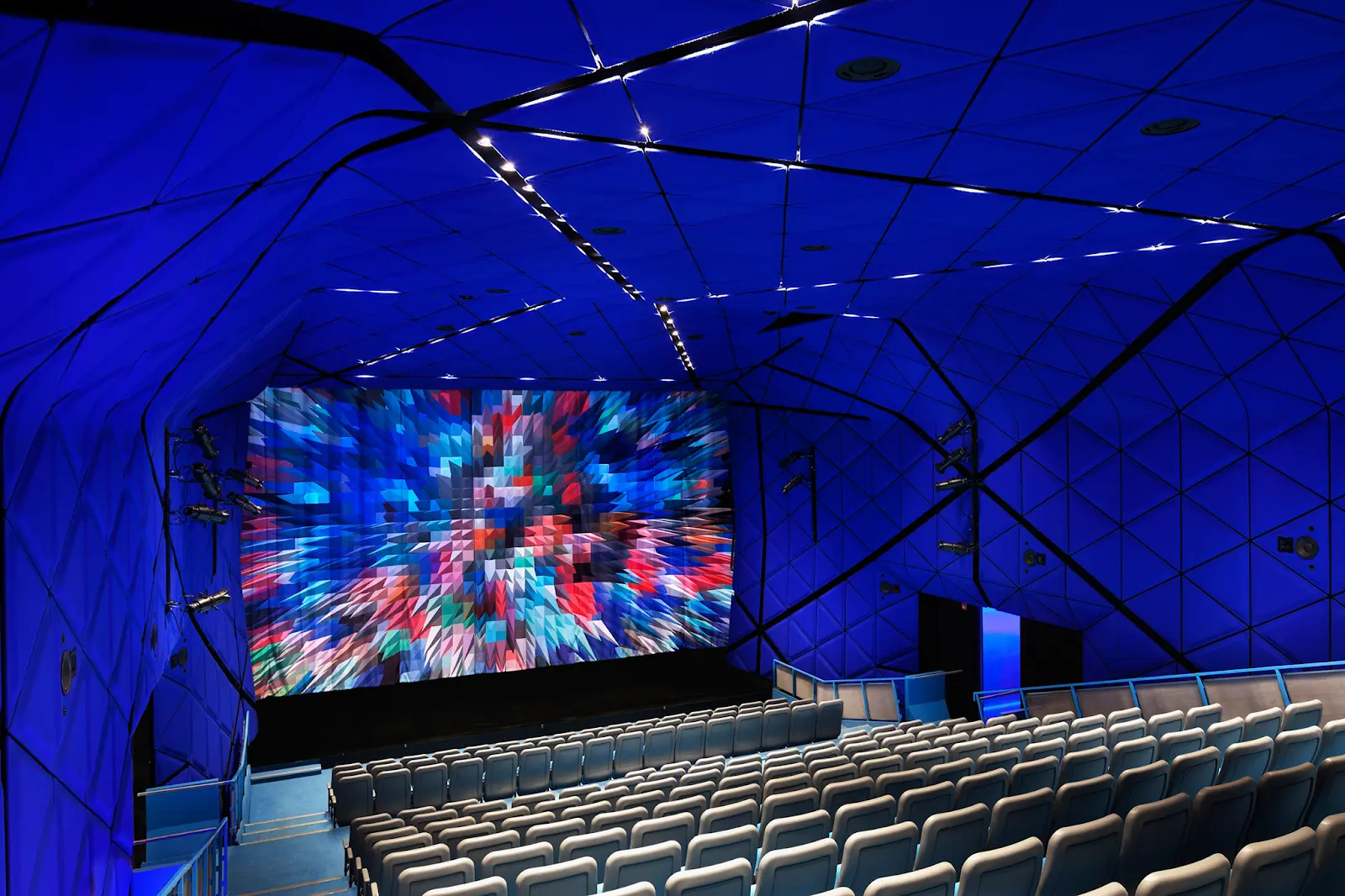 Nature's Oasis: Queens Botanical Garden
Tucked away amidst the urban sprawl of Queens lies a verdant haven of tranquility: the Queens Botanical Garden. Spanning 39 acres, this botanical paradise beckons visitors with its vibrant tapestry of plants, flowers, and wildlife. Established in 1939 for the New York World's Fair, the garden has since blossomed into a sanctuary for nature lovers and those seeking a serene escape from city life.
Walking through its winding paths, one encounters a medley of themed gardens — from the fragrant Herb Garden to the lushly planted Wedding Garden. The Bee Garden buzzes with activity, showcasing the vital role of pollinators, while the seasonal Evergreen Garden offers year-round greenery. Sustainable gardening practices are at the heart of the garden's mission, and the LEED-certified Visitor & Administration Building underscores this commitment.
Beyond its horticultural wonders, the Queens Botanical Garden serves as a hub for community engagement, with workshops, educational programs, and seasonal festivals celebrating nature and cultural diversity.
Artistic Frontiers: MoMA PS1
Housed in a century-old former public school in Long Island City, MoMA PS1 stands as one of the largest and oldest institutions dedicated to contemporary art in the United States. An affiliate of the Museum of Modern Art since 2000, PS1 prides itself on its avant-garde exhibitions and its commitment to showcasing the most experimental art in the world.
Stepping inside, visitors are immediately enveloped in a world where boundaries are pushed, and conventional art forms are reimagined. The museum's labyrinthine rooms and hallways teeming with cutting-edge installations, multimedia displays, and thought-provoking exhibitions from both emerging and established artists. The institution's commitment to innovation is also evident in its seasonal "Warm Up" series, where the courtyard transforms into a vibrant venue for live music, performances, and dance.
MoMA PS1 isn't just a museum; it's a dynamic space where art, culture, and community converge. For art enthusiasts and curious minds alike, it offers a deep dive into the evolving landscape of contemporary art, challenging perceptions and inspiring new ways of thinking.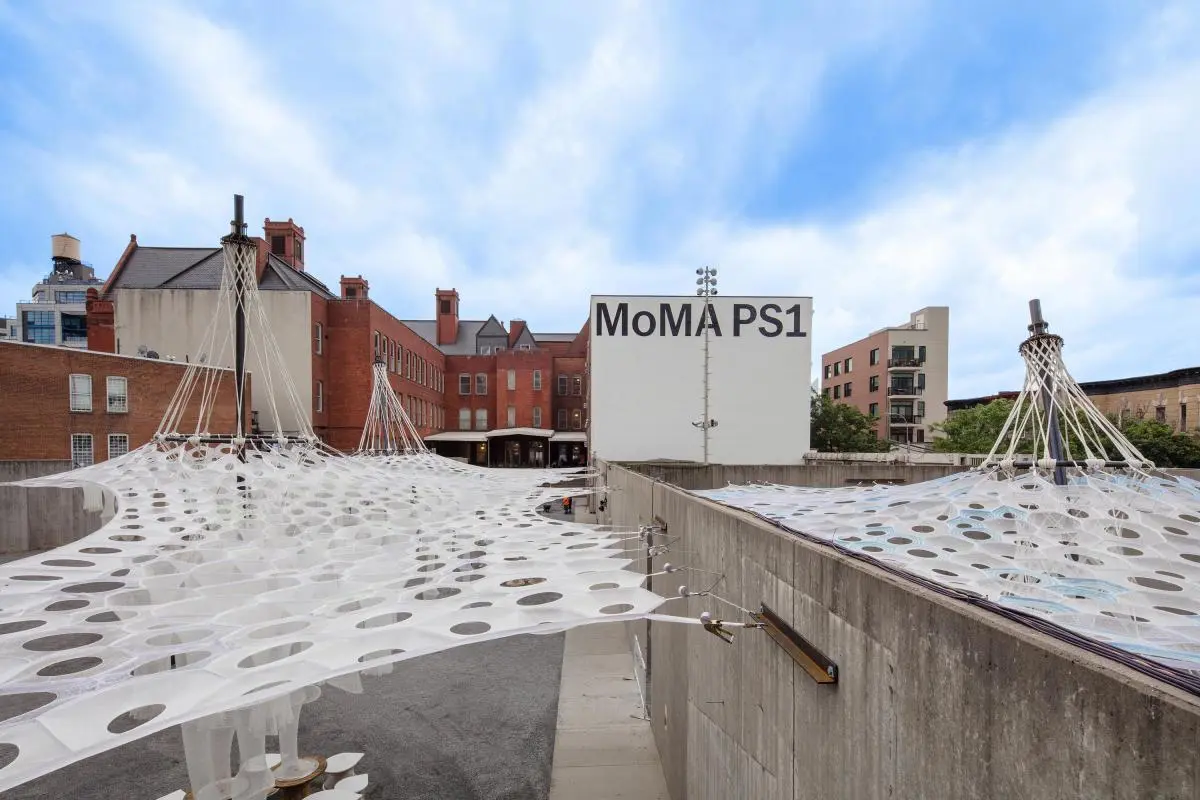 Nature's Retreat: Alley Pond Park
Spanning over 655 acres in the northeastern part of Queens, Alley Pond Park is a haven for both nature enthusiasts and families seeking recreation. Rich in biodiversity, the park's landscape seamlessly weaves saltwater wetlands, freshwater ponds, forests, and meadows, offering an ecosystem that is both diverse and unique within New York City.
A prominent feature of the park is the Alley Pond Environmental Center, dedicated to educating visitors about the local ecology. Here, hands-on exhibits, workshops, and guided tours provide insight into the park's natural habitats and the creatures that call it home. Adventure seekers can embark on various trails, including the popular Tulip Tree trail, home to Queens' tallest tree. For those seeking physical activity, the park boasts playgrounds, tennis courts, and even an adventure course with zip lines and climbing walls.
Alley Pond Park isn't just about nature and recreation; it's a testament to Queens' commitment to preserving green spaces, offering a tranquil escape from urban hustle and serving as a reminder of the city's rich ecological heritage.
Seaside Splendor: Rockaway Beach
Nestled on the Rockaway Peninsula, Rockaway Beach stands as New York City's largest urban beach, stretching over seven miles. A favorite among surfers, swimmers, and sunbathers, this sandy expanse offers an idyllic seaside retreat from the concrete jungle.
During the summer months, the beach becomes a vibrant hub of activity. Families and groups of friends can be seen picnicking, children building sandcastles, and surfers catching waves. The newly renovated boardwalk, lined with food stalls and vendors, offers a smorgasbord of culinary delights, from classic beach snacks to gourmet fare.
But Rockaway Beach is more than just sun and sand. Its resilience is a part of its charm. After the devastation of Hurricane Sandy in 2012, the community and the city came together to rebuild and revitalize the area, making it not just a symbol of leisure but also one of perseverance.
For those looking to experience New York's beach culture, Rockaway Beach promises sun-soaked memories, the rhythmic lull of waves, and a slice of seaside serenity amidst the city's bustling backdrop.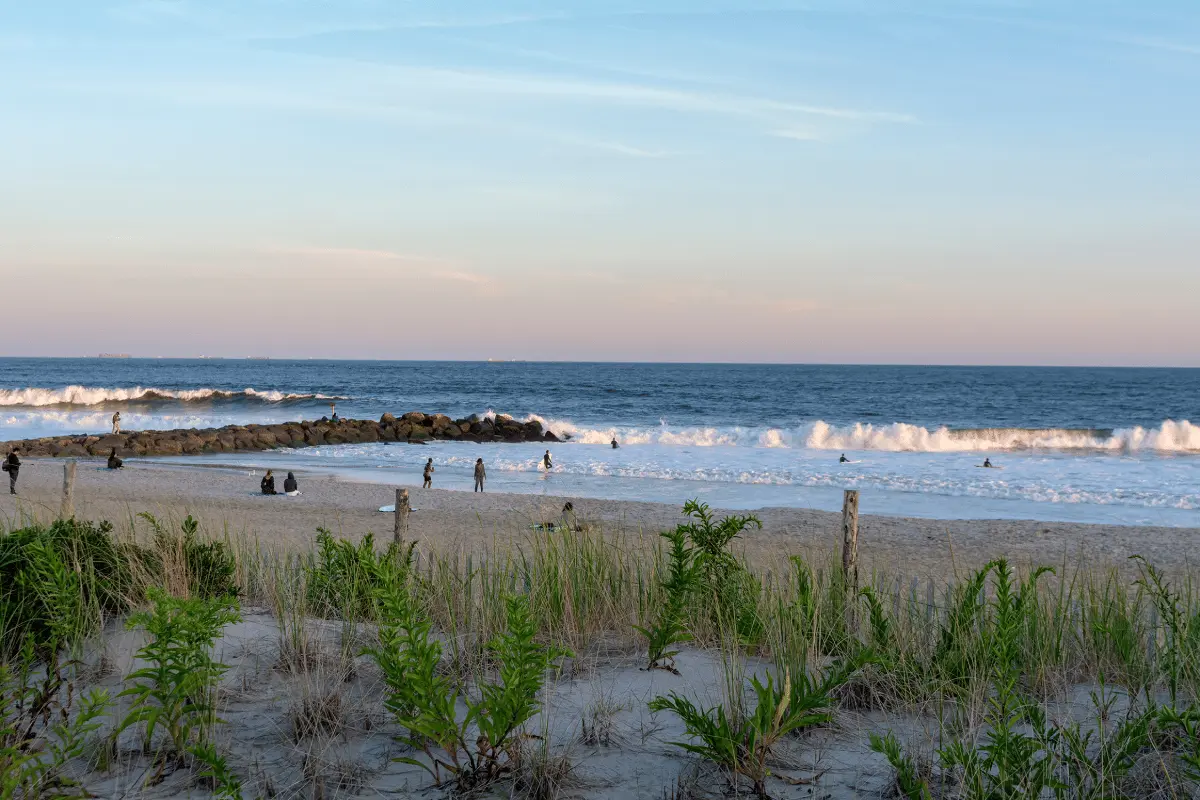 Seaside Sanctuary: Jacob Riis Park
Positioned on the Rockaway Peninsula, Jacob Riis Park is often referred to as "The People's Beach." Named after the influential journalist and photographer Jacob Riis, who highlighted the plight of the urban poor in the late 19th century, this park embodies the idea of a communal space open to all.
With its expansive sandy shores and art-deco bathhouse, Jacob Riis Park offers a blend of history and relaxation. The beach is a hotspot for families, swimmers, and sun-seekers looking for a less crowded alternative to some of New York's more famous beaches. Its iconic bathhouse, once a hub of activity, stands as a testament to the architectural and cultural evolution of the area.
Beyond its seaside allure, the park hosts numerous events and activities, from outdoor movie nights to food markets, reflecting the diverse community it serves.
Art in the Open: Socrates Sculpture Park
Overlooking the East River in Long Island City, Socrates Sculpture Park stands as a dynamic intersection of art, nature, and community. What was once an abandoned landfill and illegal dumpsite was transformed in the 1980s into an open-air museum by a coalition of artists and community members, led by the sculptor Mark di Suvero.
Today, the park serves as a canvas for emerging and established artists to showcase large-scale sculptures and multimedia installations. The ever-evolving exhibitions are designed to be interactive, engaging visitors and encouraging them to perceive art outside the confines of traditional galleries. The park's unique positioning offers stunning views of the Manhattan skyline, juxtaposing urban architecture with avant-garde art pieces.
In addition to its visual art focus, Socrates Sculpture Park is a hub of community activity. It hosts an array of events, from outdoor yoga sessions and farmers' markets to film screenings and cultural festivals. Embodying its ethos of accessibility and creativity, entrance to the park is always free, ensuring art is available and inclusive for all.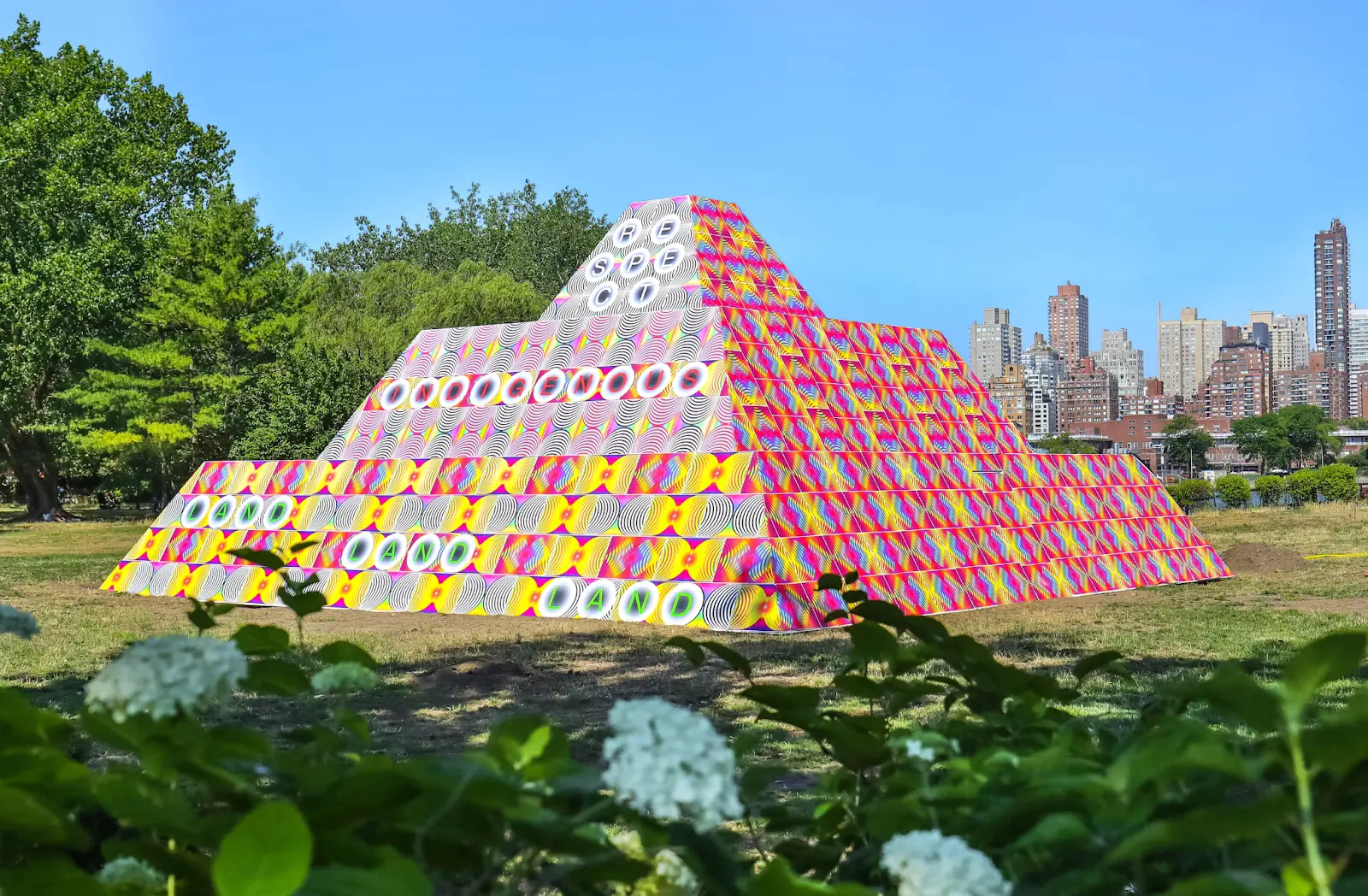 A Sanctuary of Sculpture: Noguchi Museum
Nestled in the heart of Long Island City, Queens, the Noguchi Museum is a serene space dedicated to the works of the acclaimed Japanese-American artist Isamu Noguchi. Established by Noguchi himself in 1985, the museum offers a tranquil, introspective exploration of his versatile oeuvre that spans sculpture, design, dance, and architecture.
Housed within a beautifully converted industrial building and adjoining garden, the museum's layout is thoughtfully curated by the artist. As visitors navigate through the spacious galleries, they encounter an array of stone, metal, and wood sculptures, each bearing the unmistakable mark of Noguchi's innovative vision. The adjoining garden, with its gravel paths, flowing water, and strategically placed sculptures, provides a harmonious blend of art and nature, reflecting Noguchi's belief in the interconnectivity of the two.
Beyond its permanent collection, the Noguchi Museum hosts temporary exhibitions, workshops, and events, furthering its mission to illuminate the boundless potential of creativity and the profound impact of Noguchi's artistic journey.
Crafting Pianistic Perfection: Steinway & Sons Factory
In the Astoria neighborhood of Queens stands a testament to craftsmanship, innovation, and musical excellence: the Steinway & Sons Factory. Founded in 1853 by German immigrant Henry Engelhard Steinway, the factory has, for over a century, produced some of the world's most revered pianos, each a masterpiece of design and acoustics.
Touring the factory offers a rare glimpse into the meticulous process of piano-making. From the careful selection of woods to the intricate process of stringing and tuning, visitors witness firsthand the dedication and precision that goes into crafting each Steinway piano. The factory tour also delves into the history of the Steinway family and their indelible mark on the musical landscape, from innovations in piano design to the establishment of the iconic Steinway Hall in Manhattan.
For music aficionados and those with a penchant for craftsmanship, a visit to the Steinway & Sons Factory is not just about observing a production process; it's about experiencing the passion and legacy behind each note that resonates from a Steinway piano.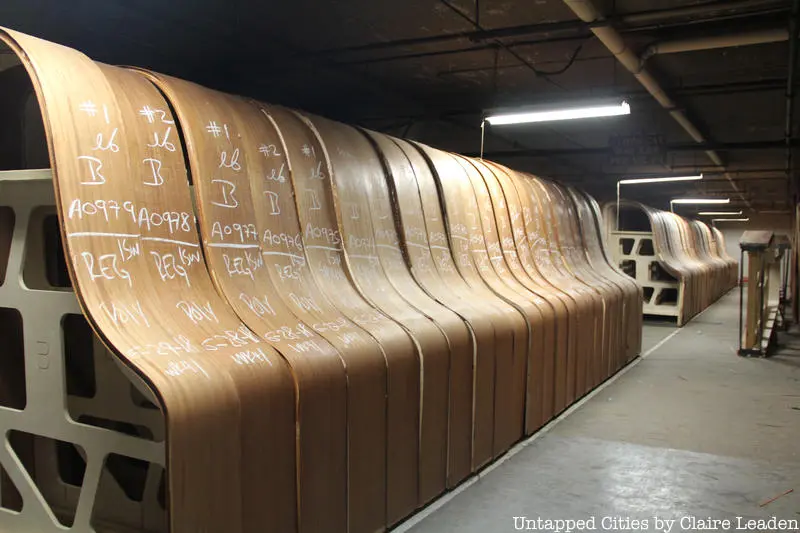 A Canvas of Community: Welling Court Mural Project
Deep within the heart of Astoria, Queens, is an unexpected explosion of color, creativity, and social commentary: the Welling Court Mural Project. This vibrant collection of street art transforms an ordinary neighborhood into a sprawling, open-air gallery. Initiated in 2009 by Ad Hoc Art, in collaboration with the community, the project began as a grassroots movement to beautify the neighborhood and has since evolved into one of New York's most impressive displays of mural art.
Every corner and alley in Welling Court is adorned with pieces by artists from around the world, each bringing their unique perspective, style, and message. The murals are as diverse as the artists themselves, ranging from abstract patterns to powerful social commentaries. What sets this project apart is its emphasis on community engagement; local residents play an active role in curating and supporting the artworks, ensuring that the murals reflect the neighborhood's spirit and ethos.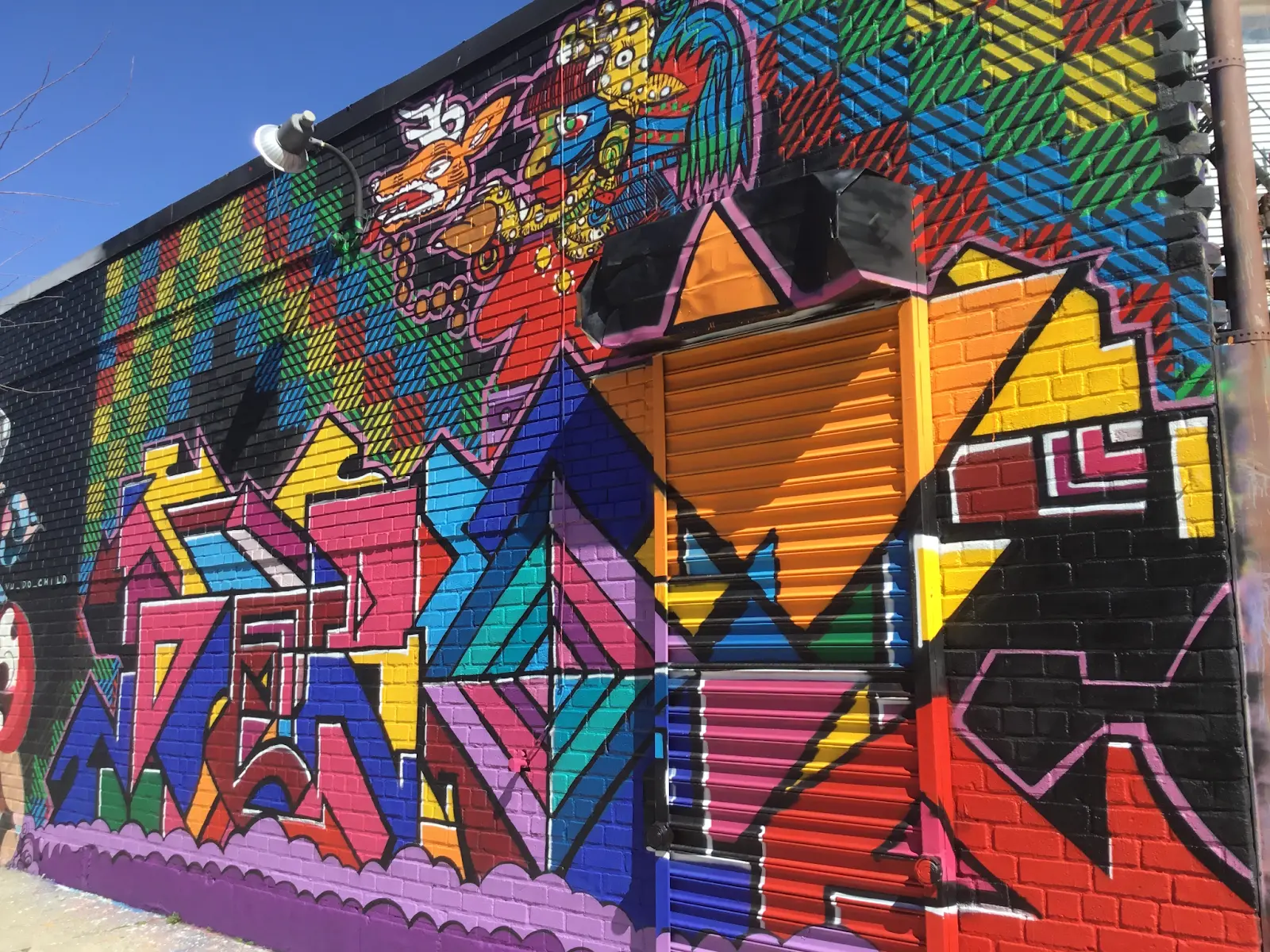 Riverside Reprieve: Gantry Plaza State Park
Situated along the East River in Long Island City, Gantry Plaza State Park offers breathtaking views of the Manhattan skyline, punctuated by its iconic gantries. These massive, restored industrial relics, once used to load and unload rail car floats and barges, now stand as symbols of the area's rich maritime history.
Covering 12 acres, this urban oasis is a blend of manicured gardens, paved promenades, and recreational areas. Visitors can lounge on the sun-soaked lawns, take a leisurely stroll along the riverside, or engage in a game of basketball or fishing. The park's piers extend into the river, providing an unparalleled vantage point for viewing the city's landmarks, including the United Nations Building and the Empire State Building.
By night, Gantry Plaza State Park transforms into a serene spot, with the city lights reflecting off the water and the iconic Pepsi-Cola sign glowing in the distance. For those looking to escape the urban hustle without leaving the city, the park serves as a tranquil sanctuary that marries history, nature, and stunning vistas.
Bavarian Bliss: Gottscheer Beer Hall
In the heart of Ridgewood, Queens, lies a portal to a bygone era: the Gottscheer Beer Hall. Named after the Gottschee region in Slovenia, this traditional beer hall is a remnant of the once-thriving Gottscheer community in Queens. Established in the early 20th century, the hall has since become an embodiment of Old World charm and hospitality.
Stepping inside, visitors are greeted with long wooden tables, vintage decor, and the aroma of authentic Bavarian cuisine. The hall boasts a selection of beers, both local and imported, each poured to frothy perfection. The atmosphere buzzes with chatter, laughter, and occasionally, live music that beckons patrons to the dance floor.
But it's not just about food and drink. The Gottscheer Beer Hall serves as a gathering spot, where stories of the past are exchanged, and the rich heritage of the Gottschee people is celebrated.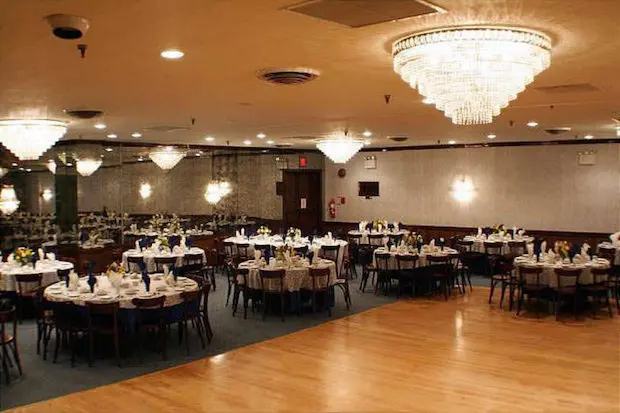 A Sip of History: Neir's Tavern
Touted as one of New York's oldest bars, Neir's Tavern in Woodhaven, Queens, is steeped in over 190 years of history. Established in 1829, the tavern has witnessed the ebb and flow of the city's evolution, from horse races to movie shoots. Its wooden bar, tin ceilings, and vintage memorabilia transport patrons back in time, offering a taste of old New York.
Neir's is not just known for its age but also its cinematic legacy. It was famously featured in Martin Scorsese's "Goodfellas," cementing its place in film history. The tavern's walls, adorned with photos of celebrities and historical moments, tell tales of its storied past.
But beyond its historical allure, Neir's remains a hub for the community. Live music, trivia nights, and classic pub grub ensure that it's always brimming with life and laughter. For those seeking a blend of history, culture, and camaraderie, Neir's Tavern stands as a testament to the timeless appeal of a good old-fashioned watering hole.
Dive into History: Astoria Pool
Anchoring Astoria Park in Queens, the Astoria Pool stands as a monumental tribute to the grandeur of the 1930s. As the largest public pool in New York City, it was ceremoniously opened for the 1936 Olympic Trials and quickly became a hub of activity. The pool, with its cascading fountains and vast expanse, showcases a blend of art deco architecture and functional design.
In the summertime, the pool teems with locals and tourists alike, all seeking a refreshing escape from the city's heat. Its unique crescent shape and panoramic views of the Hell Gate Bridge and the East River make it more than just a place to swim; it's a spot to bask in the beauty of the surroundings.
Beyond its recreational appeal, the Astoria Pool is a reminder of a time when public works were crafted with pride and precision. Its legacy as an Olympic trial venue and its continued relevance in the community make it a must-visit for anyone seeking a blend of history and leisure in the heart of Queens.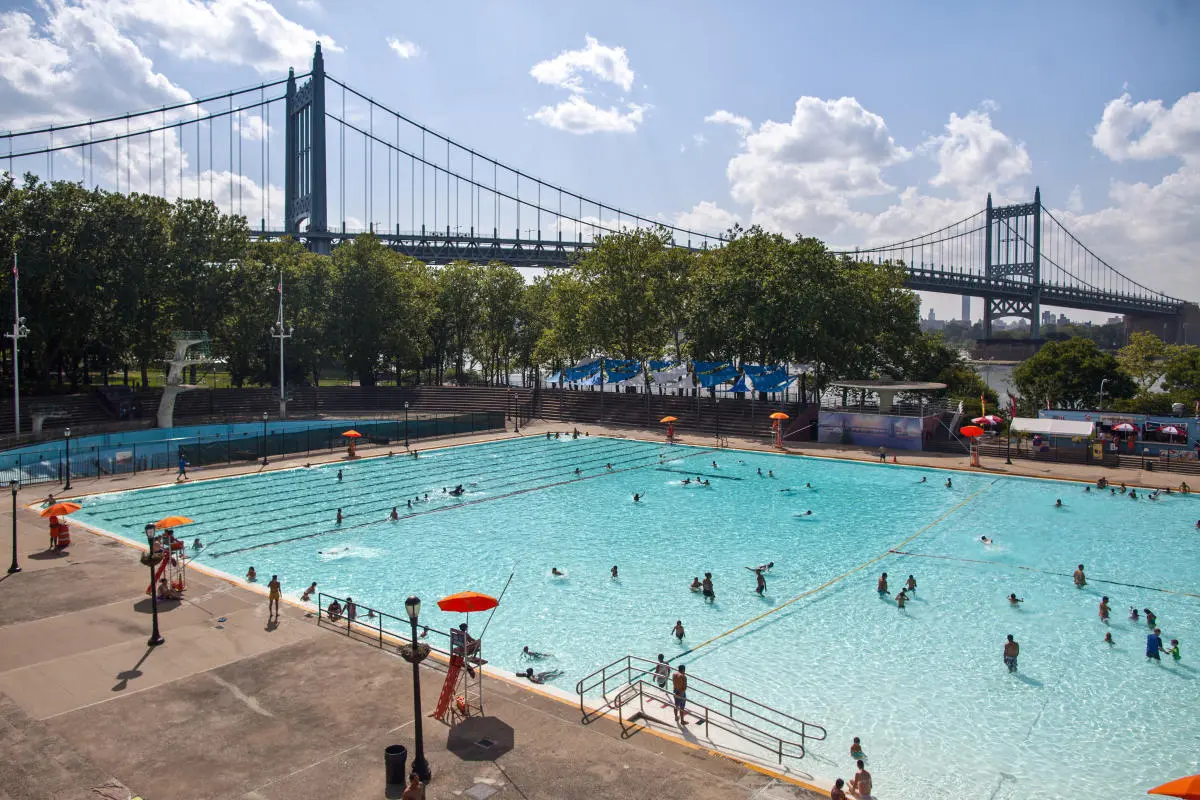 A Turbulent Passage: Hell's Gate
Contrary to its ominous name, Hell's Gate is not a place of despair but rather a narrow tidal strait in the East River, located between Astoria in Queens and Ward's Island in Manhattan. The name derives from the turbulent waters and treacherous currents that have historically posed a challenge for ships navigating the passage.
But perhaps the most iconic element of Hell's Gate is the Hell Gate Bridge. This mammoth arch bridge, with its distinct reddish hue, stretches across the strait, connecting Queens to Manhattan and the Bronx. Opened in 1917, the bridge stands as an engineering marvel and has become an emblematic feature of New York's skyline.
For many, Hell's Gate symbolizes the relentless spirit of New York City. Despite its turbulent waters, it has been tamed by human ingenuity, bridged to connect boroughs, and transformed into a vital passage for commerce and connectivity.
Sanctuary by the Sea: Jamaica Bay Wildlife Refuge
Nestled between the boroughs of Brooklyn and Queens lies the Jamaica Bay Wildlife Refuge, an urban oasis teeming with diverse wildlife and rich ecosystems. Covering over 9,000 acres, it stands as the premier bird-watching location in the Northeastern United States, attracting over 330 bird species, from the delicate osprey to the vibrant red-winged blackbird.
But it's not just a haven for birds. The refuge boasts an array of habitats, including salt marshes, upland fields, and freshwater ponds. As you wander through its trails, you'll be greeted with panoramic views of the bay, a symphony of bird calls, and perhaps a glimpse of diamondback terrapins basking in the sun. The visitor center offers educational exhibits, giving insights into the area's ecology and ongoing conservation efforts.
For nature enthusiasts, photographers, or those seeking solace from the urban hustle, the Jamaica Bay Wildlife Refuge offers a serene escape, a place where nature's wonders unfold against the backdrop of New York's skyline.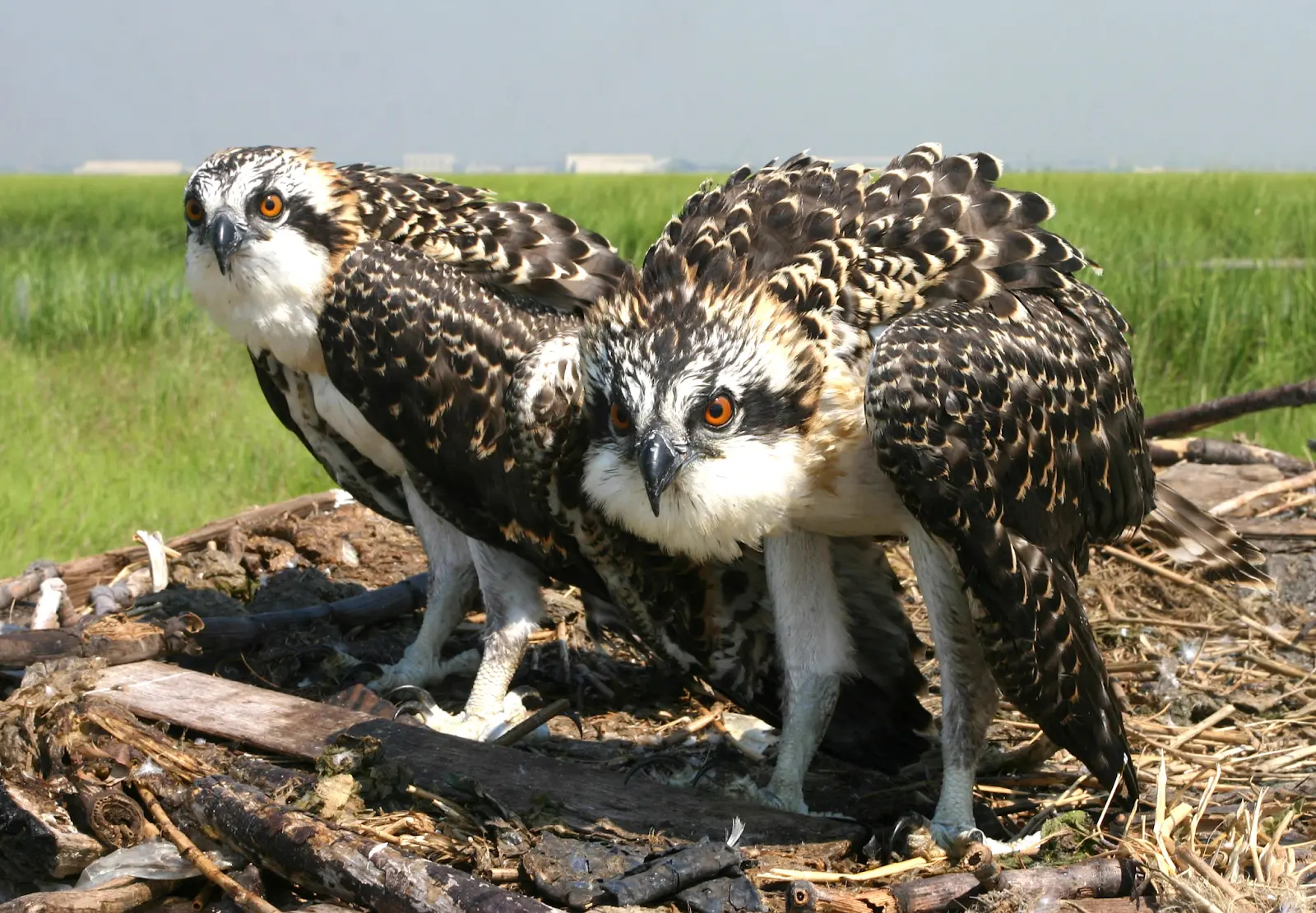 A Race Against Time: Aqueduct Racetrack
Positioned in South Ozone Park, Queens, the Aqueduct Racetrack is synonymous with the thrill of horse racing. Since its inauguration in 1894, "The Big A", as it's affectionately called, has been the stage for some of horse racing's most memorable moments.
The racetrack's vast expanse buzzes with energy on race days. Spectators, from seasoned bettors to casual viewers, throng the stands, their eyes fixed on the magnificent thoroughbreds thundering down the track. The air is thick with anticipation, every heart racing in tandem with the hooves' rhythmic beats.
Beyond the races, Aqueduct has evolved over time. The Racino, or racetrack-casino, offers visitors a blend of horse racing and casino gaming, making it a popular entertainment hub. Historical tidbits, like the fact that Aqueduct was the first to use a photo finish camera in horse racing, add layers of intrigue to the venue.
Underneath the Flight Path: LaGuardia Landing Lights Park
Tucked in the East Elmhurst neighborhood of Queens, LaGuardia Landing Lights Park offers a unique urban experience that merges the tranquility of a community park with the thrill of aviation. Situated directly underneath the flight path of planes landing at nearby LaGuardia Airport, this park provides an unparalleled vantage point for aviation enthusiasts and curious onlookers.
Spanning just a few acres, the park might seem unassuming at first glance. With its playground equipment, green lawns, and seating areas, it holds all the hallmarks of a typical neighborhood park. However, its proximity to the airport transforms it into a dynamic observation point. Every few minutes, visitors can gaze up and marvel at the impressive sight of airplanes soaring just a few hundred feet above, their shadows sweeping across the ground, their engines a resonant reminder of the wonders of flight.
For families, the park offers a dual experience: children can play on the swings or slides while periodically pausing to watch the planes overhead. For photography enthusiasts, the park provides a unique backdrop to capture the juxtaposition of grounded play equipment with flying machines.
LaGuardia Landing Lights Park, while compact, is a testament to the urban tapestry of New York City, where everyday life intersects with global connectivity, and where the simple pleasures of a park outing can be amplified by the awe-inspiring dance of aircraft in the sky.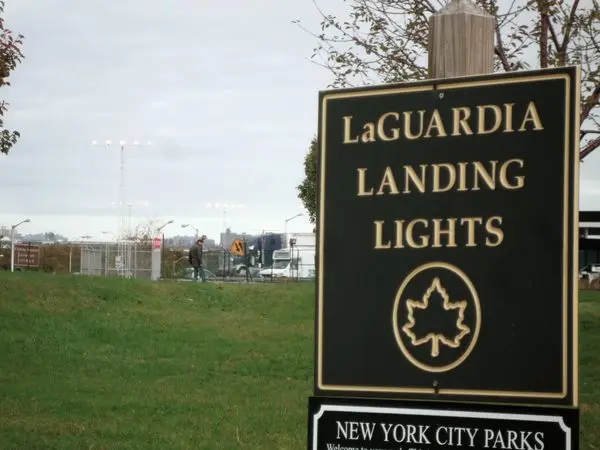 Conclusion
In the heart of the bustling metropolis, Queens stands as a testament to the enduring spirit of New York, bridging the past with the present. Its landmarks, both historic and contemporary, provide a window into the city's rich tapestry of cultures, innovations, and stories. As you stroll through its streets, visit its landmarks, and immerse yourself in its museums, you're not just witnessing history; you're becoming a part of it. Whether you're a seasoned New Yorker or a curious traveler, Queens beckons with a promise of discovery and wonder at every corner.
Frequently Asked Questions (FAQ) about Queens, New York
What is Queens best known for?
Queens is renowned for its cultural diversity, historic landmarks, the two World's Fairs, and as the home to JFK and LaGuardia airports. It's also famous for Flushing Meadows Corona Park and being the birthplace of many celebrities.
Is Queens safe for tourists?
Like many urban areas, safety can vary from one neighborhood to another. Generally, Queens is considered safe for tourists, especially in well-traveled areas. However, as always, visitors should remain aware of their surroundings and exercise common-sense precautions.
How can I get to Queens from Manhattan?
Queens is easily accessible from Manhattan via the subway, buses, and taxis. Popular subway lines include the 7, E, F, M, R, N, and W trains.
Are there any famous food spots in Queens?
Absolutely! Queens is known for its diverse culinary scene. You can find everything from authentic Greek food in Astoria to delicious Chinese fare in Flushing and mouth-watering Indian cuisine in Jackson Heights.
Where is the Queens Museum located?
The Queens Museum is located in Flushing Meadows Corona Park in Queens. It's easily accessible by public transportation.
Can I visit Harry Houdini's grave?
Yes, Harry Houdini's grave is located in Machpelah Cemetery in Queens and is open to the public. It's a popular spot for magic enthusiasts and those interested in history.