9 Best Things to do in Carlsbad, CA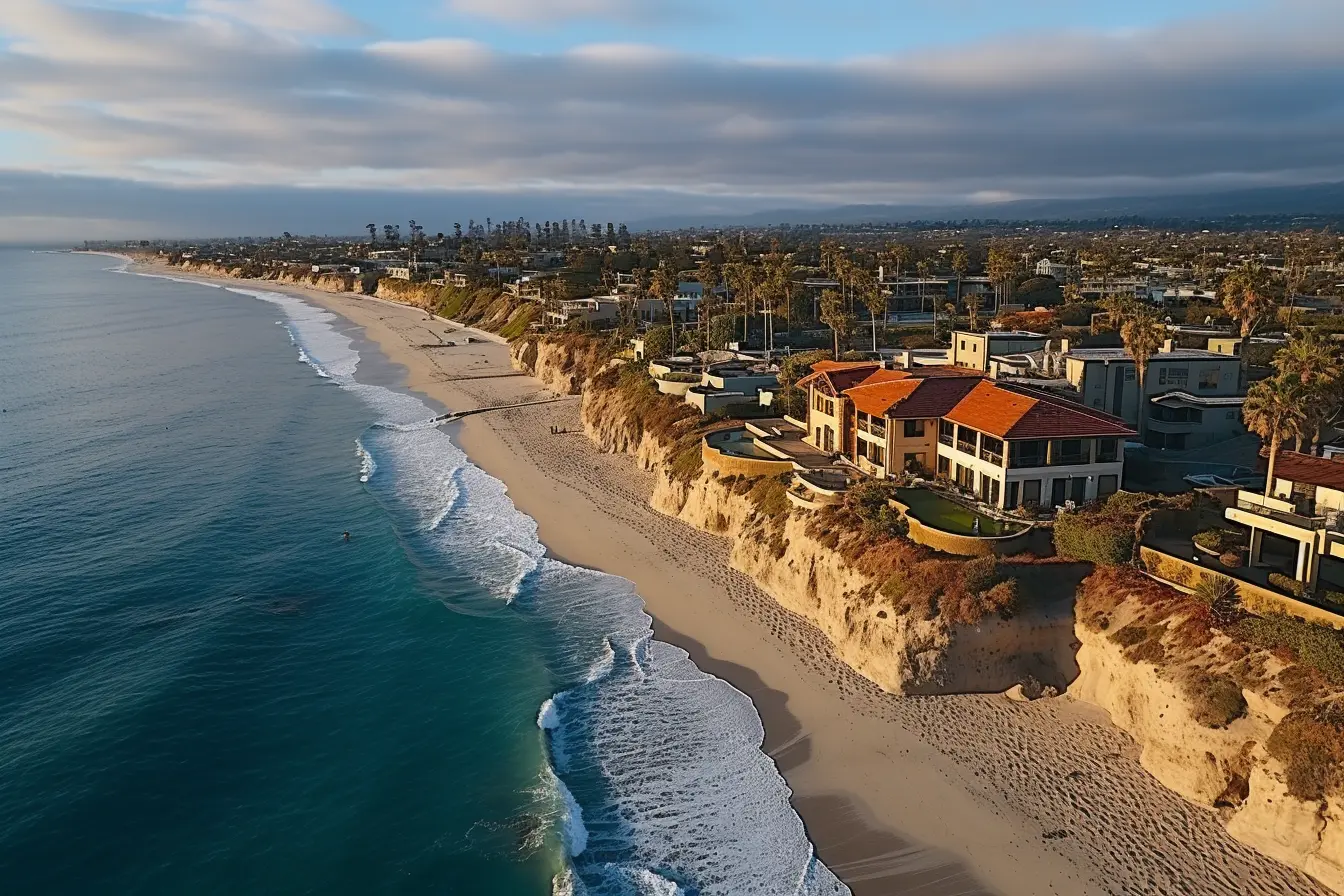 Though Carlsbad might not be as renowned as some other coastal cities, it undoubtedly stands out with its Pacific views, mesmerizing sunsets, and a plethora of attractions. The city exudes tranquility, with the routine sunsets setting the stage for exhilarating escapades.
Often dubbed the "Village by the Sea," Carlsbad masterfully merges the allure of a picturesque European village with the dynamic spirit of a bustling Californian metropolis. Its roots, which date back to the late 1800s, weave through its contemporary fabric, creating a diverse blend of cultures, traditions, and sights.
In this guide, we'll explore the must-see spots in Carlsbad, combining top tourist destinations, undiscovered treasures, and cherished local spots. Get ready, as an adventure of sunshine, waves, and endless entertainment beckons!
Carlsbad State Beach: A Beach Lover's Paradise
Sprawling along the picturesque coastline of Carlsbad, the Carlsbad State Beach, also known as Tamarack Beach, is a haven for beach enthusiasts. With its golden sands and gentle waves, it provides an idyllic setting for both relaxation and adventure.
Visitors are often captivated by the panoramic views of the Pacific Ocean, with the horizon often painted in hues of orange, pink, and purple during sunset. Morning strolls here are equally enchanting, as the soft chirping of birds complements the rhythmic sound of waves crashing onto the shore.
For those looking to indulge in water-based activities, Carlsbad State Beach offers a plethora of options. Surfing enthusiasts can ride the waves, with several local surf shops offering lessons for beginners. Families with children can opt for calmer waters, making it perfect for swimming, paddleboarding, or building sandcastles.
Beyond the water, the beach also offers amenities like picnic areas, restrooms, and lifeguard stations, ensuring that visitors have a comfortable and safe experience. The nearby seawall, a popular spot for jogging and cycling, offers uninterrupted views of the ocean, making it a favorite among fitness enthusiasts and photographers alike.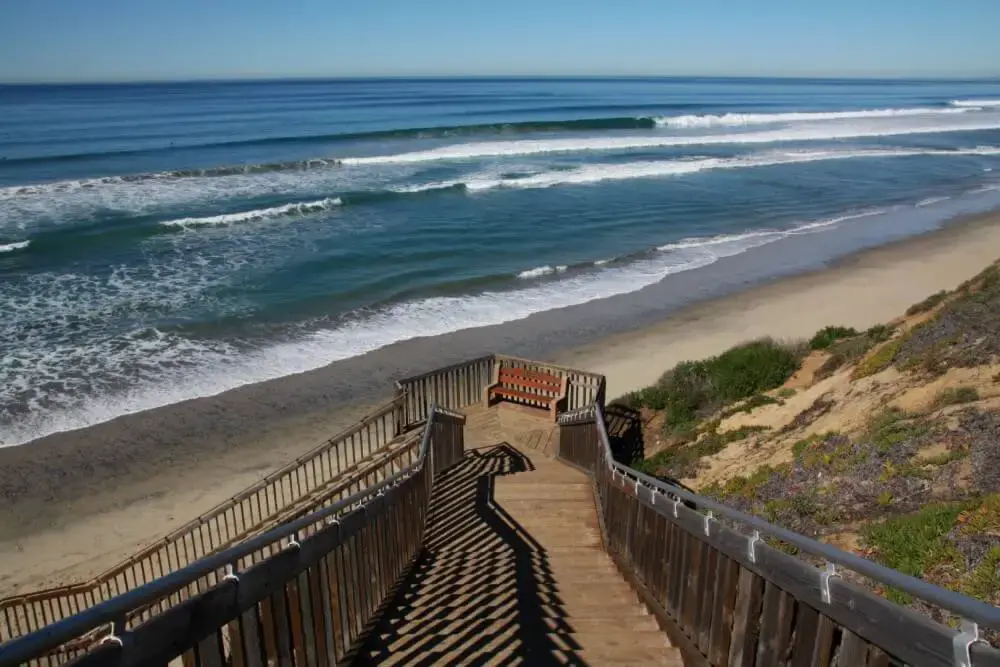 LEGOLAND California Resort: Adventure and Fun for Kids and Adults
Situated in the heart of Carlsbad, LEGOLAND California Resort stands as a testament to creativity, innovation, and pure unadulterated fun. Spanning a vast area, this family-friendly park is designed around the universally loved LEGO toy bricks, offering an immersive experience that's both educative and entertaining.
Upon entering the park, one is immediately transported to a world built of colorful plastic bricks. Everything, from buildings and vehicles to life-sized sculptures and displays, is reminiscent of the iconic LEGO sets, capturing the imagination of both young and old.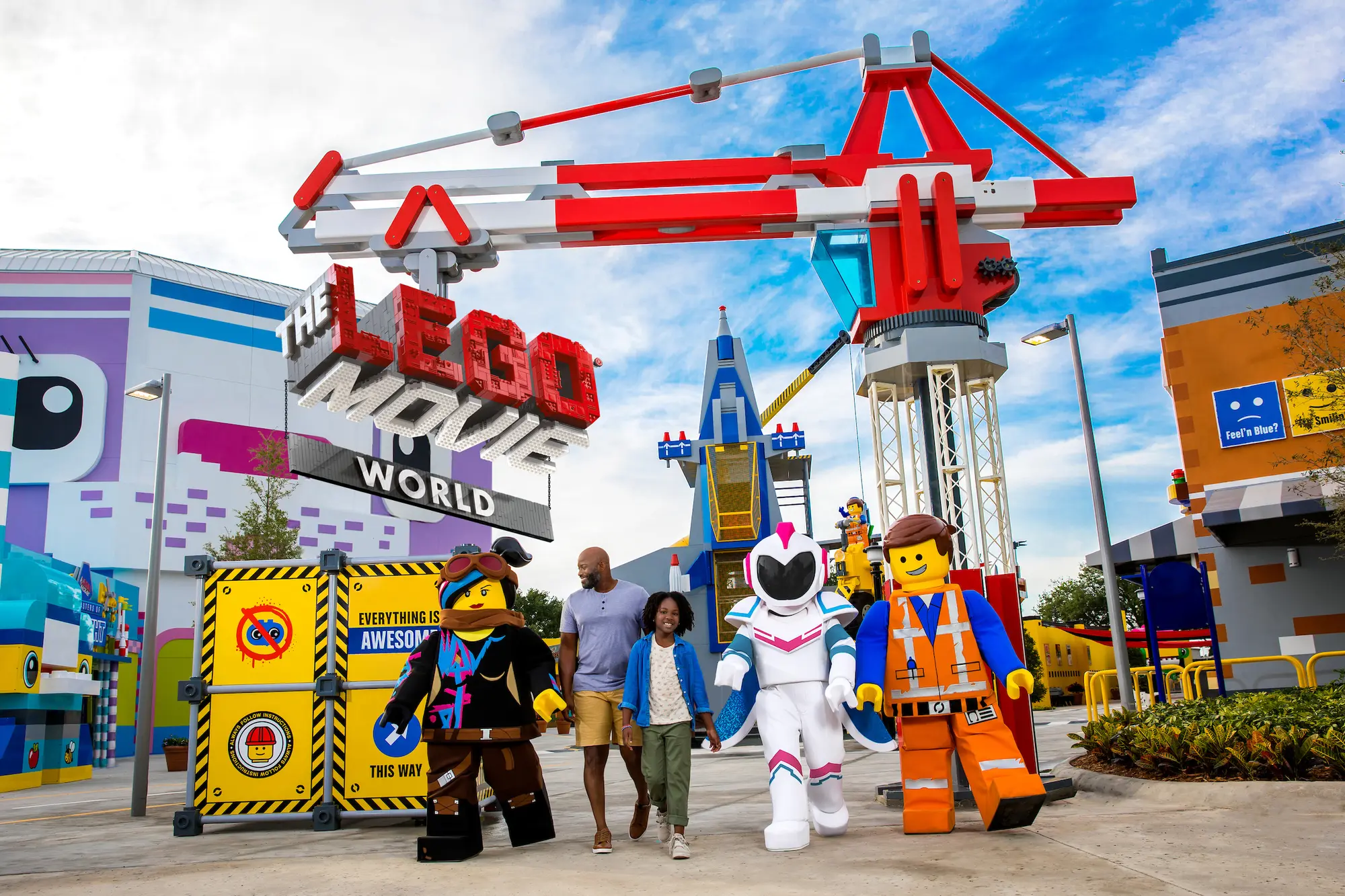 The Different Worlds of LEGOLAND
The resort is divided into various themed areas, each promising a unique adventure.
Miniland USA: This section recreates famous American cityscapes and landmarks using millions of LEGO bricks. From the bustling streets of New York City to the serene landscapes of the San Francisco Bay Area, Miniland USA is a visual treat and an architectural marvel.
LEGO Ninjago World: This is where visitors can hone their ninja skills. Interactive rides and attractions, like the Ninjago The Ride, allow guests to become part of the action, battling enemies using hand gestures.
Pirate Shores: Get ready for some swashbuckling fun. Whether it's sailing the high seas on Captain Cranky's Challenge or navigating treacherous waters in Splash Battle, Pirate Shores guarantees a thrilling experience.
Castle Hill: Step back in time to an era of knights, dragons, and castles. The Dragon Coaster, with its twists and turns, is a must-try for adrenaline junkies.
More Than Just Rides
While the myriad of rides and attractions are undoubtedly the highlight, LEGOLAND offers more than just adrenaline-pumping experiences. The SEA LIFE Aquarium, situated within the resort, introduces visitors to the fascinating world of marine life. From sharks and rays to colorful fish and coral reefs, the aquarium is both informative and mesmerizing.
For those visiting during summer, the LEGOLAND Water Park is a perfect escape. With slides, lazy rivers, and wave pools, it provides respite from the Californian heat.
Events and Workshops
LEGOLAND is not just about passive entertainment. Throughout the year, the resort hosts various events and workshops that encourage learning through play. The Master Builder Academy, for instance, allows guests to learn building techniques from experts, nurturing creativity and problem-solving skills.
Dining and Shopping
A day of fun and frolic is bound to work up an appetite. Thankfully, LEGOLAND houses an array of dining options, catering to various palates. Whether it's a quick snack or a hearty meal, the resort has it covered. Additionally, numerous LEGO stores dot the park, offering exclusive merchandise and sets, making for perfect souvenirs.
LEGOLAND California Resort is not just a theme park; it's an institution that celebrates creativity, imagination, and the joy of childhood. Whether you're a LEGO enthusiast, a thrill-seeker, or someone looking for quality family time, LEGOLAND promises a day filled with wonder, excitement, and cherished memories.
The Flower Fields at Carlsbad Ranch: A Vibrant Display of Colors
Every spring, Carlsbad witnesses a spectacle like no other: The Flower Fields at Carlsbad Ranch burst into a riot of colors, turning the landscape into a dreamy canvas painted with nature's most vibrant hues. This 50-acre floral extravaganza is a must-visit, offering a serene and picturesque setting that appeals to visitors of all ages.
Nature's Blooming Masterpiece
The centerpiece of The Flower Fields is undoubtedly the Giant Tecolote Ranunculus flowers. These flowers, which originate from coastal areas and northern Africa, bloom in a myriad of colors – from pristine whites and passionate reds to sunny yellows and deep purples. The terraced fields filled with these blossoms create a mesmerizing gradient of colors, reminiscent of a painter's palette.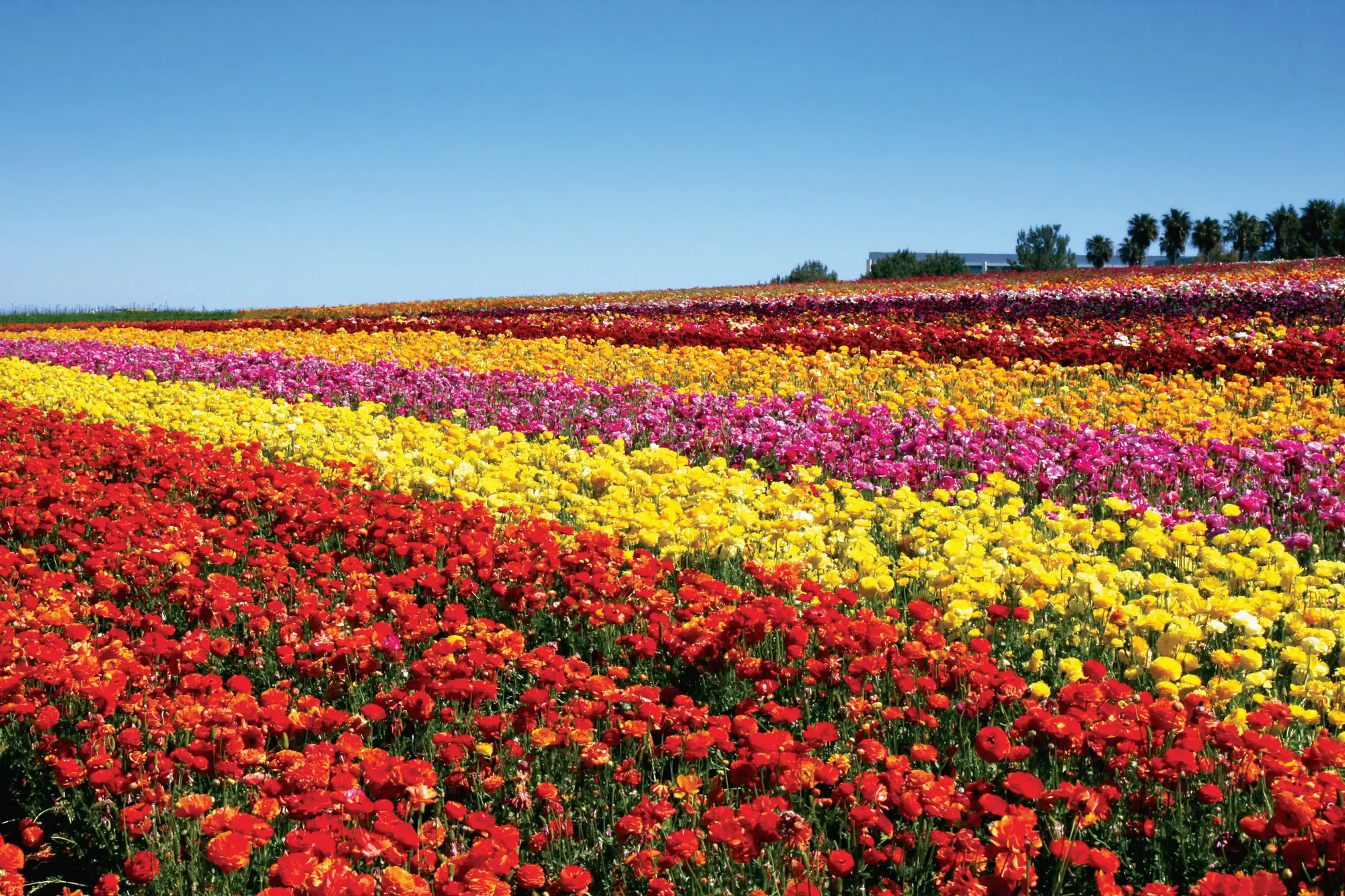 Thematic Gardens and Displays
Beyond the Ranunculus fields, the ranch offers a variety of thematic gardens and displays:
Sweet Pea Maze: This fragrant maze, created using sweet pea blossoms, is a treat for both the eyes and the nose. Visitors can navigate through the maze, soaking in the heady aroma of the flowers.
American Flag of Flowers: A patriotic display, this is a massive American flag created using red, white, and blue petunias. It serves as a popular backdrop for photographs.
Cymbidium Orchid Greenhouse: Housing a vast collection of cymbidium orchids, this greenhouse showcases the delicate beauty of these exotic flowers.
Historical Poinsettia Display: Poinsettias, often associated with Christmas, find their place in a display that traces the history and different varieties of this festive plant.
Activities and Events
The Flower Fields are not just about passive observation. Throughout the blooming season, which typically lasts from March to May, the ranch organizes a series of events and activities:
Wagon Rides: These tractor-driven rides offer a guided tour of the fields, providing interesting tidbits and facts about the flowers and the ranch's history.
Music Weekends: Local bands and artists perform against the backdrop of the blossoming fields, adding a musical dimension to the floral experience.
Photography Workshops: Given the picturesque setting, it's no surprise that photography enthusiasts flock to the ranch. Workshops cater to both beginners and professionals, helping them capture the fields' essence.
Artists in the Fields: Local artists set up their easels and capture the beauty of the fields on canvas, often engaging with visitors and discussing their techniques.
Environmentally Conscious Practices
The Flower Fields is not just a tourist attraction; it's a testament to sustainable and environmentally-friendly agricultural practices. The ranch employs methods like crop rotation, natural pest control, and efficient water usage, ensuring that the fields remain a beacon of ecological farming.
The Flower Fields at Carlsbad Ranch is a celebration of nature's splendor. It's a place where one can lose themselves amidst colors, fragrances, and the sheer beauty of flora. A visit here is akin to stepping into a living painting, one that changes with every breeze and every ray of sunlight. If Carlsbad is on your itinerary, make sure to time your visit during the bloom season – it's an experience you won't forget.
Carlsbad Village: The Heart of the City
Nestled just a stone's throw away from the Pacific Ocean, Carlsbad Village is the vibrant and dynamic heart of Carlsbad. Combining the laid-back ambiance of a beach town with the buzz of a thriving urban hub, the village encapsulates the essence of Southern Californian living.
A Tapestry of Cultures and Experiences
Carlsbad Village is a delightful blend of old and new. Historical buildings, reminiscent of Carlsbad's rich past, stand side-by-side with modern boutiques, galleries, and eateries. Every alley and street corner seems to tell a story, be it of the city's early days or of the contemporary art scene that thrives here.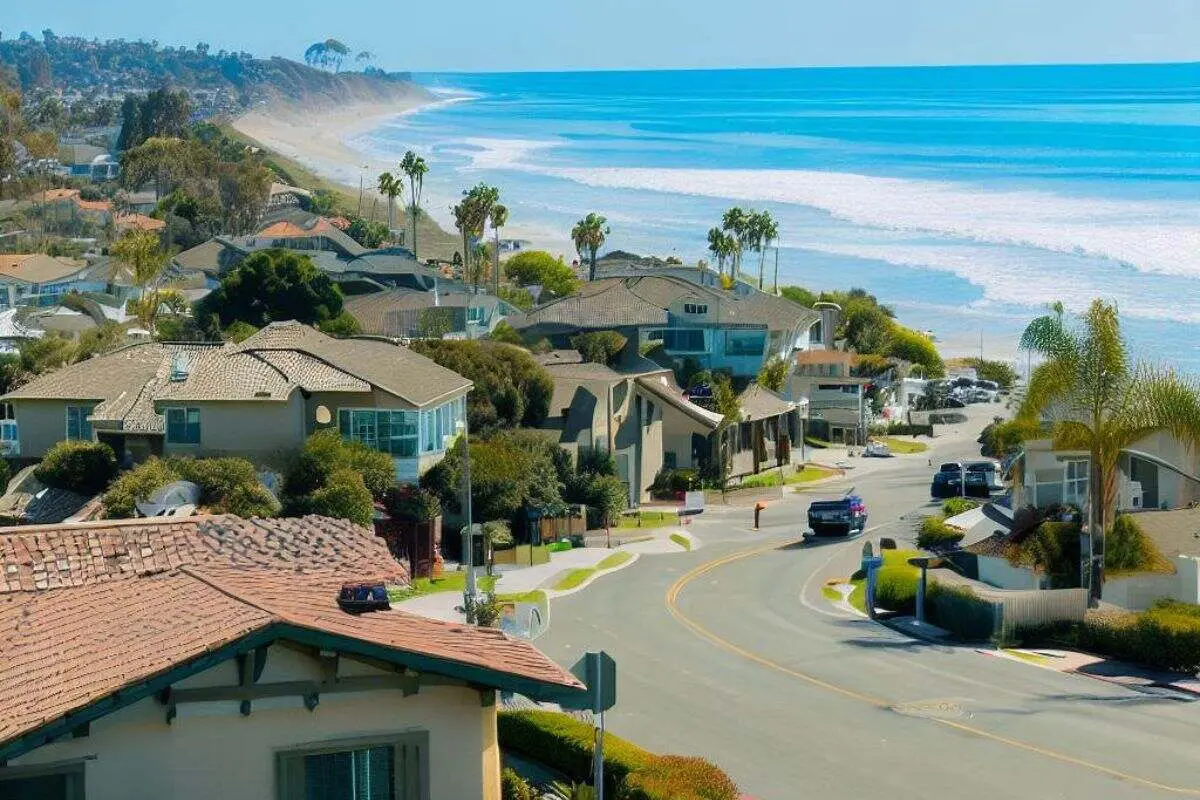 Shopping in the Village
For the discerning shopper, Carlsbad Village offers an eclectic mix of options:
Boutiques: From high-end fashion to handcrafted jewelry, the boutique stores in the village are a treasure trove of unique finds.
Art Galleries: Celebrating the vibrant local art scene, these galleries showcase works from both established and upcoming artists.
Specialty Stores: Be it surf gear, antiques, or handmade crafts, these niche stores cater to specific interests and hobbies.
Gastronomical Delights
Dining in Carlsbad Village is an experience in itself:
Seaside Eateries: Many restaurants offer al fresco dining with views of the Pacific, serving up delicious seafood and international cuisines.
Bakeries and Cafes: Perfect for a quick bite or a leisurely coffee, these establishments often boast of home-baked goods and artisanal brews.
Farmers' Market: Held weekly, this is a showcase of local produce, gourmet foods, and handmade crafts.
Entertainment and Nightlife
Come evening, the village comes alive with music, lights, and energy:
Live Music Venues: Local bands and artists often perform at various venues, offering genres ranging from jazz and blues to rock and pop.
Theater: The village's theaters host plays, movies, and cultural performances, catering to the discerning audience.
Bars and Pubs: Whether you're in the mood for craft beer, cocktails, or just a glass of wine, the village's drinking establishments have got you covered.
Events and Festivals
Throughout the year, Carlsbad Village plays host to various events:
Art Walks: Local artists display their work on the streets, turning the village into an open-air gallery.
Holiday Celebrations: Be it Halloween, Christmas, or Fourth of July, the village celebrates with fervor and enthusiasm.
Fitness Events: From marathons to yoga sessions on the beach, these events cater to the health-conscious residents and visitors.
Museum of Making Music: Discover the Evolution of Music
Music has been the voice of generations, echoing the sentiments, stories, and soul of different eras. The Museum of Making Music, situated in Carlsbad, takes you on a melodious journey, tracing the evolution of music and the instruments that have shaped its soundscape over the past century.
A Symphony of Exhibits
Upon entering the museum, visitors are greeted by a series of exhibits, each dedicated to a specific time period in music history:
The Early 20th Century (1890s - 1920s): This era, marked by the emergence of ragtime, jazz, and blues, saw the rise of the piano and the banjo. The exhibits showcase the instruments of this era, the manufacturers who crafted them, and the musicians who brought them to life.
The Roaring Twenties and the Great Depression (1920s - 1930s): These decades witnessed the advent of electronic amplification. With the introduction of the electric guitar and the microphone, the music landscape was forever transformed.
The Post-War Years (1940s - 1960s): Rock 'n' roll, pop, and soul dominated these years. The exhibits delve into the iconic instruments like the electric bass and the synthesizer that defined the sounds of these genres.
The Late 20th Century (1970s - 1990s): This era was marked by technological innovations. Digital synthesizers, drum machines, and the rise of home recording changed the way music was produced and consumed.
The New Millennium: This section looks at the contemporary music scene, focusing on the fusion of genres and the digital revolution that has democratized music production and distribution.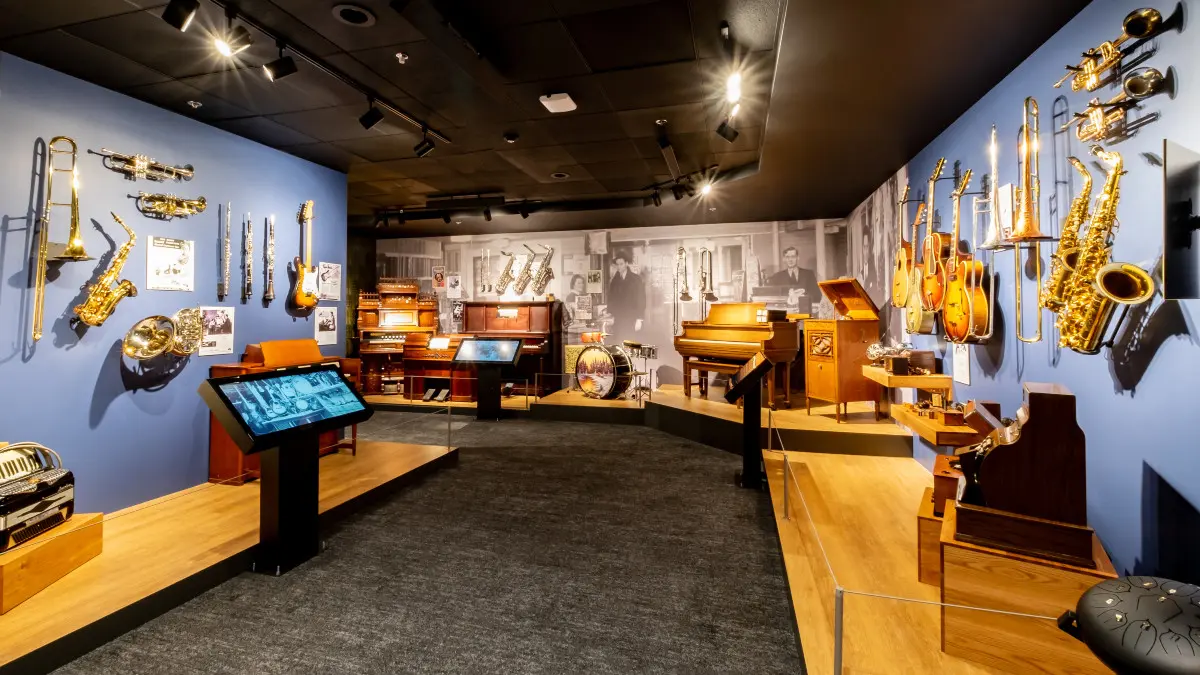 Hands-On Experience
What sets the Museum of Making Music apart is its interactive approach. Visitors are encouraged to play and experiment with various instruments, be it a vintage piano from the early 1900s or a modern-day digital synthesizer. This hands-on experience not only educates but also ignites a passion for music.
Events and Workshops
Throughout the year, the museum hosts a plethora of events:
Concert Series: These concerts feature local and international artists, spanning genres like jazz, classical, blues, and world music.
Workshops: For those keen on diving deeper, the museum organizes workshops on instrument making, music production, and songwriting.
Educational Programs: Tailored for students, these programs aim to educate the younger generation about the history and intricacies of music.
Gift Shop and Memorabilia
The museum's gift shop is a treasure trove for music enthusiasts. From vintage records and sheet music to instrument miniatures and themed merchandise, it's the perfect place to pick up a musical souvenir.
The Museum of Making Music is more than just a repository of instruments and exhibits. It's a testament to the universal language of music, its power to connect, and its ever-evolving nature. For music lovers, historians, and even the casual visitor, a trip to this museum is a symphony for the senses, offering insights, sounds, and stories that resonate long after the visit.
Carlsbad Lagoon: Watersports and Recreation
Tucked away in a serene corner of Carlsbad, the Carlsbad Lagoon offers a tranquil escape from the city's hustle and bustle. With its pristine waters and scenic surroundings, it's a haven for nature lovers and adventure enthusiasts alike.
A Natural Oasis
The Carlsbad Lagoon, comprising three linked lagoons - Agua Hedionda, Batiquitos, and Buena Vista - spans over 400 acres. Surrounded by lush vegetation, marshlands, and diverse wildlife, it presents a picturesque setting perfect for relaxation and exploration.
Watersports Galore
For those seeking adrenaline rushes, the lagoon is a watersports paradise:
Jet Skiing: The expansive waters of the lagoon make it an ideal spot for jet skiing. Whether you're a novice or an expert, zipping around the lagoon on a jet ski promises exhilarating fun.
Kayaking and Canoeing: These activities offer a more laid-back way to explore the lagoon. Paddle at your own pace, navigate through the water channels, and soak in the scenic beauty.
Stand-up Paddleboarding: A unique blend of surfing and paddling, this sport has gained immense popularity. The calm waters of the lagoon provide a perfect setting for both beginners and seasoned paddleboarders.
Wakeboarding and Water Skiing: For those looking for more adventure, the lagoon offers wakeboarding and water skiing opportunities, complete with instructors for beginners.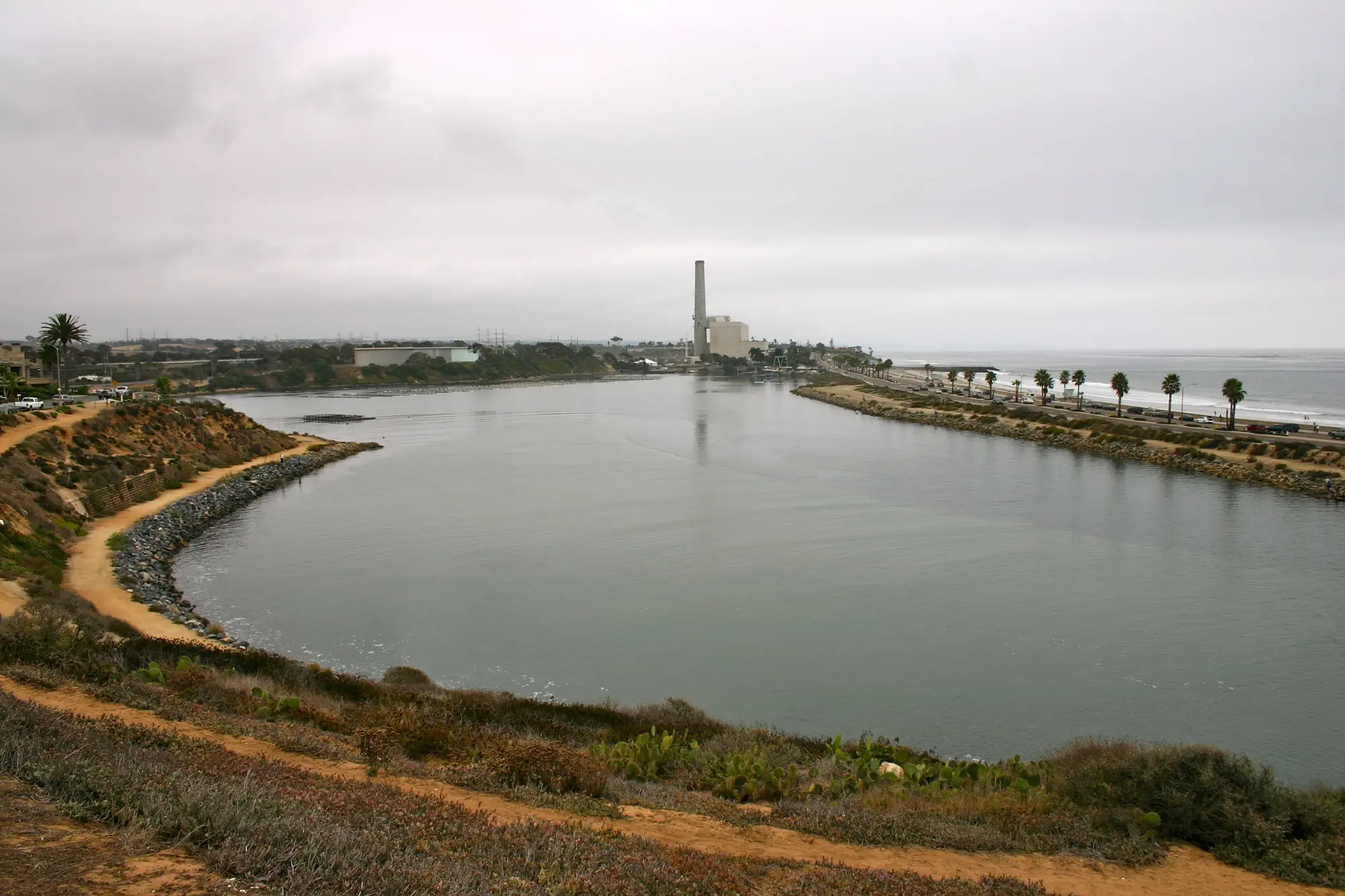 Wildlife and Birdwatching
The lagoon's rich ecosystem is home to a plethora of marine life and birds. From herons and egrets to crabs and fish, it's a delight for wildlife enthusiasts. The surrounding marshlands serve as a breeding ground for various species, making birdwatching a popular activity, especially during migratory seasons.
Recreational Facilities
Apart from watersports, the Carlsbad Lagoon offers a range of recreational facilities:
Picnic Areas: Equipped with tables, benches, and BBQ grills, these areas are perfect for family outings and get-togethers.
Hiking Trails: Winding around the lagoon, these trails offer stunning views and are suitable for both casual walkers and serious hikers.
Fishing: The lagoon's waters teem with fish, making it a favorite spot for anglers.
Events and Camps
Throughout the year, various events are organized at the lagoon:
Watersports Camps: These camps, tailored for kids and teenagers, teach various watersports in a fun and safe environment.
Nature Walks: Guided by experts, these walks educate visitors about the lagoon's flora, fauna, and ecological significance.
Community Clean-ups: Focused on preserving the lagoon's natural beauty, these events see locals and tourists coming together to clean up the area.
Agua Hedionda Lagoon Discovery Center: Dive into Nature
In the coastal city of Carlsbad, the Agua Hedionda Lagoon Discovery Center stands as a beacon of environmental education and community involvement. This hands-on educational center, perched on the shores of the Agua Hedionda Lagoon, offers visitors a deep dive into the region's ecological wonders.
Exploring the Exhibits
The Discovery Center is home to a myriad of exhibits, each designed to educate and engage:
Aquarium Displays: Showcasing the diverse marine life of the lagoon, these tanks house species like sea stars, anemones, and hermit crabs. Visitors can get up close and personal, observing these creatures in their natural habitats.
Native Plant Garden: This outdoor exhibit celebrates the indigenous flora of the region. From succulents to coastal shrubs, the garden is a testament to California's botanical diversity.
Cultural History Exhibits: Tracing the history of the region, these displays delve into the lives of the indigenous people, the Spanish settlers, and the modern-day inhabitants of Carlsbad.
Interactive Touch Tanks: One of the center's highlights, these tanks allow visitors to touch and feel various marine organisms, fostering a tactile connection with nature.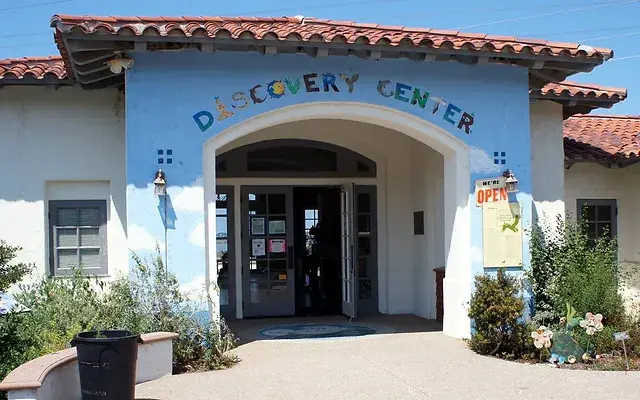 Engaging Activities and Programs
The Discovery Center is not just a place of passive learning; it actively involves visitors through various programs:
Nature Walks: Guided by naturalists, these walks take visitors through the trails surrounding the lagoon, highlighting its ecological significance.
Workshops and Camps: Ranging from birdwatching to water conservation, these programs cater to various age groups, offering in-depth knowledge on specific subjects.
Community Events: Throughout the year, the center hosts events like Earth Day celebrations, lagoon clean-ups, and nature festivals, promoting community involvement and environmental awareness.
Sustainability and Conservation
At its core, the Agua Hedionda Lagoon Discovery Center is dedicated to conservation:
Research and Monitoring: The center collaborates with researchers and scientists, monitoring the health of the lagoon and studying its ecosystem.
Habitat Restoration: Various initiatives focus on restoring the lagoon's natural habitats, ensuring its flora and fauna thrive.
Sustainable Practices: From its building design to its daily operations, the center adopts sustainable practices, setting an example for visitors.
A Community Hub
Beyond its educational role, the Discovery Center serves as a community hub. It's a place where locals gather, share knowledge, volunteer, and work towards a common goal - preserving the natural beauty of Carlsbad.
The Agua Hedionda Lagoon Discovery Center is more than just a museum or an educational institution. It's a place where nature, community, and education converge. A visit here is not only enlightening but also inspiring, reminding us of our role as stewards of the environment. For those visiting Carlsbad, it offers a holistic understanding of the region's ecological and cultural significance, making it a must-visit.
Leo Carrillo Ranch Historic Park: A Peek into California's History
Tucked away amidst the suburban landscape of Carlsbad lies a gem of historical significance and rustic charm: the Leo Carrillo Ranch Historic Park. This 27-acre site, once owned by the famous actor and conservationist Leo Carrillo, offers visitors a glimpse into California's bygone era of ranchos and the Golden Age of Hollywood.
A Walk Through Time
Meandering pathways, adorned with native plants and peppered with historical structures, guide visitors through the ranch's history:
Adobe Buildings: Emblematic of Californian ranch architecture, these structures, made from sun-dried clay bricks, showcase the craftsmanship of the era.
Working Barns: These barns, which once housed horses and livestock, give insight into the daily workings of a rancho.
Leo Carrillo's Home: Preserved in all its glory, this house offers a peek into the actor's life, adorned with personal artifacts, memorabilia, and photographs.
Reflecting Pool and Waterfall: A tranquil spot, this area showcases Leo Carrillo's penchant for landscaping and his love for nature.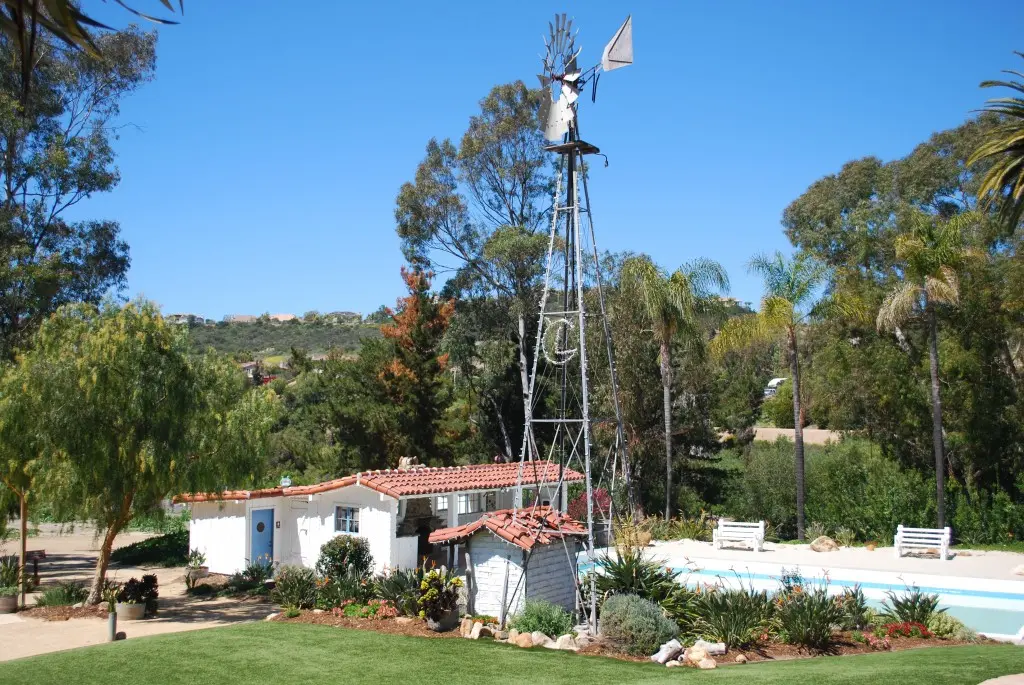 Peacocks and Flora
One of the ranch's most enchanting features is its resident population of peafowls. Descendants of the birds introduced by Carrillo himself, they add a touch of magic to the ranch with their iridescent plumage and regal demeanor.
Complementing this avian spectacle is the park's diverse flora. From cacti and succulents to flowering trees, the ranch is a botanical haven, especially during spring when it bursts into a riot of colors.
Interactive Programs and Tours
To enhance the visitor experience, the ranch offers several programs:
Guided Tours: Knowledgeable guides lead visitors through the ranch, narrating tales of Leo Carrillo's life, the history of the rancho, and the significance of various landmarks.
Workshops: Focusing on history, conservation, and art, these workshops cater to both adults and children, providing hands-on learning experiences.
Film Screenings: Celebrating Leo Carrillo's contributions to cinema, the ranch occasionally screens his movies, transporting visitors back to the Golden Age of Hollywood.
Special Events
Throughout the year, the ranch becomes a hub of cultural activities:
Rancho Days: A celebration of Californian rancho culture, this event features folk dances, traditional music, and artisanal crafts.
Art Fairs: Showcasing local artists, these fairs transform the ranch into an open-air gallery, with artworks inspired by its history and beauty.
Theatrical Performances: Leveraging the ranch's rustic backdrop, theater groups stage performances, adding a touch of drama to its history.
Leo Carrillo Ranch Historic Park is not just a historical site; it's a living testament to a rich cultural tapestry that weaves together Native American traditions, Spanish influences, and Hollywood glamour. A visit here transcends time, offering solace in its natural beauty and evoking nostalgia through its historical narratives. Whether you're a history buff, a nature lover, or simply someone seeking a tranquil escape, the ranch promises an experience that resonates and lingers.
Carlsbad Food and Walking Tours: Explore and Taste the Best of Carlsbad
Carlsbad's charm isn't just confined to its picturesque landscapes and cultural landmarks. It extends to its culinary scene, where flavors, traditions, and innovation converge. Carlsbad Food and Walking Tours offer a delectable journey, letting visitors savor the city's gastronomic delights while soaking in its history and beauty.
A Culinary Expedition: These tours, curated by local food enthusiasts, take visitors to some of Carlsbad's most iconic eateries. From seaside shacks serving the freshest seafood to gourmet restaurants crafting avant-garde dishes, every stop on the tour is a culinary revelation.
Stories Behind the Flavors: But these tours aren't just about tasting; they're about understanding the stories behind the flavors. As visitors relish each bite, guides narrate tales of the dishes' origins, the chefs who conjured them, and the local ingredients that make them special.
Meandering Through History: Woven into these culinary escapades are walks through Carlsbad's historic districts. As visitors stroll down cobbled streets and past historic buildings, they get a glimpse of the city's rich past, its architectural marvels, and its cultural evolution.
Local Insights: What sets these tours apart is the local perspective. Guides, often residents with a deep passion for Carlsbad's culture and cuisine, offer insights that go beyond regular tourist narratives. From hidden gems to local traditions, these insights add depth to the tour experience.
Customizable Experiences: Understanding the diverse preferences of visitors, many tours offer customization options. Whether it's a focus on vegan delights, a deep dive into Carlsbad's seafood offerings, or a tour tailored for a special occasion, there's something for everyone.
A Social Affair: Beyond food and history, these tours are about connections. They offer a platform for visitors to interact with locals, share experiences with fellow travelers, and forge bonds over shared meals. It's a celebration of the universal love for food and the joy of discovering new places.
Carlsbad Food and Walking Tours are more than just gastronomic journeys; they're holistic experiences that tantalize the taste buds, enlighten the mind, and warm the heart. In a city as diverse and dynamic as Carlsbad, they offer a unique lens to explore its multifaceted charm.
Where to Stay in Carlsbad, CA: Embracing Coastal Comfort
Carlsbad, often referred to as the "Village by the Sea," beckons travelers with its stunning beaches, vibrant arts scene, and a laid-back Californian vibe. Naturally, such allure demands an array of accommodation options that match the city's charm, and Carlsbad graciously delivers.
When you think of Carlsbad, the shimmering coastline instantly comes to mind. Hotels and resorts that grace the seaside capitalize on this prime location, offering sweeping views of the Pacific. These establishments seamlessly blend luxury with the natural beauty of the surroundings. Imagine waking up to the sound of waves gently crashing against the shore, the salty breeze tousling your hair, and the horizon painted in hues of oranges and purples as the sun rises. These oceanfront properties, ranging from upscale resorts with spa facilities and gourmet restaurants to quaint boutique hotels with personalized services, ensure that the ocean remains the focal point of your stay.
Venturing slightly inland, the heart of Carlsbad presents a different kind of charm. The historic Carlsbad Village, with its vibrant streets, eclectic shops, and pulsating cultural scene, hosts a variety of accommodations. Here, traditional inns and bed-and-breakfast establishments echo the village's heritage. Staying in these places feels like stepping into a nostalgic realm, where the architecture reminisces about the city's rich past, and the warm hospitality reminds one of a bygone era of personalized care.
For those seeking a more intimate experience, vacation rentals dot the cityscape. From modern apartments equipped with all amenities to cozy beach houses with picket fences and gardens in full bloom, these rentals offer a home-away-from-home feel. They are particularly favored by families and larger groups who cherish the freedom to craft their holiday experience, from cooking local produce in their kitchen to lounging in private patios watching Carlsbad's life go by.
However, Carlsbad's accommodation scene isn't solely about luxury and tradition. Recognizing the influx of backpackers, solo travelers, and young adventurers, the city has sprouted a range of budget accommodations and hostels. These places are hives of activity, fostering interactions, shared experiences, and stories from every corner of the globe. They're not just places to rest your head but hubs of cultural exchange.
A unique facet of Carlsbad's hospitality industry is its commitment to sustainability. Eco-friendly lodgings, which prioritize green practices, are becoming increasingly popular. From establishments harnessing solar energy and using sustainable building materials to those promoting water conservation and organic dining, the focus is clear: offering memorable stays without compromising the environment.
Discovering Carlsbad with Kids: A Whimsical Adventure
Vacationing with children is an experience unlike any other. It's about seeing the world through their wide-eyed wonder, where every moment becomes an opportunity for learning and every location a playground for imagination. Carlsbad, with its harmonious blend of natural beauty and family-friendly attractions, is a destination that promises not just relaxation for the adults but a whirlwind of adventures for the younger travelers.
Begin the journey in the very heart of Carlsbad, where the iconic LEGOLAND California Resort resides. More than just an amusement park, LEGOLAND is a world where childhood fantasies come to life. Children can envision themselves as knights in shining armor at the Castle Hill or budding architects in the Imagination Zone. The themed rides, interactive exhibits, and the mesmerizing Miniland USA, with its intricate Lego city replicas, are designed to engage both the mind and the senses. And for families visiting during the warmer months, the LEGOLAND Water Park offers a delightful respite.
Beyond the constructed allure of theme parks, Carlsbad's natural landscapes beckon young explorers. The city's pristine beaches are perfect canvases for sandcastle dreams. As children splash in the gentle waves or scour the sands for hidden seashell treasures, the oceanfront becomes a backdrop for timeless memories. The Agua Hedionda Lagoon adds another layer to these water escapades, where kayaking and paddleboarding introduce kids to the joys of water sports in a safe, tranquil environment.
But Carlsbad's natural wonders aren't limited to its waters. The Flower Fields at Carlsbad Ranch present a spectacle that seems plucked straight out of a fairy tale. Blooming in radiant hues, these rolling fields of ranunculus flowers are a sensory treat. Amidst this floral paradise, children can navigate through sweet pea mazes, embark on wagon rides, or simply frolic in the fragrant blooms.
For those curious young minds, the SEA LIFE Aquarium, adjacent to LEGOLAND, is an aquatic odyssey. This interactive marine habitat offers children a chance to come face-to-face with an array of sea creatures, from vibrant clownfish to mysterious rays. Touch pools and feeding demonstrations further bridge the gap between wonder and understanding, fostering a deep appreciation for marine life.
Carlsbad, California: A Tapestry of Endless Adventures
In the vibrant mosaic of Californian destinations, Carlsbad stands out as a gem that sparkles with multifaceted allure. A harmonious blend of coastal charm, cultural richness, and recreational abundance, this "Village by the Sea" beckons travelers with promises of unforgettable experiences.
From its pristine beaches where the Pacific's waves kiss golden sands to the technicolor dreamscape of The Flower Fields, Carlsbad's natural beauty is both breathtaking and serene. Its historical landmarks, like the Leo Carrillo Ranch, offer a captivating glimpse into bygone eras, while modern attractions such as LEGOLAND infuse the city with youthful exuberance.
In essence, Carlsbad is not just a destination; it's a sentiment. It's the exhilaration of catching the first wave, the tranquility of a sunset stroll, the joy of a family picnic, and the nostalgia of historic tales. Every visit here is a chapter in an ongoing story, one that beckons travelers to return, time and again, to discover, explore, and fall in love with Carlsbad's endless wonders.