Best Things to Do in Greeneville, TN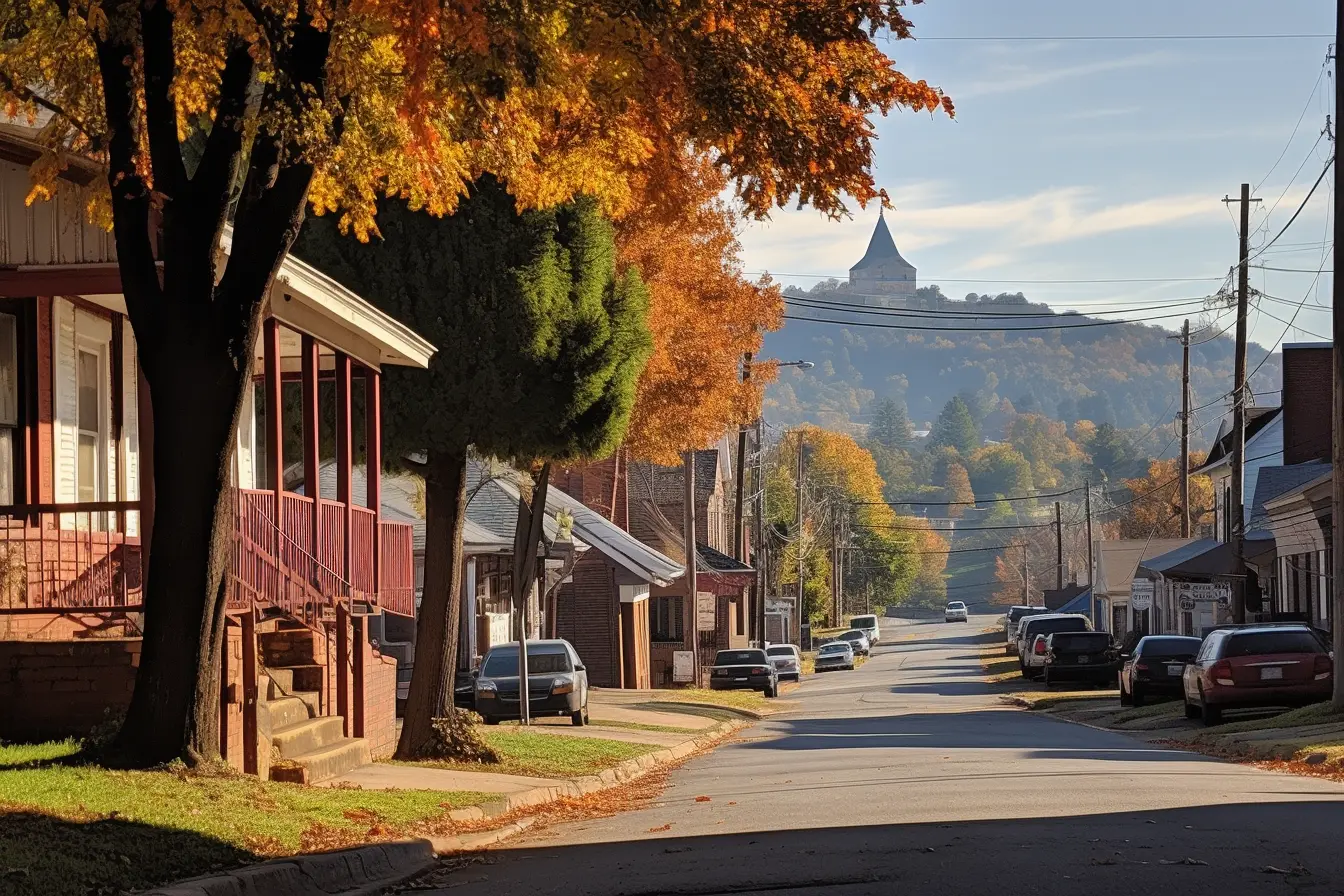 Nestled in the verdant foothills of the Appalachian Mountains lies the charming town of Greeneville, Tennessee. This historic gem offers visitors a blend of small-town hospitality and big city amenities. From its antebellum homes to its bustling downtown, Greeneville is chock full of attractions and activities guaranteed to delight and dazzle.
This comprehensive guide covers the best things to do in Greeneville, spotlighting everything from iconic landmarks to hidden local favorites. We'll provide an insider's look at the top restaurants, hotels, and off-the-beaten-path adventures that make Greeneville a can't-miss destination in the Volunteer State. Grab your cowboy boots and get ready to explore all that this East Tennessee town has to offer!
Historic Downtown Greeneville
Downtown Greeneville serves as the vibrant heart of the city. Brimming with historic buildings, charming shops, and delicious eateries, it provides a delightful spot to while away the hours. Here are some of the top attractions located in the downtown district:
The Dickson-Williams Mansion
Rising majestically above downtown Greeneville sits the stately Dickson-Williams Mansion, offering visitors a window into the world of 19th century Southern aristocracy. Constructed in the 1830s for wealthy attorney Alfred Dickson, this historic home embodies the Greek Revival architectural style with its lofty Doric columns, sweeping verandas, and striking wedgework pediment.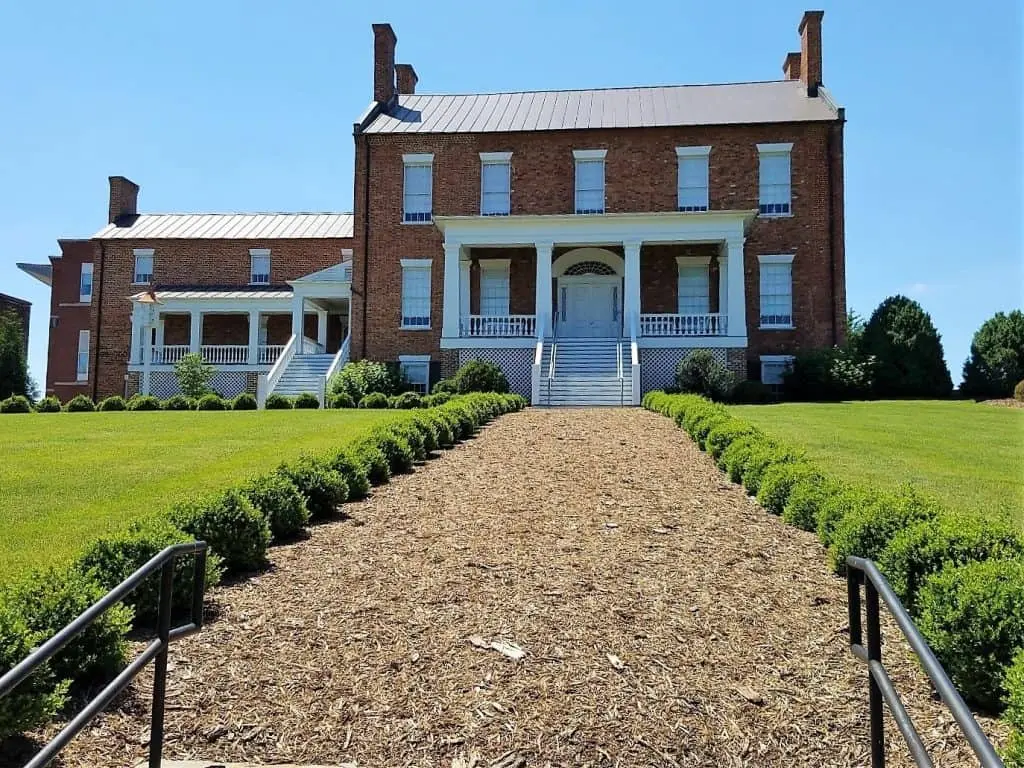 Stepping inside the mansion transports you back in time. The interior overflows with ornate period details from the 12-foot high ceilings and elaborate crown molding to the carved Italian marble mantels gracing the fireplaces in each room. As you wander through the expansive layout, you'll find the parlors, library, music room, dining room, and six main bedrooms all furnished with Victorian antiques sourced to match the time period when the home was occupied.
Make time to explore the stunning formal gardens located behind the mansion. Designed in keeping with the Victorian aesthetics, cobblestone pathways wind through meticulously manicured flowerbeds and shady groves. One highlight is the heritage rose garden containing over 100 varieties of gorgeous antique roses collected from across the South. The two acre grounds also encompass a working kitchen garden modeled after what would have sustained the Dickson family.
When planning your trip to Greeneville, make sure to save time for touring this magnificent antebellum estate. Immersing yourself in the everyday world of the wealthy Dickson family in the 1800s provides an educational glimpse into Knoxville's past.
Town Square
Right in the heart of historic downtown Greeneville lies the charming Town Square. Encircled by vintage brick storefronts and gazebo, this shady public plaza has served as a gathering place for the local community for over two centuries.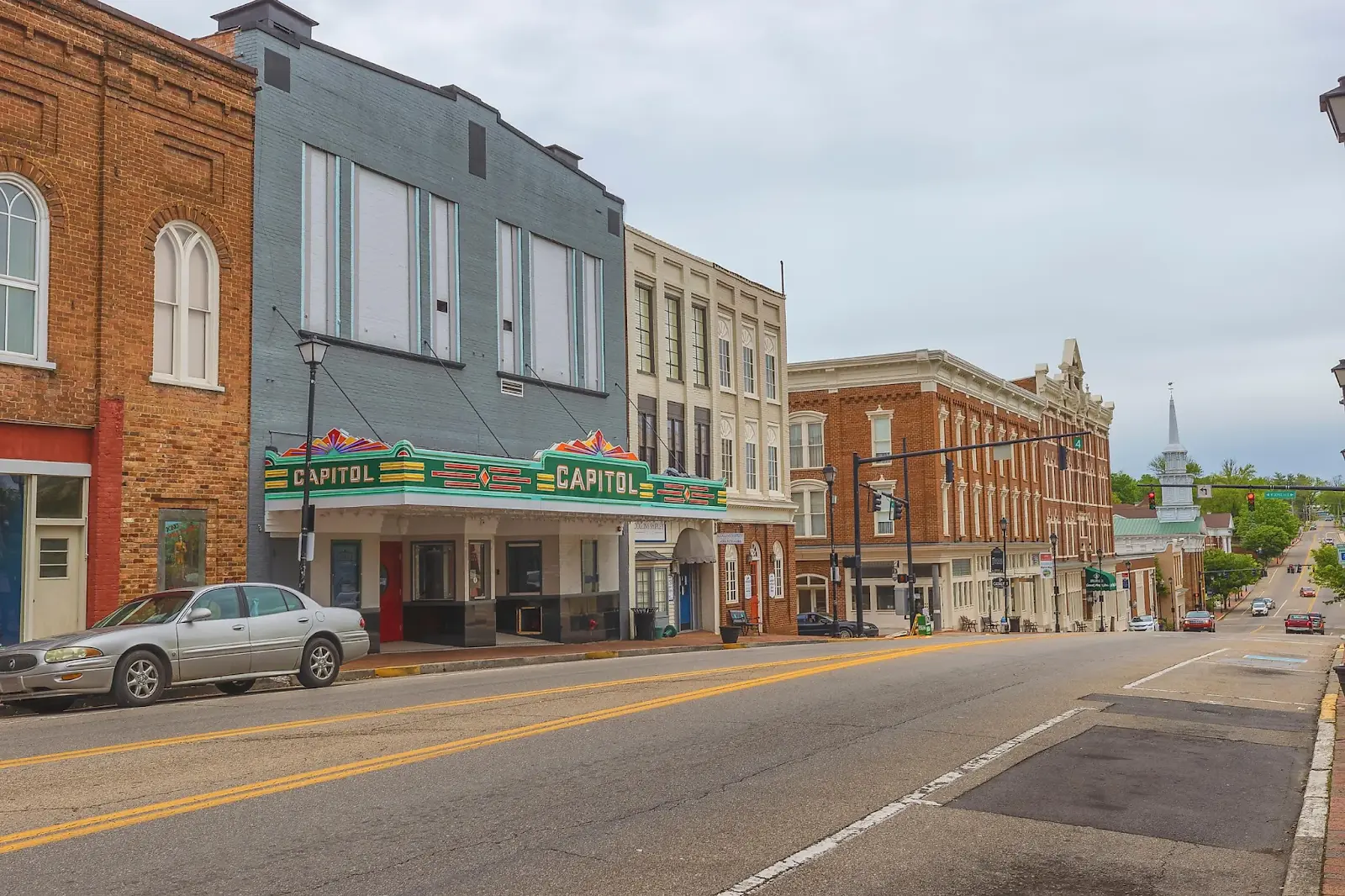 On any given day you'll find folks congregating in the square to exchange small talk, read the newspaper, or simply watch the world go by from one of the park benches tucked beneath the mature shade trees. During lunchtime, workers from the surrounding offices and shops flock to the area to enjoy a relaxing alfresco meal on the lush lawn.
Two Main Street eateries in particular benefit from the prime location right next to the square—the Corner Cup Coffee Shop and the Farmhouse Deli. Patrons frequently take their lunch orders to-go so they can picnic under the stately maples and oaks. Don't be surprised if one of the many squirrels who call the square home beg for a bite!
The historic Greene County Courthouse anchoring the northwest side of the square makes for an imposing backdrop. The towering brick edifice was constructed in 1836 in the Greek Revival style. Climb the sets of stairs framing the front portico to get a closer look at the iconic columns and elucidate clock tower tipping out at 120 feet.
On Saturdays from May through October the square transforms into a bustling farmers market. Local producers set up booths brimming with just-picked produce, artisanal baked goods, and gourmet food trucks line the curb. The lively atmosphere makes weekend mornings the perfect time to explore downtown and soak up small town charm.
General Morgan Inn
History aficionados will delight in a stay at the General Morgan Inn located right on Main Street in the heart of downtown Greeneville. This restored 19th century building provides a glimpse into the past with its historic architecture and charming vintage decor. But with contemporary amenities and dedicated service, the inn blends old world charm with modern convenience.
The structure housing the inn was originally built in 1817 from brick fired just streets away. It first functioned as a trading post and saddlery operation before becoming Greeneville's first bank later that century. The high ceilings, masonry walls, and Period architectural details like the Palladian window over the front entrance still speak to the building's venerable past.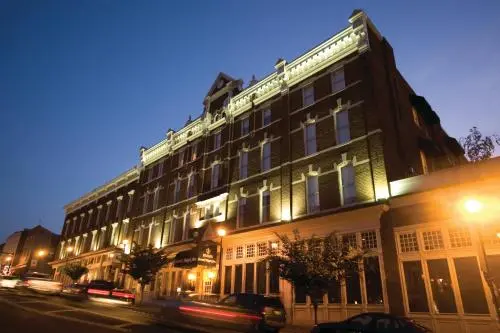 Stepping inside the inn feels like traveling back in time to the antebellum era. The parlor and guest rooms brim with ornate furnishings like four poster beds, antique fainting couches, and claw foot tubs. Accents like embroidered linens and steamer trunks recreate a 19th century ambiance with Southern flair. Guests can select from 15 rooms, including a 2-bedroom suite on the upper floor.
Despite the historic aesthetics, rooms also boast present-day conveniences like free Wi-Fi, LCD cable TVs, and spa-like bathrooms. Start your morning with a full Southern breakfast served on fine china in the beautiful dining room bedecked with crystal chandeliers. Unwind in the evening over a hand-crafted cocktail in the oak-paneled tavern.
The on-site restaurant dishes up refined contemporary Southern cuisine in an elegant yet relaxed atmosphere. Menus change seasonally to highlight the best local ingredients. Dine in the intimate garden room or out on the covered veranda overlooking downtown.
By blending historic charm and modern hospitality, the General Morgan Inn lets you experience Greeneville's storied past with all the comforts of today. Reserve your room and step back in time during your stay in this East Tennessee gem.
Hands On! Regional Museum
Families visiting Greeneville can enjoy a day of interactive learning and STEM-focused fun at the Hands On! Regional Museum centrally located downtown. With over 10,000 square feet of engaging exhibits and programming, the museum provides an enriching experience for kids and adults alike.
The inventive displays at Hands On! bring science, technology, and mathematics to life through immersive activities and experiments. In the Fab Lab workshop, children can use real tools to build projects from racecars to soapbox derby vehicles. Budding engineers will love constructing bridges, mazes, and towers from Zometool pieces in the exhibit on geometric structures.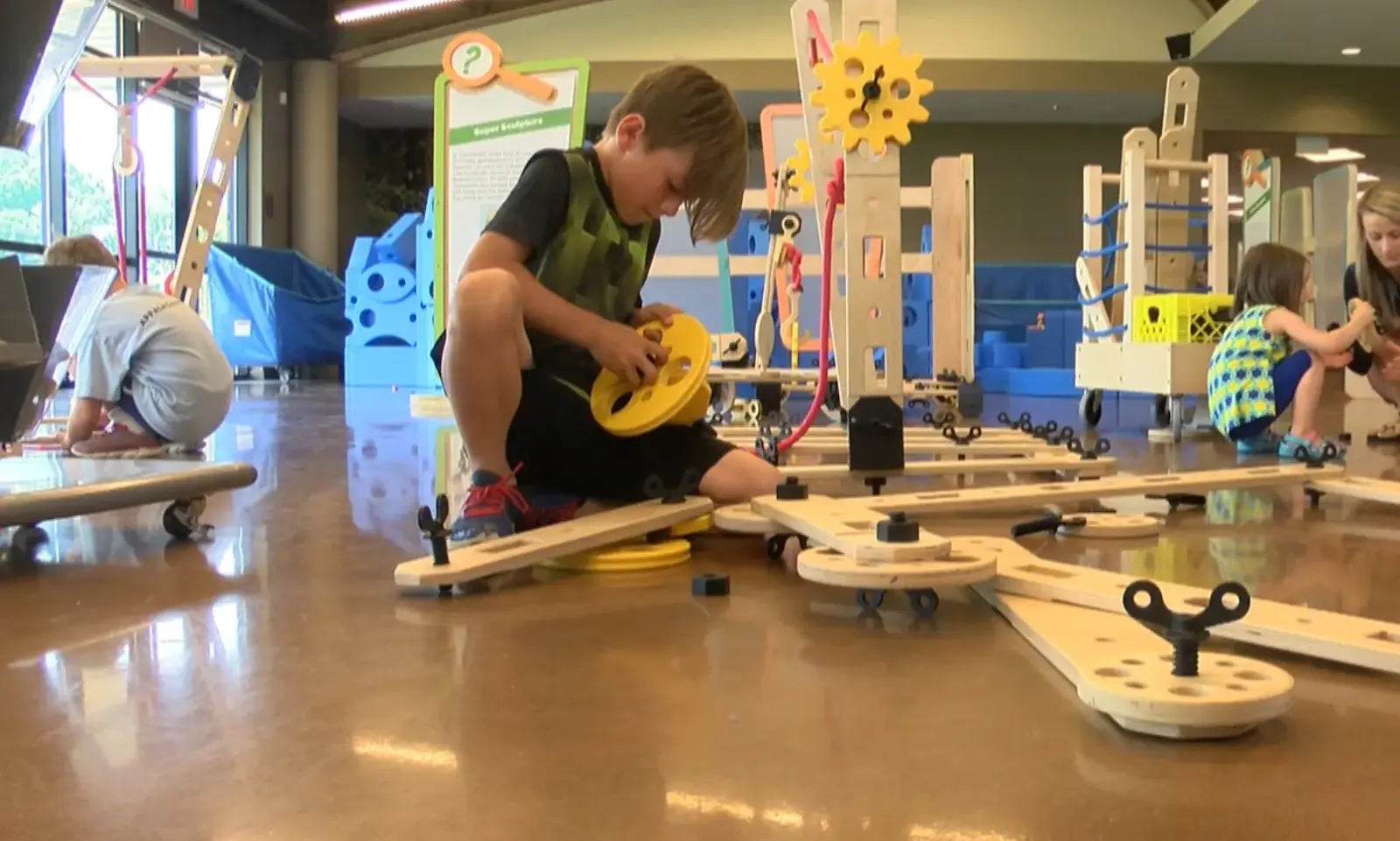 For budding chemists, the messiest fun happens at the Water Table where kids concoct bubbling brews and move water through dams and locks. Nearby, the Bubble Room allows visitors of all ages to create gigantic, undulating bubbles using oversized wands and rings. Prefer playing with physics? Head to the exhibit on gravity racers to build a custom car and test it on towering vertical tracks.
In addition to the many hands-on displays, the museum also hosts exciting demonstrations and programs. During the Cryogenics Show kids don safety goggles to watch staff freeze items in liquid nitrogen, then smash them with hammers! Special events like Lego Build Days and Science Stage Shows reinforce learning through play.
The museum aims to cultivate a passion for STEM fields, especially in young girls. Activities like Girls STEM Day invite local students to meet female role models with careers in science and technology. Free field trips also provide access to economically disadvantaged schools in the region.
With so many opportunities for discovery, problem-solving, and scientific creativity, the Hands On! Regional Museum promises a full day of family fun. Learning physics, engineering, and chemistry first-hand through interactive play makes this downtown Greeneville attraction a must-visit.
Historic Landmarks in Greeneville
Beyond downtown, Greeneville overflows with historic houses, monuments, and landmarks that provide a glimpse into the region's storied past. Here are some of the top historic attractions to visit around town:
Andrew Johnson National Historic Site
History enthusiasts visiting Greeneville, Tennessee should not miss a stop at the Andrew Johnson National Historic Site. As the homestead of the 17th president, this well-preserved collection of buildings and exhibits chronicles the fascinating life and controversial legacy of Andrew Johnson.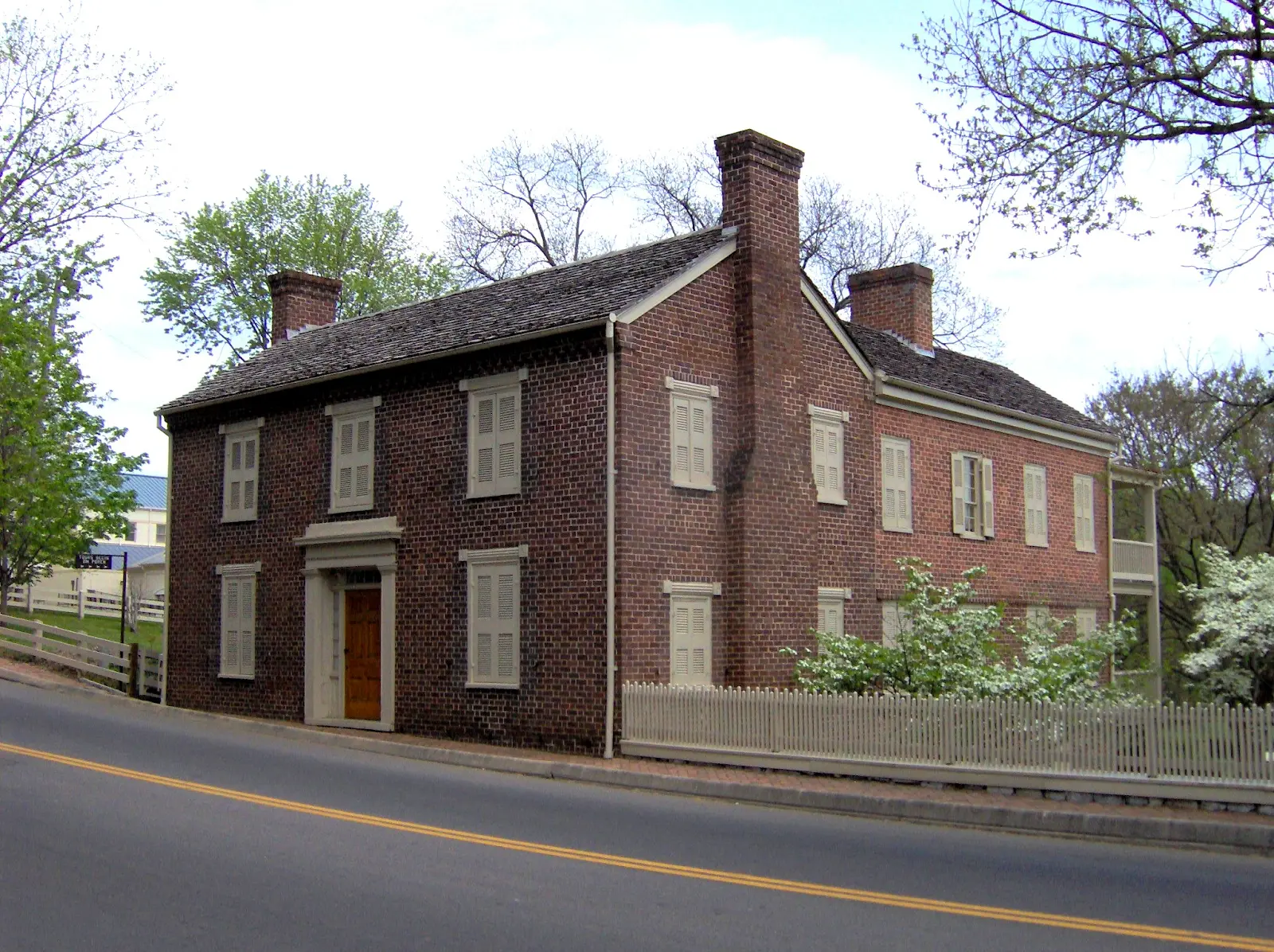 The historic site contains three main structures related to Johnson's life in Greeneville including his two homes and a tailor shop. The centerpiece is the stately two-story Andrew Johnson Homestead built in 1851 where Johnson lived until his death in 1869. The 1928 Colonial Revival-style Andrew Johnson Presidential Library serves as the park's visitor center.
Inside, exhibits detail Johnson's improbable rise to the presidency after Abraham Lincoln's assassination. Growing up in poverty, Johnson became politically active as a self-educated tailor before holding office as alderman, mayor, state legislator, governor, senator, and Lincoln's vice-president. Interactive displays help explain his liberal Reconstruction policies opposed by many, leading to his impeachment.
Guided tours of the homes provide additional insight about Johnson's family life and career. Walk through the Andrew Johnson Tailor Shop to see tools from his early profession. Costumed interpreters demonstrate 19th century trades and discuss Johnson's impact on Greeneville as its most prominent resident.
Located adjacent to Tusculum College, the Andrew Johnson National Historic Site provides a deeper understanding of this lesser-known president and the continuing relevance of his Reconstruction policies today. Budget a few hours to wander through the homes, exhibits, farmstead, and grounds for a rewarding historical experience.
Tusculum College
Nestled in the foothills of the Great Smoky Mountains, Tusculum College boasts the prestigious title as the oldest college in Tennessee. The 130-acre wooded campus located in Greeneville contains numerous historic buildings that offer a scenic step back into the early days of American higher education.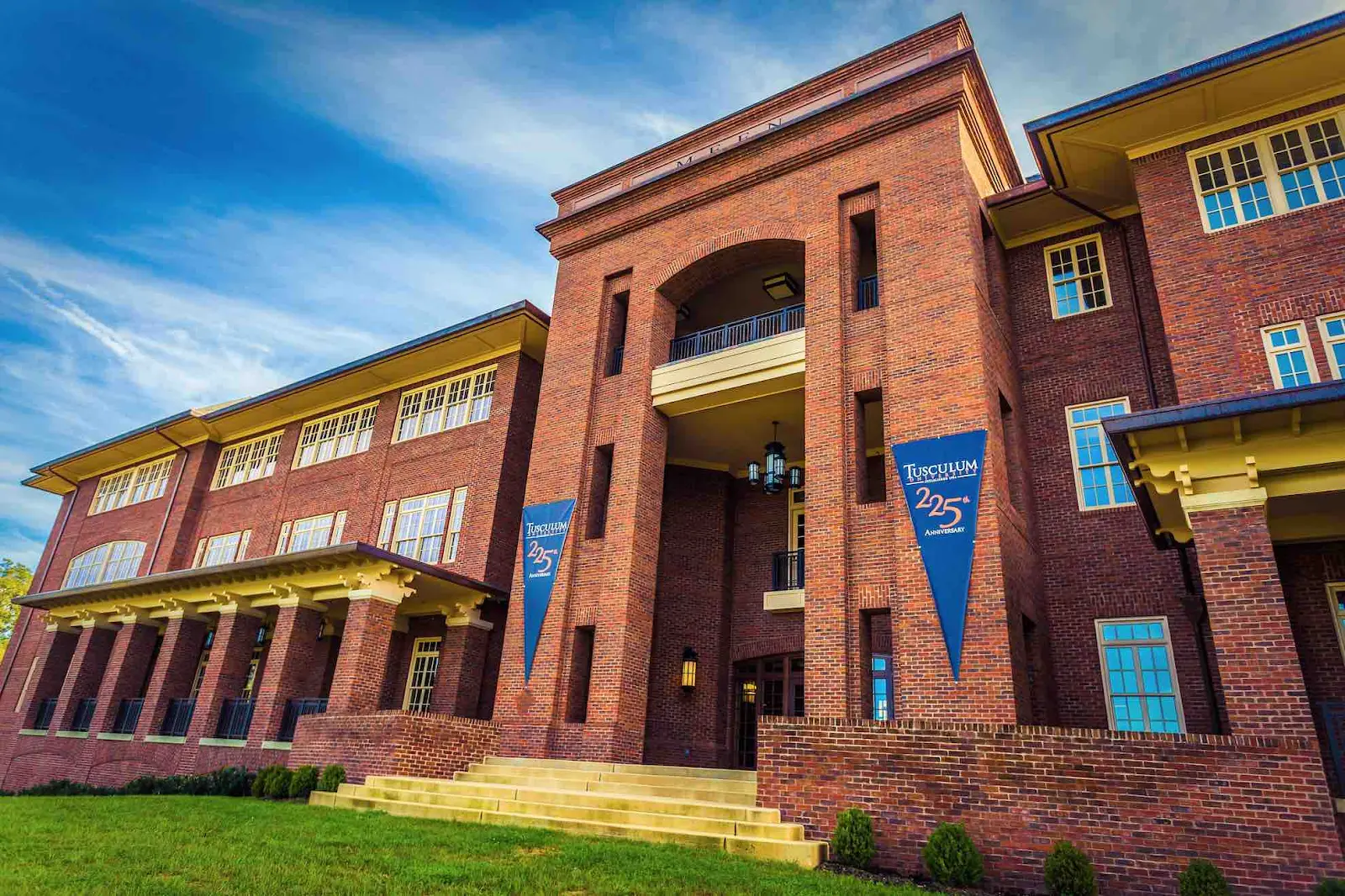 The college traces its origins to 1794 when it began as a school affiliated with the Presbyterian Church. In fact, Tusculum was the first secular college to admit women starting in the 1830s. The many vintage buildings scattered across campus reflect the evolution of the college over its 230-year history.
Some of the notable historic structures include the 130-year-old Virginia Hall, the President Andrew Johnson Museum and Library built in 1847, and the 130-foot tall McCormick Hall clock tower constructed in 1919. The grounds also contain a cemetery with graves dating back before Tusculum's founding.
For gorgeous views of the Nolichucky Valley, take the steep 1/2 mile hiking trail up to the top of Dogwood Park located on the former site of Old Oak Ridge Cemetery. On a clear day hikers can see all the way to the Appalachian Mountains on the horizon.
History buffs visiting the college shouldn't miss the President Andrew Johnson Museum and Library on campus. The museum contains artifacts and archives related to the 17th president who once lived in Tusculum. Adjacent, the Thomas J. Garland Library houses over 300,000 volumes.
Nathanael Greene Museum
Military history fanatics will appreciate a stop at the National Historic Landmark Nathanael Greene Museum just northeast of downtown Greeneville. Housed in an impressive 1929 Tudor mansion, this museum commemorates the accomplishments of Revolutionary War General Nathanael Greene. Interactive exhibits provide insight into this prominent early American figure.
As commander of the Southern Campaign, General Greene led insurgent Patriot forces to pivotal victories over the British in South Carolina and Georgia—turning the tide toward American independence. Artifacts, paintings, and dioramas trace Greene's brilliant military maneuvers culminating at Yorktown where he presided over the British surrender.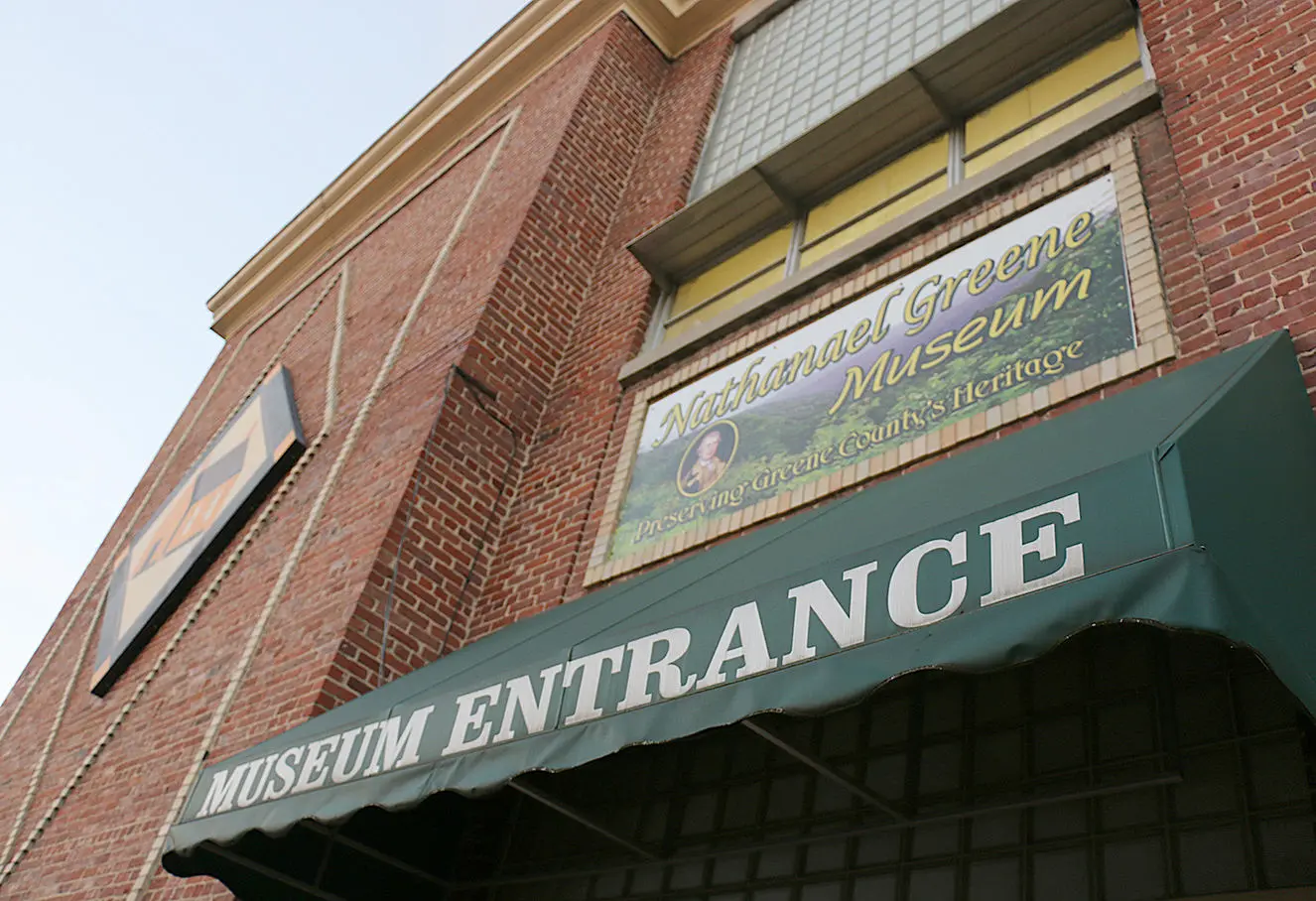 The museum occupies the former Cumberland Hills Retreat mansion listed on the National Register of Historic Places for its unique architectural style. Guests are free to explore the historic rooms of the mansion appointed with antiques and elegant ornamental details. Outdoors, stroll through formal English gardens and the log cabin built by Greene in 1783.
Davy Crockett Tavern
Adventurous travelers seeking to learn about Tennessee's frontier past need look no further than Greeneville's Davy Crockett Tavern Museum. Housed in the oldest building in Greeneville, this restored late 18th century tavern provides an interactive glimpse into the rough-and-tumble world of early pioneers like Davy Crockett.
Built around 1790, the log structure originally served as a wayside inn for settlers passing through the East Tennessee wilderness. The main room contains period artifacts like an 18th century bartop and rope beds, recreating the rustic atmosphere of a rural tavern frequented by Crockett himself.
Exhibits detail the life and legacy of the folk hero, frontiersman, soldier, and congressman who became famous for his larger-than-life exploits. Visitors can view replicas of Crockett's flintlock rifle "Betsy" and original correspondence penned in his own hand. Kids delight in trying on coonskin caps in the interactive area.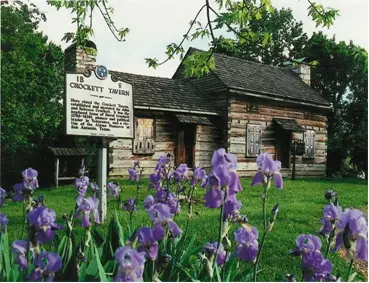 Costumed interpreters demonstrate early American skills and trades Crockett would have relied on, like blacksmithing, quilting, and open fire cooking. On select days, reenactors portraying Crockett regale guests with tales from the tavern's rowdy past. Special events like Pioneer Days bring to life fur trapping, candle dipping, and other folkways from the era.
By visiting the Davy Crockett Tavern Museum, guests young and old can immerse themselves in Greeneville's untamed frontier days as Crockett and other brave settlers would have experienced them. It brings vividly to life a forgotten chapter of America's past.
Greeneville's Top Restaurants
From down home Southern cooking to upscale continental fare, Greeneville's dining scene has something to suit every palate. Here's a taste of the best restaurants to try during your visit:
The Tannery Restaurant
Housed in a converted 1920s leather tannery, this wildly popular steakhouse serves up savory cuts of meticulously aged beef alongside live music. Don't miss their famous side dishes like bacon and blue cheese ranch potatoes. Make reservations for dinner to guarantee a table.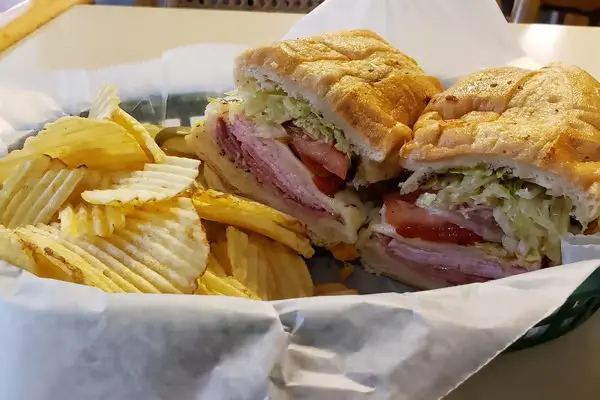 Brumley's Restaurant
For a real taste of Southern charm and cuisine, head to Brumley's Restaurant located just north of town. Family owned for over 60 years, this all-you-can-eat buffet serves up comfort food favorites like fried chicken, mashed potatoes, and mac and cheese. Leave room for their warm peach cobbler.
Painted Pig Tavern
Located in a 19th century brick building downtown, the Painted Pig Tavern takes pub grub to new heights. Sink your teeth into their hot pastrami sandwich or giant pretzel served with beer cheese fondue. Live music adds to the fun ambiance.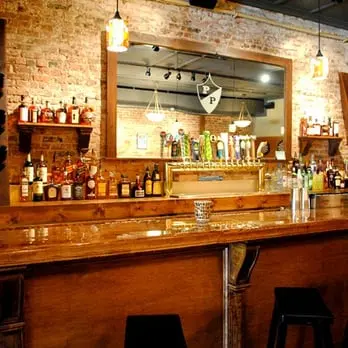 Nick's Brick Oven & Grill
Come to Nick's Brick Oven & Grill for authentic hand-tossed Neapolitan pizza fired in a blazing 900 degree oven. Their signature pie features locally sourced sausage, creamy mozzarella, and San Marzano tomatoes. A roomy patio provides al fresco dining.
Greeneville's Lodging Options
Greeneville offers accommodations to meet every taste from charming inns to trusted hotel chains. Here's a look at some of the best lodging options around town:
General Morgan Inn
For lodging with old-fashioned Southern charm and modern amenities, book your stay at the General Morgan Inn conveniently located downtown. Housed in an 1817 former bank building, its beautiful antique decor transports you back in time while providing every present-day comfort.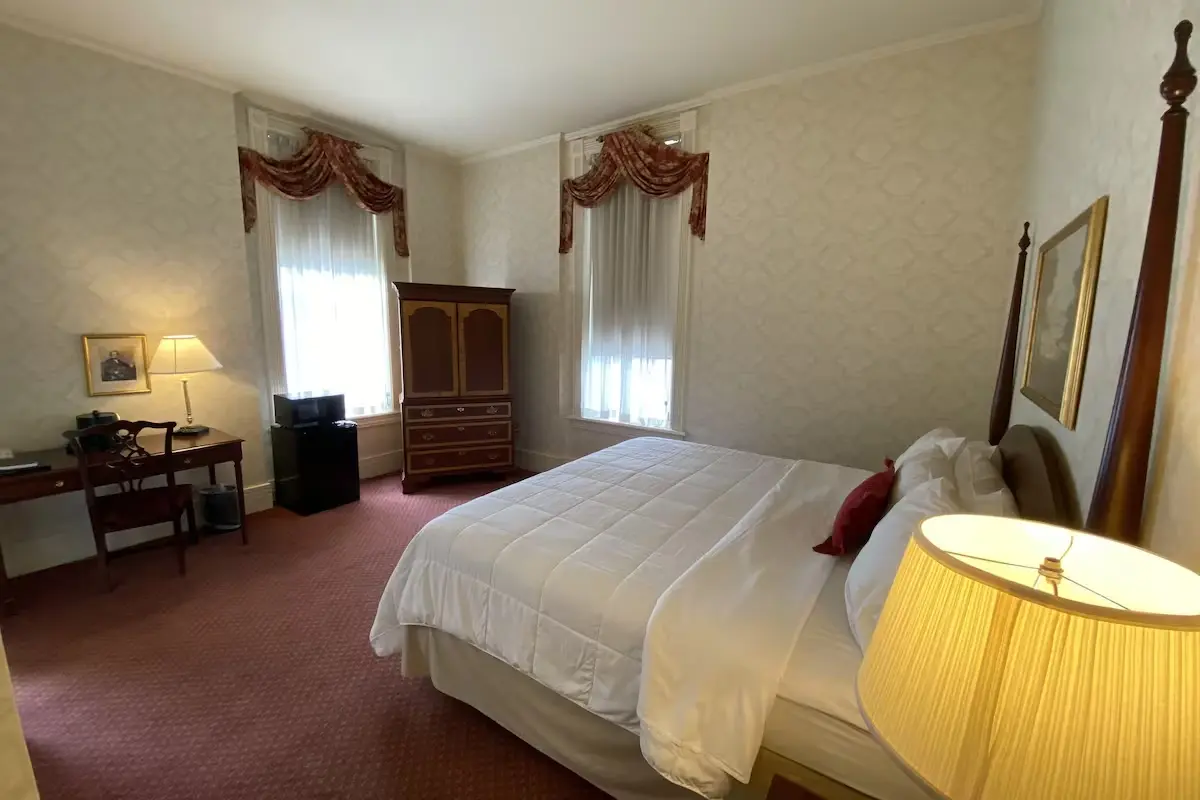 Each of the 15 guest rooms feature decadent Victorian furnishings like four poster beds draped in embroidered linens and flanked by nightstands. Plush fainting couches, ornate armoires, and clawfoot tubs further set the historic ambiance. For a touch of romance, request the spacious 2-room suite with oversized jetted tub.
Despite the traditional decor, the inn offers up-to-date conveniences like free Wi-Fi, LCD cable televisions, deluxe bath products, and central heat and air. Wake up to full Southern breakfasts every morning featuring favorites like buttermilk biscuits and sausage gravy. Unwind in the evening over craft cocktails in the oak-paneled tavern.
The elegant on-site restaurant utilizes seasonal local ingredients in their refined regional fare. Savor elevated comfort food in the plush dining room or al fresco on the porch. Stroll to Main Street shops and attractions right outside the inn's doors.
Hilton Garden Inn Greeneville
Families and business travelers appreciate the convenient location and full-service amenities offered at the Hilton Garden Inn Greeneville. Situated right off 11E with easy highway access, this dependable outpost provides polished accommodations and savvy conveniences.
The contemporary designed guest rooms come well equipped for a comfortable stay. Stretch out on the clean Kingsdown mattresses and stay connected with the ergonomic work desk, free Wi-Fi, and 55-inch HDTVs. Rooms also include mini-fridges, coffeemakers, irons and hairdryers.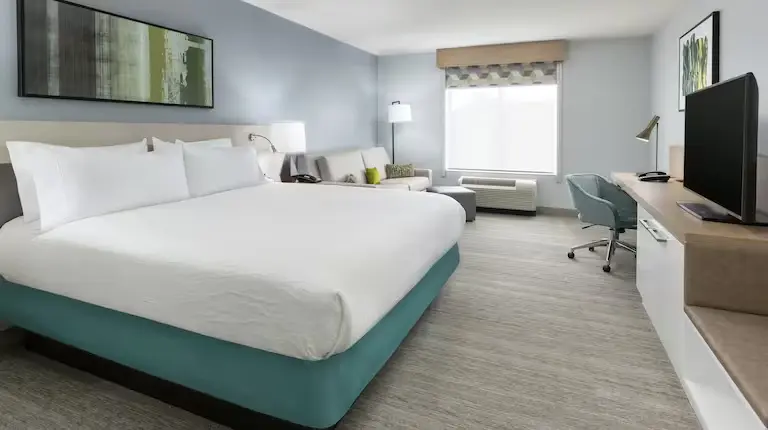 Wake up to a full cooked-to-order breakfast buffet each morning or take advantage of the convenience store and evening room service. Additional perks like an 24-hour fitness room, indoor saline pool, and hot tub further enhance your stay.
Kids under 18 stay free with an adult, making the hotel ideal for families. Other handy amenities include self-service laundry, electric car charging station, and over 2,000 square feet of event space.
With its convenient off-highway access and just over a mile from historic downtown, the Hilton Garden Inn provides Greeneville visitors a comfortable home base with reliable amenities, suitable for business travelers and families alike.
Best Western Greeneville Inn
An affordable option suitable for both leisure travelers and road-trippers, the Best Western Greeneville Inn offers cozy, comfortable rooms at wallet-friendly rates. As an established mid-range chain, Best Western provides a dependable accommodation experience.
Located directly off 11E, the inn places you minutes from downtown while still convenient for motorists. Begin each day with a complimentary hot breakfast buffet, complete with waffles, eggs, yogurt and sausage. Free coffee and tea provided all day in the lobby.
Rooms exude a relaxed, rustic vibe with log-style headboards and scenic nature photography on the walls. Upgraded suites with separate living rooms also available. Unwind after a day of exploring Greeneville's attractions in the outdoor pool and hot tub.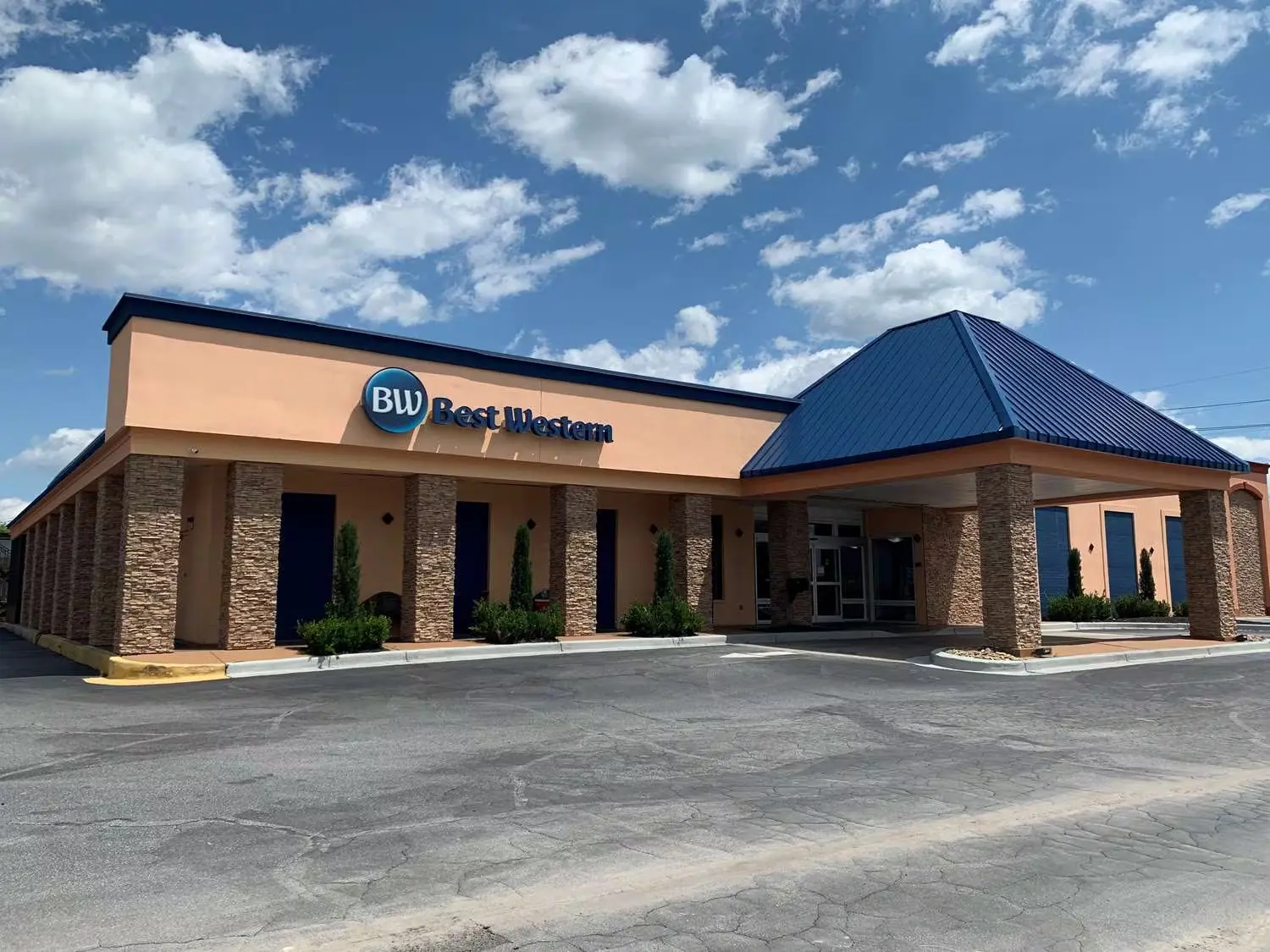 Kids 16 and under stay free with an adult making it a top family-friendly choice, with roll-away beds and cribs available. Parents also appreciate the guest laundry, fitness center with cardio equipment, and business center with computers and printer.
When looking for comfortable, affordable lodging conveniently located off the highway, choose Best Western Greeneville for your visit to experience Tennessee small town life with all the expected conveniences.
Days Inn by Wyndham Greeneville
For travelers watching their budget without sacrificing comfort, consider the Days Inn by Wyndham Greeneville located just off Route 11E southeast of downtown. This value motel provides the essential amenities road trippers need at rates families can afford.
The recently renovated rooms exude a welcoming vibe with their log-cabin style headboards, plush white bedding, and wood-grain vinyl flooring. Kick back on the recliner and enjoy cable channels on the flat-screen after a day of exploring. Request a room with mini-fridge and microwave to enjoy snacks on the go.
Although more basic than luxury chains, Days Inn still provides key benefits like free hot continental breakfast to fuel up for the day as well as free Wi-Fi and parking. Swim in the seasonal outdoor pool on hot summer afternoons. Pet-friendly rooms also available.
Outdoor Recreation in Greeneville
Surrounded by gorgeous mountains and woodlands, Greeneville serves as a paradise for outdoor recreation. Lace up your hiking boots, grab a paddle, and get ready for adventure with these outdoor activities around town:
Hike Hardin Mountain
Just north of town, Hardin Mountain offers an exceptional hiking experience with the option of an easy 1 mile nature trail up to the scenic overlook or a more strenuous 2.5 mile loop to the peak marked with a stone fire tower. In fall, marvel at dazzling foliage.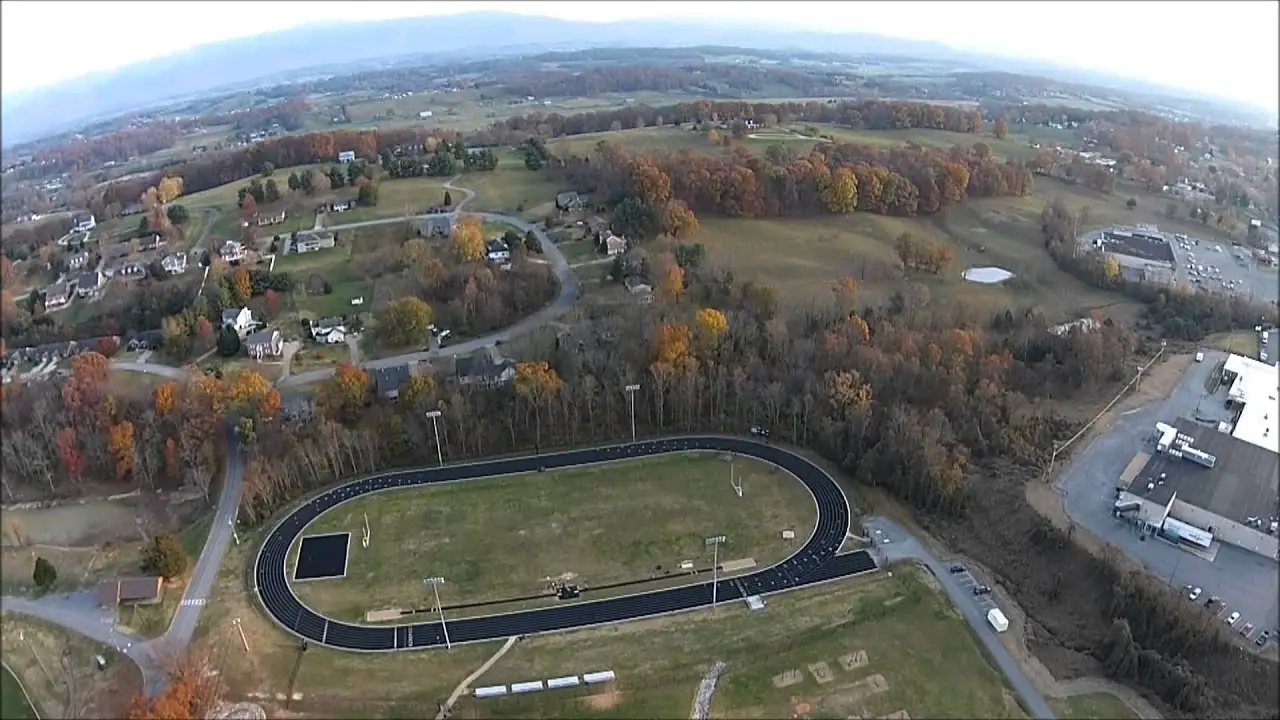 Bike the Greene Valley Greenway
Pedal along the scenic Nolichucky River on this peaceful 7.5 mile rail trail that connects Greeneville to Mosheim. Hit the trailhead at Stratton Meadows Park. Keep your eyes peeled for local wildlife. The trail also connects to the Appalachian Trail.
Fish the Nolichucky River
Anglers delight in fishing for smallmouth bass, yellow perch, catfish, and more on the tranquil Nolichucky River running along the edge of town. Several parks provide river access including Kerbela Springs Park and Kyles Ford Rec Area.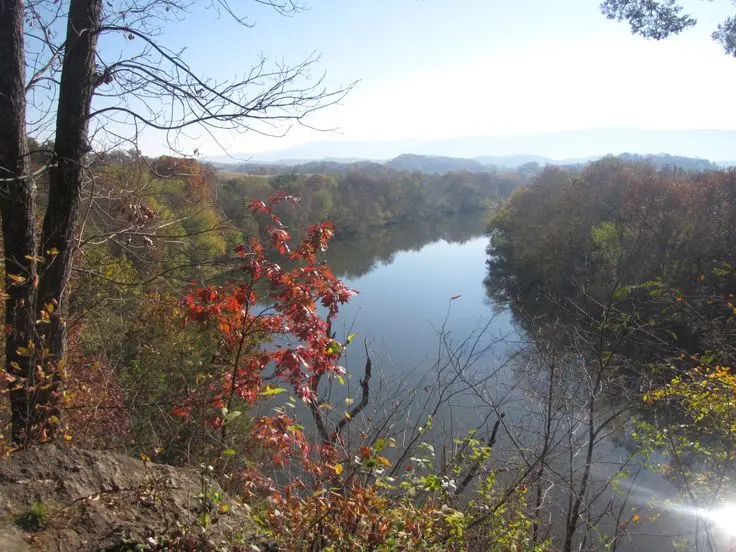 Paddle the Nolichucky Gorge
Experience whitewater thrills paddling down the Nolichucky River Gorge just 20 minutes west of Greeneville. Rent a kayak or raft and tackle the churning Class IV rapids on this designated Wild and Scenic River. Guided tours available for novices.
Play Disc Golf at Walter's State Park
West of town, Walter's State Park has an excellent 18 hole disc golf course winding through the woods along the banks of Douglas Lake. The varied terrain guarantees exciting play. Discs available to rent on-site.
Family Fun in Greeneville
From hands-on museums to sloshing in the water, Greeneville promises plenty of family fun. Here are top attractions for travelers with kids:
Horseback Riding at Painted Pony Ride Company
Families visiting Greeneville who want to experience the beauty of East Tennessee from horseback should book a ride with Painted Pony Ride Company. Nestled in the foothills of the Smoky Mountains, this highly rated outfitter provides gentle trail rides ideal for beginners and kids.
Painted Pony offers private rides tailored specifically to your family or group. Their friendly wranglers skillfully match horses based on riders' ages, sizes, and skill levels. Kids 6 and up can participate, and no experience is required. Helmets provided for safety.
Trek through gorgeous scenery in the Nolichucky River Valley on their well-trained trail horses. The leisurely pace allows you to fully take in the rolling pastures, lush forests, and mountain vistas. Rides range from 1-3 hours. Make memories posing for photos along the routes.
In addition to private family rides, Painted Pony offers summer camps and lessons for aspiring young equestrians. Kids learn essential horsemanship skills like feeding, grooming, and saddling. Multi-day camps available for kids to fully immerse in horse care.
Swimming at Greene Valley Pool
When the Tennessee heat reaches its summertime peak, cool off with a refreshing swim at the Greene Valley Pool conveniently located at the Greene Technology Center in Greeneville. This expansive aquatic complex offers swimmers of all ages slides, diving boards, lap lanes, and shallow children's areas.
The Olympic size 50-meter pool features starting blocks and lanes for lap swimming during scheduled times. Serious swimmers can get their workout in while racing the 100 meter length. Open swim times allow recreational swimmers to paddle around the enormous 450,000 gallon pool.
Two large water slides offer thrills as swimmers twist and turn before splashing down into the pool below. Show off your skills on the high dive and low diving boards. Toddlers enjoy splashing in the separate zero-depth entry children's pool complete with pint-sized water features.
Swimmers can take a break to grab snacks at the on-site concession stand. Lounge chairs offer space to relax poolside. Changing rooms with private showers and lockers provide convenience before and after hitting the water.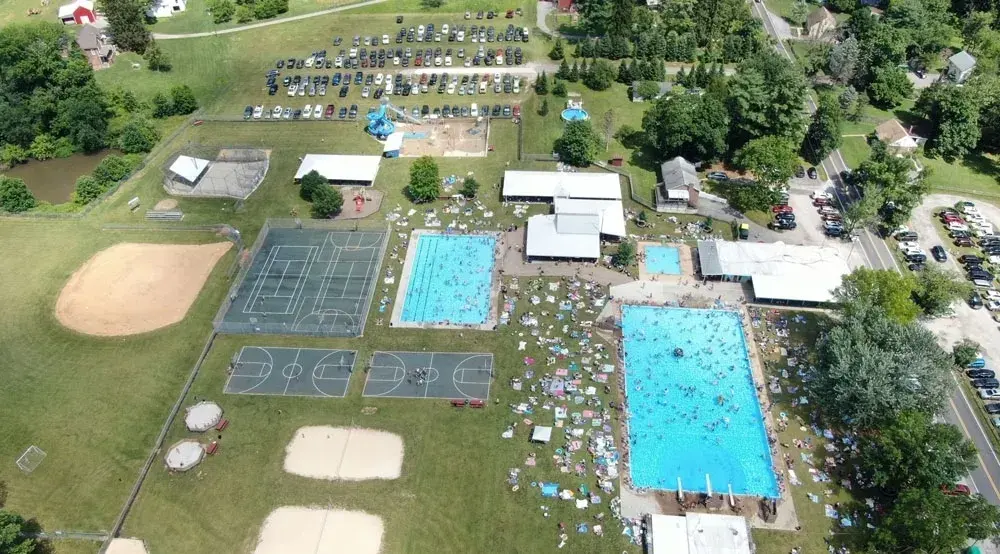 With its vast size and variety of features, Greene Valley Pool promises endless summer fun. Gather the kids and enjoy everything this top-rated Greeneville aquatic center has to offer for staying cool.
WonderWorks Fun Park
Just north of Greeneville, WonderWorks Fun Park provides families with an entire day's worth of thrilling indoor entertainment. This enormous climate-controlled facility houses mini golf, go karts, arcade games, laser tag, bumper cars, and more under one very roof.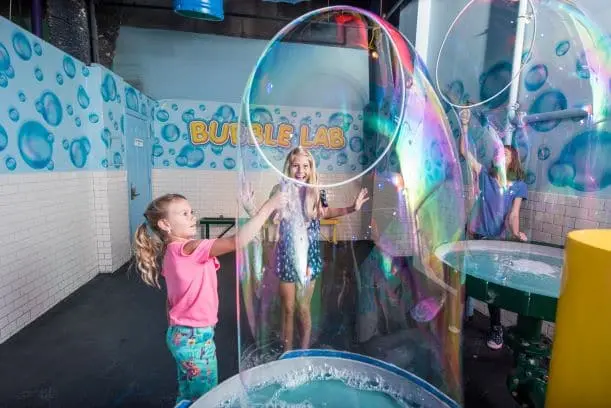 Kids and parents delight in zigzagging through the glow-in-the-dark 18 hole mini golf course accented with interactive elements like water hazards and tricky obstacles. Aspiring race car drivers can hop behind the wheel of speedy go karts to compete on the slick multi-lane track.
The heart-pounding four-story ropes course challenges climbers to navigate wobbly bridges, tight ropes, and dizzying heights. Harnesses keep kids secure as they test their bravery and agility. For tamer fun, bump and spin around the electric bumper car ring.
Mize Farm Corn Maze
Each autumn, families flock to the Mize Farm Corn Maze located just minutes from downtown Greeneville in Tusculum for seasonal fun. This elaborate ten-acre corn maze provides hours of fall entertainment with additional activities for visitors of all ages.
The winding corridors of the towering corn maze stretch for over three miles. Navigate the maze solo or grab a provided map if you need help finding all the numbered checkpoints hidden throughout. See if you can break the record for the fastest time completing the intricate labyrinth.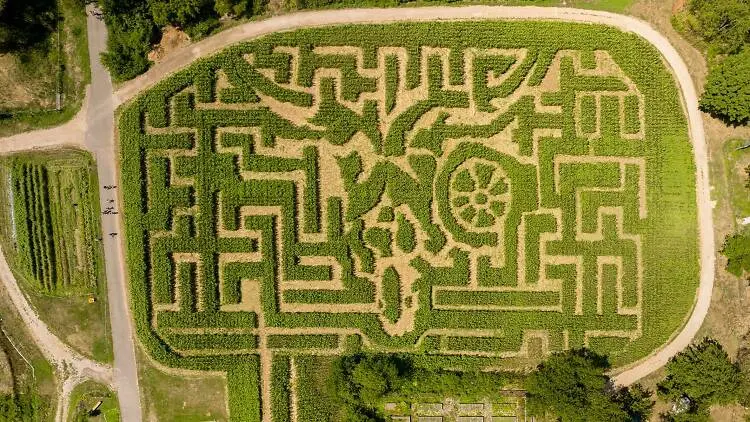 Beyond the massive maze, Mize Farm has pumpkin patches where you can pick the perfect pumpkins to take home. Kids squeal with joy barreling down the thrilling slides and climbing structures. Hop aboard tractor-pulled hayrides for tours across the farm's scenic fields.
Don't miss getting up close with the resident farm animals in the petting zoo. Kids can feed and brush the goats, chickens, rabbits, and more. Finish your visit with fresh apple cider, kettle corn, and other tasty seasonal treats. The affordable tickets make this an ideal autumnal activity for families.
Festivals & Events in Greeneville
Throughout the year, Greeneville hosts an array of exciting community festivals and events that spotlight everything from history to food to music. Mark your calendar for these popular annual happenings:
Smoky Mountain Folk Festival
Music lovers visiting Greeneville in late summer should pencil in the lively Smoky Mountain Folk Festival on their itinerary. Held annually each September, this popular 3-day event fills historic downtown with an entertaining mix of live music, artisan crafts, and delicious food. Best of all, the festival is completely free to attend.
Several stages spotlight local and regional Americana musicians playing an array of folk instruments. Sway and tap your toes as skilled string bands pluck banjos, fiddles, and mandolins. Singer-songwriters armed with just acoustic guitars and microphones belt out everything from Appalachian ballads to contemporary covers.
In addition to shining a spotlight on East Tennessee's deep musical roots, the festival also celebrates other heritage arts. Watch artisans demonstrate traditions like glass blowing, pottery, quilting, and woodworking. Handmade crafts make great souvenirs.
When you need a break from the tunes, sample classic fair food from the dozens of vendors lining Main Street. Indulge in piping hot funnel cakes dusted with powdered sugar or giant turkey legs smoked to perfection. Quench your thirst with fresh-squeezed lemonade or local craft brews.
Greene County Fair
Each July the Greene County Fair arrives in Greeneville, providing a week filled with rides, music, demolition derbies, rodeos, and good old-fashioned family fun. This beloved annual tradition brings the local community together for food, entertainment, and agriculture exhibits.

The fair's bustling midway features dozens of exhilarating carnival rides from stomach-dropping roller coasters to smaller kiddie rides. Try your hand at winning stuffed animal prizes at the games of skill and chance. When hunger strikes, you're steps from indulgent fair fare like funnel cakes, corn dogs, and fresh-squeezed lemonade.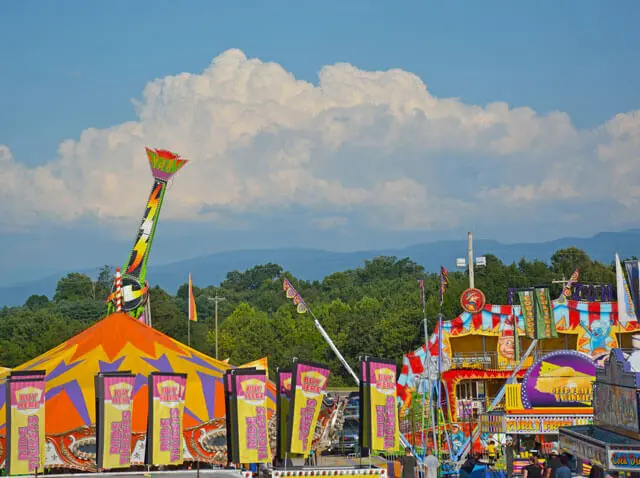 At the fairgrounds you can also catch live music performances, magician shows, and pig races. Gearheads thrill at the mud-covered truck and tractor pulls. Each night ends with a bang at the demolition derby where drivers crash and smash junk cars until only one vehicle remains running.
Beyond the rides and entertainment, the Greene County Fair also highlights local agriculture. Browse livestock exhibitions from rabbits to cattle. Kids delight meeting farmers and petting barnyard animals. Culinary contests award prizes for canned goods, baked items, and more.
For a full slate of old-fashioned summer fun, mark your calendar for the Greene County Fair when visiting Greeneville in July. It promises entertainment and traditional fair fare fit for all ages.
Greeneville IRISH Festival
Each February, downtown Greeneville transforms into a lively Irish pub for the day at the annual Greeneville IRISH Festival. Celebrate St. Patrick's early at this popular one-day street festival exploding with Celtic culture and entertainment.
Festive music fills the air as talented musicians play upbeat jigs on fiddles and tin whistles. Watch spirited Irish dancers tapping and stepping in traditional garb. Browse local vendors selling custom Celtic jewelry, Irish woolen goods, and other imported wares.
Of course, no Irish festival would be complete without batches of hearty fare to fill hungry bellies! Savor savory shepherd's pie, fish and chips, and corned beef sandwiches from food trucks and eateries. Wash it all down with a pint of thick Irish stout from the beer garden. Make sure to save room for chocolate Guinness cake.
The event culminates in the evening with an incredible pyrotechnics show lighting up the Greeneville skyline. Watch fire dancers spin flaming batons to upbeat Celtic tunes before the dazzling fireworks finale, visible throughout town.
For a fun-filled day celebrating Irish heritage with delicious food, lively entertainment, and festive ambiance, don your greenest garb and head downtown for the annual Greeneville IRISH Festival. It provides an emerald island experience for all ages to enjoy.
Antique Engine & Tractor Show
Classic car, tractor, and engine enthusiasts convene each June at the Antique Engine & Tractor Show held on the grounds of Greeneville's General Morgan Inn. This free two-day event displays hundreds of perfectly preserved antique vehicles and machines from years past.
Meander through rows of vintage tractors, some dating back over a century, to admire the engineering and gleaming paintwork. Climb aboard for photos and to check out the iconic leather bench seats and manual controls. Many owners eagerly share the unique histories behind the prized tractors.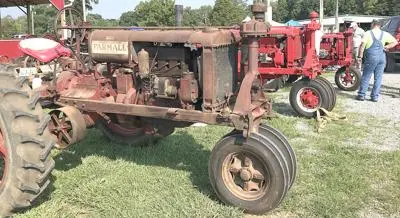 In addition to the tractors, the dynamic show features antique gas and steam-powered engines used for agriculture, mining, and logging. Marvel at the craftsmanship required to cast and assemble the enormous legacy engines that modernized America.
Beyond the historic machinery displays, the show offers plenty of old-time entertainment. Savor classic fair food like funnel cakes and BBQ sandwiches. Let the kids enjoy tractor pulled hayrides around the grounds. Tap your toes to the lively tunes of bluegrass bands and balladeers.
Experience the Beauty of Greeneville
Defined by its verdant landscape and historic charms, Greeneville delights visitors with its array of attractions and activities. From exploring centuries-old landmarks to making a splash at family fun parks, this East Tennessee town promises enjoyable experiences for all interests. With so many things to see and do just a short drive from major cities like Knoxville, Greeneville deserves a spot on your Tennessee travel itinerary. Come discover the magic of this beautiful slice of the Southern highlands!