Best Things to Do in Hudson Valley in 2024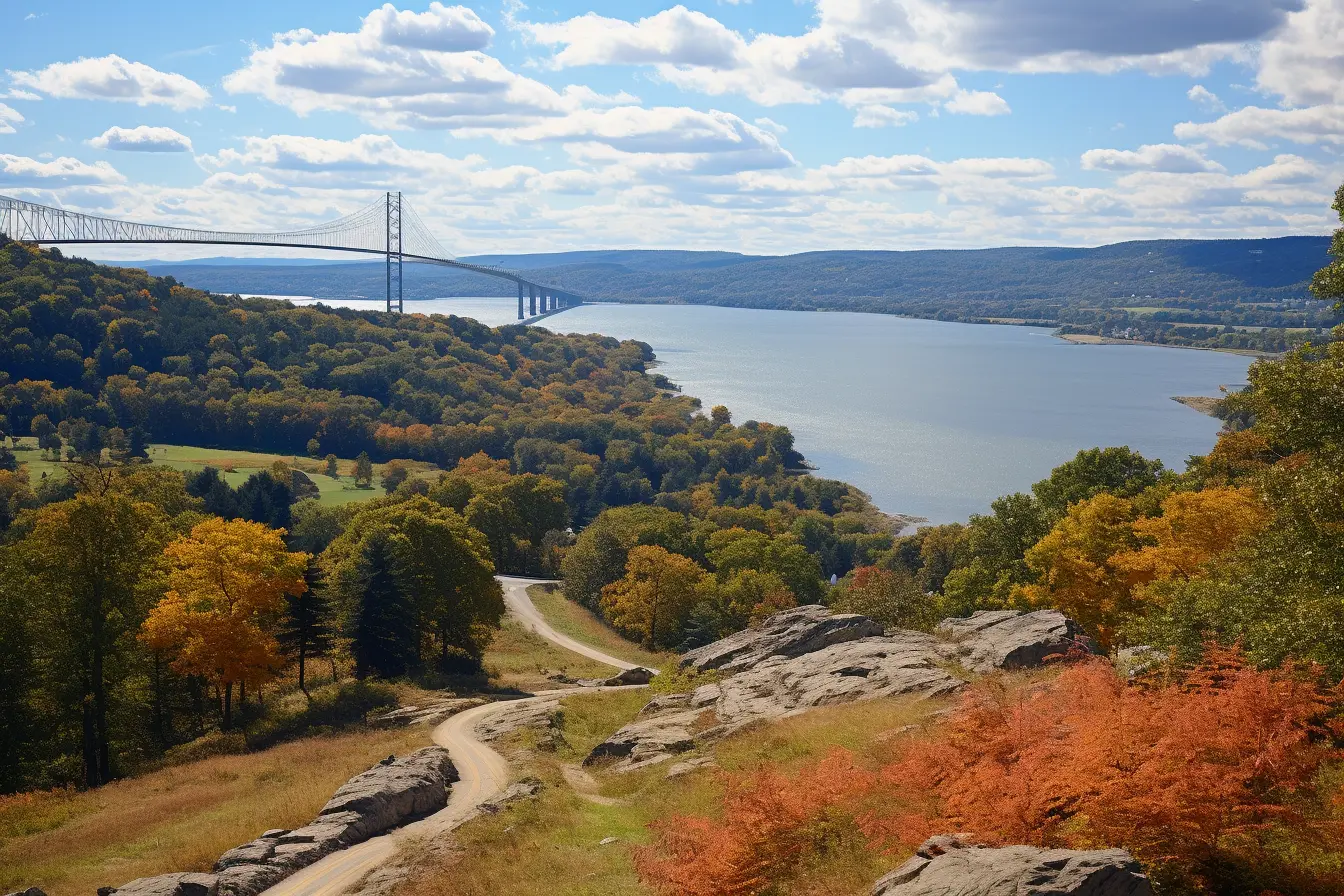 The Hudson Valley region of New York is a treasure trove of natural beauty, historic sites, and cultural attractions. As we look ahead to 2024, there are countless remarkable experiences awaiting in this scenic valley spanning 150 miles along the Hudson River. From hiking trails showcasing fall foliage to farm-to-table restaurants, quaint villages to grand estates, the Hudson Valley has something for everyone.
This extensive guide will highlight some of the best things to do in the Hudson Valley in 2024, so you can fully experience this majestic region in the year ahead. Let's dive in and start planning your perfect Hudson Valley getaway as the new year unfolds!
Outdoor Activities
The sublime natural landscapes of the Hudson Valley provide endless opportunities for outdoor recreation. Lace up your hiking boots and spend a day exploring one of the many trails showcasing the region's forests, mountains, and waterways.
Hike Kaaterskill Falls
Rising high above a deep gorge in New York's Catskill Mountains, Kaaterskill Falls stands as one of the most breathtaking natural wonders in the Hudson Valley region. This imposing two-tiered waterfall towers 260 feet, making it the highest cascade in New York State. Visitors can embark on a moderate one mile roundtrip hike to reach the base of Kaaterskill Falls and take in its awe-inspiring power up close.
The journey begins along an old carriage road near Route 23A in Haines Falls. Stone steps soon appear, signaling the start of the steep uphill climb towards the falls. Sturdy hiking boots with traction are recommended for gripping the rocks along the way. The sound of rushing water grows louder as you continue ascending on the rocky trail, which includes a few thrilling scrambles up boulders and ledges.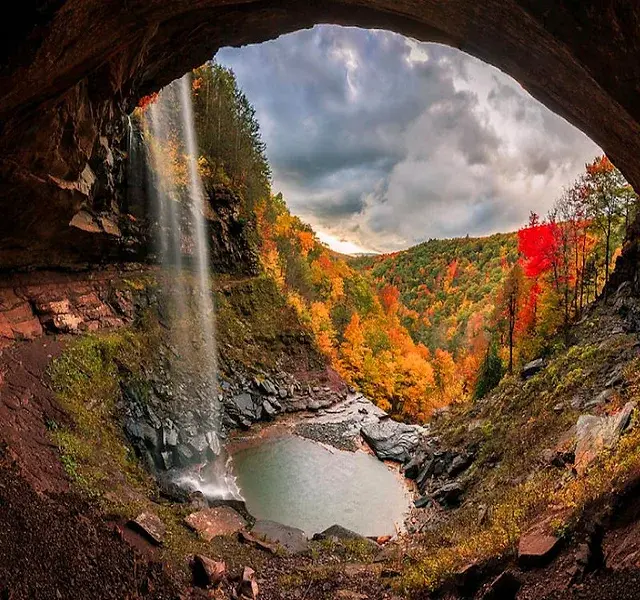 Prepare to be amazed by unobstructed views of the cascading waters as they plunge into the pool below, sending up a fine misty spray. On sunny days, rainbows often form in the tumbling waters. Gazing out across the deep amphitheater carved by the falls reveals gorgeous panoramas of the surrounding Catskill forests ablaze in autumn and lush green in summer. After admiring Kaaterskill Falls from every angle, carefully retrace your steps back down to return to the trailhead.
One of the most spectacular times to experience Kaaterskill Falls is in early autumn, when the leaves are just starting to show their fall colors. Against a backdrop of crimson and gold maple leaves, the two cascading tiers of Kaaterskill Falls appear even more dramatic and picturesque. The peak flow of water over the falls also coincides with autumn rainfalls. Late summer is another ideal time to visit, when swimming is permitted in the cool plunge pool at the falls' base. No matter the season, Kaaterskill Falls never fails to impress visitors with its stunning height and natural power perfectly showcased along this must-do Catskills hiking trail.
Walk Across the Walkway Over the Hudson
For a unique aerial perspective of New York's majestic Hudson Valley, head to the Walkway Over the Hudson State Historic Park. Here you'll find the world's longest elevated pedestrian bridge spanning 1.28 miles over the Hudson River, connecting Poughkeepsie and Highland. Originally built as a railroad bridge in 1889, the steel cantilever bridge sat abandoned for decades after a fire. But in 2009, it reopened as a public park and linear trail after an extensive transformation.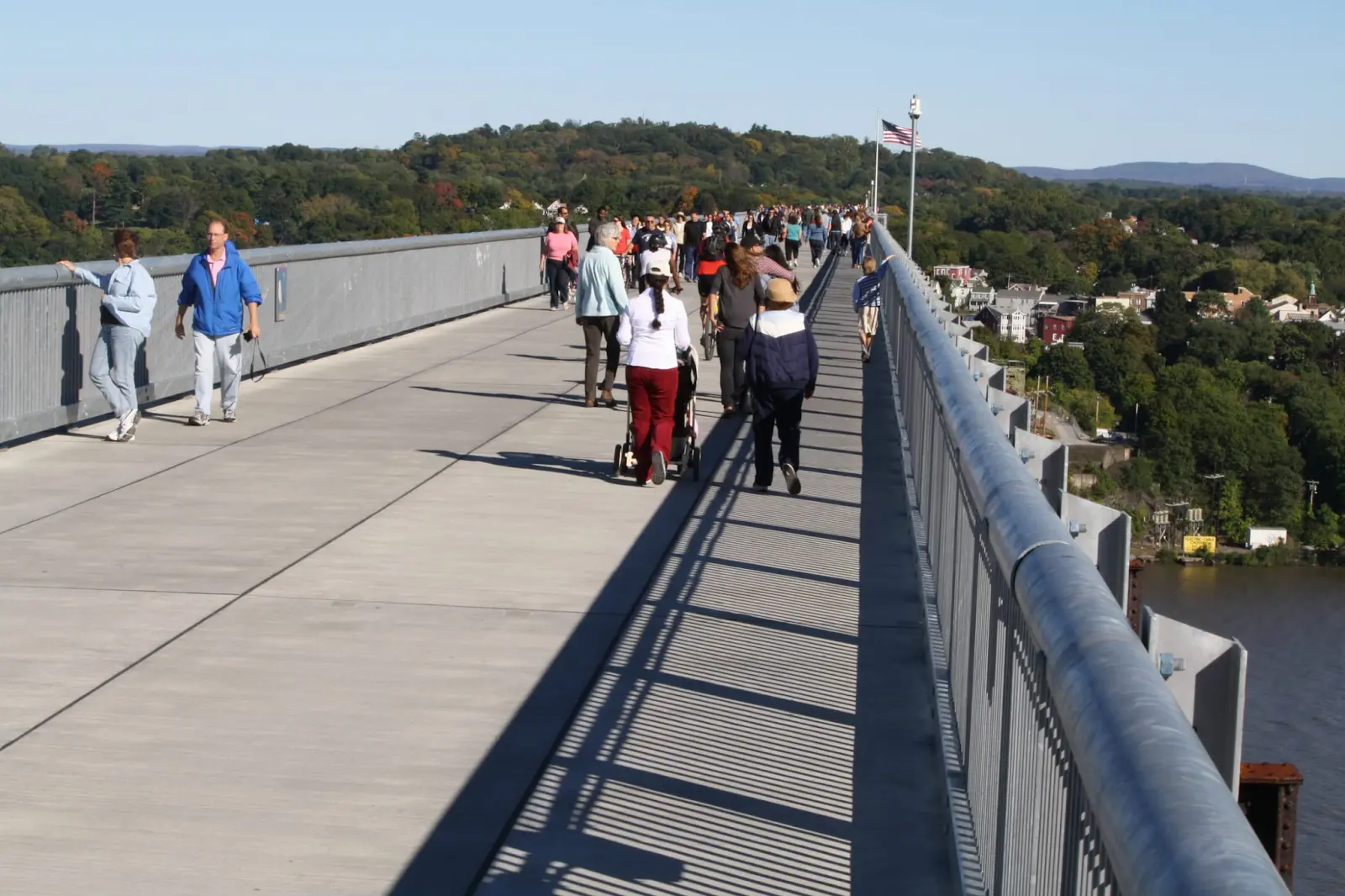 Visitors can now stroll 212 feet above the Hudson River along the tree-lined Walkway, taking in panoramic vistas. On the Poughkeepsie side, an elegant pavilion contains exhibits highlighting the bridge's history and construction, along with a gift shop and cafe. Interpretive signs posted along the span detail facts about the surrounding Hudson Valley landmarks visible from such heights. The Walkway's gentle grade makes it accessible for visitors of all ages and abilities to enjoy.
One of the best times to cross the Walkway Over the Hudson is sunset, when you can watch the golden light shift and shimmer over the river and the emerging night sky. Picnic tables along the trail allow you to relax above the water with snacks and camera in hand. SPECIAL events like yoga classes, historic tours, and 5K charity walks also take place on the Walkway throughout the year. And each winter the bridge dazzles with a holiday light display. Whether you're a New Yorker or just passing through, walking the Walkway Over the Hudson offers exhilarating new perspectives along with a family-friendly activity to appreciate the Hudson Valley's natural splendor.
Paddle the Wallkill River
For a refreshing journey along a peaceful waterway, rent a kayak or canoe and paddle down New York's Wallkill River. Located in the scenic Hudson Valley, this gently winding river connects Orange and Ulster counties as it flows north through the rural Black Dirt Region. As you glide across mirror-like waters, you'll feel immersed in nature with forests bursting with bright green foliage in spring and shining gold hues in fall.
One recommended 7-mile paddling route begins at Ward Pound Ridge Reservation in Orange County and ends at Wallkill River National Wildlife Refuge in Ulster County. As you traverse this section, keep your eyes peeled for great blue herons stalking the shallows, painted turtles sunning on logs, and other wildlife along the grassy shores. Paddlers of all experience levels will find the calm conditions comfortable, with hardly any rapids.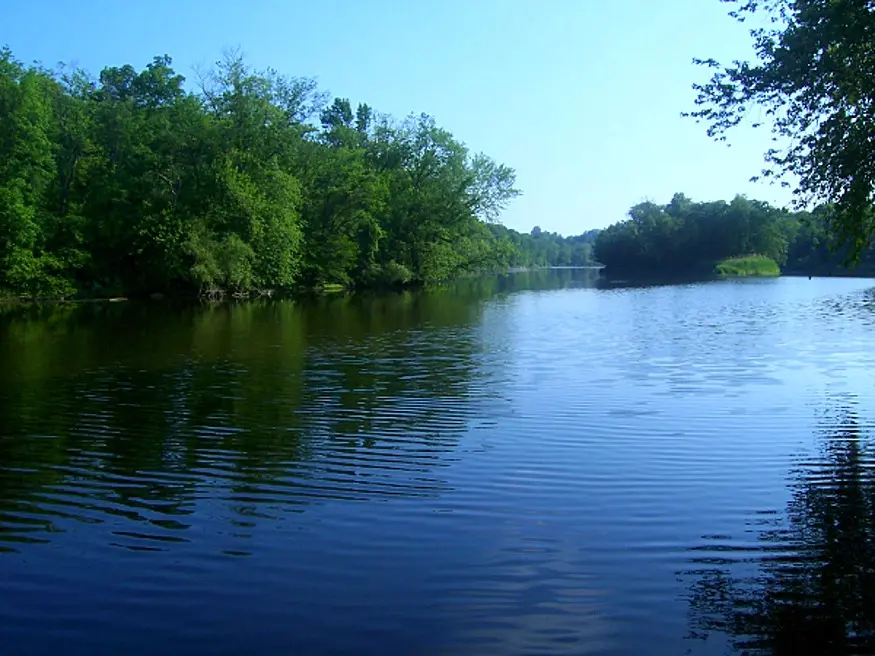 Numerous public access points with parking dot the Wallkill River, making it easy to launch your kayak or canoe. Head out early in the morning to have the tranquil river to yourself. Pack a lunch to enjoy at one of the picnic areas along the way. Or take a break halfway through to stretch your legs and grab a bite in one of the quaint river towns like Montgomery.
Late spring offers ideal paddling conditions, with mild weather and slower river currents following snowmelt. Come October, the blazing autumn foliage reflecting off the Wallkill makes for a spectacular colorful paddle. No matter the season, time spent gliding down the scenic and peaceful Wallkill River lets you immerse yourself in the natural beauty of the Hudson Valley from a fun new vantage point.
Hike Bear Mountain
Rising high above the Hudson River, Bear Mountain State Park provides hikers expansive vistas of the surrounding Hudson Highlands from its 1,283-foot summit. The most popular trail to the top is the Appalachian Trail, which begins from Bear Mountain Inn and zigzags 2.5 miles up the mountain's wooded slopes. Along this moderate hike, you'll traverse rocky inclines lined with wildflowers in spring and blueberry bushes ripe for picking in summer.
The payoff comes when you reach the summit viewpoint and the impressive vistas open up. On a clear day, you can see as far as Manhattan skyscrapers to the south and the Catskill Mountains to the north. Just below, the Hudson River winds through the rugged Highlands framed by Bear Mountain Bridge. Descend the short distance to Bear Mountain Inn to refuel on lunch and ice cream while soaking in more panoramas from the inn's observation deck 1,130 feet up.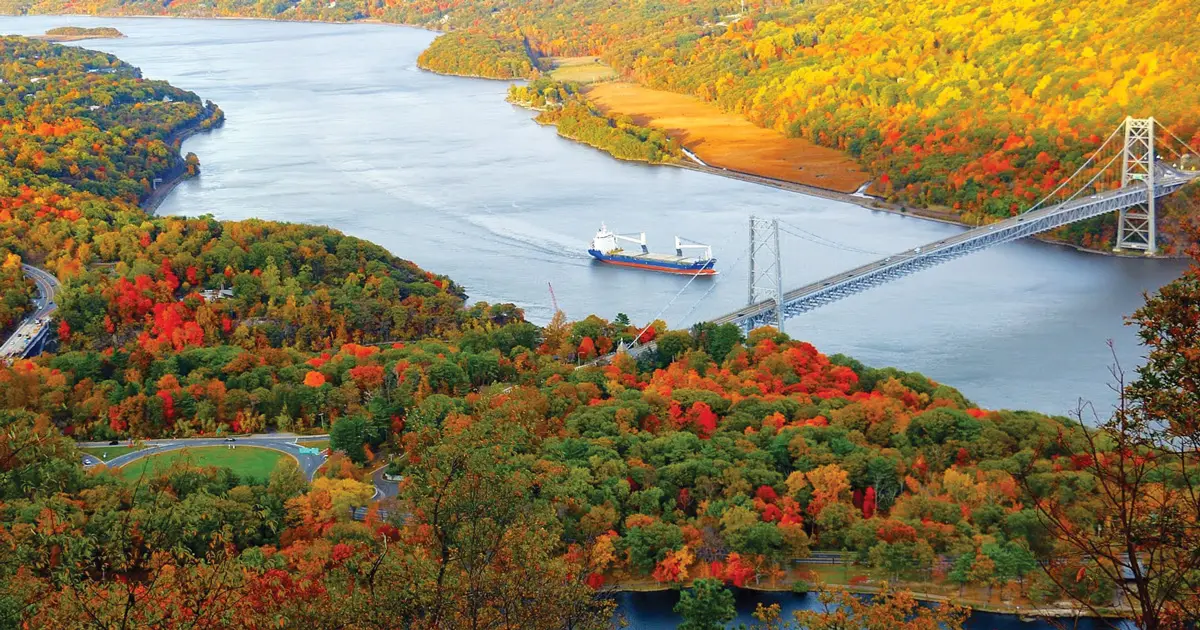 Located on the west bank of the Hudson River, Bear Mountain State Park contains over 40 miles of trails catering to hikers of all abilities. Easier nature paths closer to Bear Mountain Inn like the 1-mile Circle of Trees Trail loop past woodland streams and placid Perkins Memorial Lake. Or challenge yourself summiting Bear Mountain's neighbor, 1,400-foot Dunderberg Mountain, which offers even broader vistas.
Historic Sites
Beyond its natural splendor, one of the Hudson Valley's star attractions is its wealth of historic sites. Get immersed in the story of America with a visit to Revolutionary War battlefields, opulent Gilded Age mansions, and more.
Tour West Point, the Legendary U.S. Military Academy
As one of America's most storied sites, West Point has countless tales to tell through its role as the oldest continually active military post in the country. Nestled on a scenic bank of the Hudson River about an hour north of New York City, West Point has served as the prestigious United States Military Academy since 1802.
Visitors can explore West Point's legacy on a guided tour of the Academy's extensive campus. Highlights include the imposing granite Gothic Cadet Chapel, the parade field at Trophy Point where cadets conduct drills, and scenic overlooks of the Hudson River Valley. History buffs will appreciate the West Point Museum, which contains over 15,000 artifacts chronicling the Academy's role in every major U.S. conflict from the Revolutionary War to today.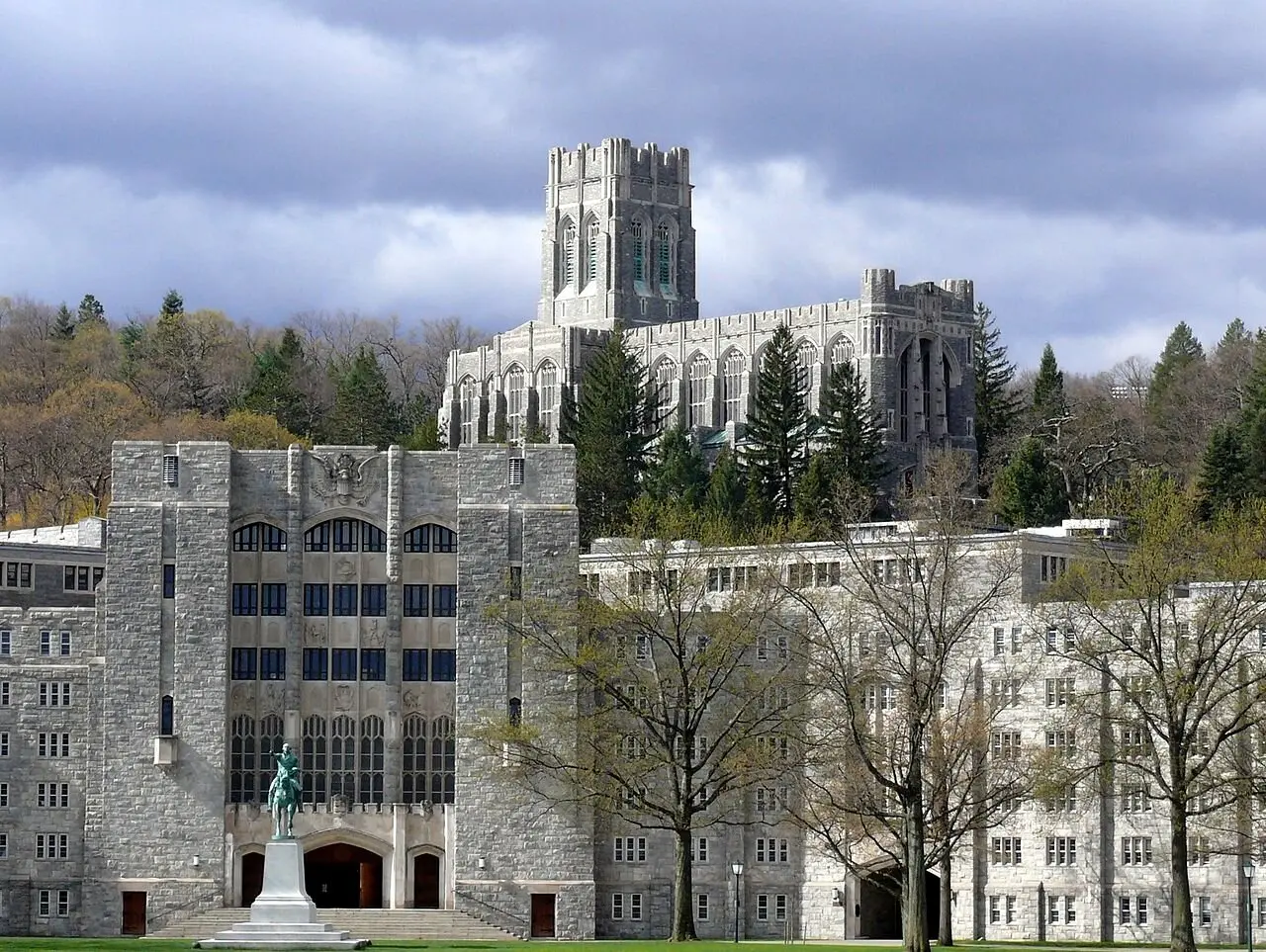 Sports fans visiting in fall can also catch an Army Black Knights football game and experience the exhilarating atmosphere of military academy athletics. Throughout the year, weekend events like concerts, documentaries, and exhibits offer additional ways to engage with West Point's rich history. The West Point Cemetery and nearby Revolutionary War sites like Fort Putnam add further opportunities to reflect on the sacrifices made in defense of the nation throughout centuries.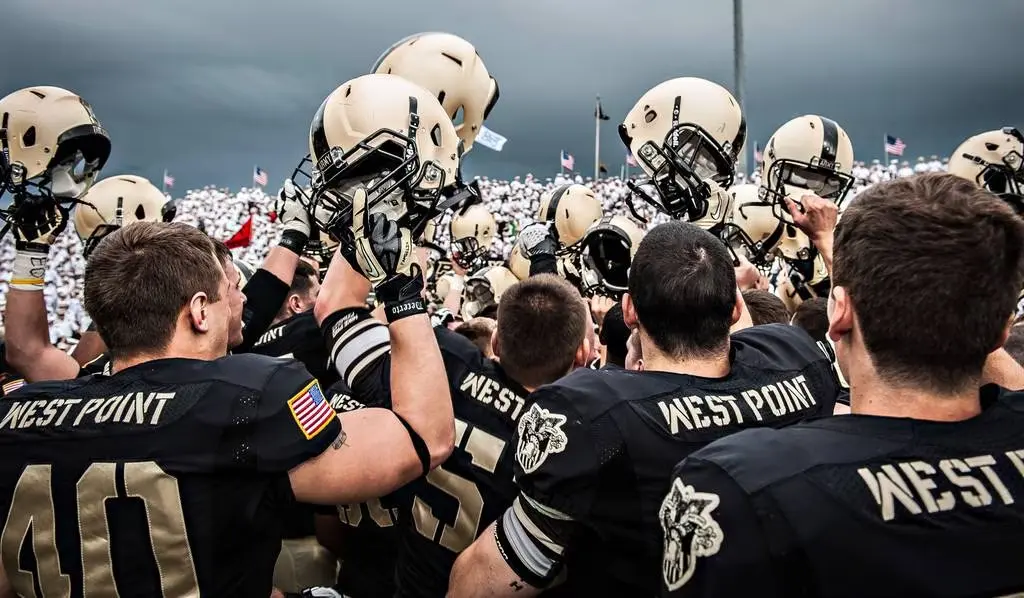 With its combination of outstanding military heritage and picturesque Hudson Valley setting, visiting West Point makes for an ideal day trip or weekend getaway. Walking the storied campus grounds and museums or simply gazing out from a riverside vista, you'll gain profound new appreciation for the United States Military Academy and all who passed through its halls.
Tour Franklin Roosevelt's Scenic Springwood Estate
Located in the Hudson River Valley, Springwood estate offers an intimate look at the lifelong home of one of America's most influential presidents, Franklin Delano Roosevelt. As the only National Historic Site devoted to FDR, today the estate is operated by the National Park Service with tours of the stately home, museum, trails, and gravesite.
A tour of FDR's Springwood home transports visitors back to the Gilded Age, when Roosevelt spent much of his childhood there in the late 1800s. Many original furnishings, books, and collectibles offer a glimpse into daily life. The home also houses an exhibit focused on FDR's unprecedented 12-year presidency, featuring artifacts like his desk where he delivered his famous "Day of Infamy" speech.
Outside, Roosevelt's love of the outdoors comes alive while strolling through Springwood's lush grounds and woodland trails. Highlights he enjoyed include his horse farm, Stone Cottage, and the rose garden where FDR and Eleanor are now buried side-by-side overlooking the Hudson River. A serene 1-mile carriage road leads to Top Cottage, FDR's private retreat nestled in the woods.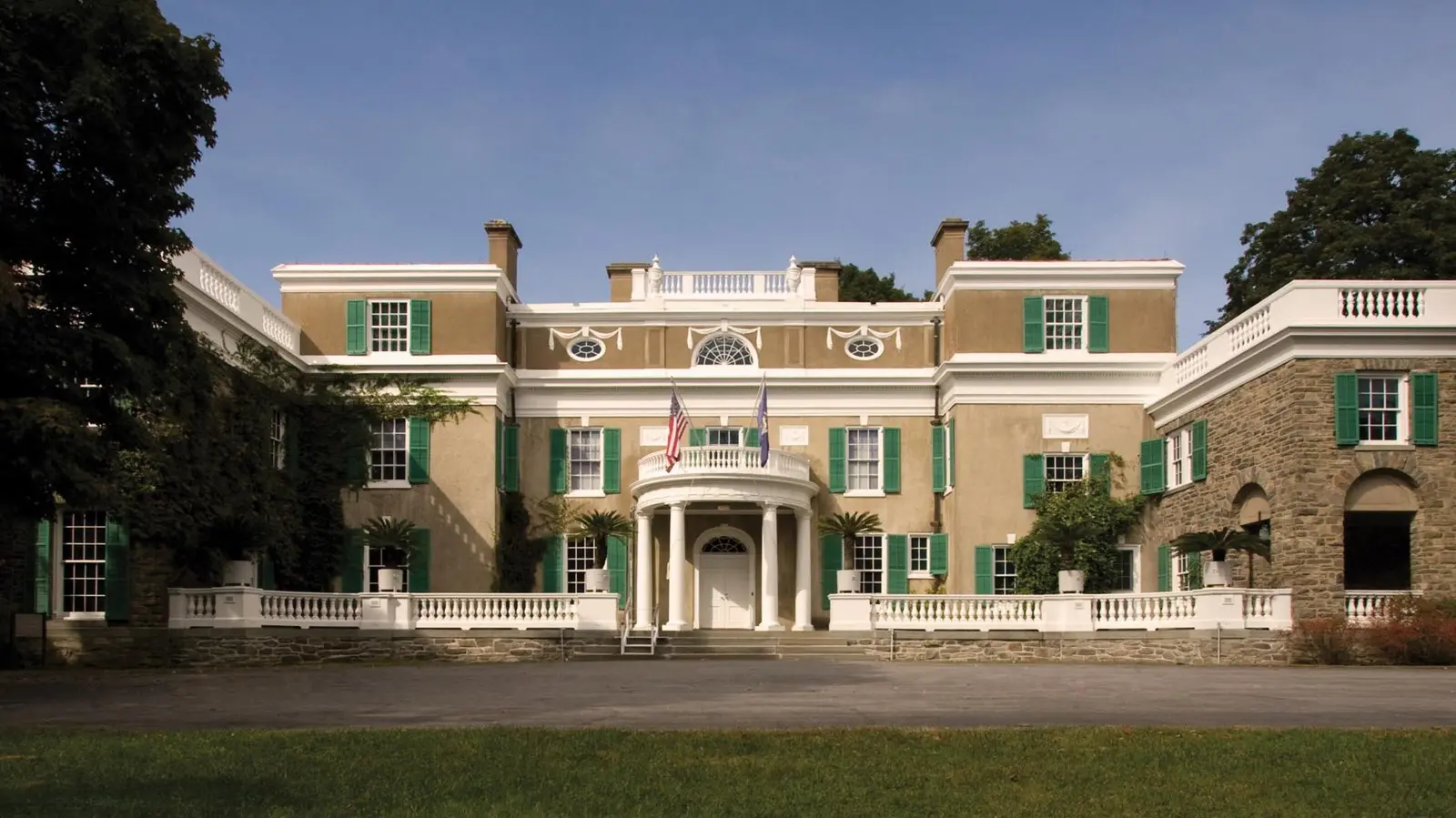 Located near Hyde Park, touring FDR's Springwood estate provides personal insights into the early life and passion for nature that helped shape one of the nation's greatest leaders. From the historic home to the tranquil gravesite, Springwood gives an up-close look at Franklin Roosevelt's enduring legacy.
Marvel at the Mystical Ruins of Bannerman Castle
Rising from the middle of New York's Hudson River, the striking ruins of Bannerman Castle seem transported straight from a fairy tale scene. But the reality behind this crumbling edifice has roots in Scottish heritage, military surplus, and eventual neglect. Located 50 miles north of New York City, Bannerman Castle can only be reached by kayak, boat tour, or sternwheeler cruise.
The castle's story begins with Francis Bannerman VI, who built the structure in 1901 to serve as a warehouse for his thriving military surplus business. Inspired by his native Scotland, Bannerman designed an imposing castle as the store's showroom and storage right on Pollepel Island. After decades of use storing everything from rifles to saddles to cannons, much of the arsenal exploded in 1920. What remains of Bannerman Castle has sat abandoned since the 1960s, when a fire caused partial collapse.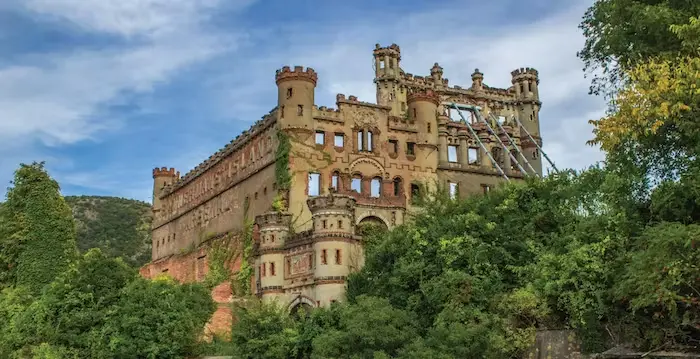 Today, visitors who make the Hudson River voyage to Bannerman Island are rewarded with striking views of the ruins. Guided walking tours given by the Bannerman Castle Trust allow you to explore inside the castle walls and climb narrow staircases for panoramas. Or independently wander the island, imagining the sights and sounds of a turn-of-the-century arsenal. Even in picturesque decay, Bannerman Castle still conjures images of knights, keeps, and epic adventure along the Hudson shoreline.
Art & Culture
In addition to its role in US history, the Hudson Valley also serves as a thriving arts and culture hub. Music venues, farm-to-table fare, and world-class art institutions beckon visitors and locals alike.
See a Show at Bethel Woods
The farm fields of Bethel, New York once hosted the legendary 1969 Woodstock festival, a pivotal moment in music history. Today, the Bethel Woods Center for the Arts stands on that same sacred ground. With indoor and outdoor venues, Bethel Woods offers an exciting lineup of concerts and entertainment year-round. Check their calendar for a stellar array of acts in 2024, then have an immersive experience walking the Woodstock site to relive the magic. Don't miss the outstanding Woodstock museum chronicling the culture-shifting event.
Browse the Renowned Storm King Art Center
Spanning over 500 acres, Storm King Art Center boasts one of the most impressive collections of outdoor sculpture anywhere. Situated in the Hudson Highlands, this open-air museum showcases over 100 carefully sited large-scale works by renowned artists like Alexander Calder, Louise Bourgeois, Andy Goldsworthy, and Maya Lin. Visitors can spend hours wandering its fields and hills to discover these monumental sculptures at every turn, set against the backdrop of mountains and sky. Don't miss Maya Lin's Wavefield, an earthwork installation evoking flowing fabric. Storm King offers programs, tram tours, and a cafe to make a day of art and nature.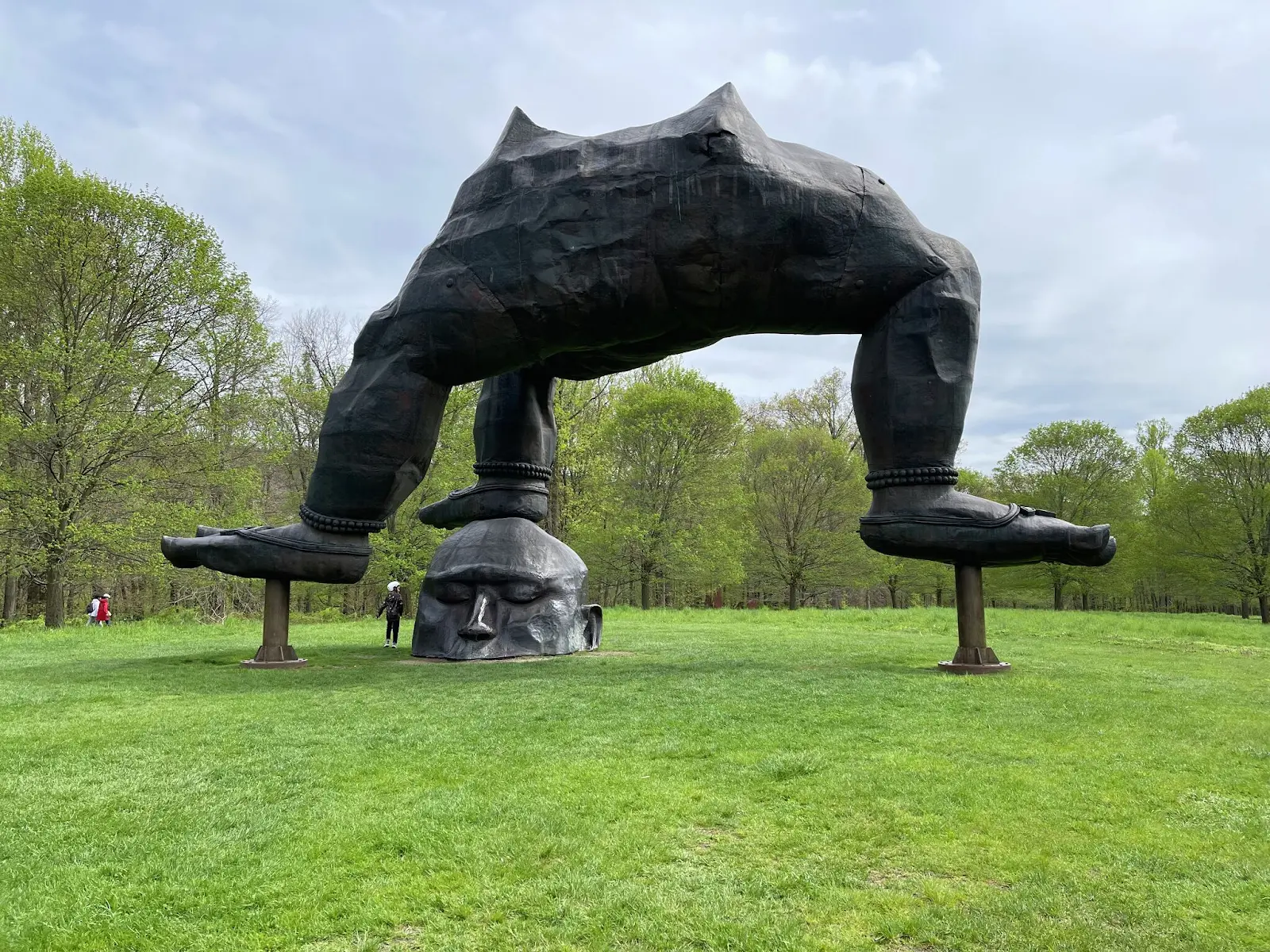 Experience the Peak of Opera at
Every summer, the Glimmerglass Festival in Cooperstown showcases world-class opera performed in an idyllic rural setting on the shore of Otsego Lake. Since its founding in 1975, Glimmerglass has built a reputation for high quality productions marked by daring interpretations, fresh ideas, and emerging young talent alongside seasoned veterans. The 2024 season runs from July through August, with a mix of classics and contemporary works. Before the curtain rises, enjoy picnicking by the lake or strolling the Alice Busch Opera Theater's verdant grounds. The intimate theater and innovative performances make Glimmerglass a gem among American opera companies.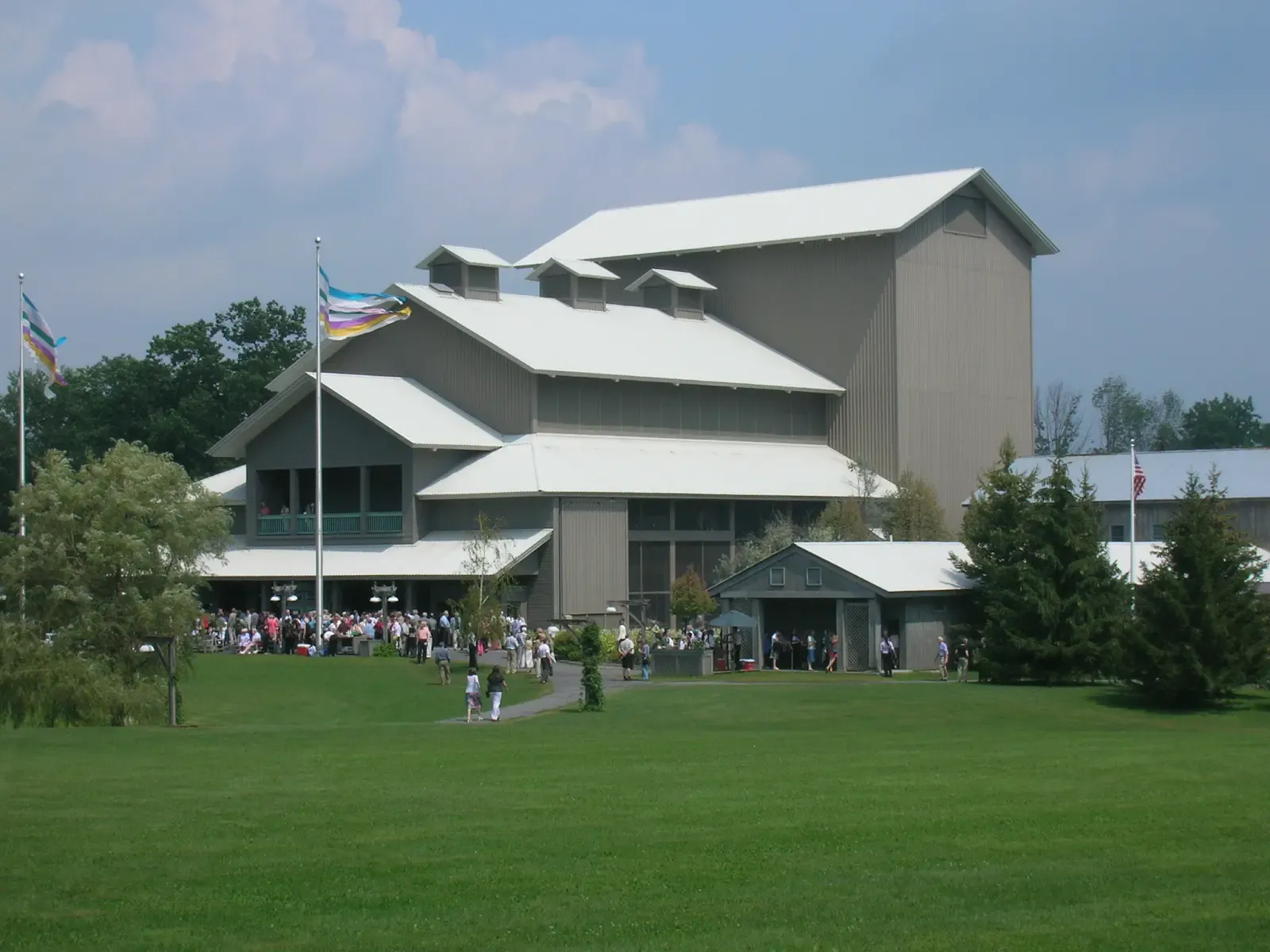 Tour and Taste at Hudson Valley Breweries
Craft beer enthusiasts will love touring the breweries producing small-batch suds across the Hudson Valley. With farmhouse ales, IPAs, and unique hybrids like New England hazies and pastry stouts, the local beer scene has brews to satisfy every palate. Head to Suarez Family Brewery for European styles layered with complex flavors, or visit Industrial Arts Brewing Company and Keegan Ales for full menu restaurants alongside the taprooms. Further north, take in the Adirondack views from Common Roots and Fiddlehead Brewing Companies. Most offer tours and tasting flights so you can discover your perfect locally-made brew.
Cuisine
One of the best parts of any getaway is getting to dine at amazing local restaurants. The Hudson Valley excels when it comes to fresh farm-sourced fare, artisanal products, and top-notch chefs inspired by the bounty of the region.
Get Cozy at Blue Mountain Bistro-to-Vacation Rentals
Tucked in the Adirondacks in Indian Lake, Blue Mountain Bistro offers not only farm-to-table dining but also cozy vacation rentals onsite. Choose from suites above the bistro or standalone cottages and cabins, ranging from studios to a three bedroom chalet. Interiors decorated with vintage finds exude rustic charm. You'll enjoy amenities like fully equipped kitchens, fireplaces, and hot tubs. The bistro and pub downstairs dish out delicious meals sourced from their family farm. With the serene mountains and waterways of Blue Mountain Wild Forest right at your doorstep, Blue Mountain makes for a secluded getaway.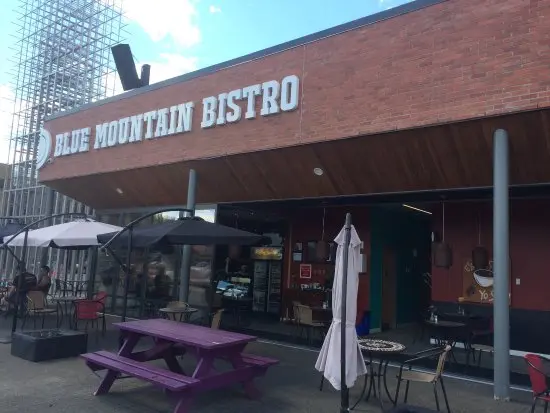 Treat Yourself to a Meal at The Red Lion Inn
Operating continuously since the late 18th century, The Red Lion Inn in Stockbridge, Massachusetts exudes historic charm. But its cuisine is anything but outdated. Dine on contemporary New England fare in the tavern or the more formal dining room with a seasonal menu driven by locally sourced ingredients. Standouts include their classic clam chowder,apricot-lacquered salmon, and flourless chocolate torte for dessert. With exemplary service and serious cooking pedigree under Executive Chef Brian Alberg, The Red Lion Inn's white tablecloths and fireside dining create a quintessential fine dining experience.
Savor Oysters and Seafood at The Fishing Place
On the shore of Cold Spring Harbor sits The Fishing Place, offering peak seafood and views of the waterfront marina. With a focus on sustainable fishing, their menu stars Long Island oysters along with catches like Montauk tuna, Block Island swordfish, and Peconic Bay scallops. Or try one of their hearty surf and turf pairings. Cozy up by the fireplace in the wood-beamed dining room or dine alfresco. Since opening in the late 1920s in an old shipbuilder's house, The Fishing Place has maintained its reputation as a favorite destination for exceptional sustainable seafood.
Experience Fine Dining at The Maker
The rustic-chic restaurant The Maker brings contemporary fine dining to the Hudson Valley in Millerton. Housed in a converted 19th century barn, the dining room's timber beams and twinkling lights set a warm ambiance. Chef/owner Matthew LoRusso's seasonal New American tasting menus present impeccable technique and bold flavors. Dishes like dry aged duck with parsnip and black trumpet mushrooms dazzle on the plate. A curated wine list of small producers and Maker original cocktails complement the culinary creativity. For an intimate special occasion meal, The Maker delivers.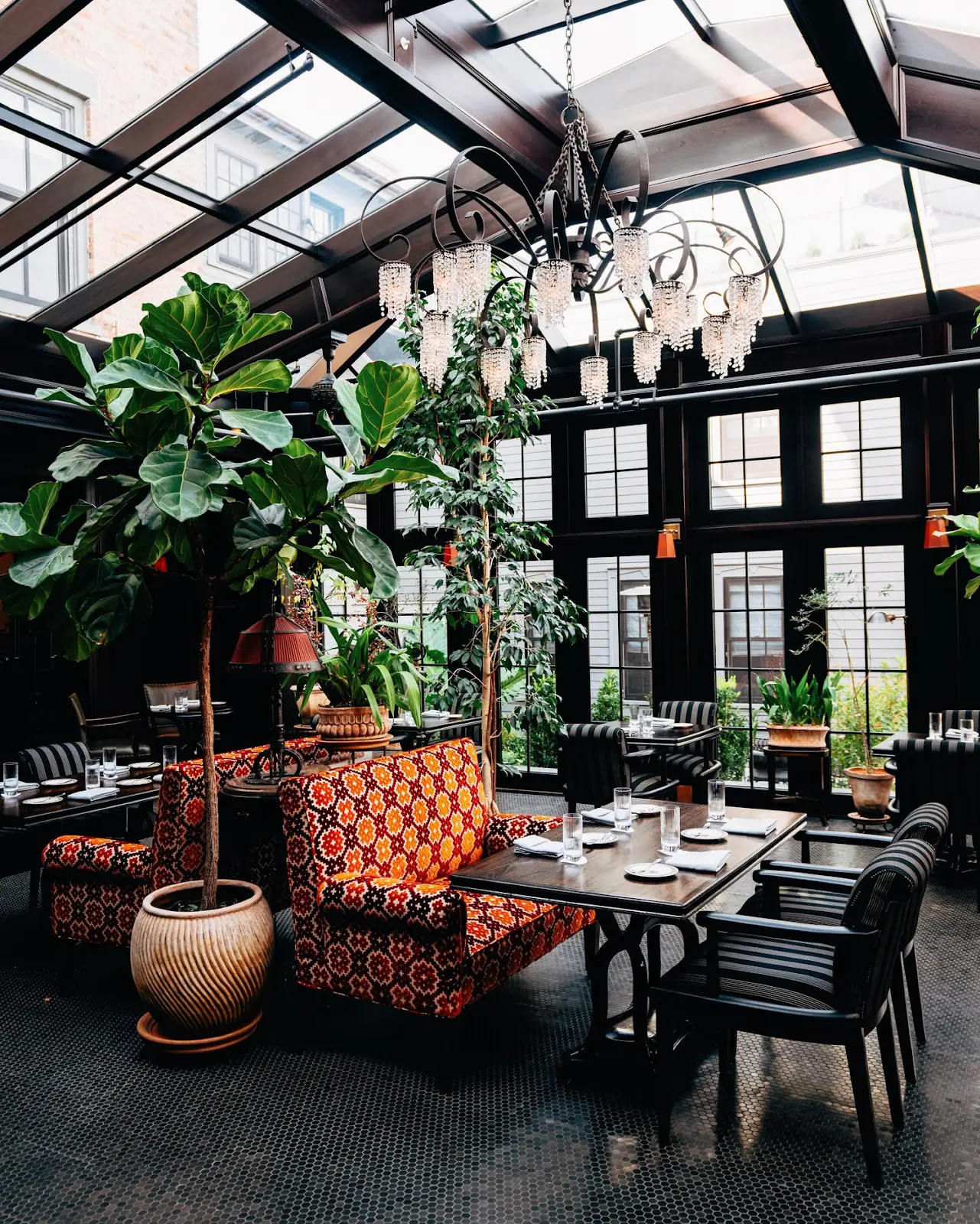 Conclusion
From rolling hills and rushing rivers to historic estates and cozy villages, the Hudson Valley promises memorable experiences at every turn. Get a dose of nature, history, culture, food, and relaxation throughout this diverse and beautiful region in New York. The year 2024 brings exciting new attractions, flavors, and festivals alongside timeless staples. With endless things to explore, a visit promises to be nothing short of spectacular. Let this guide direct you to the very best the Hudson Valley has to offer!