Best Things to Do in Statesville, NC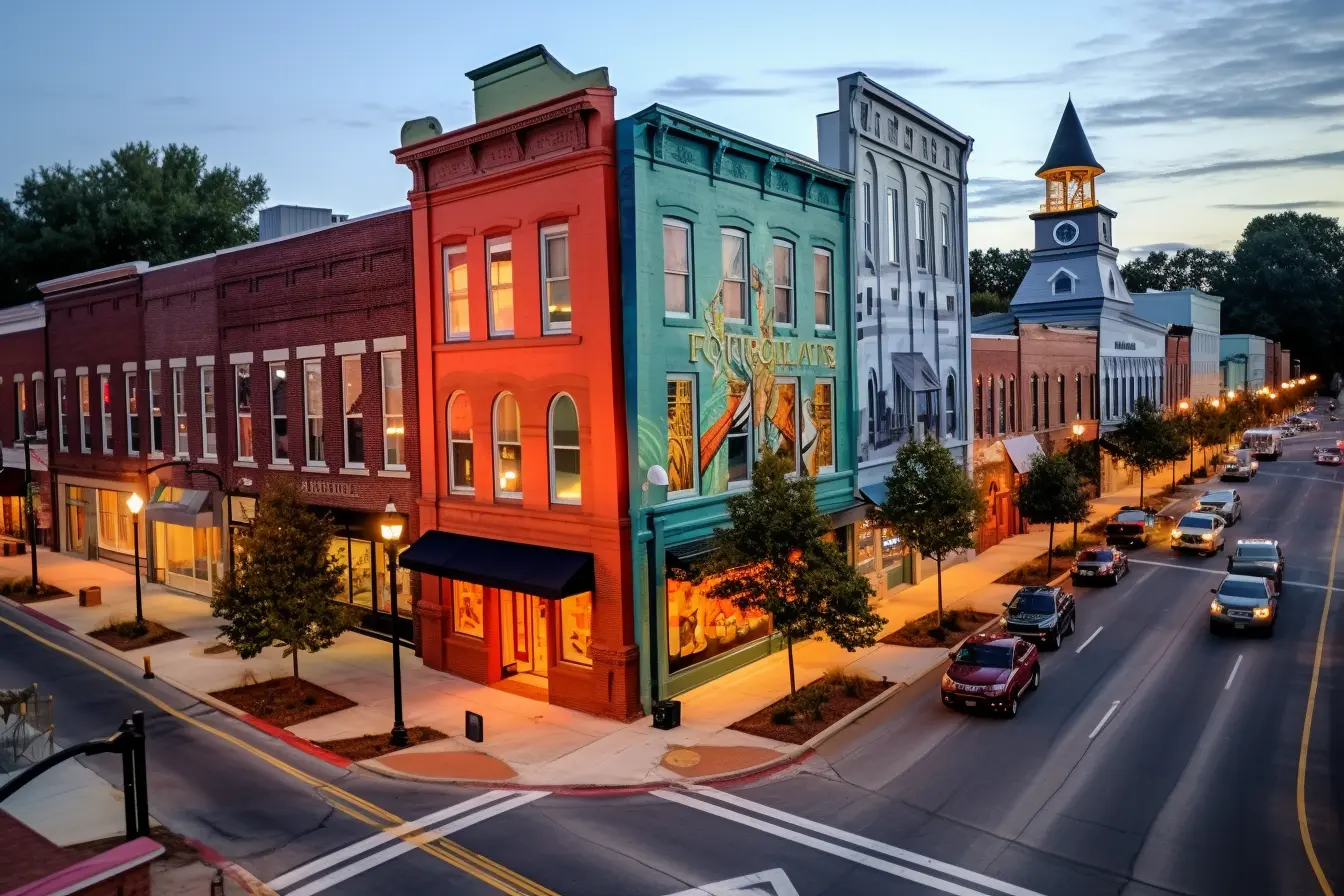 Nestled in the rolling hills of North Carolina's Piedmont region, Statesville charms visitors with its small-town warmth and abundance of historical and cultural attractions. Though often overlooked in favor of bustling Charlotte an hour to the south, Statesville stands on its own as a delightful destination.
From its early roots as a trading post along the Great Wagon Road to its emergence as a railroad hub, Statesville has long served as a crossroads for the Carolina backcountry. That heritage lives on today through well-preserved downtown buildings, fascinating museums, and annual festivals celebrating everything from the region's agricultural bounty to its musical traditions.
Beyond the city proper awaits the unspoiled natural splendor of rural Iredell County, with opportunities for hiking, boating, and more. Yet Statesville itself provides plenty for travelers to see and do - especially if they know where to look.
This comprehensive guide covers some of the best things to do in Statesville, NC.
Downtown Statesville
Downtown Statesville features a charming Main Street area with many businesses in preserved historic buildings. Visitors can take a self-guided walking tour to see key landmarks from the city's past. Museums and cultural attractions are clustered within a few blocks.
Walking Tours
For an introduction to local history, join a walking tour with the Downtown Statesville Development Corporation (DSDC). Tours conducted Saturdays at 10am from April to October highlight over 20 historic landmarks. Stops include the 1839 Mitchell College building, the 1901 Southern Railway Passenger Depot, and other sites. Guides share fun facts and little-known stories from Statesville's past.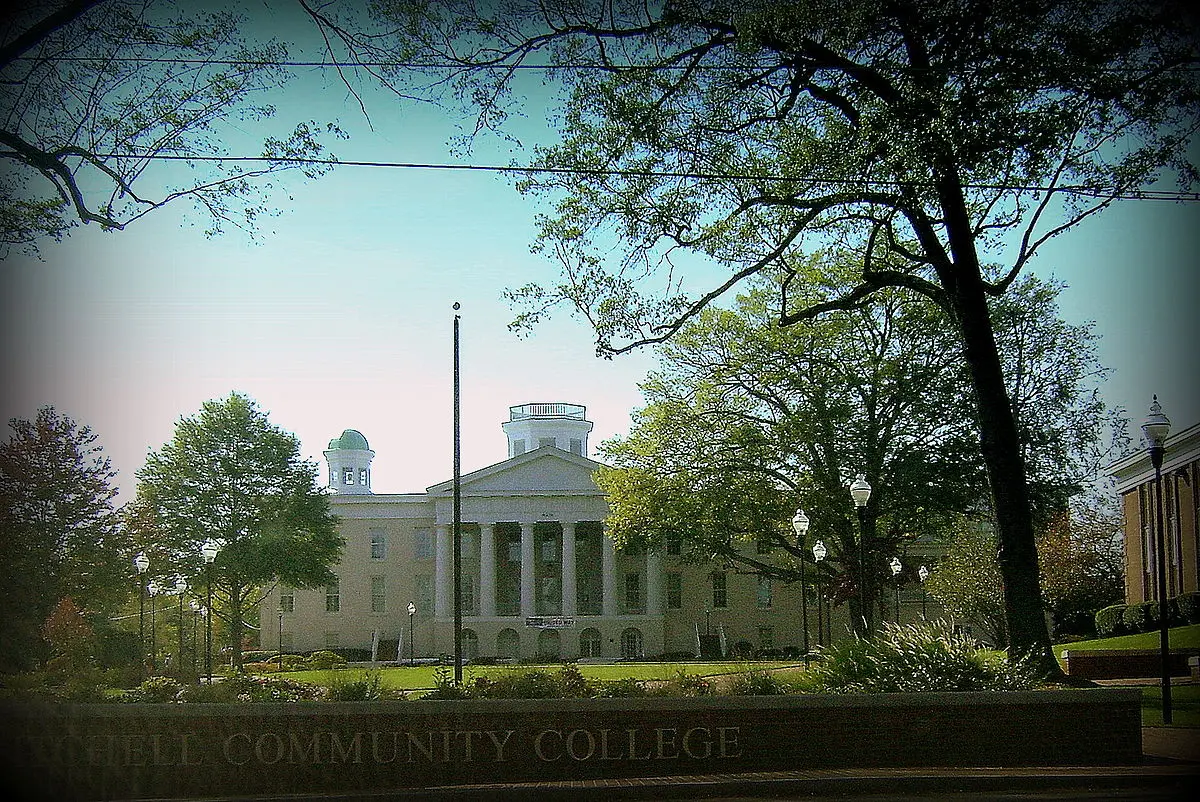 Self-guided tour brochures covering 30 historic buildings are also available through the DSDC website and their downtown offices. Notable buildings include the Iredell County Courthouse, the Confederate Monument on the courthouse grounds, City Hall, the Nixon Livery Stable, and several historic banks and businesses. Interpretive signs provide details on architecture and former uses.
All American Trailways Museum
Housed in Statesville's original 1908 passenger train depot, this small but engaging transportation museum displays an array of vintage vehicles. The collection includes a 1918 Baldwin steam locomotive, a 1953 GM city bus, a 1927 Republic highway patrol motorcycle, and more.
Kids can climb aboard the bright yellow 1959 school bus while adults admire the shiny red 1970 Trans Am Firebird. Exhibits profile local transportation history, like the arrival of railroads and highways. Don't miss the gift shop's nostalgic toys and North Carolina souvenirs.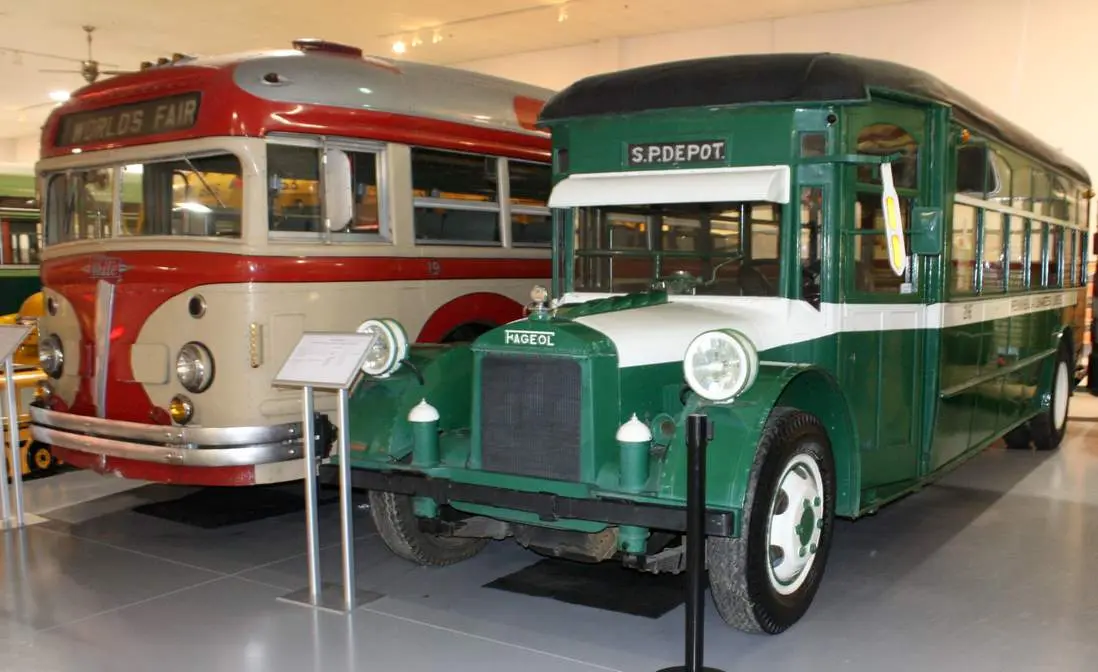 Fort Dobbs Historic Site
Step back in time at Fort Dobbs Historic Site, an 18th century frontier fort in Statesville, NC. This historic site lets you experience life on the wild frontier in the 1750s, when the fort protected early settlers from Native American raids. Walking tours showcase the carefully reconstructed fort with barracks, officer quarters, palisades, and period cannons. Costumed guides provide fascinating details about fort life and regional history. Explore the commanding officer's house furnished with artifacts like medical tools, camp equipment, and period weaponry that provide insights into frontier military life. Don't miss the visitor center exhibits with artifacts excavated onsite, including pottery, buttons and colonial relics. On select days, attend special events like reenactments, demonstrations of campfire cooking, or military drills. Take a self-guided tour along the nature trail around the fort to see native plants and trees, and really immerse yourself into the landscape. With its meticulous reconstructions and engaging programs, Fort Dobbs Historic Site provides an educational and entertaining experience discovering Statesville's early frontier history.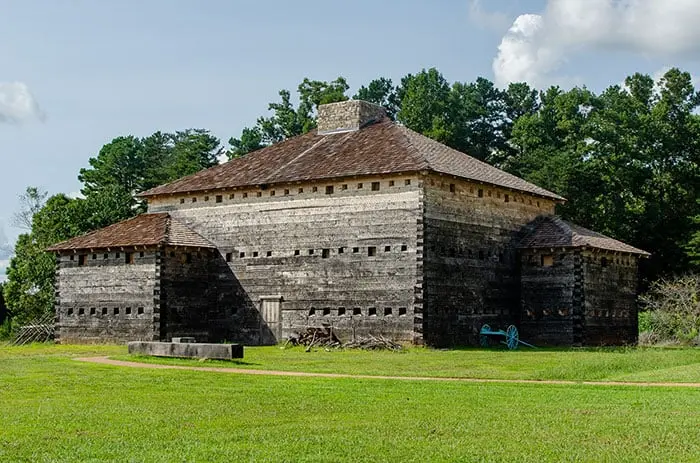 Historic Sharpe House
Step into Statesville's past with a tour of the Historic Sharpe House. This impressive Greek Revival-style home was built in 1859 for prominent businessman and banker Samuel Sharpe. Guided tours showcase the majestic two-story columns, original heart pine floors, elaborate ceiling medallions, ornate plasterwork, and period antiques filling the 14 rooms. Stroll through the elegant parlors, dining room, bedrooms and nursery decorated as they would have appeared when the Sharpe family lived here before the Civil War. Outdoors, explore the original smokehouse, slave quarters, garden and carriage barn containing Sharpe's preserved leather pony cart. Temporary exhibits in the Visitor Center provide additional insights into 19th century life and local history. Special events like afternoon teas in the parlors or Civil War living history programs provide interactive ways to further experience the Sharpe family's daily life. With its beautifully preserved architecture and rich history, the Sharpe House provides a one-of-a-kind opportunity to immerse yourself in Statesville's 19th century heritage.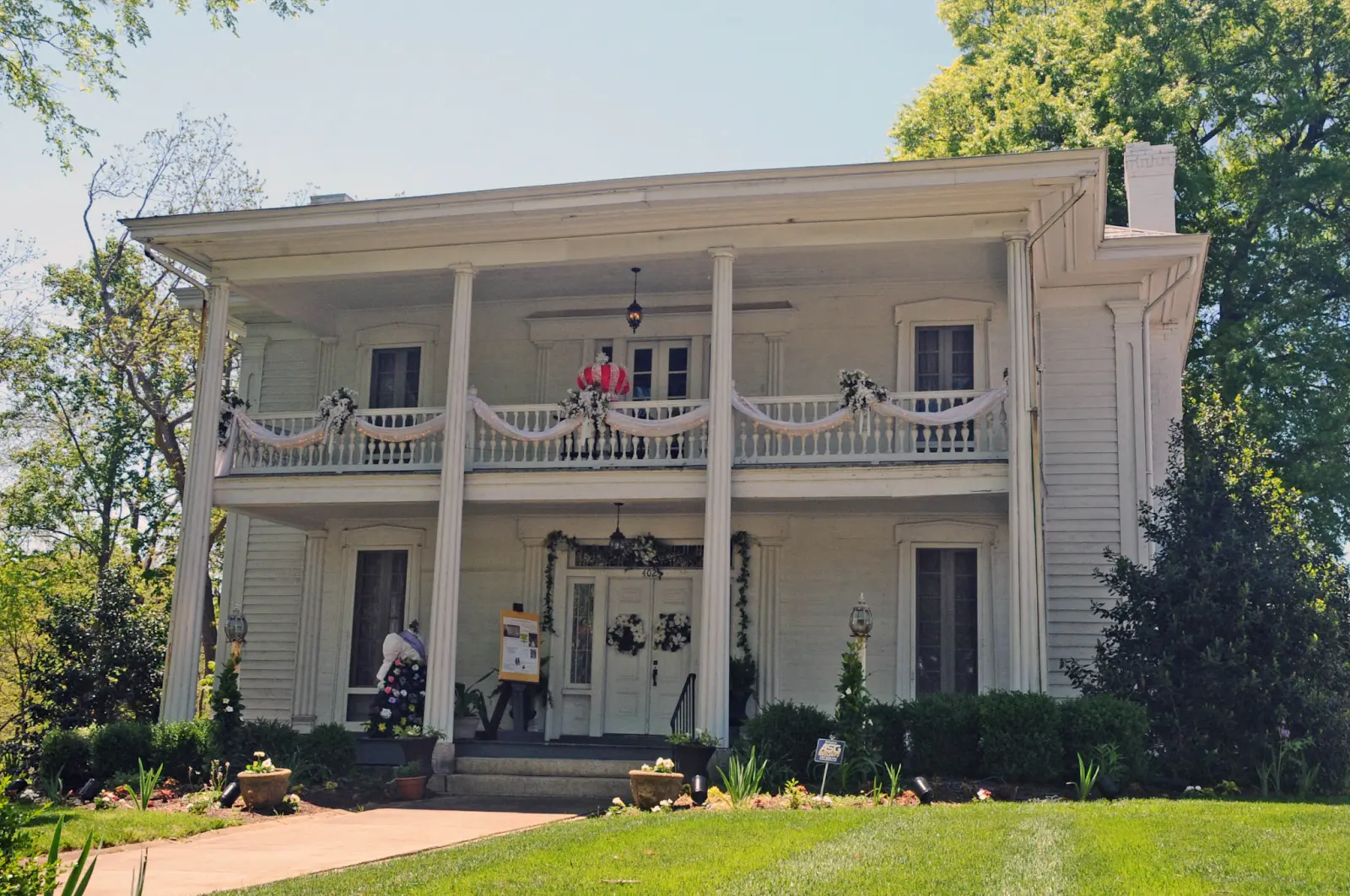 Lake Norman State Park
Escape to the tranquil shores of Lake Norman at Lake Norman State Park near Statesville, NC. This idyllic recreation area borders the largest manmade lake in North Carolina, offering abundant opportunities for water fun and relaxation. Fish for largemouth bass, catfish and crappie from the fishing pier or rocky shoreline. Rent a boat or bring your own to enjoy freshwater fishing on the lake. Paddle a kayak or canoe along miles of scenic shoreline for an intimate experience taking in the natural scenery and wildlife. Stop at one of the secluded coves perfect for swimming, wading and picnicking. The swim beach features a bathhouse with showers and concessions. Hikers will love the park's five miles of woodland trails winding past hardwood forests, rolling meadows, and lake views. Sign up for interpretive programs like night hikes or kayak tours to enrich your visit. Campers will find tent and RV sites with electrical hookups nestled in the woods. With its stunning lake setting and wealth of recreational opportunities, Lake Norman State Park is a prime destination for outdoor fun near Statesville.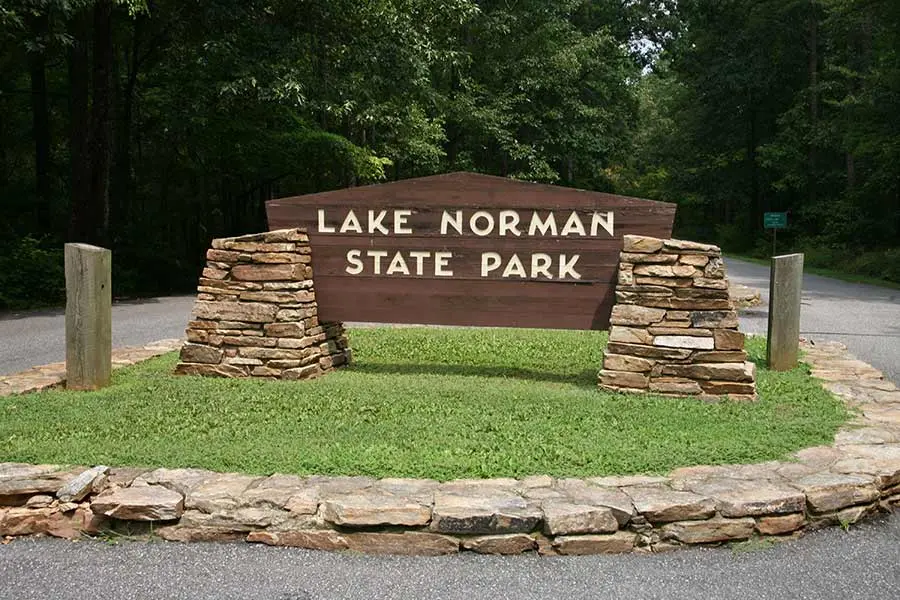 Iredell County Quilt Trail
Admire colorful works of art and celebrate local history and culture along the Iredell County Quilt Trail near Statesville, NC. This unique driving trail features over 200 painted wooden quilt blocks mounted on barns, businesses, homes, and other structures across Iredell County. Each 8-foot square block replicates the patterns and designs of traditional antique quilts made throughout the region. Follow the free trail maps to discover the location of blocks in communities like Harmony, Union Grove, Olin and more. As you drive from site to site, appreciate the artistic craftsmanship and regional heritage behind each quilt square. Stop at select locations like the Quilt Lizzy Museum in Statesville to see replica antique quilts on display. Download the app to view photos, map locations and learn about each quilt's history and meaning. The Iredell County Quilt Trail combines public art, rural scenery and regional traditions in a memorable way to experience the local flavor around Statesville.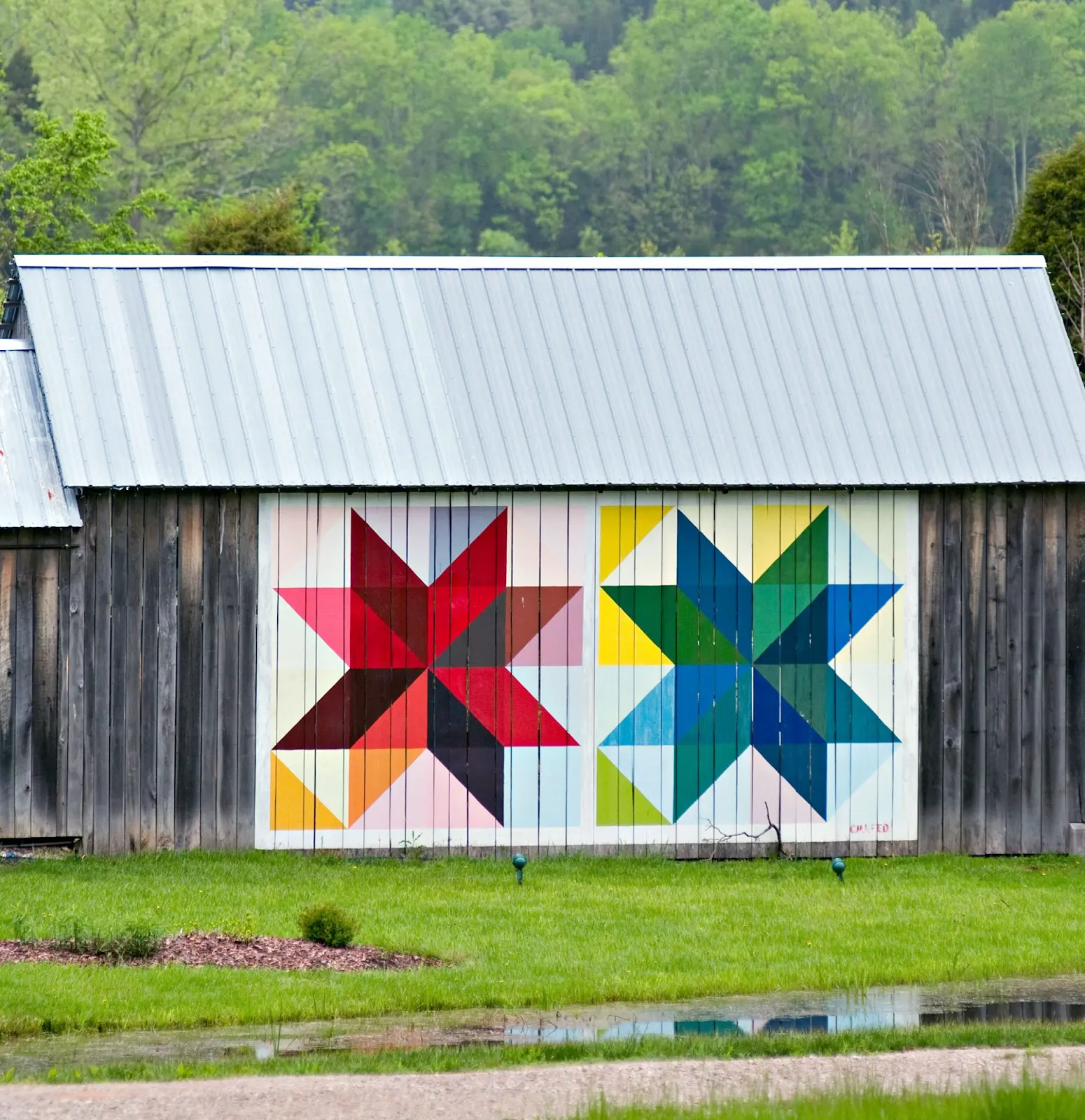 Balloon Ride with Big oh! Balloons
Savor spectacular aerial views from a hot air balloon ride with Big oh! Balloons over Statesville, North Carolina. Float peacefully over the Iredell County landscape as an experienced pilot points out landmarks and provides fascinating commentary. Watch the sunrise over gently rolling farms, pastures and woodlands. Look for grazing livestock and wildlife like deer and hawks. Glide over lakes and ponds reflecting the early morning light. Soar over 1,000 feet for panoramic views of outer Statesville and its surroundings, an unforgettable perspective you can only get from a hot air balloon. Flights last around an hour and culminate with a champagne toast after a smooth landing. The ideal wind conditions in Statesville provide a top ballooning location. Don't miss this opportunity for a magical, memory-making vertical adventure high above Statesville's scenic countryside. With Big oh! Balloons, you'll gain stunning new vistas and a lasting appreciation for the area's natural beauty.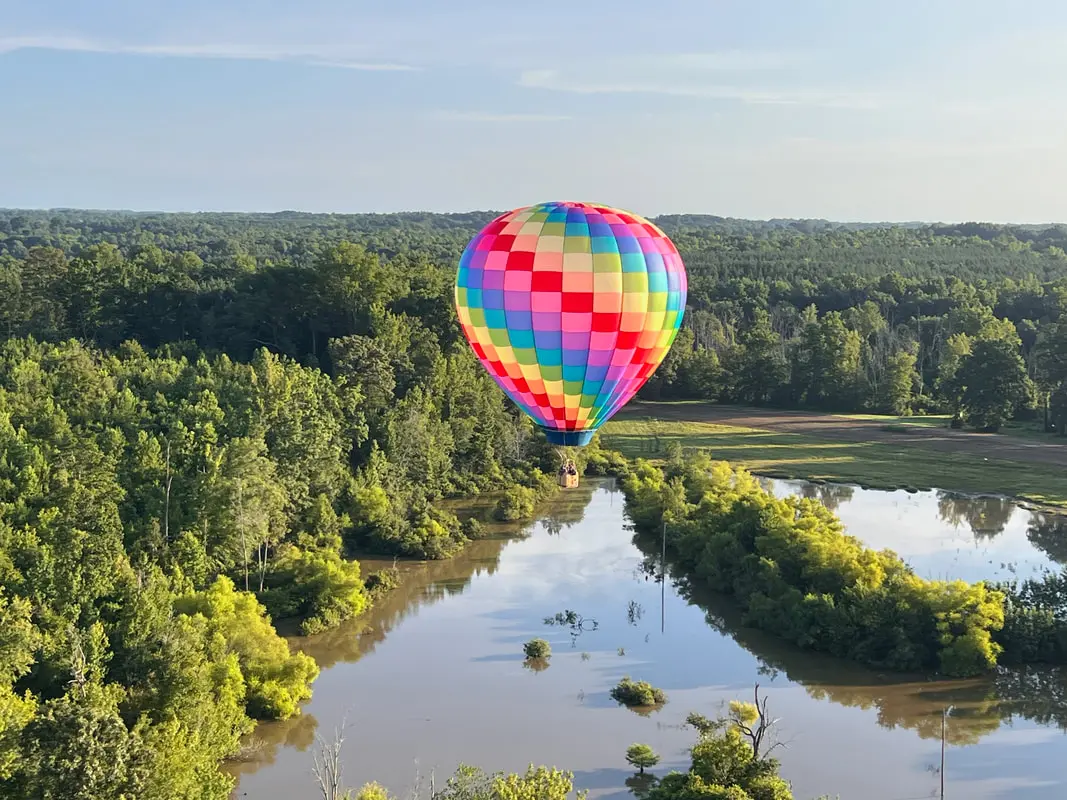 Rescue Ranch
Have memorable encounters with fascinating rescue animals at Rescue Ranch in Statesville, North Carolina. This nonprofit ranch and education center provides a permanent home to abused or neglected farm animals and exotic species. Interactive guided walking tours let you observe and engage with the animals in their natural habitats. See graceful horses grazing in the pasture. Watch curious alpacas and silly goats playing and socializing. Meet affectionate cows up close in the barn. Feed carrots and leafy greens to pigs, rabbits and donkeys in their enclosures. Unique species like emus, llamas, wallabies, and even an anteater inhabit other areas.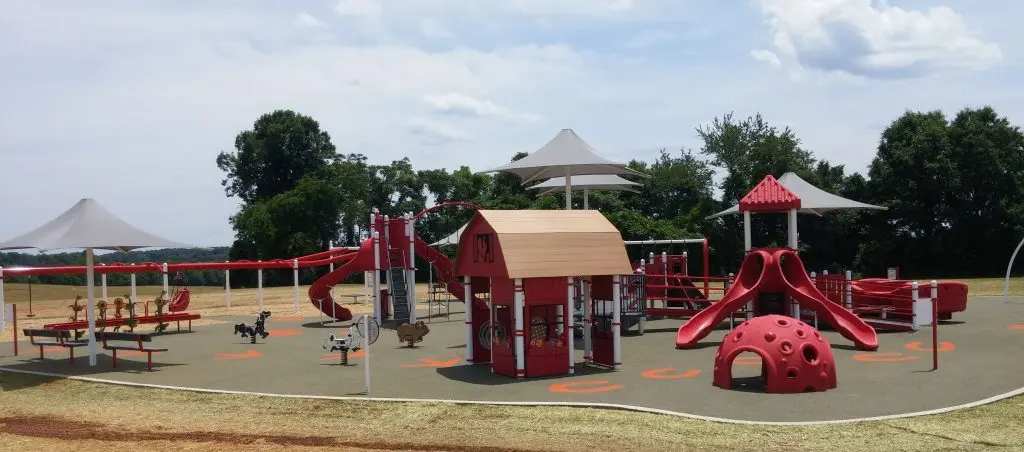 Knowledgable guides share each animal's backstory and care regimen while answering your questions. Special events like summer camps let kids assist with feedings, grooming and training. With its family-friendly, hands-on animal encounters, Rescue Ranch connects you to nature while promoting compassion. Leave knowing your visit helped provide a beloved home for abandoned animals.
Restaurants
No visit to Statesville is complete without sampling the city's best flavors. For fine dining, make reservations at Table on Main. The menu features inventive takes on Southern cuisine, like shrimp and grits with redeye gravy. Desserts are delicious too. Housed in a converted 1914 Coca-Cola bottling plant, the upscale yet relaxed ambiance draws locals and visitors alike.
Another local favorite, Sweet Meadow Café, impresses with made-from-scratch comfort food served in a quaint cottage dating to 1903. Their lunch menu ranges from paninis to salads to soups made fresh daily. Save room for dessert - people rave about the homemade pies and cakes. Breakfast is excellent too.
For a classic diner vibe, pull up to the counter or grab a booth at Front Street Diner. They've served burgers, shakes, and blue plate specials in the heart of downtown since 1945. Breakfast all day, chili dogs, and their famous garlic pickles are menu highlights. Check out the vintage jukebox and gas station memorabilia too. Easy parking makes Front Street Diner popular with locals and visitors.
Raffaldini Vineyards
Just outside Statesville in the Yadkin Valley AVA, Raffaldini Vineyards crafts award-winning wines from their estate vineyards. Sample favorites like the Vermentino, Montepulciano, and Sangiovese in their Tuscan-style tasting room. Outdoor seating overlooks acres of vines in a sublime pastoral setting.
Beyond wine, Raffaldini makes their own olive oil, balsamic vinegar, and Italian-style salumi available to taste or purchase. On select Sundays, Yoga in the Vineyard combines gentle exercise with gorgeous scenery and a wine tasting afterward. Raffaldini offers a perfect glimpse of North Carolina wine country just minutes from Statesville.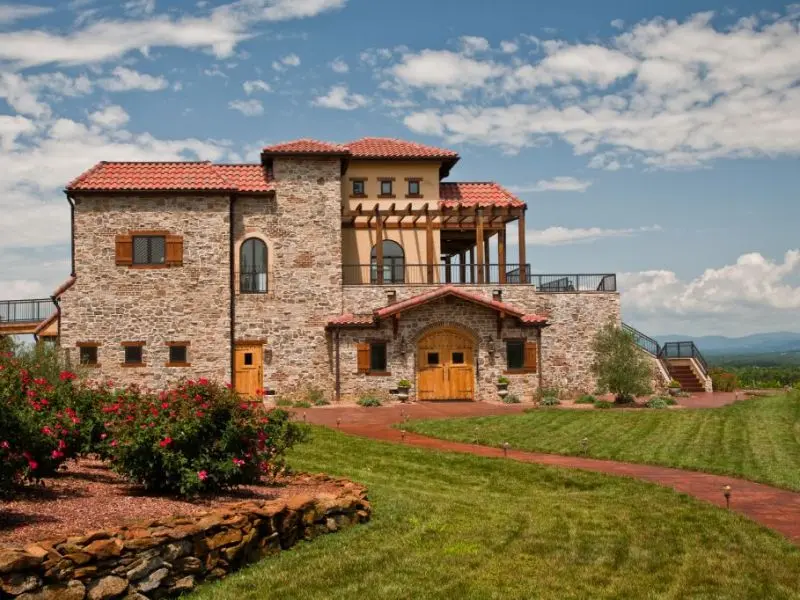 Shelton Vineyards
The Yadkin Valley's largest estate winery, Shelton Vineyards goes big. Their grand chateau-style tasting room looks like it was airlifted straight from Tuscany. Score a table on the wraparound veranda to soak up views of the vineyard along with award-winning Cab Franc, Chardonnay, viognier and more.
Indoors, a market cafe serves up wine-friendly small plates and snacks. Outdoors, tables have views of the lake or vines. Live music on weekends adds to the festive ambiance. For overnight guests, Shelton's cozy inn packages tastings, tours, and gourmet breakfast. Blissful grounds offer spaces to sip wine picnicking under giant oaks or strolling the vineyards.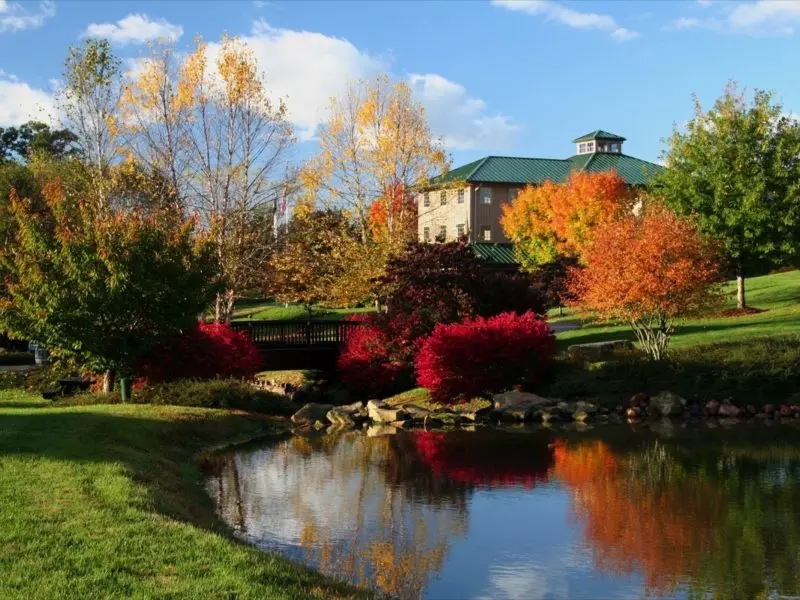 Zimmerman Vineyards
Housed in a log cabin lodge, Zimmerman Vineyards oozes rustic charm. Their sustainably farmed vineyard produces small batches of premium wines like Malbec, Petit Verdot, Chambourcin, and more. The tasting room shares space with a gallery selling works by local artisans.
Outdoors, picnic tables dot rolling acres with pastoral views. Hayrides, goat visits, and live music make Zimmerman a favorite for families and couples alike. Their monthly bonfire nights feature wine, snacks, and s'mores under the stars. Just 10 minutes from Statesville, Zimmerman offers an accessible escape.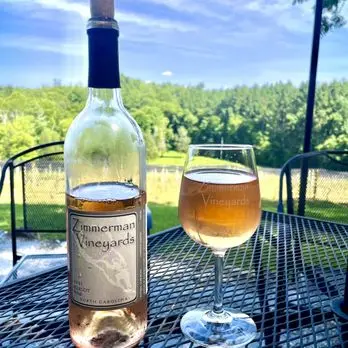 Lodging
Ramada by Wyndham Statesville
The Ramada by Wyndham Statesville offers comfortable accommodations and convenient amenities for travelers visiting Statesville, North Carolina. This pet-friendly hotel features 98 modern guest rooms and suites complete with free WiFi, flat-screen TVs, coffee makers, hair dryers, irons, and ironing boards. Upgrade to a suite for extra space, including a living area with a sofa sleeper.
Start your day with the hotel's complimentary continental breakfast offering hot waffles, pastries, cereals, yogurt, fruit, coffee, and juice. You can also grab snacks and light meals from the on-site vending machines when hunger strikes.
Additional amenities include an indoor heated pool and hot tub where you can unwind after a long day of exploring. There's also a well-equipped fitness center to help you stay active on the road. For added convenience, guest laundry facilities, computer workstations, and free parking are available.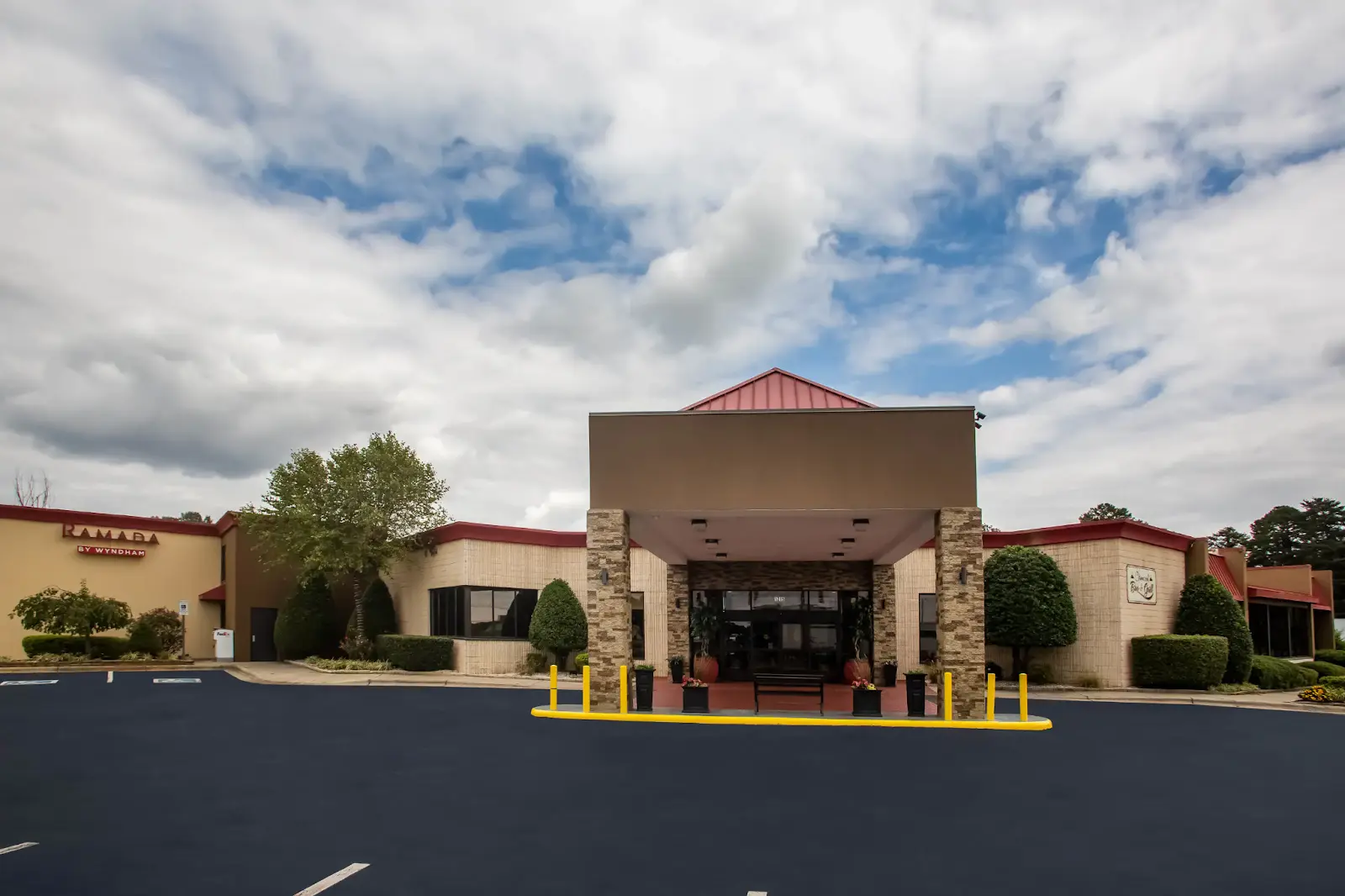 The friendly staff at the front desk is available 24/7 to provide assistance with reservations, recommendations, or any other needs that arise during your stay. The location just off I-77 makes it easy to reach top area attractions like many NASCAR race shops, downtown Statesville, Historic Allison Woods, and shops and restaurants at Signal Hill Center.
With affordable rates and quality accommodations, the Ramada by Wyndham Statesville has everything required for an enjoyable visit to Statesville and its surroundings.
Red Roof Inn Plus Statesville
The Red Roof Inn Plus Statesville provides value-oriented lodging in Statesville, North Carolina. This renovated hotel has 84 smoke-free rooms equipped with flat-panel TVs, free WiFi, plush beds, and modern bathrooms. upgrades like premium bedding, a mini fridge, and a microwave are available.
Begin each day with the complimentary Redi-Set-Go breakfast including bagels, cereals, pastries, fresh fruit, yogurt, and coffee. Vending machines are also on-site for quick snacks and light meals.
Unwind in the seasonal outdoor pool after a busy day of exploring Statesville. Complimentary amenities include self-parking, printing services, and a computer station. Pets are also welcome for a fee.
Front desk staff is available 24 hours to help with luggage storage, fax/copy services, or any special requests to make your stay more enjoyable. The inn provides easy access off I-77 to NASCAR attractions, downtown Statesville, historic sites, and an array of restaurants within a short drive.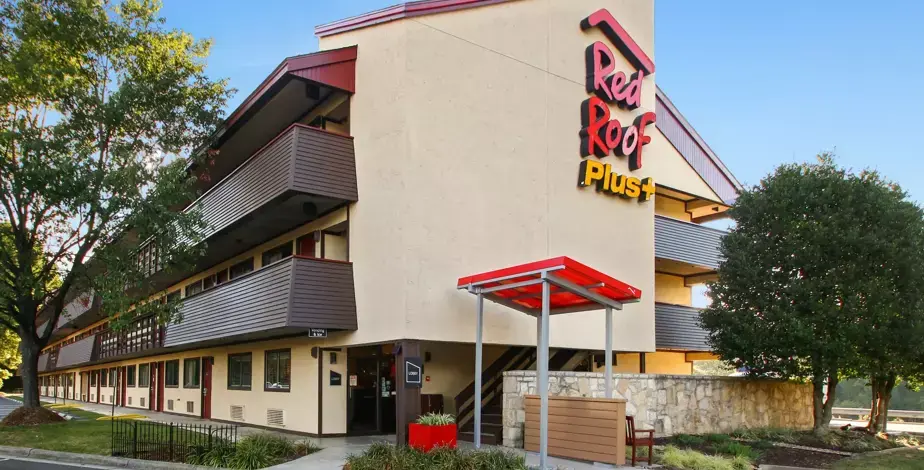 Clarion Pointe Statesville
The Clarion Pointe Statesville is a smart choice for travelers who desire functional accommodations with convenient amenities. This pet-friendly hotel has 90 rooms equipped with free WiFi, mini-fridges, microwaves, and flat-screen TVs with premium cable channels. Upgrade to a spacious suite for more room to unwind.
Fuel up each morning with the hotel's free continental breakfast. Options include waffles, pastries, bagels, cereals, fresh fruit, yogurt, and coffee. Vending machines are also available for quick snacks and drinks.
After a long day, take a dip in the outdoor pool or work out in the modern fitness center. Additional amenities include self-parking, a business center, and laundry facilities. For extra convenience, cribs and rollaway beds are available upon request.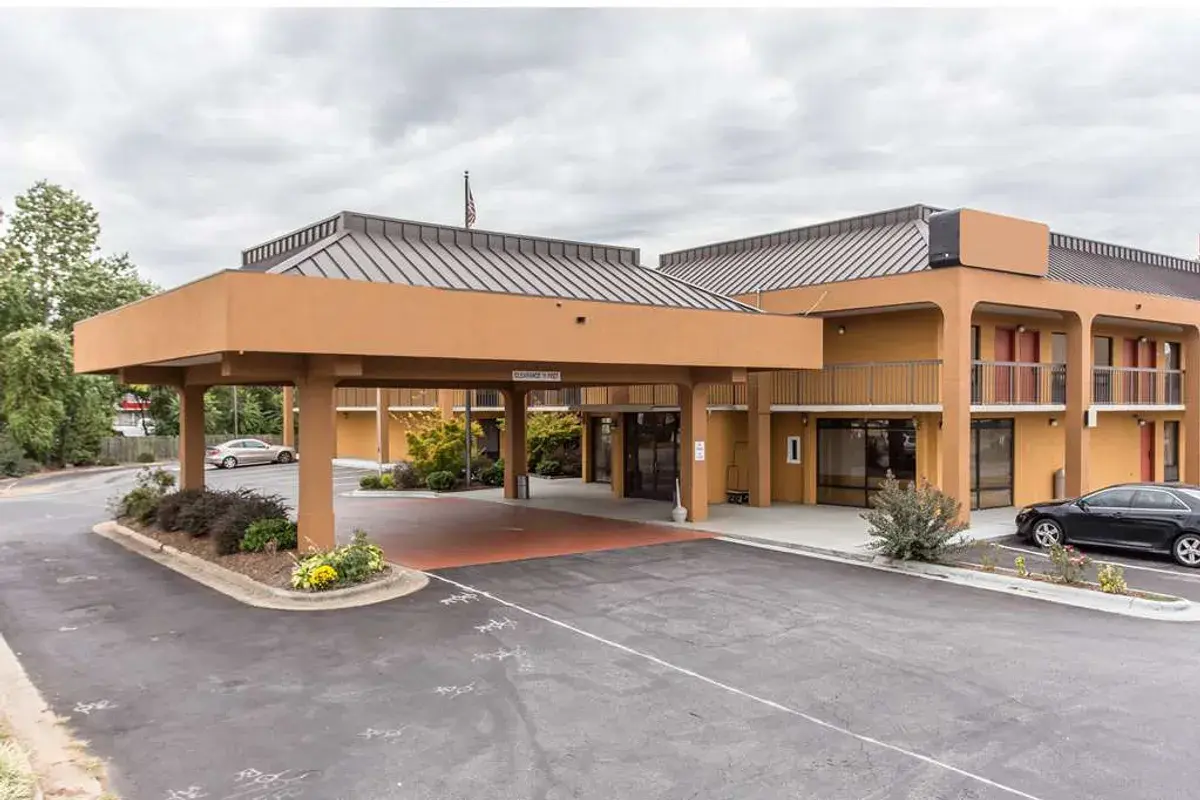 The 24-hour front desk staff provides friendly service to help with luggage, reservations, area recommendations, or any requests during your visit. The inn is conveniently located off I-40, making it easy to reach downtown Statesville, NASCAR shops and attractions, historic sites, and various restaurants.
Hampton Inn Statesville
The Hampton Inn Statesville provides warm hospitality and modern amenities for an enjoyable stay in Statesville, North Carolina. This pet-friendly hotel features 90 spacious rooms equipped with free WiFi, HDTVs, mini-fridges, microwaves, and coffeemakers. Upgrade to a suite for added space and comfort.
Start your morning with the complimentary hot breakfast buffet, including fresh waffles, eggs, yogurt, pastries, fruit, and more. There are also free coffee and tea 24/7 in the lobby. The 24-hour Suite Shop has snacks, sundries, and drinks for purchase when cravings strike.
Make time to unwind in the indoor pool and hot tub or maintain your exercise routine in the fitness center. The hotel also provides conveniences like a business center, meeting room, laundry facilities, and free self-parking.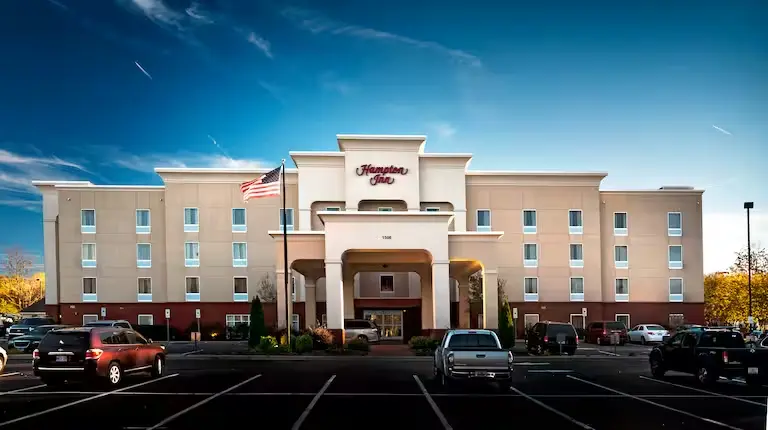 The welcoming staff is available 24 hours to provide recommendations, directions, or assistance with any requests to ensure an enjoyable visit. The inn is conveniently located off I-40, making it easy to reach downtown Statesville, NASCAR attractions, historic sites, shops, and restaurants.
With its warm service and great amenities, the Hampton Inn Statesville offers terrific lodging for travelers looking for comfort, convenience, and value in Statesville and the surrounding areas.
Hilton Garden Inn Statesville
The Hilton Garden Inn Statesville provides stylish accommodations and excellent amenities for visitors to Statesville, North Carolina. This contemporary hotel features 90 rooms equipped with free WiFi, HD TVs, ergonomic desks, mini-fridges, microwaves, and Keurig coffee machines. Upgrade to a spacious suite for extra living space.
Fuel up each morning at the complimentary breakfast buffet offering cooked-to-order eggs, oatmeal, pastries, fruit, yogurt and more. The on-site Great American Grill also serves lunch and dinner plus evening cocktails. The 24-hour Pavilion Pantry has snacks and sundries for purchase anytime.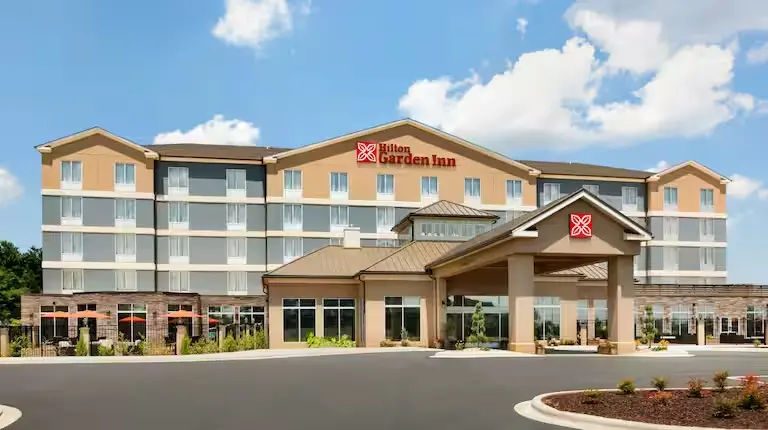 Additional amenities include an indoor pool and well-equipped fitness center so you can swim and work out on the road. There's also a 24-hour business center, meeting rooms, laundry facilities, and free self-parking available.
The helpful 24-hour staff provides area recommendations, directions, reservations, or any assistance to ensure an enjoyable visit. The inn is conveniently located off I-77, making it easy to reach downtown Statesville, NASCAR shops and museums, historic attractions, restaurants and more.
With its stylish decor, great amenities and excellent service, the Hilton Garden Inn Statesville is a terrific lodging choice for savoring all that Statesville has to offer. The comfortable rooms and on-site conveniences allow travelers to make the most of their time in this North Carolina town.
Annual Events & Festivals
Beyond its year-round attractions, Statesville comes alive with community festivals throughout the season. Mark the calendar to visit during one of these beloved annual events.
NC Gourd Festival
Each April, the North Carolina Gourd Festival shines a light on an under-appreciated agricultural crop: gourds. Bringing artists together with growers, this nationally acclaimed festival spans a weekend at the Rotary Club Agriculture Center.
Marvel at over 100 exhibit booths showcasing every possible use for gourds. See gigantic pumpkins, intricate carvings, gourd art, dried arrangements, functional bowls, birdhouses, drums, and more. Demos, music, food, vendors, and family activities celebrate the diverse gourd. Don't miss the 11-foot tall pumpkin pyramid!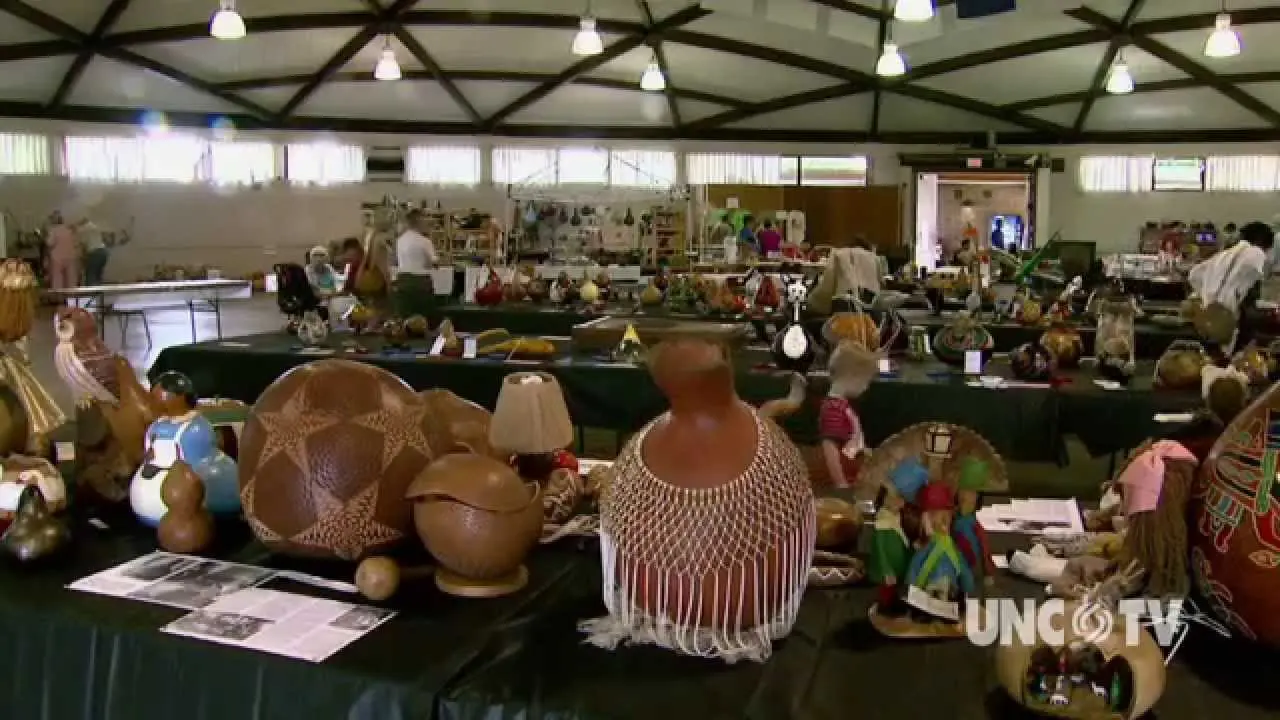 Lazy 5 Ranch Corn Maze
Every autumn, Lazy 5 Ranch transforms their 10+ acre cornfield into an elaborate corn maze design. Past years brought mazes themed around NC State mascots, the solar system, pirates, vintage trucks, and more. The maze takes around 45 minutes to traverse without getting lost!
Before and after, families can visit the exotic animals, petting zoo, train, and playground at this unique local ranch. Fall weekends feature horse rides, pumpkin patches, and corn cannons too. Hungry? Grab barbecue, kettle corn, and other seasonal snacks on site. Pick your own pumpkins for jack o'lanterns too. The giant corn maze makes for a full day of fall fun.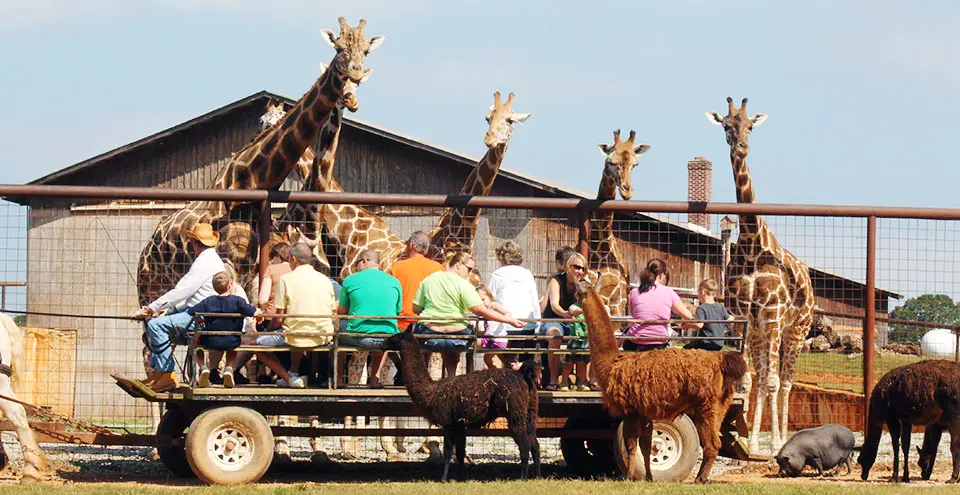 Uncle Dave Macon Days
Honoring Statesville native and early country music legend David Macon, Uncle Dave Macon Days brings Americana tunes plus old-time skills competitions downtown in July. Expect plenty of banjo melodies, buck dancing, clogging, blues, bluegrass, and more performed live across four stages.
By day, watch masters of old time crafts like blacksmithing, woodworking, quilting, and soap making. Participate in workshops for traditional folk arts too. Celebrate Uncle Dave Macon's legacy with a fiddlers' convention, mule wagon rides, heritage food, and square dancing into the night. For four days, Uncle Dave Macon Days transports Statesville to its early 20th century roots.
Carolina BalloonFest
Each October, the Carolina BalloonFest fills Statesville skies with a rainbow of hot air balloons. For three days, weather permitting, balloons launch at sunrise and sunset from the Statesville Regional Airport. Watch crews inflate the giant balloons on their field then float up into the horizon.
On the ground, live bands perform while kids enjoy rides, crafts, balloon demonstrations, food vendors, and more festival fun. When evenings cool, the balloons glow from their propane flames in a magical night show. Visitors can even purchase rides on tethered balloons for floating views of Statesville. Don't miss this uplifting spectacle bringing joy, crowds, and vibrant color to Statesville each fall.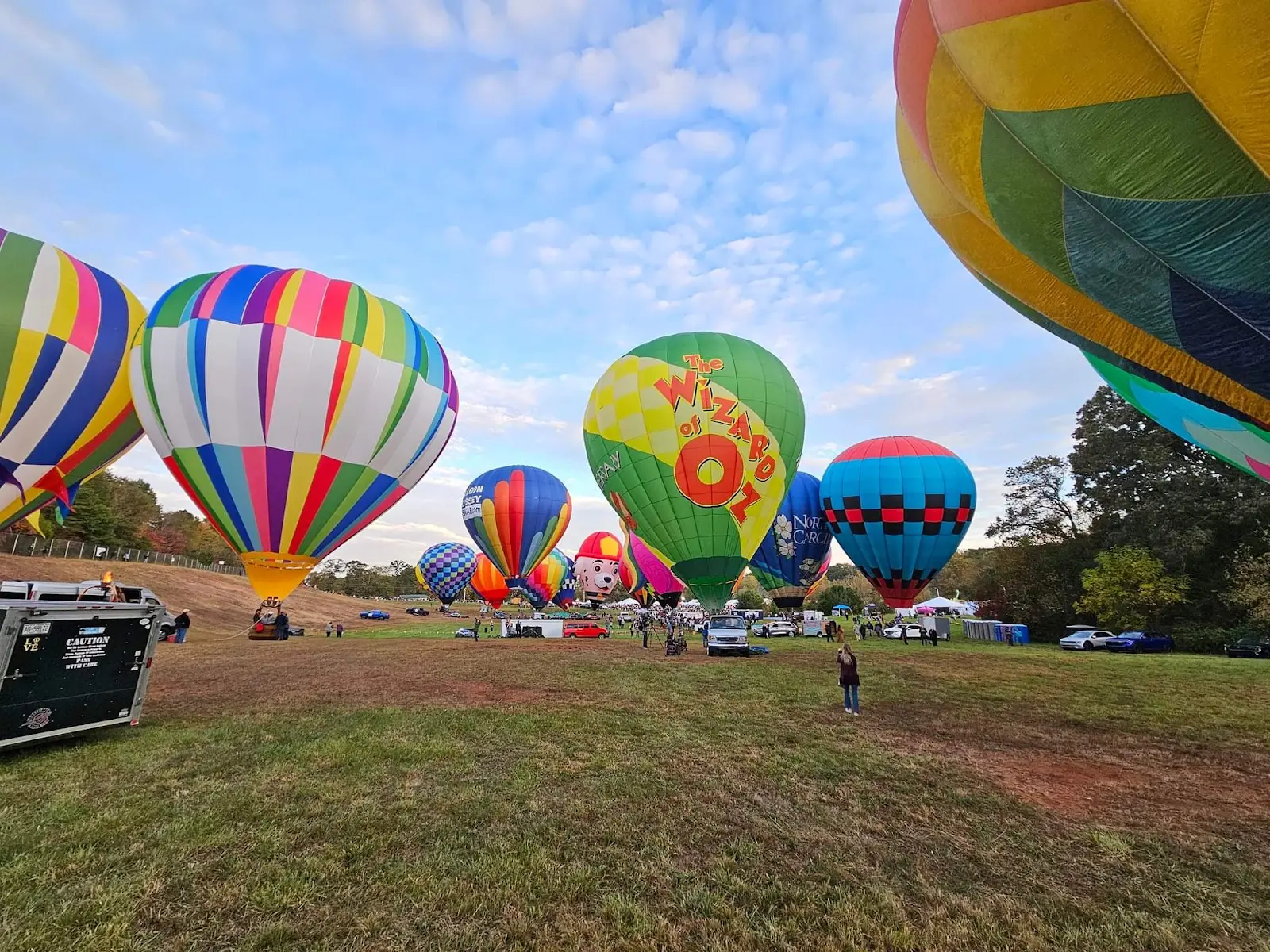 Downtown Statesville Holiday Magic
Ring in the holiday season with Downtown Statesville Holiday Magic each December. On select evenings, holiday music fills the air as thousands descend on downtown to enjoy special events and late shopping hours. Carriage rides, carolers, dance performances, and visits with Santa help create a nostalgic Victorian-era Christmas vibe.
Vehicles are banned so pedestrians can freely stroll while snacking on chestnuts from street vendors. Storefronts glitter with lights as shop windows display their most festive decor. From pictures with Santa at City Hall to free s'mores and hot chocolate, Holiday Magic brings merriment plus great photo ops for the whole family.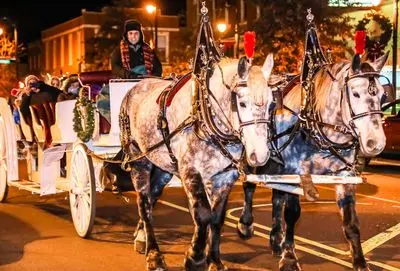 Conclusion
Statesville overflows with historical, cultural, and natural wonders—far more than can fit in any single guide. The attractions profiled here merely scratch the surface of what makes Statesville such an appealing destination. The best advice? Come discover your own Statesville.
Wander downtown's architectural gems. Traipse through Quiet Oaks lavender farm. Cheer at a Statesville Owls minor league baseball game. Tee off on one of fifty local golf courses. Hop in a kayak and paddle the South Yadkin. Explore antique shops along Highway 21.
However you choose to experience Statesville and its surroundings, that signature small-town warmth will make you feel right at home. With limitless possibilities, Statesville invites visitors to craft their own unforgettable North Carolina memories one visit at a time.