Fun Things to Do in Vicksburg, MS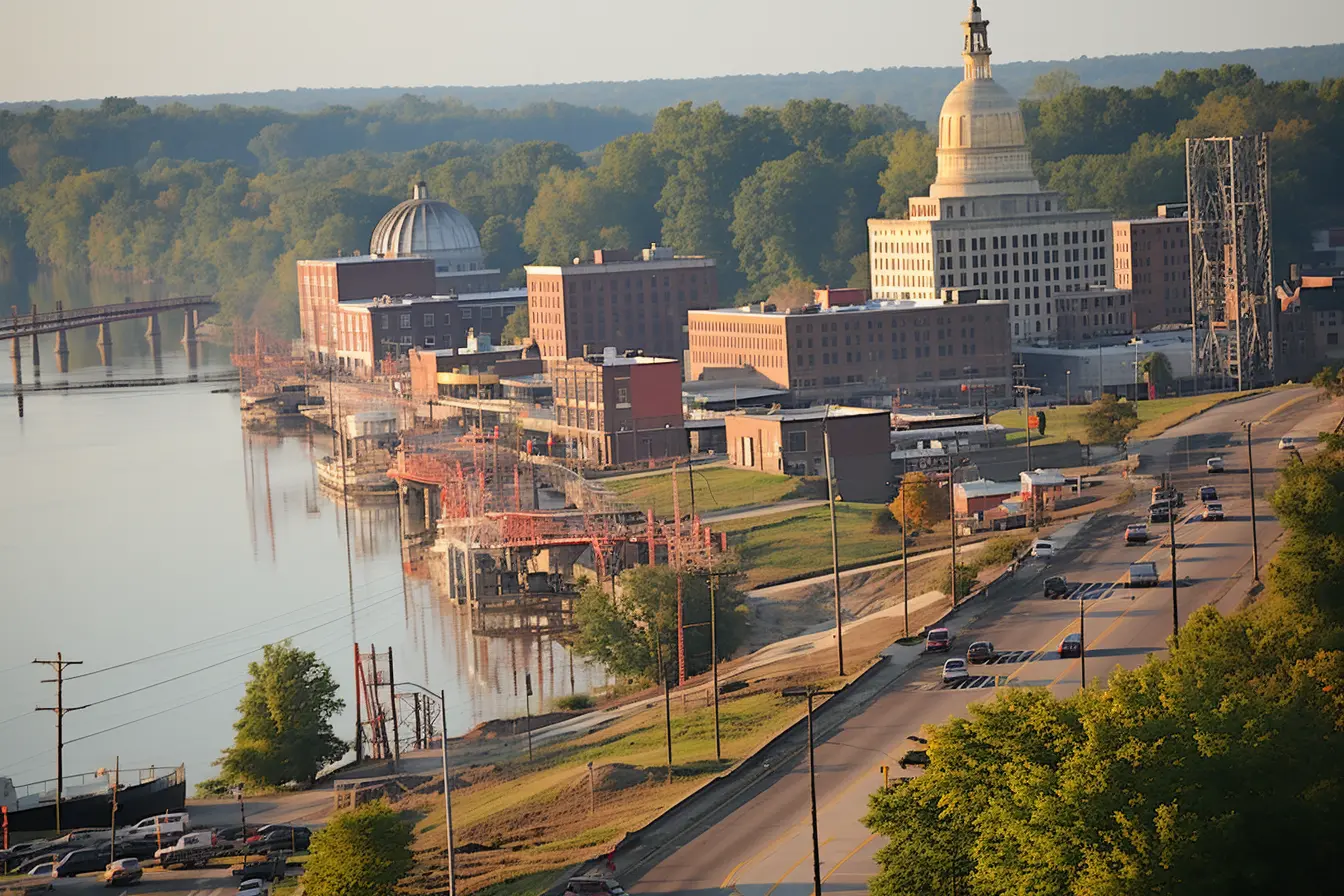 Vicksburg, Mississippi is a city rich with history and natural beauty. Located on the Mississippi River, it played a pivotal role in the Civil War and offers numerous historic sites and museums. But Vicksburg is not just about history - it also boasts great restaurants, charming accommodations, and plenty of outdoor recreation. Here are the top 15 fun things to do in Vicksburg that you won't want to miss!
Explore the Vicksburg National Military Park
No trip to Vicksburg is complete without a visit to Vicksburg National Military Park. This sprawling park commemorates the Vicksburg Campaign, Siege of Vicksburg, and defense of the city during the Civil War. The park contains over 1,300 monuments, markers, and plaques spread out over 1,800 acres. Some of the highlights include: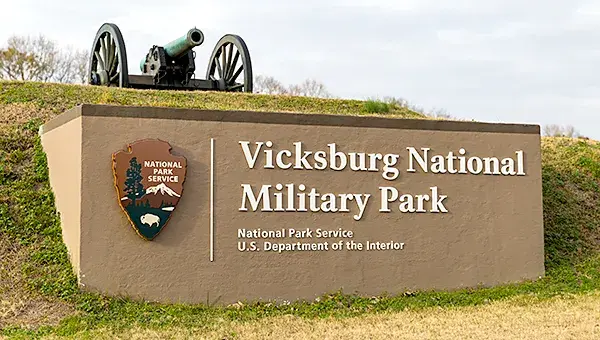 - The Illinois Memorial Monument - This 60-foot tall granite monument honors the 36th Illinois Infantry and was dedicated in 1906. Climb to the top for panoramic views of the battlefield.
- Pemberton's Headquarters - Tour the restored headquarters of Confederate General John C. Pemberton, who commanded forces at Vicksburg. See period artifacts and exhibits inside.
- USS Cairo Gunboat & Museum - Walk the decks of the USS Cairo, an ironclad gunboat sunk by a Confederate torpedo in 1862 and recovered in 1964. The museum houses artifacts from the ship.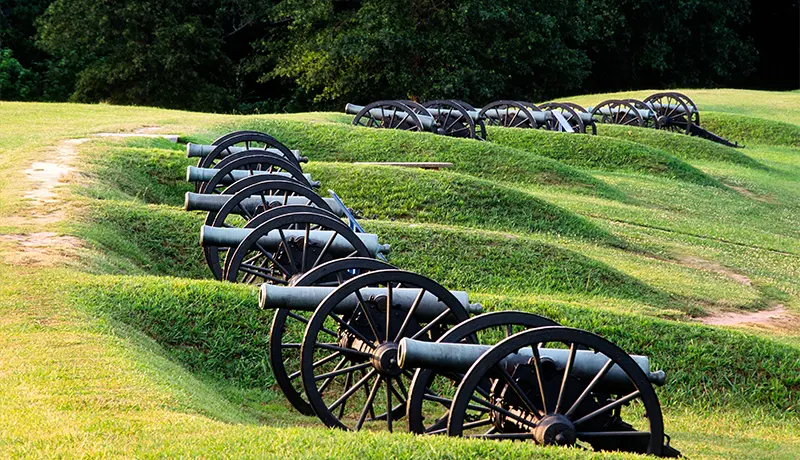 - Vicksburg National Cemetery - This solemn cemetery contains over 17,000 Union burials from the campaigns and siege. The marble rostrum offers views across the grounds.
With its rolling landscapes and monuments dotting the horizon, the Vicksburg National Military Park lets you visualize troop movements and better understand the importance of Vicksburg during the war. Make sure to stop at the visitor center for maps and details on ranger-led programs.
Take a Cruise on the River
The Mississippi River defines Vicksburg, so you can't visit without experiencing it firsthand. Hop aboard a paddlewheel riverboat cruise to see the city from the river perspective. Watch the boat churn through the muddy waters, pass by riverfront casinos, and take in views of the looming bluffs. Cruises last 1-2 hours and many feature narration on Vicksburg's history.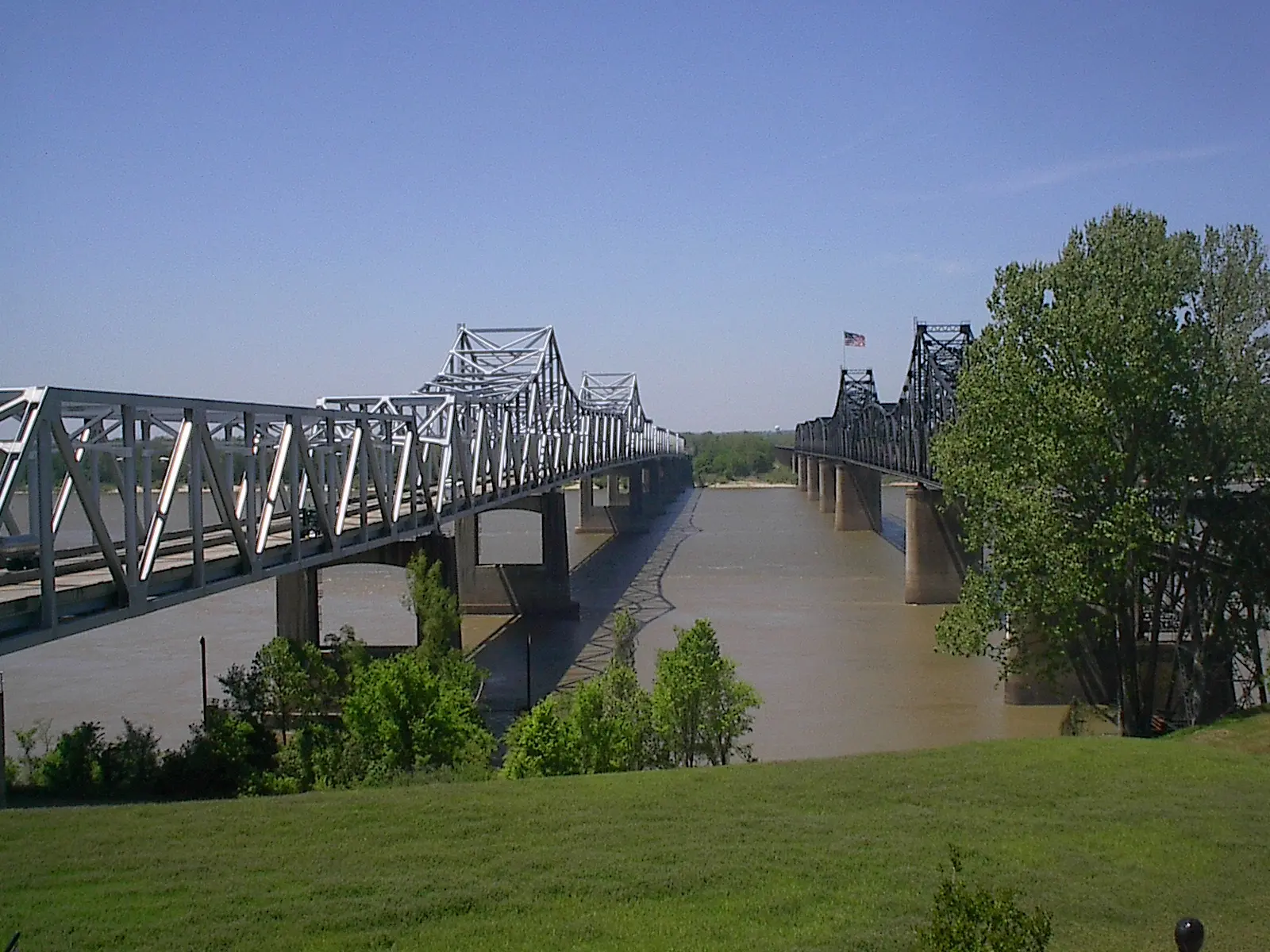 Some recommended cruises include:
- Riverboat Twilight Evening Dinner Cruises - Pair scenic cruises with Southern cuisine buffets. Relax on deck and watch the sunset while enjoying live entertainment.
- Le' Host Paddlewheel Cruises - Ride an authentic paddlewheel boat and experience the Mississippi River's beauty.
- Anson Northup Showboat Cruises - Dine aboard a floating restaurant while taking in sights along the river. Enjoy musical revues during your meal for a slice of showboat history.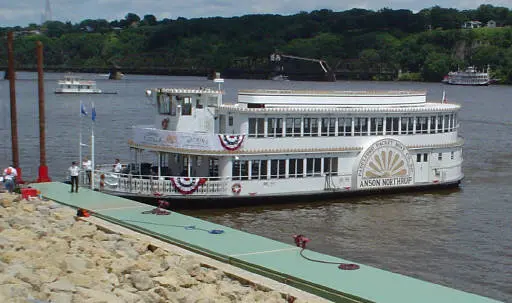 - Nature Cruises - Spot bald eagles, herons, and more wildlife on specialized nature tours led by experts. Learn about river ecosystems and biology.
With so many cruise options, you're sure to find the perfect riverboat excursion to delight everyone. Don't leave without seeing Vicksburg from the vantage point that made it such an important river city.
Try Lady Luck at the Riverfront Casinos
Feeling lucky? Try your hand at one of Vicksburg's riverfront casinos for an evening of gaming and entertainment. The Riverwalk Casino showcases nearly 800 slot machines, 22 table games, and prime dining options like 1st Jack's Strand Theater Restaurant. Just down the road, the Ameristar Casino boasts 70,000 square feet of gaming space with slots, table games, and the 1800 Club bar. Don't miss the casino's massive 56-foot wide multimedia Golden Mardi Gras Masquerade mural - it's quite a sight!
For more gaming options, check out:
- Rainbow Hotel Casino - Offers budget-friendly slots and table games. Enjoy free entertainment and hearty dining at their Junction Restaurant.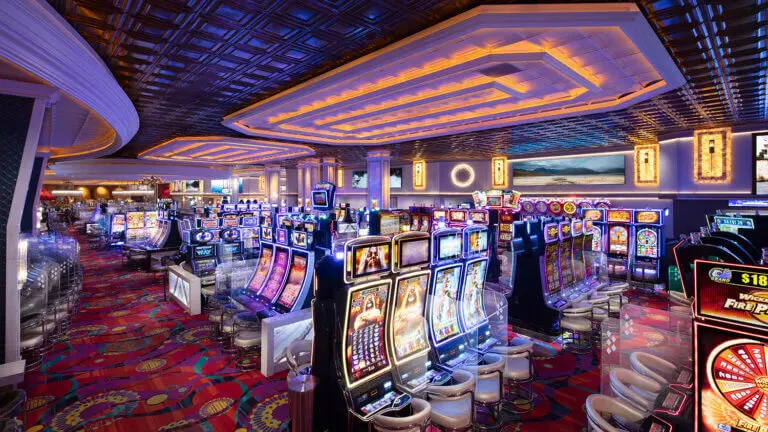 - WaterView Hotel and Casino - Features a smoke-free casino with river views, steakhouse dining, and live music at their Blues Room stage.
- DiamondJacks Casino - This lively casino delivers slots, table games, buffet dining, and karaoke nights.
Many casinos also host live concerts and shows in their entertainment venues. So come try your luck - you just might strike it rich! The neon-lit casinos make for classic Vicksburg nightlife.
Relive History in Downtown Vicksburg
Vicksburg's downtown district will transport you back in time with its wealth of historic sites and antique brick architecture. Start at the Biedenharn Coca-ColaTM Museum, where you can see the first bottling machine for Coca-Cola and learn about the soft drink's origins. From there, head to the Old Court House Museum to explore Civil War and Vicksburg exhibits, including painting masterpieces by Section.
Stroll down Washington Street to browse boutiques, galleries, and eateries housed in restored buildings from the 1800s. Stop for a meal at restaurants like Walnut Hills or 10 South Rooftop Bar, situated upstairs in the historic 1905 Kuhn Memorial Building. With sunny courtyards, ornate iron balconies, and peak Victorian architecture, Vicksburg's downtown offers a vivid glimpse into the past.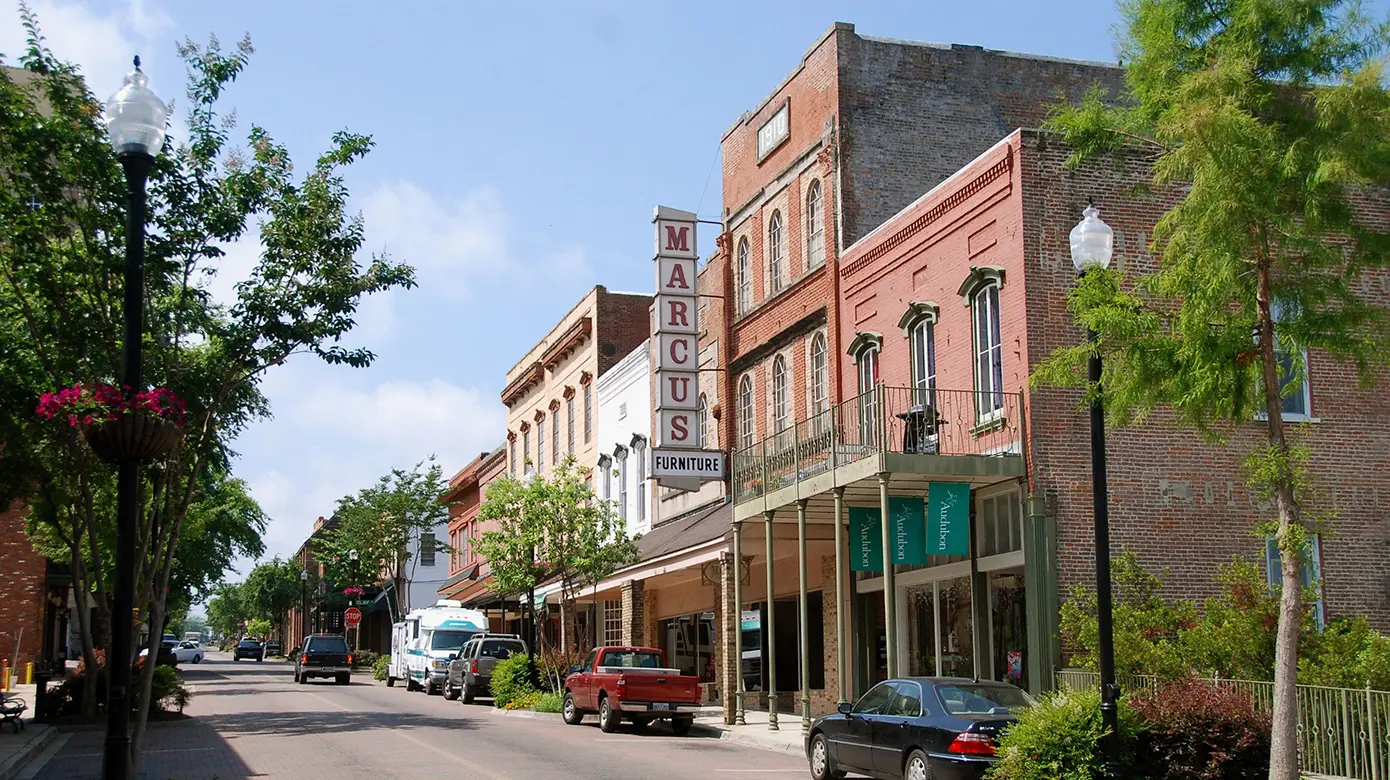 Some other key sites in historic downtown include:
- Vicksburg Riverfront Murals - See large outdoor murals depicting Vicksburg's history, like the Flood of 1927.
- Lower Mississippi River Museum - Housed in a former YMCA, this museum spotlights life along the Mississippi.
- Old Depot Museum - Located in a former train depot from 1858, this museum covers railroad history.
- Attala Hardware - Browse this hardware store opened in an 1829 building on Washington Street.
- Beth Israel Temple - Tour this Gothic Revival synagogue built in 1872.
- Drummond Street Marketplace - Shop for antiques and collectibles in Civil War-era buildings.  
With so many layers of history, you could spend an entire day exploring downtown Vicksburg's past.
Tour the Many Historic Homes
In addition to downtown, Vicksburg boasts many stately historic homes that provide insights into 19th century life. Nestled amidst lush gardens, Anchuca Mansion is a pre-war Greek Revival home built in 1830 that survived occupation by Union forces. Tour period rooms with antique furnishings and hear stories from costumed guides.
The Duff Green Mansion is another standout, built by entrepreneur Duff Green in 1856. Today, it offers interactive tours showcasing opulent ballrooms, bedrooms, and dining spaces modeled after Green's travels in Europe. For a spooky twist, join an evening ghost tour of the mansion.
Other historic homes worth visiting include:
- The Caledonia Plantation - Tour an 1830s antebellum cotton plantation and see slave dwellings.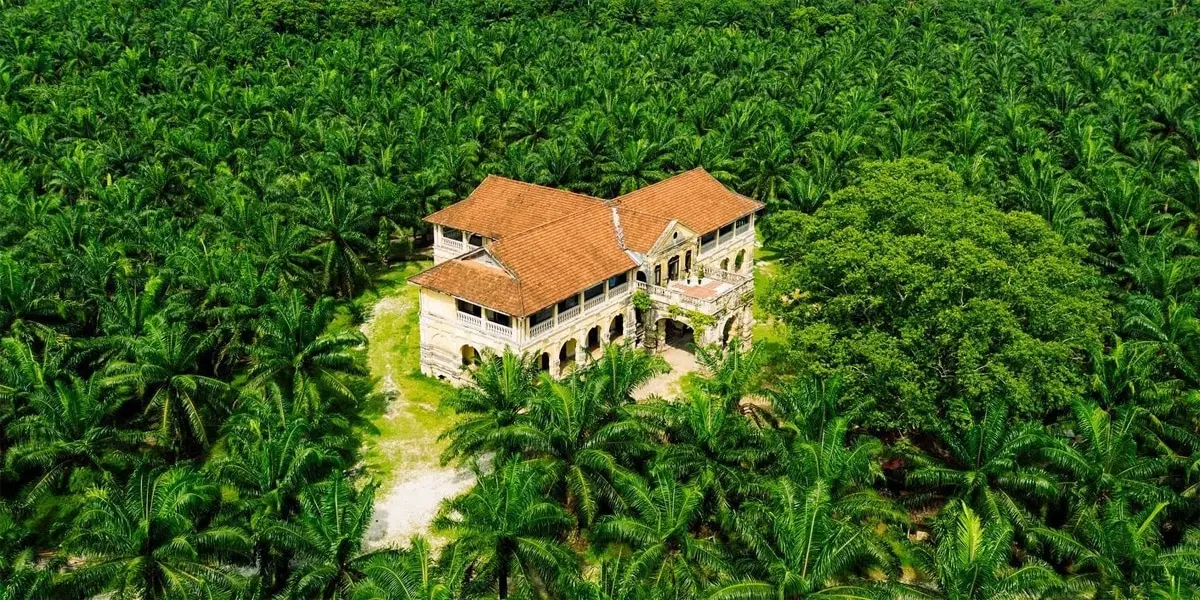 - Cedar Grove Mansion Inn - Built in 1852, this mansion turned inn lets you stay on a historic property.
- Klein House - Explore one of the oldest homes in Vicksburg, built in the early 1800s.
- Lower Mississippi River Museum - Learn about life along the Mississippi River inside a Creole cottage from the 1860s.
- McRaven House - Said to be the most haunted in Vicksburg! Join ghost tours here.
- The Baer House - View an intricate spiral staircase and period furnishings inside this 1870 home.
- Vicksburg's Southern Cultural Heritage Center - See folk art and handiwork in a restored 1910 neoclassical mansion.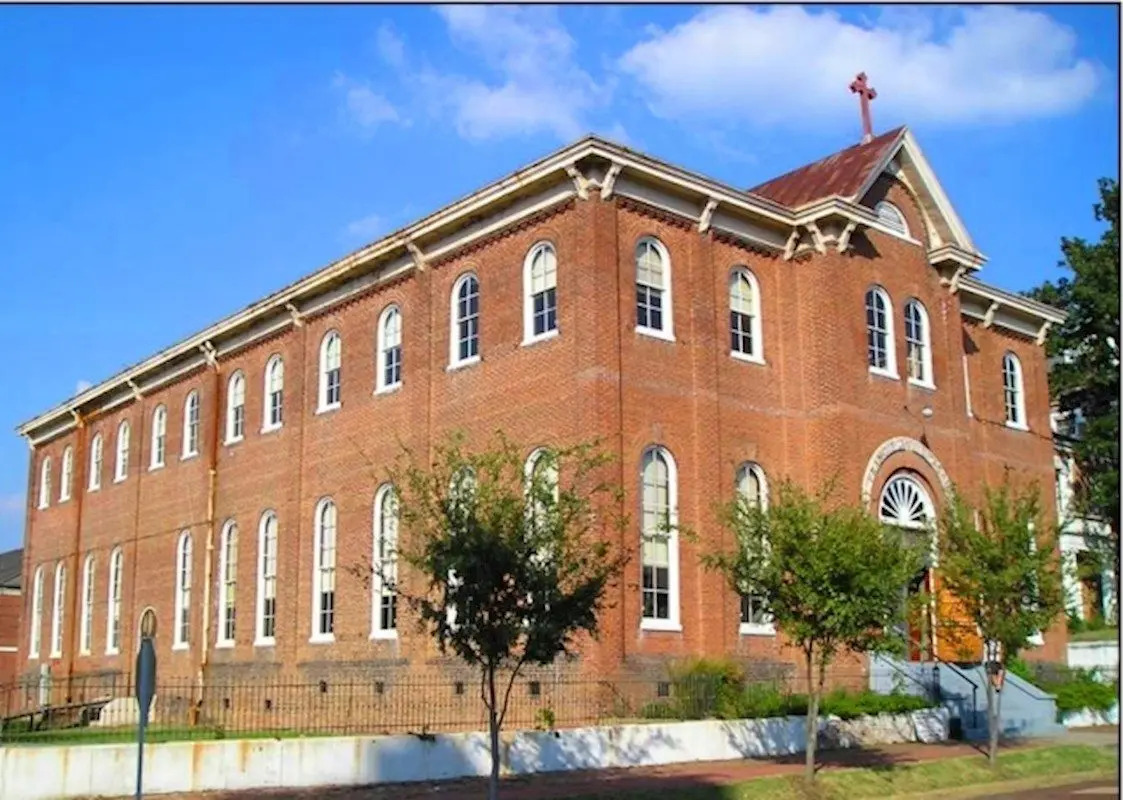 Vicksburg's many grand homes offer a window into what life was like during the city's most prosperous eras. Touring them is a delightful way to spend an afternoon.
Tee Off at a Local Golf Course
Golfers, grab your clubs! Vicksburg serves up beautiful greens across several courses. The 18-hole, par-72 Clear Creek Golf Course is a local favorite, with elevation changes and water hazards to challenge players. The Merit Health River Region golf course charms with parkland style holes and views of the Mississippi River.
For a quick 9 holes, head to:
- Vicksburg Country Club - Play this classic course completed in 1922.
- Pemberton's at Oak Hill - Tackle a short executive course with pro shop and driving range.
- Sports Force Parks - Offers 9 holes, a driving range, and putt-putt course great for families.
- Hogan Golf Course - Play 9 holes at this course dating back to the early 1900s.
Due to its mild climate, Vicksburg offers great golf conditions year-round. And with picturesque courses set among Southern oaks, magnolias, and rolling terrain, it makes for an utterly pleasant golf getaway.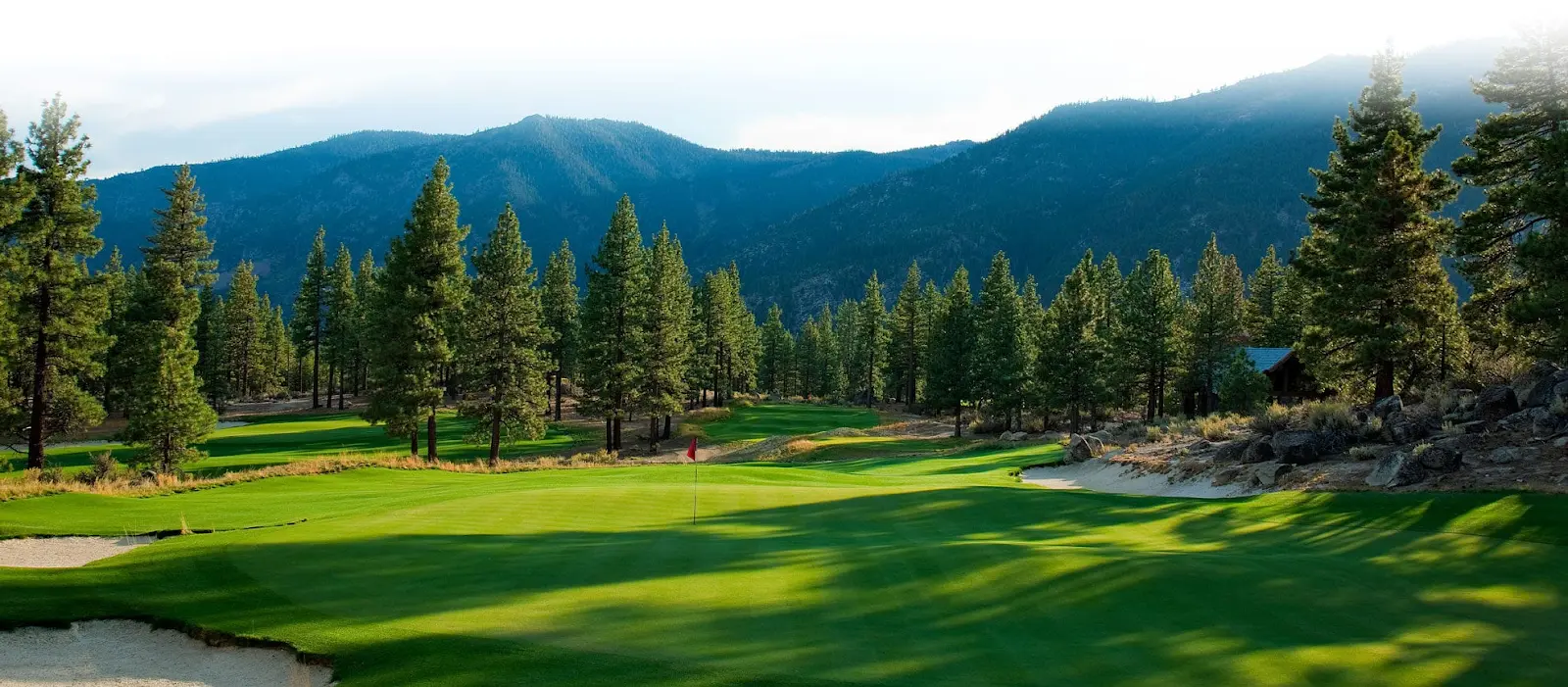 Explore the Outdoors along the River
The mighty Mississippi provides plenty of opportunities for outdoor recreation in Vicksburg. For incredible valley views, take the 1-mile hike up to the Vicksburg National Military Park Monument at Shirley's Hill. Pack a picnic to enjoy atop the sky-high bluff.
At Levee Street, rent kayaks and canoes to paddle along the riverfront. Search for river critters, go fishing, or relax taking in the natural scenery. Cyclists can rent bikes downtown and pedal along the Mississippi River Bike Trail, crossing marshes and forest.
Other outdoor activities include:
- Eagle Lake Recreation Area - Boat, swim, fish, and camp on the shores of this reservoir.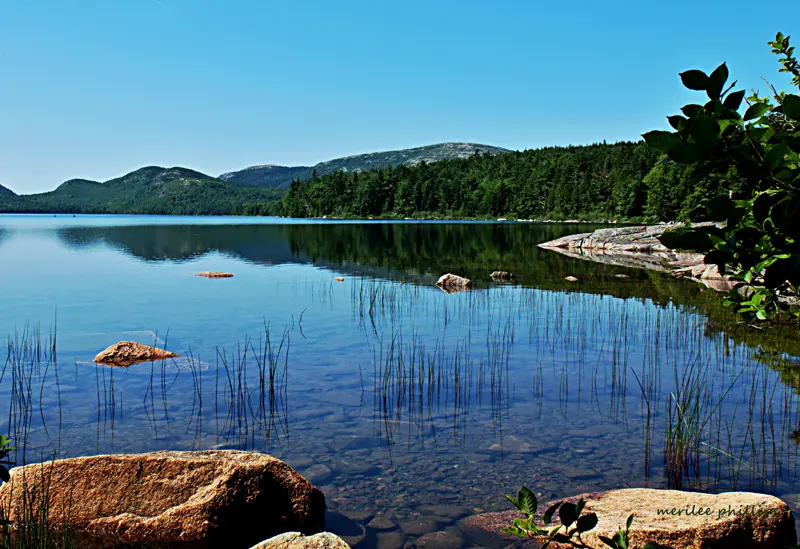 - WaterView Park - Picnic in the pavilion or let kids play at the nautically-themed playground.
- Mrs. Peacock Trail - Take a woodland hike or mountain bike ride on this nearly 5-mile trail.
- Fishing - Cast for catfish, crappie, and bass on the Big Black or Yazoo Rivers.
- Vicksburg Riverfront Murals - Stroll to see over 20 colorful outdoor murals with river themes.
With an abundance of riverside activities, Vicksburg lets you fully embrace the Southern outdoors.
Chow Down on Southern & Delta Cuisine
From finger-lickin' barbecue to succulent seafood, Vicksburg serves up incredible Southern food reflecting its Mississippi Delta roots. The Tomato Place Cafe lives up to its name, dishing creative tomato fare in a 1920s greenhouse setting, from tomato pie to fried green tomato po' boys. For classic BBQ, hit up Goldie's Trail Bar-B-Que, where smoked brisket, ribs, and pulled pork have been pitmaster perfected.
Highway 61 Coffee House infuses Southern hospitality into its coffees, breakfast foods, and lunch plates. Enjoy regional dishes like Yazoo clay pot catfish, crawfish etouffee, and Cajun pasta at Walnut Hills Restaurant. Or grab po' boys, gumbo, and beignets at the Old Depot Steak Pit for Louisiana-inspired eats.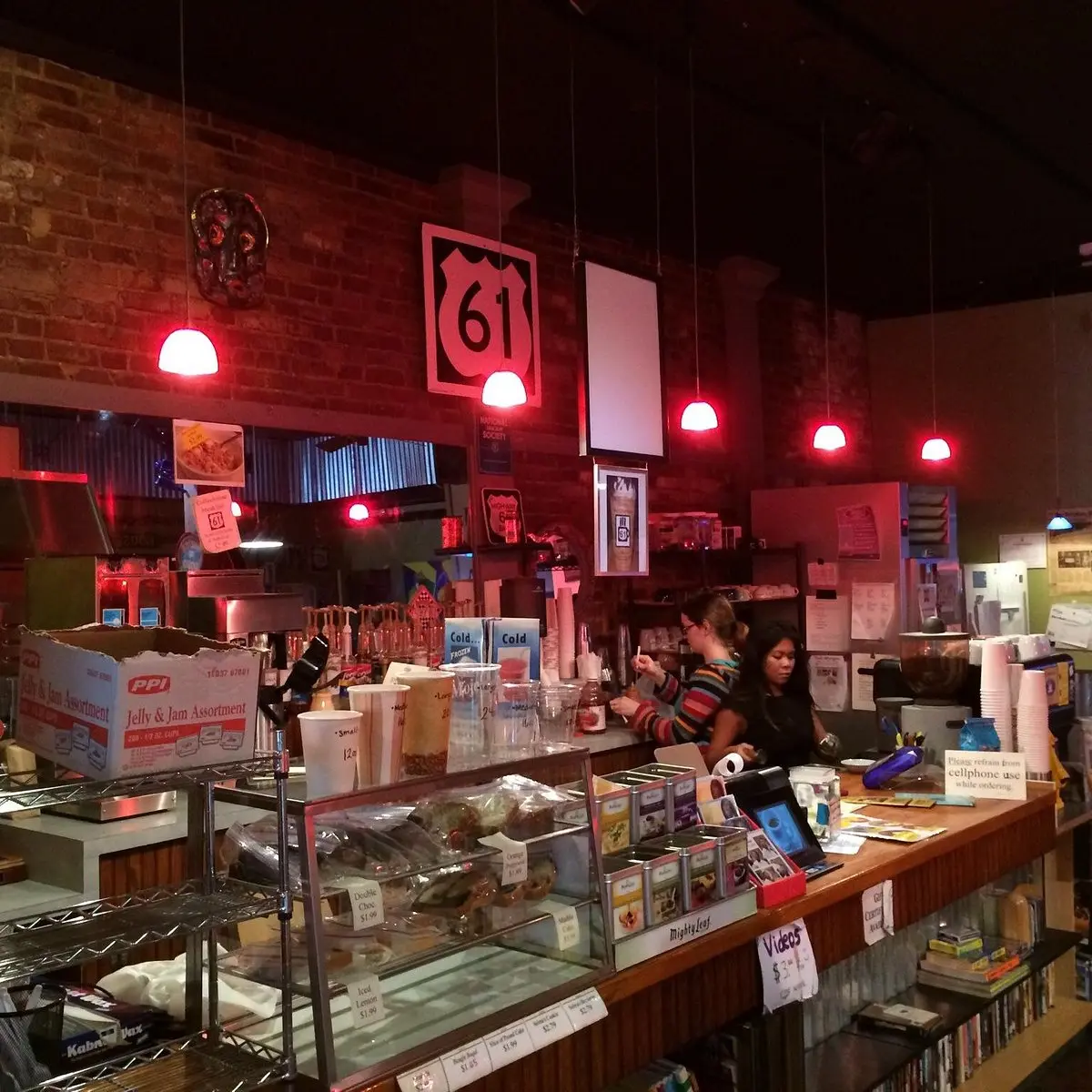 Some other must-try local restaurants include:
- Biscuits & Blues - Feast on scratch-made comfort food like fried chicken, mac & cheese, and hushpuppies.
- Darb's Tavern - Chow down on Darb burgers, poboys, and cheese fries at this lively pub.
- LD's Kitchen - Try local favorites like tamales, ribs, catfish, and more Southern soul food.
- Mammy's Cupboard - Snap a selfie at this giant roadside restaurant shaped like a mammy doll!
And don't leave town without trying a hot tamale from a street cart! Vicksburg's Southern and Delta dining is sure to leave your tastebuds smiling.
Indulge in Retail Therapy at the Outlets
Who doesn't love a good bargain? The Vicksburg Outlets promise discount retail therapy at stores like Dressbarn, OshKosh B'Gosh, Lane Bryant, and Bass Outlet. Shop major brands like Nike, Coach, Michael Kors, Kate Spade New York, and more at up to 70% off regular prices. Fuel up with an Auntie Anne's pretzel, Chick-Fil-A sandwich, or Starbucks coffee between outlet conquests.
With over 60 stores, the Vicksburg Outlets offer serious savings on:
- Clothing & Shoes - Brands like Dressbarn, OshKosh B'gosh, Levi's, Rack Room Shoes, and more.
- Home Decor - Find markdowns at Corningware, Lenox, and Pottery Barn.
- Accessories - Sunglasses, jewelry, handbags, and gifts at Claire's, Lids Locker Room, and more.
- Specialty - Down South Jewelry, Kitschen Cooking Store, Rogue General Store, and antique shops.
Located right off Interstate 20, it's an easy retail detour during your Vicksburg visit. The outlets are enclosed and climate-controlled too, so you can shop rain or shine. Be sure to grab those bargain deals!
Find Family Fun at McRaven House
From thrilling ghost tours to fun kids' adventures, the McRaven House provides interactive activities everyone will enjoy. This three-story structure dates back to 1797 and features a dark history, from Civil War surgery to yellow fever deaths. Learn sinister stories during nighttime ghost tours, upheld as Mississippi's most haunted house.
Families can partake in the History Mystery Tour, combining home tour with a game as you solve clues and puzzles. Kids especially love the spooky scavenger hunts and activities during Halloween ghost tours. McRaven also hosts family-friendly seasonal events like their Halloween Spooktacular and Christmas candlelight tours.
Their new bowed basement houses a children's exhibit with dress-up, toys, and more hands-on fun. Parents will appreciate the historic home education while kids play Civil War doctor or dolls. For a memorable visit that both educates and entertains, spend an afternoon at the storied McRaven House.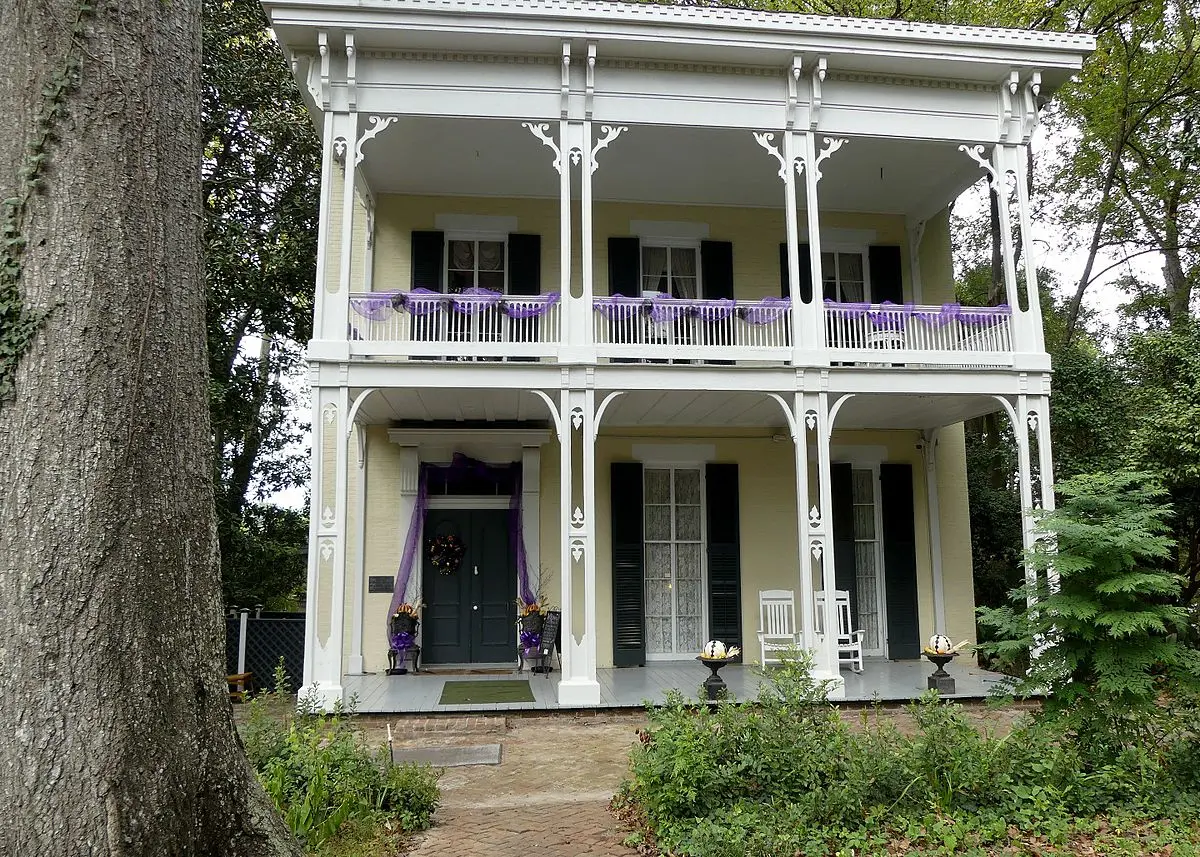 See Marine Life at the Mississippi River Museum
The Mississippi River Museum at Mardi Gras Park illuminates the ecosystem and inhabitants of the legendary Big Muddy. View exhibits on river sciences, from flooding and erosion to commerce and transportation. Plus, get up close and personal with fish, turtles, snakes, and other critters native to the Mississippi River Basin at their aquariums and touch tank.
Highlights include:
- Science Boat - Packed with interactive physics experiments like piloting a towboat.
- Working River Model - See a to-scale river model demonstrating lock & dam systems.
- Education Birds - Chatty birds will talk to you about their conservation!
- Fish Feeding - Watch natural fish feeding daily at 11:30am and 2:30pm.
- Mardi Gras Exhibit - Learn the history of Mardi Gras with colorful displays.
With family-geared exhibits and live animals, the museum makes for an engaging and educational visit. Don't skip the lobby's Mardi Gras exhibit too!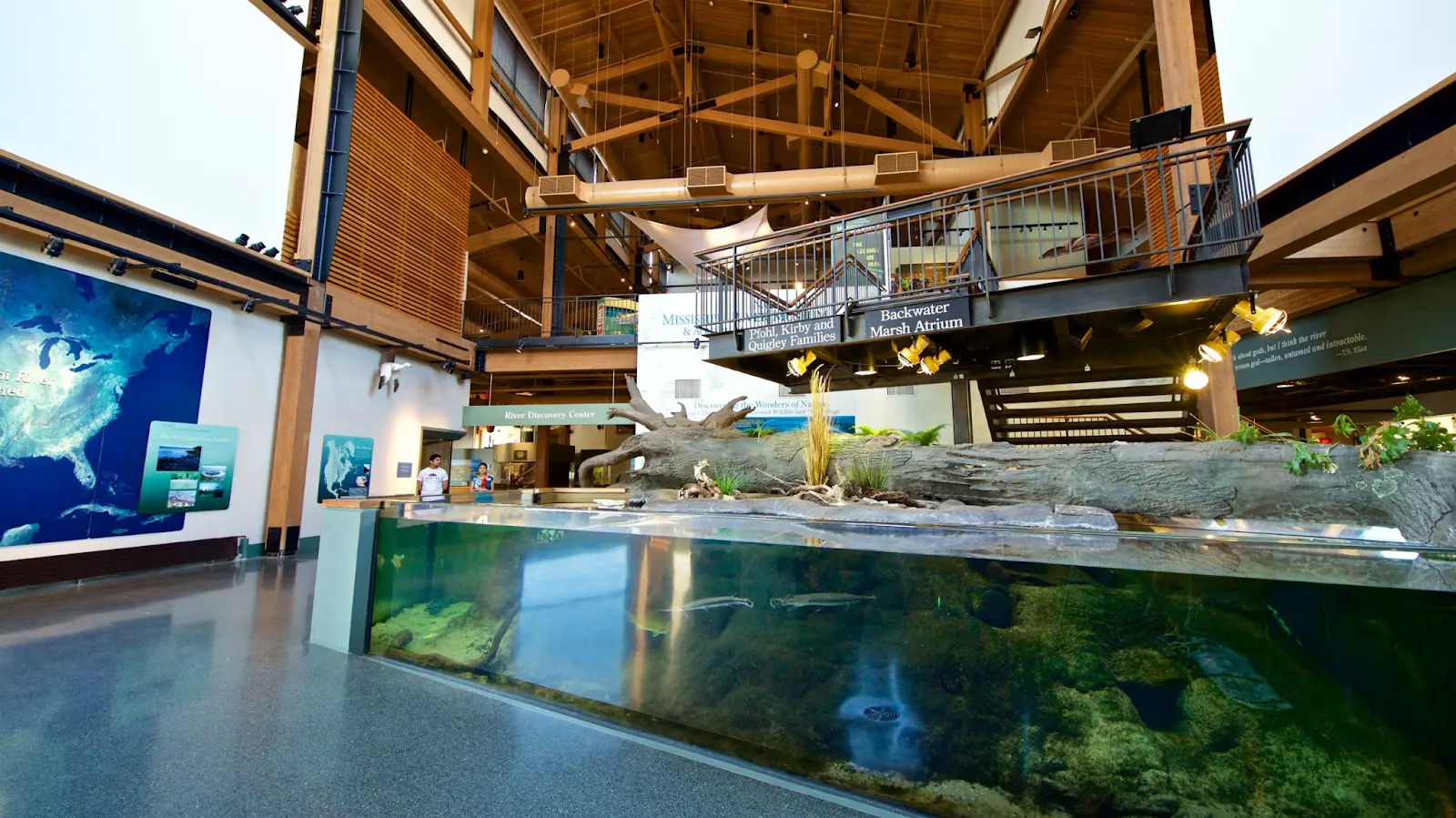 Cheer at a Sports Event
Take me out to the ballgame! Vicksburg is home to several local sports teams that are fun to cheer on during your stay. The Vicksburg Post 22 American Legion Pro Baseball team plays at Sports Force Parks, where you can enjoy an evening of America's favorite pastime outdoors.
At the Vicksburg Convention Center downtown, catch high-flying hoops action with the Vicksburg Mavericks, a minor league basketball team. Football fans can get their fix watching Warren Central High School and Vicksburg High School compete on Friday nights in the fall.
For fast-paced motorsports, Vicksburg Speedway has racing events every weekend. And be sure to catch one of Warren Central High's football games for an authentic Friday Night Lights experience. With year-round sports happenings, it's easy to join in the local fan excitement.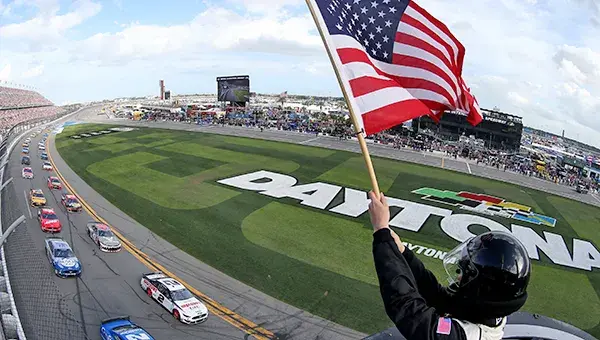 Pamper Yourself at a Spa
Amidst sightseeing and history, be sure to pamper yourself with relaxation at one of Vicksburg's blissful spas. The state-of-the-art Courtyard by Marriott Vicksburg has the full-service Revive Spa, where you can indulge in massages, body treatments, manicures and more. Their Himalayan salt stone sauna and relaxation room provide peaceful sanctuary.
For a true Southern spa experience, unwind at The Bluff Spa with signature Magnolia body treatments and massages, aromatherapy baths in their clawfoot tub, and rejuvenating facials. Their lovely location overlooking the Mississippi River will wash away any stresses.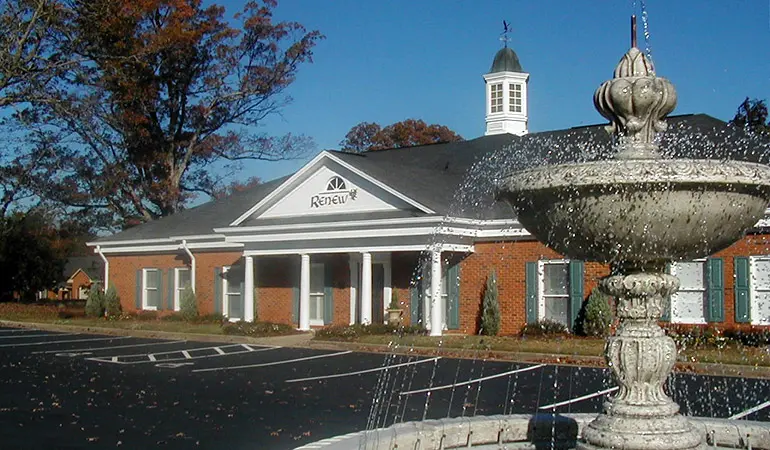 Other spas include:
- Renew Day Spa - Enjoy therapeutic massages, stone treatments, and milk & honey pedicures.
- Serenity Day Spa - Relax with body wraps, salt scrubs, Reiki and couples massages.
- Cottonwood Day Spa - Choose from Swedish, pregnancy, hot stone, and ashiatsu massages.
With expert therapists and indulgent amenities like saunas, soaking tubs, and tranquility lounges, Vicksburg's spas offer comforting ways to care for yourself while vacationing.
Pay Respects at the National Cemetery
No trip to this Civil War city is complete without visiting the Vicksburg National Cemetery to contemplate the sacrifices made. This tranquil cemetery was established in 1866 and covers 116 acres along the bluffs. Gaze across the seemingly endless rows of memorial markers remembering Union soldiers and sailors who perished in campaigns and the siege. Note the patriotic statues scattered throughout the manicured lawns as well.
At the cemetery's center stands the stunning marble rostrum, dedicated in 1901. Climb to the top for panoramic views of the cemetery grounds and Mississippi River Valley. With its magnolias, sculpted monuments like the Illinois Memorial, and the compelling history memorialized here, Vicksburg National Cemetery is a moving tribute to those who fought for unity. It provides an opportunity for reflection you won't forget.
Experience the Waterways at Yazoo Pass
For outdoor adventure away from downtown, head 30 minutes north of Vicksburg to Yazoo Pass. These wetlands offer some of the best boating and fishing opportunities around. Launch your motorboat, kayak or canoe to explore winding bayous, flooded swamps, and excellent bass and catfish prospects.
The Audubon Mississippi River Eco-Tours provide a guided paddling experience through the wetlands, pointing out herons, anhinga birds, butterflies and more natural sights. Pack a lunch to enjoy waterside before heading back out to fish - just beware of the alligators! The scenery here is quintessentially Southern.
You can also rent boats from outfitters like Yazoo Pass Boat Rental or Eagle Lake Guide Service. With its maze of peaceful water trails,Yazoo Pass rewards visitors who love the outdoors. Don't miss the chance to paddle through these unique floodplain wetlands!
Where to Stay in Vicksburg
With historic B&Bs, waterfront casino hotels, and major chain accommodations, Vicksburg offers diverse lodging options that put you close to the attractions. Here are top picks for places to stay:
Historic B&Bs
- The Corners Mansion - For romantic Civil War-era character, book a room in this gorgeous 1855 mansion turned B&B. Enjoy four-poster beds, antique furnishings, and daily breakfast.
- Cedar Grove Mansion Inn - Stay on a historic cotton plantation at one of the restored Greek Revival guest cottages, nestled amidst tranquil gardens and gazebos.
- Annabelle B&B - This 1890 Queen Anne home provides Southern breakfasts and charming rooms filled with antiques.  
Casino Hotels
- Hotel Vicksburg - Overlooking the Mississippi River, this rambling hotel promises panoramic views along with contemporary rooms, fitness center, pool, and complimentary breakfast.
- Ameristar Casino Hotel - Stay right in the casino complex, with modern rooms, indoor pool, and dining discounts. Get lucky in the casino!
- Rainbow Hotel Casino - Budget travelers will like the wallet-friendly rates at this lively casino hotel.
Chain Hotels
- Hampton Inn Vicksburg - Families will appreciate the central location, indoor pool/spa, free breakfast bar, and family suites with bunk beds at this reliable chain.
- Holiday Inn Express - Enjoy free breakfast, WiFi, outdoor pool, and a fitness center at this conveniently located option.
- Best Western Vicksburg - Expect solid amenities like free breakfast, pool, and shuttle service at this favorite chain.
Boutique Stays
- The Gertrude Hamilton House - Book this unique 1920s home offering just 3 guest rooms furnished with art deco pieces.
- Batture Boutique Hotel - Adults seeking trendy vibes should check into this downtown boutique hotel with a rooftop lounge, lobby bar/bistro, and stylish modern decor.
Whether you crave historic ambiance, modern amenities, or affordability, Vicksburg has accommodations suited for any traveler. Book your Mississippi River escape and get ready to explore this captivating Southern destination!
Tour Historic Churches
As you explore Vicksburg's antebellum past, make time to visit some of the city's historic churches as well. Many date back to the mid-1800s and provide a look at stunning period architecture and decor.
The Romanesque-style Temple Baptist Church dates to 1872 with striking stained glass windows added in the early 1900s. St. Paul Catholic Church was founded in 1846, with its ornate altar and pipe organ installed in the late 1800s. You can also tour the Gothic-style Crawford Street Methodist Church built in 1859 or gaze up at the soaring steeple of Christ Episcopal Church, consecrated in 1839.
For an artistic wonder, visit St. George Antiochian Orthodox Church - vibrant Byzantine icons painted in the 1940s cover the interior from floor to ceiling. With their soaring steeples, antique pews, and rare artifacts, Vicksburg's historic churches offer hallowed glimpses into the past.
Take an Eco Tour of the Delta
Venture into the sprawling wetlands of the Mississippi Delta on an exhilarating eco tour. Companies like Delta Safaris offer guided swamp tours aboard large wheeled buggies that traverse flooded woods and fields teeming with wildlife. Expert guides will introduce you to protected lands harboring alligators, wild boar, deer, bald eagles, and more.
For a slower ride through the cypress knees, book a kayak eco tour along the Big Sunflower River. Float past egrets, turtles, and cypress trees draped in moss. Or opt for airboat tours that zip through bayous and marshy backchannels alive with everything from butterflies to bobcats. However you choose to explore it, this fertile floodplain ecosystem will leave you in awe.
Ride Horses through History
Equestrians and history buffs should saddle up for a horseback adventure across Vicksburg's sprawling battlefields. Outfitters like Whispering Woods Riding Stables offer guided trail rides that meander to Civil War sites where horses and cavalry once roamed.
Trot past earthwork defenses, cannon sites, and monuments while your guide describes the dramatic battles that raged here. Feel transported back in time as you clip-clop through woods and meadows much unchanged since the 1860s siege. Certain trails like the Confederate Line route take you along the very trenches and redoubts where soldiers fought and died. For an immersive riding experience through this hallowed landscape, book a historic battlefield equine tour.
Where to Eat Seafood
Want to savor the catch of the day while in Vicksburg? These restaurants dish up fantastically fresh local seafood:
- Walnut Hills Restaurant - Devour Southern fried catfish, crabcakes, gulf shrimp, and heartier fare like steaks too at this institution.
- LD's Kitchen - This neighborhood spot is beloved for cuisine like fried catfish po'boys, seafood platters, and crawfish etouffee.
- Cottonwood Public House - Order creative plates like pecan crusted catfish alongside craft cocktails in a chic downtown setting.
- Shaggy's Catfish and Seafood - Grab casual Mississippi Delta fare like fried shrimp baskets and frog leg plates at this unfussy eatery.
- Goldie's Trail Bar-B-Que - Known for smoked meats, Goldie's also plates mean fried catfish, crabcakes, and shrimp burritos.
- 10 South Rooftop Bar - Enjoy fine dining takes on coastal favorites like seared tuna and shrimp & grits atop this historic hotel.
Don't leave town without indulging in Vicksburg's wonderfully fresh Southern seafood!
Tour Antebellum Mansions
Immerse yourself in Vicksburg's Gone with the Wind-era history by touring the city's grand antebellum mansions. One majestic highlight is Anchuca Mansion, a stately Greek Revival home filled with period antiques. Wander past soaring Doric columns and into parlors decked out circa 1830. Nearby, the Duff Green Mansion transports you to the lavish world of 19th century society elites.
See how cotton riches shaped Mississippi plantation life at the 1852 Cedar Grove Mansion Inn or the majestic Caledonia Plantation. Many antebellum abodes now house charming B&Bs or event venues. Stop by the historic Baer House, Linden, or Klein Residence while in town too.
With opulent architecture and immersive guided tours, Vicksburg's plantation manors offer an illuminating look into the lives of Southern aristocrats during the cotton boom era. Visitors gain a richer understanding of the triumphs and trials that defined this riverside culture.
Shop for Antiques and Collectibles
Beyond the outlet mall, Vicksburg holds a trove of old-timey antique shops and indie boutiques waiting to be explored. Downtown and its historic surroundings boast numerous options to uncover hidden gems.
Rummage for vintage finds at locales like the Southern Antiques Mart, Annex on Main, and Merchant's Alley on Washington Street. Find mid-century memorabilia and kitsch at Oh My! and Dixie Outfitters. At the Flea Market off Clay Street, haggle for furniture, jewelry, glassware and other relics.
Crawford Street's retail row tempts with antique firearms at Vicksburg Armory, or music memorabilia at Melody Lane. Wherever you explore, hunting for bygone treasures makes a fun break from historic sightseeing.
Try Local Wine and Spirits
The Magnolia Bluffs wine region around Vicksburg offers delightful vineyards and tasting rooms to savor. At Vicksburg Winery, sample small-batch wines like their Vidal Blanc and Southern Rosé varietals. Tour the Old South Winery in nearby Issaquena County to taste robust muscadine and fruit wines.
Over at Beechwood on the Bluffs, sip their classic Southern creations like muscadine Rum & Coke. Or visit 38 Craft Beer & Wine for Mississippi-made porters, IPAs, and meads alongside breezy river views. Don't miss the exquisite creole cream liqueur from local distiller Miss River Distilling Co. too!
Vicksburg serves up homegrown spirits and vintages that provide flavorful ways to toast your Mississippi getaway.
Tap into the Craft Beer Scene
Beer lovers rejoice - Vicksburg has a steadily growing craft brewery presence. Key options include Fulton Beer Works, which whips up small-batch ales, porters, and IPAs on Washington Street. Their tasting room always features the latest creations on draft.
38 Craft Beer and Wine pours an eclectic lineup of Mississippi-made brews, ciders, and meads in a cool industrial taproom. Or grab a pint at LD's Beer Garden, which stocks regional IPAs, stouts, sours and more. Cheers to discovering Vicksburg's tastiest handcrafted brews!
Glimpse Exotic Animals at Catfish Row Petting Zoo
For kid and animal lover fun, visit Catfish Row Petting Zoo just north of town. This charming farm lets you get up close with exotic creatures from camel rides to kangaroos. Feed the herd of deer and goats roaming the fields.
See massive tortoises, hopping wallabies, mini horses, and more. It makes for a memorable family outing and photo op! Don't miss petting the ring-tailed lemurs too.
Experience Hang Gliding
Adventurous souls can take flight over Vicksburg's epic river landscapes via Vicksburg Hang Gliding. Professional tandem pilots literally soar with you securely harnessed over the riverfront, military park, and loess bluffs.
Once you run off the cliff's edge, you'll float over the magnificent scenery below. With an instructor handling the glider, it's safe for ages 4 and up. Feel the rush of this bucket list flightseeing thrill that showcases Vicksburg's beauty from a breathtaking vantage point.
Play Disc Golf at Camp Van Dorn
Try a round of disc golf at the challenging course within Camp Van Dorn, a historic military site near Vicksburg. Navigate wooded hills, creeks, and thickets as you toss discs toward the basket targets spread across 18 holes.
The terrain adds exciting elements to this popular sport that's like golf with Frisbees. Bring your own discs or rent them on-site. With beautiful landscapes and a layout favoring all skill levels, it's a prime spot to play near Vicksburg.
Conclusion
With its captivating history, natural splendor, cultural riches, and no shortage of family fun, Vicksburg offers an unforgettable travel experience. Wandering the National Military Park lets you visualize the crucial Civil War battles that transformed America's trajectory. Architectural treasures like stately mansions, churches, and downtown's iron-balconied buildings transport you back in time.
The mighty Mississippi River provides scenic cruises, sporting adventures, and insight into the waterway's eternal influence. And don't miss blissful Southern fare from fried catfish to fiery tamales that reflects Vicksburg's Delta spirit. During your visit, embrace festivals joining the community together in celebration of this vibrant port city.
Whether you take to two wheels, horseback, or riverboat to explore it, Vicksburg rewards travelers seeking engagement with the intricate narrative of the Deep South. At the crossroads of U.S. history and the heartbeat of the lower Mississippi River, Vicksburg stands as a cultural gateway to uncover. Let its layers of stories sweep you into the currents and rhythms that shaped its legacy. When you depart, a piece of its indomitable Southern soul will linger in your own.