Things to Do in Asheville, NC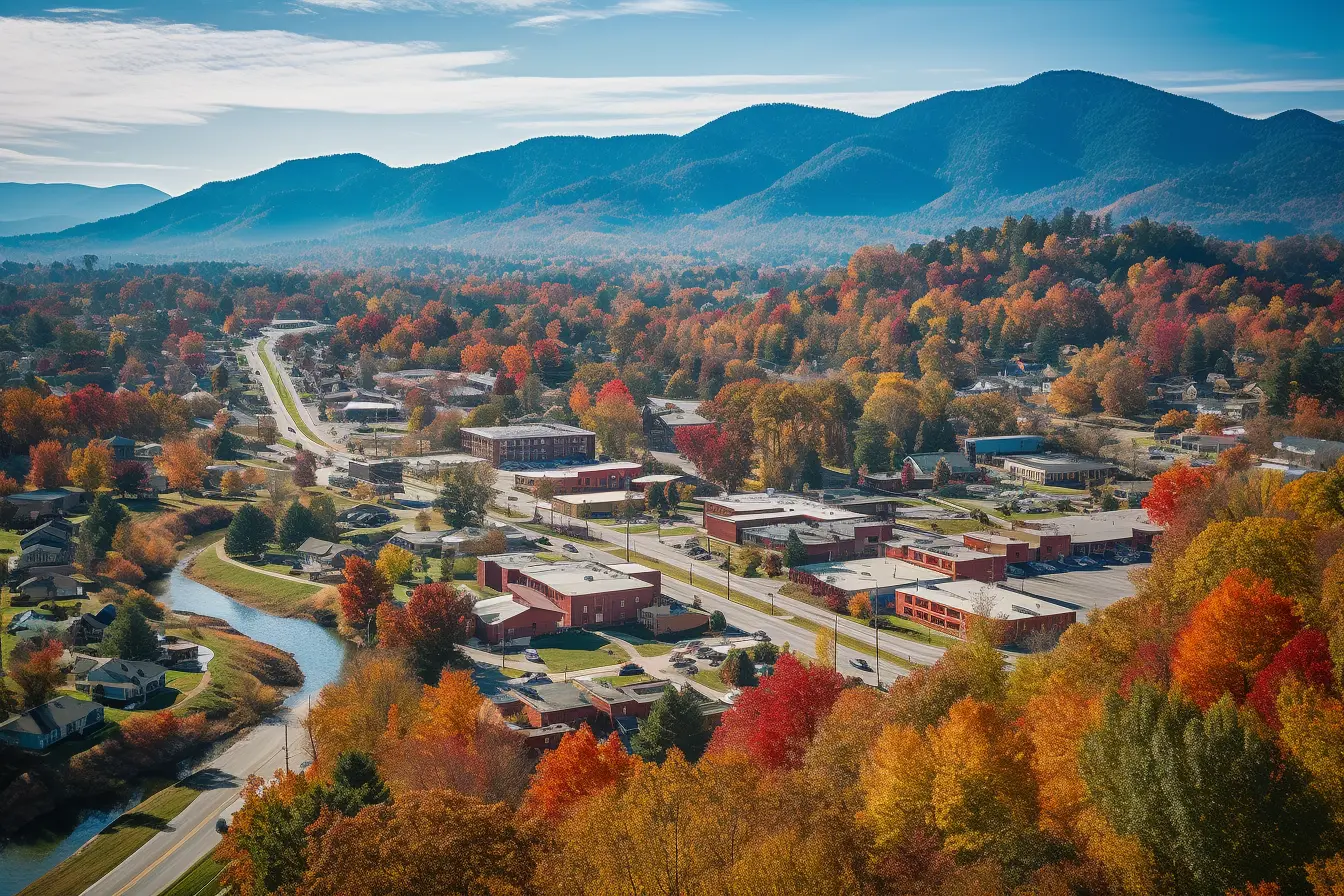 Nestled in the Blue Ridge Mountains of western North Carolina, Asheville is a charming city that offers plenty to see and do, even during the colder winter months. From historic sites and galleries to shops, restaurants, and the great outdoors, Asheville has something for everyone. Here are some of the most memorable and significant things to do when visiting Asheville in the winter.
Historic Architectural Gems in Downtown Asheville
Downtown Asheville overflows with architectural treasures from the early 20th century. The compact city center makes it easy to take a leisurely stroll and admire these historic buildings up-close. Don't miss visiting these highlights of Asheville's magnificent historic architecture.
The Basilica of Saint Lawrence
One of Asheville's architectural stars, the Basilica of Saint Lawrence stands on Haywood Street downtown. Also called Saint Lawrence Basilica, this grand Roman Catholic church was completed in 1905. Its ornate Spanish Renaissance style was modeled after the famed Sant'Ambrogio basilica in Milan, Italy.
Walking up to the basilica, your eye is immediately drawn to the red terra cotta tiled dome rising above the roofline. Step inside and look up to admire the beautiful domed ceiling painted with artwork depicting biblical scenes. Intricately carved circular medallions adorn the ceiling ribs. Look closely to spot small animal details like lizards incorporated into the carvings.
The nave showcases original stained glass windows from Munich that allow colorful light to stream in. Statues of the apostles perch in alcoves above the sanctuary. Everywhere you look reveals more ornate details like the carved marble, soaring arches, and gilded altar. Guided tours provide a deeper glimpse into the history and artistry of this 105-year-old basilica.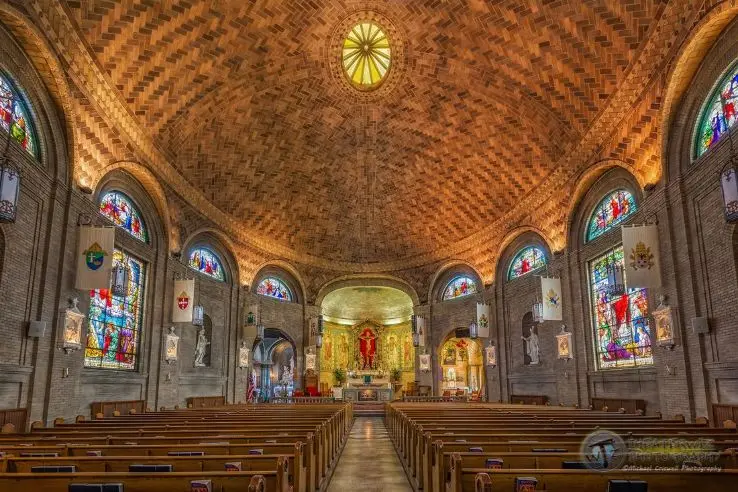 Battery Park Hotel
Across from Pack Square Park, the dignified Battery Park Hotel presides on a full city block. This lovely brick hotel opened in 1924, designed in an Italian Renaissance revival style. Walk inside the Battery Park Hotel today to admire the original lobby with its arched entryway flanked by terra cotta columns and wrought-iron balconies overhead.
Historic black and white photos on the walls showcase the hotel's elegant past. Stop for a cocktail or afternoon tea at the Champagne Bar, an airy space under the lobby's curved vaulted ceiling. With its central location and vintage appeal, the Battery Park Hotel encapsulates Asheville history while still feeling fashionable and upscale.
The Flat Iron Building
Asheville's famous Flat Iron building grabs attention with its unusual shape. The triangular structure was built in 1927 with a distinctive flatiron design that covers just 1,000 square feet of land. This type of architecture emerged in crowded urban areas where prominent triangular lots challenged designers.
The Flat Iron Building's sharp triangular form is immediately recognizable on the Asheville cityscape. Its facades of cream glazed brick and terracotta tile rise to a point on the corner of Battery Park and Page Ave. The second and third floors feature bay windows looking out on downtown.
Like New York City's iconic 1902 Flatiron Building, Asheville's version has become iconic. The inside of the Flat Iron Building now houses an eclectic mix of restaurants, bars, and specialty shops befitting its unique shape. Streetside patios peppered with tables and string lights add to the building's allure.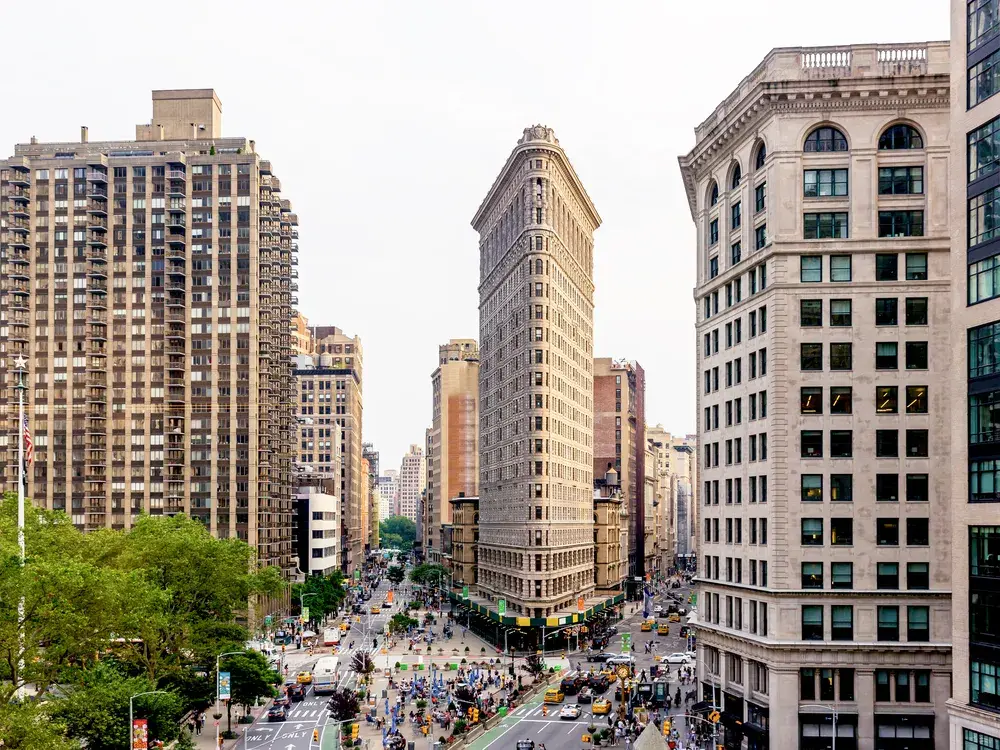 Grove Arcade
Built in 1929 as part of Asheville's booming 1920s economy, the Grove Arcade filled an entire city block downtown. It was envisioned as a hub for shops and commerce fitted with modern amenities. The developer recruited architect Charles N. Parker to design the imposing Tudor-style building.
Entering from Battery Park Avenue, you're greeted by a high archway flanked by granite columns. Inside, a skylight caps the voluminous atrium under ornately rib-vaulted ceilings. Creators wanted an indoor space as luminous as the outdoors, so natural light streams in from the skylight and many windows.
Terrazzo squares flow across the floors while decorated inscription stones adorn the walls. Wrought-ironwork railings and signage add striking decorative touches. Today the Grove Arcade houses shops, galleries, and restaurants that make the most of this historic architectural gem in Asheville's heart.
Asheville City Hall
Asheville City Hall cuts an imposing figure on Haywood Street in downtown Asheville. Constructed in 1928, the building was designed to be fireproof and serve as a symbol of government stability with its strong neo-Gothic architecture.
The stone exterior looks stately with its crenellated tower and arched entranceway. Inside, highlights like the grand staircase, coffered ceilings, and marble wainscoting echo classical elegance. The second floor has retained its original wood wainscoting and paneled doors. Historic photos of Asheville line the interior hallways.
Asheville City Hall remains an active government hub housing the offices of the mayor, city council, and various departments. Visitors can admire the historic architecture and attend city council meetings in the second-floor chambers beneath gorgeous stained glass skylights. This building stands as a testament to Asheville's thriving spirit in the 1920s.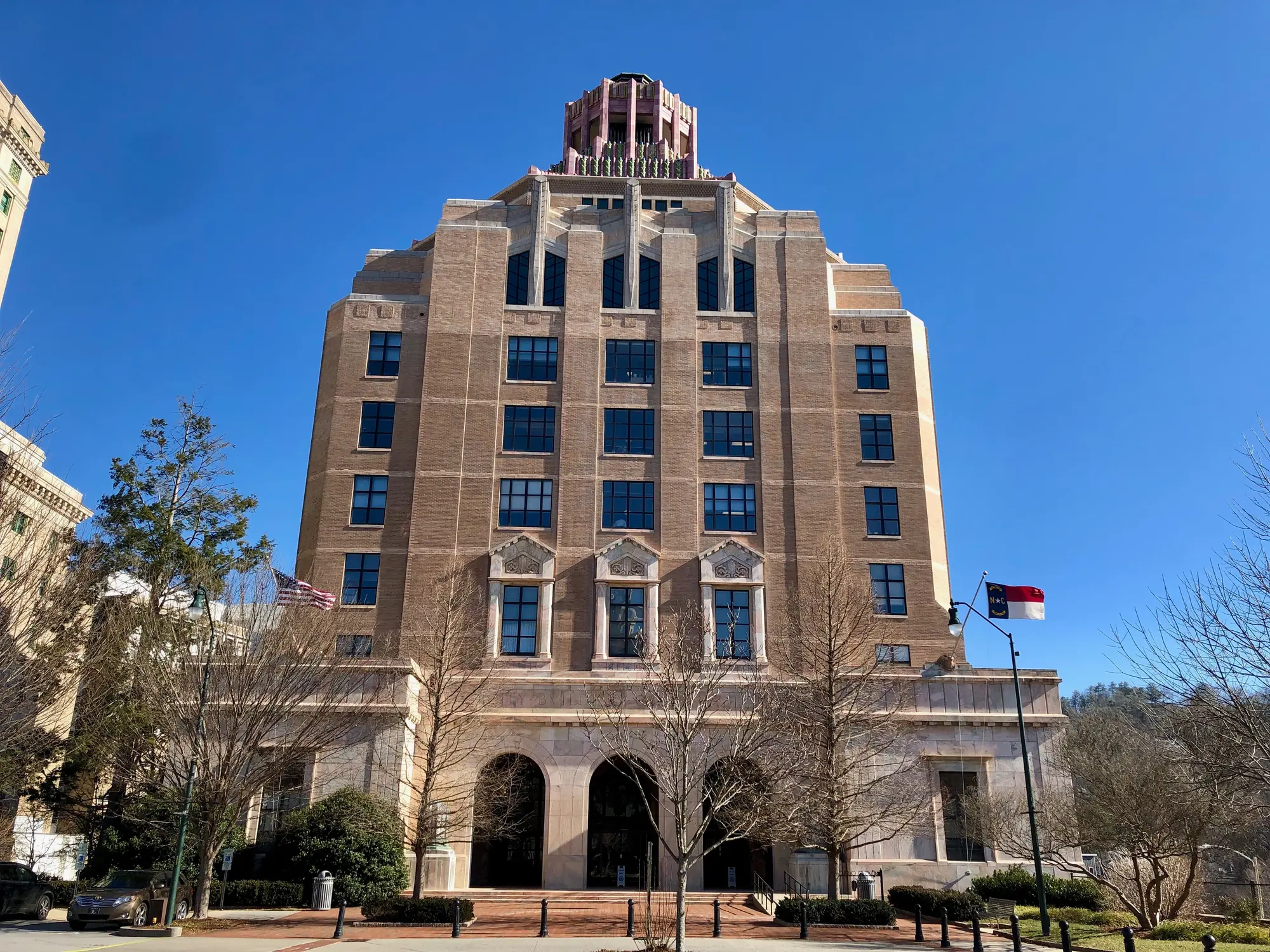 Immerse Yourself in Asheville's Vibrant Art Scene
From world-class museums to quirky galleries, Asheville overflows with art in countless styles and mediums. Make time to fully experience these premier art spots during your visit.
Asheville Art Museum
Asheville Art Museum first opened in 1948 in a historic home downtown. After seven decades of growth, the museum moved to an impressive modern building in 2019, cementing its status as one of the Southeast's top museums. This new space allows the museum to display its permanent collection to full advantage.
Spread across two floors, the galleries showcase all varieties of visual arts. See contemporary works by national artists like Fletcher Benton's kinetic sculptures and Helen Frankenthaler's color field paintings. Discover ceramics, studio crafts, and modern glassworks along with avant garde videos and installations.
One gallery illuminates Asheville's significance as an arts destination over time through paintings of local scenes and historic artifacts. Make sure to spend time in the museum shop admiring handcrafted jewelry, ceramics, and prints created by local artists.
Through special exhibitions and events, the museum provides opportunities to engage with both renowned and emerging artists. Enjoy free admission every Saturday from 5-8 pm. The Asheville Art Museum is the ideal starting point for exploring the city's vibrant arts scene.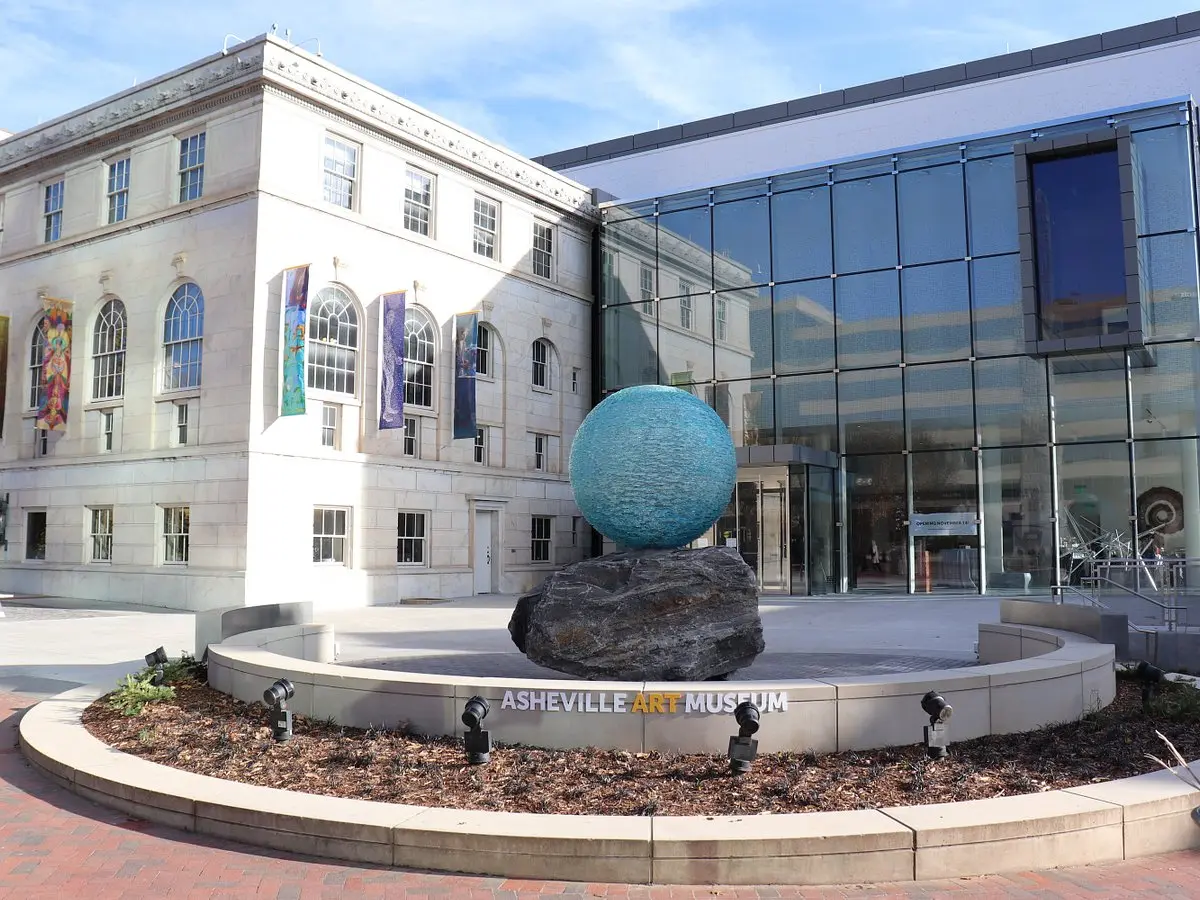 River Arts District
The River Arts District unfolds along the French Broad River just north of downtown. In former industrial spaces like vacant factories and warehouses, over 200 artists have set up working studios, forming a lively arts village.
Wandering along the railroad tracks or the greenway, you'll stumble upon painting studios, glassblowing workshops, metalsmiths, printmakers, and all varieties of creators. Pop into Riverview Station or Wedge Studios to see artists at work. Meet jewelry designers, woodworkers, potters, photographers, sculptors, and weavers eager to share their craft.
At these studios, you can browse finished works or buy your own original piece directly from the source. Don't miss the opportunity for such direct interaction while exploring this spirited arts community.
Woolworth Walk
Inside one of Asheville's historic downtown buildings, Woolworth Walk houses a vibrant collection of art galleries and working studios. Since 1992, this gallery co-op has provided downtown retail space for local artists and craftspeople. Browse rotating exhibits or watch resident artists like jewelry makers, painters, and ceramicists practicing their craft on-site.
The original lunch counter now operates as a lively soda fountain restaurant amid the creativity. With new works always emerging, you never know what artistic treasures you may find at Woolworth Walk on a return trip. Time a visit to coincide with their special events or monthly First Friday gallery openings.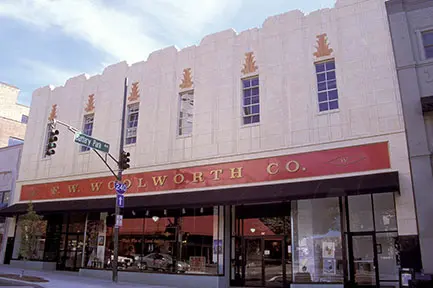 Blue Spiral 1
No fine art lover should miss a stop at Blue Spiral 1, one of Asheville's top-tier contemporary galleries. The spacious minimalist interior allows art to take center stage. Since 1992, Blue Spiral 1 has showcased painting, sculpture, photography, ceramics, and other mediums by significant national and regional artists.
The gallery's experienced staff provides context on the works and artists. Blue Spiral 1 stays ahead of arts trends, blending esteemed veterans with new voices brimming with potential. Budget extra time here to fully appreciate both the works themselves and the gallery's impeccable curation.
Retail Therapy in Downtown Asheville
Downtown Asheville offers an array of local shops selling specialty goods, handmade items, and mountain-made crafts. Shop indie stores and artisan markets for the perfect souvenirs.
Malaprop's Bookstore
Tucked away on Haywood Road in downtown Asheville, Malaprop's Bookstore is a cozy independent bookshop that has been a local favorite since 1982. Stepping inside, you'll be surrounded by bookshelves packed with a thoughtful selection of new releases, literary fiction, regional titles, poetry, cookbooks, gardening manuals, children's books, and much more. What makes Malaprop's unique is their focus on championing southern authors and Appalachian topics. They host regular book signing events featuring prominent authors like Thomas Wolfe, Robert Morgan, Ron Rash, Charles Frazier, and many more.
Beyond browsing the shelves of books, be sure to visit their quaint cafe located toward the back of the store. Here you can order coffee, tea, wine, craft beer and a selection of cheese plates, pastries, and sandwiches perfect for sitting and reading. The atmosphere is relaxed and intimate, with mismatched couches and chairs tucked into cozy nooks. During your visit, make sure to chat with the knowledgeable staff who can offer personalized recommendations based on your tastes. Malaprop's also has a robust calendar of literary events like book clubs, writer's workshops, children's story hours, and guest speakers. For an enriching cultural experience, Malaprop's Bookstore is a must-visit when in Asheville.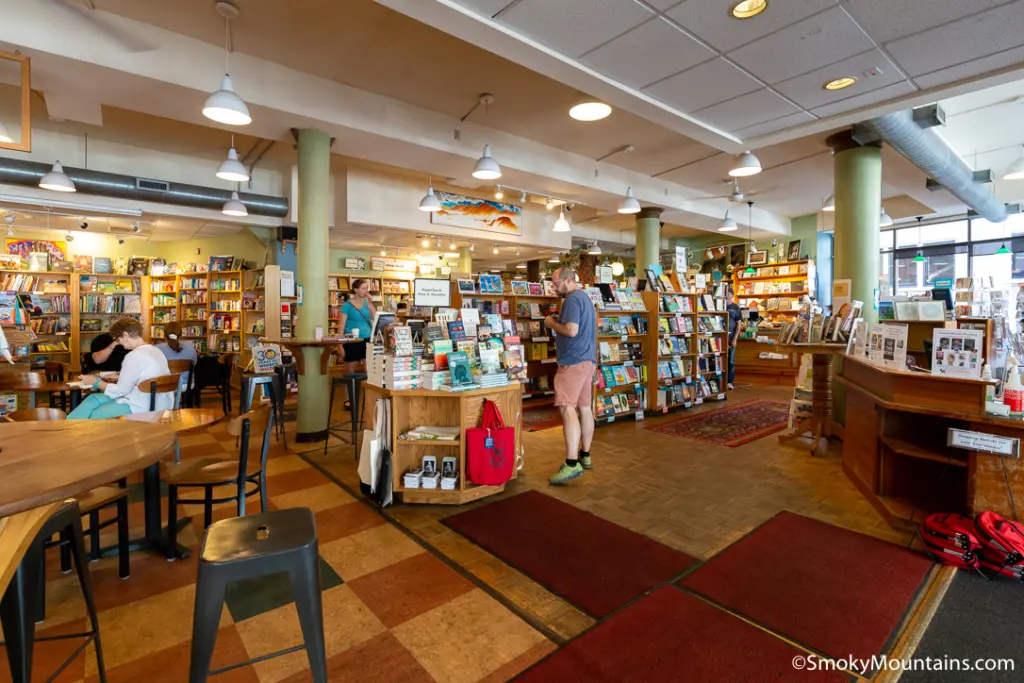 Tops for Shoes
When your feet need some comfortable new shoes for work, play, or going out around Asheville, head to Tops for Shoes on Patton Avenue. This locally owned shop first opened in 1984 and has been a go-to destination for quality footwear ever since. Their selection includes brands like Dansko, Birkenstock, Keen, Taos, Ecco, and more. Whether you need sturdy leather boots for mountain hikes, stylish heels for date night, or cozy house slippers, their expert staff can help you find the perfect fit.
Beyond an amazing selection, what makes Tops for Shoes stand out is their dedication to customer service. They take time doing proper fittings, suggesting styles based on your needs, and making sure you walk out the door happy. Their on-site cobbler also provides repairs and custom orthotics. Tops for Shoes has footwear options for men, women and kids along with accessories like socks, insoles, and foot care products. Support local business while getting the best pair of shoes in Asheville at this charming Patton Avenue staple.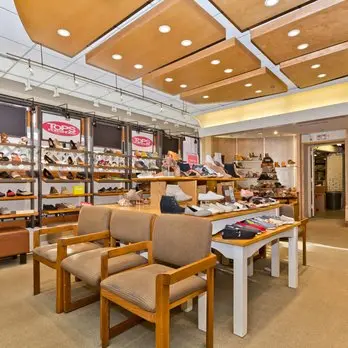 Grovewood Gallery
Located adjacent to the historic Grove Arcade in downtown Asheville, Grovewood Gallery is a must-visit spot for handcrafted artwork and crafts. The gallery features over 400 artists and craftspeople, primarily from western North Carolina. Inside you'll find displays of fine jewelry, pottery, glasswork, wooden furniture and decor, fiber arts like quilts and baskets, candles, ironwork, and more. The focus is on high quality, American-made contemporary and traditional craftsmanship across every medium. Grovewood rotates exhibits every few months so there is always something new to admire and potentially bring home. Beyond viewing the functional art, you can watch craftspeople giving live demonstrations. The gallery also includes the Sky High Gallery on the second floor, home to an exquisite collection of traditional Appalachian and contemporary studio art. For a truly inspiring overview of local artisanal wares, exploration of Grovewood Gallery is a must during any trip to Asheville.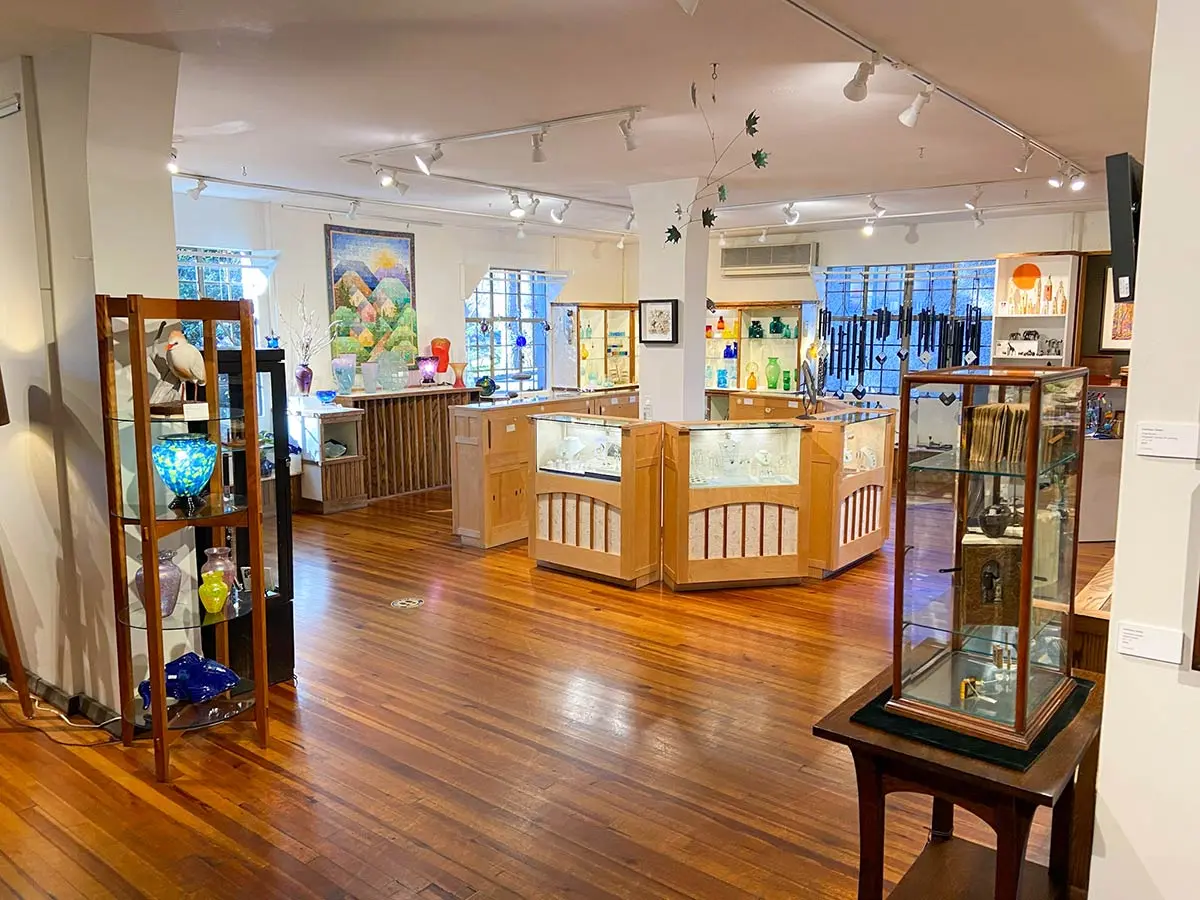 Culinary Delights: Asheville's Top Restaurants
From upscale eateries to neighborhood haunts, Asheville's dining scene impresses foodies with creative Appalachian fare, locally sourced ingredients, and expertly crafted cocktails. Warm up on a winter day with a hearty meal at one of these top spots.
Cúrate
This downtown favorite serves outstanding Spanish tapas like savory paella, charcuterie, cheeses, and spreads. Sip wine, sherry, or sangria and nibble your way through a meal at the lively communal tables. Save room for churros with chocolate sauce for dessert!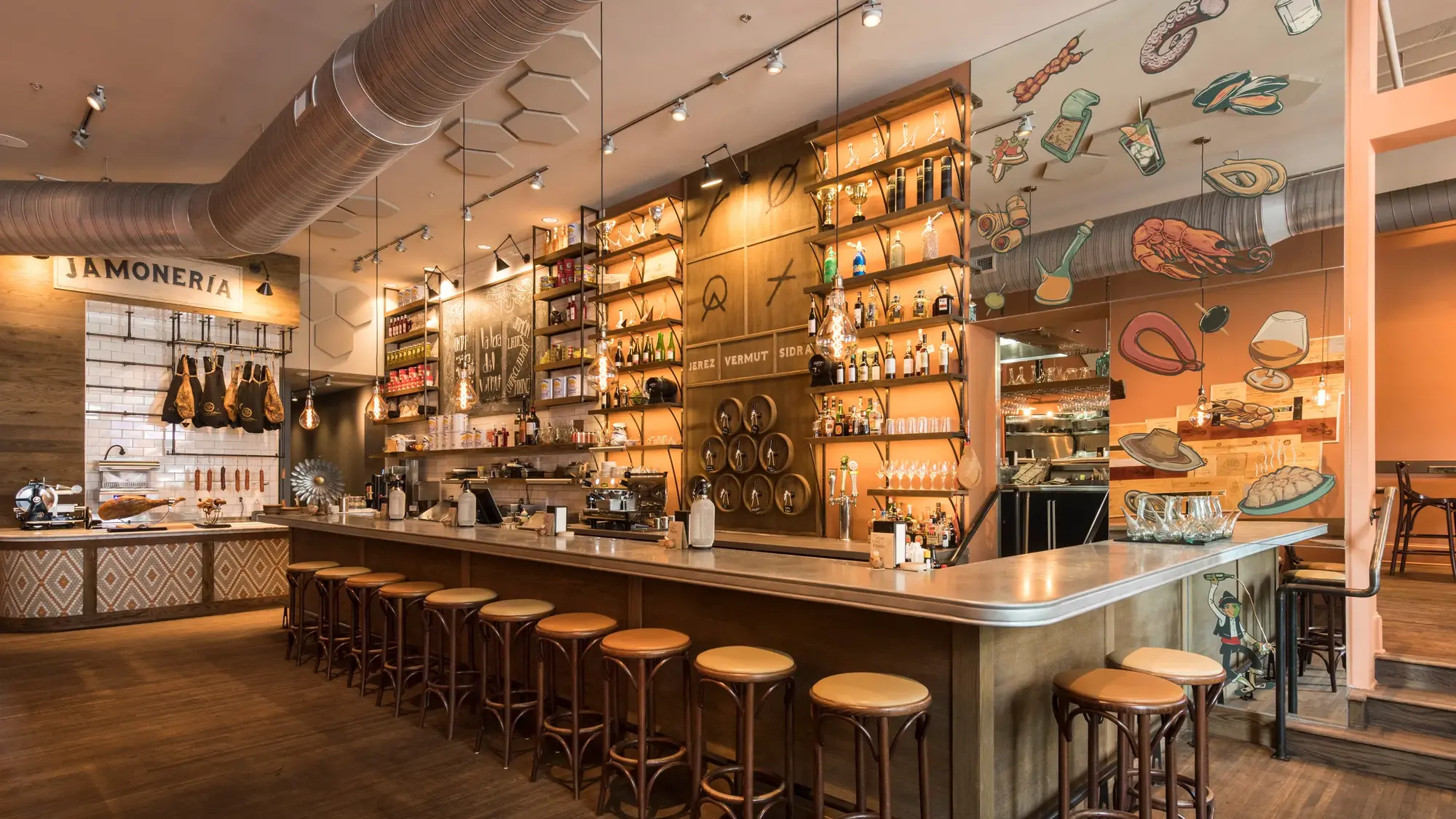 Benne on Eagle
Situated in The Foundry Hotel, Benne on Eagle spotlights soulful southern cuisine made from seasonal and local ingredients. Try Chef John Fleer's inventive takes on fried chicken, catfish, and grits washed down with a craft cocktail.
Bouchon
For a romantic French bistro-style dinner, make reservations at this cozy restaurant on Lexington Avenue. Savor classics like escargots in garlic butter, coq au vin, and crème brûlée by candlelight. Peruse the wine list for the perfect pairing.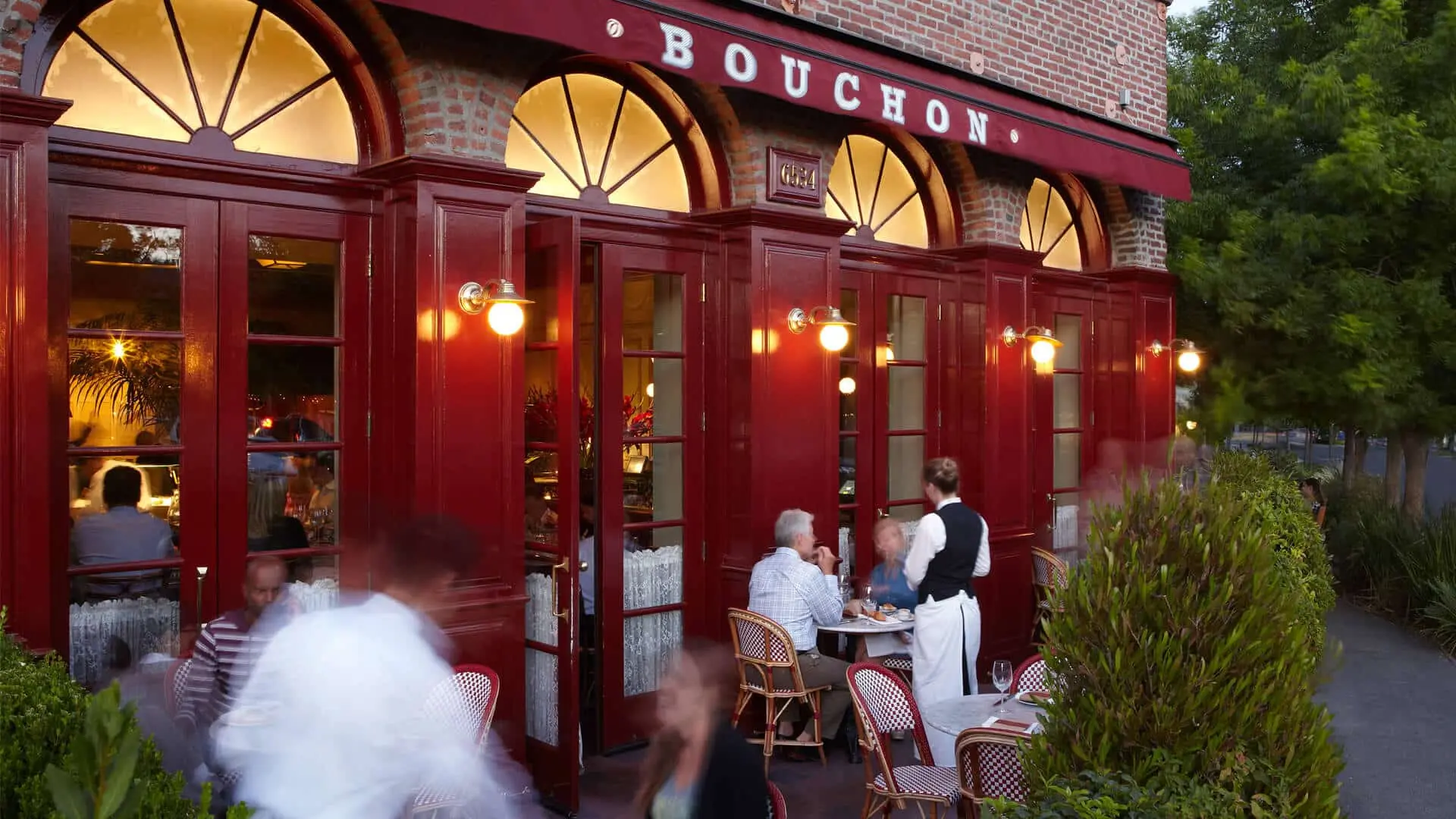 The Admiral
This hip West Asheville eatery housed in a former motel delivers some of the city's most creative eats and drinks. Feast on small plates like duck confit tacos and pork belly while sipping imaginative cocktails with names like "Rye Tai."
White Duck Taco Shop
For fast but delicious tacos, this downtown spot hits the spot. Choose from an array of global taco options like Thai chicken, Korean beef, and Peking duck. Grab a picnic table for a budget-friendly and tasty meal. Cash only.
Hiking Near Asheville
Crisp winter air and snowy mountain peaks create ideal conditions for wintertime hikes near Asheville. Here are some top trails offering majestic winter views.
Craggy Gardens
One of the most stunning winter hikes near Asheville leads to Craggy Gardens along the Blue Ridge Parkway. Located just 20 miles north of Asheville, the hike to Craggy Gardens is around 6 miles round trip on a moderately strenuous trail. As you ascend in elevation, the scenery transforms from forest to icy heath bursting with rhododendron, azaleas and mountain laurel. In winter, the branches and bushes are coated in dazzling frost.
The payoff is at the top, when you emerge from the trail onto the grassy bald at Craggy Gardens. At over 5,800 feet in elevation, the 360-degree panoramic views are breathtaking. The Great Craggy Mountains tower in the distance, draped in a coat of snow and ice. On a clear day, you can see for over 80 miles in any direction. With no leaves on the deciduous trees, the views seem endless out over the rippling blue ridges. The Craggy Pinnacle trail leads up to even broader vistas. After soaking in the majestic scenery, descend back down through silent, snowy woods to complete the outing.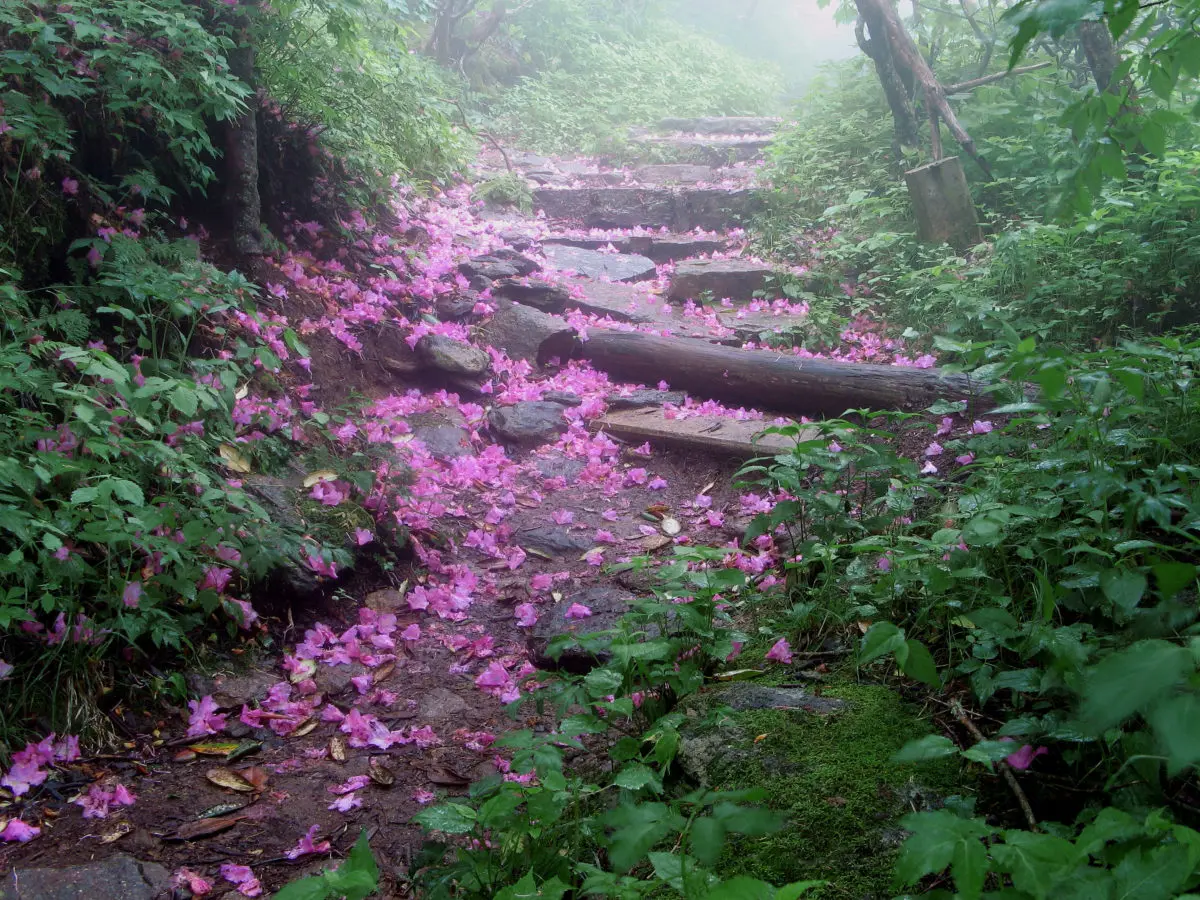 Graveyard Fields Loop
Located in Pisgah National Forest about 30 minutes drive from Asheville, Graveyard Fields is an iconic winter hike destination thanks to its spectacular frozen waterfalls. The moderate 6 mile loop trail leads past multiple cascades, including Upper and Lower Falls which are stunning when rimmed with long icicles. The valley is blanketed in snow, with icy walls surrounding you as you hike along the trail by the creek.
Parts of the loop are more challenging with steep inclines and uneven terrain. But the magnificent long-range views of the Shining Rock Wilderness are worth it. Stop to enjoy a peaceful picnic by the frozen waterfalls before completing the loop and returning to your car. Just be sure to wear proper winter hiking boots as trails can be slippery.
Max Patch Loop
For an easier winter hike with sweeping vistas, head to the iconic grassy bald summit of Max Patch in Madison County, North Carolina. Located off the Appalachian Trail near Hot Springs, the 360-degree views from the 4,629-foot summit extend over the snow-capped Great Smoky Mountains.
The 1.4 mile round trip hike follows a gentle incline along the Appalachian Trail, making it suitable for most skill levels. Once atop Max Patch, you'll be surrounded by panoramic views of the majestic, icy Appalachian peaks. Have a seat on one of the benches to soak it all in, or continue exploring along the Summit Trail past frost-coated rhododendron. This is one of the best spots near Asheville for soaking in mountain beauty in winter while avoiding slippery, advanced hikes.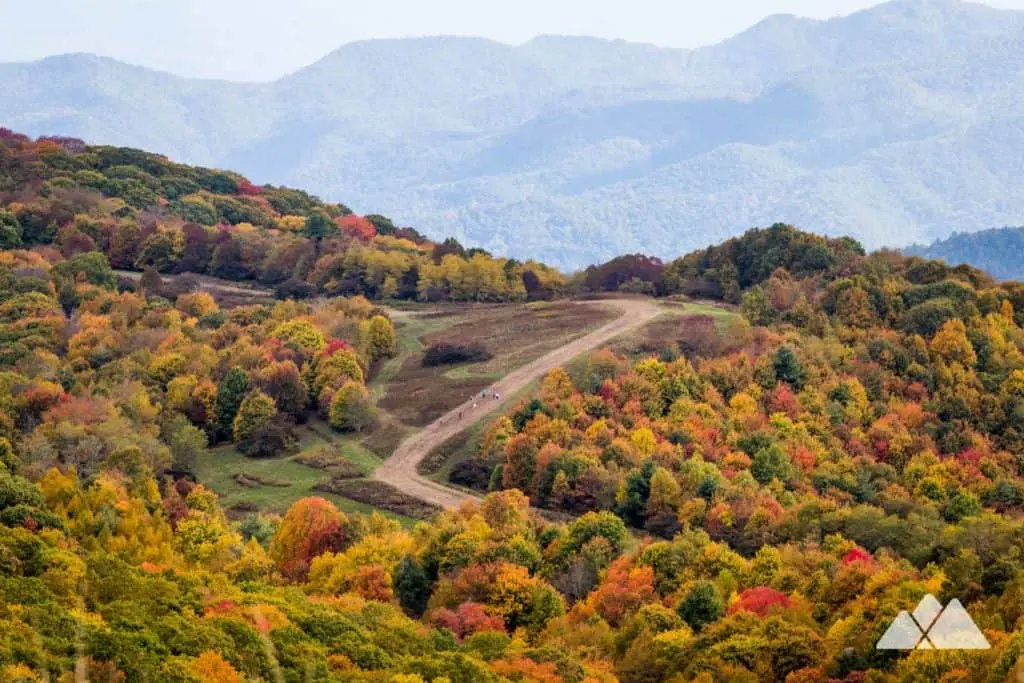 Mount Mitchell
Home to the highest peak east of the Mississippi River, Mount Mitchell towers 6,684 feet over the snowy Blue Ridge landscape in winter. Just 45 miles from Asheville, Mount Mitchell offers unparalleled summit views in winter via a paved 1.7 mile trail.
The hike ascends over 1,000 feet from the Blue Ridge Parkway trailhead to the windswept observation tower atop the icy summit. As you climb higher, the scenery transforms from forest to a coniferous woodland coated in rime ice. At the top, the panoramic 360-degree views reveal the surrounding Black Mountain range blanketed in snow and frozen waterfalls in the valley below. Be prepared for cold, gusty winds as you take in the views of up to 85 miles on a clear winter day. Standing atop the tallest peak east of South Dakota is an unforgettable winter experience near Asheville.
Looking Glass Rock
Located in Pisgah National Forest only 20 minutes from Brevard, Looking Glass Rock is a must-do winter hike for panoramic views. This iconic pluton of granite rises over 3,000 feet from the forest floor, offering stunning vistas from the exposed summit.
The moderate 6 mile out-and-back trail involves some steep rock scrambling over icy boulders to reach the top. Once atop Looking Glass Rock, the panorama over Pisgah National Forest is spectacular. See wooded valleys and rippling mountains cloaked in snow, along with nearby waterfalls transformed into frozen cascades. For adventurous hikers seeking sweeping views and a fun rock climbing challenge, Looking Glass Rock is one of the best winter hikes near Asheville.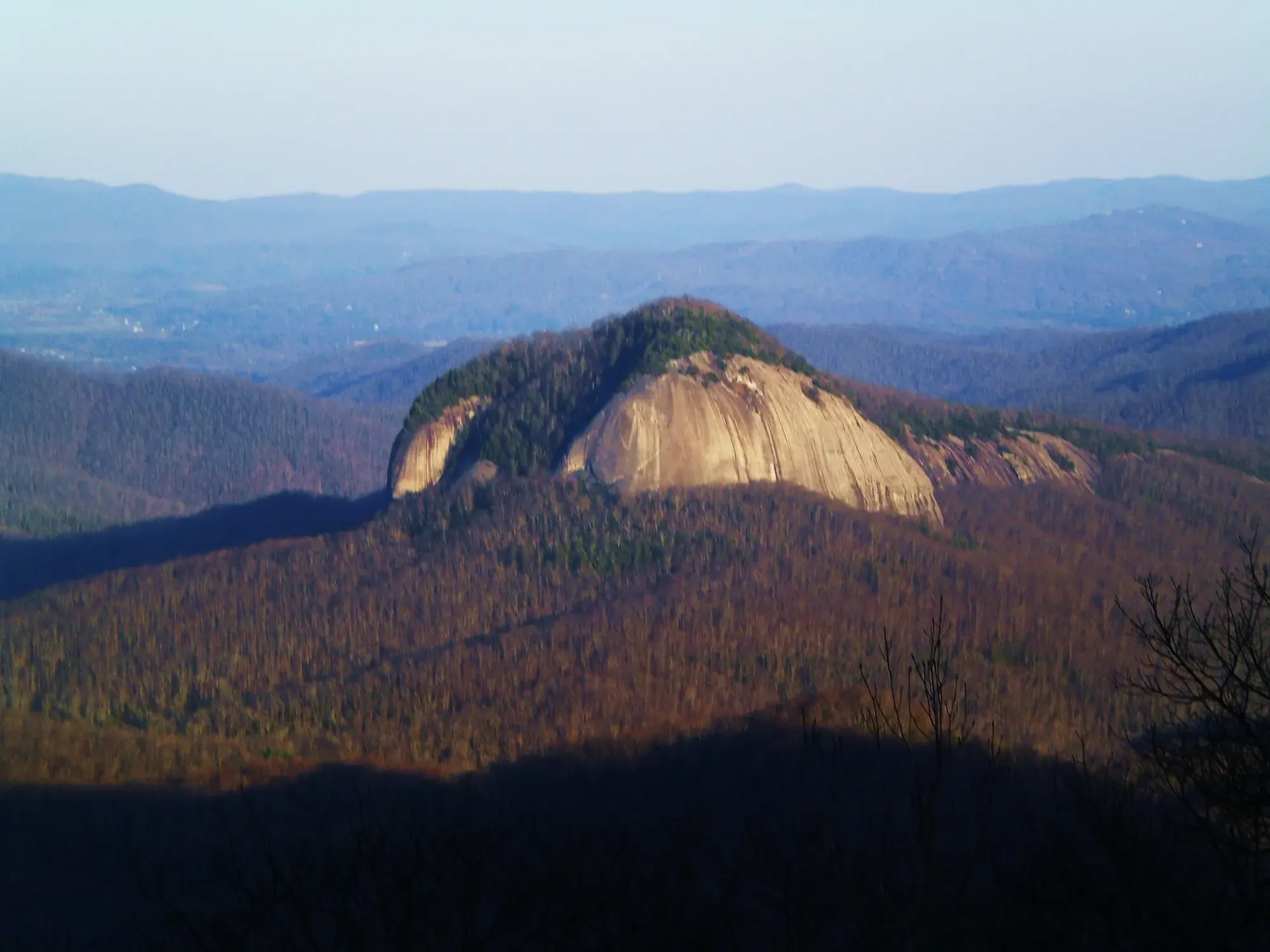 Unique Asheville Museums
Beyond traditional art galleries, Asheville offers a bevy of uniquely themed museums worth checking out on a winter's day.
Asheville Pinball Museum
For unlimited retro gaming fun in downtown Asheville, visit the acclaimed Asheville Pinball Museum on Biltmore Avenue. This one-of-a-kind museum is home to the world's largest public pinball collection as officially certified by Guinness World Records. Their vast array of over 250 classic pinball machines and arcade games spans pinball history from the 1950s to today.
Upon arriving, purchase timed admission tickets then spend the entire session playing to your heart's content. The vast game room is divided by era so you can explore the machines decade-by-decade. From vintage wood-paneled machines to more modern themed games featuring your favorite movies and bands, there's always a new and exciting game to try your hand at. Hone your skills and compete for the top score on classics like Hercules, Space Invaders, Star Trek, and The Addams Family. The museum's machines are restored to perfection and maintained daily to ensure an optimal pinball experience.
In addition to the unparalleled lineup of historic pinball machines, the museum hosts tournaments, music events, and pinball leagues in their entertainment venue The Iron Gate. For a one-of-a-kind gaming adventure, the Asheville Pinball Museum delivers an immersive experience for all ages.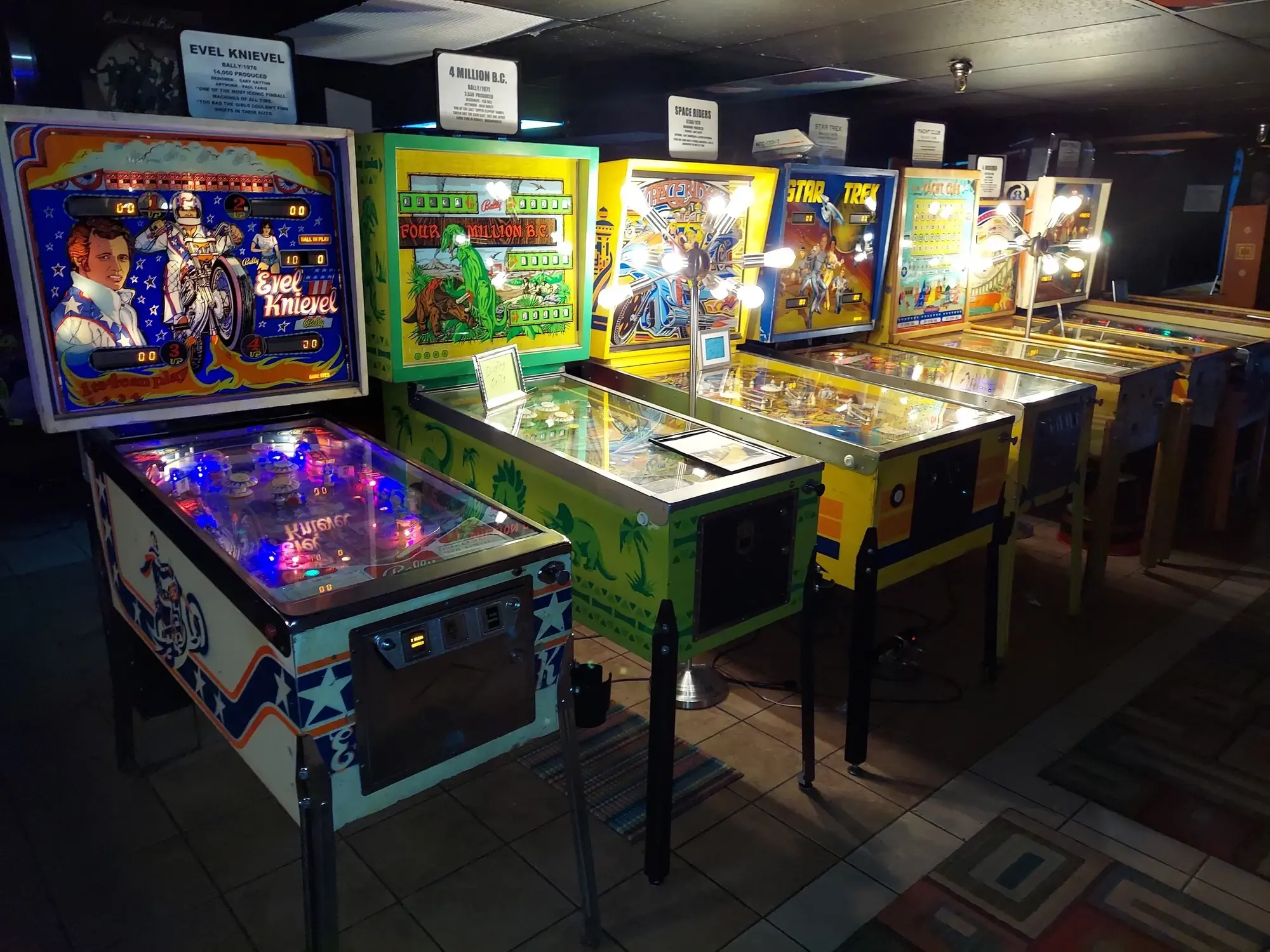 National Climatic Data Center
Located in west Asheville, the fascinating National Climatic Data Center illuminates the science and history behind weather tracking and prediction. Managed by NOAA and part of the Center for Weather and Climate, this museum-like visitor center offers educational exhibits, historic artifacts, and hands-on weather models.
Exhibits guide you through topics like how early weather observers tracked patterns and key events like the Dust Bowl and Hurricane Katrina. See antique instruments like barometers, wind gauges, and thermometers that were vital to early weather recording. The Global Monitoring Division shows how modern technology like satellites now provides data vital for climate change research.
Don't miss the Science on a Sphere exhibit, where computers project wild weather patterns across a large suspended globe. The engaging Hurricane Chamber lets you stand in a booth simulating category 5 winds. Before you leave, explore their local climate records and see Asheville's weather documented over the past century. With interactive exhibits explaining weather science, the National Climatic Data Center brings an important topic to life.
North Carolina Homespun Museum
The North Carolina Homespun Museum located in the historic Stephens-Lee school building preserves traditional Appalachian crafts and skills. Their exhibits showcase artifacts, demonstrations, and workshops focused on natural art forms like woodcarving, quilting, basketweaving, bowmaking, and banjo crafting.
Wander through rooms filled with handmade quilts, baskets, linens, and woodcarvings while learning about their origins and cultural significance. You can also watch local artisans demonstrating craft techniques, often with opportunities to try it yourself. The museum offers engaging hands-on classes and workshops where you can hone skills like playing the dulcimer, making wool applique, or carving a wood spirit face.
Through their dedication to preserving folk arts in western North Carolina, the Homespun Museum connects visitors to this region's rich crafting legacy. Schedule a visit for an enriching look at Appalachian culture and history through the lens of its traditional handmade crafts.v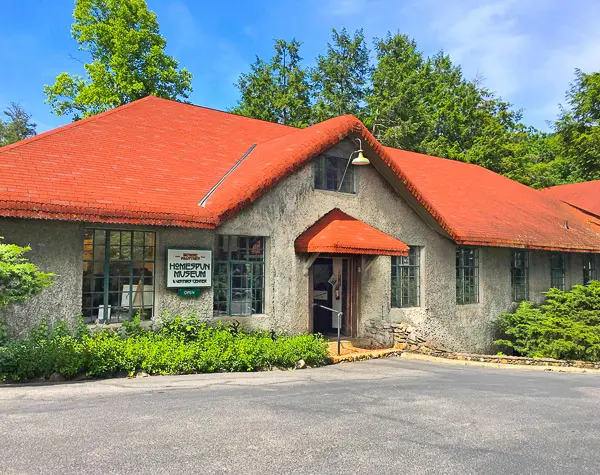 Small Towns Around Asheville
Venture just outside Asheville for a taste of charming small mountain towns dotted with farms, historic sites, antique shops, and cozy cafes.
Black Mountain
Nestled against the Blue Ridge Mountains 15 miles from Asheville lies the charming artist town of Black Mountain. Its small but lively downtown along State Street features dozens of local shops, galleries, and eateries. Browse paintings, jewelry, crafts and more at establishments like Tommyrotter Distillery and Artisan Gift Shop. Inside the former town hall building, Black Mountain Clay promotes local potters and offers classes.
Before hiking, stop for freshly baked scones and a pour-over coffee at the rustic Dynamite Roasting Co. cafe. Work off your breakfast on the 1.5 mile trek up to the beautiful 120-foot cascade of Catawba Falls. Another favorite is the 2-mile hike along the Eastern Lookout Trail, culminating in panoramic valley and mountain views. Wander through the Montreat College campus or pick apples and shop at the Yesterday Spaces vintage market. With a hip, cultured vibe and endless mountain activities, Black Mountain makes for a perfect day trip from Asheville.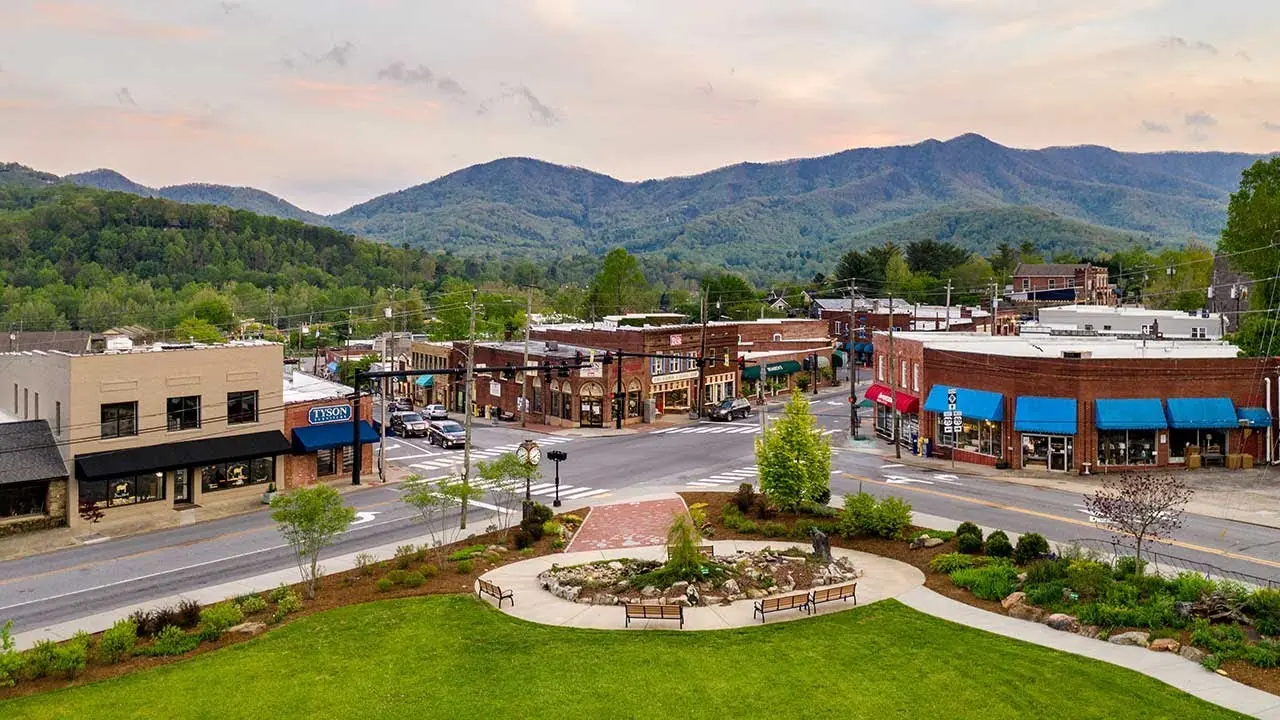 Marshall
The tiny town of Marshall, located 25 minutes north of Asheville, oozes small town charm. Only a few blocks make up the quaint Main Street, lined with galleries like Studio Thirty Three, independent shops like Wine Seller & Brewhouse, and eateries like Sweet Monkey Bakery for cinnamon rolls. Stop by Blannahassat Brewery, housed in a historic brick building, for tasty craft beers and wood-fired pizzas baked in the onsite brick oven.
Nearby, the French Broad River winds through the mountains, offering prime rafting and kayaking. Hike 4 miles along the Appalachian Trail through forests and past an old railroad bridge on the River Trail. Try your hand at glass blowing or pottery at the Madison County Arts Center. Don't miss live bluegrass music at the Marshall Opry or festivities on weekends like the summer's Tomato Jam Festival. For a taste of mountain culture, spend a day in this delightful town near Asheville.
Hot Springs
Nestled along the French Broad River one hour north of Asheville lies the charming small town of Hot Springs. Since 1778, visitors have come to soak in the town's mineral-rich hot springs located within Hot Springs Spa & Resort. Schedule a dip in their jacuzzi-like tubs fed by natural hot spring water for relaxation and claimed therapeutic benefits.
Afterwards, explore the historic buildings lining Bridge Street, including the 1884 Iron Mountain Trading Post. Hike part of the Appalachian Trail which runs along main street and crosses the river via a suspension bridge. Grab a bite at folksy Spring Creek Tavern, the local go-to spot for live music and trout freshly caught from the river. Hot Springs' proximity to the French Broad River also makes it a popular outpost for whitewater rafting. Whether you want to soak in healing waters or enjoy mountain scenery, Hot Springs is a charming wilderness destination near Asheville.
Saluda
Nestled in the Blue Ridge Mountains 30 minutes south of Asheville, the small town of Saluda began as a railroad and textile hub in the 19th century. Saluda Grade was one of the steepest mainline railroad tracks in the US, attracting daring travelers. Today, Saluda retains its historic charm along Main Street while also offering outdoor recreation.
Raft or kayak the thrilling rapids of the Green River, go ziplining over the forest canopy, or rock climb the steep gorge at Laurel Valley. Shop for antiques and crafts at Mountain Song Gallery, Red Door Collective, and other downtown small businesses. Sip a draft beer at the new Saluda Brewing Company, admiring views of the mountains through big windows. Don't miss live bluegrass and BBQ at the Purple Onion cafe. Just 2 miles up the road, Pearson's Falls plunges 90 feet into a granite basin. With adventure and historic appeal, Saluda makes for a memorable day trip from Asheville.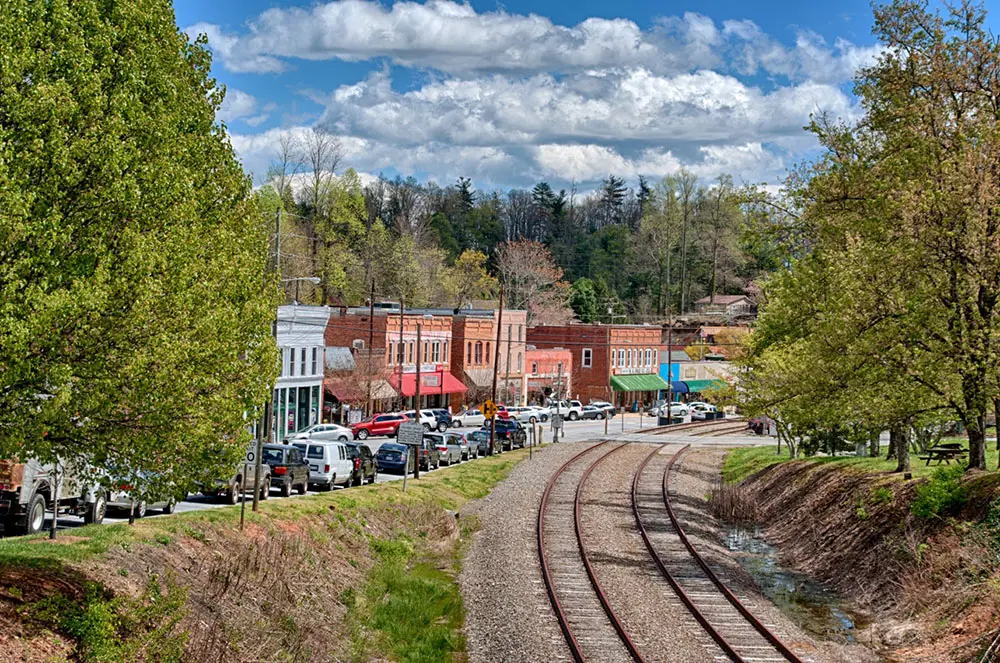 Conclusion
Nestled in the Blue Ridge Mountains of western North Carolina, Asheville is a city that truly has something for everyone. Outdoor enthusiasts will find endless adventures in the surrounding rivers, waterfalls, hiking trails, and stunning vistas that reveal the natural beauty of Appalachia. The thriving local craft beer scene beckons with over 50 breweries to sample, many offering tours and lively taprooms. For artistic culture, downtown Asheville impresses with vibrant murals, galleries filled with traditional and contemporary mountain arts, and a live music scene spanning blues, jazz, bluegrass and more.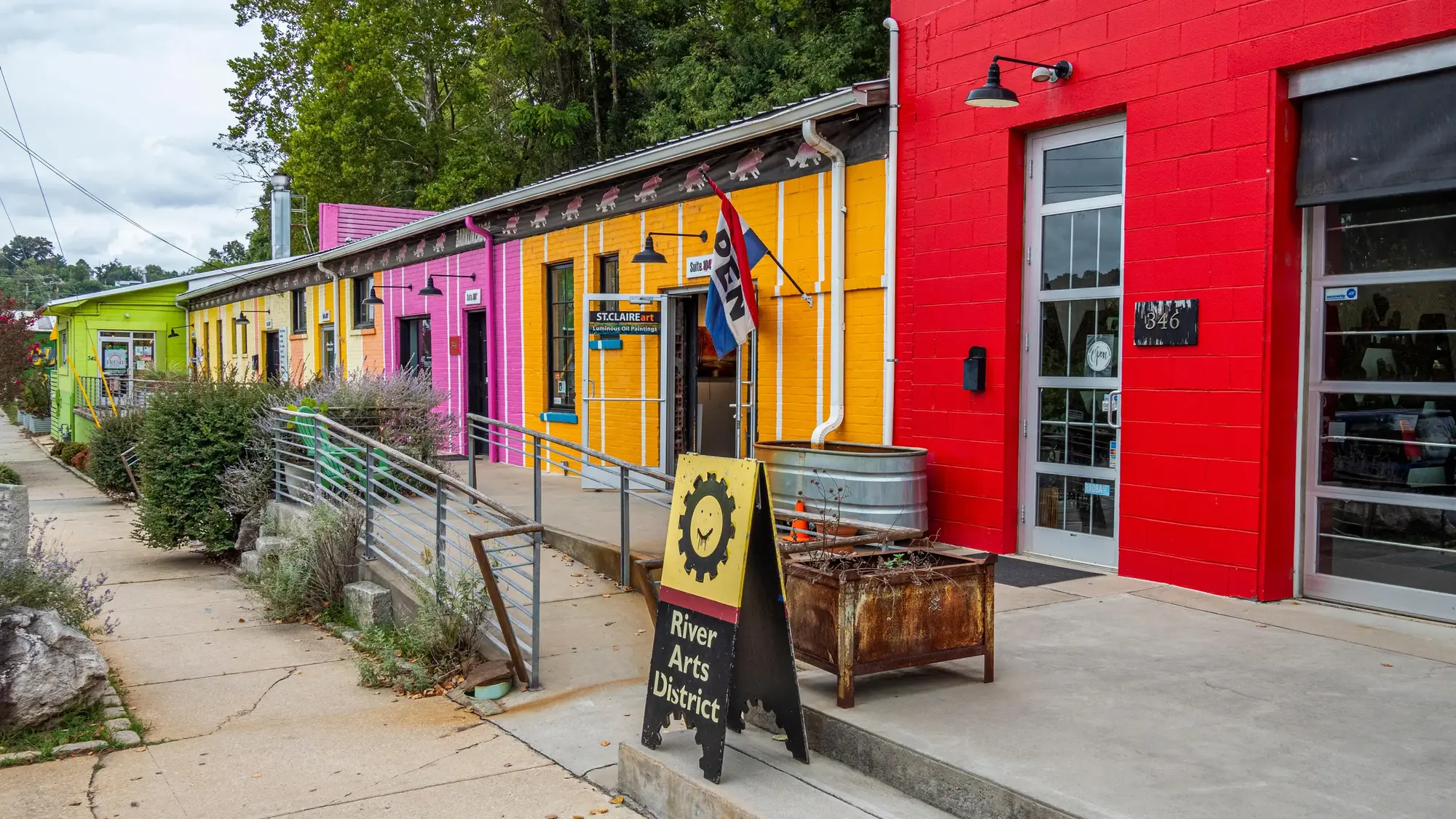 Beyond the city itself, a trip to Asheville provides easy access to charming small mountain towns, each with their own unique local flavor. Visit Black Mountain for a hike to tumbling waterfalls followed by browsing the eclectic galleries and cafes downtown. The tiny river town of Marshall thrills whitewater rafters by day and comes alive at night with brick oven pizzas and live music. Soak in the steaming mineral waters of Hot Springs, or pick up local crafts in Saluda before paddling the Class IV rapids of the Green River Gorge.
With farm-to-table southern cuisine, historic architecture like the Biltmore Estate, and the revitalized River Arts District, Asheville offers something for history buffs, foodies and art lovers alike. Between the spellbinding Blue Ridge vistas, exciting outdoor adventures, and cultural attractions, Asheville makes for an unforgettable getaway in the mountains of North Carolina. The surrounding towns provide easy side trips to enjoy more of Appalachia's inimitable charm at a relaxed pace. Whether you crave an invigorating outdoor challenge, artistic inspiration, or just great local food and beer, Asheville delivers a quintessential mountain town experience for all interests.