Best Things to Do in Bakersfield, California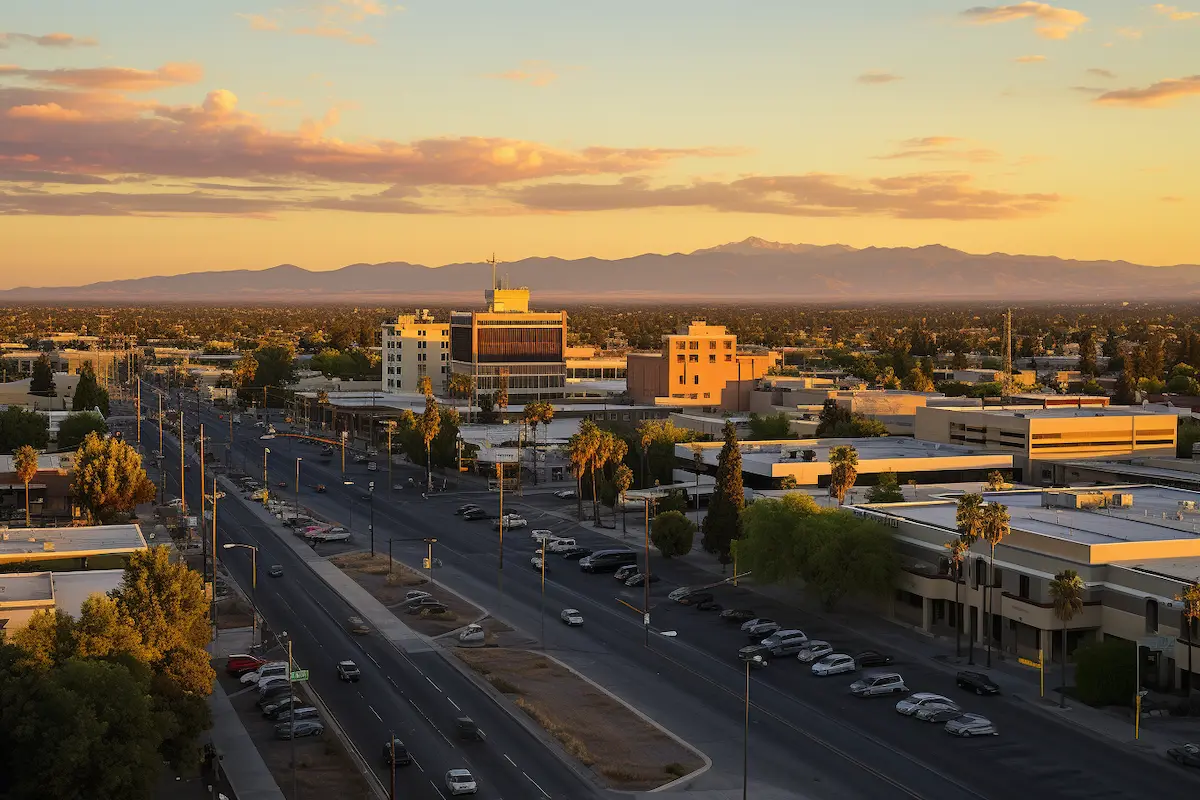 The United States of America boasts numerous attractions, and nestled between Los Angeles and San Francisco is the quaint city of Bakersfield. Renowned for its rich history, breathtaking scenery, and pulsating cultural life, Bakersfield offers much more than just melodies from its vibrant bars and theaters. It's a paradise for those passionate about the outdoors, history, and gastronomy. Whether you're setting off for adventures in the Sierra Nevada mountains or seeking a tranquil retreat with local flavors and the warmth of Californian hospitality, Bakersfield is the place to be.
The city's story is closely tied to the Kern River, which once beckoned pioneers during the Gold Rush and remains pivotal for the city's agricultural significance. From the legendary Buck Owens' Crystal Palace to the peaceful ambiance of The Park at RiverWalk, Bakersfield delivers a medley of experiences suitable for every age and taste.
Embark with us on a tour of Bakersfield's highlights, embracing its exceptional mix of natural beauty, historical depth, artistic flair, and culinary delights.
Historical and Cultural Landmarks
Buck Owens' Crystal Palace
Buck Owens' Crystal Palace stands as a shining emblem of Bakersfield's musical heritage, celebrating the iconic "Bakersfield Sound" and its influential ambassador, Buck Owens. A sanctuary for music aficionados, the Crystal Palace is a multifaceted venue, encompassing a museum, dining establishment, and a stage for live performances. It not only reveres the legacies of country music legends but also remains a bustling hub for contemporary country talents. Every visit promises a deep dive into musical history and a chance to experience the resonating chords of today's country scene.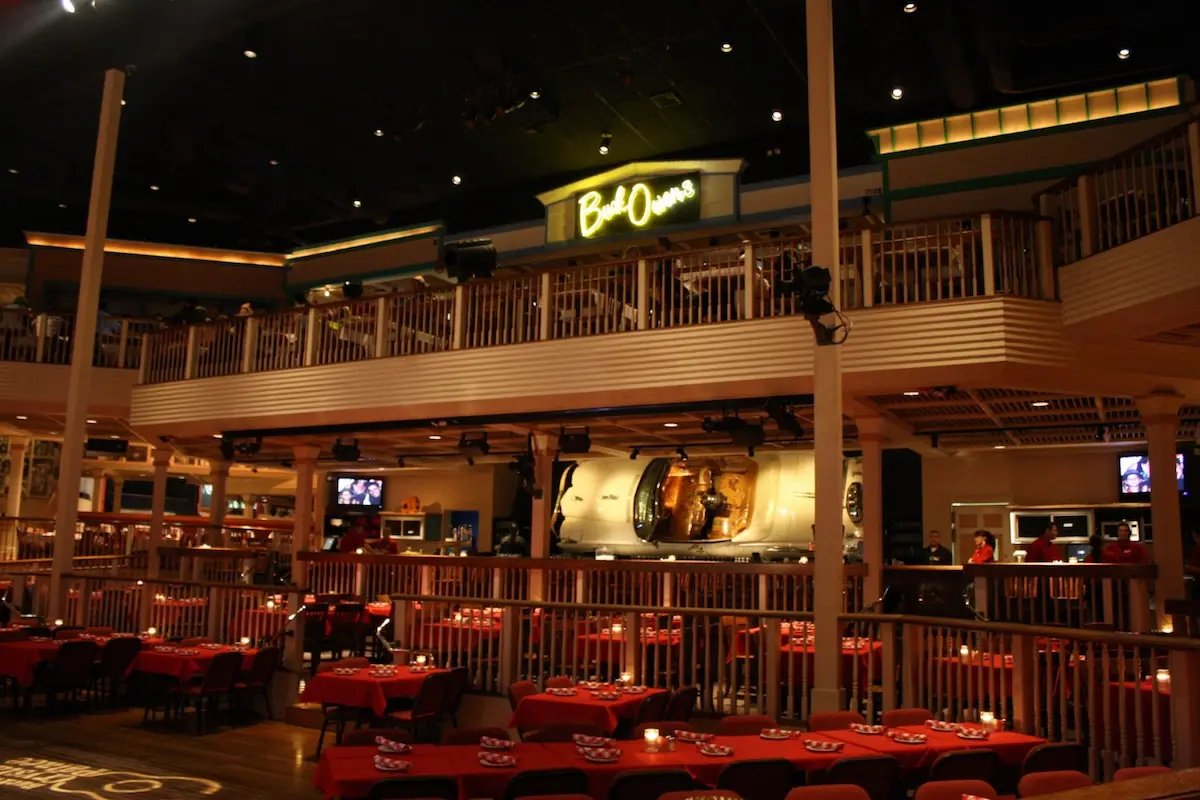 As you step inside, you're transported to an era where music was the heartbeat of Bakersfield. The walls adorned with memorabilia, guitars, and costumes offer a glimpse into the life and times of Buck Owens and his contemporaries. Don't miss the red, white, and blue guitar – a trademark of Owens.
While the museum section enthralls with its artifacts, the live music venue comes alive in the evenings. The Crystal Palace hosts some of the finest country music talents, ensuring that Owens' legacy lives on. And while you're soaking in the melodies, make sure to try their southern-inspired dishes – the fried chicken is a local favorite!
Kern County Museum
Delve into Bakersfield's rich history at the Kern County Museum. Spread over 16 acres, this museum is home to over 60 historic buildings that have been meticulously restored to their original glory. From a 19th-century schoolhouse to a classic gas station, the museum captures the essence of Bakersfield's past.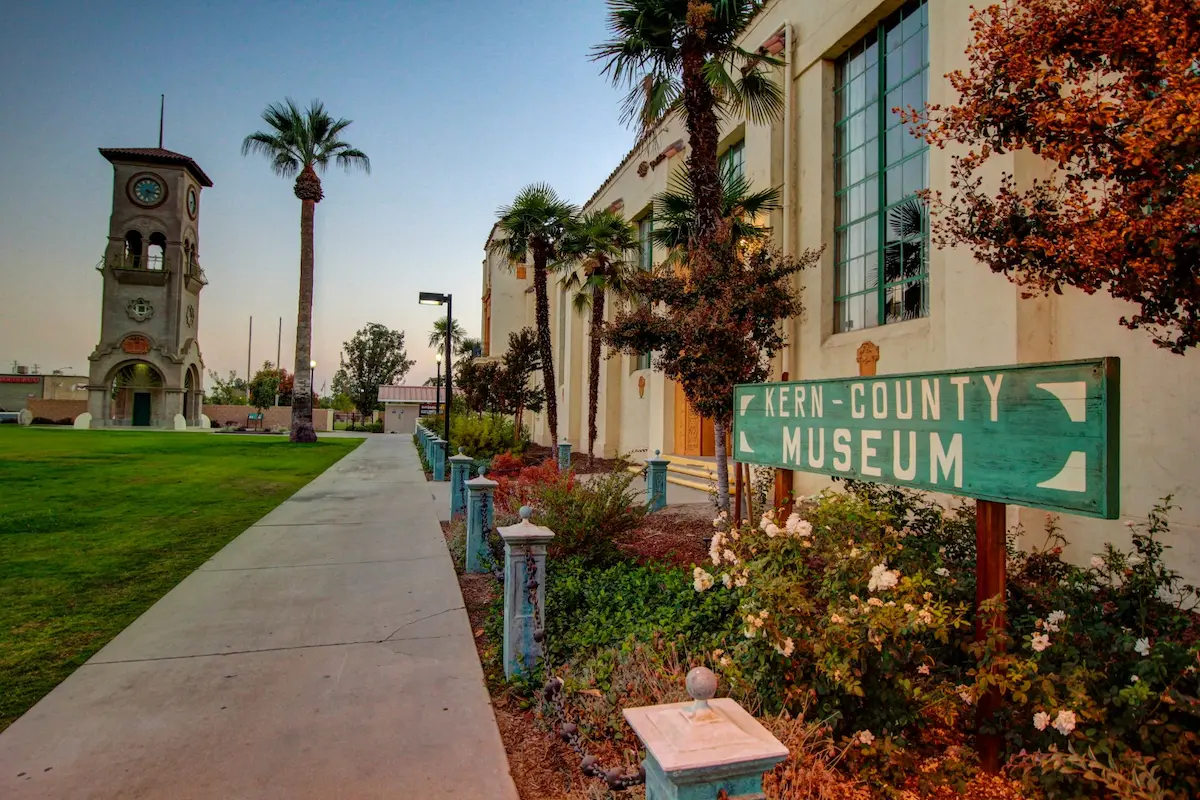 One of the main attractions is Pioneer Village, which paints a vivid picture of life in the late 1800s and early 1900s. Walk along the tree-lined paths, explore authentic homes, and even visit a replica of Merle Haggard's childhood boxcar home.
The museum also hosts numerous events, workshops, and educational programs throughout the year, making it a dynamic space that caters to visitors of all ages.
Outdoor Adventures
The Park at River Walk
Stretching across 32 acres of beautifully landscaped grounds, The Park at River Walk is a testament to Bakersfield's commitment to providing its residents and visitors with serene outdoor spaces. Located at the heart of the city, it is bordered by the scenic Kern River, offering visitors a harmonious blend of natural beauty and modern amenities.
The two dazzling lakes, interconnected by meandering streams, are the park's focal points. As you walk around, you'll spot families picnicking by the lakeside, fitness enthusiasts jogging on the paved paths, and children laughing and playing in designated areas. The park's amphitheater, a state-of-the-art facility, regularly hosts concerts, plays, and community events, turning the park into a vibrant social hub during these occasions.
Fishing enthusiasts can often be seen by the banks, trying their luck. The lakes are stocked with different fish species, making it a popular spot for both amateur and seasoned anglers. For those who prefer a leisurely day out, paddle boating is another favorite activity. Floating on the lake, with ducks paddling beside you and the sun setting in the distance, is a memory many take back from their visit.
Kern River Parkway Trail
Bakersfield's natural beauty is epitomized in the Kern River Parkway Trail. This multi-purpose trail stretches over 20 miles, making it the longest in the city. A favorite among cyclists, runners, and walkers, the trail offers a panoramic view of the Kern River and the diverse ecosystems surrounding it.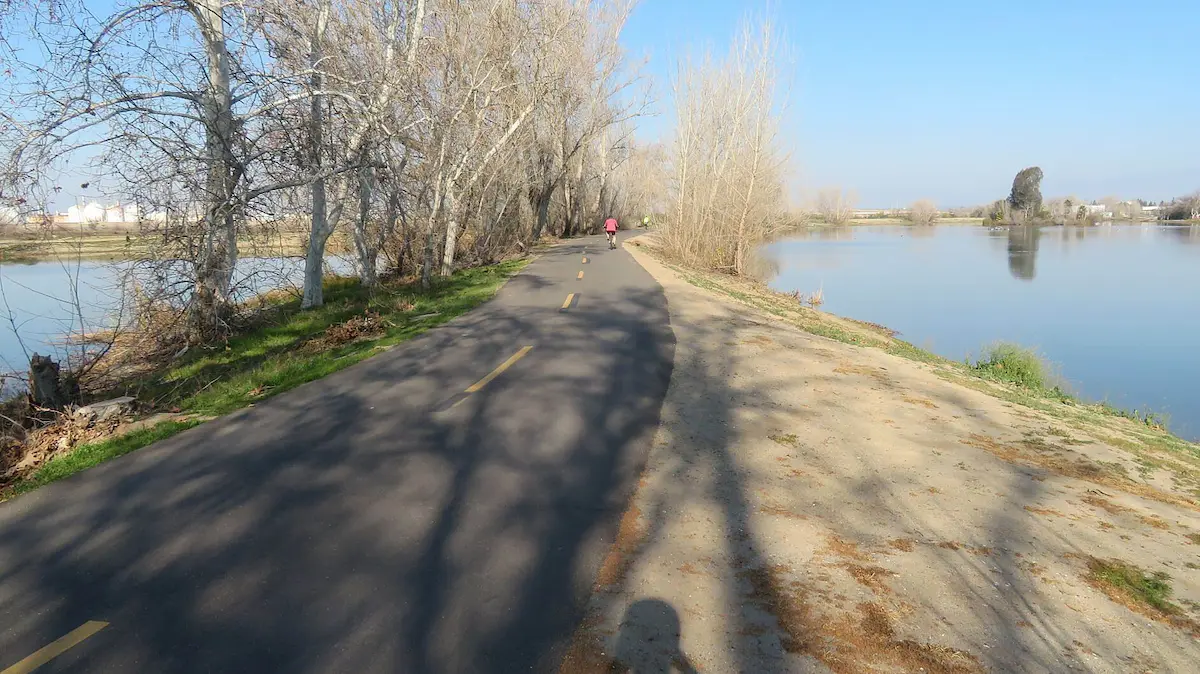 The trail isn't just for fitness enthusiasts; nature lovers and birdwatchers flock here to observe the rich biodiversity. With more than 100 bird species recorded, it's not uncommon to spot herons, hawks, and even eagles. If you're lucky, you might also catch a glimpse of the river's aquatic life, such as turtles and fishes.
Apart from its natural allure, the trail is dotted with parks, play areas, and rest stops. These pockets of recreation make it an ideal spot for families to spend an entire day, mixing fitness with fun. The trail is also wheelchair accessible, ensuring everyone can enjoy its beauty.
Art and Entertainment
Fox Theater
The Fox Theater, with its ornate interiors and iconic marquee, is not just a venue – it's a piece of Bakersfield's history. Since its inauguration in 1930, it has been the city's premier destination for live entertainment, hosting a myriad of events from concerts to comedy shows.
The theater's architecture is a visual treat. Its Spanish Colonial Revival design, combined with elements of Gothic Revival, captures the opulence of old-world charm. Inside, the lavish details continue with intricate carvings, plush seating, and a grand stage that has witnessed performances by legendary artists.
After facing the threat of demolition in the '70s, the theater underwent extensive renovations. Today, it stands not just as a venue for world-class entertainment but also as a testament to the city's dedication to preserving its cultural landmarks.
Bakersfield Museum of Art
Art aficionados visiting Bakersfield find their haven at the Bakersfield Museum of Art. Established in 1956, the museum has been at the forefront of promoting and celebrating visual arts in the region. Its galleries are home to a diverse collection, ranging from contemporary pieces by local artists to traditional works that reflect California's rich heritage.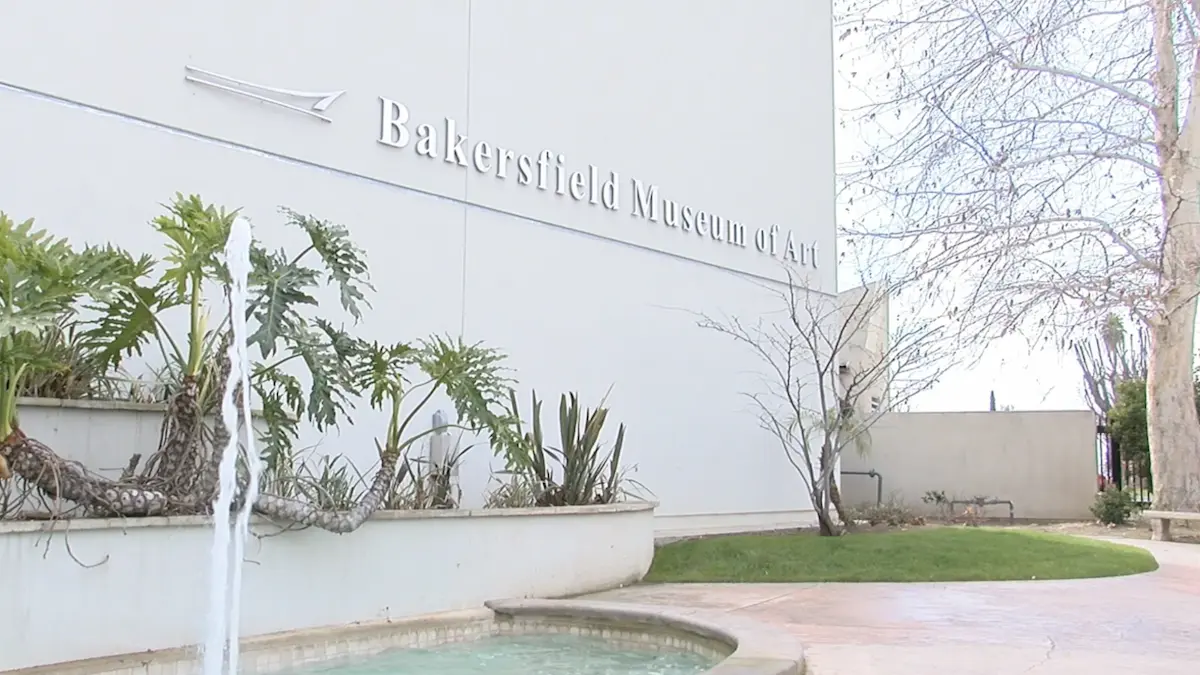 The museum's commitment to art education is evident in its array of programs. From art camps for children to workshops for adults, there's always an opportunity to immerse oneself in creative pursuits. The sculpture garden, with its captivating installations set against manicured lawns, is the perfect place for contemplation and inspiration.
With rotating exhibitions, the museum ensures there's something new for repeat visitors. Whether you're an art connoisseur or a casual visitor, the Bakersfield Museum of Art promises a journey of visual delight.
Family-friendly spots
California Living Museum (CALM)
Nestled on 14 acres on the northeast side of Bakersfield, the California Living Museum, fondly referred to as CALM, is a sanctuary for native California animal species that have been either injured, orphaned, or imprinted on humans and could not be returned to their natural habitat.
Taking a stroll through CALM, you'll encounter over 250 animals representing 80 species. From the mighty black bear and elusive mountain lions to the nimble bobcats and majestic golden eagles, CALM provides a unique opportunity to observe these creatures up close. What sets CALM apart is its unwavering commitment to animal welfare and conservation education. While children marvel at the animals, they also learn about the importance of protecting these species and their habitats.
The "Reptile House" is a favorite among many visitors. Housing various snakes, lizards, and turtles native to California, it offers insights into the lives of these fascinating creatures. For those wanting to experience the state's diverse ecosystems, the walkthrough dioramas depicting a desert, woodland, and aquatic habitat are a treat.
Around Christmas, CALM transforms into a winter wonderland with its "Holiday Lights at CALM" event, featuring millions of twinkling lights that make for a magical experience.
Murray Family Farms
A short drive from the city's hustle and bustle, Murray Family Farms offers a slice of countryside charm. This family-owned and operated establishment welcomes visitors to experience the joys of farm life.
Throughout the year, the farm brims with seasonal activities. Spring sees the orchards in full bloom, making it the perfect time for berry picking. Summer brings with it an array of stone fruits, while fall is all about pumpkins and the much-awaited "October Fun Fest".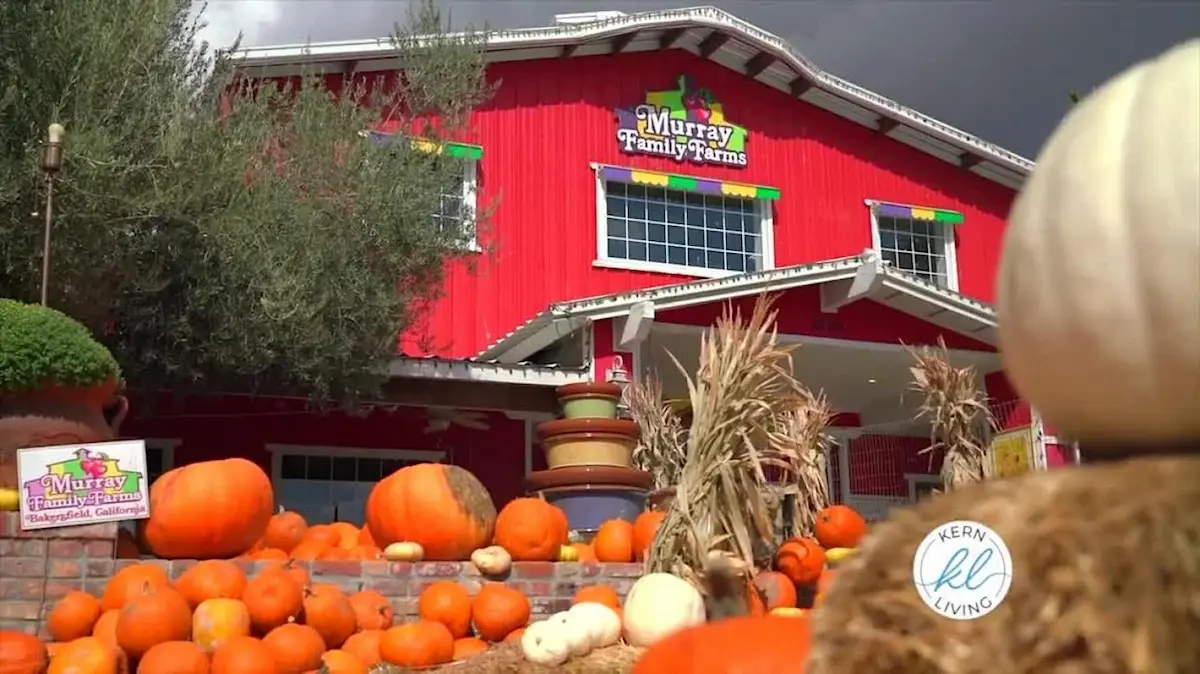 But it's not just about the crops. The farm is a haven for children, with attractions like the Big Red Barn, animal gardens, and the thrilling slide mountain. The jumping pillows, tractor train rides, and the pedal cars make it a day of endless fun for the little ones.
Don't leave without visiting their farmer's market. Stocked with fresh produce, homemade jams, and baked goodies, it's a culinary delight. The sweet aroma of freshly baked pies is irresistible, and their cherries are a must-try!
Local Cuisine and Eateries
Basque Dining Experience
Bakersfield boasts a rich Basque culinary heritage, thanks to the early settlers from the Basque regions of France and Spain. The city's Basque restaurants offer communal dining experiences, reminiscent of the boarding houses where Basque shepherds would gather around long tables for hearty meals.
At the heart of this dining tradition is the "set-up": a procession of dishes, starting with Basque beans, soup, and salad, followed by entrees like fried chicken, oxtail stew, or lamb. The experience is as much about community and camaraderie as it is about the food.
Noriega's is perhaps the most iconic of Bakersfield's Basque eateries, having been in operation since the 1890s. With its long communal tables, wooden benches, and rustic interiors, dining here is like taking a step back in time.
Wool Growers Restaurant
Another gem in Bakersfield's Basque culinary crown is Wool Growers. Established in 1954, it has been a mainstay for locals and tourists alike. Their menu, while rooted in traditional Basque dishes, offers a contemporary touch. The garlic fried chicken is legendary, and the lamb chops, cooked to perfection, are a testament to the Basque shepherding legacy.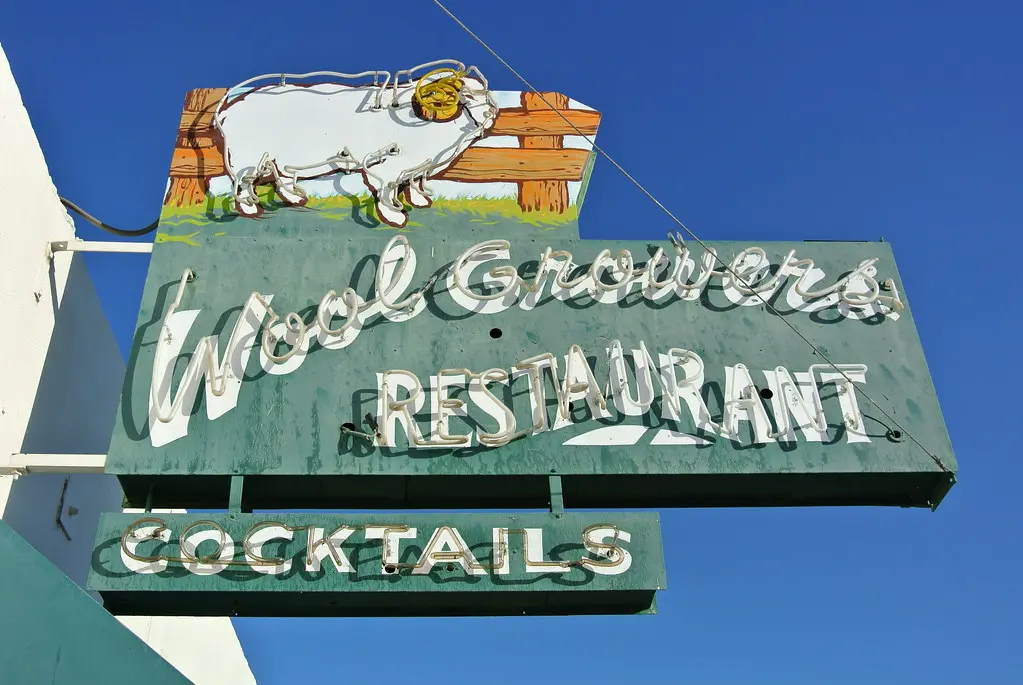 The ambiance at Wool Growers is warm and welcoming. Old photographs adorn the walls, narrating stories of the city's rich Basque heritage. Whether you're a first-timer or a regular, the staff treats you like family, adding to the restaurant's charm.
Mexican Flavors
Given its location in California, it's no surprise that Bakersfield has a thriving Mexican culinary scene. From street-side taco stands to upscale restaurants, the city offers a wide array of options to satisfy your cravings.
Noriega's is one such eatery that stands out, not just for its mouth-watering dishes but also for its rich history. Established in 1893, the restaurant has preserved traditional recipes, passed down through generations. Their tamales, enchiladas, and chiles rellenos are legendary and provide a taste of authentic Mexican cuisine.
Farm-to-Table Dining
Bakersfield's agricultural roots are evident in its burgeoning farm-to-table dining scene. Several establishments take pride in sourcing ingredients directly from local farms, ensuring the freshest and most flavorful dishes.
Café Smitten is a prime example of this philosophy in action. Located in a revitalized downtown warehouse, the café offers a daily-changing menu based on the availability of fresh produce. From salads laden with seasonal vegetables to artisanal sandwiches, every dish celebrates Bakersfield's agricultural bounty.
Music and Nightlife
Bakersfield Jazz Festival
Jazz lovers flock to Bakersfield every year for the renowned Bakersfield Jazz Festival. Hosted by California State University, Bakersfield, the festival has grown exponentially over the years, becoming a major event on the West Coast's jazz calendar.
The festival boasts performances by both acclaimed international artists and rising local talents, offering a blend of classic jazz rhythms and innovative new sounds. Beyond the music, the event fosters a sense of community, with food stalls, artisan markets, and interactive workshops adding to the festive vibe.
For students and young musicians, the festival also provides a platform to learn, with masterclasses and jam sessions held by seasoned professionals. It's not just a celebration of jazz, but also an opportunity for artistic growth and community engagement.
The Padre Hotel
For those looking for a chic night out, The Padre Hotel is the place to be. A historic landmark, this boutique hotel has been transformed into a bustling social hub, with its rooftop bar, Prospect Lounge, and the elegant Prairie Fire rooftop lounge.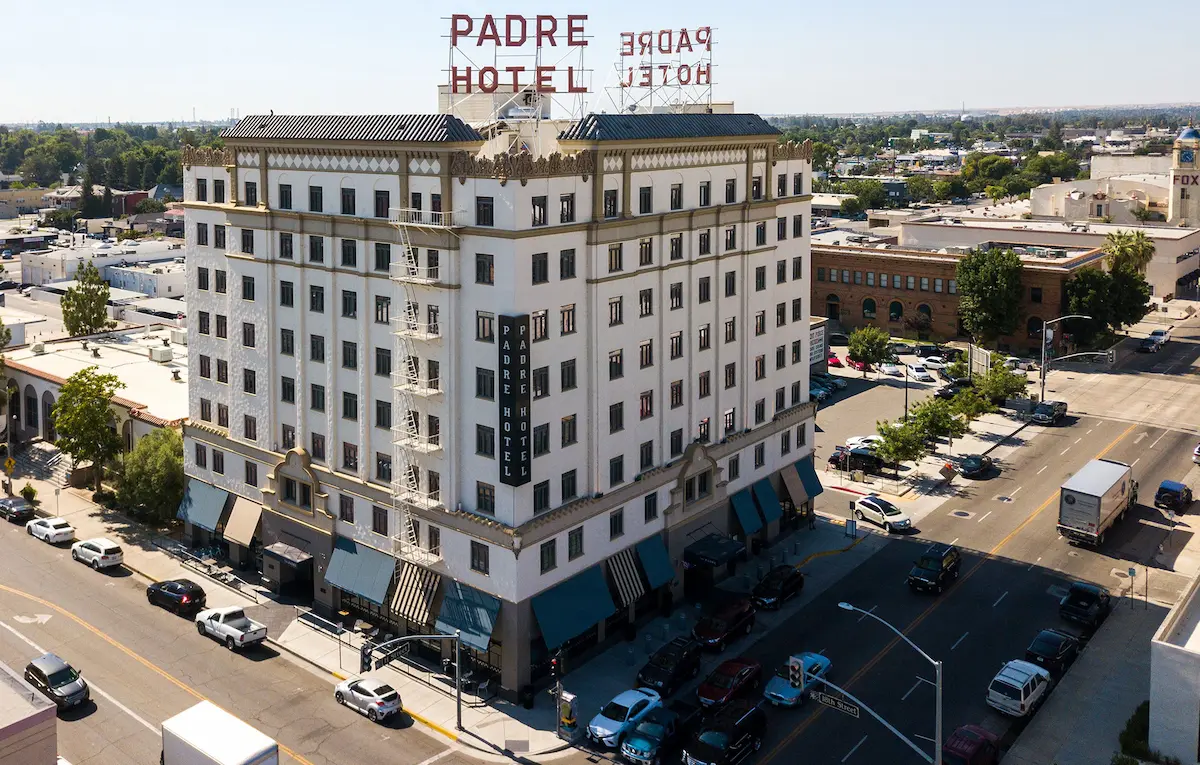 Offering panoramic views of the city, the rooftop lounge is a favorite among locals and tourists alike. The ambiance is electric, with live DJs spinning tracks and the city lights providing a mesmerizing backdrop. Their cocktail menu is a fusion of classic concoctions and innovative mixology, ensuring there's something for everyone.
The Prospect Lounge, with its plush interiors and mood lighting, is perfect for a more intimate evening. The live music sessions, ranging from jazz to blues, add to the lounge's allure. Whether you're looking for a lively night out or a quiet evening with close ones, The Padre Hotel promises a memorable experience.
Shopping and Local Markets
The Marketplace
Situated in Southwest Bakersfield, The Marketplace is more than just a shopping center; it's a vibrant community space. With its Spanish-style architecture, lush landscaping, and inviting courtyards, it's a delightful blend of aesthetics and utility.
Home to a plethora of boutique stores, national retail chains, and artisan shops, it caters to a diverse range of shopping preferences. From high-end fashion to unique souvenirs, there's no dearth of options.
But The Marketplace isn't just about shopping. The dining scene here is eclectic, with eateries serving everything from gourmet burgers to Mediterranean delicacies. The outdoor seating, paired with the soft tunes from the live performances, makes for a delightful dining experience.
Brimhall Farmers Market
For those who prefer a more organic shopping experience, the Brimhall Farmers Market is a must-visit. Held every Saturday, it's a celebration of the region's agricultural bounty.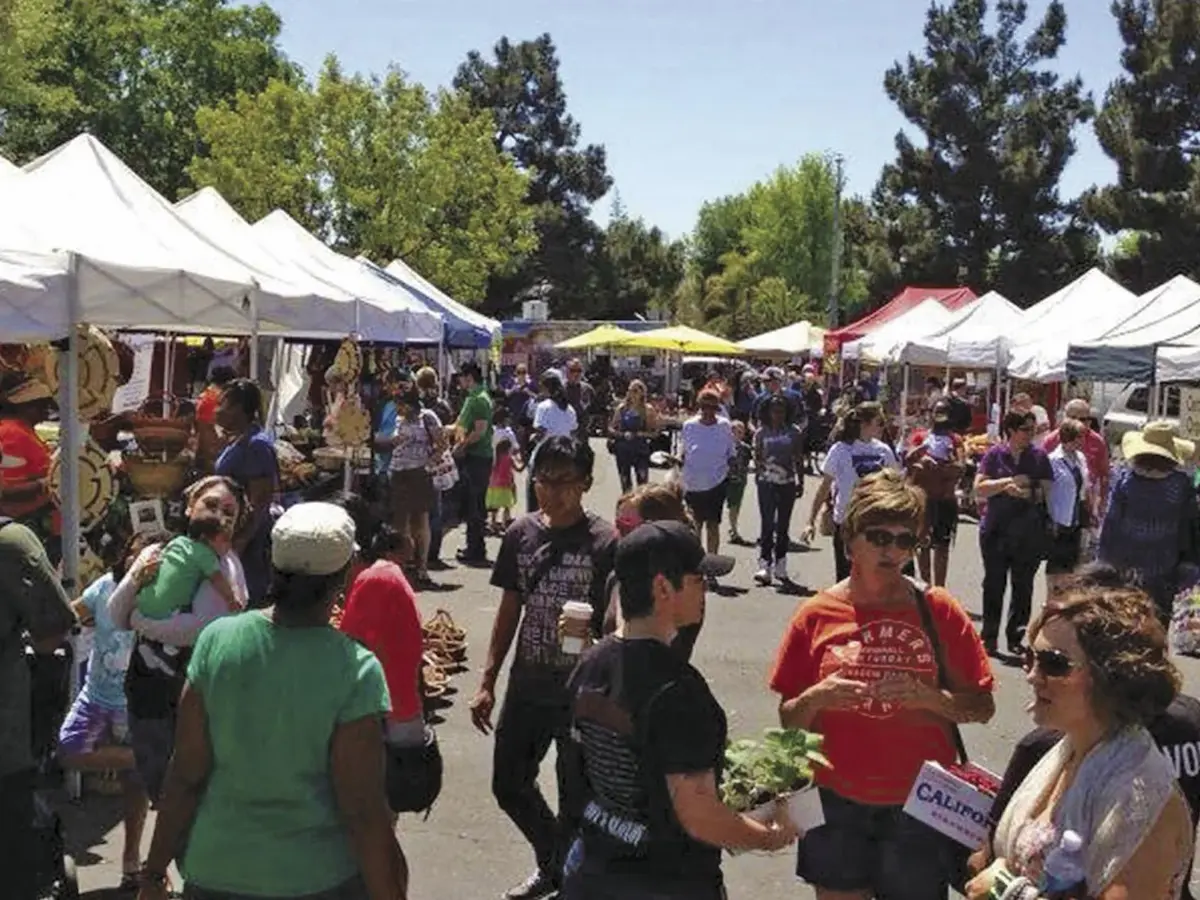 As you meander through the stalls, you'll be greeted with a riot of colors. Fresh fruits, vegetables, flowers, and herbs are laid out in abundance. The aroma of freshly baked bread wafts through the air, drawing you towards stalls selling artisanal bread, pastries, and other baked goods. Local producers proudly display their offerings, from organic honey to homemade jams, ensuring you take back a piece of Bakersfield with you.
Engaging with the local farmers, understanding their processes, and learning about the region's agricultural practices is what sets this market apart. It's not just about shopping; it's about experiencing the essence of Bakersfield.
Outdoor Adventures
Kern River Parkway
For nature enthusiasts, the Kern River Parkway is a slice of paradise. This linear park, stretching over 6000 acres, is the backbone of Bakersfield's recreational landscape. Whether you are a jogger, a cyclist, or someone who enjoys a leisurely walk, the well-maintained trails provide a scenic route along the Kern River.
Bird watchers are in for a treat, as the park is home to a wide variety of bird species. The soft hum of the river combined with the chirping of birds creates a serene soundscape. If you're looking to engage in some fishing, certain stretches of the Kern River are teeming with fish, making it an angler's dream.
The multiple picnic spots dotting the parkway are perfect for a family outing. Playgrounds ensure that children are kept entertained, while adults can relax and soak in the beauty.
Hart Park
Another gem in Bakersfield's crown of outdoor venues is Hart Park. Covering over 300 acres, this expansive space is not only visually stunning with its two lakes and lush greenery, but it also offers a plethora of activities. From paddle boating and fishing to horseback riding and hiking, there's no room for monotony.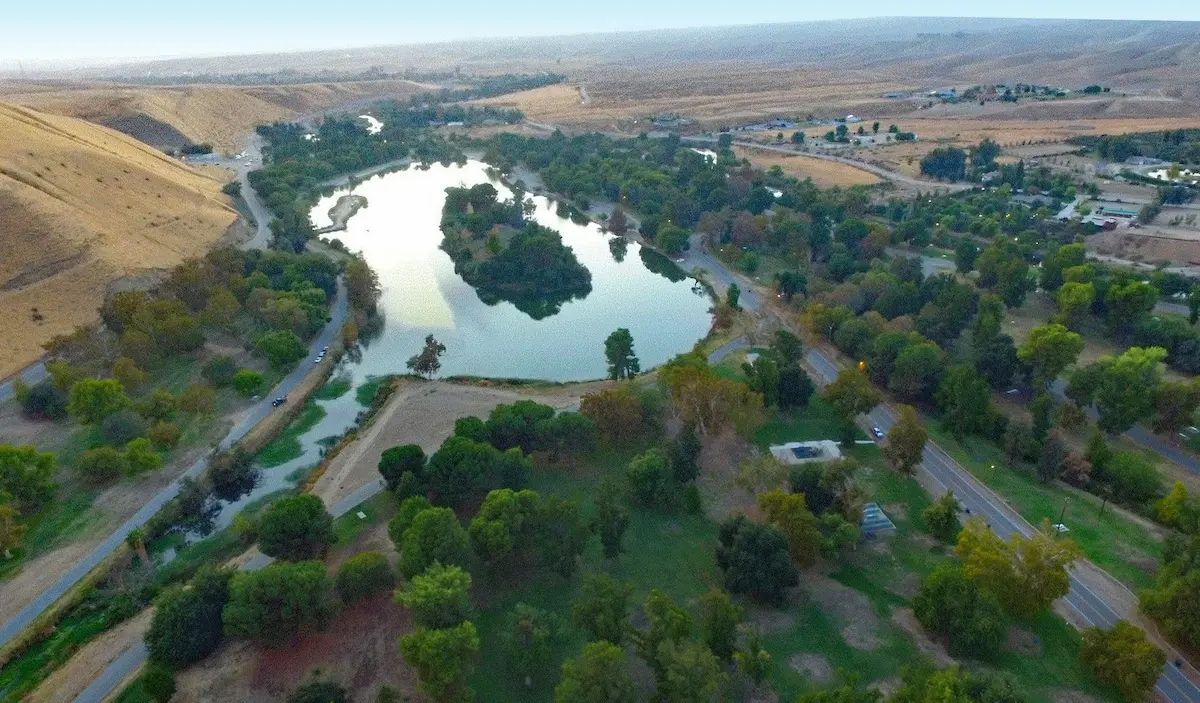 The park, in its seasonal glory, is an artist's muse. Photographers, painters, and poets often find inspiration amidst its picturesque landscapes. The gentle deer grazing by the lakeside and the proud peacocks displaying their vibrant feathers add to the park's charm.
Sports and Leisure
Mechanics Bank Arena
When it comes to sporting action and entertainment, the Mechanics Bank Arena is Bakersfield's epicenter. Home to the Bakersfield Condors, the city's beloved hockey team, the arena pulsates with energy during game nights.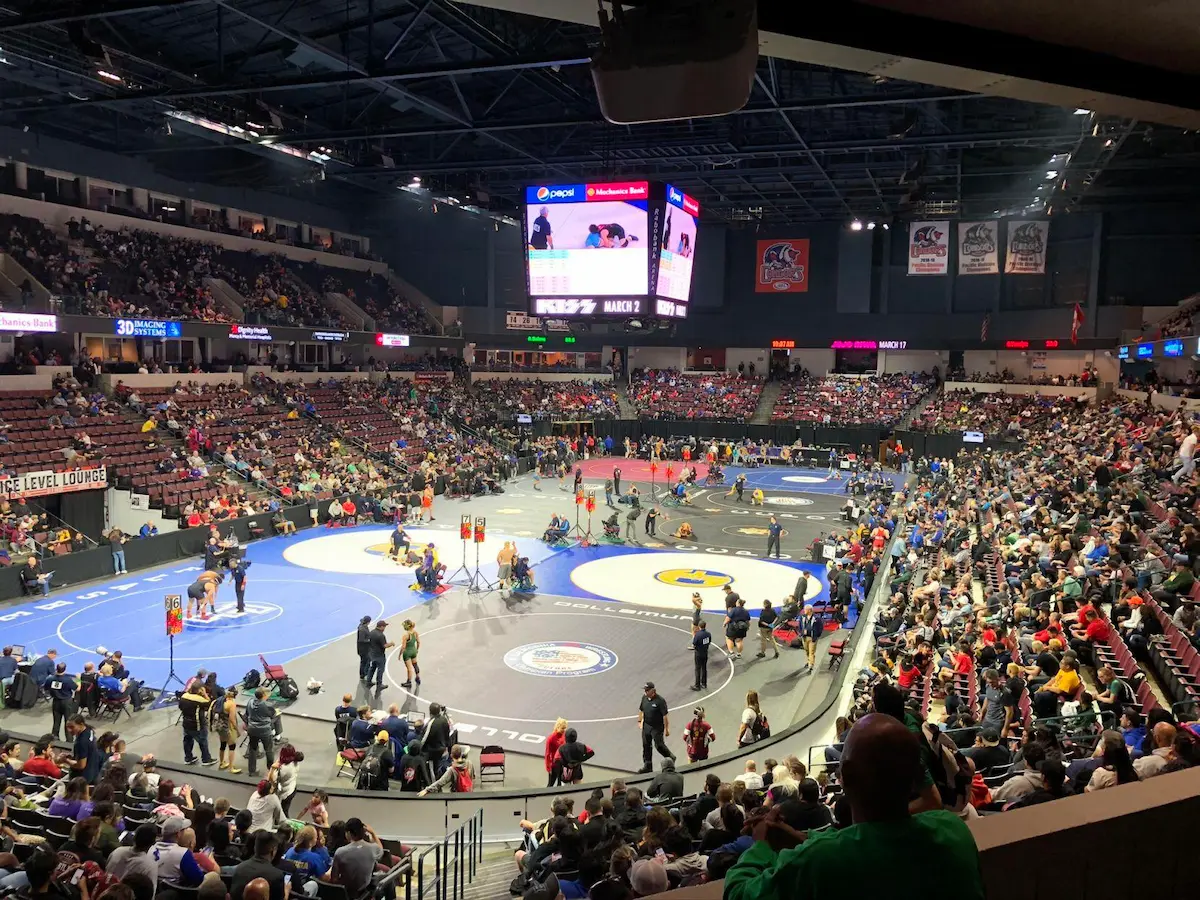 But hockey isn't its only draw. The arena regularly hosts basketball games, concerts, rodeos, and much more. With state-of-the-art facilities and seating for over 10,000 spectators, it promises a world-class viewing experience.
Sam Lynn Ballpark
A nod to Bakersfield's love for baseball, the historic Sam Lynn Ballpark, though no longer the bustling hub it once was, still holds a special place in the hearts of many. It's a nostalgic venue where time seems to stand still, and the spirit of baseball is truly celebrated.
Annual Events and Festivals
Basque Festival
Paying tribute to Bakersfield's rich Basque heritage, the annual Basque Festival is a vibrant display of tradition, dance, and culinary delights. The event kicks off with traditional music, followed by lively dance performances, showcasing the region's folkloric dance forms.
The festival's highlight, undoubtedly, is the food. Traditional Basque dishes, from piping hot stews to delicate pastries, tantalize the taste buds. As visitors relish the flavors, they also learn about the unique Basque culinary traditions and the stories behind each dish.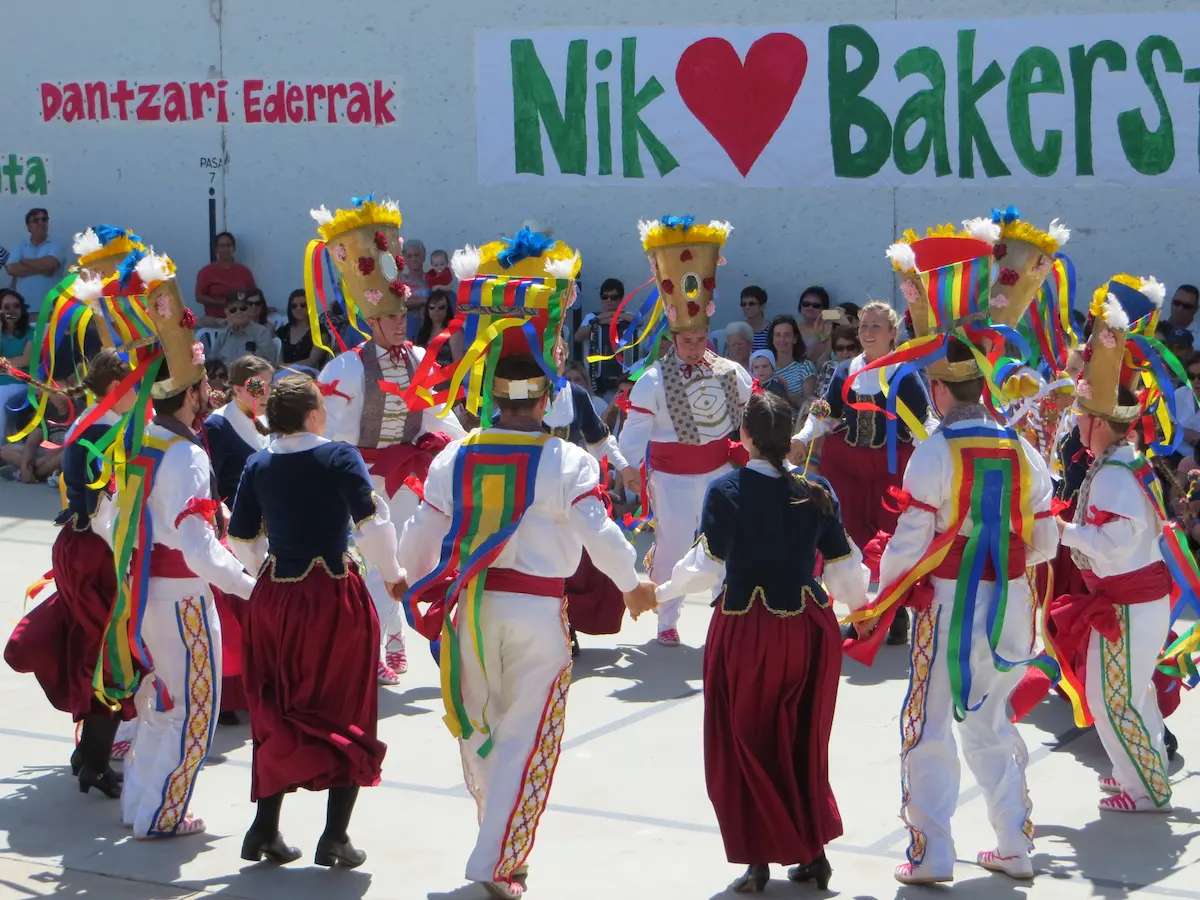 Children's games, based on old Basque pastimes, ensure the younger attendees are entertained, making it a family-friendly event.
Bakersfield Christmas Parade
As winter descends upon Bakersfield, the city lights up in anticipation of the annual Christmas Parade. A cherished tradition, the parade draws thousands of spectators, all eager to soak in the festive spirit.
Floats adorned with twinkling lights, high school marching bands playing cheerful tunes, and community groups showcasing their talents make their way through the city streets. The joyous shouts of children, the carols filling the air, and the sense of community warmth set the tone for the holiday season.
The parade culminates with the much-awaited appearance of Santa Claus, much to the delight of the young and the young-at-heart.
Where to Stay in Bakersfield, California During Vacation?
If you're planning a three-or-five day visit to Bakersfield, California, you'll want to stay somewhere comfortable and conveniently located, with easy access to the main attractions and amenities the city offers. Here are some accommodation options, ranging from budget-friendly to upscale:
The Padre Hotel: This historic boutique hotel, built in the 1920s, has been beautifully restored and offers a blend of vintage charm and modern amenities. Its downtown location is perfect for exploring Bakersfield's cultural and dining spots.
Hampton Inn & Suites Bakersfield/Hwy 58: Located conveniently near the highway, this hotel offers clean and comfortable rooms with standard amenities. It's a good choice for travelers who want consistent quality and are planning to venture out to the surrounding areas.
Bakersfield Marriott at the Convention Center: For those seeking a more upscale experience, this hotel offers well-appointed rooms, an outdoor pool, and a fitness center. Its location near the convention center makes it ideal for business travelers or those attending events.
SpringHill Suites by Marriott Bakersfield: This all-suite hotel offers spacious rooms with separate areas for sleeping, working, and relaxing. The indoor pool and free breakfast are additional perks.
Hotel Rosedale: A mid-range option with an outdoor pool and garden area, it provides a tranquil setting while still being conveniently located near shopping and dining options.
Residence Inn by Marriott Bakersfield: Especially suitable for longer stays, these suites come with fully equipped kitchens, making them perfect for families or those who prefer to do some of their own cooking.
Motel 6 Bakersfield Convention Center: For budget-conscious travelers, this is a basic but clean option, with an outdoor pool and free parking. Its location near the convention center makes it a convenient choice.
Best Western Plus Hill House: Located downtown, this hotel offers easy access to local attractions and dining options. It features an outdoor pool, fitness center, and a restaurant on-site.
While these are some of the more popular options, Bakersfield has a range of accommodations suitable for all budgets and preferences. No matter where you choose to stay, make sure to book in advance, especially during peak seasons or if there's a major event in town. And always check the latest reviews or ratings to ensure the quality of your stay.
Conclusion
Bakersfield, California, often overlooked in the sprawling map of Golden State attractions, is a treasure trove of experiences waiting to be uncovered. From its rich Basque and Mexican culinary traditions to the vibrant hum of jazz festivals, the city offers a unique blend of cultural, historical, and recreational activities. Its vast landscapes, from the Kern River Parkway to Hart Park, beckon outdoor enthusiasts, while the museums and arenas stand as testaments to the city's commitment to preserving its heritage and fostering community spirit.
The family-centric attractions, like the California Living Museum, underline Bakersfield's appeal to visitors of all ages. Meanwhile, the farm-to-table dining scene emphasizes the region's agricultural prowess and the community's dedication to sustainability and local produce.
Each of the aforementioned segments paints a vivid picture of Bakersfield. Collectively, they tell the story of a city that's proud of its roots, yet constantly evolving and embracing the new. Whether you're a history buff, an art enthusiast, a nature lover, or a foodie, Bakersfield has something special to offer. It invites you to dive deep into its myriad experiences and create memories that last a lifetime. In essence, Bakersfield is not just a destination—it's an experience.