Best Things to Do in Cali, Colombia: A Visitor's Guide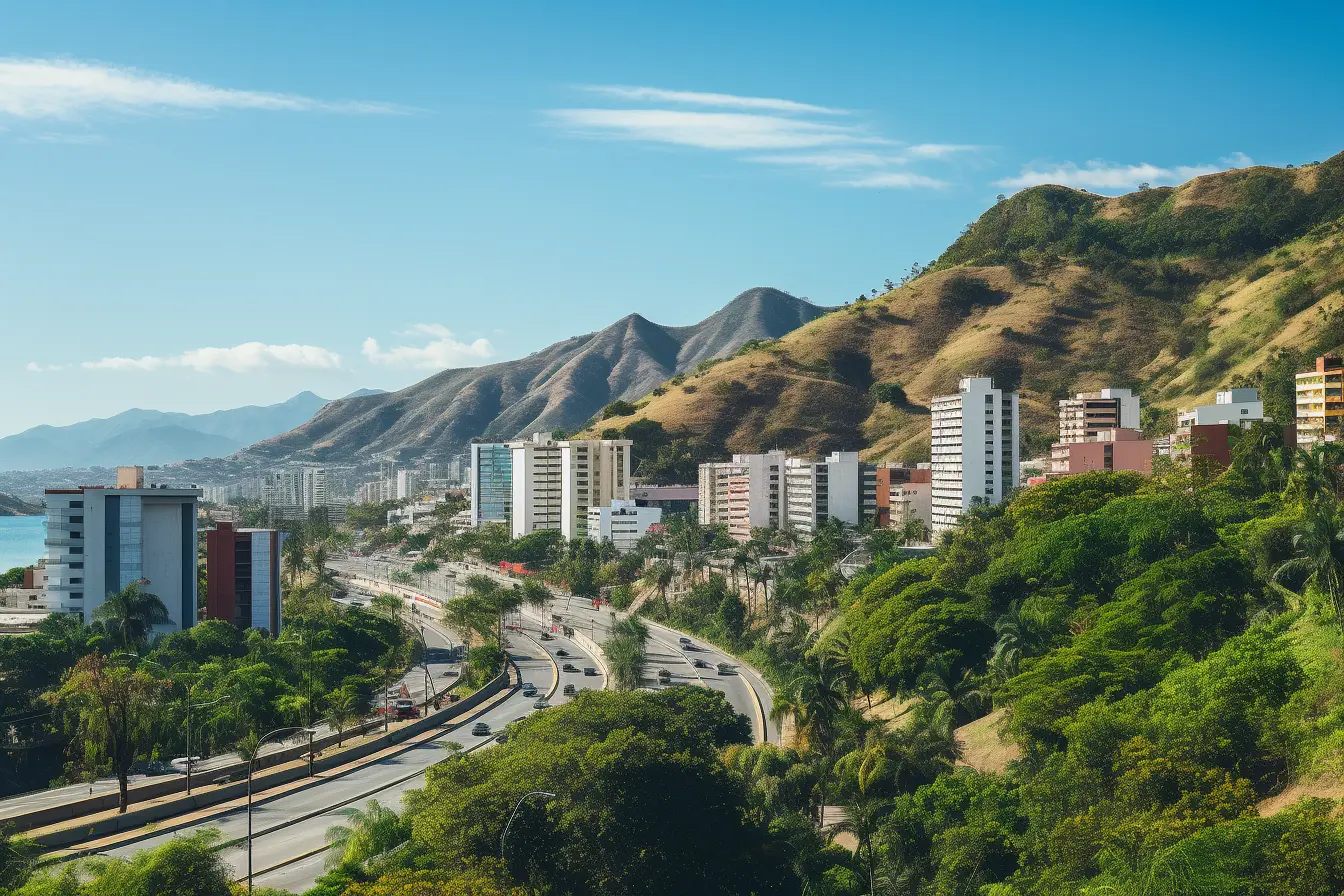 As the third largest city in Colombia, Cali offers visitors plenty of sights, sounds, and activities to fill their trip. Though the warm tropical climate stays fairly consistent year-round, winter is still an ideal time to visit Cali. With highs in the 80s Fahrenheit, the "City of Salsa" provides a refreshing reprieve from colder weather up north.
Beyond the sunny skies, what really makes Cali a remarkable winter destination are the abundance of cultural sights, mouthwatering cuisine, and lively neighborhoods waiting to be explored. From historic churches to bustling markets to verdant natural escapes, this guide will highlight 15 of the best things to do in Cali, Colombia for winter travelers.
Explore Cali's Historic Churches and Architecture
Founded in 1536 by Sebastián de Belalcázar, Cali's history stretches back centuries. To discover some of the city's oldest and most impressive architecture, start with these historic churches and buildings in and around the city center.
La Merced Church
With its handsome arches and towers, the iconic La Merced Church serves as one of Cali's most recognizable landmarks. The creamy yellow facade has welcomed parishioners since 1647, making it the city's second oldest church. Beyond weekly mass, the church frequently hosts cultural events like concerts and lectures. Go on the first Tuesday morning of the month to explore during the free guided tours (in Spanish).  
Location:  Carrera 4 #6-02, Cali, Colombia
San Antonio Church
Another 17th-century beauty, San Antonio Church stands out for its octagonal tower and highly ornamental interior. Inside you'll find a spectacular carved altar completely covered in gold leaf dating back to the early 1700s. San Antonio holds mass daily and stays open into the evening, allowing ample opportunity for visits.
Location:  Avenida Colombia, Cali, Colombia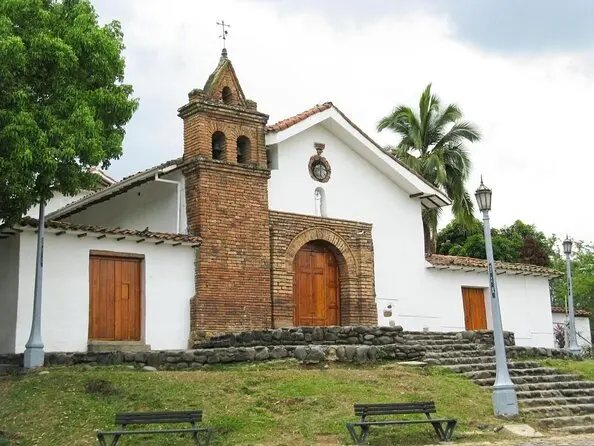 San Francisco Church
Constructed in 1572, the mudéjar-style San Francisco is Cali's oldest church. Two soaring bell towers flank the entrance, drawing visitors inside to admire the gilded woodwork and Renaissance-style painting that adorn the sanctuary. Be sure to see the monastery library next door to view its antique texts and religious art.
Location:  Avenida 4N #10N-50, Cali, Colombia
La Ermita Chapel
For panoramic views of Cali and the surrounding sugar cane fields, hike 10 minutes up the hill behind San Antonio to La Ermita chapel. The tiny colonial building from 1805 holds regular Catholic mass and offers a tranquil spot to pray and reflect. Out back, don't miss the larger-than-life concrete statues depicting the Stations of the Cross.
Location:  Calle 5, Cali, Colombia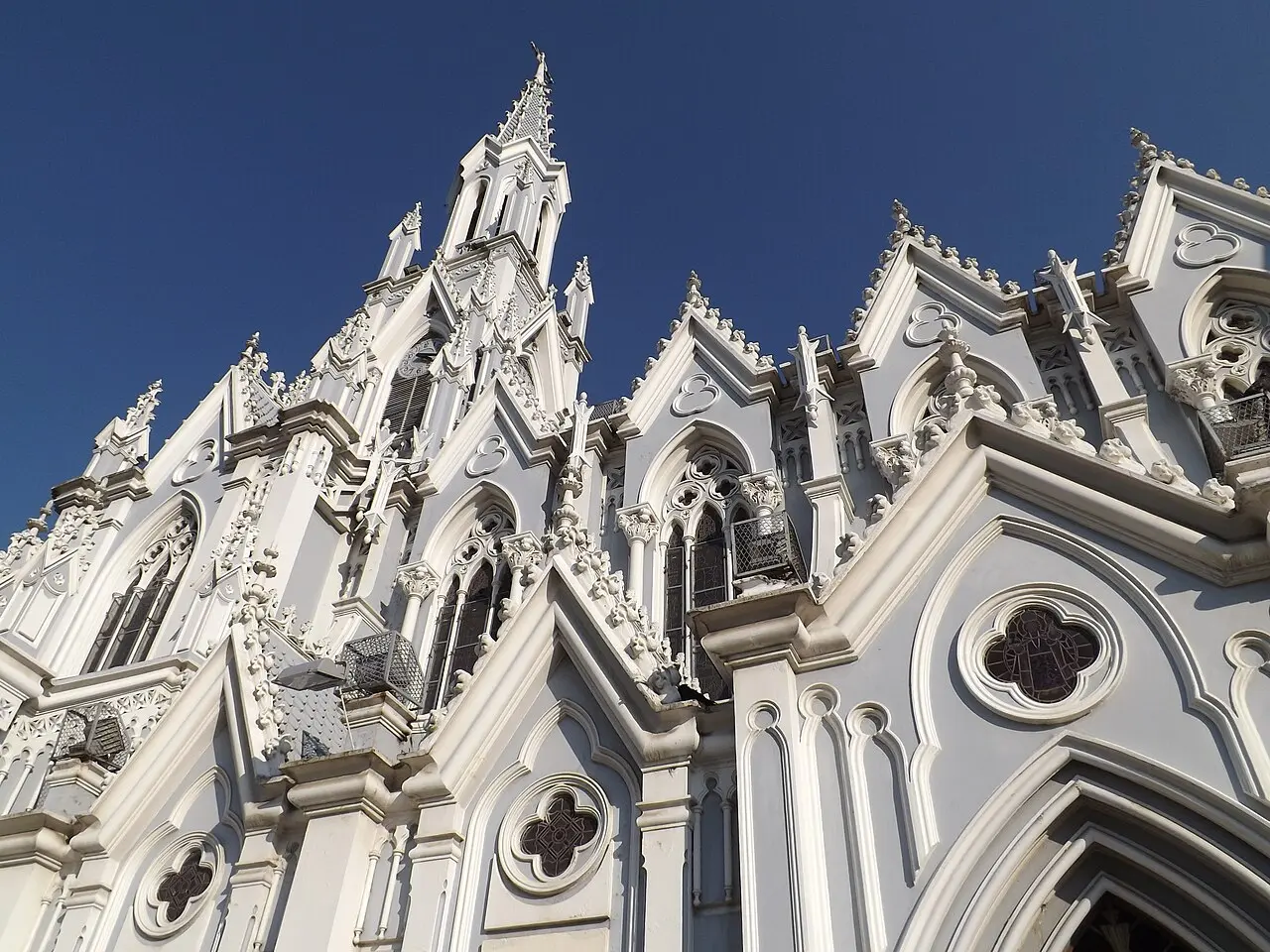 Plaza de Caycedo
At the center of Cali's historic district lies Plaza de Caycedo, a leafy public square surrounded by lovely old buildings. The cathedral, town hall, and theater facing the plaza all exhibit a graceful Italianate style. Stroll through the shady park, people-watch from a bench, or stop into one of the many cafes bordering the plaza.
The plaza often hosts small festivals and events like outdoor concerts and craft markets on weekends. It's also decorated with sparkling holiday lights in December, making it a popular gathering point around Christmas and New Year's. Don't miss photographing the historic bronze statue of city founder Sebastián de Belalcázar on horseback.
Location:  Carrera 5 between Calles 9 & 10, Cali, Colombia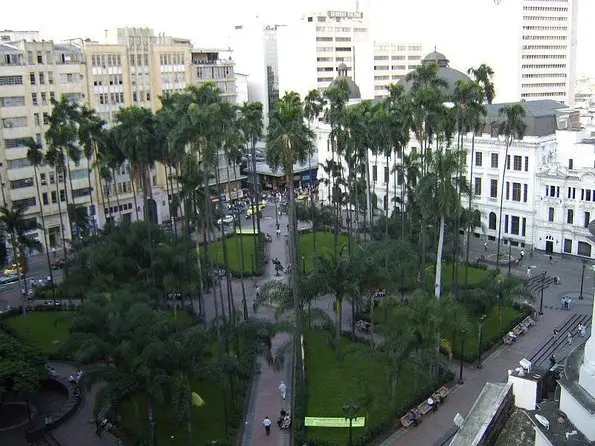 Experience Cali's Museum Scene
Beyond just old churches, Cali provides a wealth of cultural institutions covering science, history, and art. Stay cool indoors at these fascinating museums around the city.
Museo Arqueológico La Merced
Located in La Merced convent, this small but worthwhile archaeological museum displays a collection of pre-Columbian pottery and gold work. Wander through exhibits highlighting Calima, Tumaco, and Buga cultures for insight into the first inhabitants of southwest Colombia.  
Location:  Carrera 4 #6-59, Cali, Colombia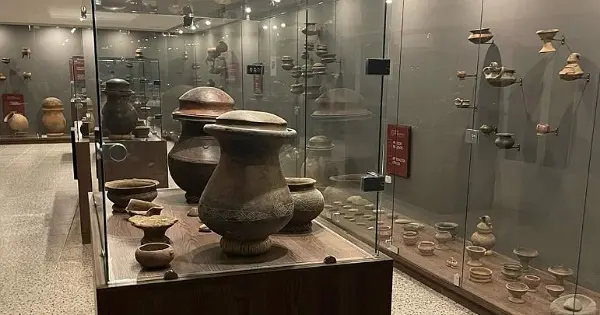 Museo del Oro Calima
For more stunning gold artifacts, don't miss the Museo del Oro Calima near the south end of town. This bright, modern museum houses over 500 gold pieces created by early Calima peoples between 500 BC and 500 AD. An informative video provides context on Calima culture and the significance of gold in their society.
Location:  Avenida de Los Poetas, Cali, Colombia
Museo Arqueológico Julio César Cubillos
Adjacent to the zoo, this intriguing museum specializes in ceramic pieces made by the earliest cultures of Colombia's Cauca River region. Standout items include the Venus of Yotoco statuette and ceremonial urns depicting spiritual figures. Outside, a garden with semicovered walkways displays full-size recreations of indigenous dwellings.
Location:  Calle 4N #1AN-09, Cali, Colombia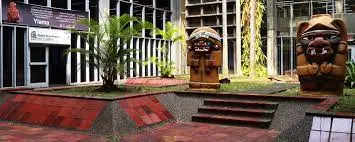 Museo de Arte Religioso
Housed in a former 17th-century Jesuit school, this art museum contains an impressive collection of religious paintings and sculptures dating from the 16th to 18th centuries. Works from prominent Colombian artists like Gregorio Vásquez de Arce Ceballos offer a peek into the country's colonial religious art scene. Don't miss the two paintings by Flemish Baroque master Peter Paul Rubens.
Location:  Calle 5 #4-27, Cali, Colombia
Museo de Arte Moderno La Tertulia
For a change from historic works, La Tertulia delivers interesting exhibitions focused on contemporary pieces. The modern building includes five galleries showcasing rotating selections of avant garde paintings, prints, photography, and sculptures by both Colombian and international artists.
The museum stays open late into the evening on Thursdays, making it a great spot to catch an exhibit after dinner. Their outdoor sculpture garden also provides a serene setting to take a break and enjoy art amid nature.
Location:  Avenida Colombia #5 Oeste-105, Cali, Colombia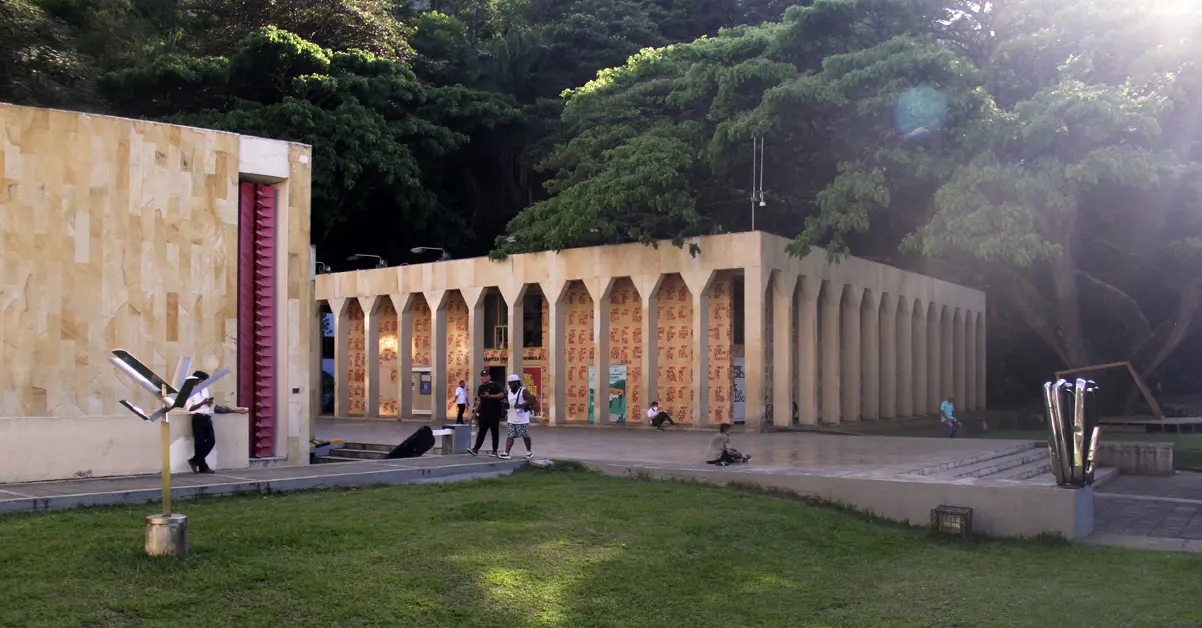 Embark on Urban Adventures in the City Center
Beyond just museums and old buildings, downtown Cali invites visitors to eat, shop, and wander through its lively urban atmosphere. Immerse yourself in the hustle and bustle of these areas in the historic city center.
Stroll Along the Callejón del Perro
Looking for Cali's most vibrant nightlife district? Head straight to Callejón del Perro. This alleyway comes alive after dark with crowds flocking to its many bars, discos, and salsa clubs open extra late. Prepare for lively music and dancing scenes that fill the streets.
For people watching during daytime, grab an outdoor table at Tostaky, a popular bar on the corner of Carrera 10 and Calle 9. Relax with a cold Aguila beer as you take in the diverse crowds parading past.
Location:  Parallel to Carrera 5 between Calles 8 & 9, Cali, Colombia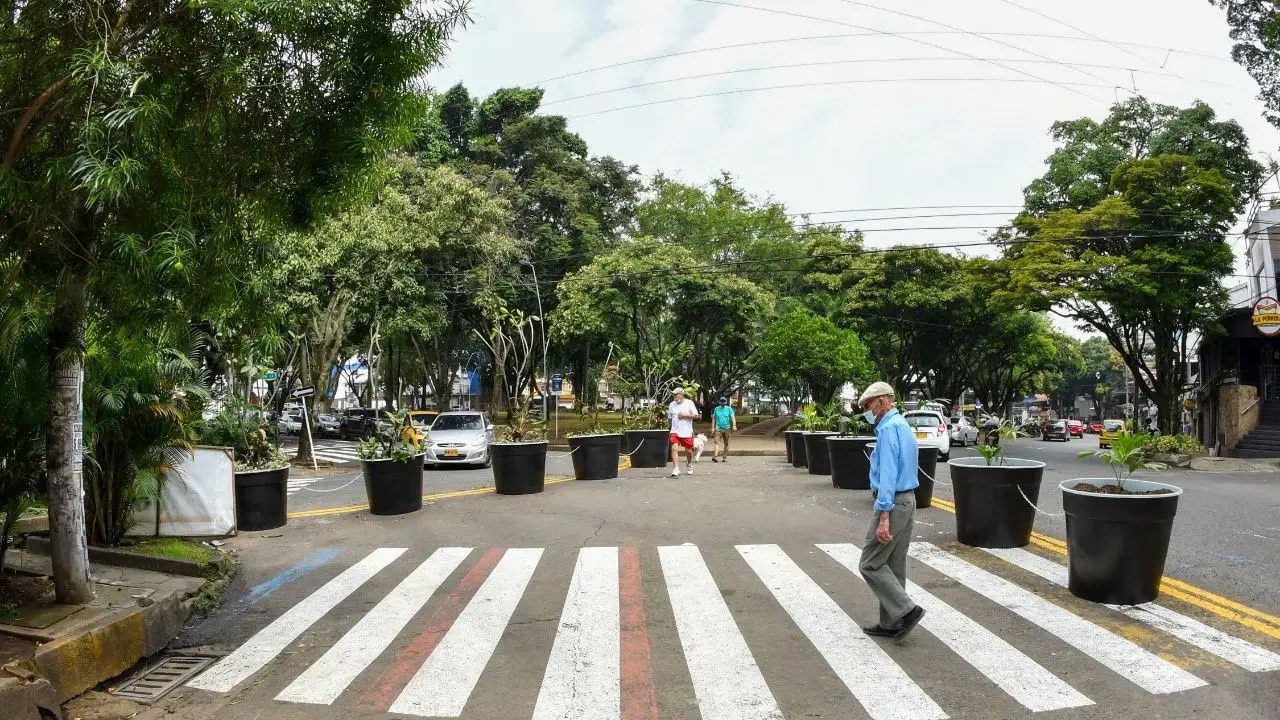 Scout for Souvenirs at San Nicolás Market
For an authentic local shopping experience, browse the stalls and shops of San Nicolás Market. Vendors sell all sorts of goods like woven bags, handcrafted jewelry, printed fabrics, t-shirts, and artisan foods. Wander through until you find the perfect souvenir, then grab a bite at one of the cheap food counters.
Don't miss the colorful fruit and vegetable stands overflowing with tropical produce. Try soursop, guanabana, granadilla or other exotic fruits you've never experienced back home. The vendors will let you sample before you buy.
Location:  Calle 3 #11-18, Cali, Colombia
Catch a Show at Teatro Municipal Enrique Buenaventura
This gorgeous theater on Plaza de Caycedo hosts music, theater, and dance performances in a setting fit for royalty. Velvet seats, chandeliers, and Renaissance-style oil paintings adorn the grand performance hall. Check their event calendar online and snag tickets to an opera, ballet, or Cali's world-famous salsa.
With over 1,500 seats, the soaring domed theater provides an unforgettable experience enjoying the arts. If no performances match your travel dates, you can still view the lavish interior decor on a guided tour. Tours run on Wednesdays at 10:30am and Fridays at 4pm for just 5,000 COP.
Location:  Carrera 5 #6-08, Cali, Colombia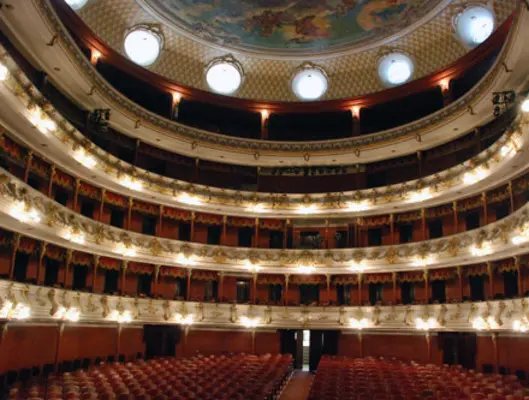 Gaze at the Murals in Barrio San Antonio
Cali's San Antonio neighborhood boasts some of South America's most extensive and artistic graffiti murals. Just strolling the barrio you can spot colorful wall paintings around almost every corner. For the best mural-viewing, head down Carrera 15 between Calles 8 and 10 or up Calle 6 towards the San Antonio steps.
The vibrant murals reveal local pride, cultural heritage, and political views expressed through artistic talent. Make sure to bring your camera to capture some of the stunning works, like the massive 60-foot mural along Calle 1 Oeste.
Location:  Barrio San Antonio, Cali, Colombia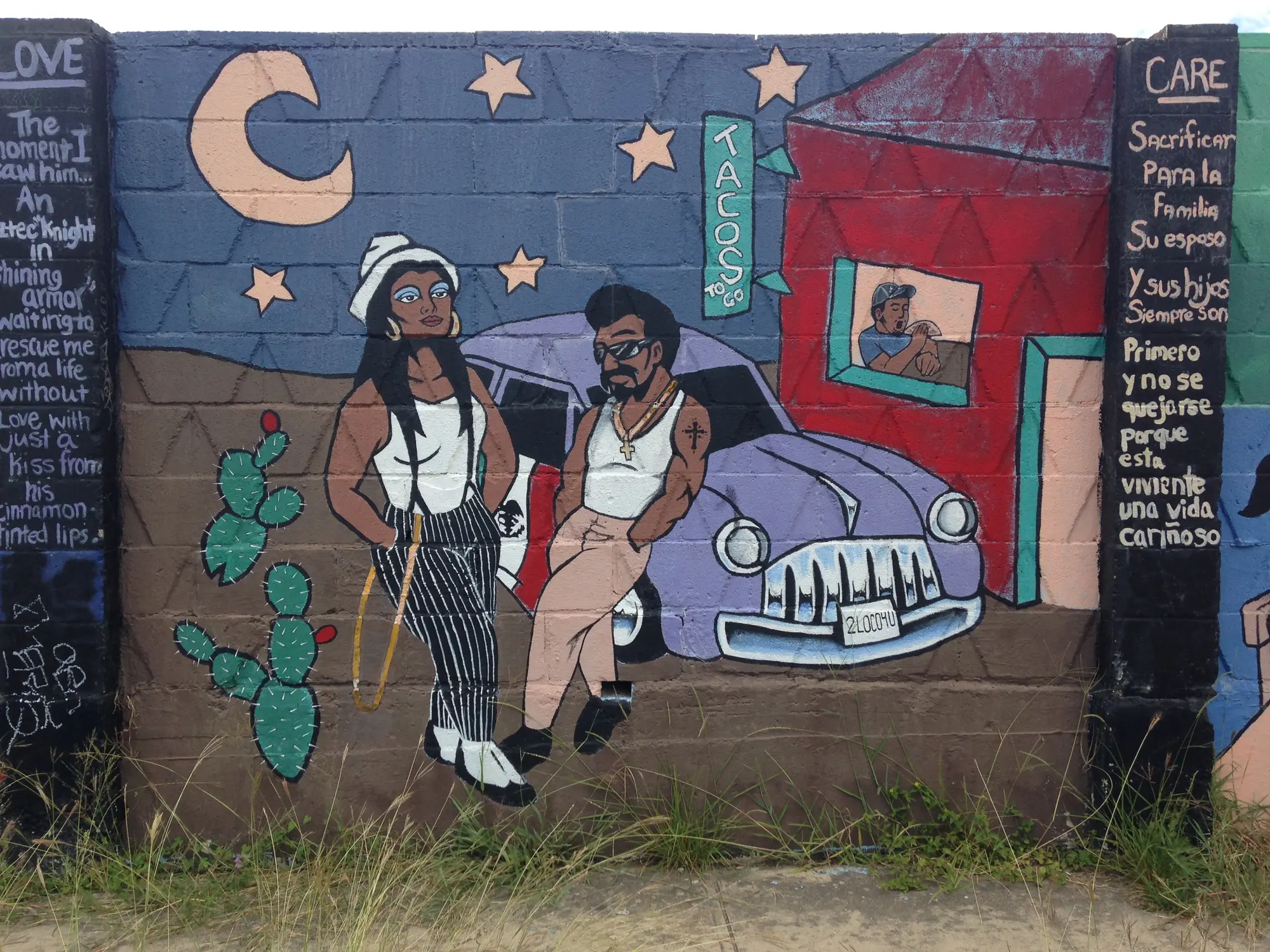 Marvel at Las Siete Maravillas (The Seven Wonders)
At this family-friendly amusement park, ride the gigantic ferris wheel and other thrilling rides for panoramic views over Cali. When you need a break from the action, check out the replica model World Heritage Sites like Machu Picchu and the Taj Mahal scattered around the park. There's also mini golf, bumper cars, an arcade, and snack stands to enjoy.
Younger kids love the tranquil boat rides through the park's central lake. The grounds also contain lovely tropical gardens and shaded picnic areas when you need to take a break from the rides. Open Wednesday through Sunday, entry costs around 35,000 COP per person.
Location:  Avenida Roosevelt, Cali, Colombia
Taste Cali's Delicious Dining Scene
Now for the part everyone's really been waiting for - the food! Cali offers tremendous variety when it comes to cuisine, from traditional Bandeja Paisa to contemporary fusion trends. This list runs down some of the best restaurants to hit up during your stay.
Mr. Wings (Burgers and Chicken Wings)
This casual joint serves Cali's most mouthwatering burgers and wings with 12 tasty sauces for dipping. Enjoy the tangy BBQ or spicy Buffalo wings while you watch sports on the big screens. For burgers, can't go wrong with the classic Mr. Wings or mushroom Swiss.
Don't skip the thick milkshakes either, coming in flavors like Oreo, dulce de leche, and rocky road. Price-wise, burgers cost around 18,000 COP and you can get 5 wings for just 8,000 COP.
Location:  Avenida 6AN No. 24N-08, Cali, Colombia
Crepes & Waffles (Breakfast)
For a delicious breakfast or brunch in a trendy atmosphere, check out Crepes & Waffles. This popular national chain excels at both sweet and savory offerings. Try an omelette crepe or waffles topped with fresh fruit. Don't miss their trademark ginger lemonade either.
The tropical fruit crepes make a refreshing choice on hot Cali days. Or opt for a sweet Nutella, dulce de leche, or white chocolate option. Most crepes ring up around 10,000 to 15,000 COP.
Location:  Multiple locations in Cali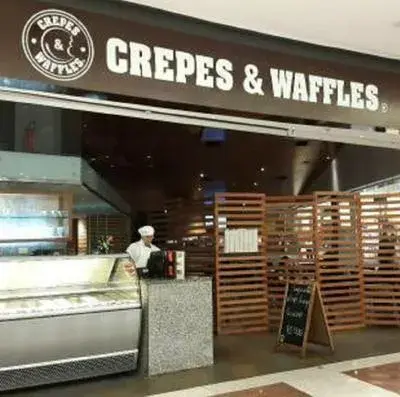 La Topiera (Ice Cream)
On a hot day, nothing beats a cone from La Topiera. Their artisanal tropical fruit ice creams offer a refreshing, healthy treat. Exotic flavors like soursop, guanabana, lulo, and maracuya taste like they came straight from the orchard.
Beside fruits, they also whip up tempting flavors like cinnamon, brownie batter, and coconut. A scoop costs just 2,500 COP. For a special experience, try their ice cream tacos garnished with fresh berries and puffed rice.
Location:  Carrera 66B No. 1A-10, Cali, Colombia
Pargo Rojo Marisqueria (Seafood)
For outstanding seafood in a relaxed bayside setting, Pargo Rojo can't be topped. Their specialty is shellfish cooked any style you want - ceviche, fried, grilled, stewed. Don't miss the cocktail sauce paired with fresh lobster or shrimp. Save room for decadent flan at the end.
Try their Ciudad de Cali dish, named for the city, which stews prawns, fish, and octopus in a coconut milk base flavored with cilantro. Lunch plates cost 20,000 to 30,000 COP. At night, they also offer a value tasting menu for 45,000 COP per person.
Location:  Calle 5 No. 38-39, Cali, Colombia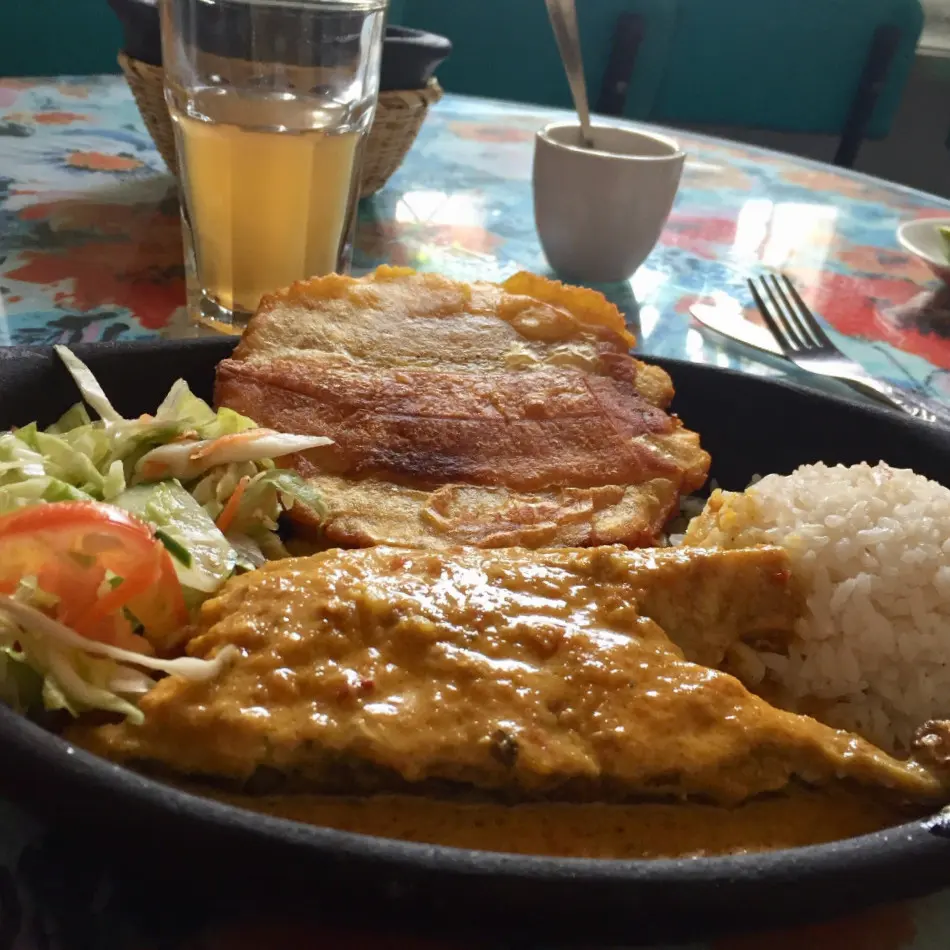 El Buen Alimento (Vegetarian)
Veggie-lovers rejoice at this little restaurant run by Hare Krishnas cooking up fresh, authentic vegetarian cuisine. Enjoy their popular thali plates with a variety of sides like daal, curry, rice, chapati, and chutneys. The peaceful patio strung with lights makes a lovely spot for dinner.
El Buen Alimento sources many ingredients straight from their own organic farm outside Cali. Try the refreshing yogurt-based lassi beverages as an accompaniment to your meal. Dinner plates range between 15,000 and 25,000 COP per person.
Location:  Calle 2 Oeste No. 4-62, Cali, Colombia
La Casa de la Tía Yoli (Classic Bandeja Paisa)
For the ultimate experience of Colombia's traditional dish, La Casa de la Tía Yoli is a must. Their bandeja paisa plates are piled high with rice, beans, ground beef, chorizo, fried pork belly, avocado, egg, and more. Come hungry and leave happy!
The restaurant occupies a historic hacienda with a sprawling garden patio, the perfect setting to feast on a bandeja paisa. Portions easily serve two and cost around 40,000 COP. Try their fresh lemonade sweetened with panela cane sugar.
Location:  Carrera 26 # 1S - 19, Cali, Colombia
Bacon Bistro Bar (American)
Homesick for a taste of back home? Head to Bacon for burgers, wings, pizza, ribs, and more done American style. While a little pricier than local spots, the high quality ingredients and generous portion sizes hit the spot after time abroad. Kids menu available too.
Bacon stays open late night with a lively bar scene, making it popular with tourists and expats. Savor mouthwatering baby back ribs basted in homemade barbecue sauce for 45,000 COP. Their bacon cheese fries make a tempting appetizer.
Location:  Avenida 9N #16N-28, Cali, Colombia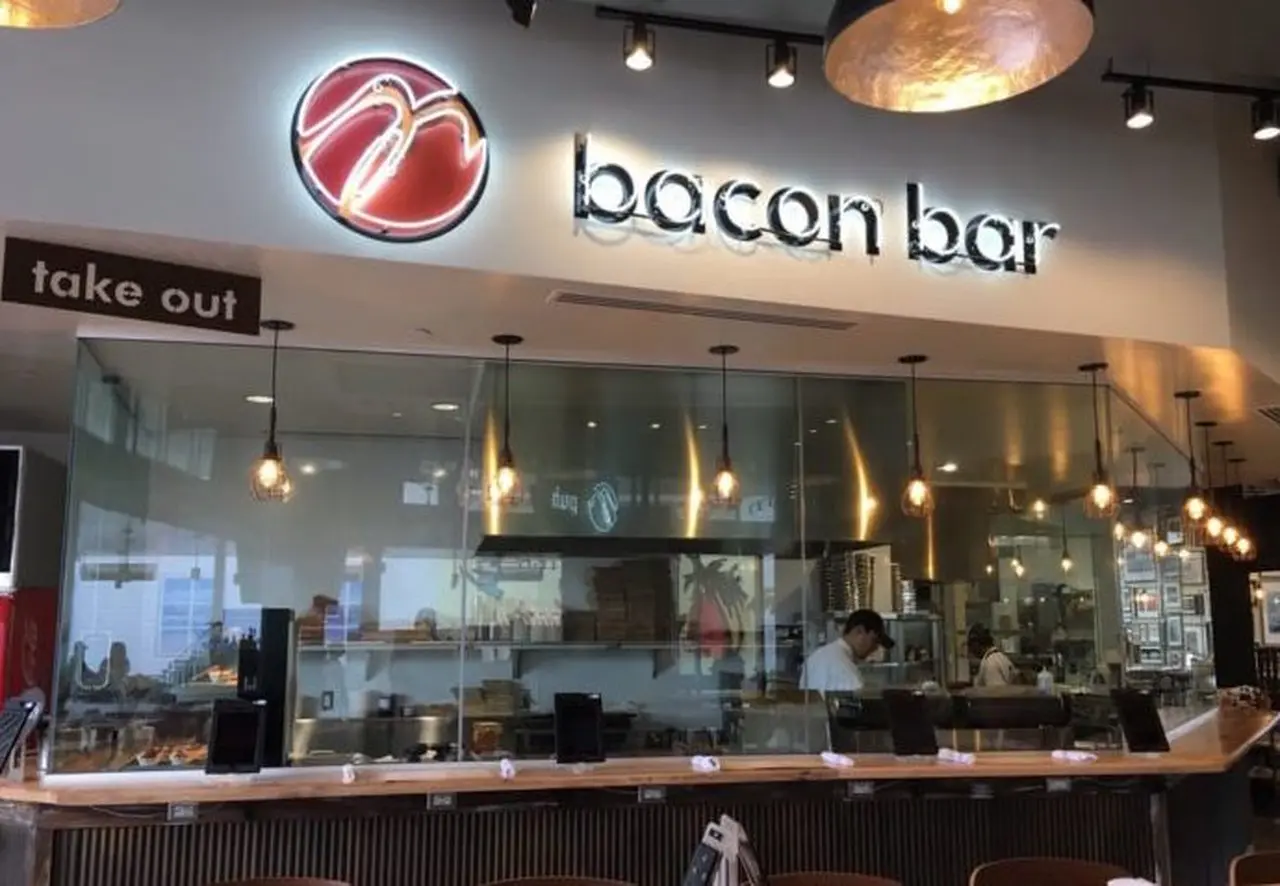 La Lorraine (French)
For an indulgent fine dining experience with French flair, book a table at La Lorraine. Set in a restored 1940s mansion, their garden courtyard or elegant dining rooms set the stage for sophisticated cuisine. Try the pan seared duck breast or bouillabaisse stew. Leave room for a dessert like creme brûlée or chocolate soufflé.
Expect to spend around 80,000 to 120,000 COP per person at La Lorraine. Set aside a few hours to fully enjoy the ambiance paired with a leisurely five course meal. For special occasions, their tasting menu showcases the chef's best creations.
Location:  Avenida 8N #8N-94, Cali, Colombia
Relax and Recharge at Lodges and Luxury Hotels
After an activity-packed day exploring Cali, you'll want to unwind at a peaceful, comfortable hotel. These top-rated lodgings provide relaxing amenities amidst stunning surrounds.
Eco Hotel Caribia (Jungle Lodge Outside Cali)
Nestled on the edge of Pichinde jungle reserve, this eco lodge lets you reconnect with nature without sacrificing comfort. Unwind in a spacious, safari-style bungalow then hit the pool surrounded by lush greenery. Guided hikes spot wildlife like howler monkeys and toucans.
The friendly Colombian owners strive to share the beauty of their natural surrounds with guests. Rates run 220,000 to 270,000 COP per night for a private bungalow. Make sure to book their amazing barbecue dinner one evening.
Location:  Vía Cali-Buenaventura, Km 18, Cali, Colombia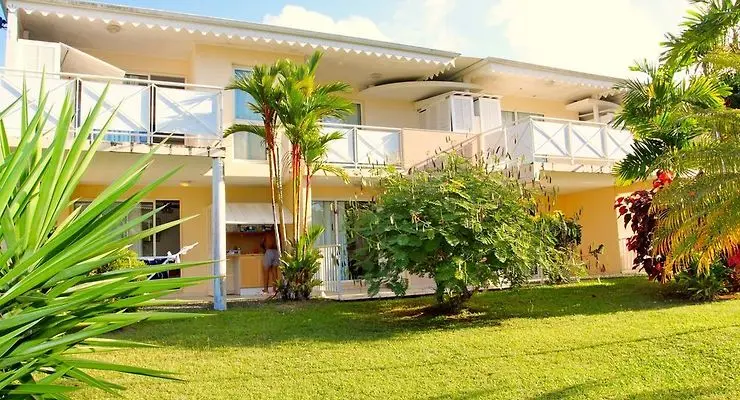 Spiwak Chipichape (Luxury)
Near the riverfront in a peaceful part of town, Spiwak Chipichape feels worlds away yet stays central. Chic, earthy rooms plus multiple pools, tennis courts, spa, and restaurants keep guests content on the premises. Reserve a relaxing couples massage at the spa.
With 350 stylish rooms, top-notch service, and amenities galore, you may never want to leave the Spiwak once you arrive. Nightly rates fall around 400,000 COP depending on season. Enjoy local coffee and fresh juice at their trendy cafe each morning.
Location:  Calle 4B No. 36-11, Cali, Colombia
Hotel Dann Carlton Cali (Luxury)
With polished rooms, sparkling pools, and a prime location by the Parque del Perro, the Dann Carlton provides top-class hospitality. Unwind after sightseeing in the sauna or at their decadent breakfast buffet. Request a city view room to watch dusk settle over Cali from your private balcony.
Expect to pay 450,000 to 600,000 COP per night. While pricey, the hotel's thoughtful amenities and attentive staff make it worthwhile for a special vacation. Don't miss their rooftop sushi bar with unbeaten views.
Location:  Avenida Colombia No. 2-72, Cali, Colombia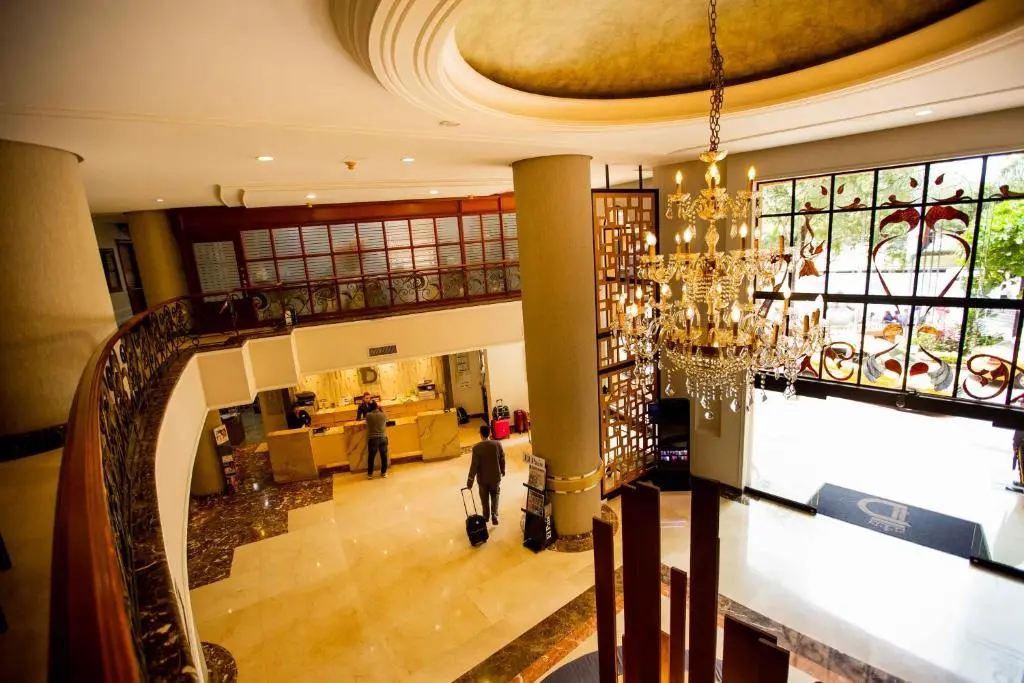 Holiday Inn Express (Budget/Family)
For family travel on a budget, Holiday Inn Express supplies tidy, dependable rooms on the north end of town. Kids will love the rooftop pool. Parents will appreciate the gym, complimentary breakfast, and proximity to shops, restaurants, and parks.
Standard rooms with two beds start around 250,000 COP per night. The breakfast buffet offers made-to-order eggs and omelettes along with continental fare. If you need extra space, adjoining rooms are available.
Location:  Avenida Pasoancho No. 70N-10, Cali, Colombia
Río Pance Nature Reserve (Rustic Cabins Outside Cali)
Disconnect from city life with an off-the-grid escape to these bamboo and straw cabins nestled in nature. Days here pass blissfully hiking to waterfalls, swimming in the river, and birdwatching from a hammock. The chefs craft wholesome, fresh meals from the organic garden.
It's back to basics at Río Pance with limited electricity and no AC. But the tranquil setting and opportunity to unplug make it worthwhile. Double cabins run around 150,000 COP per night, including three delicious farm-to-table meals.  
Location:  Pueblo Pance, Cali, Colombia
Hotel Spiwak Chipichape (Mid-range Boutique)
With an unbeatable location downtown near San Antonio, this smaller Spiwak outpost delivers stylish rooms on a moderate budget. Enjoy their chic outdoor pool and dapper Italian restaurant. Yoga classes, a peaceful courtyard, and relaxing spa reenergize you during your stay.
A step below their larger sister property in amenities, the mid-range Spiwak still exudes class. Rates fall around 250,000 to 350,000 COP per night. Request a balcony room overlooking the pool.
Location:  Calle 4A No. 26N-100, Cali, Colombia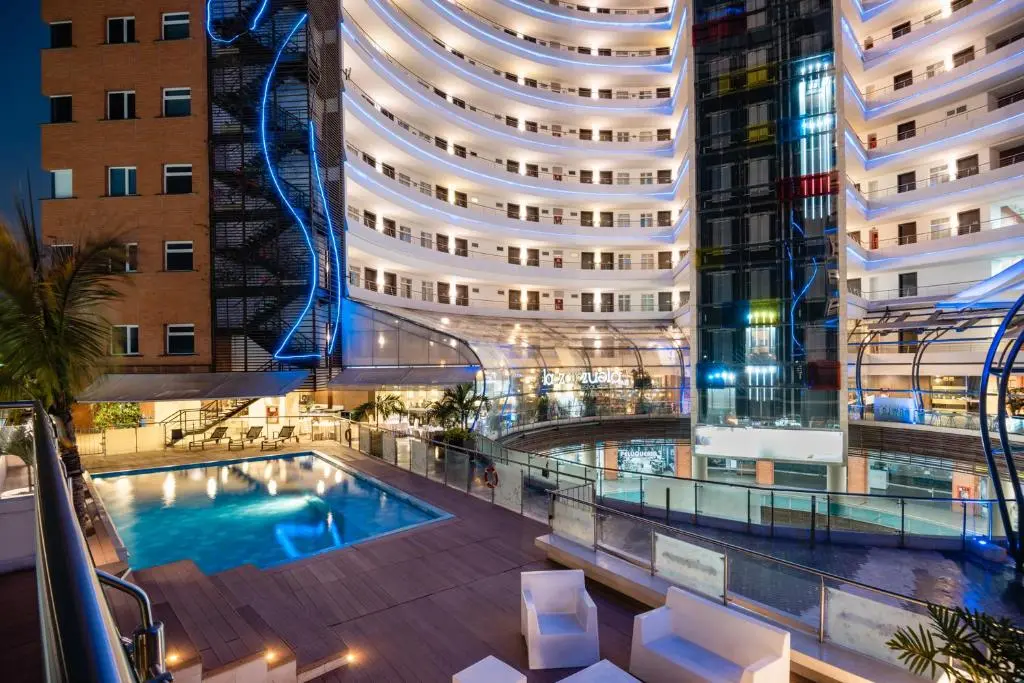 Escape into Nature with Day Trips from Cali
Though Cali itself offers plenty to do, the surrounding areas entice with lush green vistas and opportunities to get closer to wildlife. Make time during your visit in Cali to get out and explore the region's natural beauty.
Hike through Farallones de Cali National Park
An hour outside Cali, this stunning national park holds misty cloud forests, gushing waterfalls, and jagged mountain peaks begging to be explored. Join a challenging guided hike to La Piedra de Letreros, an immense boulder covered in ancient petroglyphs. The park also offers easier trails, mountain biking, and birdwatching.
By going with a guide, you'll learn about the unique flora and fauna found inside this special ecological reserve. Hiking permits cost around 50,000 COP per person. Wear sturdy shoes and bring plenty of water for this half day adventure.
Location:  Near Pichindé, 60km/37mi east of Cali, Colombia
Visit Lago Calima for Watersports
Ringed by verdant mountains, this large reservoir provides Cali residents their closest beach escape. Head here on a day trip to swim, sail, water ski, or try windsurfing. No boat? No problem. Many hotels around the lake rent out kayaks, paddleboards, jet skis, and motorboats. Stop for a lakeside lunch of fresh sea bass after working up an appetite in the water.
If you didn't pack your swimsuit, shops around the lake sell suits and sunscreen. Admission runs 10,000 COP per person. For the most fun on the water, book an action-packed banana boat ride.
Location:  Near Darién, 45km/28mi north of Cali, Colombia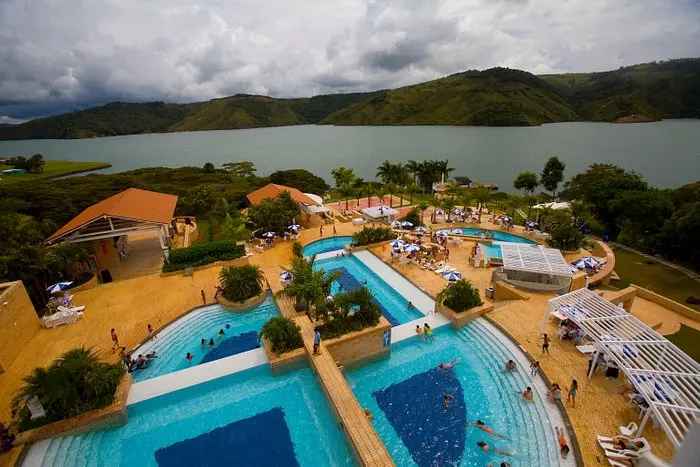 Sample Sugar Cane Liquors near Jamundí
The small town of Jamundí sits amidst a sea of sugar cane fields on the rural outskirts of Cali. Day tour companies can arrange visits here to sample Colombia's famous sugar cane liquors like Clairette brandy and Tafia rum fresh from local distilleries. Between tastings, tours showcase traditional methods of cultivating, harvesting, and processing sugar cane.
Visitors get to try artisanal spirits rarely found outside Colombia. Tours stop for a delicious homemade lunch as well. Rates are around 60,000 COP per person excluding transport to Jamundí. Go easy on the samples if you need to safely drive back to Cali!
Location:  15km/9mi south of Cali, Colombia
Relax at Hotel Chiribiquete (Jungle Lodge)
Nestled alongside the meandering Rio Meléndez, this family-owned lodge lets you soak up jungle vibes in comfort. Spend lazy days lounging in a hammock on your private deck, getting pampered with spa treatments, and swimming in the river. Day hikes and birdwatching walks connect you with the surrounding cloud forest.
With just five bungalows, the experience feels intimate and relaxing. Rates including all meals run 220,000 COP per night. Make friends with the resident dogs who love to accompany guests on walks.
Location:  Buenos Aires, 40km/25mi west of Cali, Colombia
Visit Bolombolo Falls
An impressive 150-meter cascade pours over rugged cliffs amid the lush forest of PNN Farallones de Cali. Most visit Bolombolo Falls on a bumpy half day 4x4 jeep tour from Cali. Brave swimmers can wade in for a quick dip before returning to drier ground to photograph this powerful waterfall.
The beach area by the pool at the base of the falls provides a refreshing spot to relax after the adventurous drive in. Bring secure water shoes if you want to wade in for views behind the cascade. Tours cost around 150,000 COP per person.
From historic sights and vibrant street life to gourmet cuisine and nearby nature, Cali truly offers an unforgettable winter escape. The pleasant sunny climate, welcoming culture, and breadth of activities make it an ideal destination to escape the chilly weather up north. Hopefully this guide provides inspiration to fully experience the diversity of sights, sounds, and tastes this remarkable city has to offer. No matter what you choose do to during your Cali travels, get ready for a one-of-a-kind Colombian adventure you'll cherish for years to come.
Location:  Near Piedra de Letreros trail, inside Farallones de Cali National Park, Colombia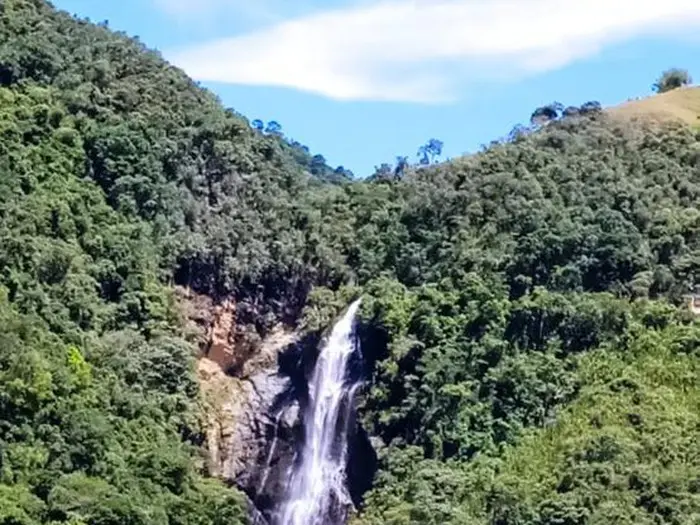 Attend a Soccer Match at Estadio Pascual Guerrero
Soccer is Colombia's most beloved sport, and Cali residents adore their hometown team, Deportivo Cali. Catching a match at their home stadium, Estadio Pascual Guerrero, provides an only-in-South-America sporting experience.
The passionate fans create an electric atmosphere with constant cheering, drum beats, dancing, and song chants supporting their squad. Tickets can be purchased same-day at the stadium. Prices range from 15,000 to 30,000 COP depending on seat location.
Grab some popcorn or a hot dog as you take in the infectious energy of the crowds. Just be prepared for the booming volume! Games take place mostly on weekends. Check the schedule during your stay to witness Deportivo Cali's skilled players in action.
Shop Handicrafts at Centro Artesanal Mi Solar
This indoor handicraft market in San Antonio provides the perfect place to pick up locally made souvenirs and gifts. Browse stalls selling artisan wares like coffee, chocolate, woven bags, ceramics, jewelry and more. Vendors come from communities across Colombia to sell traditional products.
You'll find high quality coffee beans for purchase from different growing regions. Pick up a bag from Cali's Cafe San Alberto brand or sample cups from smaller farms. Handmade ceramics, like pretty mugs and painted serving platters, also make great keepsakes.
Location:  Calle 5 #38-42, Cali, Colombia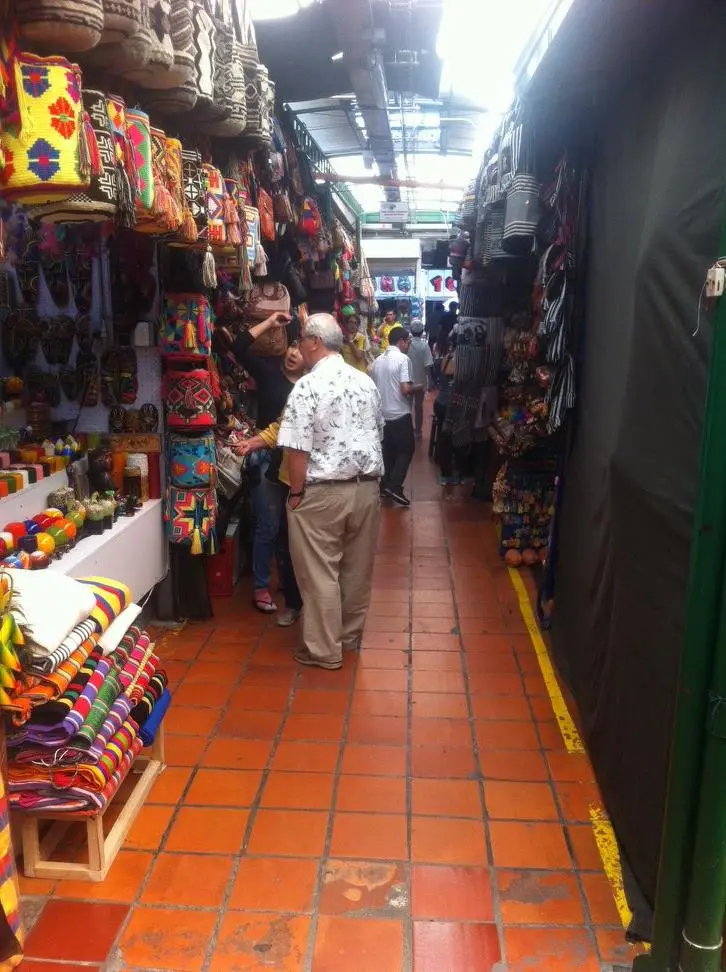 See Butterflies at Jardin Botanico
Escape the city for an afternoon at Jardin Botanico, Cali's gorgeous municipal botanical garden. Among the wildlife that call the park home, butterflies really steal the show. Over 40 Colombian butterfly species flutter through the gardens and greenhouse exhibit.
Kids and adults alike marvel at the striking wings in hues of orange, yellow, and blue on display. Try to spot the transparent-winged glasswing butterflies as well. Beyond butterflies, lush vegetation flourishes throughout the park. Don't miss the Orchid House's vibrant blooms.
Entry costs just 6,000 COP per person. Come early when the butterflies are most active. The ideal months to see the most species are February through May.
Location:  Via al Mar, Km 14, Cali, Colombia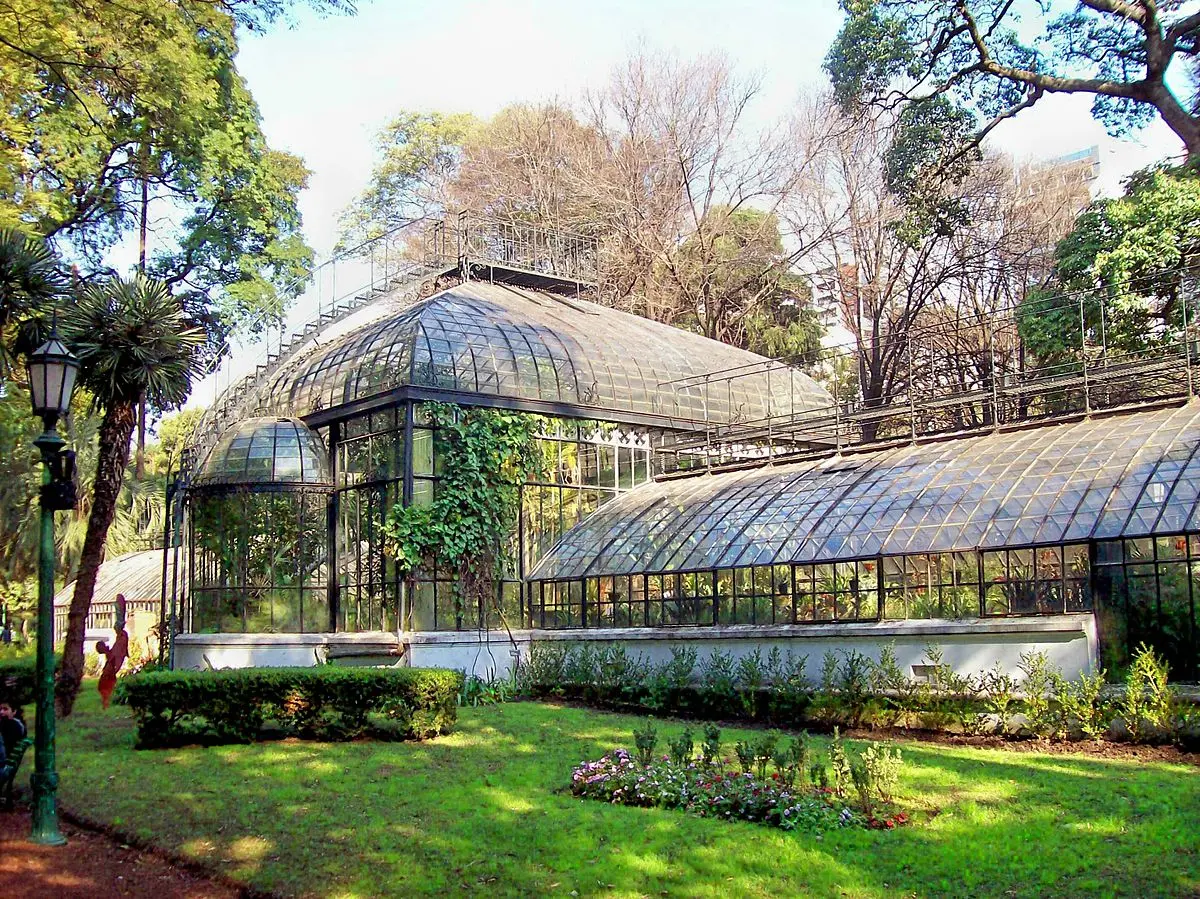 Relax at Pance River Parks
The rural community of Pance, 30 minutes south of Cali, provides the perfect spot to soak up tranquil river scenes accompanied by mountain views. Two parks here grant access to the refreshing Rio Pance: Parque Recreativo Pance and Parque Natural Rio Pance.
Parque Recreativo Pance contains swimming pools, water slides, picnic areas and restaurants along the river. Parque Natural Rio Pance offers a more relaxed, nature-focused experience with secluded beaches for swimming. Entry to both parks costs around 10,000 COP per person.
Spend a day alternately sunbathing, plunging into the river, and hiking forested trails. Stop into artisan stalls along the road for handmade crafts and tasty raspados icy treats. With its laidback vibe and beautiful scenery, Pance offers the ideal place to unwind on the outskirts of Cali.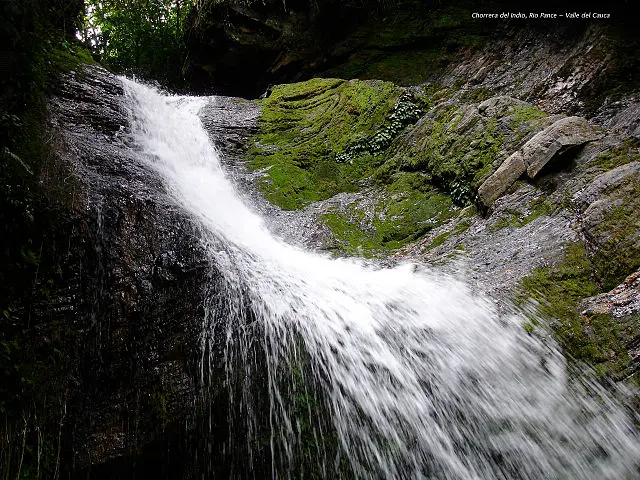 Groove at Chili's Disco
When you're ready to experience Cali's famous nightlife, make sure to spend an evening at Chili's. This vibrant salsa club occupies a historic hacienda with multiple dance floors and live bands.
Watch the skilled performers glide and twirl across the floor as you try to mimic their moves. Classier than a gritty downtown disco, Chili's draws friendly crowds of locals and tourists alike. Cover charges around 20,000 COP.
Come prepared to spend the night dancing once the beats get going. Tables ring the dance floor for taking a breather. And you can't visit Chili's without ordering a refreshing glass of Chilean red wine.
The lively atmosphere at Chili's perfectly captures the ebullient spirit and flair that makes Cali such a fabulous place to visit. Whether you're an expert salsa dancer or have two left feet, you're sure to have a memorable evening dancing the night away.
Location:  Vía Pance Km 2, Cali, Colombia
Conclusion
From historic churches to mouthwatering meals, lively neighborhoods to verdant nature escapes, Cali truly offers an abundance of can't-miss experiences for winter travelers. The diversity of activities in this guide merely scratches the surface of all there is to enjoy. No matter what you decide to explore during your time in Cali, soak up the vibrant energy and welcoming spirit of this remarkable city.
As Colombia's salsa capital, the rhythm of Cali invigorates mind and body unlike anywhere else. Let yourself be swept away by the infectious enthusiasm and zest for life embodied by the city's residents. Release your cares as you sway and twirl the nights away to sultry beats.
Return home from your travels with memories to last a lifetime and a rejuvenated zest for seizing each day. Remember the spicy flavors dancing on your tongue, the hum of lively streets at dusk, and the lush landscapes you discovered just beyond the city. Cali's one-of-a-kind magic will undoubtedly call you back again soon to continue exploring this diverse and fascinating destination.
So if you're looking to escape chilly winter weather, or simply searching for a vibrant cultural experience, look no further than Cali, Colombia. Let the warmth of the eternal sun and the warmth of its people melt away your cares. With so much to see, do, and taste, a winter visit to Cali promises to be anything but boring. Prepare for surprises and adventures around every corner. Your Colombian dream vacation awaits!