Things to Do In Destin Florida for Couples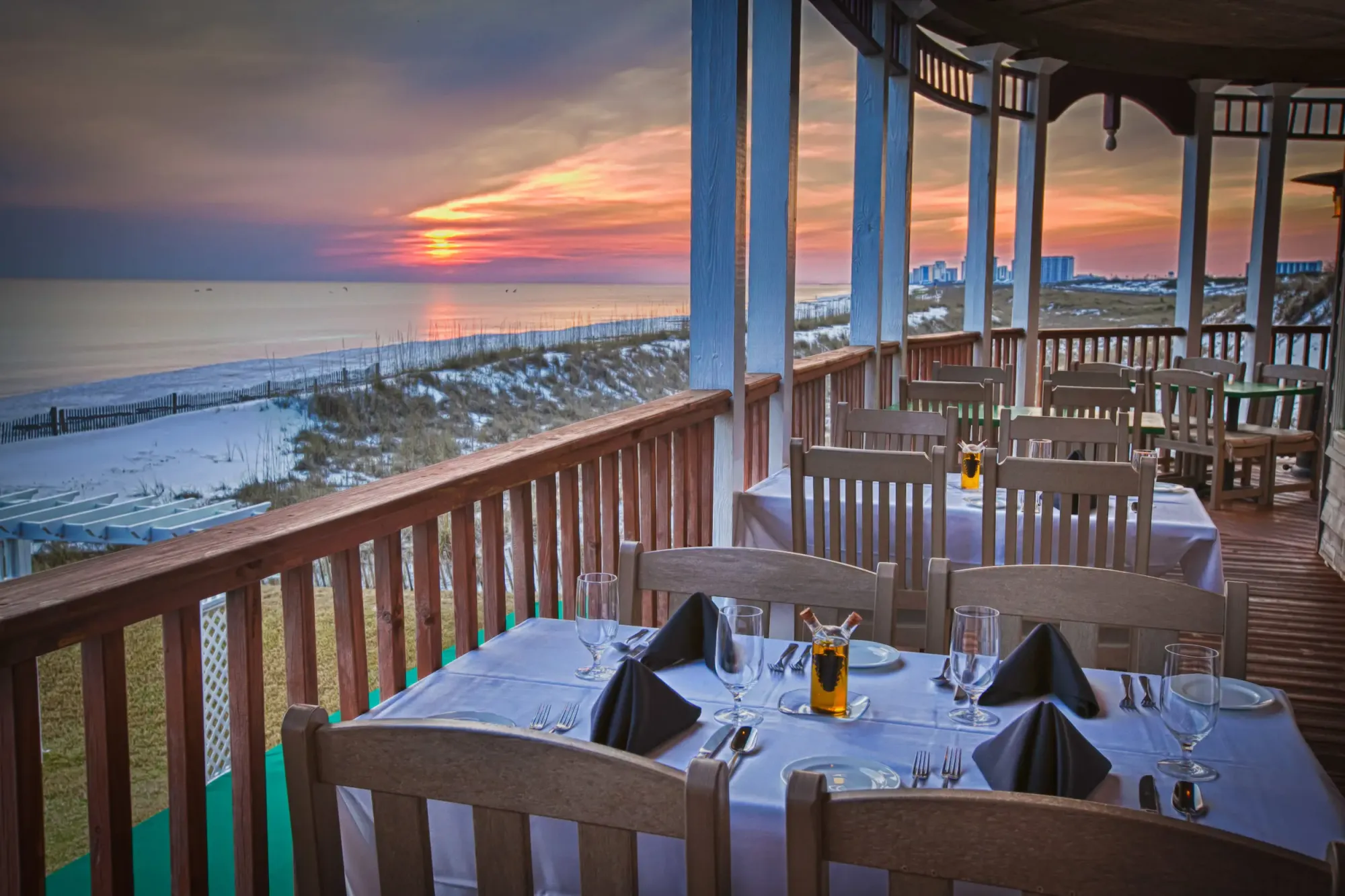 As the jewel of Florida's Emerald Coast, Destin offers gorgeous white sand beaches, crystal clear waters, and plenty of activities for couples looking for a romantic winter getaway. From strolling the boardwalk hand-in-hand to charter fishing trips during the day and fine dining at night, Destin has something for every couple.
This exhaustive guide covers 15 of the best things to do in Destin for couples, including both well-known attractions and local hidden gems. We'll highlight top restaurants, hotels, and activities based on geography and themes like adventure, relaxation, and nightlife. You'll also find tips on experiencing Destin's history and culture.
East Pass and Henderson Beach State Park
The eastern edge of Destin offers natural beauty and solitude for couples seeking a peaceful retreat. Meander down scenic Highway 98 to find these spots.
Henderson Beach State Park
Get back to nature with a leisurely stroll through this pristine state park situated right on the ocean. Follow the sandy trails that wind through seaside dunes, pine forests, and wetlands inhabited by wildlife like red foxes, bobcats, and migratory birds.
Pack a picnic basket and find a quiet spot to lay out a blanket and enjoy lunch on the beach. Feast on local cheeses, fresh fruits and crisp white wine while listening to the soothing sounds of crashing waves.
The park also provides kayak and stand-up paddleboard rentals for exploring the bay. Paddle side-by-side through crystalline waters, getting a full-body workout while bonding with your partner.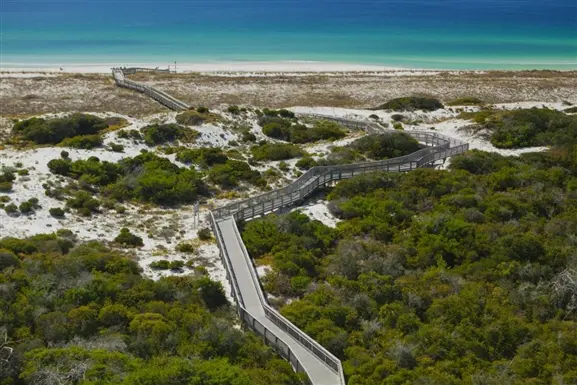 East Pass
One of Destin's best kept secrets is the aptly named East Pass, a picturesque channel connecting Choctawhatchee Bay to the Gulf of Mexico. As the sun melts into the horizon, this secluded slice of paradise transforms into a palette of dazzling orange and fuschia hues.
Discover a romantic place along the sandy shore or on the wooden boardwalk bridge to watch the sunset together. Spread out a blanket and pop open a bottle of champagne as the sky ignites in bursts of color. Have your camera ready to commemorate the unforgettable views.
Destin History and HarborWalk Village
Get a taste of Destin's rich heritage while exploring its charming harbor and lively boardwalk village.
Destin History Museum
This compact museum makes for an entertaining indoor excursion on rainy days. Conveniently located across from Destin Harbor, it chronicles over 4,000 years of fascinating local history. Wander through exhibits of artifacts from ancient Native American settlers, pioneering fishing families, and the town's unique sponge diving legacy.
Standout relics include a 130-year-old sponge diver suit and antique fish traps. Don't miss the replica of a 19th century American trading post on the property.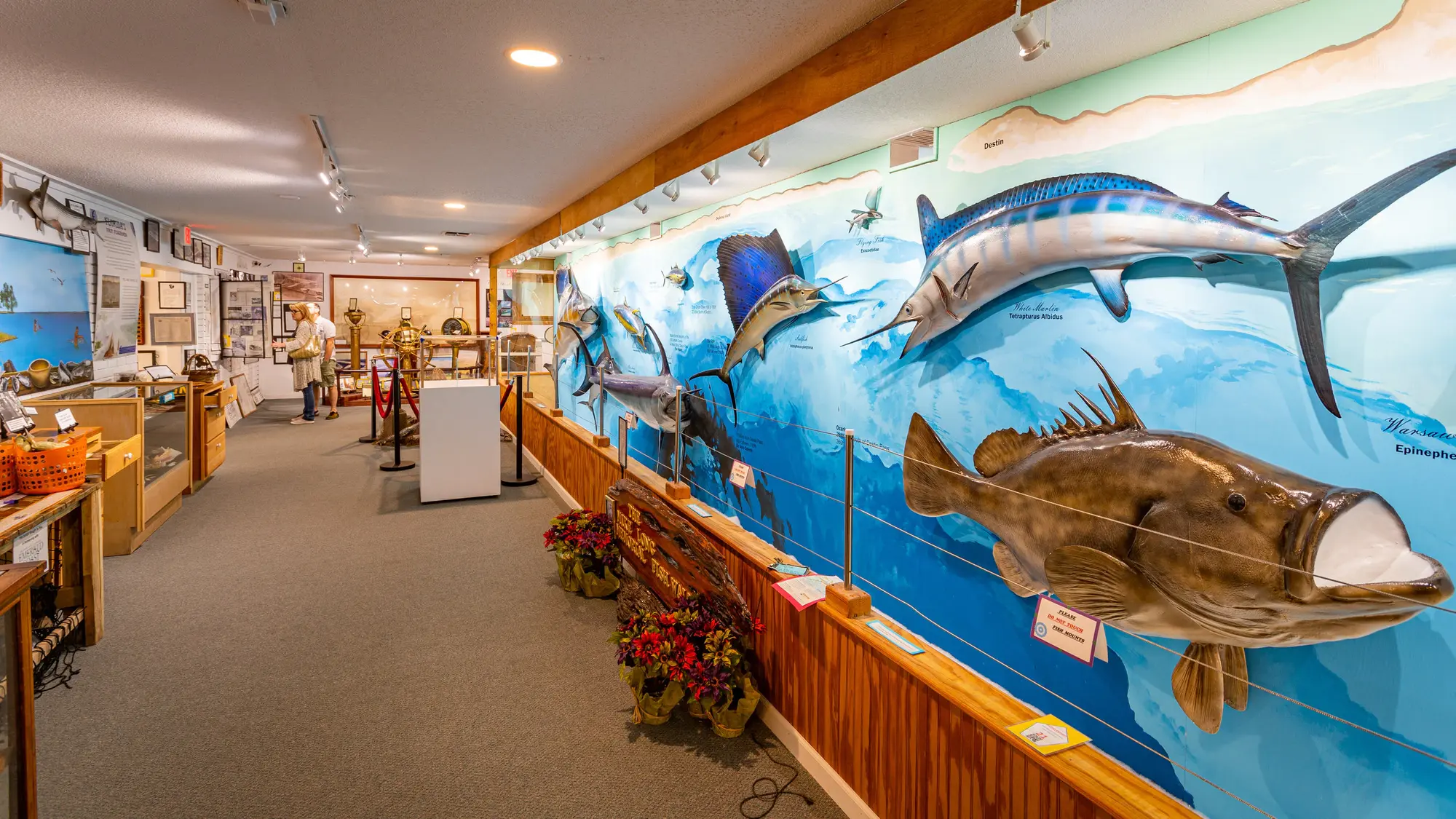 HarborWalk Village
Take a romantic afternoon stroll down this vibrant boardwalk set along Destin Harbor. HarborWalk Village brims with restaurants, shops, live music, and picturesque harbor cruises to enjoy.
Pause for a drink or share an appetizer on a harborside patio, soaking up panoramic views of the marina and fishing boats bobbing on the sparkling teal waters. Snap photos in front of brightly painted cottages or the 15-foot bronze Marlin sculpture. Duck into the many shops and art galleries dotted along the way.
Cap off the visit by watching a sublime sunset melt over the harbor, with the occasional Blue Angels jet practicing maneuvers overhead.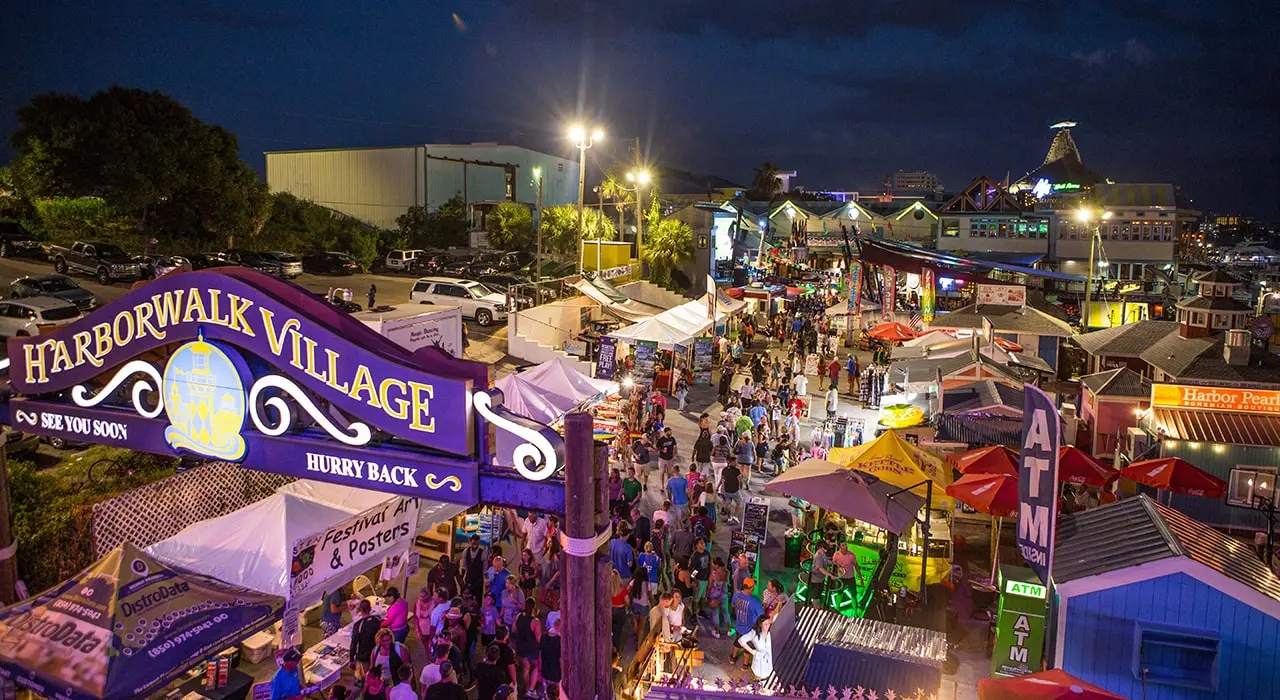 Adventure Activities for Thrill-Seeking Couples
Destin offers no shortage of outdoor adventure perfect for couples who want to get their adrenaline pumping together. Get out and get active in the refreshing coastal air.
Big Kahuna's Water and Adventure Park
Bring out your playful side together at this magnificent 75-acre water park, home to thrill rides for every level of adrenaline junkie.
Start off easy, lazily floating down the meandering lazy river, past giant sea creature floats. Wade in the shallow lagoons among spraying fountains and bubbling geysers. From there, work up the courage to brave the park's many twisting, turning waterslides.
Glide down the sea-themed slides of the Honolulu Halfpipe, racing your partner to the bottom through intertwining aqua tubes. Or take turns on the tandem raft ride Cyclone, spiraling through tight corkscrews and steep drops at speeds up to 35 miles per hour.
Only the bravest couples should attempt the park's most terrifying slide, Skyfall. Standing an incredible 10 stories tall, Skyfall offers nothing but a trapdoor release into a nearly vertical free-fall plummet, not for the faint of heart! End your day with a ride down Cobra's Tail, an enclosed tandem tube slide swirling 360 degrees down steep pitches.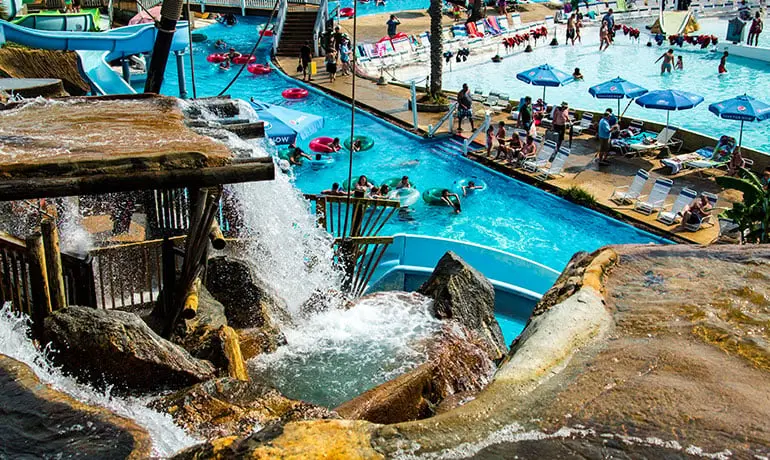 With thrills for all levels of adventure seekers, Big Kahuna's Water Park promises an unforgettable splash-filled day that will bring out both your childlike wonder and competitive streak.
Rock Climbing
Trade the beach for the climbing gym wall to scale new heights together, both literally and in your relationship. Destin has two indoor rock climbing complexes, offering challenges for both novice climbers and experienced mountaineers.
Rock Out Climbing features over 7,500 square feet of climbing terrain, from bouldering walls to top-rope ascents up to 40 feet high. With routes ranked from beginner to expert, you can start easy and encourage each other to take on incrementally harder climbs that play to both your strengths. Expect incredible views overlooking Destin Harbor from the summit.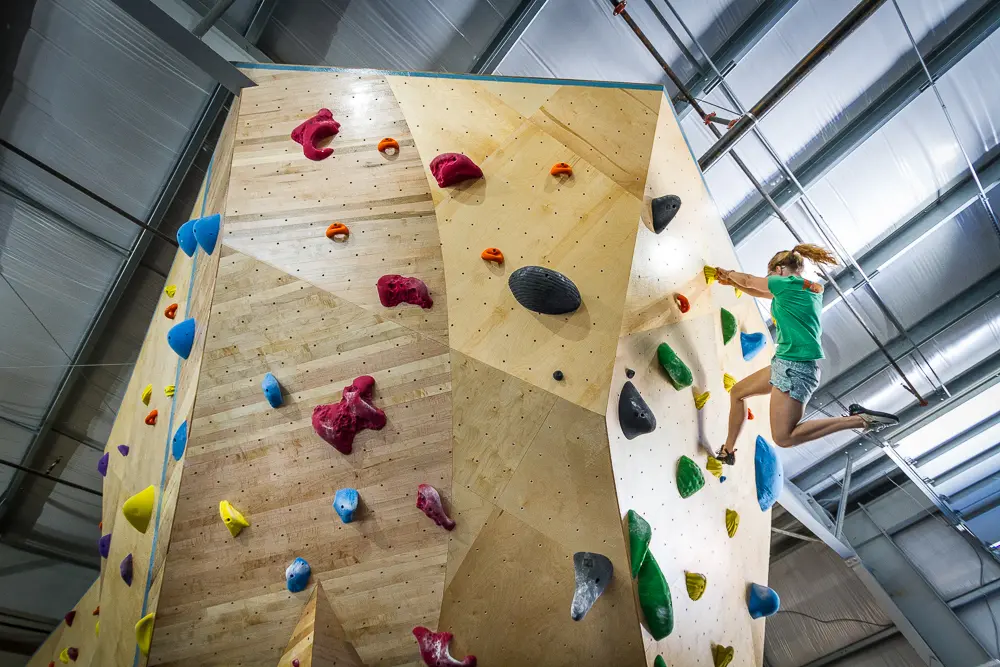 For a high-flying twist, Urban Air boasts an indoor rock wall attached to trampolines, letting you practice your climbing skills while propelled upward by bounces. Climbing side-by-side strengthens trust and communication between partners when you have to rely on each other's support. And conquering a tough climb elicits a shared sense of accomplishment.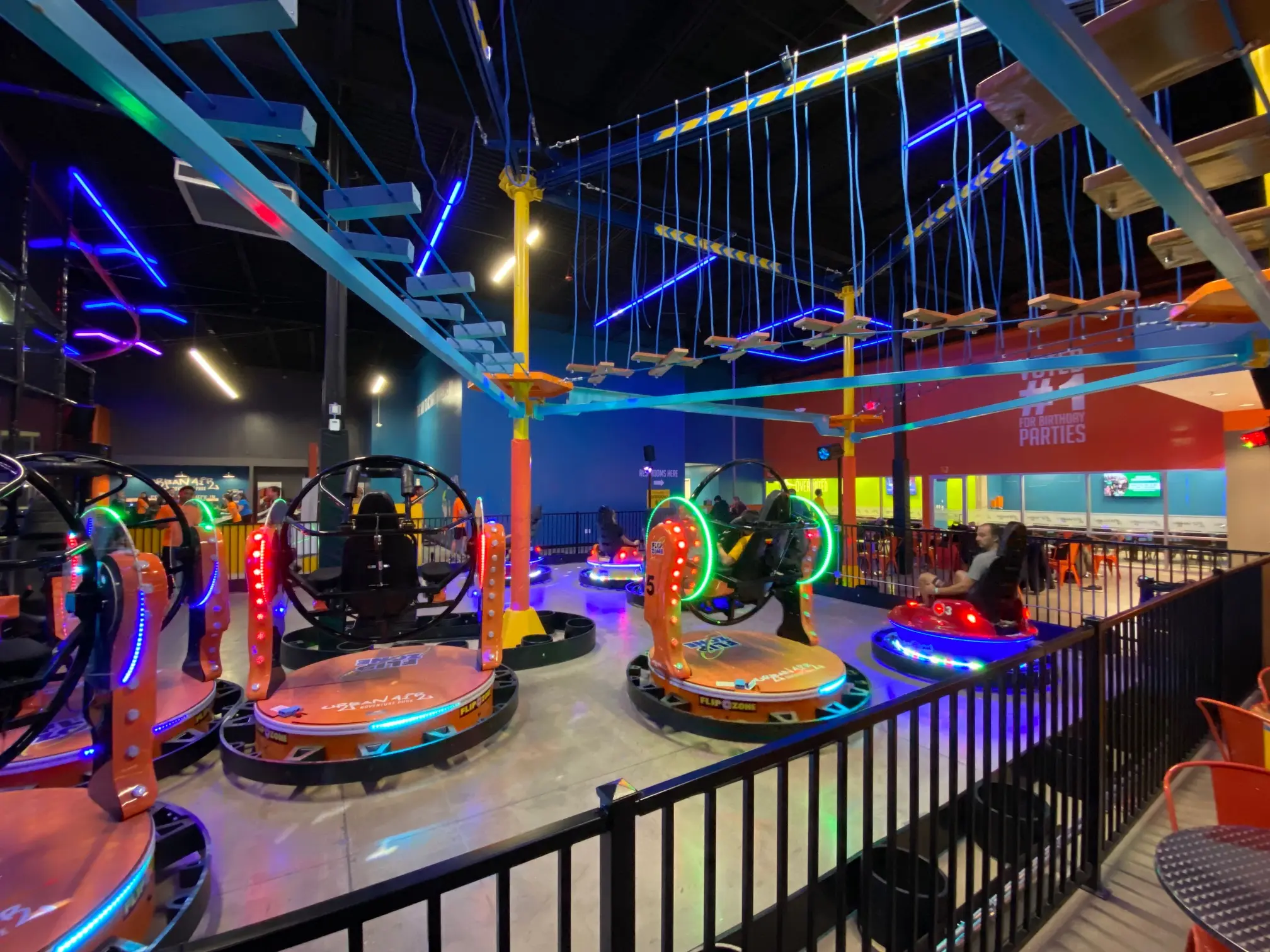 Whether you're fledgling climbers or skilled mountaineers, rock climbing tests your wits and willpower while creating bonds through shared challenges. The beautiful vistas from the apex serve as a reward for your efforts.
Parasailing
If you both crave an adrenaline rush, soar together high above the Gulf of Mexico while strapped side-by-side in a parachute harness. Local companies like Destin Parasail can take couples up to 500 feet in the air for breathtaking aerial views.
Floating weightlessly over the crystalline waters creates an unforgettable shared memory. As the boat below pulls the parachute through the sky, witness spectacular bird's-eye views of Destin's beaches and ocean. The excitement of para-sailing double when experienced tandem.
Just don't forget your waterproof camera! Capture smiling selfies with the stunning emerald coast and sapphire waters far beneath you. Parasailing high above the surf with your partner will get your hearts pumping in sync. And safely touching back down creates a euphoric sense of accomplishment you'll be reminiscing about for years to come.
Relaxing Couples Activities
When you're ready to slow down, Destin has plenty of ways to unwind and restore together.
Beach Picnic
One quintessential romantic experience in Destin is a picnic on the beach. Pack a basket with local cheeses, fresh fruits, crusty bread, and a bottle of chilled white wine or rosé. Spread out a blanket on the soft white sands and leisurely feed each other strawberries and sip wine while digging your toes in the sand and soaking up the Florida sunshine.
For more seclusion, set up camp in Henderson Beach State Park, away from the crowds. Pick a quiet spot under the shade of a palm tree to privately relax and indulge.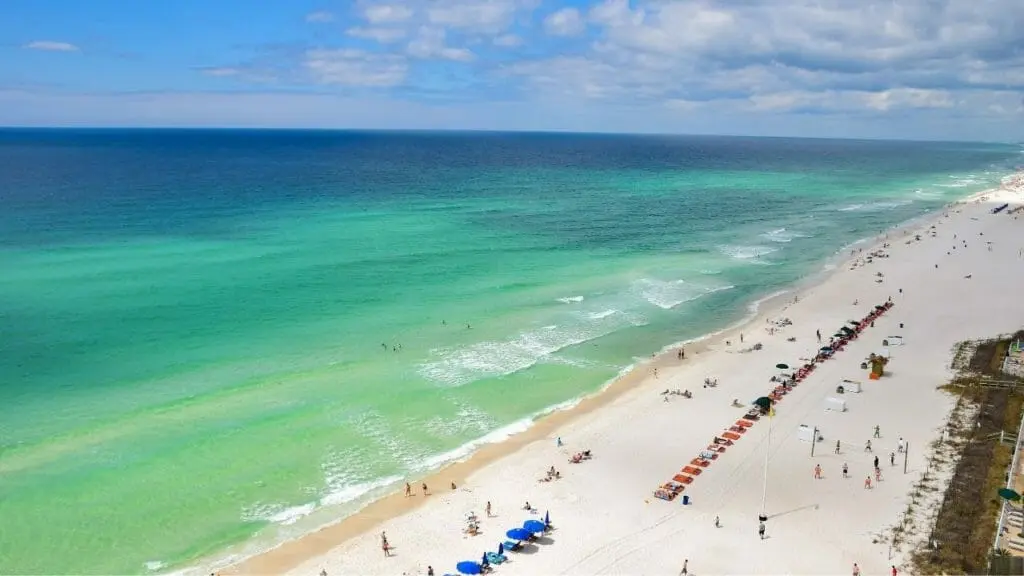 For more entertainment, stay near the main public beaches beside fishing jetties. Watch fishermen reel in their daily catches while trawlers pass by in the waves. The lively backdrop of swimmers and beachgoers adds to the experience.
However you choose to tailor it, a beachside picnic in Destin can't be beat for romance. The laidback setting and time alone to unwind and appreciate nature's beauty make picnics on the beach one of the most memorable couples activities.
Couples Massage
Treat yourselves to rejuvenation and relaxation with a soothing couples massage at Serenity Spa by the Sea, conveniently located right on Miramar Beach. Choose from Swedish, deep tissue or hot stone massages as you lay side-by-side in a private room with two tables.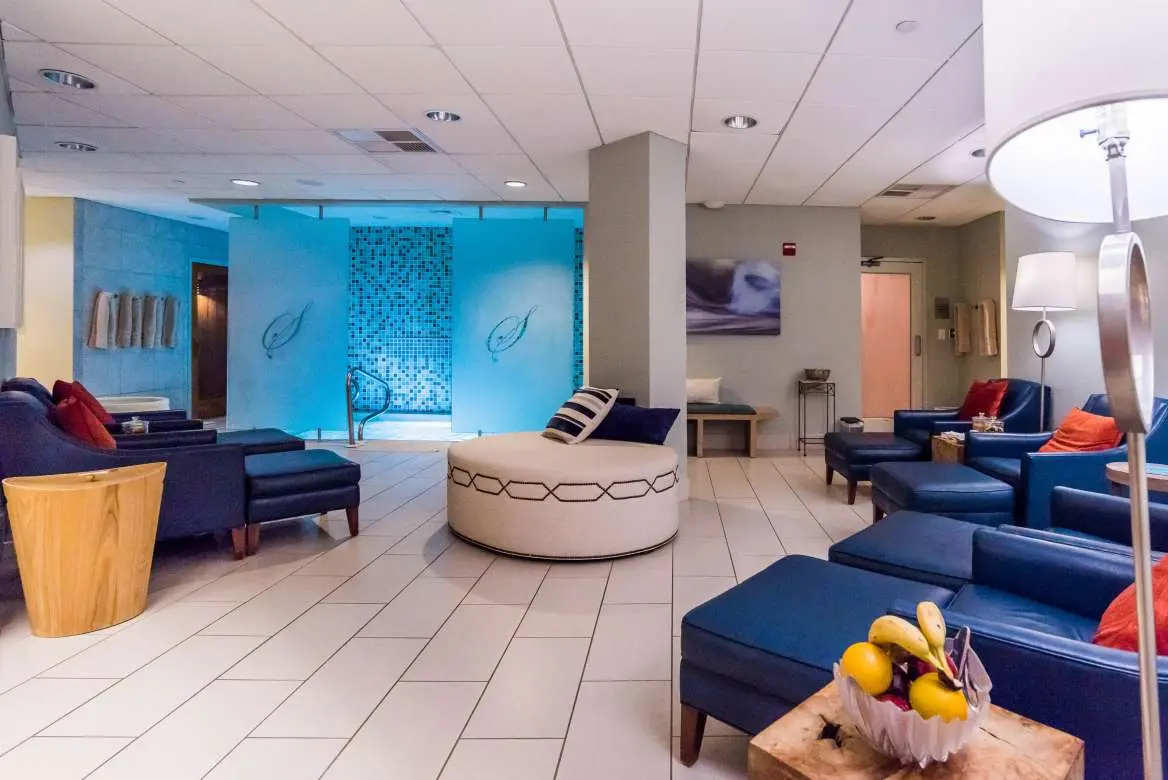 To set the mood, light some aromatherapy candles and put on calming background music before the massage. As your aches and worries melt away under the expert hands of your massage therapists, you'll be free to focus completely on appreciating this time with your partner.
A couples massage synchronizes your states of zen and provides a quiet atmosphere conducive to meaningful conversation that strengthens your connection. Emerge feeling tranquil and blissfully stress-free, ready to continue a perfect day together.
Sunset Catamaran Cruise
One of the most memorable ways to take in a Destin sunset is aboard a catamaran cruise. Local company Yolo Boards offers daily sunset sailing tours on a luxurious 50-foot catamaran.
Relax together on the comfortable deck with a drink in hand as you sail along the coastline during the magical hour when the setting sun paints sky and sea in dazzling hues of orange, pink and purple. Let the hypnotic rocking of the boat and lull of waves heighten the experience. Listen to live acoustic music as the sunset unfolds around you.
Some cruises even stop for snorkeling or stand-up paddleboarding - fun activities to enjoy together as a couple. However you spend it, a catamaran sunset cruise promises amazing waterfront views and quality time to remember.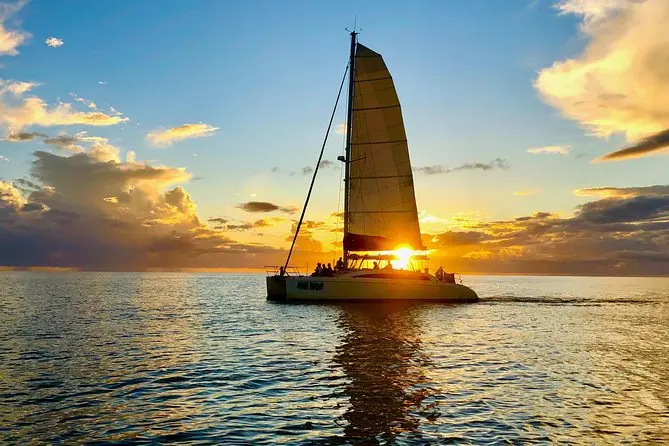 Top Restaurants for Couples
Destin's dining scene offers fantastic meals in romantic waterfront settings perfect for couples to connect over. Here are six highlights not to miss:
1. Brotula's Seafood House and Steamer
For the freshest local catch, head to Brotula's Seafood House overlooking Destin Harbor. Their motto is "hooked on quality, cooked to perfection," using only the most exceptional seasonal seafood sourced from local waters.
Sit on the covered deck with uninterrupted views of fishing boats bobbing on the harbor as you savor expertly prepared dishes. Seared tuna served rare melts in your mouth, while shrimp bucatini tossed in white wine butter sauce impresses with every al dente bite.
End the night on a sweet note sharing a towering slice of their house-made Key lime pie, topped with billowy meringue and a graham cracker crust. You'll leave satisfied in every way thanks to Brotula's top-notch cuisine and atmosphere.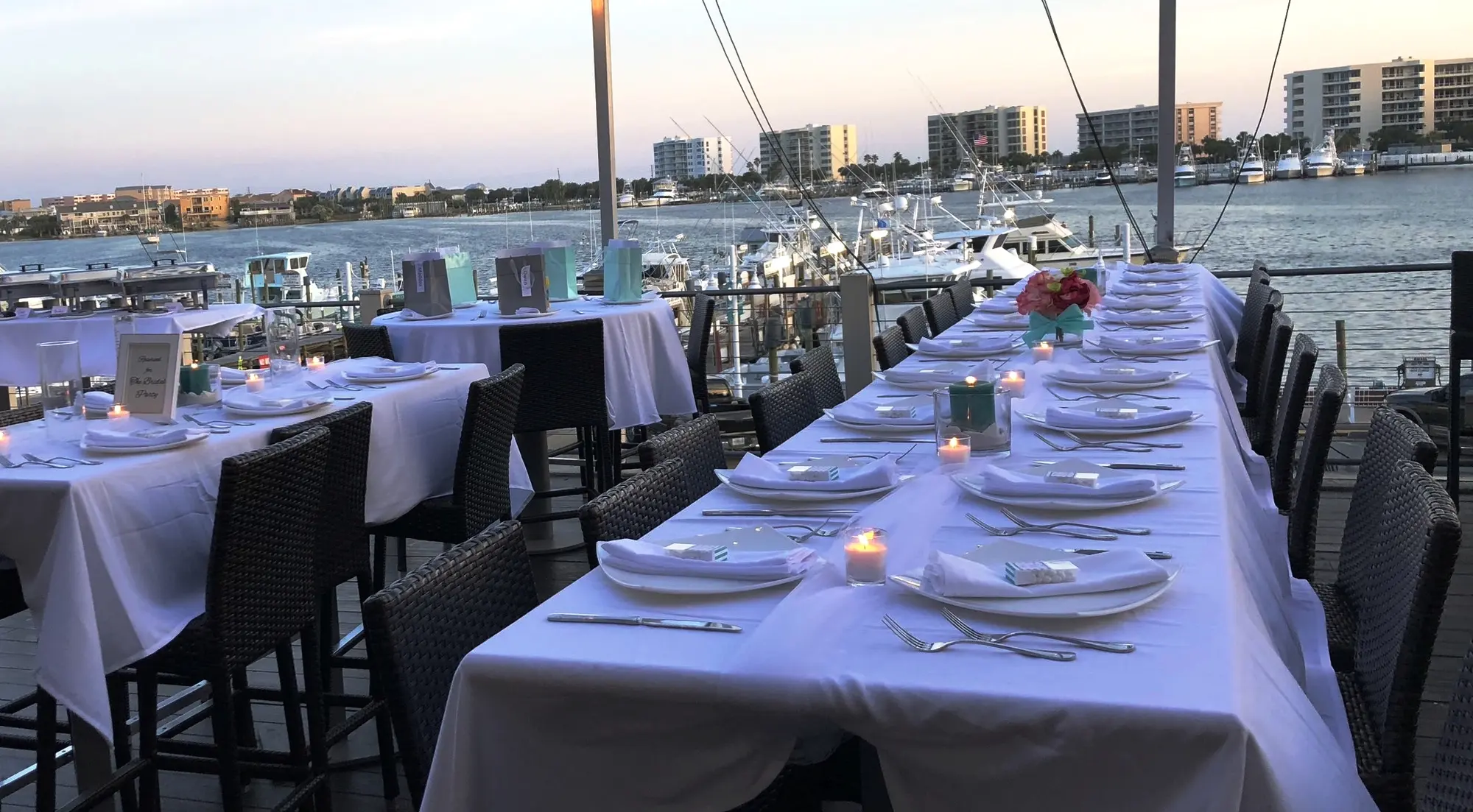 2. Marina Cafe
For fine-dining views and cuisine, book a table at the Marina Cafe situated right in Destin Harbor. Floor-to-ceiling windows ensure every table enjoys panoramic vistas of the luxury yachts and fishing boats docked in the marina.
Equally exquisite are the chef's elaborate seafood creations, like lobster bisque topped with chunks of tender lobster or pecan crusted snapper resting on a bed of saffron risotto. Every bite bursts with complex flavors that linger on your palate long after.
With white-glove service and a menu satisfying even the most discerning of palates, Marina Cafe promises couples a meal to remember.
3. Dewey Destin's
Enjoy beachfront dining with your toes in the sand at this local favorite, Dewey Destin's. Arrive right at sunset and snag a table on their large heated patio overlooking the Gulf's glittering waters.
Feast on baskets of fried shrimp and oysters, sushi rolls topped with fresh-caught tuna, or juicy burgers hot off the grill. More daring diners opt for grilled exotic meats like kangaroo or boar tenderloin. Their impressive cocktail selection enhances the lively seaside ambience.
For unparalleled sunset views with casual fare, Dewey Destin's delivers.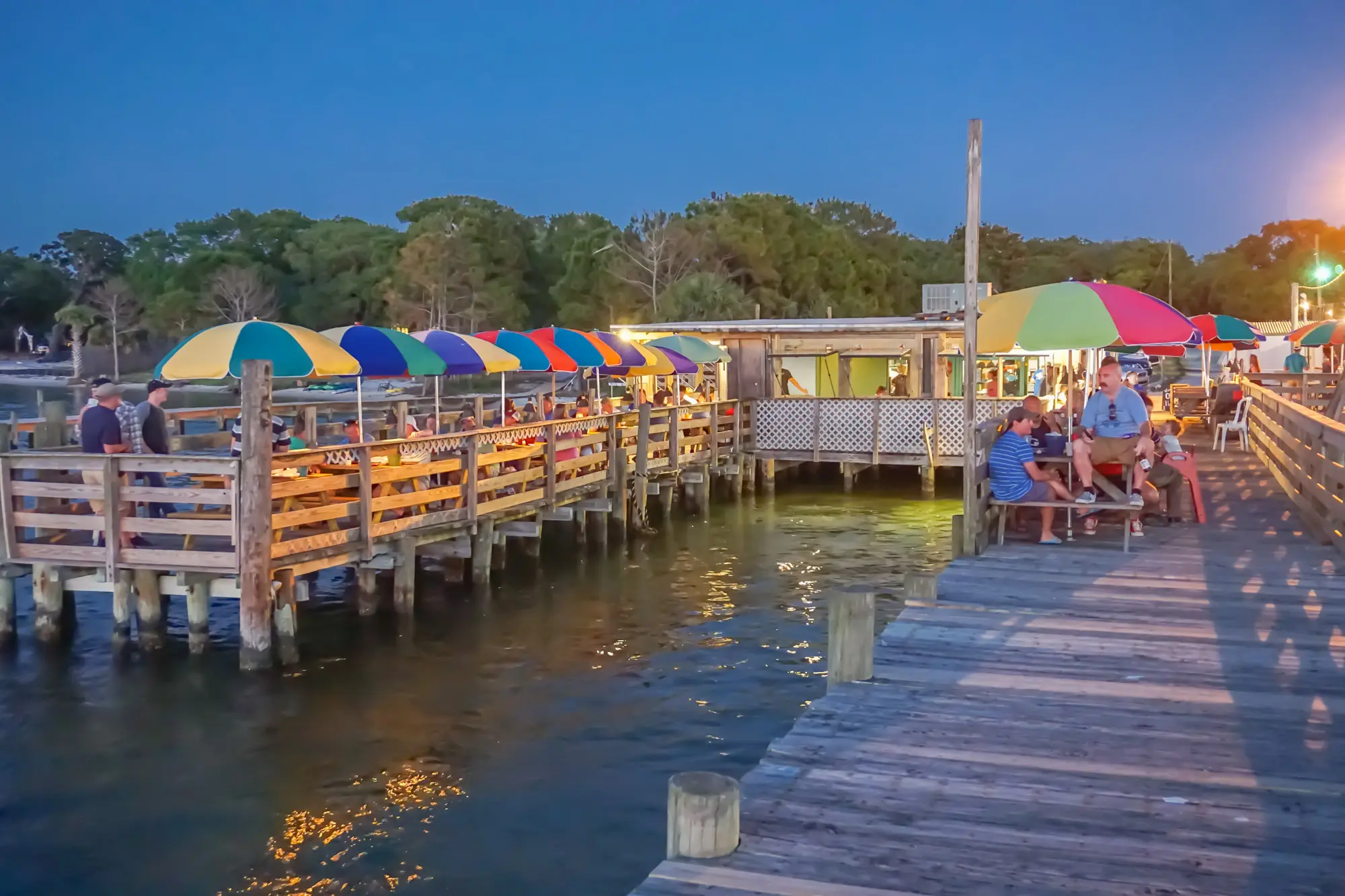 4. The Surf Hut
Transport your tastebuds south of the border at the Surf Hut, dishing up delicious Mex-inspired tacos, fajitas and margaritas in a funky beach-chic setting.
Pair an order of shrimp tacos with a refreshing watermelon margarita on their patio, and don't skip the tableside guacamole prepared right at your table. Play a game of Jenga to pass the time while waiting for your food. Vibrant decor like surfboards and buoys add to the laidback, festive vibe.
For a taste of Baja right in Destin, the Surf Hut hits the spot for Mexican with a coastal twist.
5. La Paz
For mouthwatering traditional Mexican cuisine made from scratch, savor the flavors at La Paz. Their salsa verde with freshly chopped cilantro packs a flavor punch, while fajitas sizzle spectacularly on cast iron plates brought right to your table.
La Paz also stuns with over 100 tequilas lining the walls behind the bar. Sip creative margaritas like their Prickly Pear, served with a chili-salted rim, as you soak in the festive ambience filled with the aroma of spices. An extensive selection of south-of-the-border wines also complements their authentic dishes.
The scratch-made food and impressive drink menu make La Paz an atmospheric choice for couples craving true Mexican fare.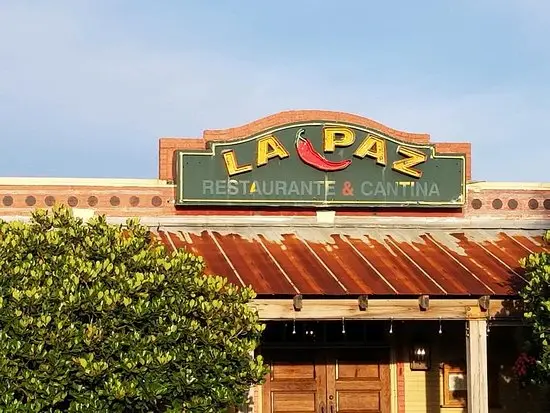 Hotels for a Romantic Couples Retreat
Destin has no shortage of places for couples to rest their heads, ranging from beachside budget motels to 5-star luxury resorts.
Residence Inn Sandestin
This peaceful Miramar Beach inn offers homey suites with full kitchens, perfect for couples who want a homebase to cook romantic dinners. Unwind in the hot tub and outdoor pool located steps from the beach entrance. Complimentary breakfast and Wi-Fi make it an outstanding value.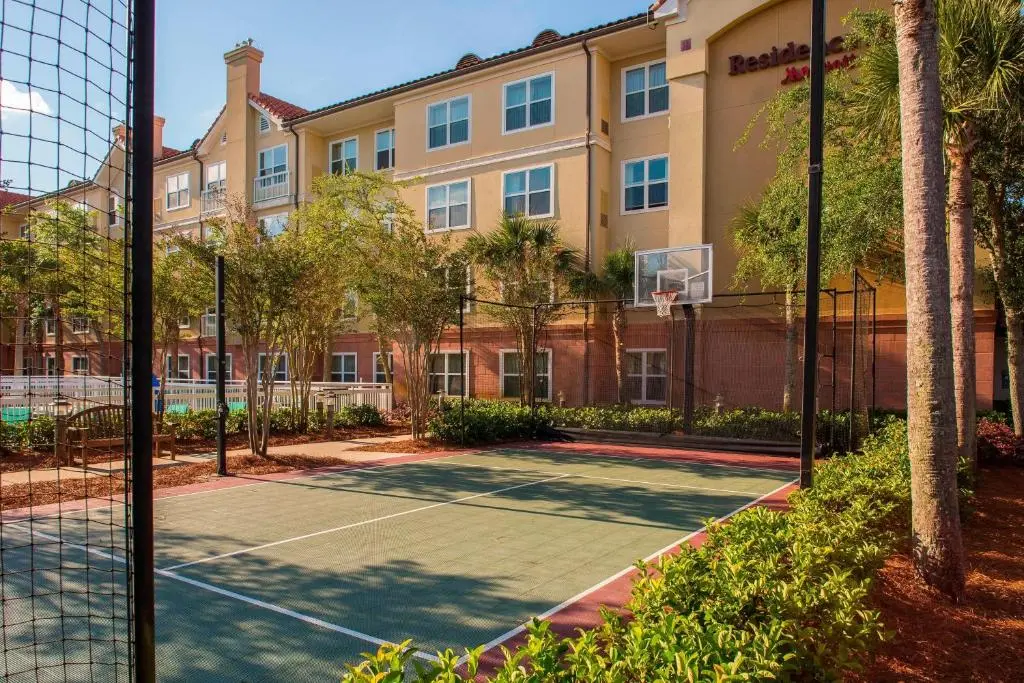 The Henderson Beach Resort
Treat yourselves to 5-star luxury at this pristine beachfront hotel. Retreat to beautifully appointed rooms with huge soaking tubs and private balconies overlooking the Gulf. Enjoy their spa, fitness center, infinity pool, and rooftop bar.
Holiday Inn Express
Save money without sacrificing waterfront views and amenities at the Holiday Inn Express. Guests compliment the continental breakfast and mini golf course. Standard rooms work well for couples on a budget.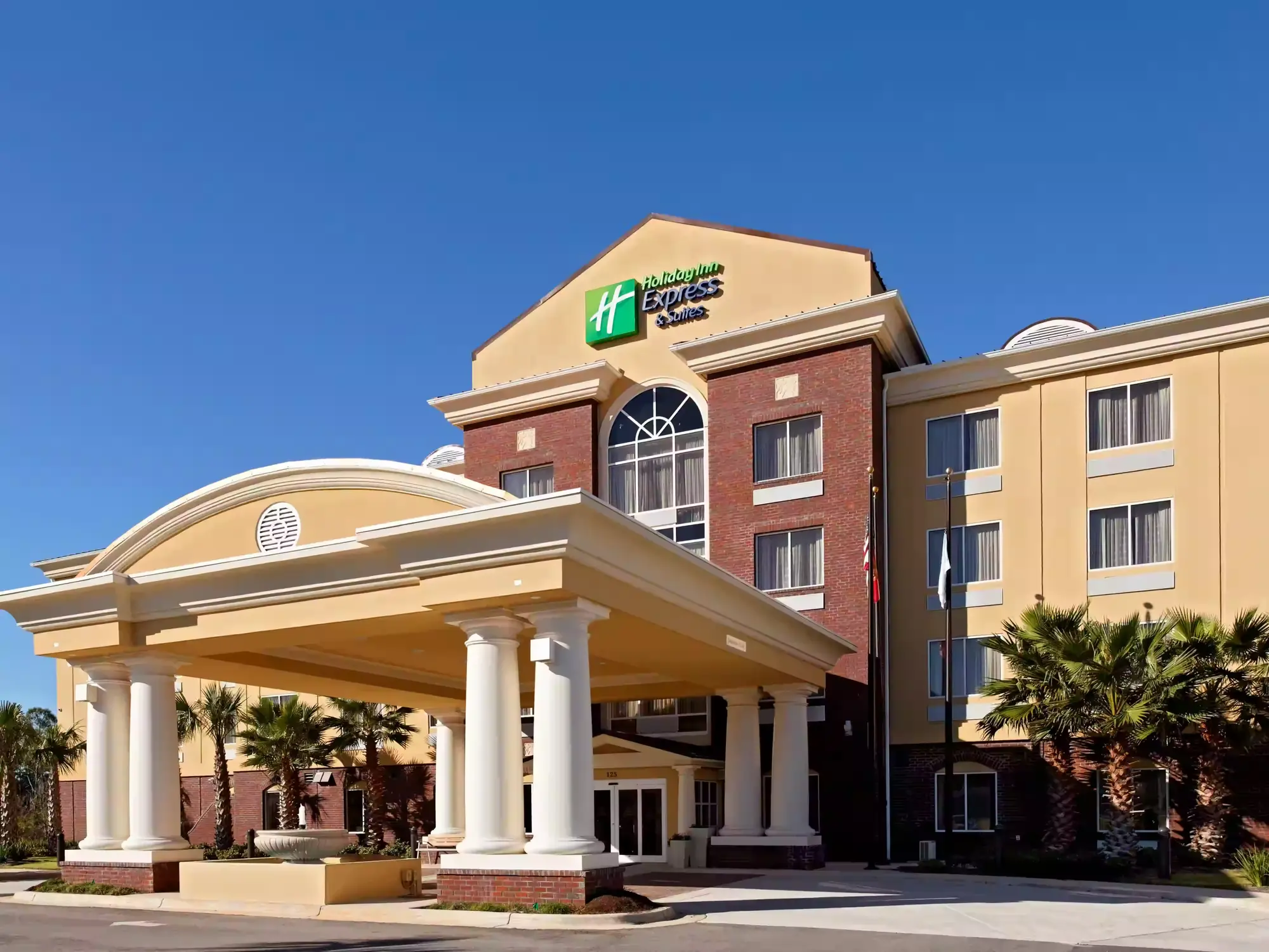 Village of Baytowne Wharf
For the full resort experience, book a 1-2 bedroom condo at the Village of Baytowne Wharf. These spacious villas include access to a pool complex and shuttles to the beaches and on-site restaurants.
Motel 6 Destin
This affordable motel lies only 2 blocks from the beach. All rooms feature mini-fridges and microwaves so you can keep snacks on hand. Outdoor picnic tables make an inexpensive place for dining or playing card games.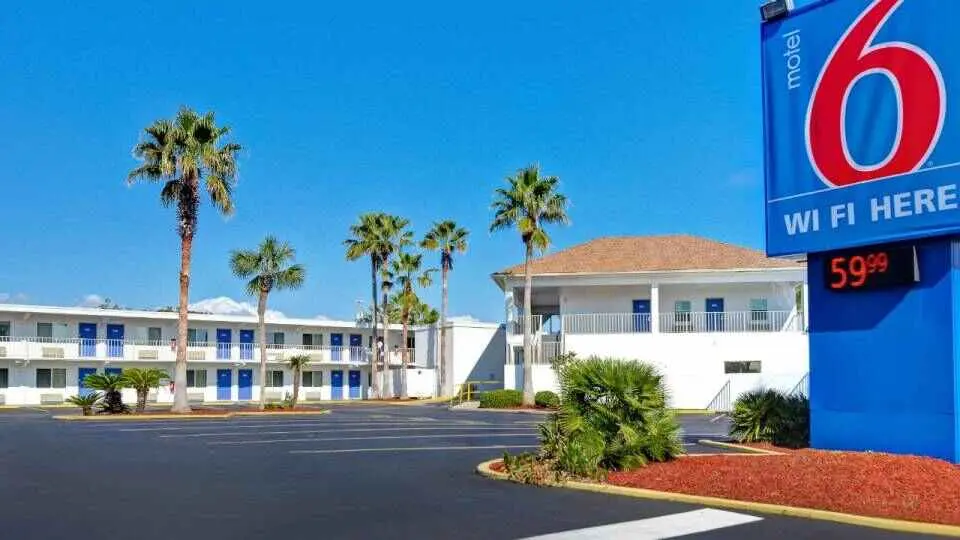 More Unique Local Finds
Beyond the major attractions, these local gems offer memorable experiences you won't find anywhere else:
Shrimp Boat Tour
For a unique perspective of Destin Harbor, step aboard the , a retired shrimp boat turned floating museum. This one-of-a-kind tour provides a window into the region's maritime heritage.
Glide through the harbor as captains explain the intricacies of commercial shrimping. See firsthand the large nets and specialized equipment used to trawl for shrimp in the Gulf's fertile waters. Learn how this industry has sustained coastal towns for generations.
Time your tour at sunset for magnificent views of the skyline silhouetted by the setting sun. Watch pelicans dive for fish in the soft glow of dusk. This intimate sunset cruise offers a peaceful ambience sure to bring you and your partner closer.
By the end, you'll have gained appreciation for an oft-overlooked industry vital to Destin's local culture, and formed poignant memories to cherish.
Farmer's Market
For a casual morning or afternoon activity, visit the weekly farmer's market held every Sunday at Destin Commons. Meander through booths filled with in-season produce from local farms across the Florida panhandle.
Select juicy tangerines, vine-ripened tomatoes, and leafy greens together while supporting small growers. Sample artisanal cheeses, fresh-baked breads, and local honey. Sip cups of coffee or chilled cider while listening to live acoustic music.
The cheerful community atmosphere also makes the farmer's market a great place for people-watching. For an inexpensive and entertaining couple's outing any time of year, you can't go wrong with the Destin Commons farmer's market.
Indian Temple Cultural Center
An unexpected spiritual oasis awaits at the Indian Temple Cultural Center, nestled among condos in the heart of Destin. Walk hand-in-hand through the intricately carved temple and observe Hindu symbols and deities. Learn about the traditional rituals and ceremonies still practiced today.
Admire the collection of tapestries, paintings and artifacts imported straight from India. Their bright patterns and colors vibrantly reflect the culture. Later, picnic peacefully together under the serene gazebo set amidst tranquil gardens and fountains.
Let the temple transport you on a mini-vacation to the exotic subcontinent without leaving Destin. The serene atmosphere also makes it the perfect place to pause for meditation or a shared yoga session to center your mind and strengthen your connection.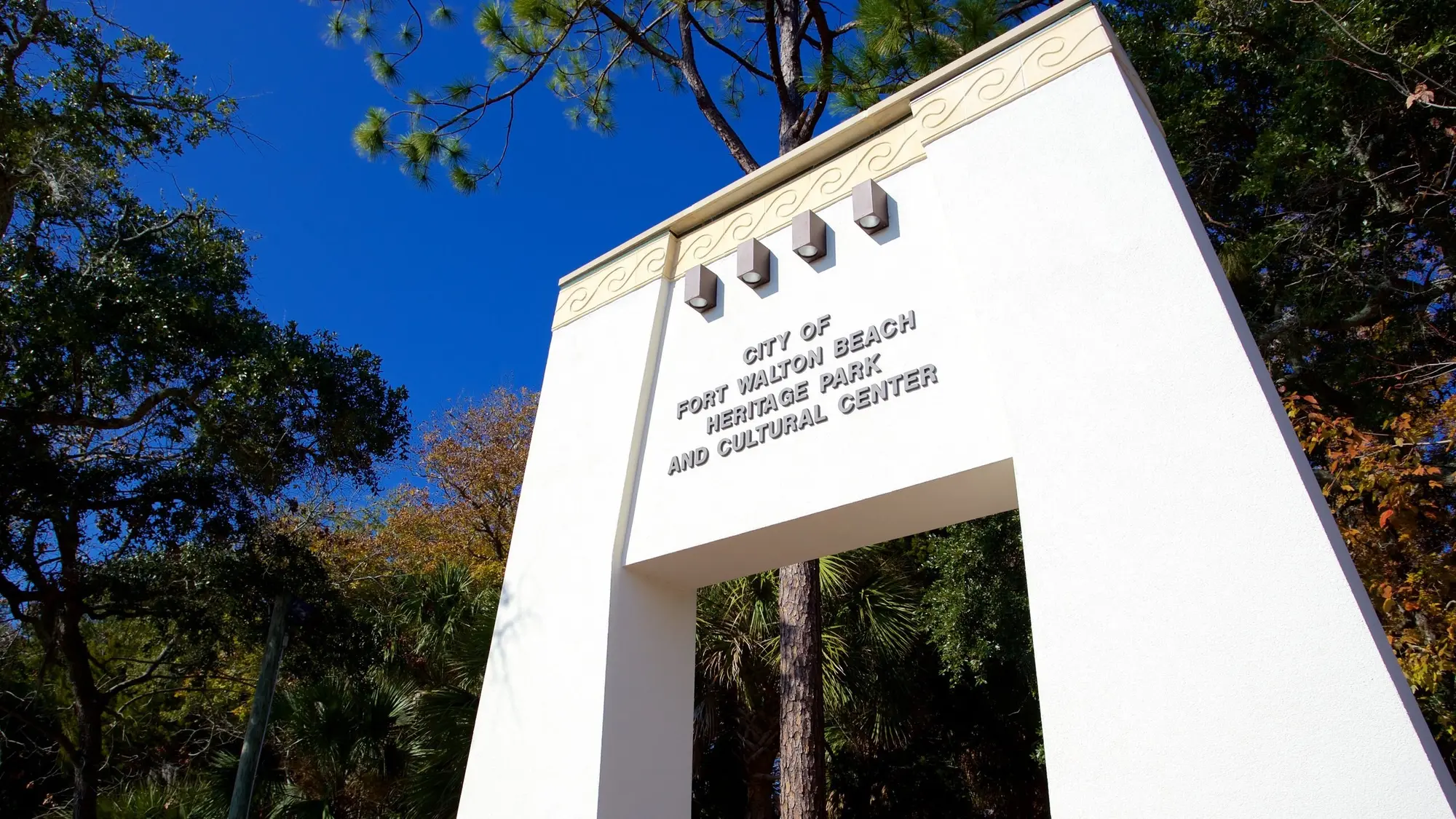 Final Thoughts
From beach picnics to catamaran sunset cruises, rock climbing adventures to romantic dinners, Destin offers an abundance of memorable activities tailored for couples' interests. The area's pristine white sand beaches, crystal blue waters, and mild winters provide the ideal backdrop for a rejuvenating winter escape.
Use this guide to spark ideas for crafting unforgettable shared experiences while exploring the abundant offerings of the "World's Luckiest Fishing Village." Linger over a locally-sourced seafood dinner at a harborfront restaurant or sway together to live music at a beachfront venue. Adventure-seeking couples can get their adrenaline pumping with parasailing rides and climbing gyms boasting stunning aerial views. More relaxed pairs might opt for indulgent massages and long strolls down picture-perfect beaches.
Whatever you choose, Destin's natural beauty, rich history, abundance of attractions, and outstanding dining guarantee couples will depart with treasured memories and cameras full of breathtaking photos capturing each memorable moment.
When you're ready to trade the stresses of daily life for rest and romance, Destin is ready to welcome you with open arms. Its beaches impart a sense of tranquility, while lively entertainment promises excitement after dark. Return home feeling closer and more connected than ever.
With endless opportunities to create magic – from sun-drenched mornings spent kayaking pristine bayous, to evenings laughing over cocktails as the sunset ignites the harbor in dazzling hues – Destin is guaranteed to provide a winter getaway you'll reminisce fondly about for decades to come. Just be prepared to begin planning your next visit before you've even left