Things to Do in Fort Dodge, IA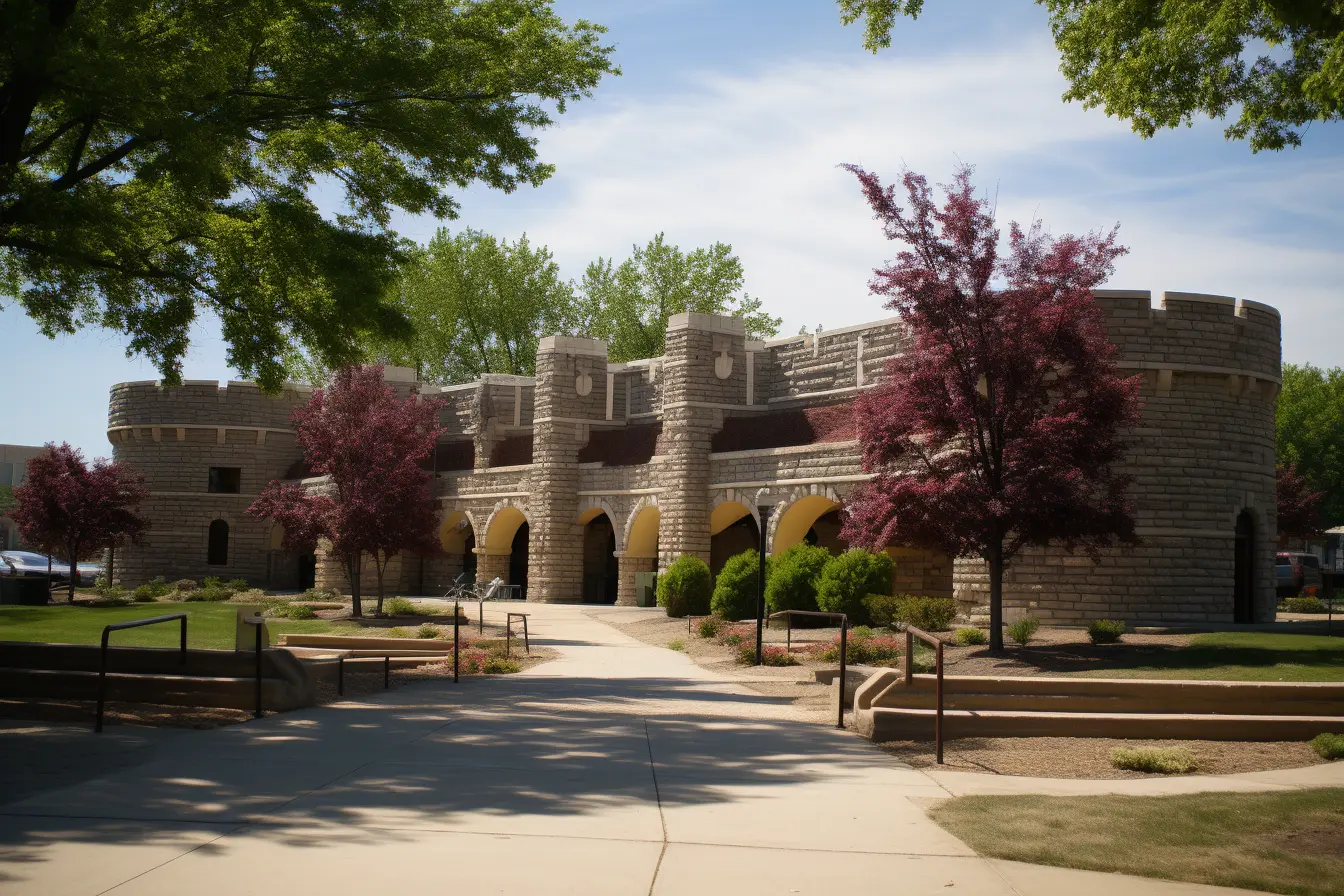 Fort Dodge is a vibrant city in Northwest Iowa offering visitors a wide array of attractions and activities. From exploring historic downtown and its architectural treasures, to immersing in the performing arts, enjoying the outdoors, and indulging in delicious cuisine, there are endless ways to experience Fort Dodge. This exhaustive guide covers some of the most interesting and memorable things to do in Fort Dodge to make the most out of your time in this charming city.
Historic Downtown Fort Dodge
Downtown Fort Dodge serves as a window into the city's long and storied past. Walking its streets you'll discover a charming mix of late 19th and early 20th century storefronts, government buildings, and other landmarks interspersed with contemporary establishments. Don't miss these top attractions in historic downtown Fort Dodge.
Blanden Memorial Art Museum
Located in the former mansion of Charles Blanden, Fort Dodge's leading early 20th century businessman, the Blanden Memorial Art Museum first opened its galleries to the public in 1932. As the community's first fine arts institution, it established a reputation for quality exhibitions that continues today.
Inside the preserved home, the permanent collection comprises over 3,300 pieces spanning centuries and genres. 15th century religious paintings from Europe share space with 19th century portraits and 20th century abstracts. American landscapes, modern sculpture, fine art photography, ceramics, and other mediums fill additional galleries. Pieces rotate frequently, making repeat visits a fresh experience.
Traveling exhibitions visit too, allowing locals to appreciate masters like Rembrandt up close. Recent shows focused on Ansel Adams photography, Renaissance prints, and Native American art. A gift shop features regional artists. And an interactive children's gallery engages young minds.
While admiring this diverse art, don't overlook the mansion itself as a work of art. Craftsman details like leaded glass windows and intricately carved woodwork frame the galleries. Schedule an architecture tour to learn more about Charles Blanden and significance of his home. The Underground Railroad history proves especially fascinating.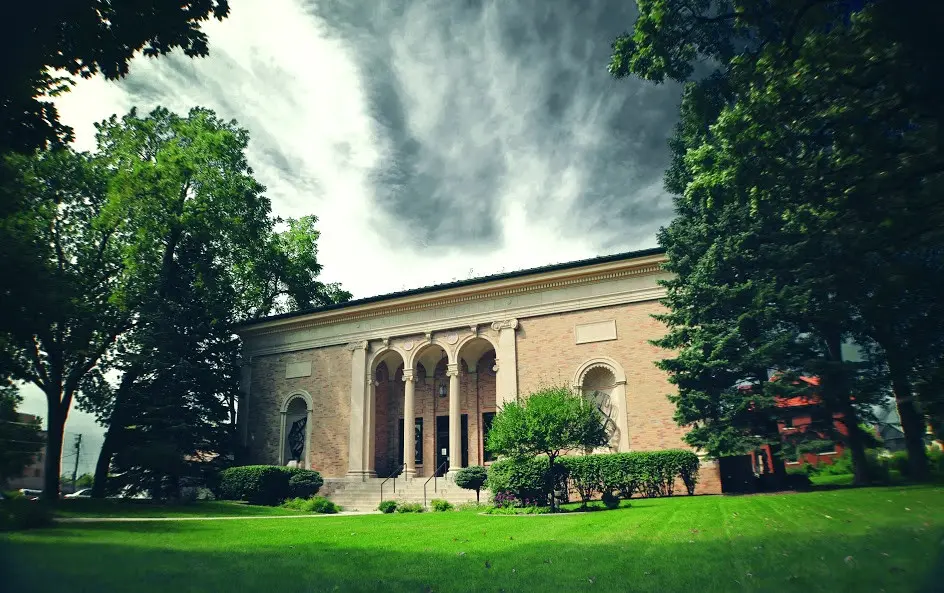 Fort Museum and Frontier Village
Immerse in 1860s prairie settlement life at the Fort Museum and Frontier Village located on the grounds of the original Fort Dodge military outpost. Built along the Des Moines River in 1850, the fort provided protection for area settlers but was decommissioned by 1853. The town of Fort Dodge grew around it.
The Fort Museum resides in the fort's last remaining commissary building, now showcasing artifacts and exhibits profiling military and pioneer history. Authentic items like muskets, uniforms, flags, maps, household tools, and Native American weapons tell the story. Dioramas, diary excerpts, and early photos supplement in bringing the era to life. Talk with costumed interpreters demonstrating skills from blacksmithing to quilting.
Outside, the reconstructed Frontier Village features over a dozen buildings evocative of the earliest farms and commercial structures. Log cabins, barns, shops, schools, churches, and sod homes laid out along dirt lanes recreate a fledgling community circa 1860-1880. Self-guided tours allow close inspection along with appreciation for the ingenuity and hardships of pioneer life. Special events like Pioneer Days strengthen the experience via added music, games, food, and reenactments.
By exploring the Fort Museum and Frontier Village, understand Fort Dodge's roots as a riverfront military post that paved the way for settlement of the surrounding prairie lands. Touching exhibits and immersive living history environment effectively transports you back in time.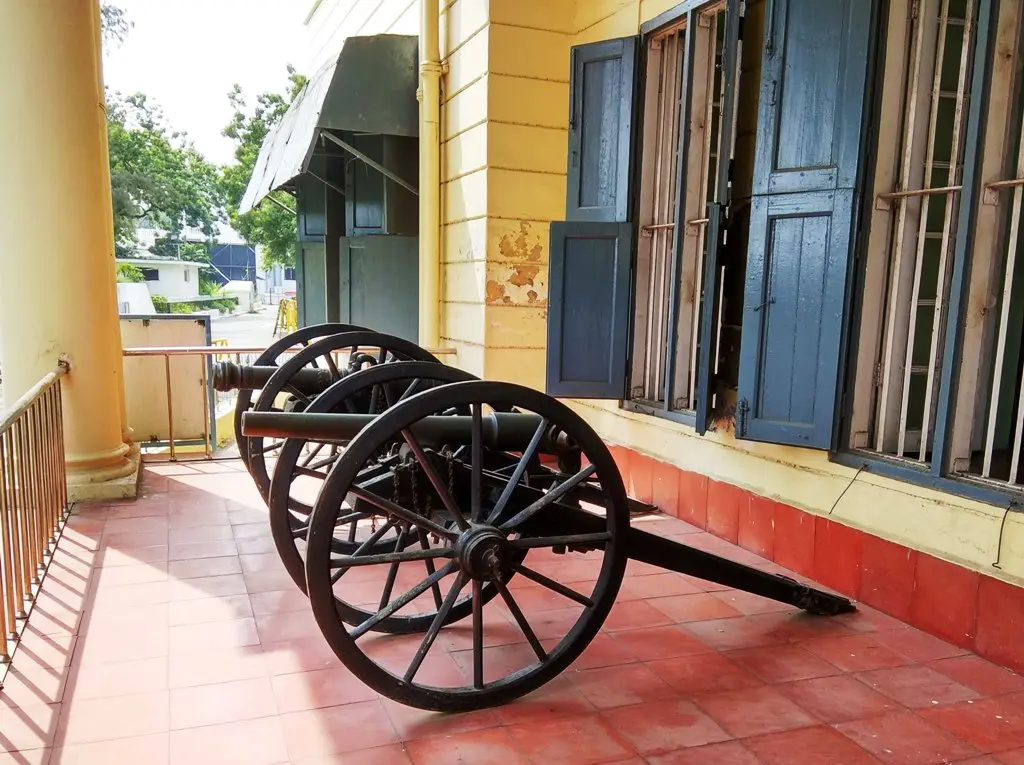 Warden Plaza
At the intersection of 1st Avenue and 1st Street lies downtown Fort Dodge's central public space, Warden Plaza. Dedicated in 1983, the plaza commemorates the legacy of William Warden whose entrepreneurial vision helped shape Fort Dodge into a thriving 19th century community.
Warden first arrived in Fort Dodge in 1878, capitalizing on the area's vast gypsum deposits by establishing a mine and plaster mill. He later facilitated railroad connections to transport the product across the country for commercial and agricultural uses. The industry drove rapid economic growth as gypsum mining boomed for decades. Downtown storefronts replaced Fort Dodge's original primitive dirt streets and wooden structures.
The prominent statue in Warden Plaza depicts Warden standing proudly with shovel and draft plans in hand. Visitors admire the bronze likeness while strolling through the lush floral gardens that flank the centerpiece fountain. Tree-shaded benches provide ample spots to relax and soak up the ambiance.
On summer weekdays, Warden Plaza also hosts free live music performances at the band shell gazebo during the noon hour. The Fort Dodge Farmer's Market sets up on Saturday mornings, offering visitors the chance to browse homegrown produce and homemade goods.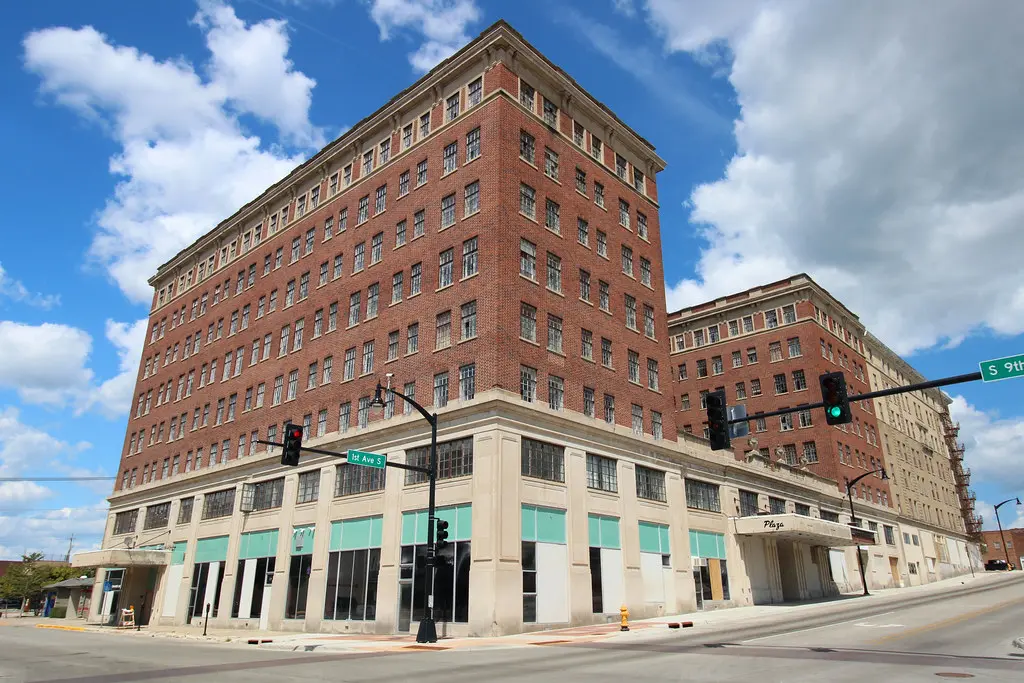 Webster County Courthouse
The Webster County Courthouse stands as Fort Dodge's most architecturally iconic historic structure. Constructed between 1908-1910, the imposing Neoclassical building was designed by the prominent Des Moines firm Wetherell & Gage.
Approaching the courthouse, limestone steps and towering ionic columns immediately evoke a sense of grandeur. The domed cupola crowns the edifice's symmetry. Inside, the rotunda contains 13 impressive murals portraying scenes from the region's early history. Doric columns, grand staircases, coffered ceilings, and marble accents complete the elegant Beaux Arts aesthetic.
Equally striking is the stained glass ceiling dome soaring above the central atrium. Crafted with an intricate wildflower motif, sunlight illuminates the vibrant colors into kaleidoscopic displays. Look closely to spot the native birds discreetly incorporated.
While admiring these ornate details, recognize that the courthouse still serves essential governmental purposes. Historic courtrooms retain original stateliness for modern proceedings. County offices facilitate local business. And the recorder's office maintains more than 150 years of area documents.
Step outside again to appreciate the overall imposing silhouette that continues to anchor the Fort Dodge skyline. Stroll the grounds to discover memorials honoring armed forces veterans before gazing up at this commanding architectural treasure.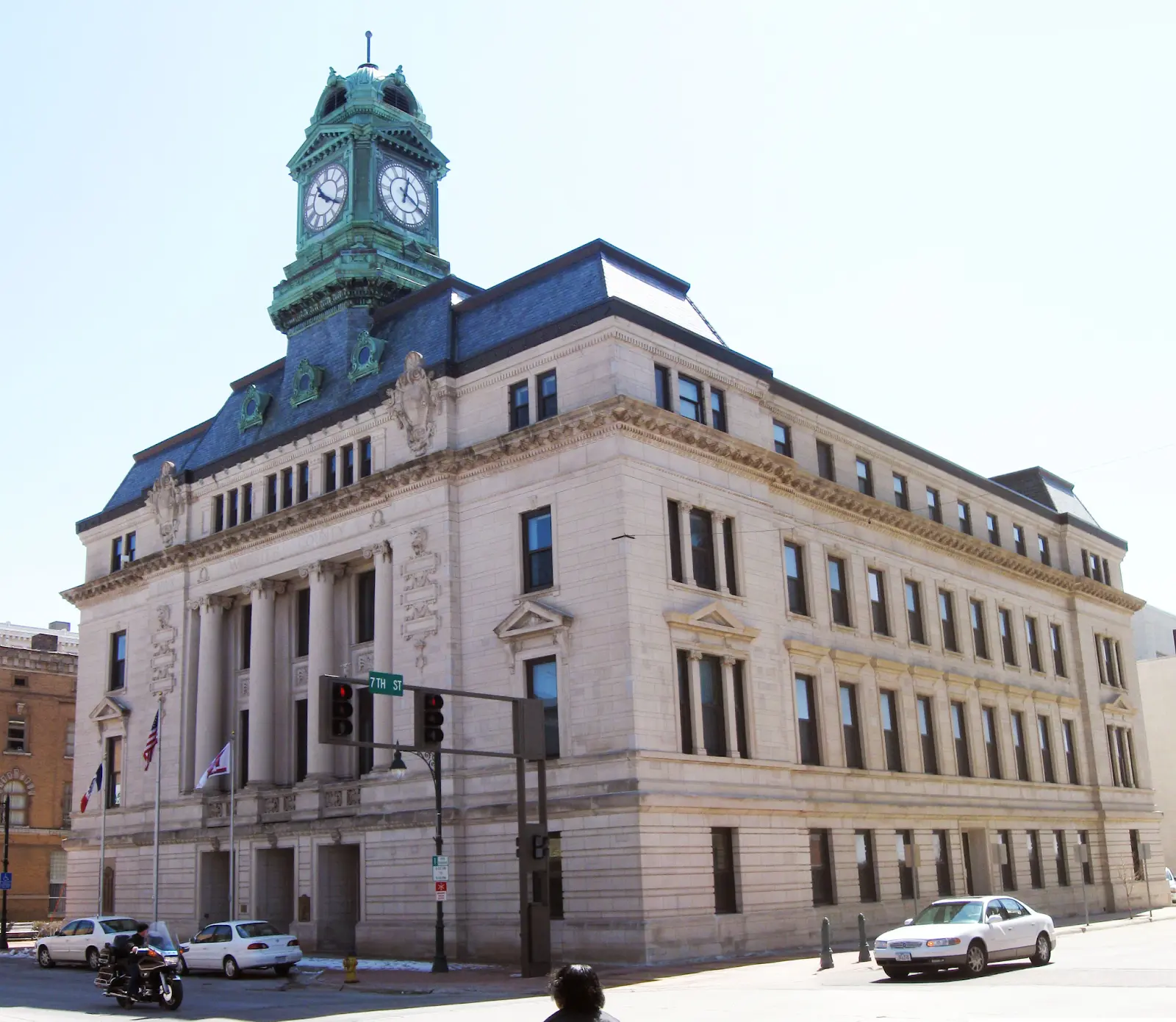 G.A.R. Memorial Hall
With its brilliantly gilded dome and distinctive round facade, G.A.R. Memorial Hall makes an eye-catching architectural statement along Fort Dodge's downtown corridor. Constructed in 1901, the building was specially commissioned by the Grand Army of the Republic organization as a clubhouse gathering space for Civil War veterans.
The unique circular footprint measures 160 feet across and originally contained a spacious auditorium, lounge, library, meeting rooms, and more. Receptions, lectures, concerts, and other events entertained the veteran members. Elaborate memorials decorated the interior walls to commemorate those who served.
Outside, the domed cupola gleams atop the light gray stone construction. Look closely to admire the detailed faces carved into the granite surfaces. And don't miss the prominent cannon stationed out front, honoring the fort's military heritage.
While renovations over the decades reconfigured the interior to accommodate retail stores, the dazzling exterior remains wholly preserved. Stroll around the building to admire the period architecture from all angles. Salute this distinguished civic structure and the veterans who brought its vision to reality.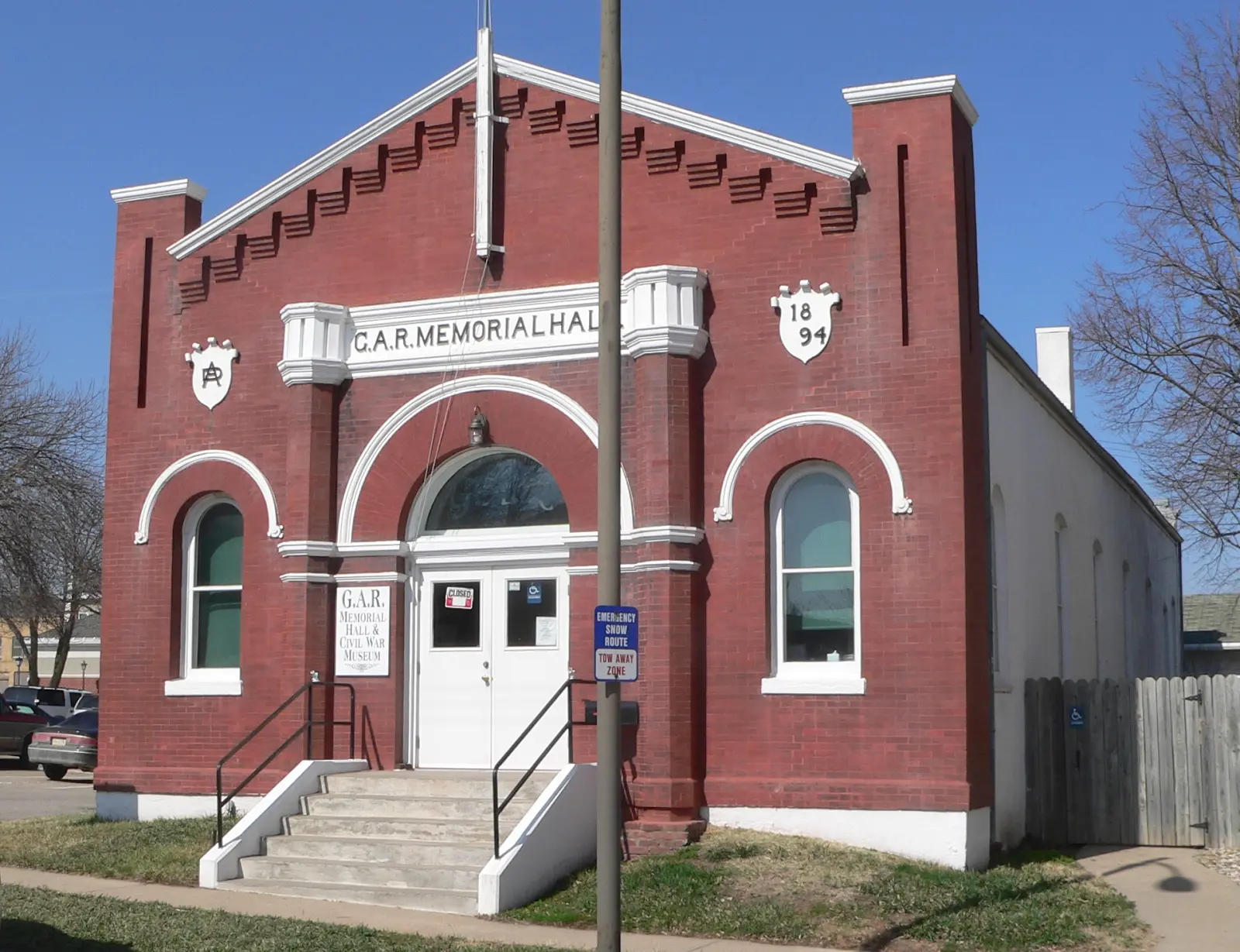 Phillips Music Hall
As the crown jewel venue of Fort Dodge's Phillips Music Building, Phillips Music Hall has hosted countless concerts, theatre productions, and civic events since first opening in 1914. With its Neoclassical grandeur and intricately ornamented interior, the auditorium continues making spirits soar today.
Current performers appreciate the same fine acoustics and aesthetics that debuted over a century ago. Looking up, elaborate plaster medallions and scrolled molding details frame the vaulted ceiling. Stained glass accents the balcony. An arched proscenium stage transports you back in time.
Though now part of Iowa Central Community College, tours allow anyone to glimpse the early 20th century opulence. Imagine exquisitely dressed theatergoers gathering here during the vaudeville era, their spirits lifted by the music and pageantry.
Phillips Music Hall represents the passion Fort Dodge's community leaders held for elevating citizens through arts and culture, a legacy that continues. Catch your own inspiring show here or simply stop by to admire an auditorium designed to stir the senses. Either way, recognize this remarkable historic venue.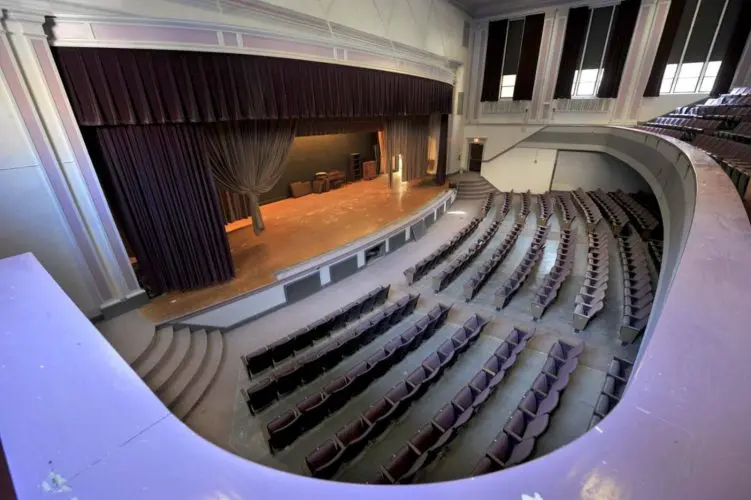 Museums
Beyond its history museums, Fort Dodge also contains several other specialized museums guaranteed to spark your curiosity. Learn about Iowa's geological wonders, pioneer toys, vintage bicycles, and an intriguing outlaw at these unique Fort Dodge museums.
Iowa Gypsum Museum
At the Iowa Gypsum Museum, discover the intriguing history of gypsum mining in Fort Dodge and how this abundant natural resource helped local industry thrive for over a century. From the geology of gypsum formation to pioneering entrepreneurs and manufacturing innovations, engaging exhibits profile all facets of this unique heritage.
Several displays illuminate the geologic processes that concentrated heavy gypsum deposits across this region over 10 million years ago as ancient sea beds evaporated. Hands-on activities like testing gypsum's solubility in water help explain the science.
Learn how 19th century settlers first discovered these massive gypsum beds near the river. But it was William Warden whose Gypsum Valley Mining Company capitalized on the reserves starting in 1878. As an entrepreneur, Warden quickly realized the mineral's commercial potential for agricultural and construction uses once manufactured into usable plaster.
See the actual mine shaft elevator cab that transported workers deep underground for extraction. Vintage photographs show miners in narrow tunnels with pickaxes and dynamite rounding out the hazardous working conditions.
Don't miss the detailed diorama illustrating how gypsum was processed into marketable plaster at Warden's mill. Exhibits also follow how rail transportation allowed the product to spread nationwide, even used in ornate interior plasterwork in homes as far as California.
By 1910, Fort Dodge was dubbed the "Gypsum Capital of the World." Though no longer active today, the mines left an indelible mark on the landscape and community. The Iowa Gypsum Museum documents this forgotten time when local white gold built an industry.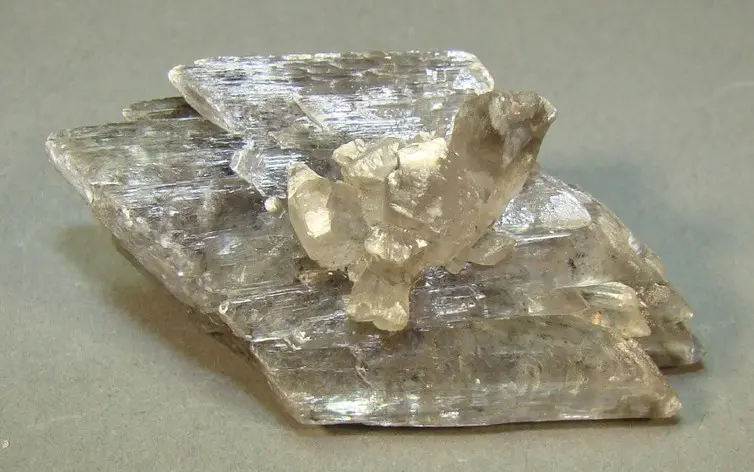 Butterfly House & Aquarium
At the Butterfly House & Aquarium, observe the dazzling beauty of exotic butterflies up-close then dive below to explore aquatic life, all under one roof. This enriching attraction illuminates the diversity of fragile ecosystems near and far.
Enter the tropical enclosure mimicking a rainforest habitat. Hundreds of native butterflies from across the globe flutter gently through the heated, humid air. Varieties like Blue Morphos and Scarlet Swallowtails from South America share the space with species from Africa, Asia, and beyond. Watch them sip nectar from flowering plants.
Downstairs, the aquarium exhibits reptiles like chameleons, turtles, snakes, and lizards. Glimpse birds and jungle cats through windows into their habitats. Various fish tanks showcase river species, sharks, piranhas, and other unique aquatic life. An octopus and alligator call the aquarium home too.
Interactive stations let kids handle shells and skulls. Movies teach about endangered habitats and conservation efforts worldwide. The gift shop reinforces eco-friendly values.
Gain a new appreciation for the interconnectivity of ecosystems big and small at the Butterfly House & Aquarium. Let your curiosity take flight then dive below the surface for more adventure.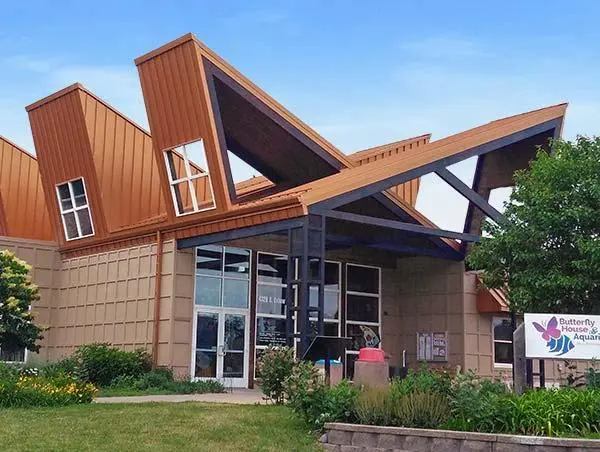 Fort Frenzy
Take a nostalgic walk through childhoods past at Fort Frenzy museum, showcasing antique toys that provided hours of amusement for pioneer children and 20th century families alike. Peruse extensive life-size displays artfully arranged into playful scenes.
Enter a recreated 1900s classroom where dolls sit attentively in tiny desks. Toy trucks populate a garage scene straight from the 50s. Teddy bears picnic in the park while toy soldiers stand guard. Vintage board games, building sets, tea pots, Cookie jars, and more capture period youth culture.
An exquisite dollhouse collection exhibits miniature furnishings handcrafted to scale. Intricate train sets wind through imaginative landscapes. Early stuffed animals, tin toys, and cast iron mechanical banks stand frozen in play. See how many familiar toys you recognize.
Fort Frenzy celebrates American childhood before electronics took over. For parents and kids, it sparks a valuable dialogue about simpler times when creativity and imagination were the best playthings. Step back through the decades to encounter enduring classics sure to make anyone feel young at heart.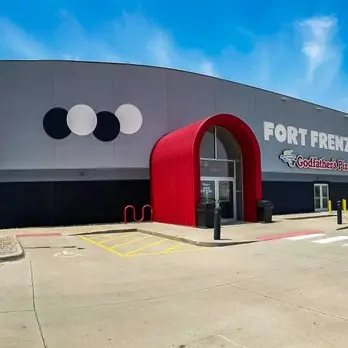 Jesse James Home
This modest clapboard house in downtown Fort Dodge might look ordinary from the exterior, however inside discover the intriguing history of its notorious former resident - legendary outlaw Jesse James. Restored with period furnishings, the home provides intimate perspective into James' secretive years in Iowa during the 1870s, assuming the alias Robert Howard to evade authorities.
See the parlor, dining room, and bedrooms where James attempted living a settled life while lying low. Exhibits chronicle his rise to fame starting as a Confederate guerrilla before graduating to notorious bank and train robberies across the Midwest and South. Crimes often committed with his gang, the James brothers were hailed as folk heroes.
Artifacts like original letters penned by James along with photographs and newspaper accounts depict the outlaw's daily realities versus his larger-than-life legend. Young Jesse's schoolbook is especially poignant, reminding that he hoped for a simple farming life before fate intervened.
While James was ultimately shot dead in 1882, the intrigue surrounding his concealed time in Fort Dodge endures at his former home. Peek inside the mind of a complex outlaw who dreamed of domesticity yet was drawn to adventure's call.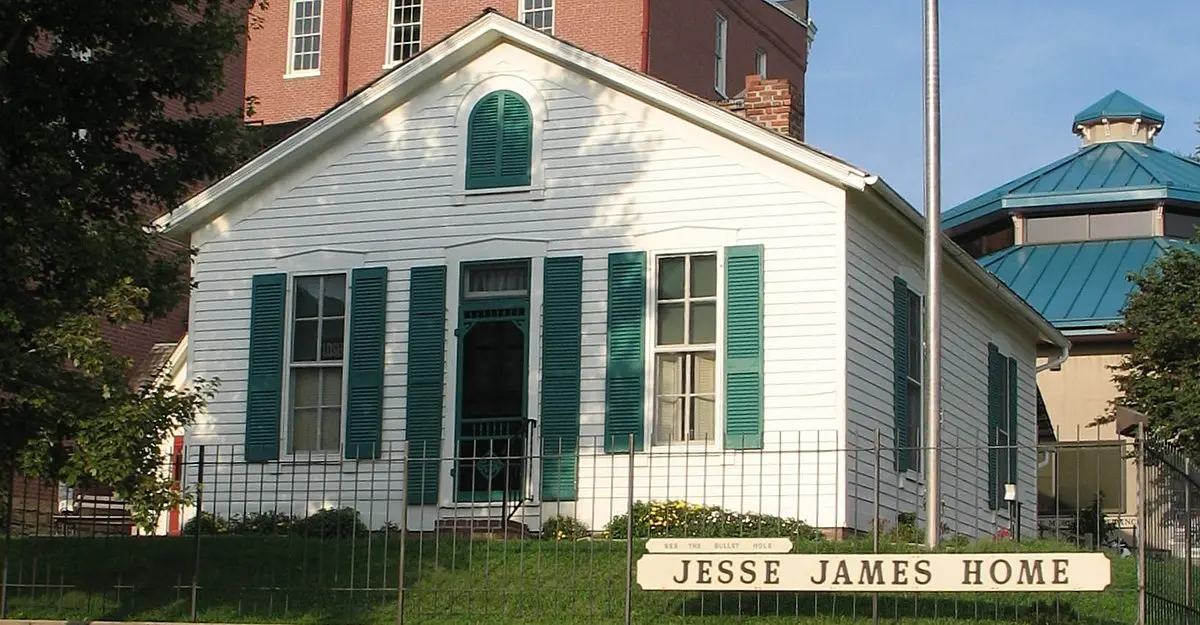 Outdoor Recreation
Fort Dodge abounds with parks and recreational areas offering plenty of ways to savor the great outdoors. From hiking and biking trails to boating and more, here are top spots for outdoor activities in Fort Dodge.
Brushy Creek Recreation Area
Encompassing over 1,300 acres just north of Fort Dodge, Brushy Creek Recreation Area provides endless outdoor recreation amidst prairie and woodland scenery. Hikers, mountain bikers, boaters, anglers, and winter sports enthusiasts flock here to embrace nature's beauty.
Miles of trails traverse the landscape, from easy jaunts across open meadows to challenging mountain bike paths traversing steep ravines alongside Brushy Creek. Hike or ride through oak savannas, pristine prairie remnants, and lush woods where wildflowers bloom in spring. Keep eyes peeled for wildlife like deer, foxes, and colorful birds.
Brushy Creek Lake offers boating, fishing for stocked walleye and wipers, and picturesque vistas from overlooks atop limestone bluffs. Cabins and campgrounds welcome overnight guests. Disc golf, archery ranges, and picnic spots round out the family-friendly amenities.
When winter arrives, bundle up for pursuits like ice fishing on the lake, cross-country skiing across rolling terrain, and snowshoeing through the peaceful snow-covered forest.
With an extensive network of trails plus water and winter recreation, Brushy Creek Recreation Area promises year-round adventure just minutes from downtown. Discover Iowa's natural treasures out here.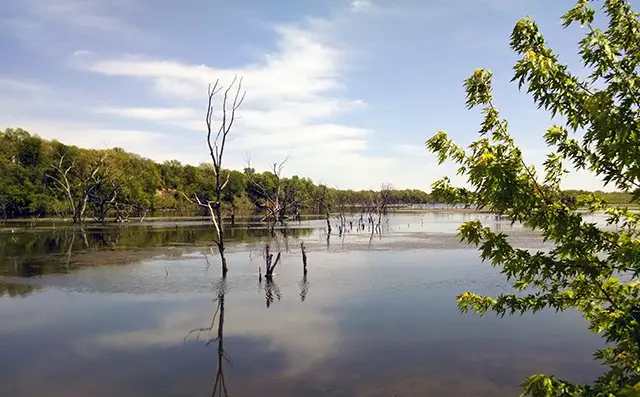 Oleson Park
Spanning 140 acres in southeast Fort Dodge, Oleson Park spoils outdoor enthusiasts with its wealth of family-friendly recreation options from sports fields to trails, playgrounds, and waterways. Spend an afternoon or full day enjoying the fresh air and scenic beauty.
Kids revel on playgrounds and the skate park while volleyball and tennis players take to the courts. Hiking and biking trails encircle the large pond, where you may glimpse ducks, geese, and other waterfowl. Cast a fishing line for bullhead, bass, and bluegill. Don't miss traversing the challenging 18-hole disc golf course traversing the woods.
With picnic shelters, gardens, and open green space surrounding the recreational facilities, Oleson Park provides an ideal gathering spot. Lace up your sneakers and explore everything this convenient neighborhood gem offers just minutes from downtown.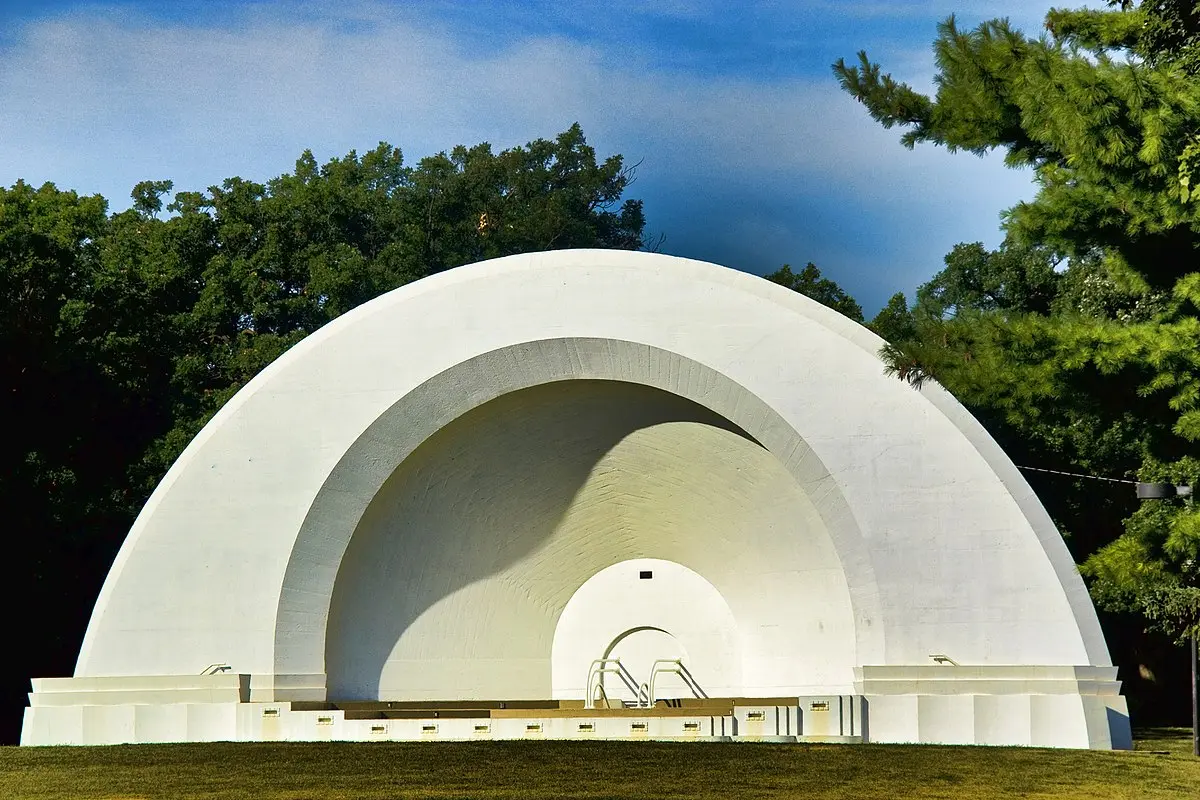 Riverbend Ridge Golf Course
Boasting panoramic Des Moines River views, Riverbend Ridge Golf Course is considered one of Iowa's most scenic places to play 18 holes. Both novice and seasoned golfers appreciate the picturesque setting and challenging championship course design.
Elevation changes add drama as the course dips into wooded ravines then climbs hilltops exposing sweeping vistas. Mature oaks, maples, and evergreens line the fairways, erupting in colorful autumn hues. Strategically placed bunkers and water hazards demand concentration.
Book a tee time on this public course to test your skills amidst serene nature. PGA instructors also offer lessons, camps, and clinics for all ages and abilities on the driving range and practice greens. Enjoy casual fairway fare at the Lodge Restaurant.
For an unforgettable round with riverfront views, make Riverbend Ridge Golf Course your scenic destination. The natural beauty complements the meticulously maintained greens and fairways.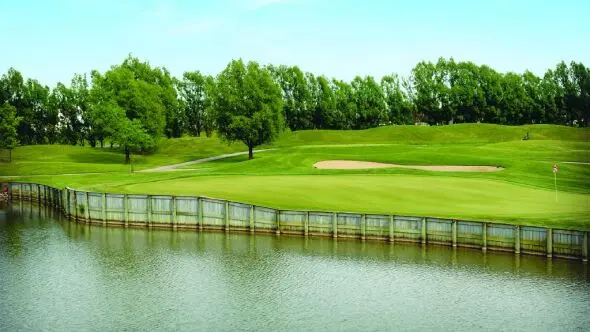 Reiff Park & Disc Golf Course
Tucked into northwest Fort Dodge, Reiff Park provides 60 acres of recreation including woodland hiking trails, ballfields, playgrounds, and picnic shelters ideal for gatherings. But the park's pièce de résistance is its curving 18-hole disc golf course navigating wooded hills.
Specifically designed for disc golf, reused mine pits form natural obstacles between basket holes spaced across the landscape. The terrain's constant elevation changes add exciting play challenge. Sharpen your tossing skills while surrounded by the peace of nature.
Bring your own discs or rent from the park office. Well-marked tee pads and signage make navigating easy for beginners. But more advanced players will embrace technical shots threading through mature hardwood forests and open field Mandos.
Just blocks from downtown, Reiff Park offers outdoor fun and disc golf adventure for all ages. Come play a round or two on this scenic course.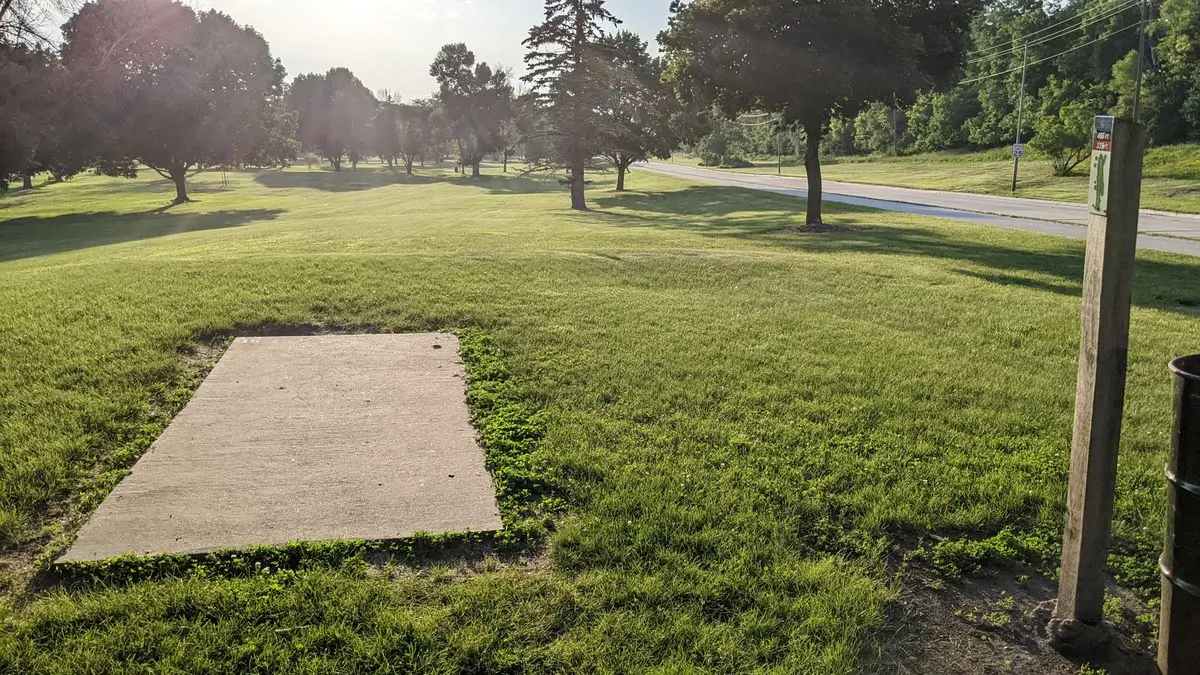 Coal Mine Park Mountain Bike Trail
Just north of Fort Dodge, Coal Mine Park provides dedicated off-road mountain bike trails spanning nearly 5 miles of reforested former mine land. The hand-built single-track trail system masterfully balances exhilarating speed and technical riding skills.
Fast straightaways quickly yield to tight S-turns winding down the pit walls. Rock gardens and steep drops add manageable thrills. The constant lead changes and uphill climbs ensure a good cardio workout too. But opportunities to regain breath exist riding through more level, shady stretches rich with woodland wildflowers in season.
Built and maintained by volunteer members of Hawkeye Area Mountain Bike Association, these trails offer a legit off-road riding experience for intermediate and advanced cyclists. Allow a few hours to complete the entire loop and its challenging features. Reconnect with your adrenaline amidst the peaceful woods.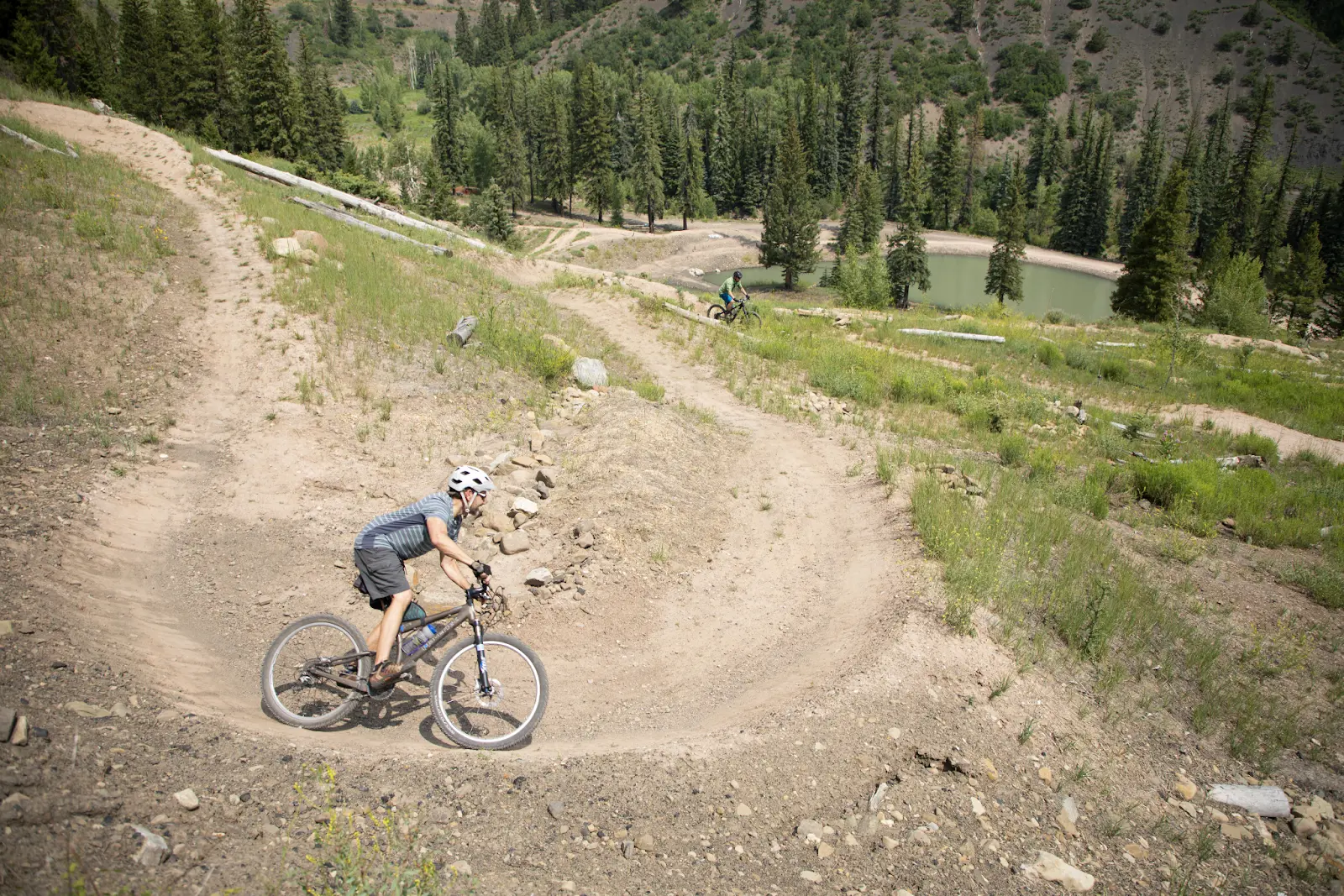 Performing Arts
Fort Dodge is home to several acclaimed performing arts venues, from gorgeous restored theaters to modern college stages. Catch a concert, play, dance performance or more at the following premiere Fort Dodge performing arts centers.
Fort Dodge Community Theatre
Housed in a vintage 1925 vaudeville theater downtown, the Fort Dodge Community Theatre stages an incredible lineup of live productions throughout the year. Expect a blend of family-friendly musicals, thought-provoking dramas, riotous comedies, and more performed by talented local actors. Support the arts while enjoying an evening of stirring entertainment at this historic venue.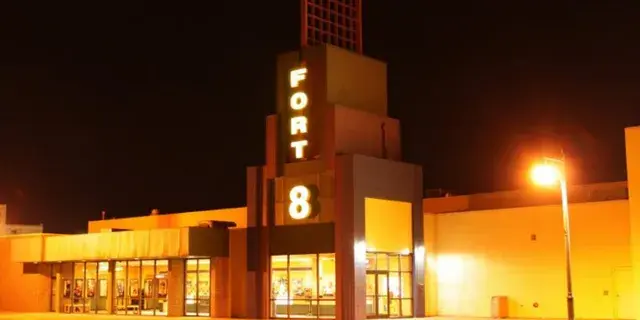 Iowa Central Community College Performing Arts Center
The Iowa Central Community College Performing Arts Center provides a sleek modern venue for the college's performing arts programming along with professional touring shows. The 750-seat proscenium stage has state-of-the-art features like an orchestra pit and high-tech lighting and sound. Catch student musicals, plays, dance performances, and more in an inspiring setting.
Edgewood Golf Event Center
Edgewood Golf utilizes their event venue to host concerts and performances during the non-golfing months. Past shows have included live bands spanning rock, country, blues, and folk genres. Comedy shows are also popular. The space features a full bar and restaurant to complement your evening out.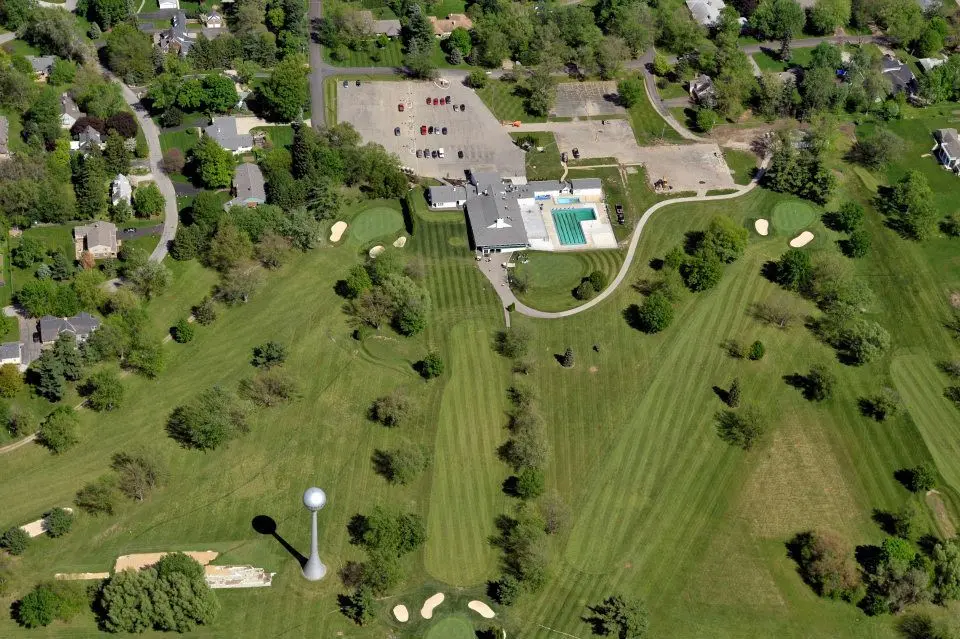 Annual Events & Festivals
Throughout the year, Fort Dodge hosts several spirited community events attracting both locals and visitors. These annual happenings celebrate holidays, cultural heritage, performing arts, and more.
St. Edmond Festival
Each June, Fort Dodge honors the city's deep Irish Catholic roots during the lively weekend-long St. Edmond Festival. Along with celebrating heritage through music, food, and dance, the event fosters community pride and ethnic traditions.
Named for medieval Irish saint Edmond of Limerick, festivities open with a Friday evening ceremony at St. Edmond Catholic Church followed by a talent show. Saturday kicks off with a singing pub crawl interweaving classic Irish ballads.
The lively parade traverses downtown Saturday afternoon with pipe & drum corps, decorated floats, Irish dancers in ornate costumes, and waving local dignitaries. Resemble the Irish flag wearing green, white, and orange.
In the church parking lot, find emerald-colored beer, steaming corned beef sandwiches, shepherd's pie, and other fare. Peruse cultural exhibits and merchandise imported from Ireland. Irish dance academies perform high-energy choreographed routines on stage.
The festival culminates Sunday with mass celebrating St. Edmond. Through prayer and pageantry, the patron saint is honored for his righteousness and devotion.
By joining Fort Dodge's annual St. Edmond Festival, discover Irish customs and take pride in cultural roots passed down through generations of immigrants who built this community. All are welcome.
Fourth of July Celebration
Each Independence Day, Fort Dodge hosts an extraordinary community celebration at Oleson Park with live bands, family activities, food vendors, and awe-inspiring fireworks. Locals and visitors come together under summer skies for old-fashioned 4th of July fun.
The packed schedule kicks off at noon with carnival rides, bouncy houses, face painting, water balloon tosses, eating contests, and other games lined along the midway. Tents sell classic fare like lemonade, hot dogs, and ice cream. Enjoy barbeque taste-testing too.
In the evening, claim your spot on the great lawn for the free live music concert under the bandshell. Before the headlining act, the municipal band performance marches through patriotic tunes.
At dusk, find perfect viewing places along the pond and gaze westward expectantly. At the spectacular fireworks finale launching over the river, cheers and applause erupt in celebration of America's independence and Fort Dodge community pride.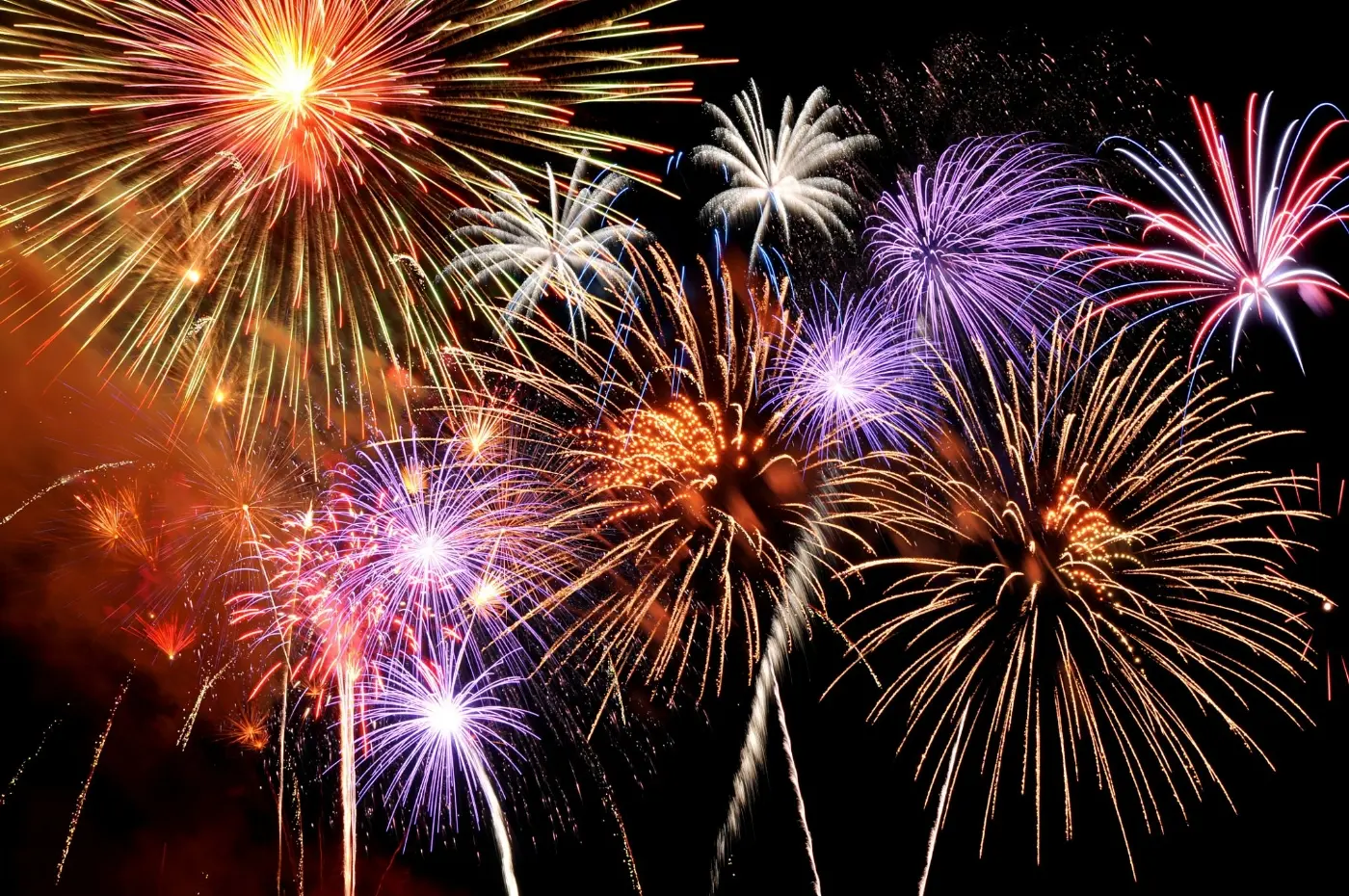 Gypsum City Outhouse Races
Part of Fort Dodge's annual Gypsum Festival, the wacky Gypsum City Outhouse Races never fail to offer family-friendly fun and lots of laughs. Teams deck out outhouse structures on wheels for speed and style before racing through downtown streets cheered on by the community.
Months before the big October event, builders brainstorm themes and begin assembling their boxed creations modeled after old-fashioned two-seater privies. Setup must follow strict rules, but decor elaboration is encouraged. Outhouses morph into rockets, pirates ships, cakes, taxis and more.
On race day, the handmadevehicles line up beside colorfully costumed team members. At the start, runners push their outhouse contraptions down the course weaving through Main Street as fast as possible. Speed and creative design impress the judges.
Thousands line the downtown route to witness the wacky spectacle accompanied by hilarious commentary. Kids wave and giggle as outhouses jet past. Don't forget to hold your nose for the full aromatic experience!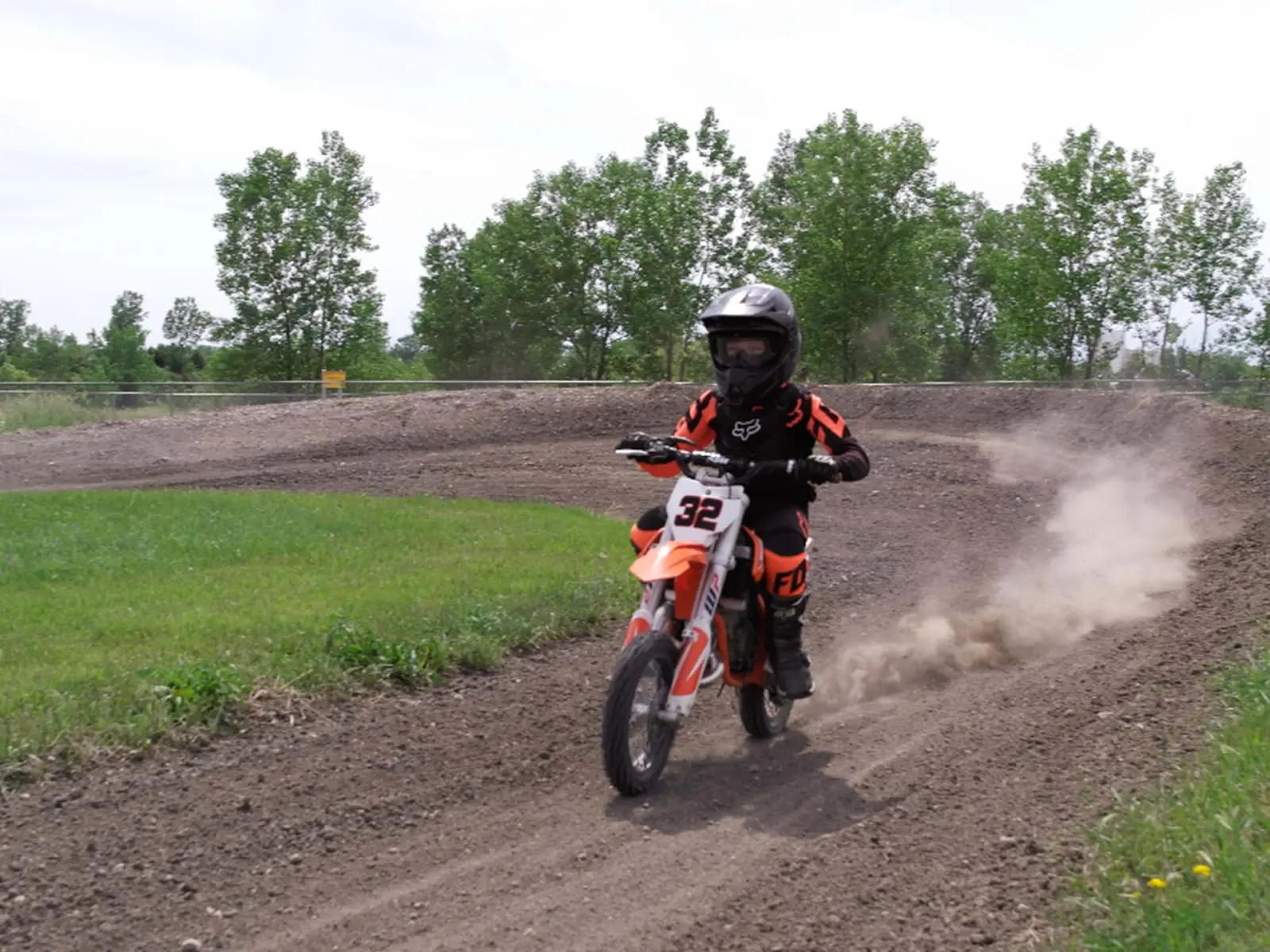 Trinity Lutheran Church Christmas Festival
Each November, Trinity Lutheran Church hosts an elaborately decorated Christmas Festival drawing thousands to embrace the holiday spirit. For over 50 years, this joyous tradition has kicked off the season with activities, crafts, music and dazzling displays.
Kids delight visiting Santa in his workshop to share wish lists and take home a photo. Dozens of Christmas trees decked out in themes like Nutcracker or Peanuts fill Sanctuary Hall. Don't miss the model train display winding pastminiature villages and snowy scenes.
The Christkindlmarkt bazaar overflows with handmade gifts, wreaths, and ornaments to purchase. Holiday tunes pipe through the Technical Center hosting craft demonstrations like glass etching and rug hooking. Savor the scents of fresh wreaths and roasted nuts.
Before departing, step into the sanctuary aglow from thousands of lights framing a live nativity scene. The shining faces of young shepherds, wise men, and angels depict the first Christmas. Trinity Lutheran's inspiring Christmas Festival is sure to spark your holiday spirit.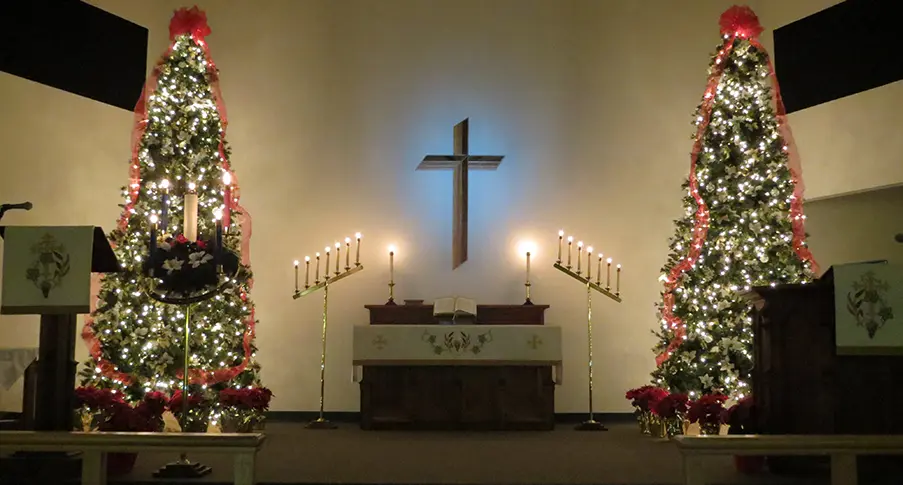 Restaurant Scene
Fort Dodge's dining scene reflects the community's diversity, with chef-owned eateries and ethnic restaurants mingling with casual diners and classic steakhouses. Here are top restaurants and signature dishes to sample when visiting Fort Dodge.
Rajawali Indonesian Restaurant
Experience authentic Indonesian fare at Rajawali Restaurant. Their specialty is rich, complex curries and aromatic satay skewers enhanced by homemade sambals and spice pastes. Standouts include gado gado, beef rendang, and nasi goreng. The dining room nicely captures Indonesia's culture through decor and music.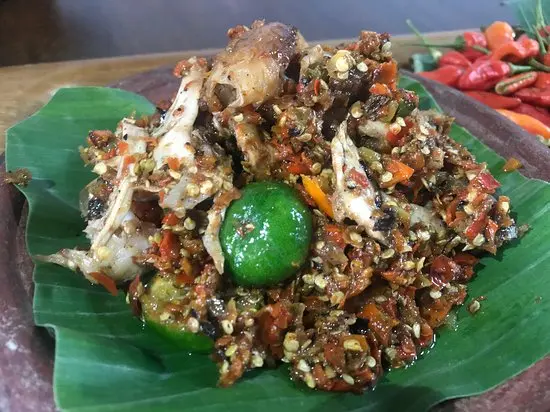 Tacos La Flama
This colorful little taqueria captures the vibrant spirit of Mexico through its satisfying street-style tacos served on housemade corn tortillas. Fillings range from slow roasted meats to fried fish, shrimp, and vegetarian options. Also try their burritos, tortas, quesadillas, and wealth of salsas. Everything pairs nicely with a Jarritos soda.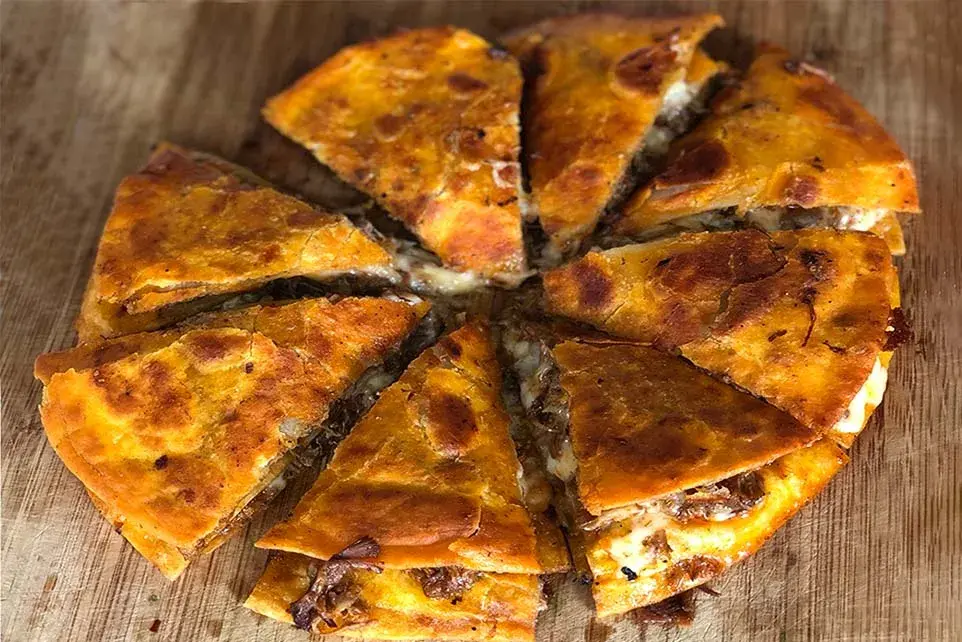 Angry Goldfish Pub & Eatery
The Angry Goldfish Pub & Eatery takes a farm-to-table approach for its well-crafted pub grub menu. Nibble Iowa cheeses and charcuterie boards, feast on burgers sourced from nearby beef ranches, or opt for favorites like fish tacos and chicken pot pie. Of course, don't overlook their extensive beer list either. It's the perfect neighborhood hangout.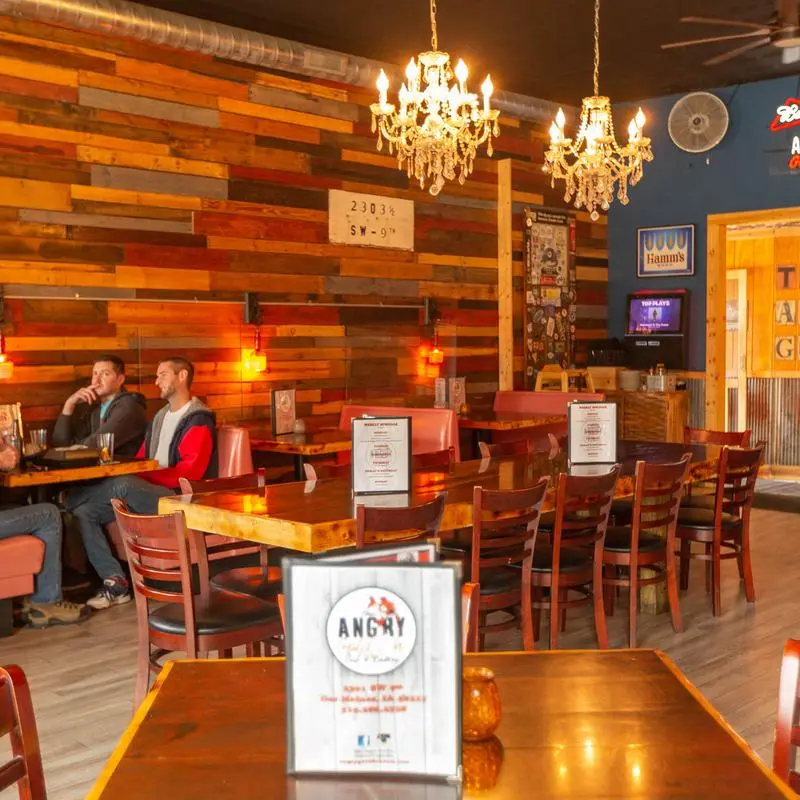 Los Agaves Mexican Grille
Los Agaves brings sonoran-style Mexican food to Fort Dodge, specializing in ingredients from slow-roasted meats to freshly made tortillas. Their mole poblano and carnitas tacos are standouts, as are classic platters like enchiladas verdes and chiles rellenos. Margaritas, tasty starters like elote corn, and homemade flan round out the experience.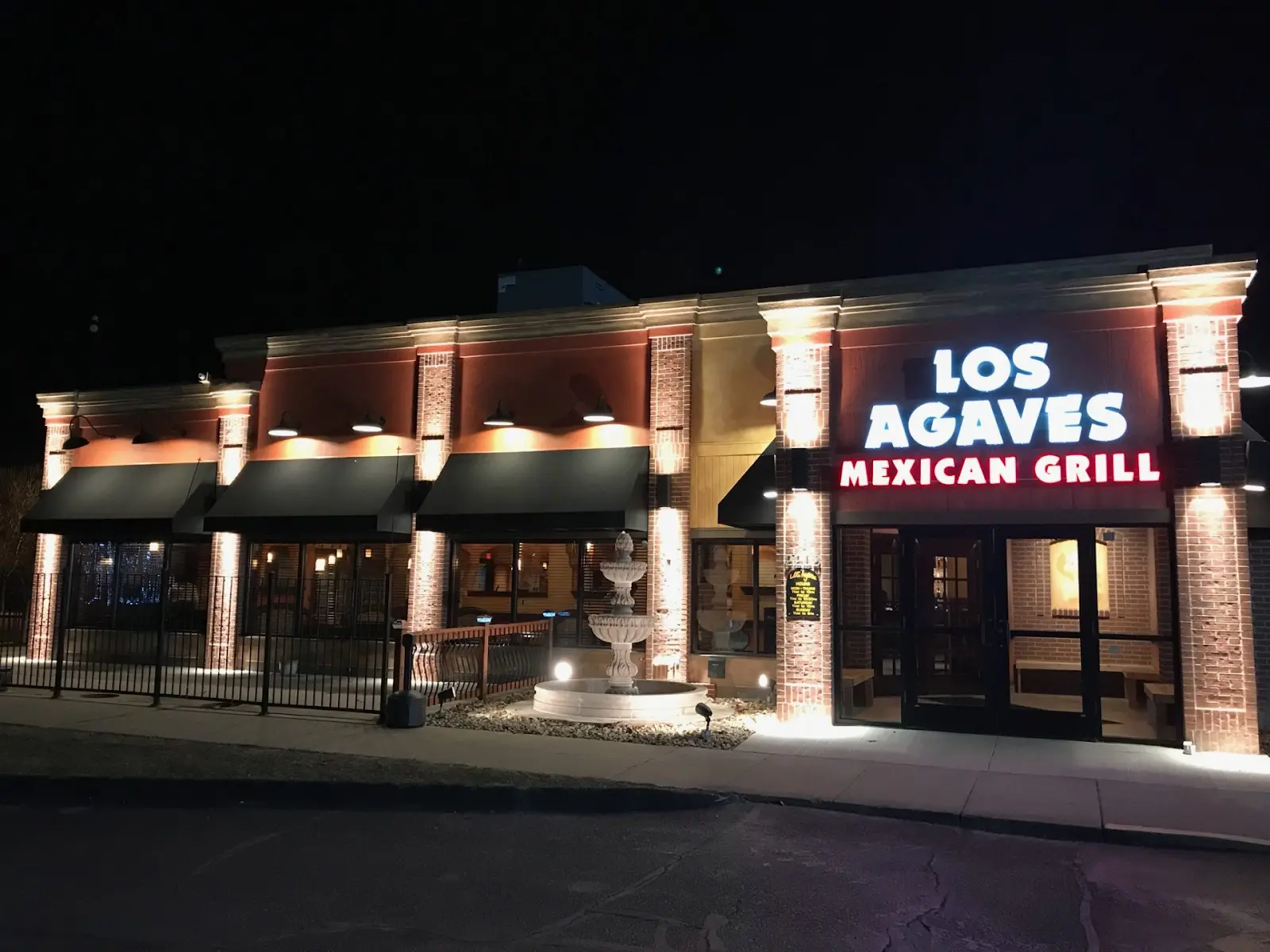 Conclusion
Fort Dodge offers an authentic small city experience where historic architecture mingles seamlessly with modern amenities. Outdoor lovers can embrace adventures at parks and lakes, while heritage sites and museums illuminate the city's frontier past and cultural legacies. The performing arts scene enthralls visitors with concerts and productions at renovated theaters and sleek modern venues. Festivals like FridayFest infuse community spirit, while diverse eateries satisfy cravings. From boutique shops to historic landmarks downtown, Fort Dodge extends charm around every corner.
With this exhaustive guide detailing 35 memorable attractions, events, and experiences, visitors now have the ultimate Fort Dodge bucket list. Wander historic districts to appreciate the vintage architecture. Savor the city's eclectic restaurant scene from family diners to upscale bistros. Tap into creativity at museums and galleries. Roam riverside trails to enjoy the outdoors. However you choose to spend your time in Fort Dodge, embrace these suggestions to fully experience the destination. Let the journey unfold, stumble upon new gems, and truly discover what makes Fort Dodge shine.