Fun Things to Do in Greenville, SC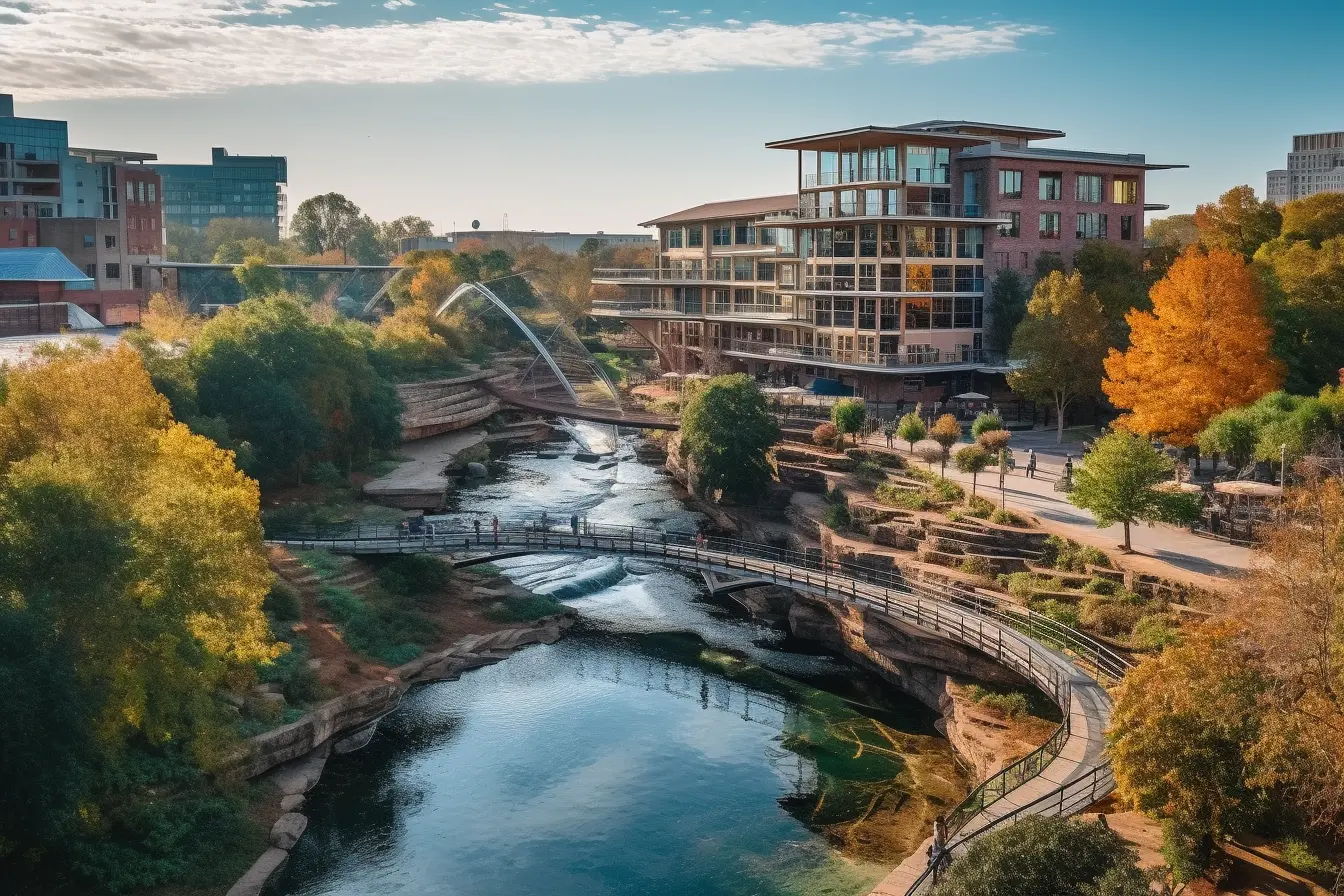 Greenville, South Carolina is a charming city nestled in the foothills of the Blue Ridge Mountains. Known for its thriving arts scene, trendy restaurants, and outdoor adventures, Greenville has something for everyone. From historic sites and museums to shops, parks, and attractions, this guide covers some of the most fun and memorable things to do in Greenville, SC.
Historic Downtown Greenville
Downtown Greenville is a must-visit when in town. The historic Main Street area features lovely tree-lined streets with antique lamp posts, colorful flowers, and historic brick buildings now home to trendy boutiques, galleries, restaurants and more.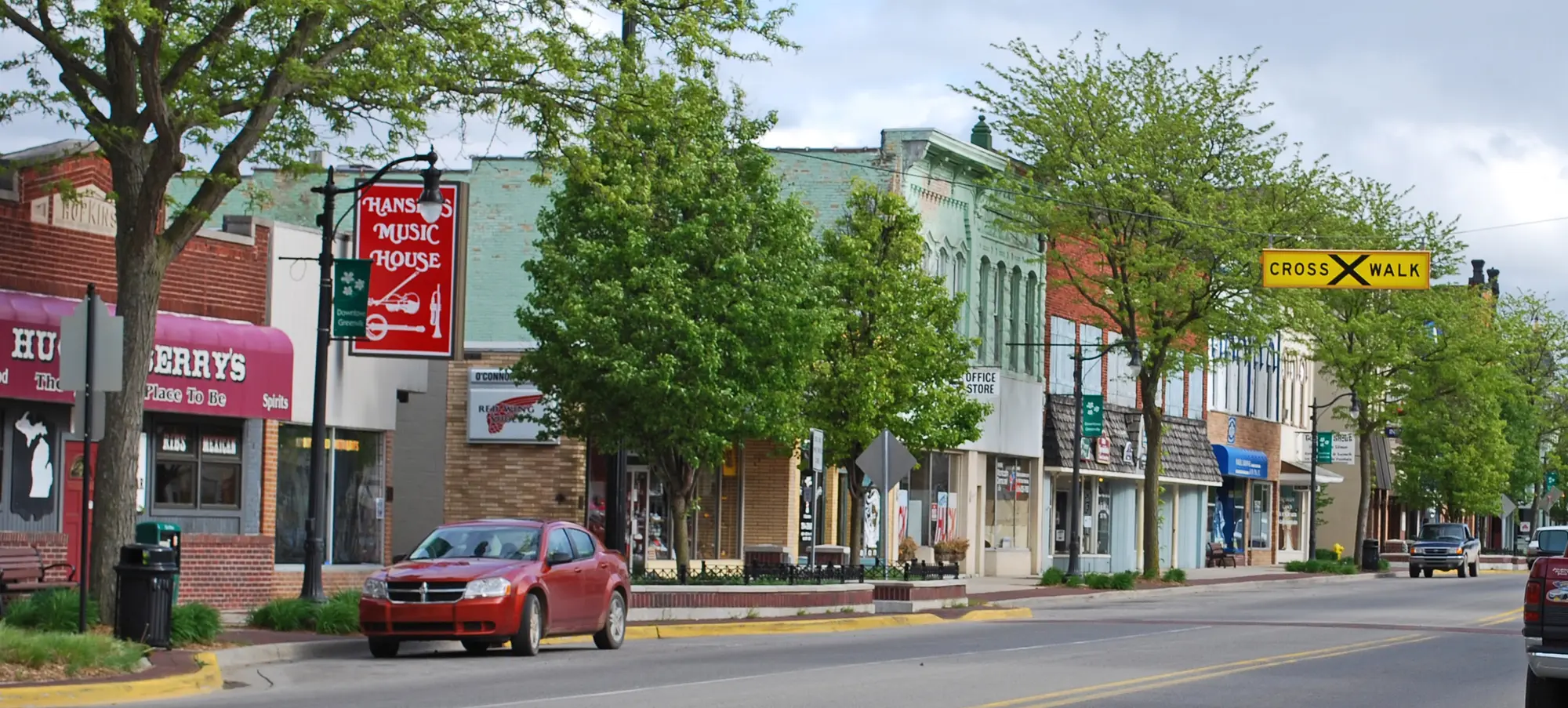 Falls Park on the Reedy
One of the top attractions downtown is the gorgeous Falls Park on the Reedy. Located in the heart of downtown, this 32-acre park's centerpiece is a stunning suspension bridge overlooking Liberty Bridge and the waterfall tumbling over granite stones. Visitors can walk along the park's scenic paths shaded by native trees, picnic on the grassy banks, or play in the park's interactive splash pads and playgrounds. Don't miss the view of the falls from the Main Street bridge.
The lush park provides an urban oasis and the perfect spot to pass a relaxing afternoon. Pack a picnic lunch, spread out a blanket on the grassy lawn, and watch as kids frolic in the park's imaginative playgrounds. Let them splash about in the wading pools and cool down under the dancing water jets. For stunning photo ops, take a leisurely stroll along the park's winding paths as magnificent vistas of the misty falls and arched stone bridge open up around each bend.

As the daylight fades, the park transforms into a romantic backdrop. The bridge lights up and the waterfall emanates a delicate glow. Find a bench along the riverbank and take in the sights and sounds of the gently falling water, a hidden pocket of nature in the heart of the city.
Downtown Shopping
Greenville has an eclectic array of shops downtown perfect for an afternoon stroll. Boutiques like Plum, Belle, and Blu offer chic clothing, shoes, and accessories. Art Crossing and Gallery at Coffee Underground sell works by local artists. Mast General Store is filled with old-fashioned candies, toys, and southern goods. Antique shops abound too, like Estate Sale Company and American Pharoah Antiques for finding hidden treasures.
Start your shopping adventure on Main Street and let your inner explorer take over; Greenville's downtown offers a bounty of alluring shops just waiting to be discovered. Weave in and out of the brick-lined alleys and creatively adorned side streets branching off of Main. Here you'll find independent boutiques and local artisans showcasing their latest fashions, jewelry, home decor, and more.
Dip into antique stores crammed floor-to-ceiling with memorabilia harking back to simpler times. Rifling through the stacks rewards intrepid shoppers with small tokens of the past: vintage Coca-Cola signs, retro magazine ads, classic 45 records. For bohemian apparel and accessories, browse the racks at Plum, where bright patterns and daring silhouettes reign. At Blu, the next eye-catching look is always just around the corner.
Once your bags are full, stop for a refreshing artisanal soda at The Soda Fountain and take in some people watching from a window bench, the perfect capstone to an afternoon of downtown meandering.
Art & History Museums
Greenville has several excellent museums downtown showcasing the city's heritage and arts. The Upcountry History Museum has interactive exhibits bringing Greenville history to life, from its founding to the present. The Greenville County Museum of Art houses Southern paintings, sculptures, and rotating exhibits. Don't miss the museum's famed Andrew Wyeth collection. The Museum & Gallery at Bob Jones University contains religious fine art.
At the Upcountry History Museum, discover Greenville's rich historical tapestry woven with interactive exhibits spanning Native American heritage through the Industrial Revolution to modern revitalization. Hear costumed interpreters bring historical figures like fur trader Richard Pearis to life. Peer into a Conestee Indian hut and learn about indigenous life along the Reedy River. See a cotton gin demonstration and feel the scratchy fibers between your fingers, connecting to Greenville's textile-producing past.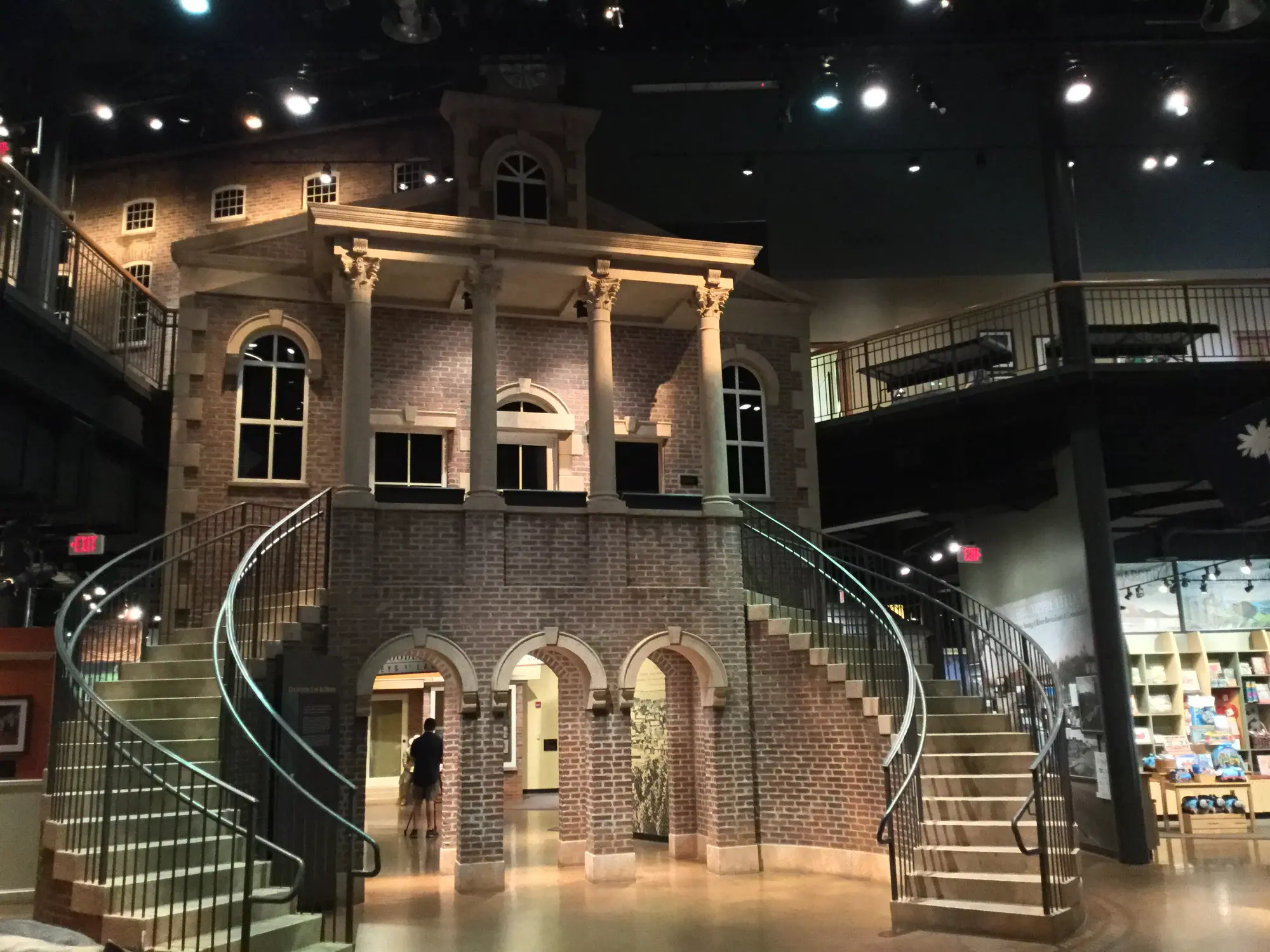 Then fast forward to Greenville's rebirth as a thriving modern city. Try your hand at operating a giant claw arcade game, inspired by local company Funtown Arcade. Behold vast spinning textile machines and a towering steam locomotive, symbols of the mills and railroads fueling 20th century prosperity. Hands-on activities and multimedia displays engage visitors of all ages in each compelling era of Greenville history.
The Greenville County Museum of Art illuminates the American South through impactful works by prominent regional artists. Andrew Wyeth's Helga collection offers an intimate glimpse into his relationship with muse Helga Testorf, captured in secret over 15 years. Study Helga's subtle expressions as she gazes out windows or completes mundane chores, revealing hidden depths. Local textile mill history inspired Ellen Kochansky's poignant mixed media collages depicting children's faces stitched from mill workers' clothes. Explore Southern landscapes from realist painters like Gari Melchers and Childe Hassam. The museum's interactive Art Detectives program sends kids on a quest to explore artworks and discover fun facts.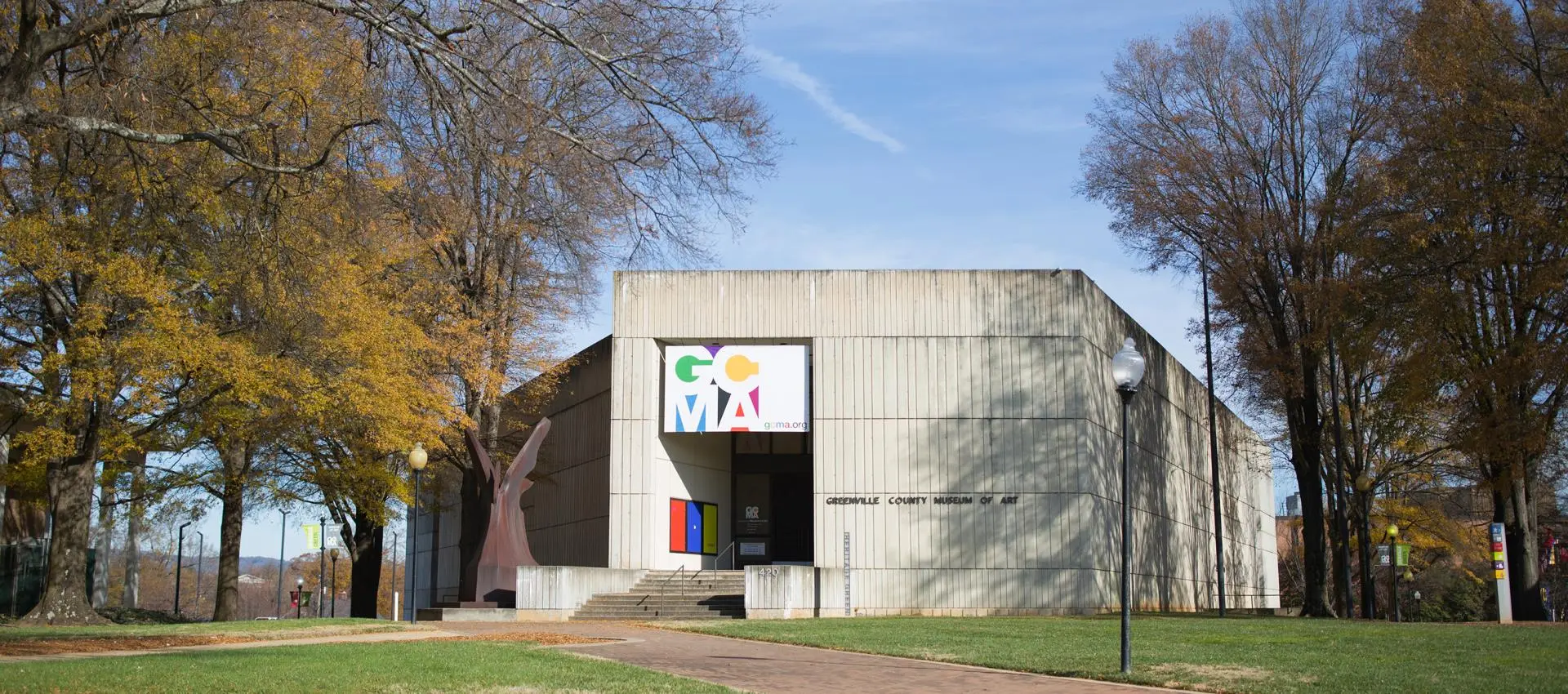 Downtown Dining
Greenville has a booming food scene with some of the state's best restaurants located downtown. Meander down Main Street and you'll find options spanning burgers, bistros, and fine dining. Some standouts include: Halls Chophouse, an upscale steakhouse set in a restored courthouse, Soby's for New Southern cuisine in a converted warehouse, and The Oak Room for farm-to-table fare inside the Westin Poinsett Hotel.
Try the famous "Steak in the Sky" at the Chartreuse for unparalleled views and Brazilian steaks from its revolving rooftop restaurant. For a romantic dinner, reserve a table at Devereaux's in a Victorian mansion. Foodies shouldn't miss The Anchorage for Cajun/Creole fare in a historic riverside site.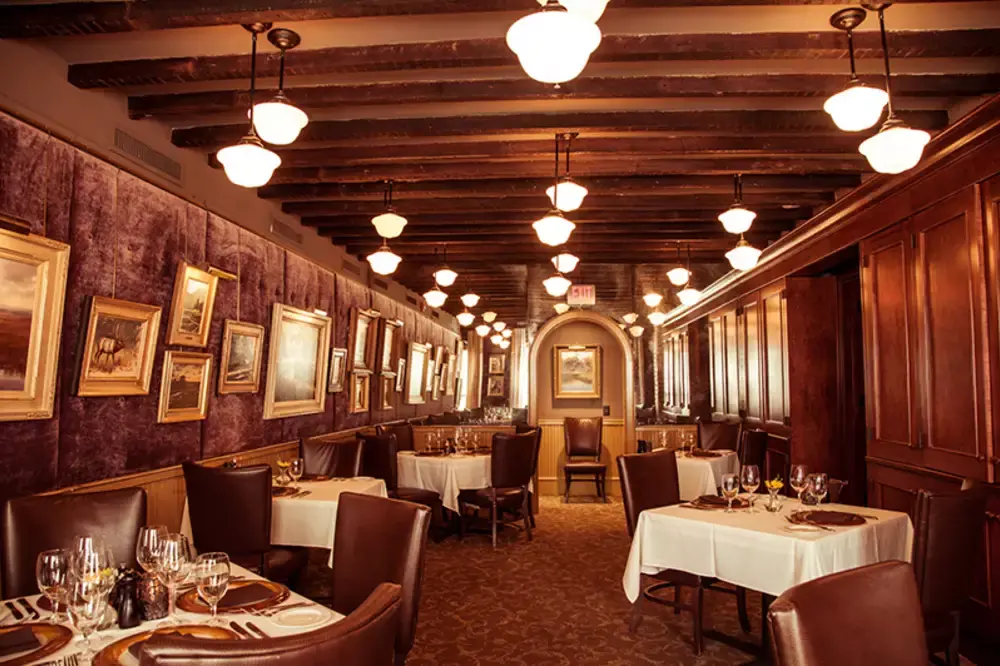 Indulge in an exceptional fine dining experience at Halls Chophouse, where masterful preparations of USDA prime beef and fresh seafood await. Sink your fork into their show-stopping cowboy ribeye with a bourbon au jus that melts across your tongue. Or sample the freshest catch like miso glazed Chilean sea bass. Their decadent sides like truffle macaroni and cheese or lobster mashed potatoes will have you swooning. Cap it off with a luscious butterscotch bread pudding. The elegant ambiance inside the grand 1915 courthouse enthralls as well.
For a trendy hot spot, snag a table at The Anchorage overlooking the Reedy River. Start with their heavenly bacon wrapped jalapeno shrimp stuffed with guava and cream cheese. Cajun/Creole flavors burst from entrées like the blackened mahi with spicy andouille sauce or shrimp and grits with a rich tasso ham gravy. Save room for their renowned white chocolate bread pudding or mile-high carrot cake. Savor Southern coastal cuisine as the river gently ripples by.
At the Chartreuse, ride 17 stories up into the sky for a one-of-a-kind dining experience. As you slowly revolve, vistas of Greenville's glittering cityscape unfold. Indulge in masterfully grilled Brazilian steaks, tasting even more succulent paired with their Caipirinha cocktails. With 360-degree panoramas revealing downtown Greenville in all her glory, it's a singularly memorable dinner.
Greenville's West End
Across the Reedy River from downtown lies the emerging West End district, characterized by former warehouses now transformed into chic shops, breweries, art galleries, and restaurants.
West End Shopping & Dining
Once gritty mills now converted into stylish spaces, the West End offers plenty of boutique shopping and dining options. Fluor Field is home to a Saturday morning farmers market (April-October) with local produce, baked goods, and crafts. The area also contains artisan shops like Appalatch, Showroom, and Tangible Gallery selling unique home goods, jewelry, art, and more.
Trendy restaurants have flocked to the West End like automatic taco maker Taco Boy, farm-to-table focused Swamp Rabbit Café, and French bistro Passerelle Bistro. Stop for coffee amidst exposed brick walls at Spill the Beans or try pour-over coffee flights at Tetra Coffee Lab. Grab drinks at Brewery 85, Birds Fly South Ale Project or Swamp Rabbit Brewery, pioneers in Greenville's booming beer scene.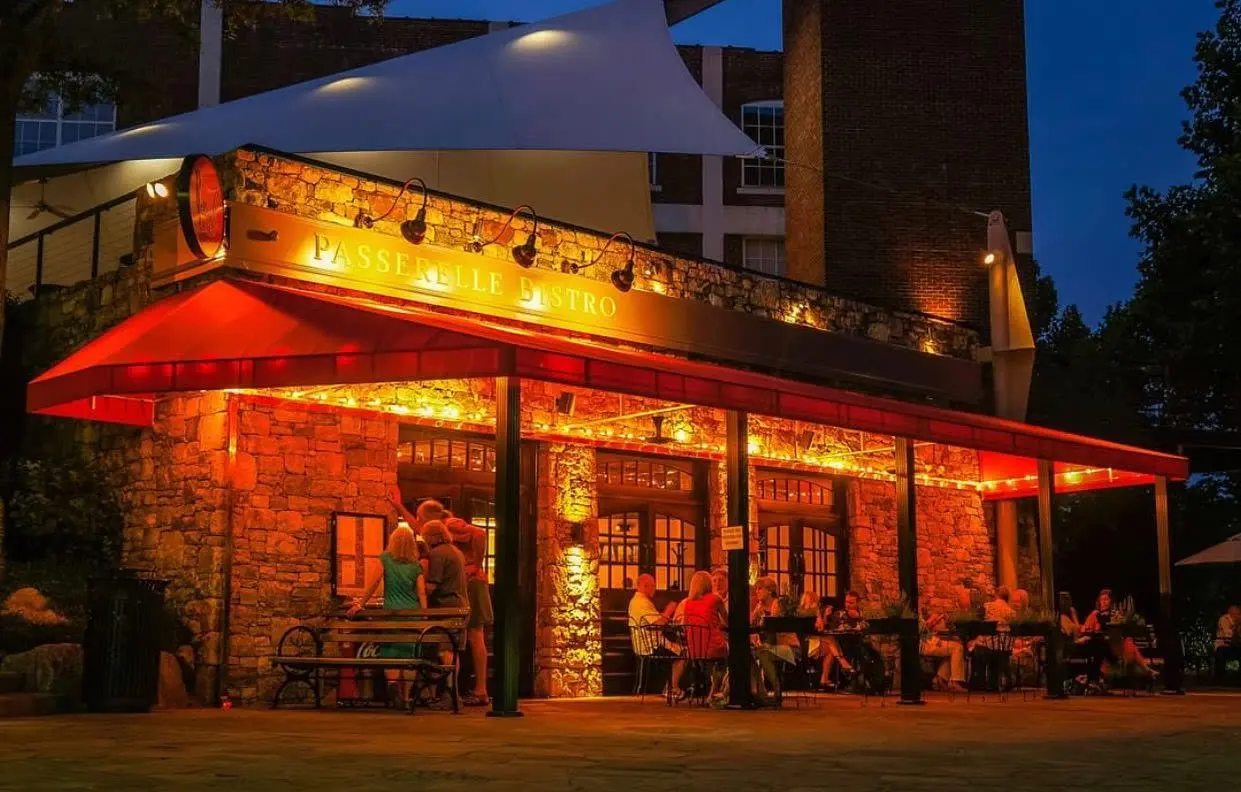 Browse the West End's charming boutiques and galleries inhabiting once abandoned textile mills now bustling again. At Appalatch, find responsibly made apparel and goods celebrating the Carolina foothills. Tangible Gallery exhibits soulful fine art photography alongside artisan ceramics and jewelry. Showroom gathers over 100 local artists and makers under one roof, an eclectic mix of paintings, pottery, home decor and more.
Refuel with a fresh, seasonal lunch at Swamp Rabbit Café. Their photogenic toast flights and bowls burst with local produce picked at the height of ripeness. Or sate comfort food cravings at Passerelle Bistro's weekend brunch. Their Croque Madame piles smoked ham and velvety Mornay sauce atop crusty French toast. All tastes are covered at the West End Public Market food hall, where vendors whip up crepes, Indian curries, BBQ, vegan fare and more.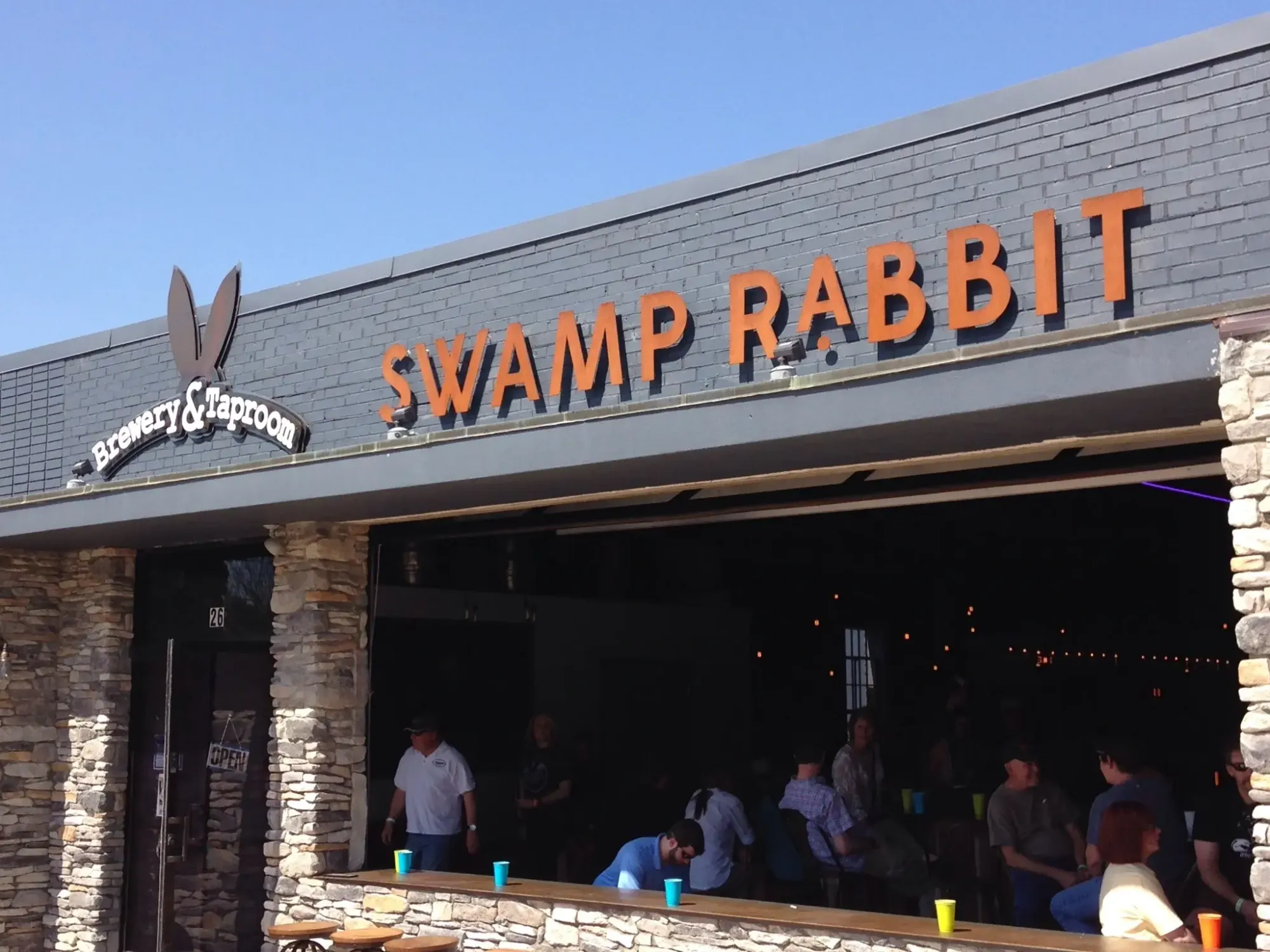 Afterward, sip an icy brew at Swamp Rabbit Brewery. Their patio strung with twinkling lights flanks lush gardens. Try unique local libations like the floral Darlin' Amber ale or GVL IPA with citrusy Southern hops. Sample them all in a flight or take some home in growlers to remember the local flavor.
Greenville Drive Baseball
Cheer for South Carolina's minor league baseball team, the Greenville Drive, at their home stadium Fluor Field at the West End. Modeled after Fenway Park in Boston, this intimate ballpark offers stunning views of the downtown skyline. Catch a game April-September and enjoy fun traditions like singing "Sweet Caroline" in the 8th inning stretch.
Take in America's favorite pastime in nostalgic style at the Greenville Drive's intimate stadium. As you pass through the vintage turnstiles, the manicured ballfield opens up, ringed by classic brick and metal grandstands. Grab peanuts and Cracker Jacks for the full retro experience. Hoot and holler each time the Drive smack another hit over the field's iconic "Green Monster," a replica of Fenway's famed giant wall.
Watch the setting sun sink over the centerfield wall and illuminate the West End's industrial buildings in a golden glow. The crack of the bat resounds as the Greenville skyline sparkles on the horizon. When the 8th inning rolls around, join in the stadium-wide singing of Neil Diamond's "Sweet Caroline" for an only-in-Greenville moment. With old-fashioned ballpark character and charm, the Drive games are a home run.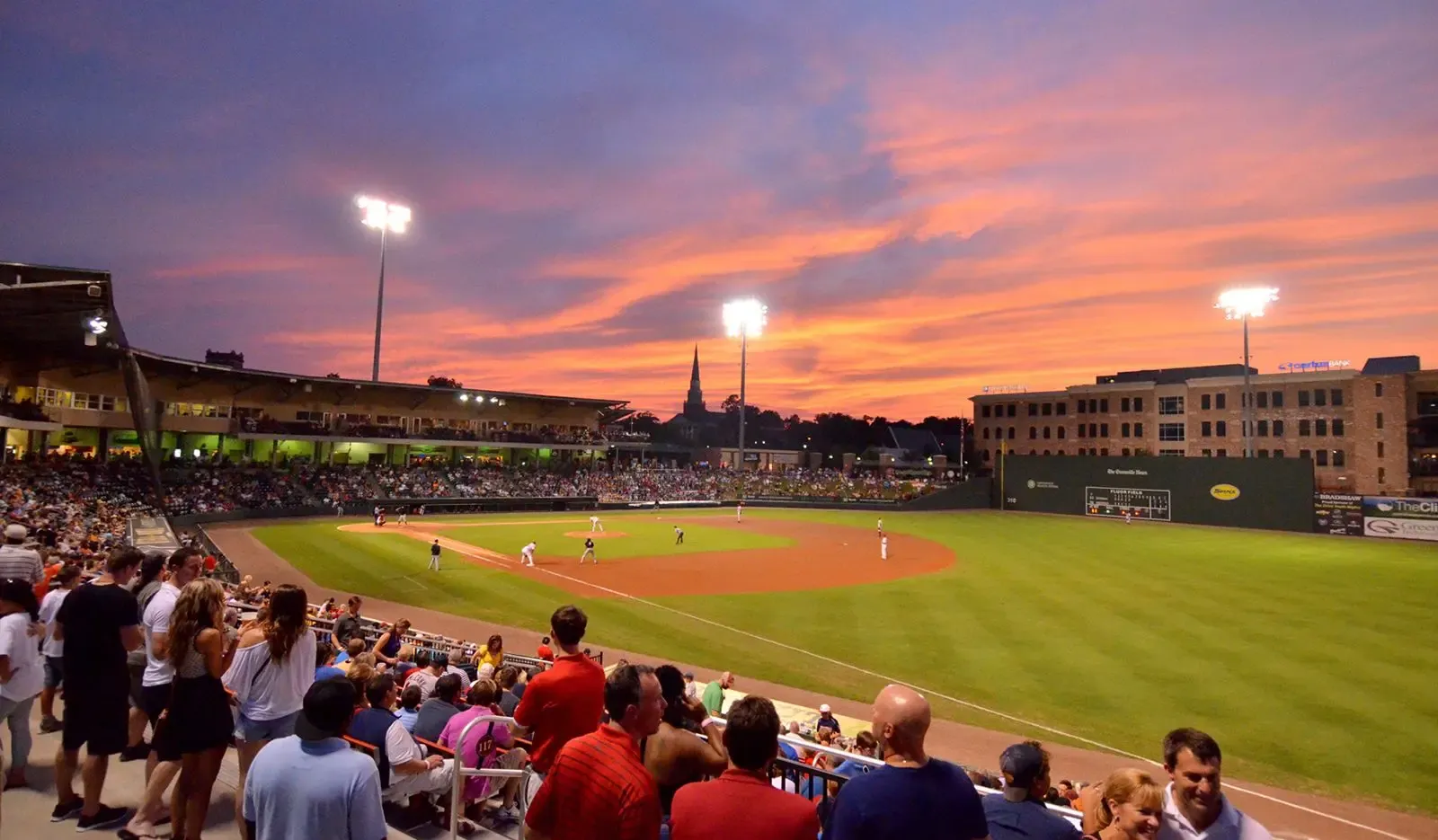 Greenville Triumph Soccer
Greenville Triumph is one of 20 teams in the USL League One. Catch fast-paced pro soccer at Legacy Early College Field April-October. Highlights include themed game nights, halftime field games for kids, fireworks shows, and more. The passionate fanbase and lively atmosphere make Greenville Triumph games a blast.
The Greenville Triumph bring a rowdy British football-style atmosphere to South Carolina's Upstate. The devoted fanbase fills Legacy Early College stadium with raucous cheering, clapping, and chanting as the Triumph take the pitch. Watch as colorful smoke bombs burst after each Triumph goal while the crowd erupts into delirious celebration.
Kids love getting in on the action during games too. At halftime, they take over the field to try out tricks and shoot penalty kicks, their faces beaming with joy. Themed game nights like "Stranger Things" add to the fun with music, costume contests and more surprises. With an electric crowd and fast-paced play, Greenville Triumph matches offer an experience that's thrillingly unique.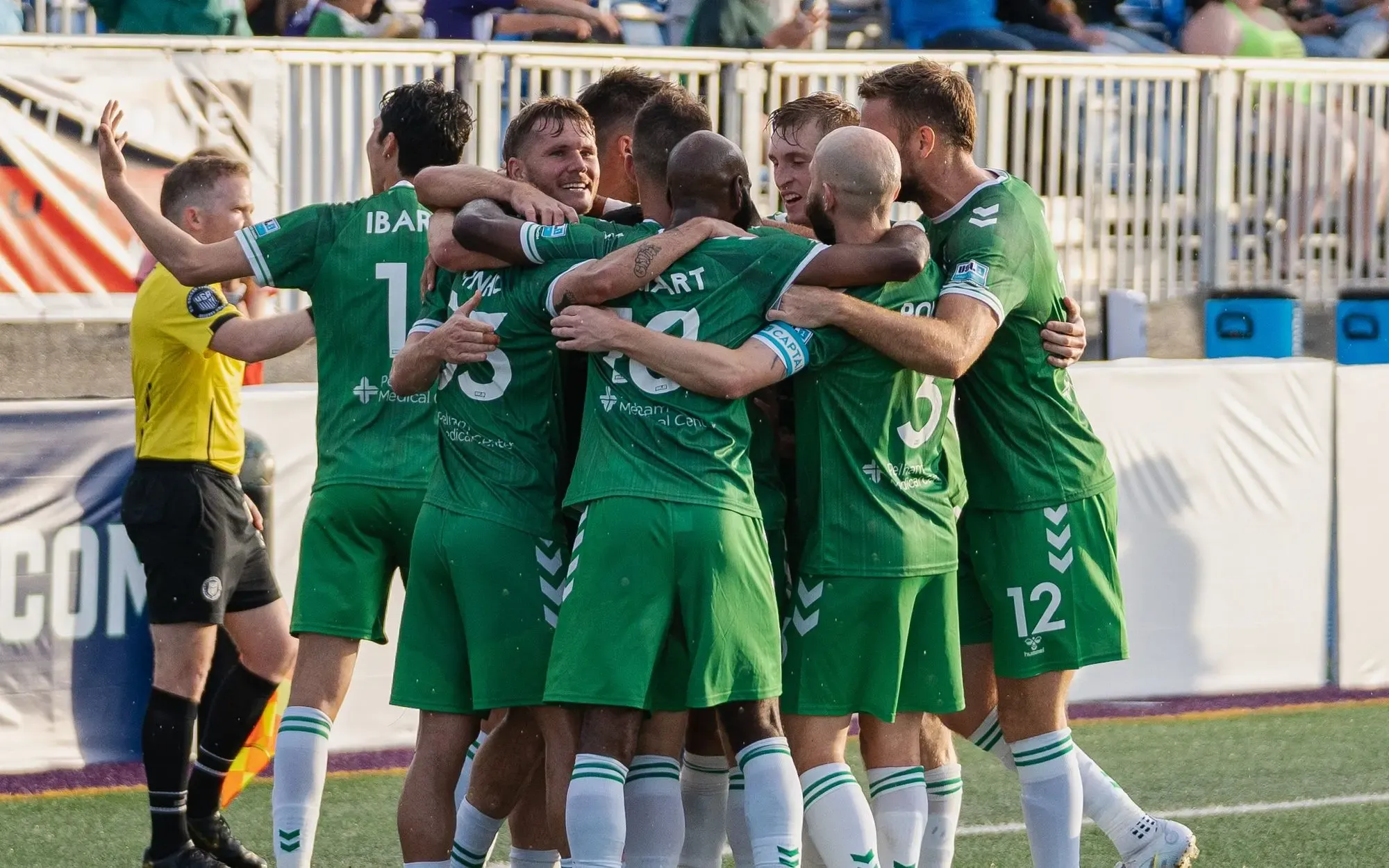 Arts & Cultural Attractions
Known as the "Art and Culture Capital of South Carolina," Greenville is overflowing with museums, theaters, events, and more.
Greenville Center for Creative Arts
This multi-arts center offers exciting classes, camps, and workshops in visual arts, dance, music, writing, and more for all ages/skill levels. Check the calendar for public concerts, art exhibitions, literary readings, and special events like the Art & Light Lantern Parade and Open Studios.
At the Greenville Center for Creative Arts, nurture your inner artist or discover a new passion through their diverse offerings. Try your hand at pottery in their light-filled ceramic studio, mastering the wheel and handbuilding techniques. Take a canvas painting class and learn brushwork, color mixing, and composition as you layer oils or acrylics to create a still life, landscape, or abstract design.
Pen your own prose in guided creative writing sessions. Stretch your body and flow to music in gentle yoga and dance classes in the mirrored movement studio. Experiment with jewelry making using metalsmithing tools to shape, texture, and solder metal into necklaces, rings or earrings. With personalized instruction, you'll hone your skills in a creative, welcoming community.
Don't miss community events like the Art & Light lantern parade illuminating downtown streets with glowing lanterns crafted in the Center's workshops. At quarterly Open Studios, peruse working artists' studios, watch demos and purchase artwork direct from the source.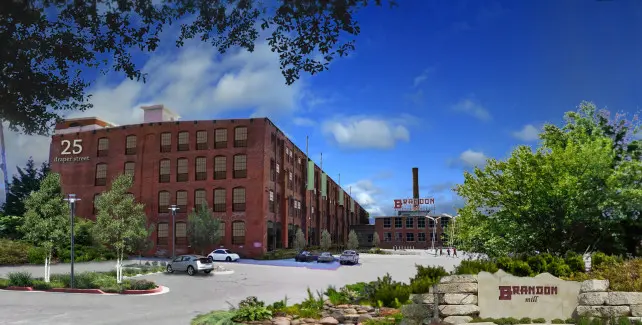 Peace Center for the Performing Arts
This gleaming performing arts complex on the banks of the Reedy River hosts touring Broadway shows, concerts, comedy acts, and the Greenville Symphony Orchestra.
Dance along to rollicking Broadway musicals at the Peace Center, housed in a glittering steel and glass complex on the river. Hear the Greenville Symphony Orchestra fill the concert hall with soaring classical compositions and featured soloists. Laugh until your sides hurt at stand-up comedy shows by legends like Amy Schumer and Jim Gaffigan.
Country, rock and pop artists like Chris Stapleton, Stevie Nicks and Idina Menzel regularly play electrifying concerts in the intimate theater setting. Check the dynamic event calendar for buzzed-about touring shows like Hamilton, Wicked and Dear Evan Hansen, often hitting Greenville for limited runs before they leave for Broadway. With top-notch acoustics, luxurious interior design, and diverse performances, the Peace Center delivers big city entertainment with Greenville's small town charm.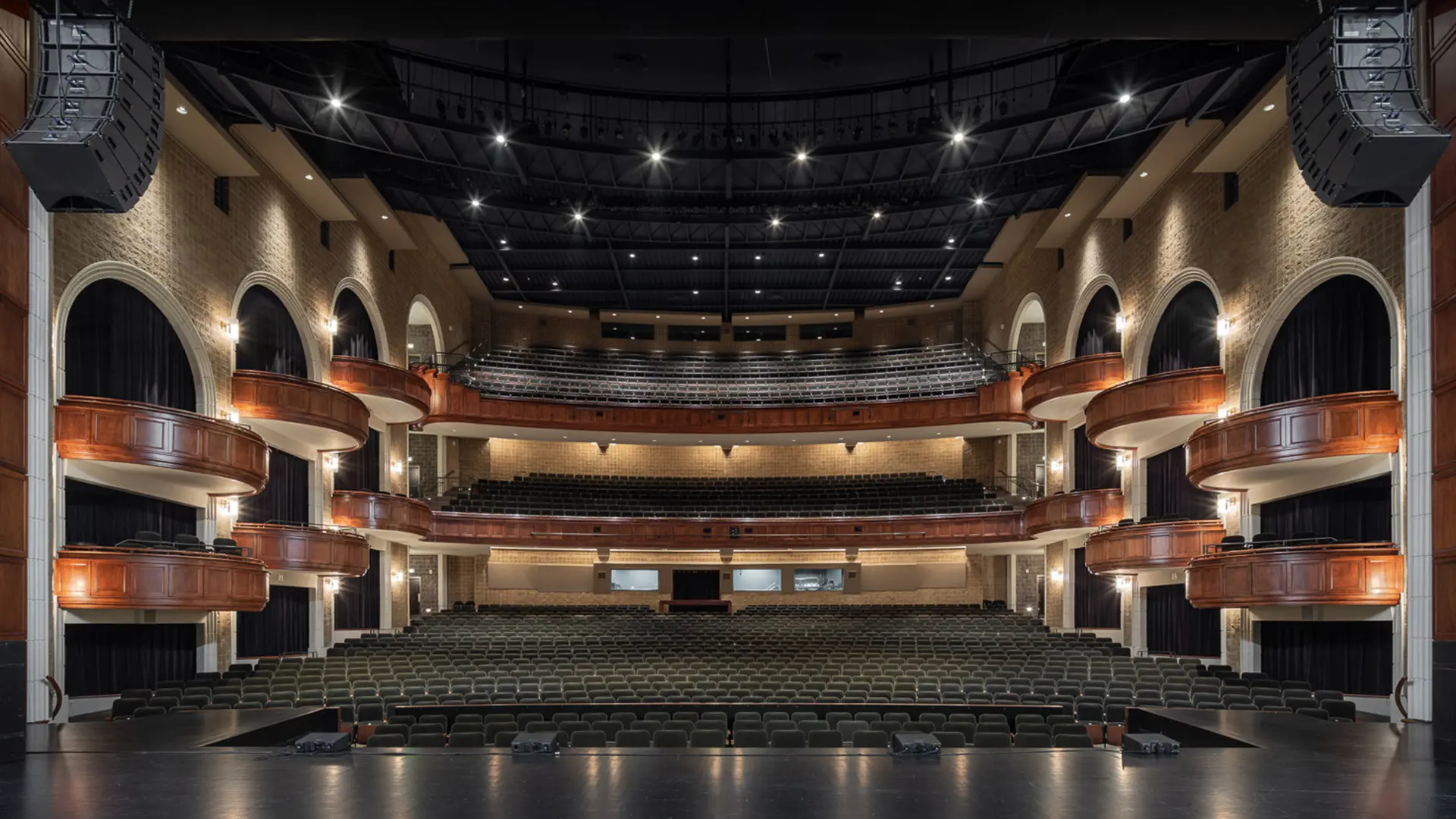 Bob Jones University Museum & Gallery
This extraordinary collection includes European old master and American fine art showcasing works by Botticelli, Rembrandt, Rubens, Renoir, and more.
Step into the ornate former Greenville First Baptist Church to experience one of the nation's premier collections of sacred art. Lifelike Biblical tableaus by Baroque masters come alive through dramatic lighting and large-scale compositions. Witness emotional depictions like the tense moments before Jesus' crucifixion in Rubens' "Elevation of the Cross," painted on a towering 15-foot canvas. Study the angel's tear-streaked face lamenting Jesus' sacrifice.
Marvel at Sandro Botticelli's rare "Madonna of the Book," her delicate features inscribed with wisdom and grace. In contrast, 19th century French artist Jean-Léon Gérôme captures the intensity of gladiators in hand-to-hand combat within the Roman Colosseum. Delicate brushwork brings Renoir's radiant "Washerwomen" to life as they wring vivid garments along a sunlit riverbank. This world-class museum offers a transporting experience through centuries of religious history conveyed by some of Western art's greatest masters.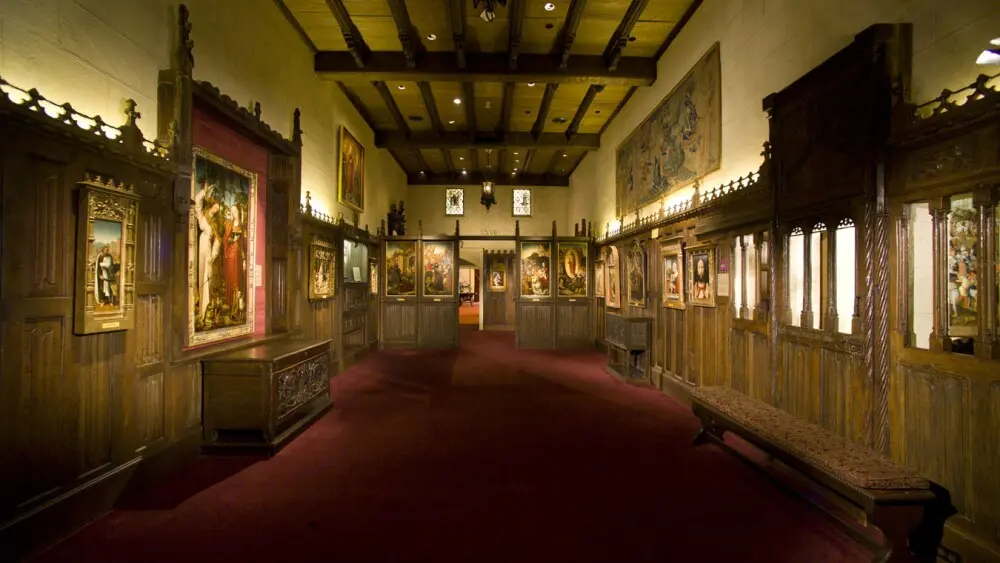 Carolina Ballet Theatre
Watch exquisite programming from this professional ballet company at the Peace Center. Enjoy classic works like The Nutcracker along with contemporary dances.
Be enthralled by Carolina Ballet Theatre's storytelling as they bring iconic ballets to life on the Peace Center stage. Revel in the crystalline beauty of The Nutcracker's Land of Sweets, where delicate snowflakes dance and the Sugar Plum Fairy twirls through glistening forests. Feel the stirring drama of Romeo and Juliet unfold through impassioned pas de deuxs and sword fights.
Marvel at the athleticism and grace of Dracula as dancers perform acrobatic leaps and spins to represent the Prince of Darkness. Contemporary ballets add fresh perspectives, like a retelling of The Great Gatsby that captures 1920s extravagance and romance. Upcoming works include a magical interpretation of Beauty and the Beast with lavish costumes and sets. With technical excellence and evocative artistry, Carolina Ballet Theatre productions both enchant the senses and engage the emotions.
Greenville Theatre
One of the oldest theaters in the country, the charming Greenville Theatre originally opened in the 1920s as a grand movie palace. After decades of decline, the theater was beautifully restored and reopened in 1998. Today, the intimate 400-seat venue stages professional comedies, dramas, Broadway musicals, and more.
Recent fan favorites include Always...Patsy Cline, August: Osage County, and Newsies. Kids shows like Disney's The Aristocats and Charlotte's Web delight families. Patrons love the historic theater's ornate décor, intimate setting, and diverse programming. Enjoy a show in this cultural landmark before catching dinner and drinks in downtown Greenville's nearby restaurants and bars.
From curtain to curtain, the Greenville Theatre immerses you in imaginative worlds with every theatrical element thoughtfully designed. Watch gifted actors bring powerful drama to life in Pulitzer Prize winners like Doubt and The Humans, drawing you into morality's gray areas. Laugh til it hurts at hilarious comedic timing in Noises Off as frantic actors scramble to pull off a ridiculous farce. Feel the inspirational swell of musicals like Memphis, its infectious rock tunes punctuated by show-stopping dance numbers. Detailed costumes, evocative lighting and captivating performances make productions at the Greenville Theatre absolute Broadway-caliber treats.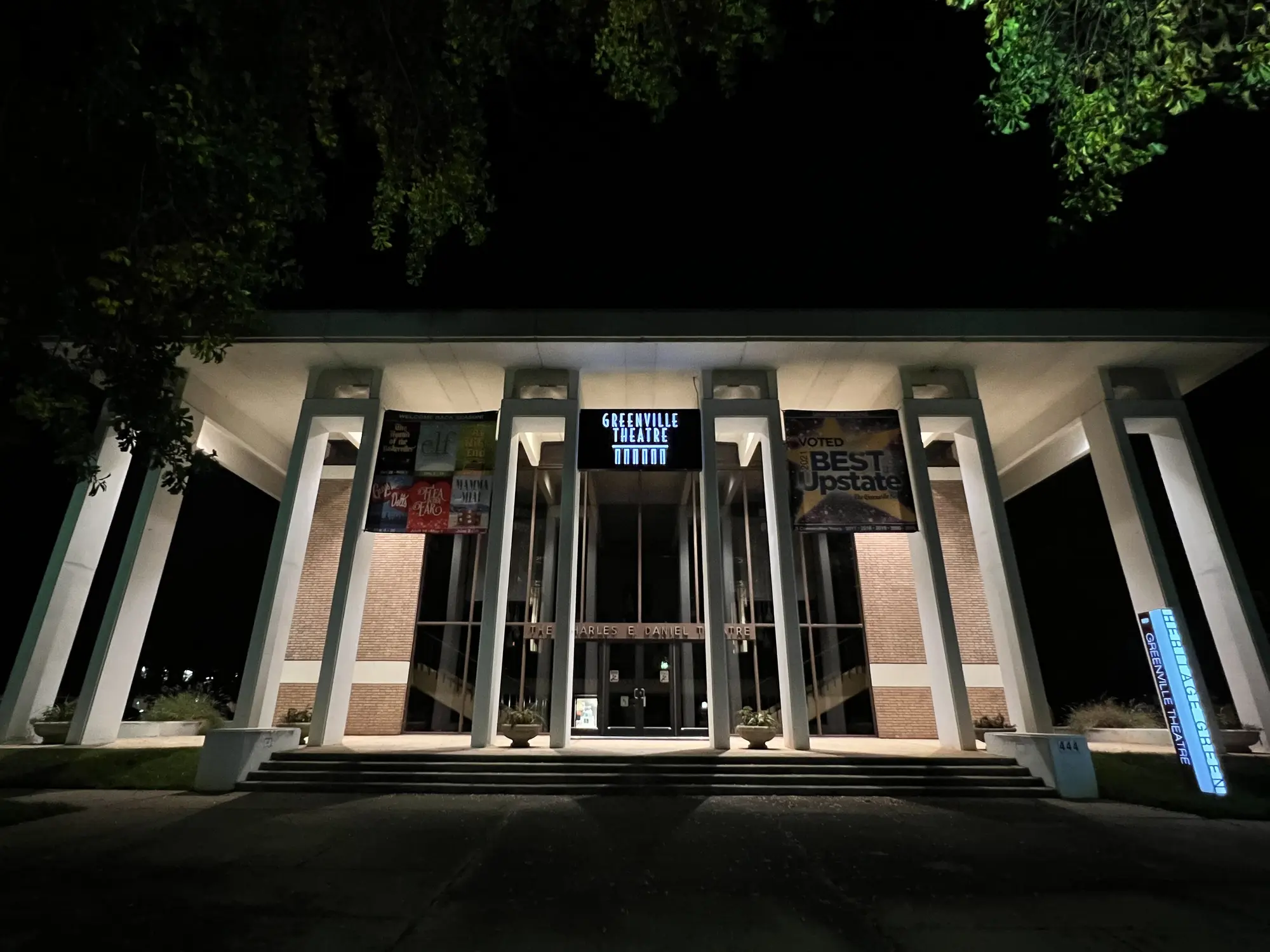 Artisphere
For three days in May, downtown Greenville is transformed into a giant outdoor art gallery during the popular free Artisphere festival. Many streets close to traffic, allowing visitors to stroll past over 100 juried artists selling paintings, jewelry, ceramics, metalwork, and more. Shop original works while enjoying live music stages, interactive installations, artist demo tents, a hands-on family art area, and street performers.
Artisphere's Culinary Arts stage hosts cooking demos from local chefs and bartending competitions. Find an array of food vendors and beer/wine gardens throughout the festival footprint too. This lively weekend celebrates visual arts, performing arts, culinary arts, and Greenville's vibrant creative community.
Artisphere electrifies downtown Greenville each May with a buzzing open-air art market showcasing Upstate talent. Chat with painters, potters, sculptors and other creators in their vibrant booths lining Main Street. Marvel at giant murals taking shape before your eyes during live painting sessions. Kids find hands-on fun with sidewalk chalk stations and a clay studio full of messy masterpieces-in-the-making. Culinary artists demonstrate tantalizing cooking tips on the Culinary Stage as the aroma of sizzling dishes fills the air.
Strolling street performers amaze onlookers with acrobatics, comedy, and music. Grab a spot at the concert stages to hear local musicians rock out as the sun dips behind Greenville's gleaming skyscrapers. With visual art, live performances, and tasty local flavors around every corner, Artisphere delivers a feast for the senses.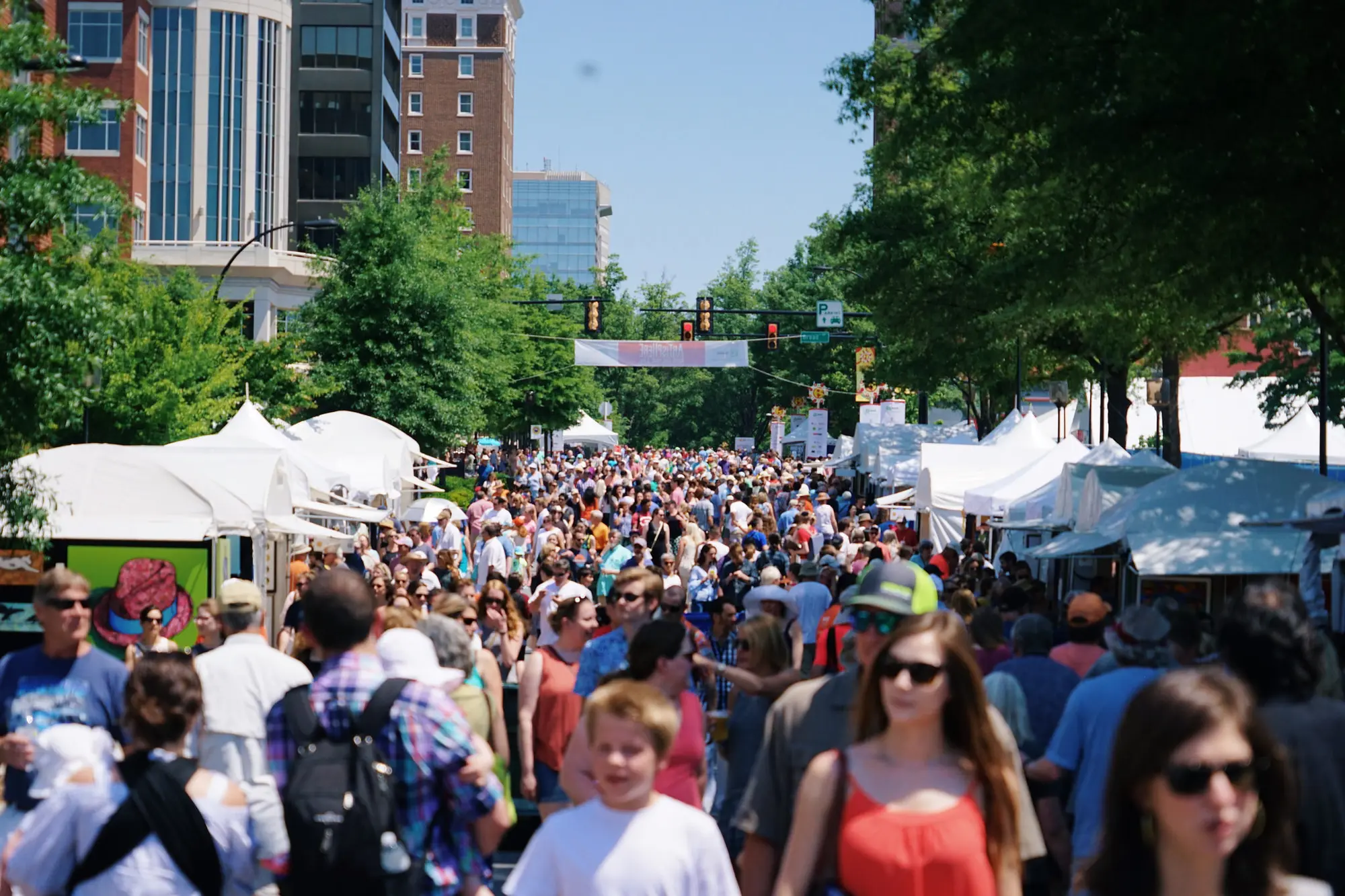 Parks, Trails & Falls
Greenville's stunning parks and idyllic waterfall trails along the Reedy River make enjoying the outdoors a breeze.
Falls Park on the Reedy
This iconic downtown park centers around the stunning Liberty Bridge overlooking Reedy Falls cascading over granite boulders. Walk the park's brick paths and manicured gardens for gorgeous views of the waterfall. The entry plaza features dynamic water jets shooting skyward from the splash pads. Have a picnic on the sprawling grassy lawns beside the river. Stroll down the overlook boardwalks and rock steps to feel the waterfall's mist close up.
Cleveland Park
Spanning 140 acres just north of downtown, Cleveland Park contains gorgeous formal gardens, wandering trails past historic stone structures, playgrounds, picnic areas, tennis courts, and the small Greenville Zoo. Have kids work off energy at the Splash Zone, an interactive water playground with fountains, mini water slides, and the iconic Tipsy the Elephant statue that spouts water from its raised trunk.
Take an idyllic stroll around the Cleveland Park Gardens to smell the roses, enjoy valley views from the overlook bridge, and spot charming historic gazebos tucked amid the flowers and boxwoods. Seek out the photogenic pergola completely covered in wisteria vines in spring. Kids will have a blast scrambling over the playground's wooden climbing structures and conquer the park's Loop Trail, perfect for a family bike ride. With enchanting gardens, play areas, and trails, Cleveland Park charms visitors of all ages.
Conestee Nature Preserve
Explore 400 acres of wildlife habitats at Conestee Nature Preserve, Greenville's hidden gem centered around the scenic 70-acre Lake Conestee reservoir. Spot turtles sunning themselves on logs, ducks gliding across the calm water, and blue herons stalking the shoreline for fish. 3.5 miles of flat crushed gravel trails loop around the lake, perfect for hiking, jogging or biking.
Discover nature in the heart of Greenville at the Conestee Nature Preserve, where wildlife flourishes around the glistening Lake Conestee reservoir. Join naturalists for guided birding hikes or canoe trips to watch for soaring osprey and iridescent kingfishers. Borrow binoculars or fishing poles from the Nature Center. Follow rustic wooden bridges over marshy inlets ringing with frog song. Glimpse beavers industriously paddling through the still water. With habitats teeming with life less than five miles from downtown Greenville, Conestee is an unexpected natural refuge.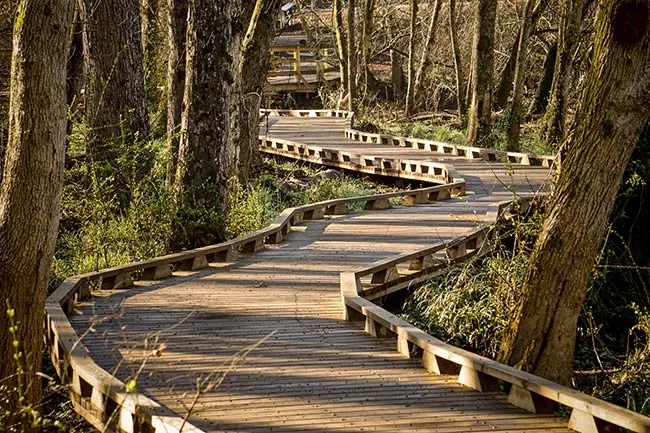 Conclusion
Whether you're an art lover, foodie, adventurer, history buff or music fan, it's clear that Greenville has something for everyone. This guide just scratches the surface of the many fun and memorable things to do in this captivating Southern city.
From the tumbling cascades of Reedy Falls to stunning parks and trails, Greenville's lush natural landscapes beg to be explored. The city celebrates its rich history and heritage in engaging museums and historic sites downtown. Performing arts shine at spectacular venues like the Peace Center, hosting events to rival much larger cities. Trendy West End boutiques, craft breweries, and farm-to-table eateries add cosmopolitan flavor.
Greenville continues to nurture its arts community at creative hubs like the Greenville Center for Creative Arts and events like Artisphere. Family fun abounds at minor league baseball games, kid-friendly museums, and interactive parks. Visitors looking for active escapes can bike the Swamp Rabbit Trail or hike to waterfalls in the nearby foothills.
With an irresistible blend of natural beauty, cultural sights, and Southern hospitality, Greenville offers exemplary small town charm. Its flourishing present stems from the visionary spirit of past generations who shaped this city into the vibrant, progressive place it is today. Visitors will undoubtedly find that Greenville's enduring character and many attractions give this Upstate gem an undeniable appeal.