Things To Do in Houghton, MI in Winter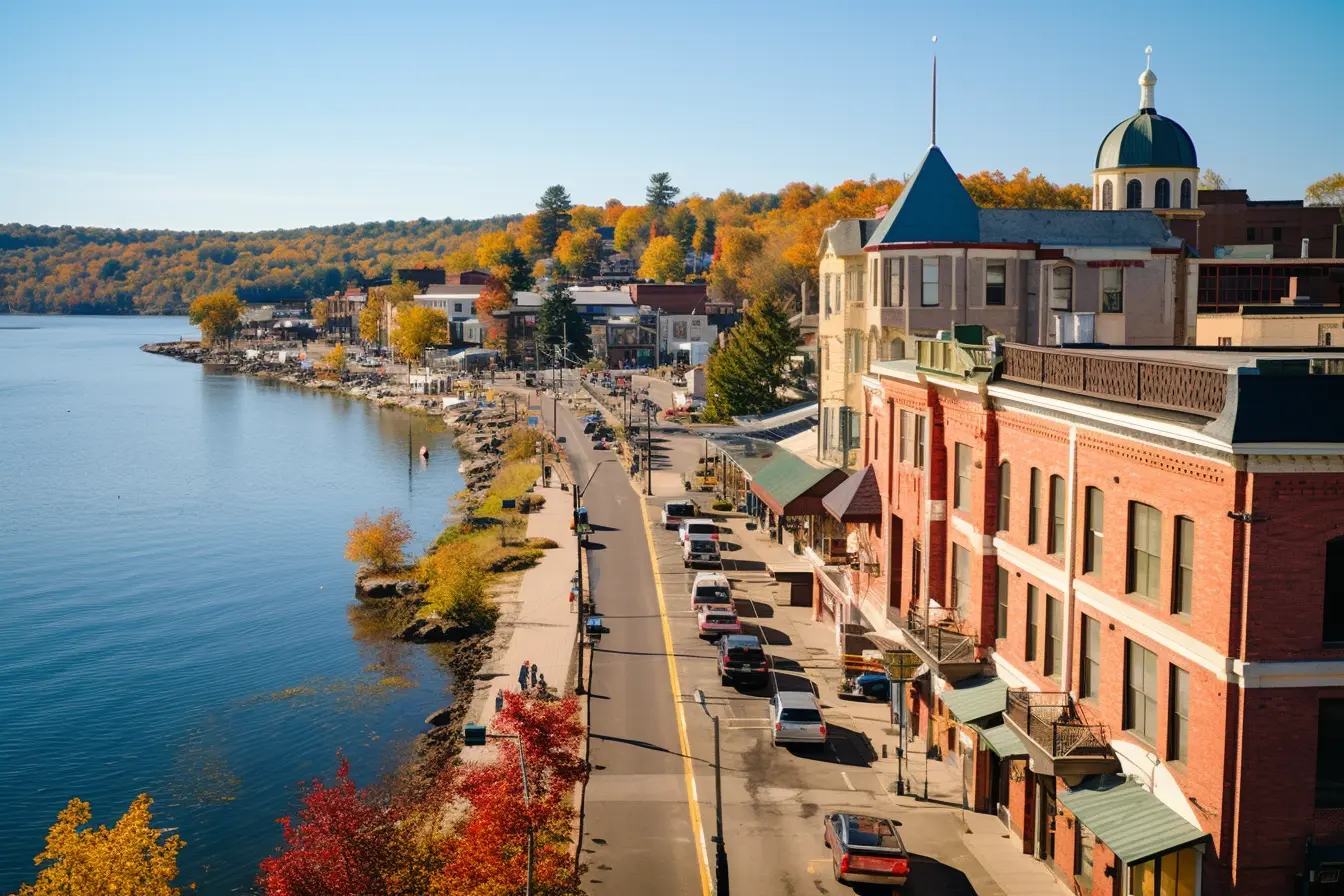 Nestled within the rugged Keweenaw Peninsula, Houghton is a charming town that comes alive in the winter. With an average annual snowfall of over 200 inches, Houghton transforms into a winter wonderland perfect for outdoor adventures, cultural experiences, and enjoying the cozy atmosphere of this historic community.
From snowshoeing through silent forests to learning about local history at museums, here are some of the best things to do in Houghton, MI in winter:
Enjoy Winter Sports at Mount Bohemia
Boasting the highest vertical drop in the Midwest, Mount Bohemia is Michigan's premier destination for extreme winter sports. This ski resort offers over 900 acres of backcountry skiing and snowboarding across its 273 runs. Ride steep chutes, tree glades, and powder bowls accessed via a high-speed quad or a single-seat lift to the summit. Night skiing is available Wednesdays through Saturdays.
In addition to downhill skiing and snowboarding, Mt. Bohemia has a dedicated snowpark with jumps, jibs, and rails serviced by its own surface lift. Cross-country ski and snowshoe on 20 kilometers of trails that traverse scenic forests and frozen lakes. With an average annual snowfall of 273 inches, Mt. Bohemia is sure to satisfy any winter sports enthusiast.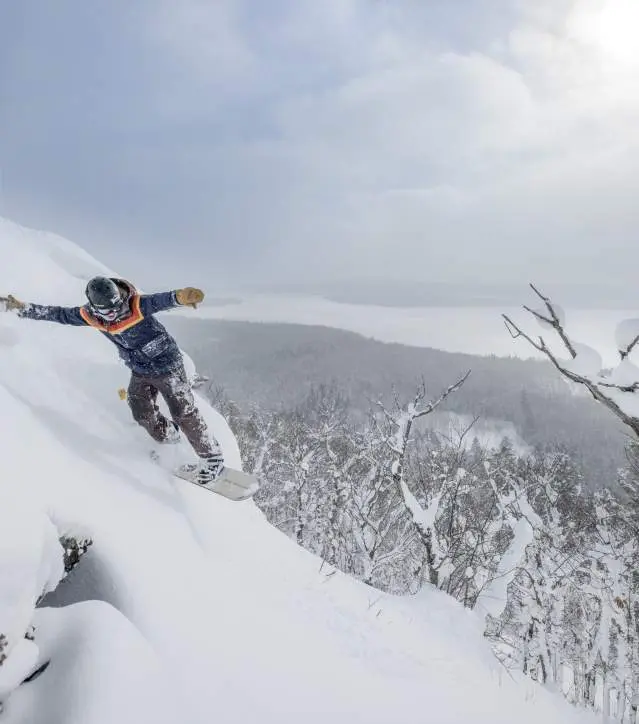 Snowshoe Through McLain State Park
Just 12 miles north of Houghton, McLain State Park offers 19 miles of groomed trails perfect for snowshoeing and cross-country skiing. Traverse gently rolling hills covered in northern hardwood forests. Glimpse wildlife like white-tailed deer, red foxes, and ruffed grouse. Certain trails follow the Sturgeon River, providing opportunities to ice fish.
After working up an appetite, warm up in the wood-heated chalet with hot drinks. A scenic three-mile loop around Lake Superior affords panoramic vistas of the world's largest freshwater lake. With incredibly affordable fees and equipment rentals available, McLain State Park is a fantastic winter playground right on Houghton's doorstep.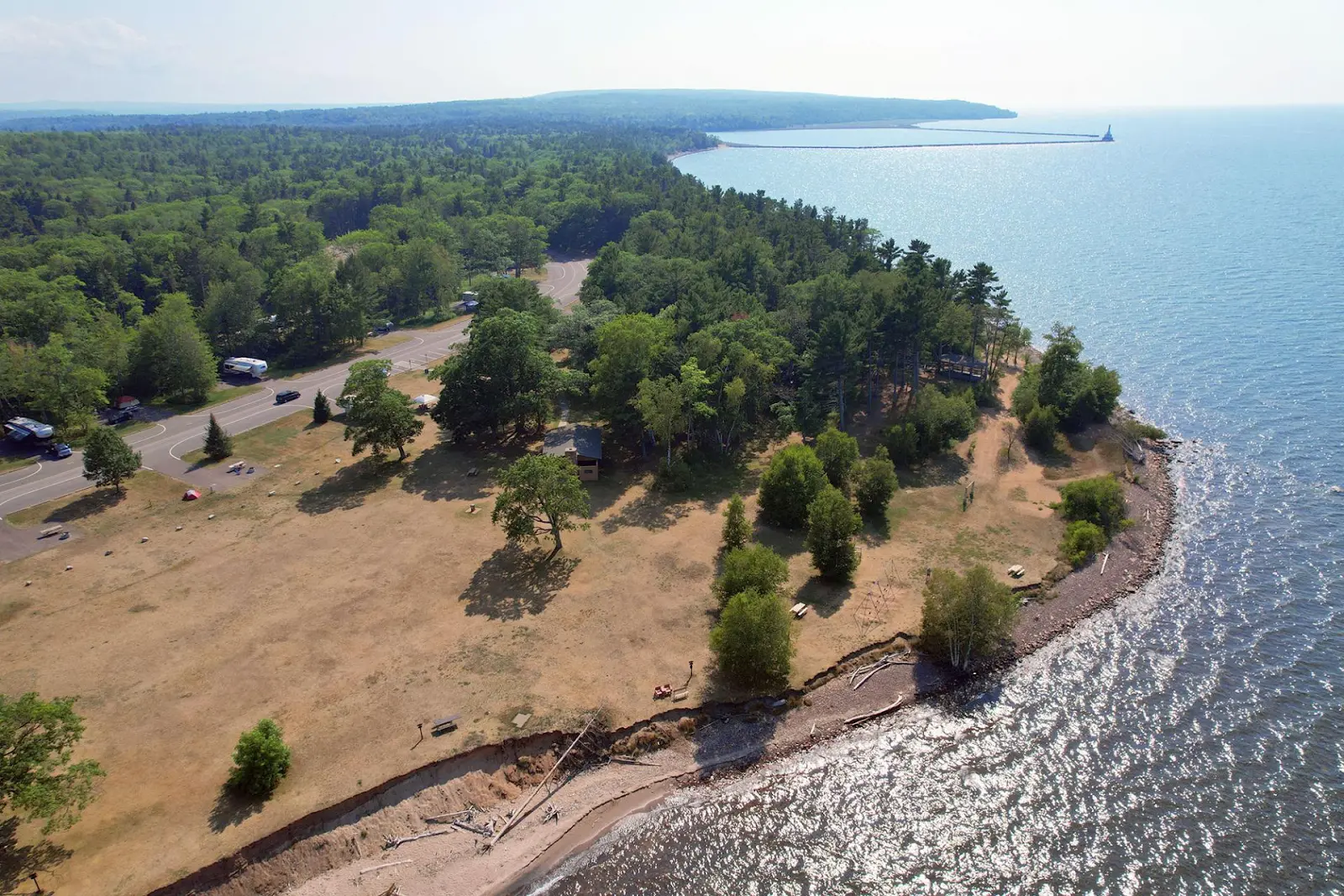 Strap on Snowshoes for Night Trekking
A unique winter experience, Keweenaw Outdoor Recreation Coalition offers guided nighttime snowshoe treks most Saturdays throughout the winter season. Using headlamps to light the way, traverse groomed wooded trails and frozen swamps. Listen for the haunting hoots of great grey owls hunting in the darkness. With fewer distractions, your senses will be heightened as you focus on the sound of snow crunching underfoot and glimpses of moonlight reflecting off the snow.
If conditions allow, make a fire halfway and roast s'mores under a blanket of stars. Night trekking is a singularly tranquil and magical way to experience the stark beauty of a Keweenaw winter.
Downhill Skiing at Mont Ripley
Operated by Michigan Tech, Mont Ripley is a family-friendly ski hill located right in Houghton. It features 24 runs ranging from beginner to expert serviced by three lifts. For young skiers, the bunny hill has a rope tow and gentle slope. Lessons and rental equipment are available. When you need a break, duck into the Alpine Lodge for a hot drink by the fireplace.
Night skiing runs Wednesday through Saturday nights and a terrain park complements the downhill runs. Mont Ripley is an affordable option for skiing and riding within the city limits.

Sip Craft Beers at Keweenaw Brewing Company
Sample locally brewed craft beers in a relaxed, Northwoods-themed taproom at Keweenaw Brewing Company. Their year-round selections like Widowmaker Black Ale and Pick Axe Blonde Ale complement rotating specialty brews like Paavola Red IPA and Snow Bank Stout. Enjoy live music on Friday nights or sports on the big screens.
The menu features pizzas, burgers, and appetizers to pair with the beers. Try the pasties - an Upper Peninsula meat and vegetable pie staple. With 16 brews on tap, Keweenaw Brewing Company is a great spot to unwind after a day on the slopes.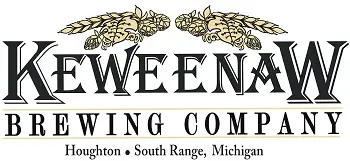 Visit the Keweenaw Snowmobile Museum
Michigan's Keweenaw Peninsula is the birthplace of snowmobiling, with the first known snowmobile invented in nearby Watersmeet, MI in 1924. The Keweenaw Snowmobile Museum in Eagle River documents this history alongside vintage sleds from early pioneers. See how technology and design evolved over decades as snowmobiles gained popularity for winter recreation and transportation.
Other exhibits profile notable Keweenaw snowmobilers, showcase racing trophies, and detail regional snowmobile clubs. Snowmobile memorabilia like gear, maps, and photos round out the collection. This free museum is a must-visit for snowmobiling enthusiasts.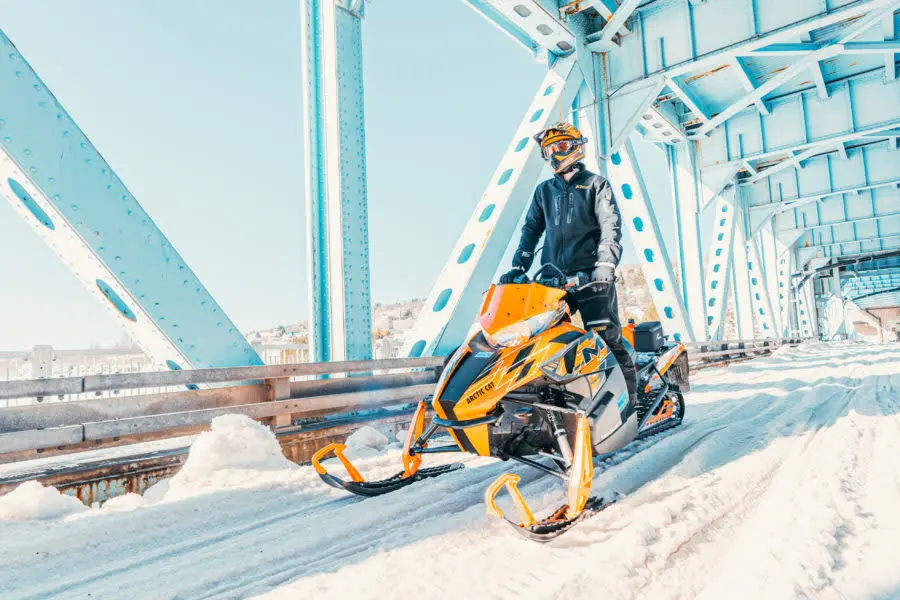 Cross-Country Ski at Swedetown Trails
Just 10 minutes from downtown Houghton, Swedetown Trails offers 50 kilometers of groomed cross-country ski trails that cater to all ability levels. Wide, rolling trails through picturesque forests are ideal for beginners while more advanced skiers can challenge themselves on steeper, narrower loops. Rentals and lessons are available in the chalet.
Double track classic and skate ski trails give you options for technique. Experience the solitude and tranquility of gliding through the snowy backcountry. With trails for all ages and abilities, Swedetown is a scenic winter playground for cross-country skiers.
Go Ice Fishing
The myriad lakes and rivers of the Keweenaw make for bountiful ice fishing. Grab your auger, bait, and tip-ups then head out across the frozen waters in search of tasty panfish, heaping perch, feisty northern pike, or the king prize - lake trout. Portage Lake is a top spot boasting catches of jumbo perch along with walleye, splake, and the occasional brown trout.
Gratiot Lake is revered for its sizeable lake trout, some exceeding 10 pounds! Stop into a local bait shop for the latest hot spots and conditions. With an abundance of hardwater options, ice fishing is a favorite Houghton pastime.
Groom the Trails at Maasto Hiihto
Operated by the Keweenaw Nordic Ski Club, Maasto Hiihto offers over 25 kilometers of scenic cross-country skiing and snowshoeing trails just minutes from Houghton. The trail network features wide lanes for skating plus classic tracks that wrap through forests and fields. Lit trails allow for night skiing.
Volunteers regularly groom the trails after fresh snow, ensuring prime conditions throughout winter. The chalet rents gear, sells day passes, and is a great spot for a break. Experience Houghton's outdoors by gliding along the groomed trails of Maasto Hiihto.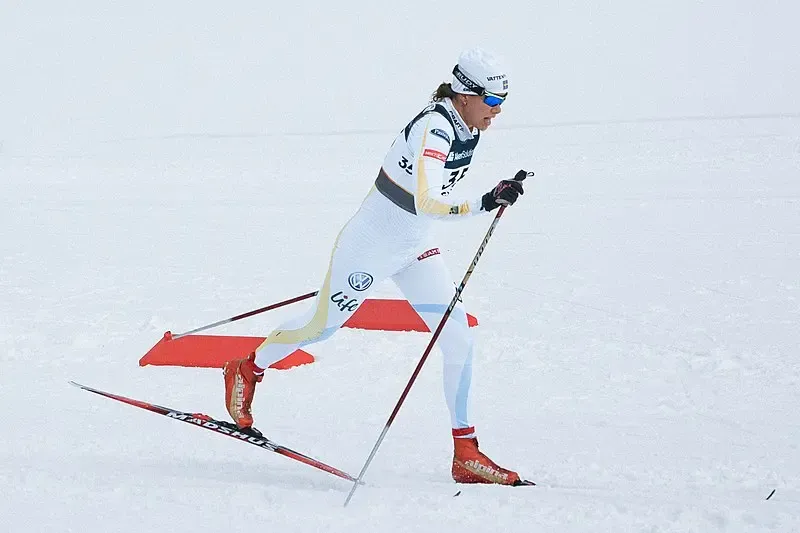 Dine at Kaleva Cafe
Since 1899, the Kaleva Cafe has been serving up scrumptious Finnish comfort food in downtown Houghton. Cozy up in their charming knotty pine interior for breakfast, lunch or dinner. Try traditional specialties like pasties, poached salmon, rice pudding or the massive hand-pressed hamburger. Portions are hearty and prices are reasonable.
Full of character and history, Kaleva Cafe's welcoming atmosphere and stick-to-your-ribs fare make it a delightful local eatery. Be sure to save room for their renowned homemade soups like chicken gnocchi or cheesy broccoli. For a uniquely Upper Peninsula dining experience, Kaleva Cafe hits the spot.
Catch a Hockey Game
Hockey is king in Houghton, and catching a college game is a quintessential winter experience. The Michigan Tech Huskies mens' and womens' teams play Division I hockey as part of the WCHA conference. Cheer on the Huskies at the MacInnes Student Ice Arena on campus as they battle conference rivals and national contenders.
The passionate student sections create an electric atmosphere. Watch future NHL stars in action as talented players showcase their skills. With affordable tickets and exciting play, Husky hockey games are a cherished Houghton tradition.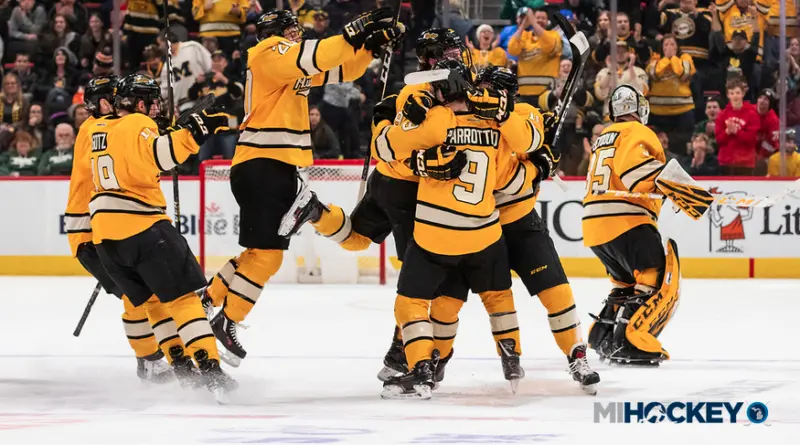 Snow Biking at The Trails
For a unique winter cycling experience, fat biking at The Trails lets you pedal through snowy forests on sturdy bikes with ultra wide tires. Ride 6 miles of groomed singletrack that undulate through hilly woodlands. The schoolyard loop is ideal for kids. Beach training rollers help build skills.
Rent bikes with studded tires for extra traction or bring your own. The Trails provides miles of scenic snow biking on dedicated groomed paths. Just 30 minutes from Houghton, it's a prime destination for fat bike fun.
Meet Sled Dogs at Wintergreen Dogsled Lodge
Learn about the treasured tradition of mushing at Wintergreen Dogsled Lodge, home to a friendly pack of 45 Alaskan and Siberian huskies. Daily kennel tours let you see the dogs in their element and watch sled dog demonstrations. Handlers will introduce you to the dogs while explaining about breeds, training, and care for these amazing athletes.
Getting to pet and snuggle happy, energetic huskies is a highlight for kids and adults alike. Guided dogsled rides and expeditions can also be booked if you want to test out driving your own team. Wintergreen provides an insider's look at the lives of sled dogs.
Shopping in Downtown Houghton
Browse an array of locally owned shops in historic downtown Houghton. From clothing boutiques to craft galleries to wine stores, the main street boasts plenty of charm and unique finds. Stop into Brick & Mortar, specializing in Michigan-made goods and inspired decor.
Mined Treasures offers copper jewelry and handcrafted gifts. The Library Restaurant & Brew Pub lets you sip craft beer and cider between stores. With minimal traffic and compact walkability, downtown Houghton is a winter gem for strolling, snacking, and shopping.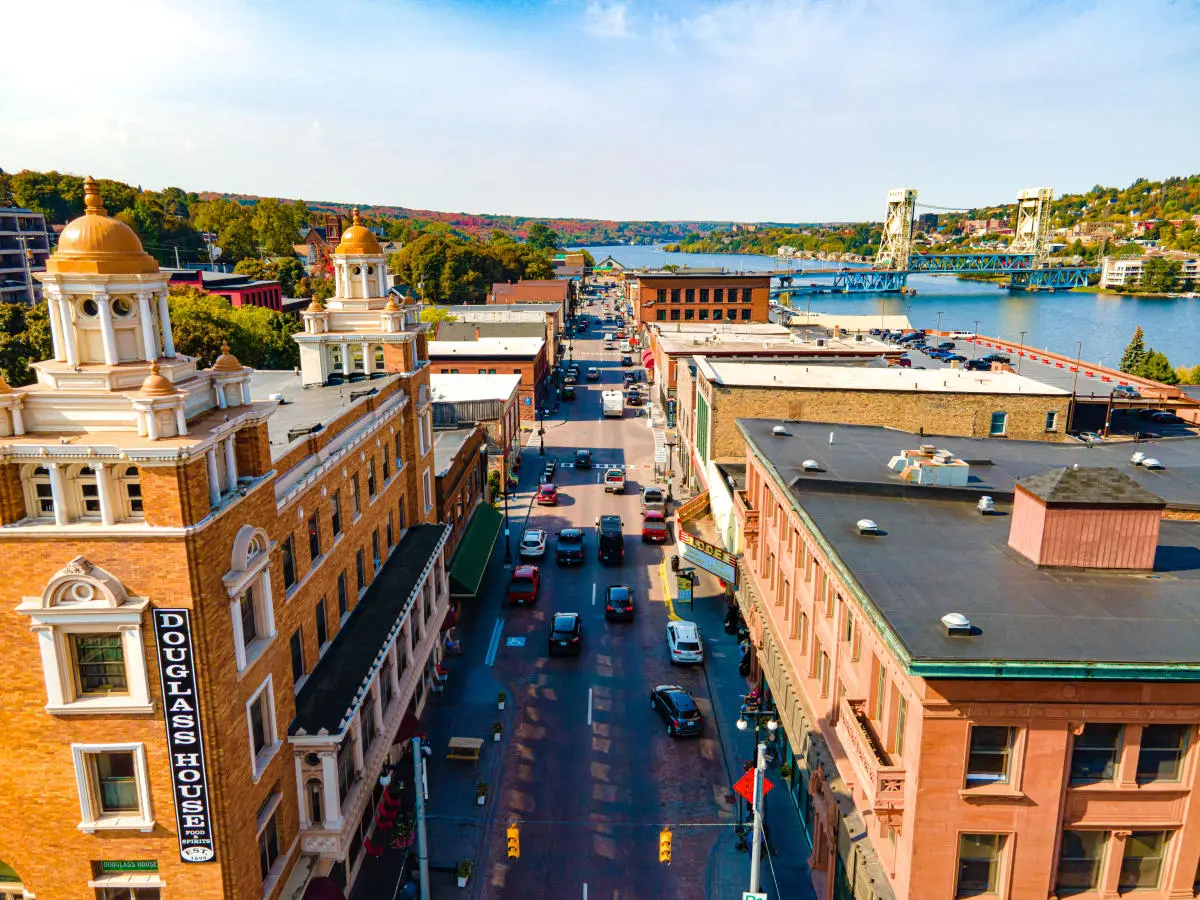 Visit Quincy Mine Hoist Association
For a fascinating look into Keweenaw copper mining history, tour the Quincy Mine Hoist Association. This national historic landmark was once the most productive copper mine in the U.S. Take the cog rail tram 500 feet down into the chilly depths of an actual mine shaft. Guides explain early 20th century mining techniques and equipment. Explore steam-powered hoist buildings and see the mining camp village.
The on-site museum has miners' artifacts, mineral displays, and intricate models. In the winter, the steel headframes loom eerily over snowy fields. Quincy Mine provides an incredible first-hand experience into Michigan's copper boom era.
Carnival Games at the Winter Carnival
Hosted by Michigan Tech, the Winter Carnival is an annual weekend-long festival celebrating all things snow. Events range from hockey and broomball to ice sculpting and snow statues. Students compete in contests like sled racing down snow ramps, kettle corn eating, tug-of-war, and other wacky games.
The Alumni Hockey Game brings former college players back for some fun on the ice. Sound Off Fireworks cap the carnival with extravagant displays over Portage Lake. Winter Carnival's lighthearted activities and parties liven up the cold months.
Peek Into the Past at the Carnegie Museum
Gain insight into Keweenaw history and culture at the Carnegie Museum in downtown Houghton. Immersive exhibits profile various eras from Native American copper mining to the mid-1900s. See recreations of shops, parlors, and home interiors. Study geology displays showing regional rock types and minerals. Learn how early settlers lived through historic artifacts and stories.
Rotating exhibit galleries highlight additional aspects of U.P. heritage, often related to the seasons. The Carnegie Museum provides meaningful perspective on daily life through different chapters of Keweenaw history.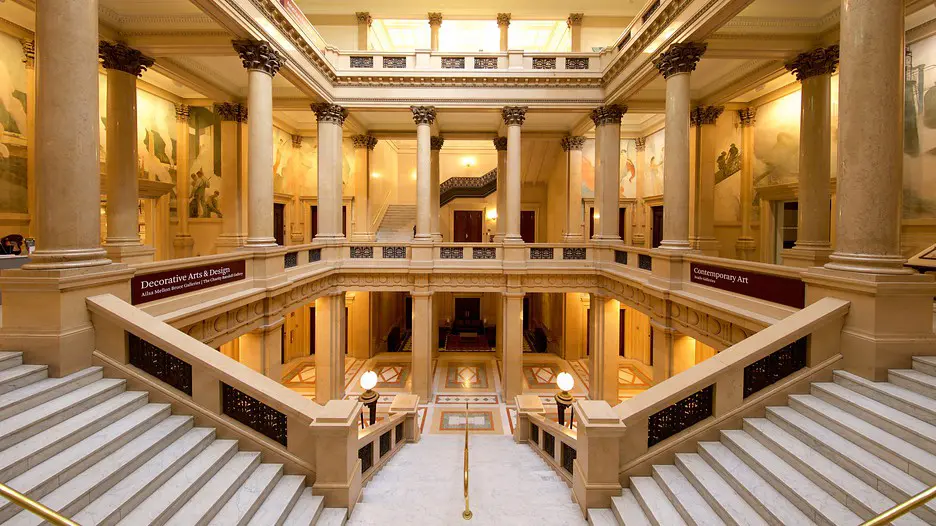 Pick up Pasties for the Road
No visit to the U.P. is complete without sampling the humble yet hearty pasty (pronounced "pass-tee"). This Cornish meat pie remains a cherished regional dish, especially in colder months. Roy's Pasties bakes their pasties the traditional way with ground beef, potatoes, onions, rutabaga, carrots and seasoning folded into a golden pastry crust.
Stop in to try hot pasties for dine-in or take frozen ones home. Pair the savory handheld pies with Roy's gravy or chicken pot pie soup for a warming meal. On your way out of town, pasty packed, you'll have delicious provisions for the road home.
Stay Amid History at The Fitz
For quintessential UP lodging, book a room at Hotel Fitz, Houghton's picturesque historic inn. Originally built in 1889, theCurrent hotel retains its timeless charm and character. Guest rooms feature exposed brick walls, high ceilings, and period-style decor. Unwind by the large stone fireplace in the Great Hall lounge.
Have breakfast or lunch in their wood-paneled dining room before heading out for Houghton adventures. The Hotel Fitz's prime downtown location, complimentary breakfast, and exceptional service make it an ideal home base. Revel in the heritage of this one-of-a-kind area landmark.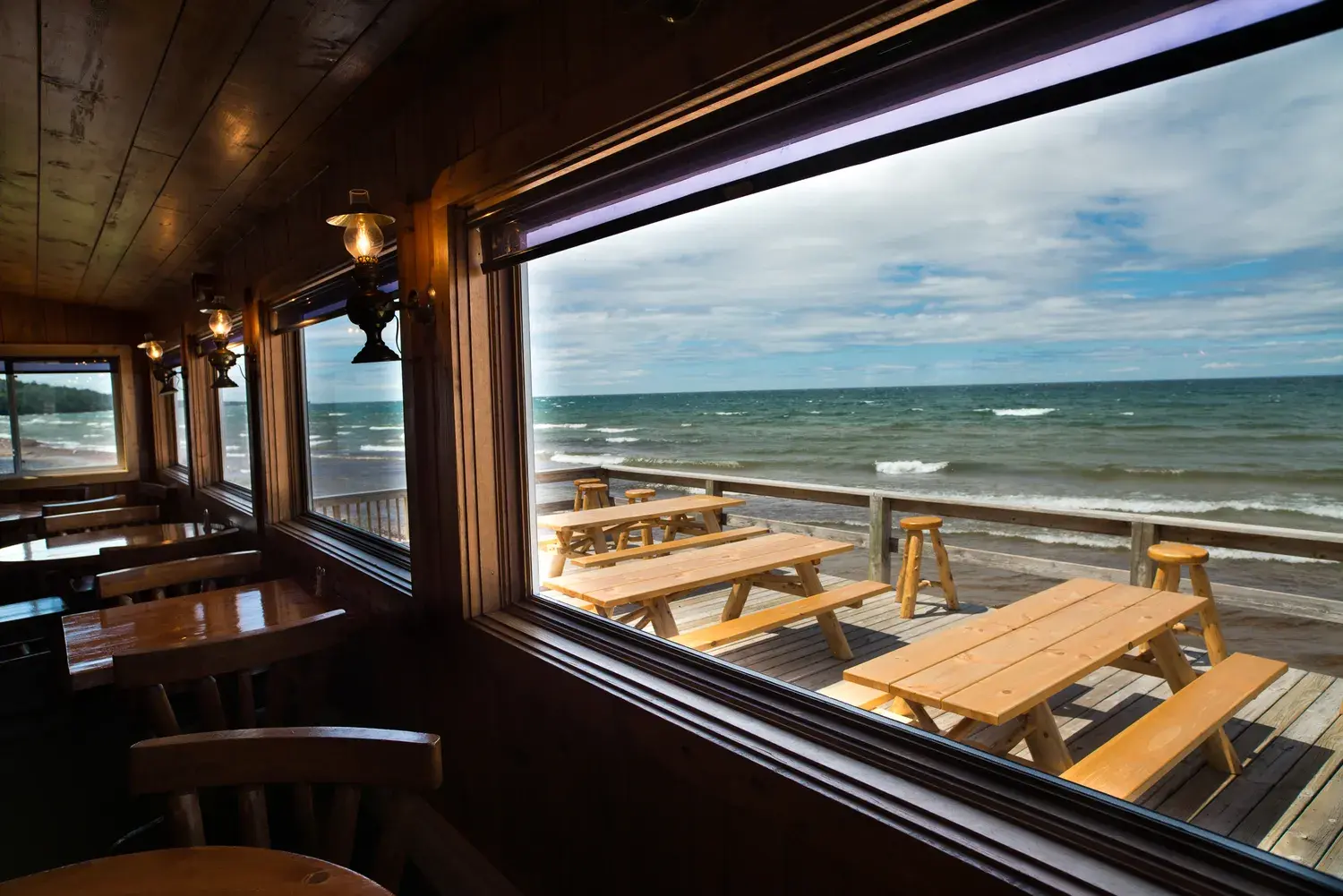 Catch Lake Trout Ice Fishing
Hardy anglers craving trophy trout flock inland to fish Portage Lake once it freezes over. Accessible only by snowmobile or ATV when icebound, this expansive lake produces monster lake trout along with splake, perch, walleye, and the occasional coho or brown trout.
Use tip-ups baited with smelt, shiners or wigglers near rocky drop-offs, submerged shoals, or sunken islands like Manitou to lure lakers, some topping 20 pounds. The dark winter fishery draws diehards willing to brave the cold in hopes of landing "the big one." Portage sees lots of winter fishing shanty villages sprouting up.
Snow Forts and Tunnels at the Tech Trails
The 65 kilometers of groomed cross-country ski trails at the Michigan Tech Trails double as a winter playground for families when snow falls. The Nara Nature Trail loop is perfect for little ones to romp around in the soft powder. Build snowmen, igloos or snow caves in the woods. Dig tunnels and forts for hide and seek.
Have a friendly snowball fight in a clearing or slide down small hills. Enjoy a picnic on a snow blanket then warm up with hot cocoa back at the trailhead chalet. With over 40 inches of snow on average, the Tech Trails become an enchanted winter wonderland for kids to burn off energy playing creatively in the drifts.
Take in Artistic Performances
Houghton's student and community performance art scene stays robust even as the town is deep in the throes of winter. Beat seasonal doldrums by taking in inspiring dance, theater, music and comedy.
The ornate Rozsa Center on Michigan Tech's campus hosts concerts, plays, guest speakers and more. See the newest exhibitions at the Copper Country Community Arts Center. Laugh it up at stand-up comedy shows at the Jam Jar in Eagle Harbor.
Don't miss student productions like musicals gracing the stage at the McArdle Theatre. For affordable performances across genres in an intimate setting, Houghton delivers plentiful options to cure wintertime blues.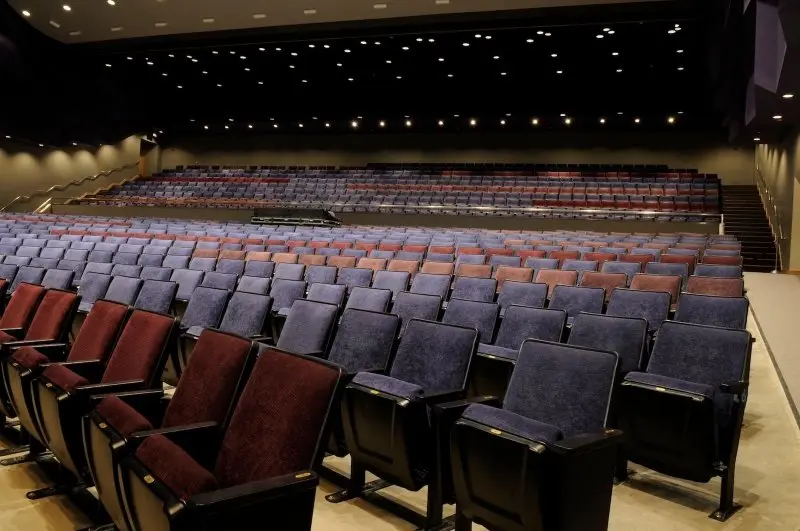 Final Thoughts
With an abundance of snowfall, unique natural setting, and wealth of activities, Houghton offers an exceptional getaway destination in northern Michigan during the magical winter season.
Outdoor enthusiasts can choose from an array of sports and adventures that take advantage of the truly spectacular wintry landscape of forests and frozen lakes surrounding this historic community. Families, couples, and friends will also find top-notch eateries, cultural attractions, historic sites and lively events to fill their itinerary.
Whether planning a quick weekend escape full of snow-covered fun or an extended stay to unplug and recharge as you delve into Houghton's many outdoor offerings, this charming town provides an outstanding winter atmosphere.