Fun Things to Do in Texas City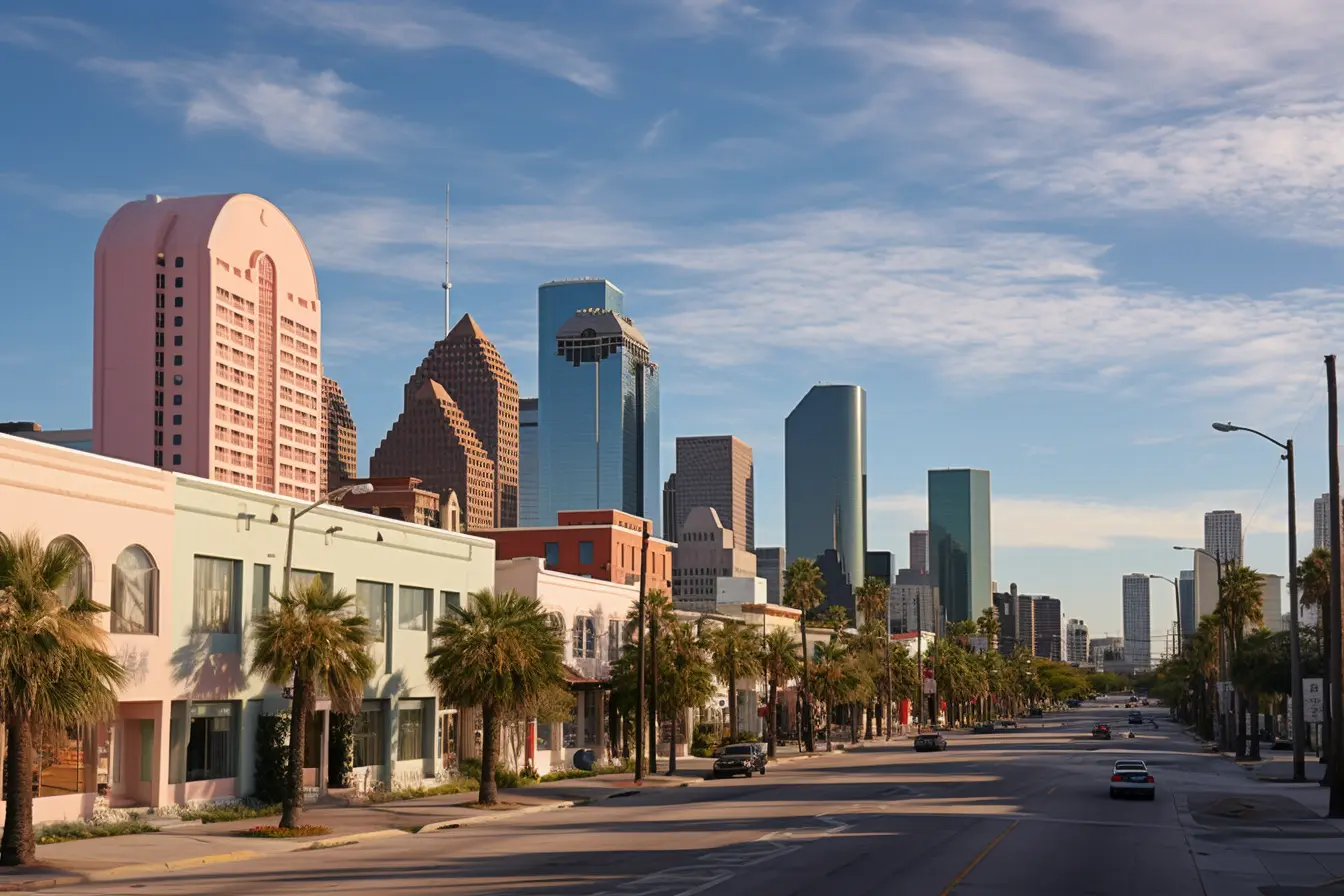 Welcome to Texas City, the coastal community nestled on the shores of Galveston Bay! Whether you're looking to immerse yourself in local history, enjoy family-friendly attractions, sample mouthwatering cuisine, or simply relax amid natural beauty, this city serves up experiences for all interests.
In this comprehensive guide, we highlight over 30 fab things to see, do, and devour in Texas City. From historic landmarks to happening attractions, nature escapes to accommodations, you'll discover this eclectic destination's very best.
Historical Gems
Delve into the city's storied past by exploring these fascinating attractions and landmarks:
Texas City Museum
More than a collection of artifacts and exhibits, this sprawling museum brings local history to life through engaging displays and interactive elements. Meander through a replica 1890s-era house, glimpse what life looked like after the devastating 1947 industrial disaster, admire vintage city photos, and more. It's a pleasures and perils history tour all under one roof.
Address: 409 6th St N, Texas City, TX 77590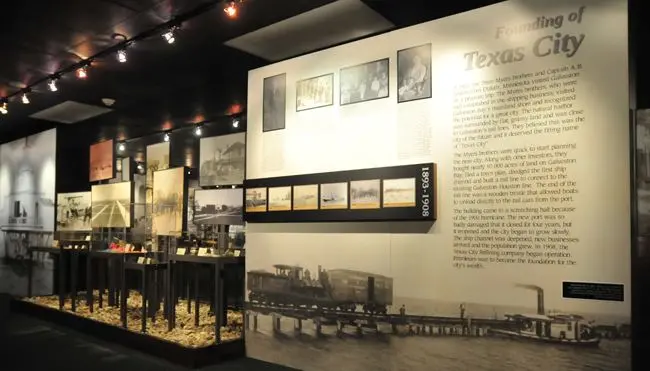 Fort Crockett
Sturdy concrete batteries and bunkers hint at this park's past life as an 1890s-built military defense post. Situated on coastal bluffs, the fort protected the important port and industries that fueled Texas City's early growth. Traverse the remnants by foot or bike for an intriguing dose of living history.
Address: 1902 61st St, Galveston, TX 77551
Texas City Dike
A quintessential part of the cityscape, this concrete behemoth stretches 5 miles into Galveston Bay's shimmering blue waters. While ambling its length, interpretive signage shares how the iconic dike fueled port commerce and forever altered the landscape after its 1915 completion.
Address: Texas City, TX 77591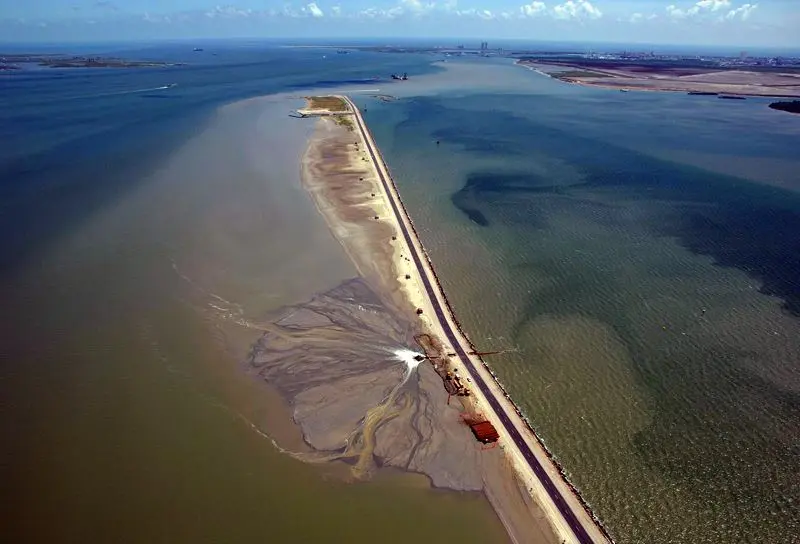 Family Fun
From amusement parks to aviation, Texas City offers young and old alike a medley of family-friendly things to do:
Pleasure Pier
Brightly colored lights flash wildly, classic carnival tunes blast loudly, and rides whirl rapidly at this lively 14-acre old-fashioned amusement park situated on a pier extending out into the gulf waters. The smell of buttery popcorn and sweet cotton candy fill the air as you walk down the wooden plank boardwalk. Excited screams and laughter can be heard from the rollercoasters as they speed by. Try your luck at the midway games like ring toss, balloon darts, and whack-a-mole to win giant plush prizes. Be sure to ride the 145-foot tall Ferris Wheel to get panoramic views of the pier below and stunning sunsets over the bay. Treat yourself to classic amusement park fare like corn dogs, frozen lemonade, and funnel cakes. Don't miss the free shows like juggling acts, magic tricks, and diving demonstrations. When the sun goes down, the pier really comes alive with dazzling LED light displays choreographed to music. With so much family-friendly entertainment, it's easy to spend a whole day enjoying the rides, games, food, and sights at this quintessential Texas boardwalk amusement park.
Address: 2502 Pier Rd, Texas City, TX 77591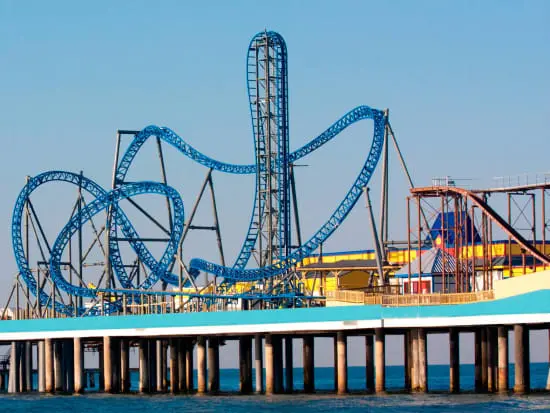 Bay Street Park
This lively green space is a favorite spot for families looking to enjoy the sunny Texas weather. The interactive spraygrounds provide hours of cooling fun on hot summer days with bubbling fountains, dumping buckets, and water cannons. Little ones delight in the playground designed with larger-than-life structures like a towering replica of Texas City's historic clock tower. Pack a picnic spread and enjoy it on the sprawling open grass lawns shaded by soaring palms. Cast a fishing line off the pier into the glistening bay waters and see what you can reel in. Don't miss taking a spin on the Galveston Duck mini-train tour for charming narrated views of the park and bay. As the sun sets, grab a spot on the sloping hillside lawn to watch a stunning technicolor show at the choreographed dancing fountains timed perfectly to lights and music. With so many engaging attractions for all ages, it's clear why Bay Street Park is a cherished community gathering place for residents and visitors alike.
Address: 7900 Bay St, Texas City, TX 77591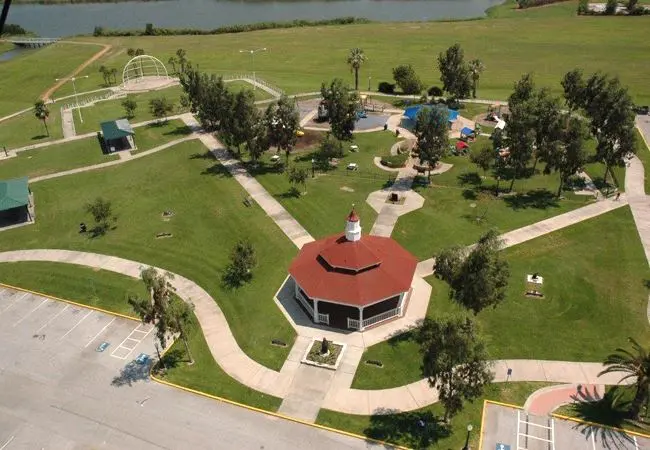 Lone Star Flight Museum
Step through the towering hangar doors and enter aviation nirvana, where rare vintage aircraft, interactive exhibits, and high-flying thrills await. Get up-close to gleaming planes from WWI, WWII and beyond like the Spirit of Texas, one of only two flying B-17's today. Marvel at the extensive collection of over 70 aircraft telling the story of flight in Texas. Try your pilot skills at the state-of-the-art flight simulators. Chat with knowledgeable docents and veterans who reminisce about experiences with these iconic planes. If you're feeling brave, strap into the open-cockpit for an exhilarating biplane ride soaring high above the Gulf coast. The onsite restaurant even has a runway view patio so you can enjoy a burger and watch vintage planes take off and land. Whether you're an avid aviation buff or just looking for a thrilling experience, this interactive museum offers an unforgettable journey through aerospace history.
Address: 11551 Aerospace Ave, Texas City, TX 77591
Moody Gardens
Though technically just outside city limits, this Galveston attraction complex is a favorite regional pick for families looking for a full day of interactive explorations and amusement. Enter the towering glass pyramids and journey through tropical environments from across the globe all under one roof. Meander through exotic plant life, multi-story trees, and lagoons filled with marine life in the Aquarium Pyramid. See penguins, seals, and sharks up-close through the massive acrylic panels. Zip through treetop canopy walkways, waterfalls, and exotic animal exhibits in the rainforest pyramid. Marvel at intricate seasonal ice sculptures chiselled by international artists in the Ice Palace. Catch a breathtaking 4D film in the Ridefilm theater with motion seats and special effects. Outside the pyramids, Looping Thunder roller coaster and carnival rides provide thrills while the Discovery Museum offers engaging science fun for all ages. Whether you want to explore tropic habitats, marvel at ice art, catch an immersive film or enjoy amusement rides, Moody Gardens truly has something for every family member.
Address: 1 Hope Blvd, Galveston, TX 77554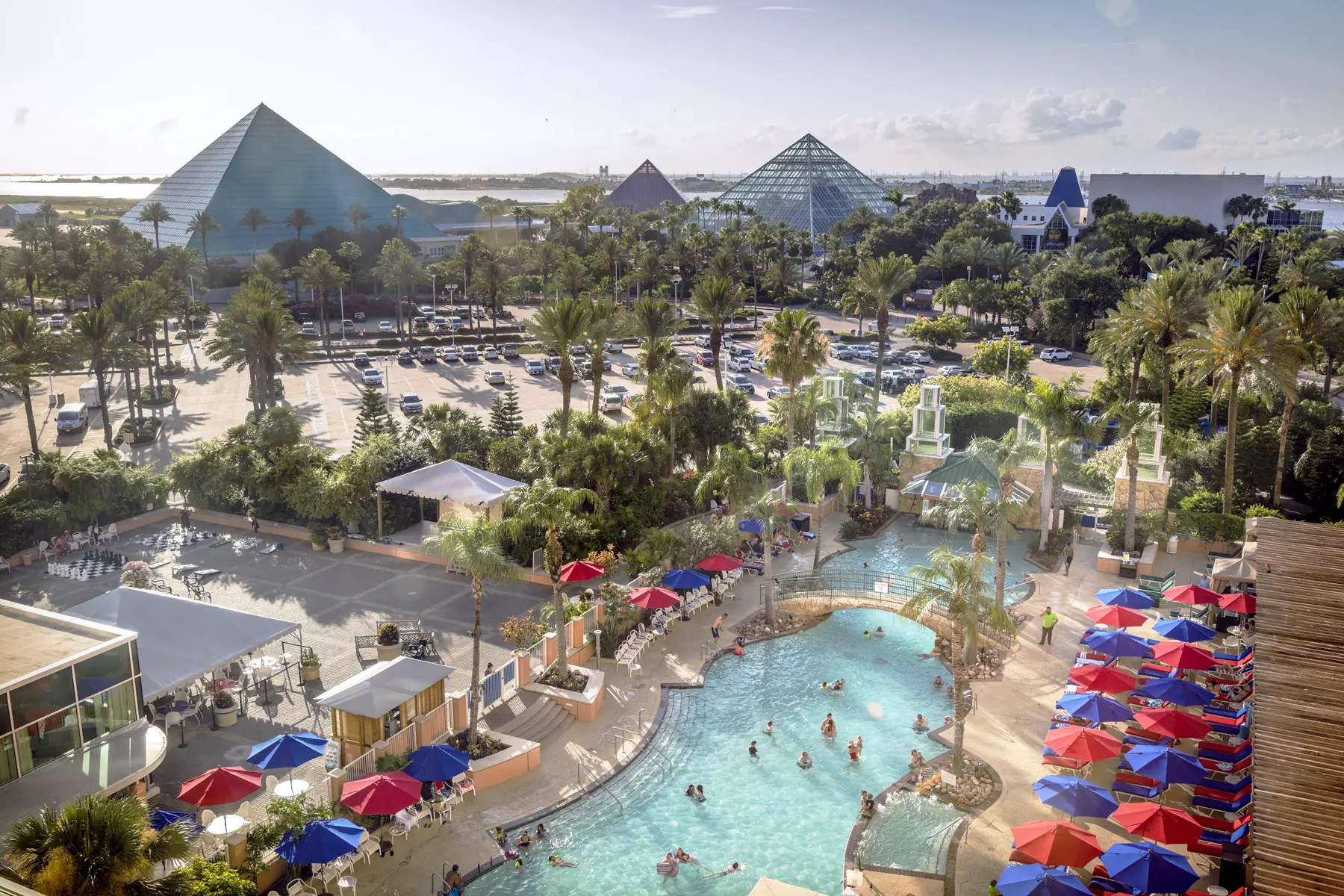 Tantalizing Tastes
Indulge in Texas City's most crave-worthy food and drink finds at these chef-driven dining spots:
The Spot
Everyone will spot how a stop at this retro burger and beer joint is a Texas City must. Their juicy Spot Burger piled high with all the fixings is locally legendary, as is their namesake Spotted Dog doused in chili. Expect good grub, cold brews, and no frills ambiance since 1969. Cash only, y'all.
Address: 901 5th Ave N, Texas City, TX 77590
Crazy Alan's Swamp Shack
For Cajun and Creole flavors done right, make a beeline to this kitsch-filled eatery where the gator decor matches the menu. Fill up on Bayou State classics like fried boudin balls, crawfish étouffée, po' boys, and piping hot beignets. It may sound crazy, but Alan sure knows his stuff.
Address: 101 W Main St, Texas City, TX 77590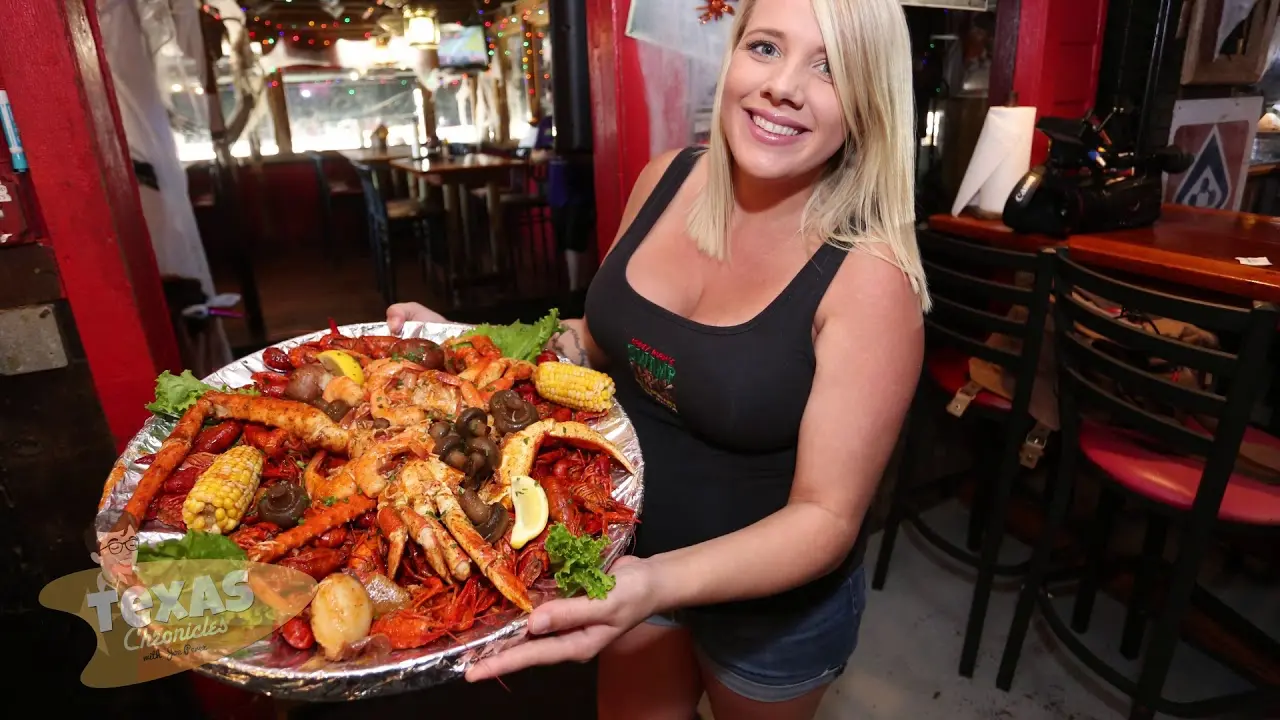 Guadalajara Grill
Authentic and affordable Mexican cooking is the name of the game at this local favorite with roots dating back decades. Their tender carne asada and sizzling fajitas satisfy, while combo platters let you sample enchiladas, tacos, and more. Refresh with some horchata or sip a tangy margarita.
Address: 2201 Palmer Hwy, Texas City, TX 77590
Le Cat Cafe
For a taste of Vietnam without the flights, slurp steaming phở and crunchy bánh mì at this strip-mall sensation. Chinese flavors like pork dumplings and General Tso's also grace the menu. And yes, there is a resident cat lounging inside too.
Address: 1801 24th Ave N, Texas City, TX 77590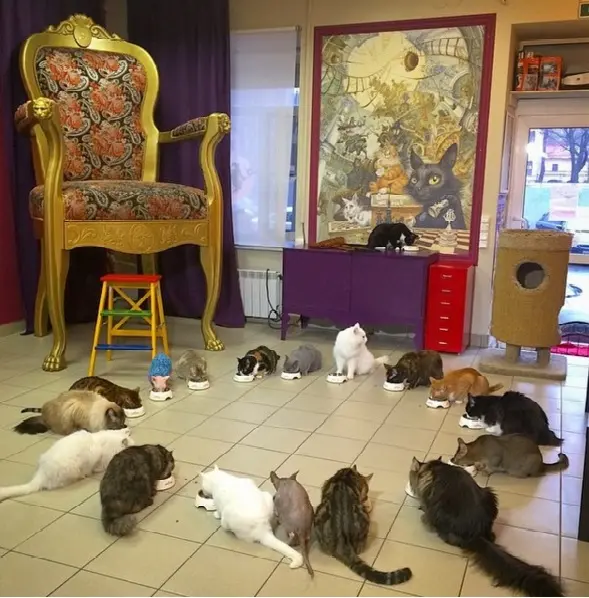 La Tapatia Taqueria
At this tiny taqueria, authentic Mexican street eats like succulent tacos, hearty tortas, and fresh salsas take center stage. For adventurous palates, sample tacos of beef tongue, tripe or chorizo. Wash it down with an agua fresca or Mexican cane soda.
Address: 1904 5th Ave N, Texas City, TX 77590
Brews Brothers Brewing
In a laid-back taproom, this nano-brewery crafts an ever-evolving lineup of creative small-batch beers. IPAs, stouts, fruity sours - sample a flight of the latest or order a full pour of your pick. Bar food like wings, nachos and handmade pizzas pair nicely too.
Address: 2111 N Panther Pkwy Suite A, Texas City, TX 77591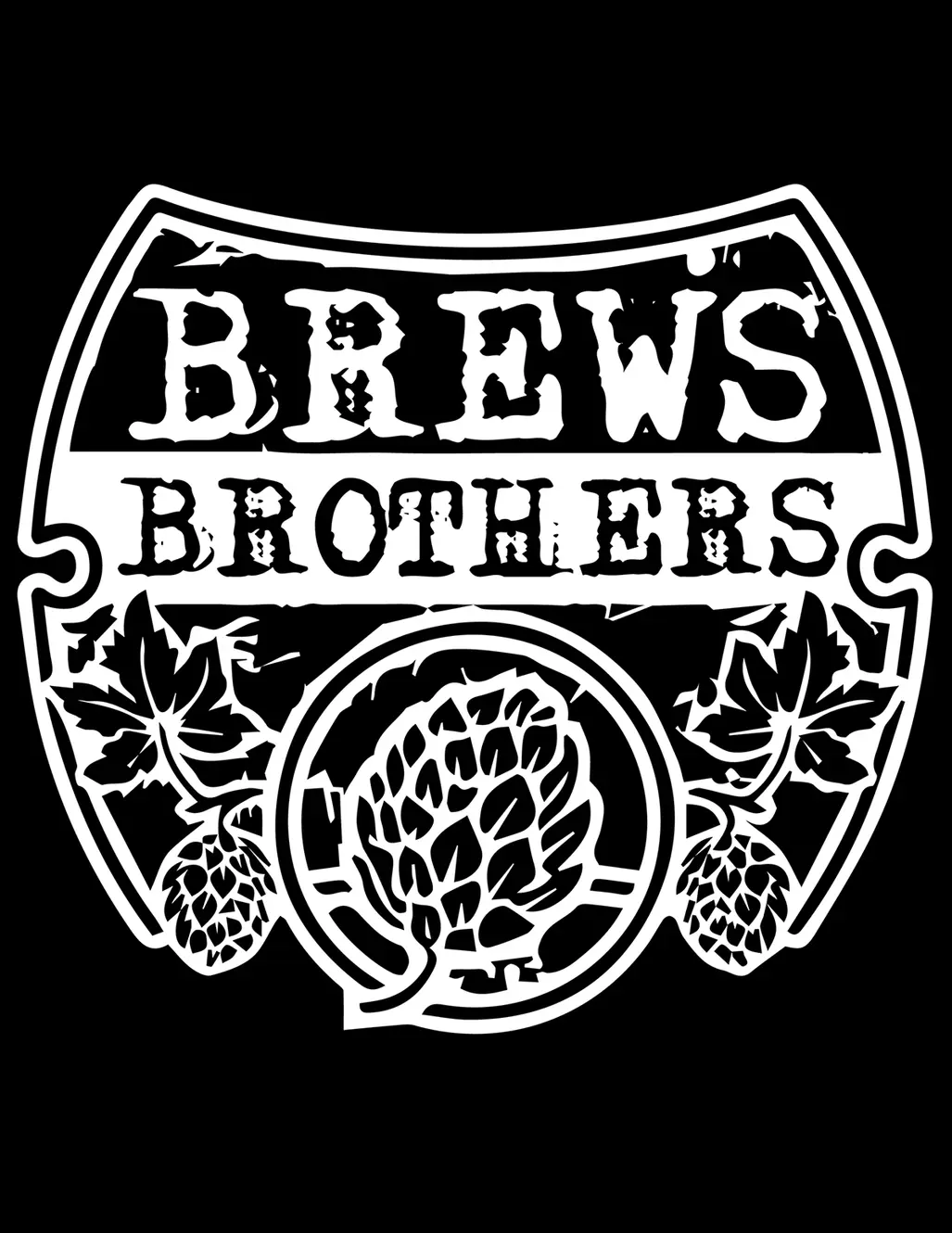 Accommodations
From roadside motels to full-service hotels, Texas City offers accommodations for every budget and style:
Holiday Inn Express & Suites
Clean, comfortable, and equipped with modern amenities like Wi-Fi, mini-fridges, microwaves, this newer hotel provides reputable value for all travelers. Start your day with a free hot breakfast before setting out to explore Texas City.
Address: 2440 Gulf Fwy, Texas City, TX 77591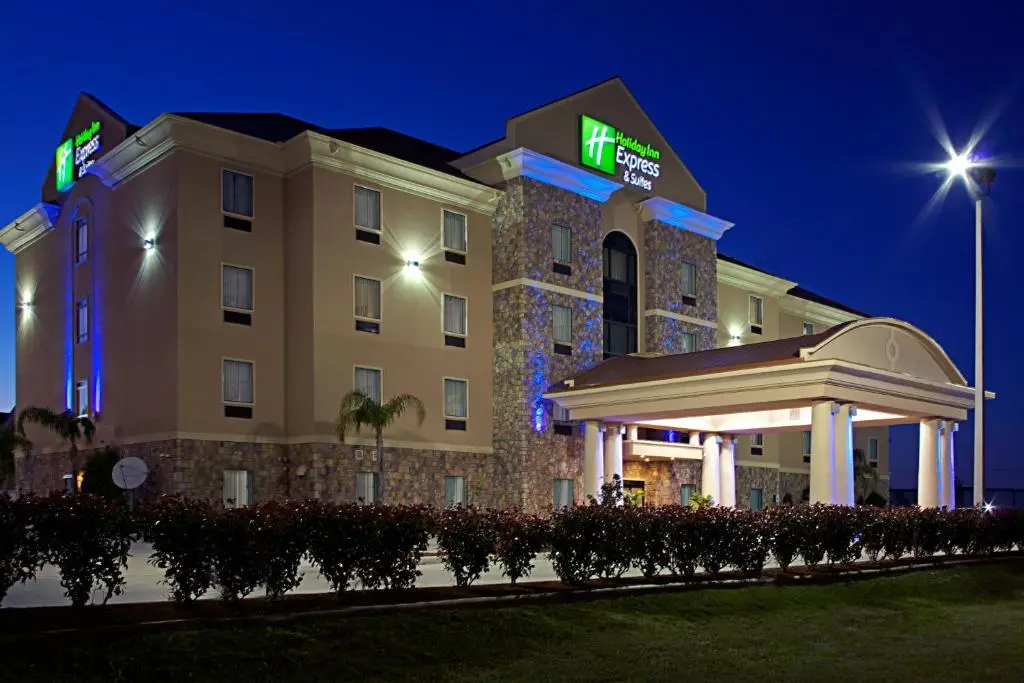 Pearl Inn & Suites
Ideal for longer stays or family vacations, these roomy all-suite lodgings include fully-stocked kitchens. Complimentary perks like Wi-Fi, laundry, continental breakfasts, and light evening meals add convenience.
Address: 2009 5th Ave N, Texas City, TX 77590
Comfort Inn & Suites
Wake up refreshed at this trusted pet-friendly chain and fuel up with free breakfast before a day on the town. Unwind back in your cushy room or suites featuring mini-fridges and microwaves.
Address: I-45 Texas City, TX 77591
Harbor House
Charming European vibes and reasonable rates await at this cozy inn. From the tranquil gardens to 24-hour pantry, it's the little touches that make this historic downtown stay special. Start your morning with complimentary coffee and pastries.
Address: 302 6th St N, Texas City, TX 77590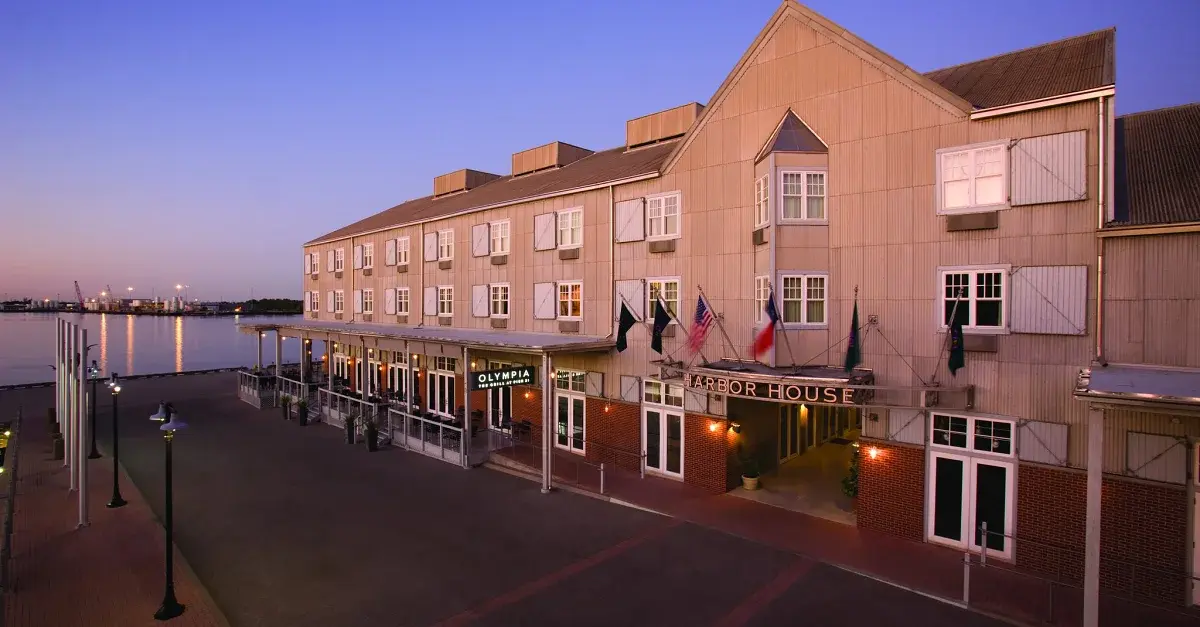 La Quinta Inn & Suites
Stretch out in spacious rooms while the kids enjoy the indoor pool at this polished pet-friendly pick. Score bay views from waterside rooms and take advantage of freebies like Wi-Fi, parking and Rise and Shine breakfast.
Address: 1128 Hwy 146 N, Texas City, TX 77590
Nature's Playground
Beyond the city scenes, Texas City's surroundings offer plenty of natural spaces and waterside escapes. Take advantage of the balmy Gulf breezes and sunny blue skies by exploring areas like:
Galveston Island State Park
Just a short ferry ride away, this expansive 2,000-acre barrier island park teems with wildlife and ecosystems to explore. Comb the sandy beaches and you may spot marine life washed ashore like starfish, sand dollars, and colorful shells. Wander the coastal prairie habitat and see wildflowers like bluebonnets and Indian paintbrushes bloom among the grasses. Paddle along the marshy inlets in a kayak to quietly observe herons, spoonbills, pelicans and other birds that call this habitat home. Cast a fishing line off the mile-long beachfront and reel in trout, redfish and flounder. The park contains seven distinct natural environments within its borders from freshwater ponds to towering oak motts so every trail walk reveals new finds. Keep your eyes peeled for white-tailed deer, raccoons and armadillos foraging throughout the habitats. Set up camp at one of the parks campgrounds and enjoy s'mores by the fire as the waves gently lap the shoreline in the background. With so much picturesque wildlife and scenery, it's easy to while away the days exploring this island oasis.
Address: 14901 FM 3005, Galveston, TX 77554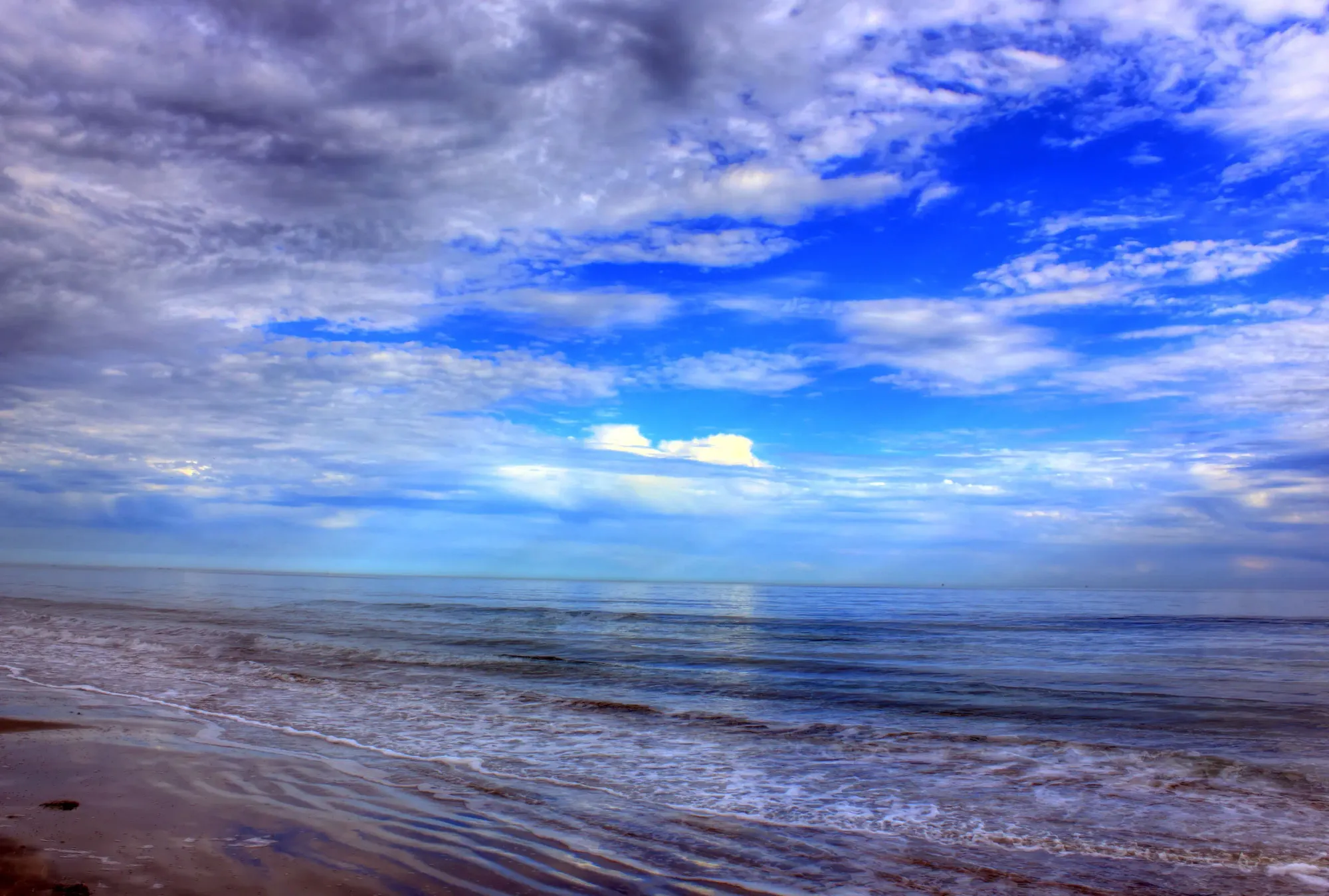 Bay Street Park
This scenic urban greenspace lets you soak up the natural beauty of the area without venturing far. Meandering trails and boardwalks wind through wetland environments filled with marine life. Pause at the fishing pier jutting out into the bay and try to spot roseate spoonbills, great egrets, herons and other feathered locals wading through the marshes. Let the little ones safely get up close to turtles, fish and crabs in the educational wetlands exhibits. Trailside educational signs provide info on the native vegetation, wildlife habitats and ecosystems showcased throughout the park. Grab a nature guide booklet and check off species as you spot them from the park's bayfront promenades. The adjacent outdoor amphitheater even offers nature-themed shows and presentations. With its diversity of native wetland environments and wildlife, Bay Street Park makes appreciating the local ecosystem easy and engaging.
Address: 7900 Bay St, Texas City, TX 77591
Patsy Ann Seiberling Bird Sanctuary
This pocket-sized sanctuary provides closeup looks at our feathered friends in the heart of the city. Meandering crushed granite paths lined with benches wind through trees, bushes and pond habitats filled with ducks, egrets, hummingbirds, butterflies and more. Keep your eyes peeled around every turn for urban wildlife sightings and new species to add to your birdwatching life list. Carefully curated native foliage is neatly labeled providing a teaching tour about the plants that attract and support the local avian residents. The relaxing flowing fountain provides a soothing backdrop as you pause to truly appreciate the sanctuary's winged inhabitants. With its immersive walking paths, prime birdwatching and educational signage, this urban oasis offers a surprisingly transportive nature experience tucked into the city.
Address: 714 7th Ave N, Texas City, TX 77590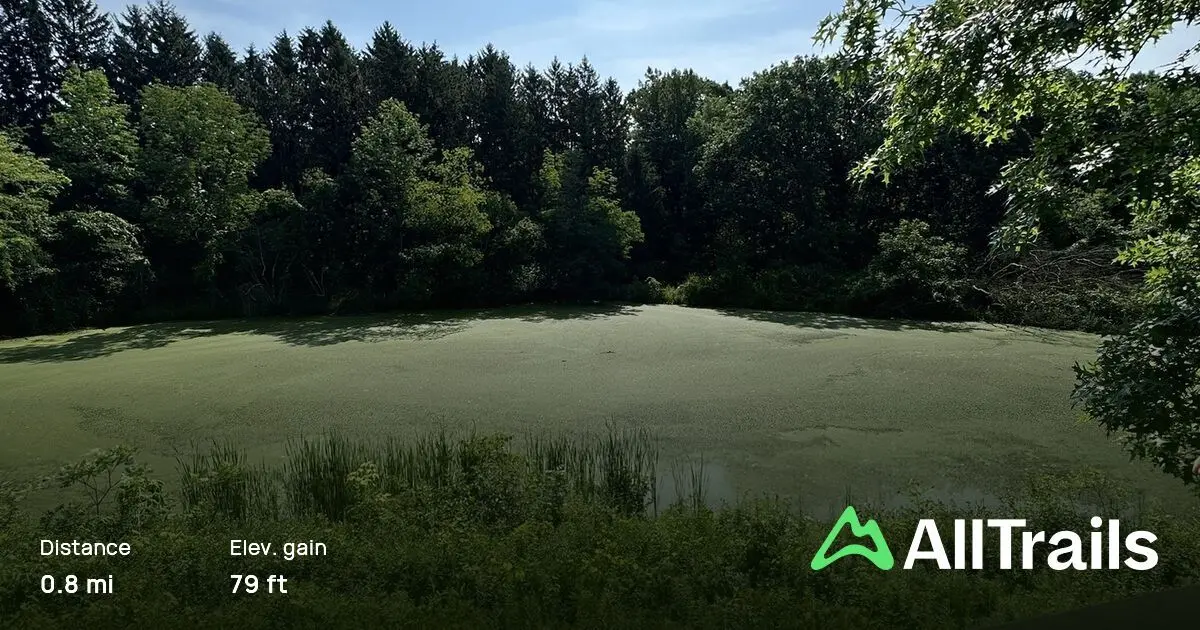 Top Local Experiences
Beyond the well-known attractions, insider city experiences give a sense of Texas City's character. Here are uniquely local things to do:
Historic Downtown Walking Tour
Let an expert guide from the museum unravel the hidden histories tucked into the downtown's streets and buildings. These 90-minute Saturday morning tours at 10am highlight architectural gems easy to overlook and impart fascinating lore from Texas City's past. As you stroll along the sidewalks, your guide will point out unique decorative details that reveal influences from the Victorian era when the city blossomed. Peek into alleyways you might normally pass by to uncover ghost signs, artistic manhole covers, and impromptu galleries. Step into landmarks like the elaborate 1909 City Hall to admire the marble interiors and soaring domed ceilings. Pass hidden architectural surprises like the ornate movie theater tucked away on 6th street. Throughout the walk your guide will spin tales of the cantankerous characters who helped shape Texas City into the port community it is today. From its beginnings as a railroad stop to surviving a disastrous explosion, Texas City has no shortage of captivating history to uncover. Pre-booking is required for these free Saturday tours so don your comfiest walking shoes and get ready to glimpse the city in a whole new light.
Tour Provider: Texas City Museum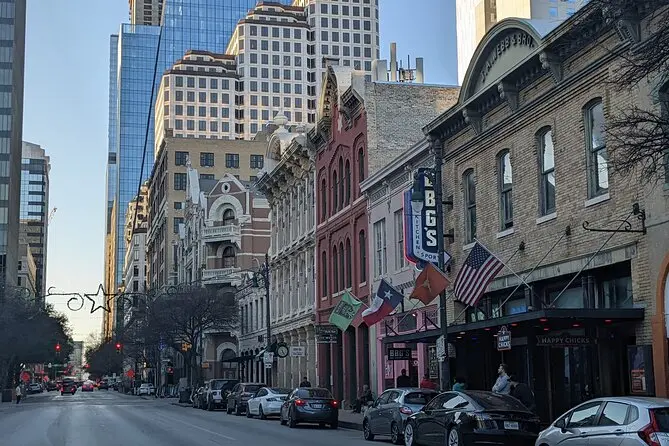 Mural Mile
Over 100 vibrant larger-than-life murals splash color and artistic flair across downtown buildings. Grab a free map from the Chamber of Commerce and scout out these stunning wonders as you explore the city center on foot. Talented artists have transformed plain brick walls into vibrant canvases spotlighting the city's heritage, wildlife, industries and diversity. You'll find massive photorealistic wildlife scenes, imaginative dreamscapes, inspirational quotes, abstract geometrics and more unique concepts at nearly every turn. History comes alive with scenes of immigrants arriving by railcar, sugar cane harvesting, and belching smokestacks lining the working harbor. Pay attention and you may start to notice hidden details and meaningful symbols embedded into the designs celebrating all aspects of Texas culture. Seeing the town through the lens of local artists will give you new appreciation for Texas City and a knockout background for your souvenir snaps.
Address: Downtown Texas City
Hometown Concert Series
On Saturday evenings in spring and summer, top local bands rock the outdoor stage at Bay Street Park. The covered pavilion provides shade and stadium seating but feel free to spread out a blanket on the sloping lawn. Pack an ice chest with snacks and settle in alongside your neighbors for these free community concerts. With family-friendly programming, you'll hear a range of genres from zydeco and jazz to classic rock tribute bands. Kids are invited to dance and spin in the grassy area by the stage as parents tap their toes to beloved throwback hits. Grab a spot and sway under the stars to the musical stylings of hometown heroes and talented area performers. Between the scenic bayfront setting and toe-tapping shows, this concert series is one of the city's most beloved traditions.
Venue: Bay Street Park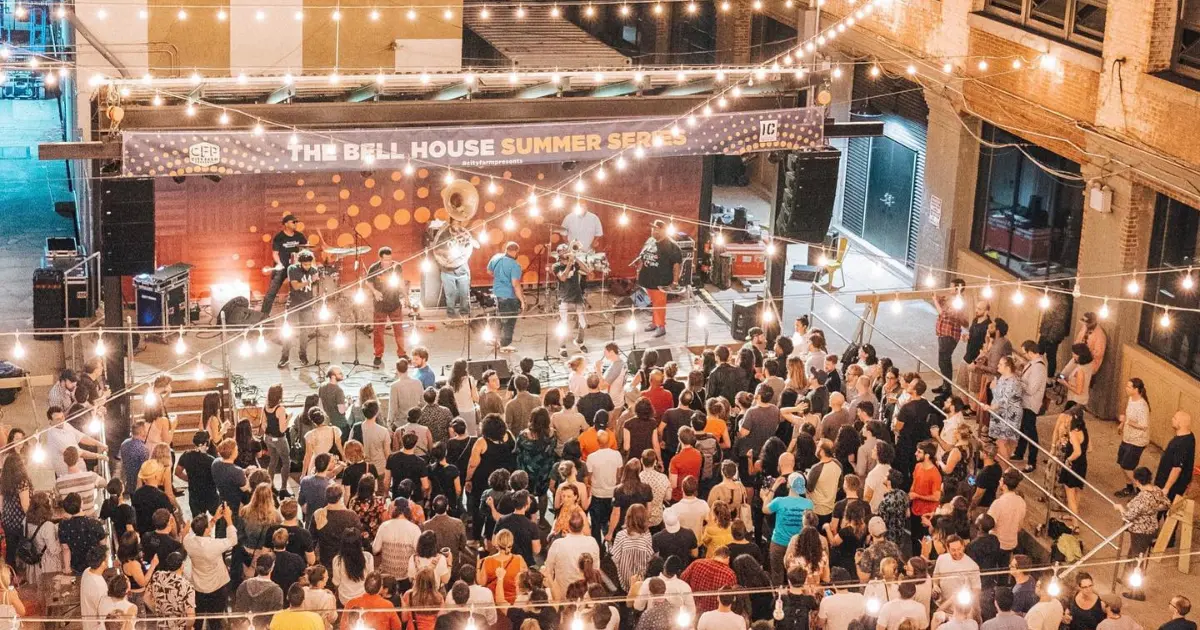 Day Trippin'
With its prime location, Texas City allows easy access to these popular regional attractions:
- Johnson Space Center - Houston
- Moody Gardens - Galveston
- Schlitterbahn Water Park - Galveston
- San Jacinto Monument - La Porte
- Kemah Boardwalk - Kemah
- Port of Houston Boat Tour - Houston
- Brazos Bend State Park - Needville
- Battleship Texas - La Porte
Venture beyond city limits to explore the diversity of Southeast Texas all within a short drive. Use Texas City as your home base while checking famous sites and hidden gems off your Texas bucket list.
Closing Thoughts
We hope this guide provides a well-rounded view of experiences across Texas City. From the harbor to historic downtown, amusement parks to nature preserves, this coastal community truly offers it all.
When planning your trip, be sure to blend main attractions with local finds and regional day trips. For comfortable and affordable home base options, Texas City hotels meet any style and budget too.
Above all, come ready to dive into that famous Texas hospitality and the laid-back bayfront lifestyle. With sunny skies, seafood and barbecue, and endless activities, Texas City is ready and waiting for your visit! Let the fun begin...