Top Things to Do In Warwick, New York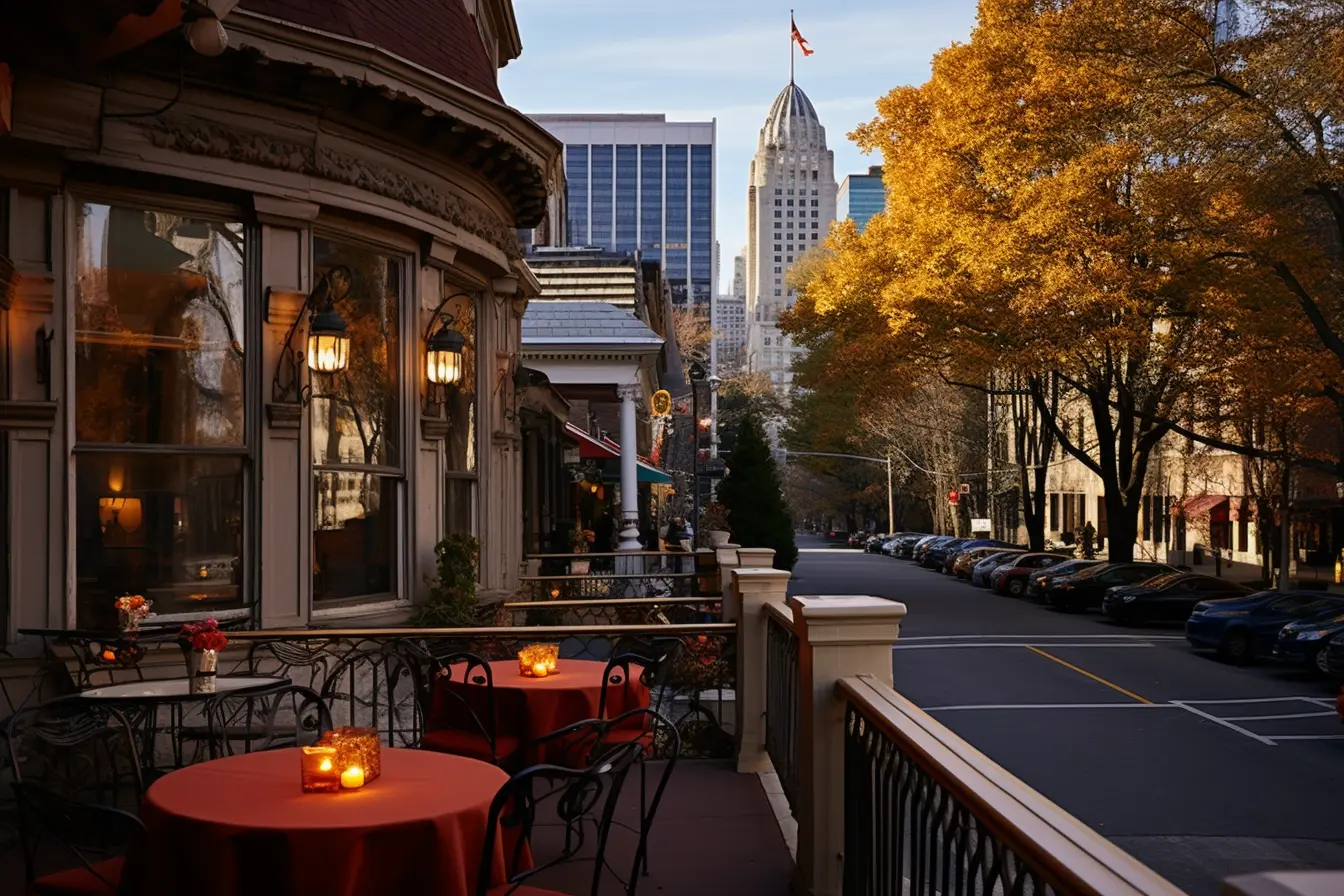 Nestled in the foothills of the Catskill Mountains lies the charming town of Warwick, New York. This historic village offers visitors a plethora of activities and attractions to enjoy year-round. From exploring its natural beauty and rich colonial history to indulging in its lively arts and dining scenes, Warwick satisfies travelers of all interests.
This comprehensive guide will highlight some of the most memorable and significant things to do in Warwick, New York. It covers the town's top sites and experiences, ranging from renowned destinations to local hidden gems. We'll guide you through Warwick's abundance of outdoor recreation, fascinating architecture, delectable restaurants, cozy accommodations, and so much more.
Enjoy Nature and Scenery
Warwick provides easy access to the stunning wilderness of the Hudson Valley. Its lush parks and meandering waterways allow you to hike, bike, and paddle your way through some of the most picturesque natural landscapes in New York state.
Hike and Bike the Warwick Valley Rail Trail
Traversing 11 miles through the heart of Warwick, the paved Warwick Valley Rail Trail offers a scenic journey by foot, bike or even horse. This converted railroad corridor winds past open farmland, over bridge crossings, and through shady stretches of woodland. Interpretive signs describe the natural and cultural history of the landscapes around you. The occasional bench provides a spot to pause and admire the pastoral scenery along the way.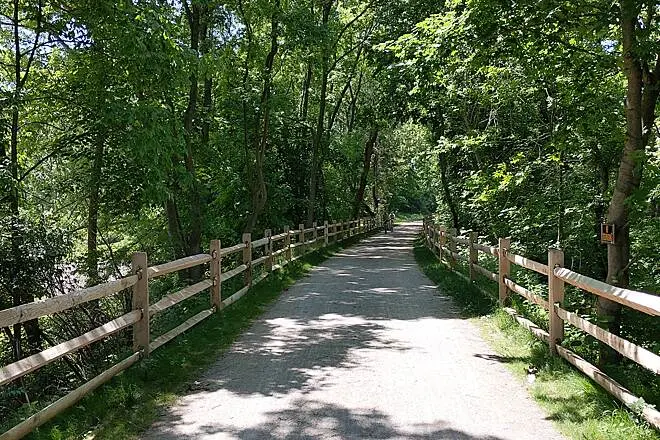 The flat, accessible trail caters to all ages and abilities. Bring your own bike or rent one in town to cover more ground. More intrepid cyclists could ride the entire out-and-back length from Lewis Park north to Greenwood Lake. For a nice warmup walk or ride, start from downtown Warwick and venture 3.5 miles north to Wickham Lake. Access trailheads behind Main Street businesses or at Forester Avenue by Stanley-Deming Park.
Built by the historic Lehigh and Hudson River Railway in the 1860s, the railroad enabled Warwick's development into a tourist destination. After the tracks were removed in the 1960s, the railbed lay unused until the trail opened in 2009. Today the Warwick Valley Rail Trail allows you to journey back in time, following the same route as steam locomotives once carried visitors and crops between this farming valley's villages.
Paddle and Fish Wickham Lake
Cradled among wooded hills, the placid 134-acre Wickham Lake offers opportunities for boating, fishing, picnicking and swimming just north of Warwick village. Launch your own kayak, canoe or stand up paddleboard to explore its undeveloped perimeter. For a peaceful paddle, glide across the calm open waters or investigate the shallow coves along shore. Gaze at the rolling forested hills surrounding the lake.
Try your hand at fishing for largemouth bass, sunfish, yellow perch and other species teeming in Wickham Lake. Be sure to acquire a valid New York freshwater fishing license. The lake gets stocked seasonally with rainbow trout for anglers to pursue. Swimmers can take a dip at the sandy beach on the east side.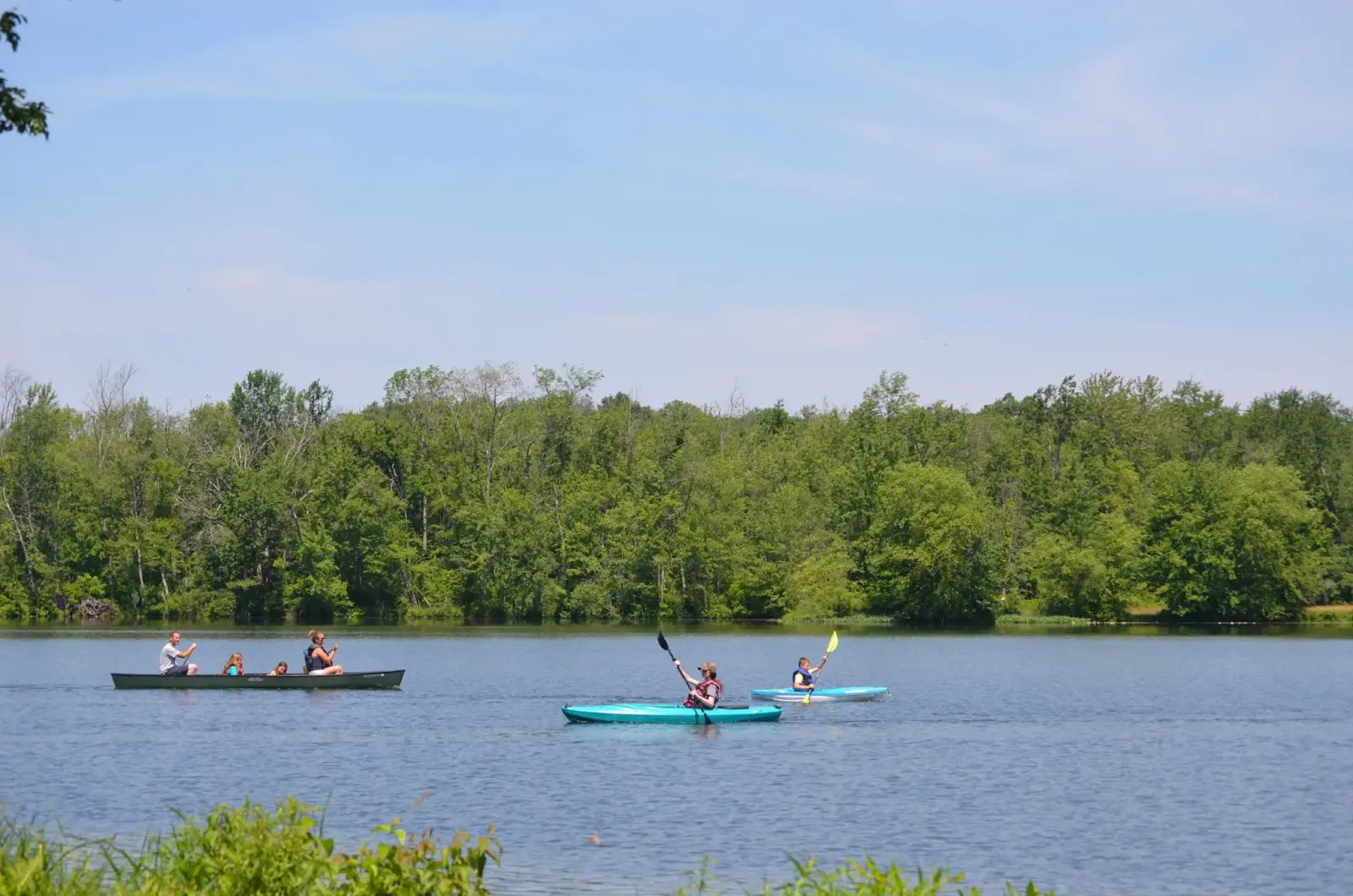 At the north end, a grassy lawn with picnic tables overlooks the water, as well as adjacent parking lots capable of handling vehicles with boat trailers. The facilities here include restrooms, barbecue grills and playground equipment. Arrive early to claim a prime lakeside picnic spot on busy summer weekends. After your activities, return via the convenient trail connector to Warwick Valley Rail Trail.
Hike Bearfort Mountain
For one of the most rewarding summit views in the region, hike the steep, strenuous trail to the 1,205-foot peak of Bearfort Mountain. A panoramic 360-degree vista awaits you at the top, spanning Greenwood Lake, Warwick village, the Catskill Mountains and surrounding valleys.
The hike measures just 2.2 miles round trip, but gains over 1,000 feet in elevation on the way up. Scramble over boulders and stone stairs embedded along sections of the rugged path. Give yourself about 3 hours to complete the vigorous climb and return descent. Proper footwear and pacing are key.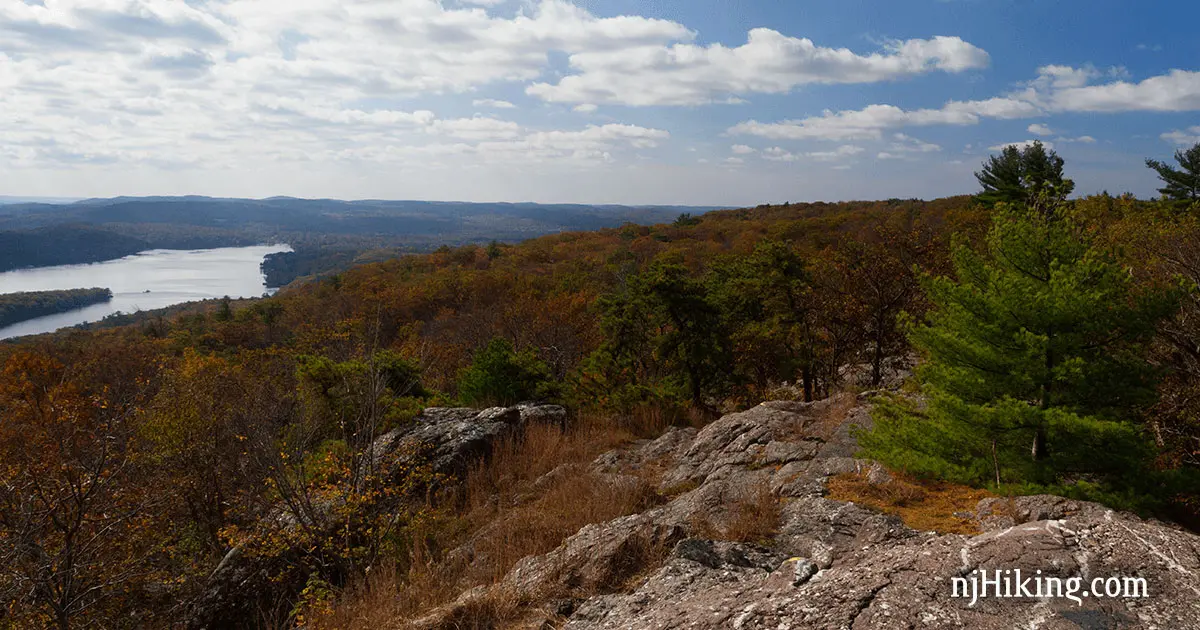 The trail starts across from Wayne Avenue in Greenwood Lake.  Bear right at the fork to start ascending. The landscape becomes more rocky and exposed as you near the summit, with the tree cover dropping away. Temperatures at the top can be 10-15 degrees cooler than at trailside, so bring layers.
Pause to appreciate the spectacular panoramas from the observation platform before carefully picking your way back down the mountainside. Recharge with snacks and water before driving the short distance back to Warwick village below.
Stroll Along Wickham Woodlands Trail
For a peaceful woodland walk accessible to all, take the 1.3-mile loop trail at Wickham Woodlands. This Warwick town preserve encompasses scenic hills cloaked in oak, hickory and hemlock forest. Meandering dirt paths loop through the trees, with a crushed stone interpretive trail leading to several vista points. Informative signs describe the ecology of the forest and its flora and fauna.
The wide interpretive trail allows wheelchair access to the peaceful outlooks with park benches. More woodland paths branch off for further exploration. See if you can spot native wildlife including wild turkeys, hawks, owls and white-tailed deer.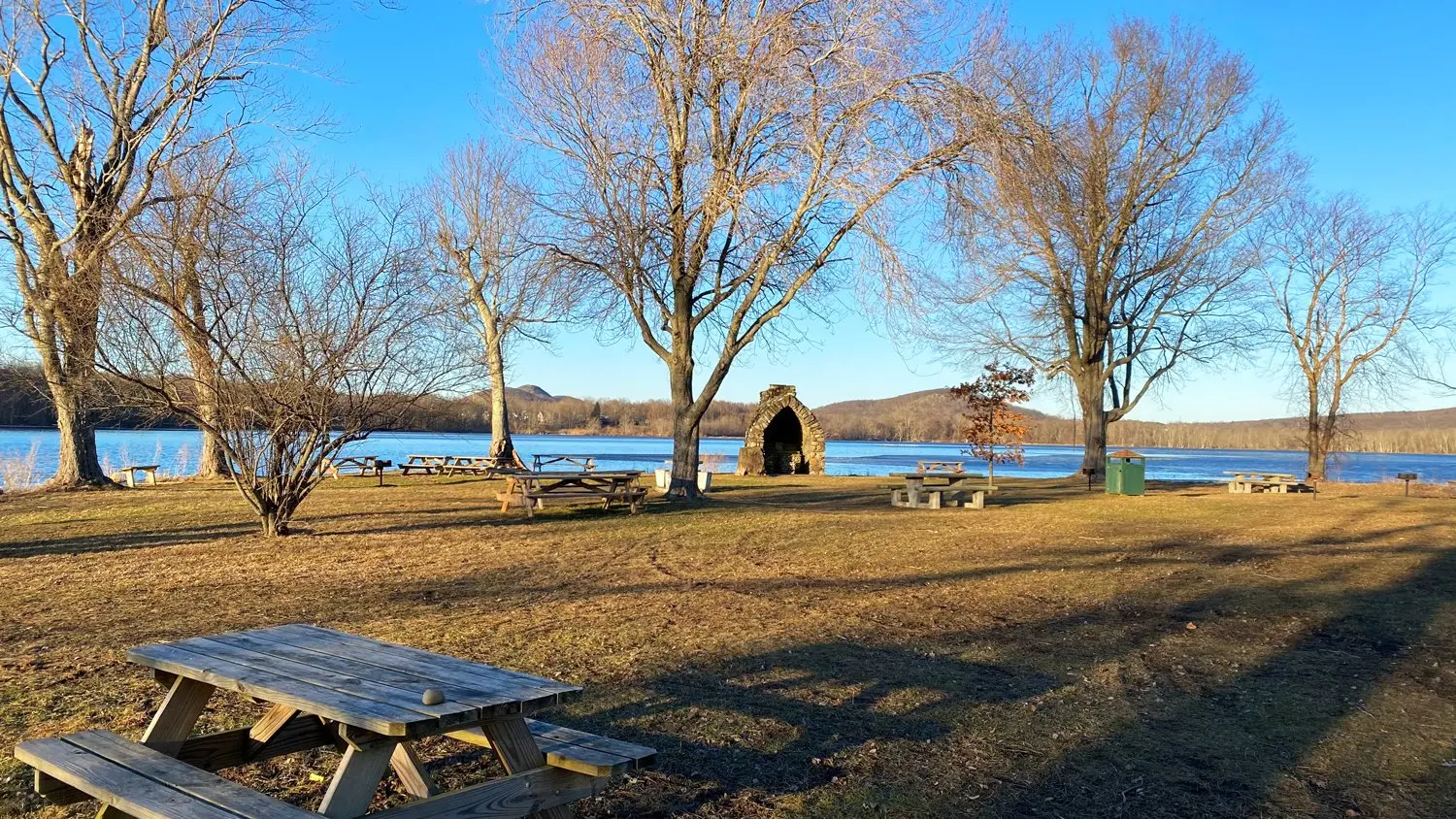 The trailhead lies just off Cascade Road, past its intersection with Wickham Avenue. Allow 45 minutes to 1 hour to complete the circuit at a leisurely pace. Leashed dogs are permitted, except on the interpretive trail. The woodlands offer a nice shady hike on a hot summer day. Kids can expend energy on the trails while learning about nature.
Relax at Parks
When you need a break from Warwick's outdoor adventures, the town's many public parks provide room to unwind. Have a picnic, walk the paths, or just chill out surrounded by lush greenery. Kids will love the playgrounds and sports fields.
Enjoy Ponds and Gardens at Stanley-Deming Park
Nestled beside Wickham Lake, Stanley-Deming Park brings 39 acres of carefully cultivated gardens and lawns to the edge of Warwick village. Meandering walking paths wind through the greenery, inviting contemplative strolls. Pause to admire the bountiful flowerbeds bursting with colorful blooms. Sit a while beside soothing water features like the lily pond, rock garden waterfall, and burbling stone fountain.
Several unique themed gardens anchor the grounds. The serene Japanese garden features water-worn boulders, artfully pruned shrubs, and a small red bridge over a lily pad pond. The Shakespeare garden contains herbs and plants mentioned in the Bard's works. Newer pollinator gardens provide nectar for butterflies, bees and hummingbirds.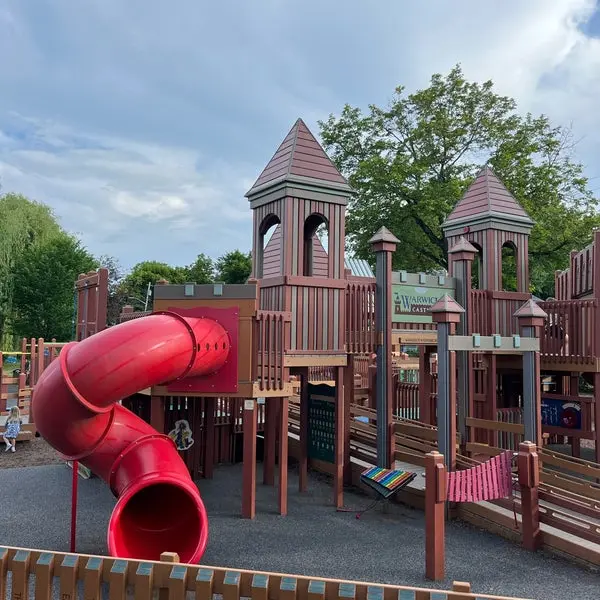 Kids can romp on the playground and shoot hoops at the basketball court. Reservable picnic shelters with grills allow hosting gatherings in this park oasis. Public restrooms, ample parking and proximity to downtown Warwick add convenience. As one of the region's loveliest public parks, Stanley-Deming merits a leisurely stroll any time of year to appreciate its horticultural splendors.
Play and Picnic at Lewis Park
Adjacent to the Warwick Village Hall sits 10 acres of outdoor public space known as Lewis Park. Kids make a beeline for the large wooden playground and its monkey bar dome connected by a swinging bridge. Nearby, a pyramid-shaped rope climbing structure provides challenge. Adults appreciate the bocce and volleyball courts, walking paths, and open lawns encircling a central gazebo.
The expansive park allows hosting events or simply spreading out picnic blankets. Visitors can bring food or buy takeout lunches from the many restaurants lining Main Street just steps away. Shaded picnic tables and benches surround the performance gazebo, where free summer concerts take place. Modern bathrooms and ample parking add convenience for guests.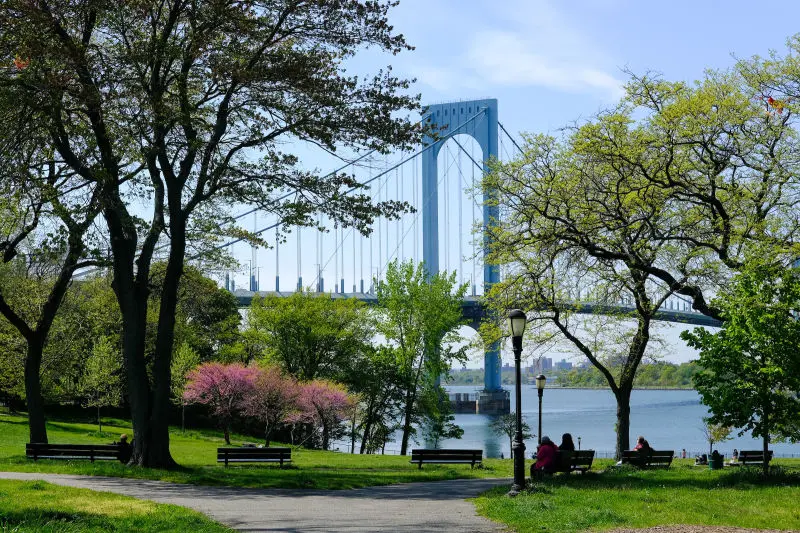 Surrounded by historic Warwick buildings, Lewis Park balances vintage village charm with recreational amenities. Its location adjacent to downtown makes it an easy stopover during a shopping excursion. Whether you come to play, exercise outdoors, attend a concert, or just bask in the grassy fields, Lewis Park welcomes the public to revel in the heart of charming Warwick village.
Immerse in History
From its colonial foundations to the wave of 19th century immigrants who built up the village, Warwick brims with living history. Get acquainted with the people and events that shaped this community at its many landmarks and museums.
Tour the Landmark Old School Baptist Meeting House
With a founding date of 1773, the Old School Baptist Meeting House stands as the oldest Baptist church structure in America. Step inside this National Historic Landmark to glimpse centuries of Protestant tradition and Colonial architecture. Guided tours share the story of its construction and role in securing religious liberty. Visitors can attend a traditional Sunday service in the still actively-used sanctuary at 11am.
Amazingly, the original hand-hewn post and beam timbers remain visible, along with the elevated pulpit, pews and upper gallery. Sunlight filters through the original wavy window glass to cast a reverent glow. Upstairs, a museum displays Warwick artifacts dating back to the early 1700s. Don't miss the twice-weekly bell concert played on the Meeting House's restored 1796 steeple bell.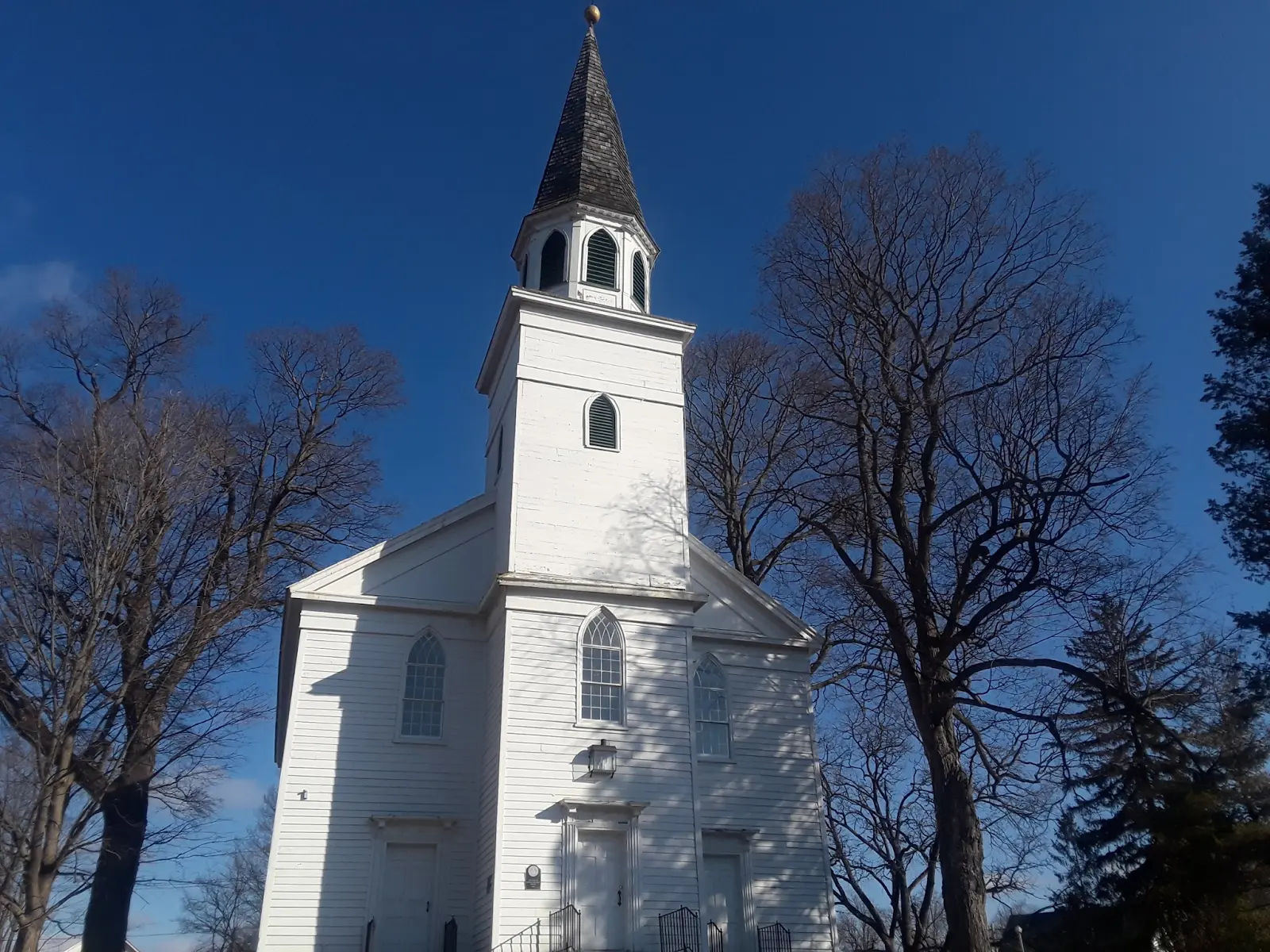 This site elucidates the experience of early American Baptists and their fight for religious freedom. The modest architecture and lingering aura of colonial worship make the Old School Baptist Meeting House a fascinating window into Warwick's spiritual and cultural foundations.
Walk the Historic Village Main Street
A stroll down Warwick's Main Street and adjacent blocks allows you to witness 200 years of architectural history firsthand. Downtown's National Register Historic District contains over 200 structures exhibiting iconic styles spanning the 18th to early 20th centuries.
Greek revival facades with imposing columns sit next to Victorian gabled homes and shops. The Italianate Village Hall anchors one end of Main Street, while the Albert Wisner Public Library's graceful hammerbeam roof crowns the other. In between, look for dates carved into façades like the 1889 Warwick Opera House. Stop by the museum or library to grab a brochure detailing the background of noteworthy buildings along the route.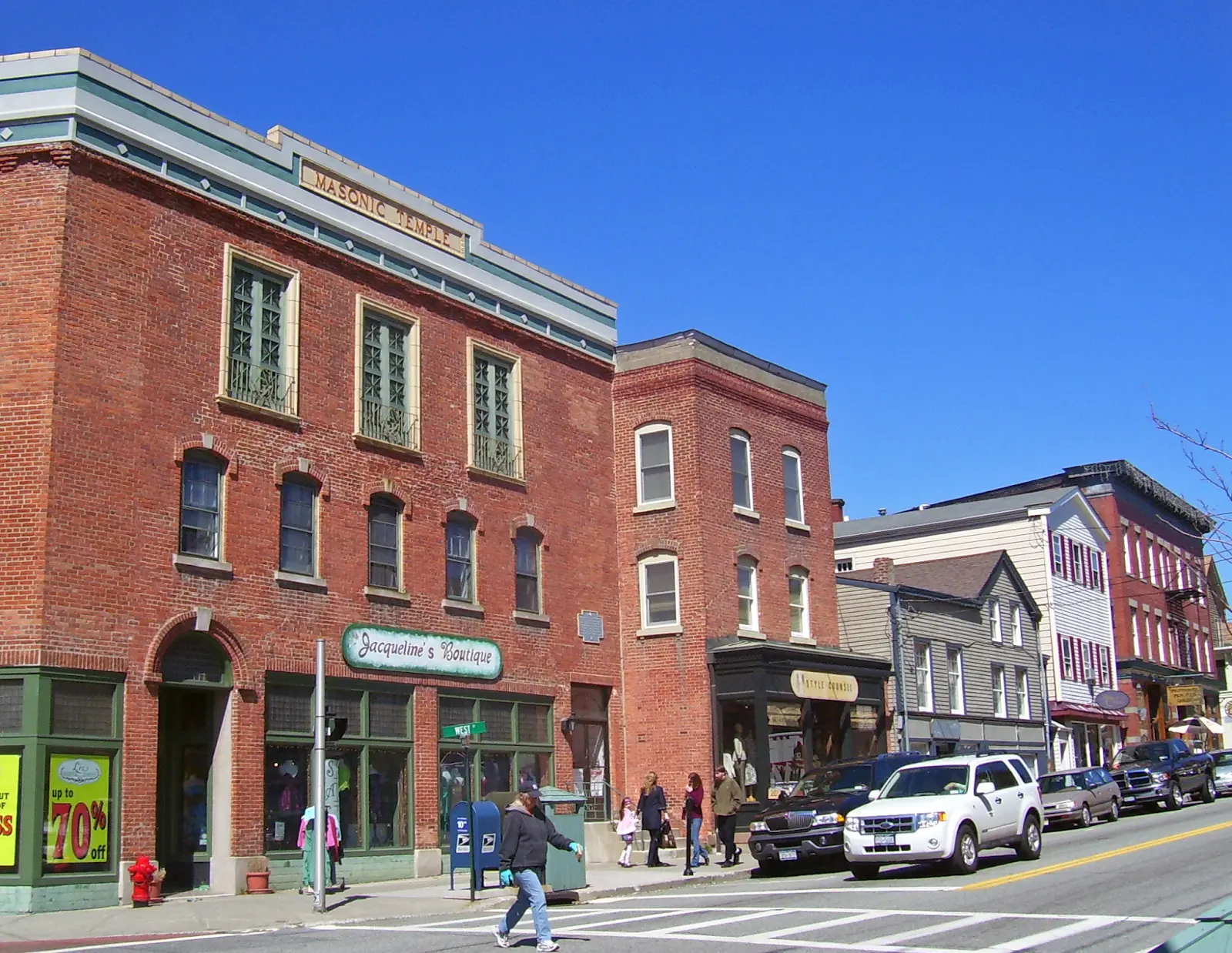 With just a little context, Warwick's quaint streetscape communicates the ambiance and progress of small town America over two centuries. The diverse preserved architecture makes Main Street an intriguing living history lesson.
Marvel at the Marble House Ruins
Stony Kill Falls Conservation Area protects a rugged 500-acre chunk of Warwick wilderness surrounding a scenic 150-foot waterfall. But another tragic relic hidden within the preserve has its own compelling story. Along a 1-mile trail lies the striking remains of the Marble House, an opulent 29-room mansion built entirely of pristine Italian marble in 1903.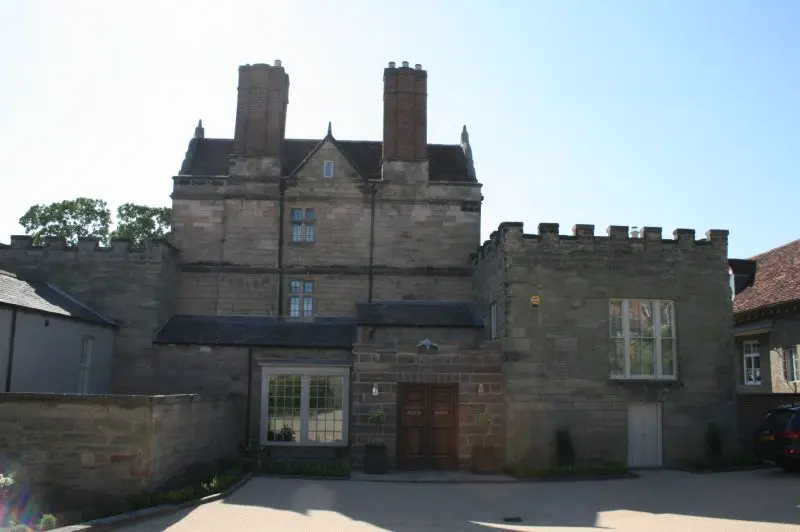 A great mansion once stood here, with soaring Doric columns and intricately carved marble exterior. But a massive fire in 1980 reduced the structure to an evocative ruined facade and skeletal walls, now slowly being reclaimed by nature. Visitors can contemplate the impermanence of even the grandest human accomplishments while admiring the beauty of the preserved architecture.
Access the easy woodland trail from Tanyard Road. The ruins make for a poignant and scenic one-hour hike through the Stony Kill Falls Sanctuary forests. Though the luxurious mansion described as Warwick's "Taj Mahal" exists no more, its haunting vestiges still command awe and reflection today.
Get a Taste of the Town
From longstanding taverns to trendy cafes, Warwick's dining scene caters to all appetites and budgets. For a true taste of the region, sample the town's farm-fresh fare and craft beverages. Restaurants here take advantage of the Hudson Valley's bounty of produce, dairy, fruit, and other crops at the peak of ripeness.
Feast on Farm-to-Table Cuisine at The Iron Forge Inn
For an upscale dining experience showcasing seasonal ingredients at their peak, book a table at the Iron Forge Inn's restaurant. Housed within the lovingly restored 19th century ironworks factory turned luxury inn, the elegant dining room and patio exude rustic sophistication.
The chef crafts a contemporary American menu highlighting Hudson Valley bounty like cider-brined pork chops, wine-braised short ribs and pumpkin cheesecake. Locally foraged mushrooms, just-picked greens and New York artisan cheeses make frequent appearances. Their extensive regional wine list complements the dishes perfectly. Reserve ahead to secure a spot at one of Warwick's finest farm-to-table restaurants.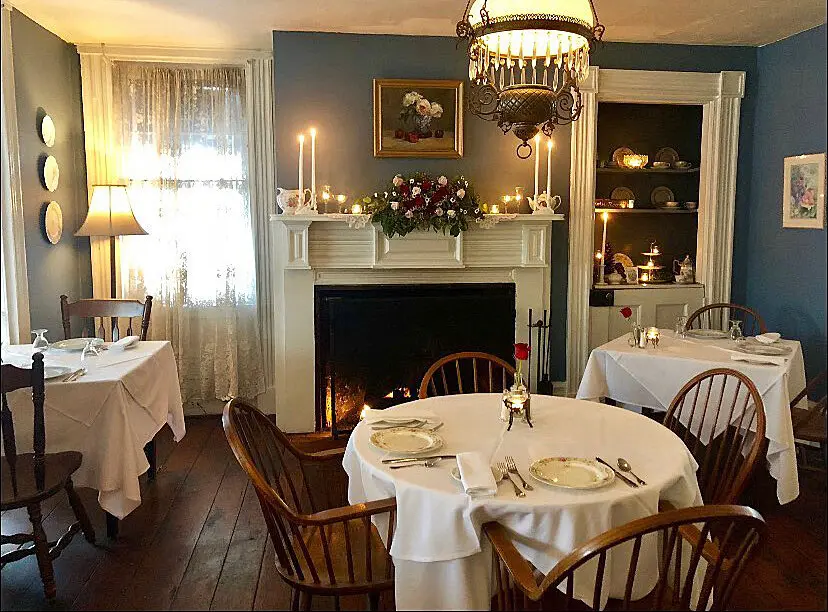 Sip Craft Beverages at Pennings Farm Market
Just minutes from Warwick village sits a rustic taproom pouring the fruits of Pennings Farm's fields and orchards, transformed into ciders, wines and craft beers.  Belly up to the bar in the cozy barn-like tasting room to sample flights showcasing their latest releases. For sipping, try the bone-dry apple cider, berry-infused rose or a chocolatey Russian imperial stout.
Their market next door sells Pennings' just-picked produce, fresh baked goods, jarred sauces and more. Food trucks supply eats to pair with your beverage. On weekends, live music adds to the festivities. Visit the farmstand to stock up on the freshest ingredients, then relax over a tasting, all in one stop. It captures the bounty and laidback hospitality of the Hudson Valley.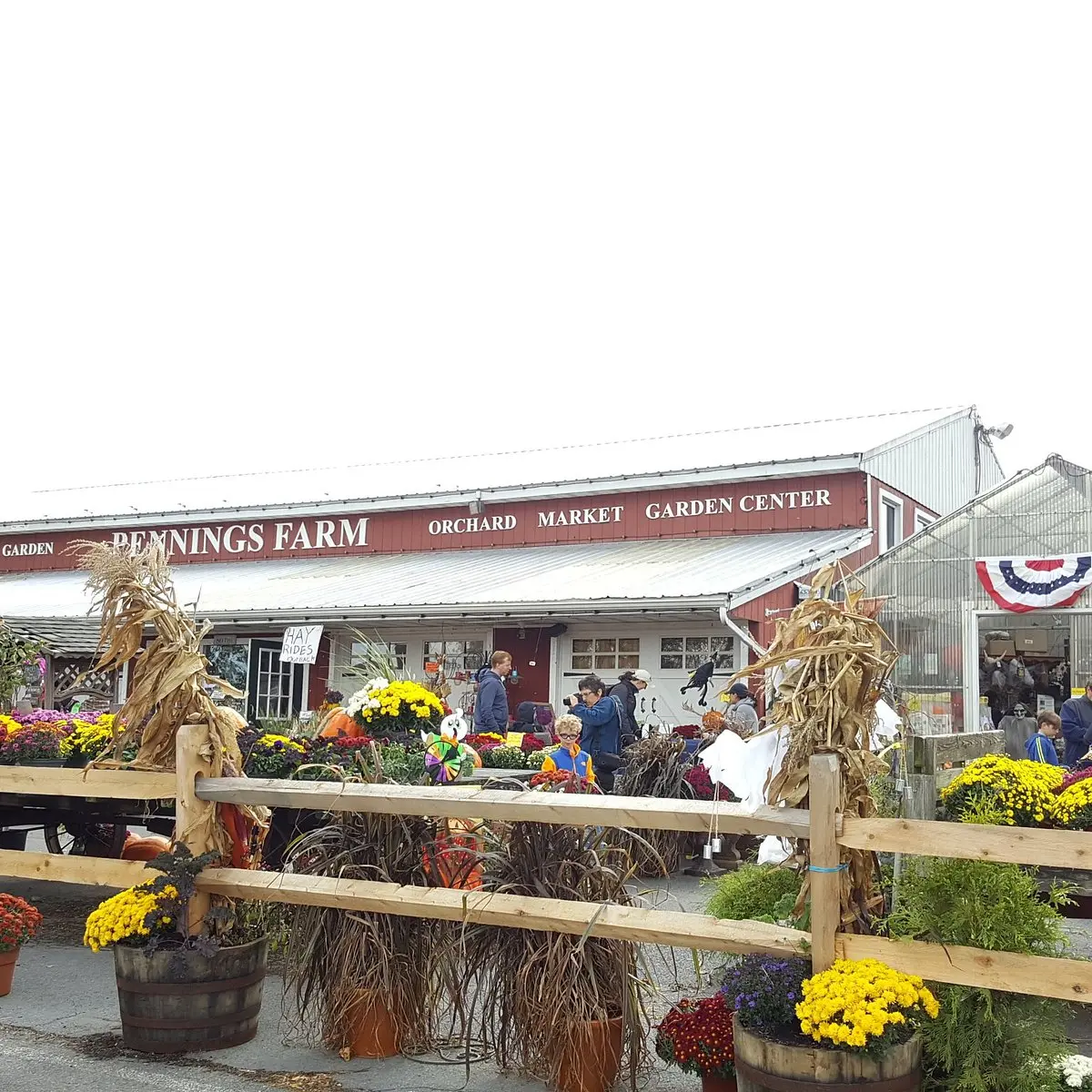 Pick Your Own Fruit at Soons Orchards
For the quintessential farm experience, head to Soons Orchards when the pick-your-own fruits ripen each summer and fall. Wander the sprawling orchard grounds to select apples, peaches, berries and pumpkins at their sweetest directly from the vine or branch. The family farm cultivates over 100 apple varieties, from heirlooms like Macoun to their own branded hybrids.
Once your buckets brim with fruit destined for pies, cider and cobblers, continue the tradition with a stop at their market bakery. Bite into hot apple turnovers or pumpkin doughnuts, paired with fresh local cider or coffee. The littlest ones will enjoy petting horses, goats, chickens and bunnies in the barnyard zoo. For generations, Soons Orchards has proffered pure farm-to-family fun.
Sip and Snack at Pennings Tasting Room
Inside a converted 19th century hat factory, Pennings Farm's trendy tasting room pours their estate-grown ciders, wines and spirits. Sidle up to the sleek concrete bar to sample flights or order a glass of your new favorite varietal. Pull up a seat on the scenic patio when weather permits.
Enjoy small plates like flatbreads and smash burgers from the on-site Viktoria's Kitchen pop-up. On weekends, listen to live music from local performers as you sip. With its industrial-chic vibe, craft beverages and tasty eats, this taproom channels the Hudson Valley's creative spirit.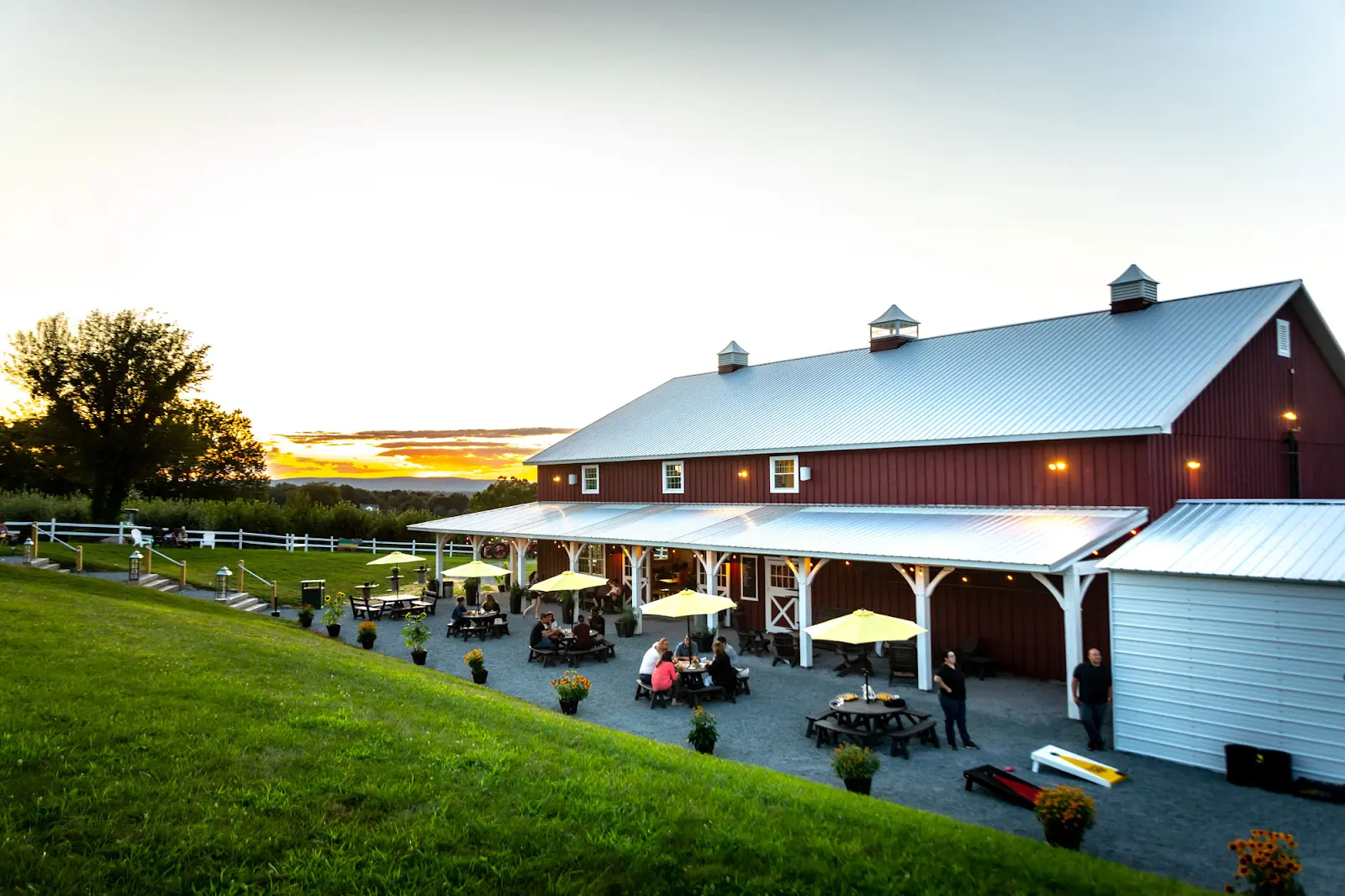 Where to Stay in Warwick
After a long day exploring Warwick, retire to one of these cozy accommodations to rest up for tomorrow's adventures.
The Iron Forge Inn
History meets luxury at Warwick's award-winning Iron Forge Inn. This one-of-a-kind bed and breakfast resides within a meticulously restored 1854 ironworks factory along the village outskirts. The soaring beamed ceilings and quarried stone walls echo the building's industrial past, while plush furnishings and modern amenities provide contemporary comfort.
Each spacious guest suite boasts a unique layout, fireplace and oversized bathroom with double whirlpool tub. Beds are dreamily comfortable, dressed in fine linens. Rates include multi-course gourmet breakfasts and evening wine receptions with hors d'oeuvres. Unwind fireside in the cozy Lower Forge Lounge or on the courtyard patio. With refined accommodations, gracious hospitality and an inspired setting, the Iron Forge Inn promises a exceptional escape.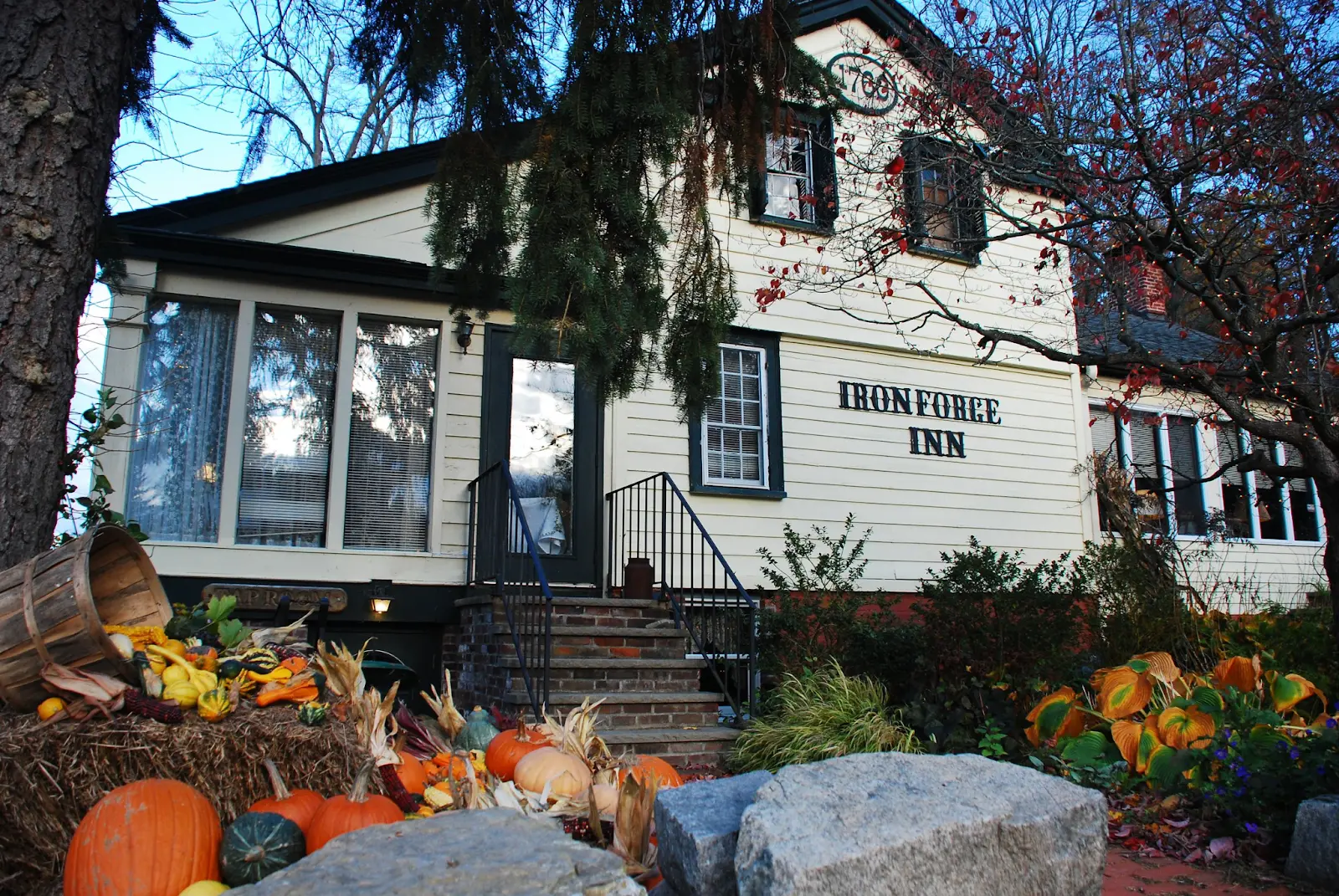 Pennings Carriage House B&B
Nestled on the grounds of Pennings Farm just outside Warwick village sits the quaint Pennings Carriage House Bed and Breakfast. Four guest rooms occupy a renovated late 1800s horse carriage barn adorned with gingerbread trim. Each room boasts unique vintage decor, from a maple four-poster bed to an antique clawfoot soaking tub.
Start your day with a farm-fresh breakfast on the sunny enclosed porch. Stroll past the duck pond and gardens to visit resident horses and chickens. Guests enjoy complimentary tastings next door at the Pennings ciderhouse and access to the on-site tennis court, pool and putting green. For an authentic taste of Warwick's farming heritage in a charming setting, stay at the Carriage House.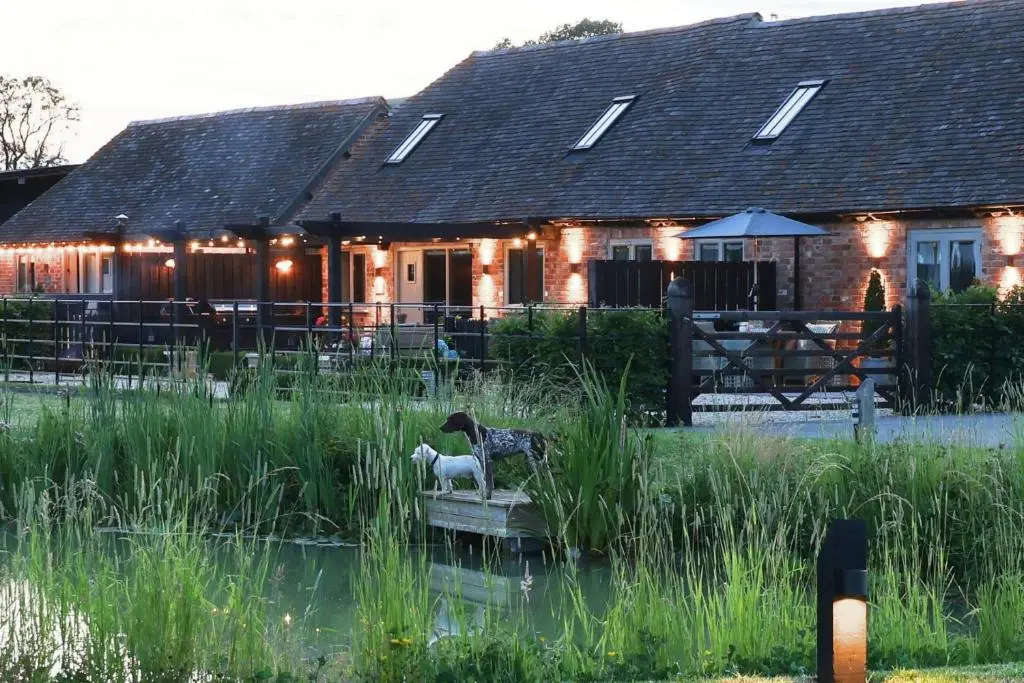 Experience the Arts and Culture
Warwick established itself as a hub for artists and performers who flocked here to work and display their creations. Tour galleries, catch a concert, browse boutiques, or channel your own inner muse through workshops, classes, and more.
Watch a Show at the Warwick Valley Playhouse
The cozy Warwick Valley Playhouse stages compelling contemporary and classic plays in an intimate sub-100-seat theater. Housed in a converted 1809 barn along Main Street, the performance space evokes vintage charm. Exposure to professional productions in this setting feels comfortably up-close and engaging.
Expect a dynamic mix of thought-provoking dramas, edgy original works, hysterical comedies and musicals. The risk-taking season typically includes a few envelope-pushing avant garde performances. Before the show, enjoy dinner at one of Warwick's many eateries just steps outside the theater doors. The Playhouse's adventuresome program demonstrates the lively local arts scene.
See a Film at the Warwick Cinema
Step back to the golden age of moviegoing at Warwick's vintage 1937 cinema. This single-screen theater still shows first-run films in an atmospheric setting rich with nostalgia. Admire the zig-zagging Art Deco motifs as you enter the intimate auditorium. Look skyward to see hundreds of fiber optic stars glittering across the ceiling.
Grab some old-fashioned popcorn and soda before settling into the spacious leather seats. Upcoming attractions range from major blockbusters to limited indie fare. Parents can introduce kids to the pleasures of an authentic neighborhood cinema. Movies somehow feel a little more special when screened in the time-warped world of the Warwick Cinema.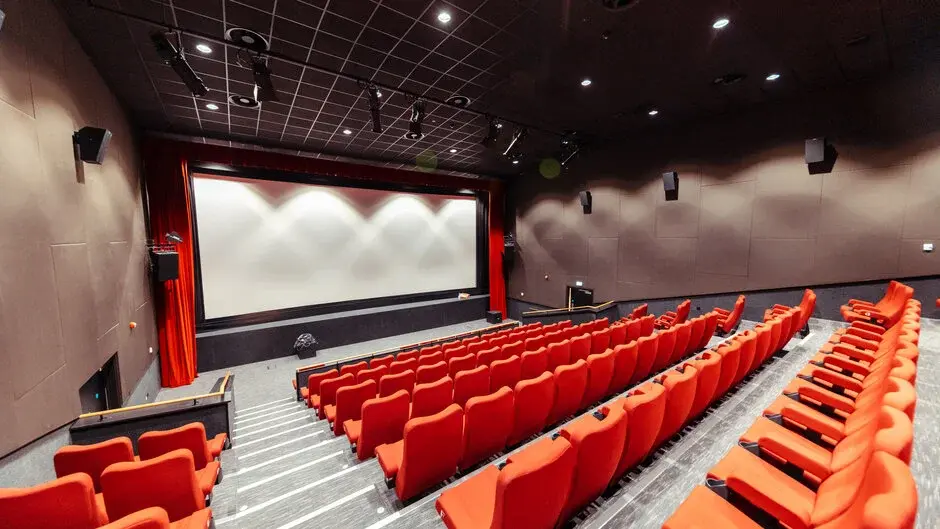 Catch Live Music at Pennings Tasting Room
Pull up a seat in Pennings Farm's rustic tasting room on weekends to hear talented local musicians rock the stage. The cozy space filled with reclaimed wood and twinkling lights sets an intimate mood, as performers play acoustic blues, folk and rock. Order a flight of Pennings' latest ciders, wines or craft beers as you unwind.
When hunger strikes, grab a wood-fired pizza, burger or tacos from the rotating cast of food trucks parked just outside. No cover charge means just folks passionate about sharing great music. The laidback vibe makes for an ideal night out with friends or date in charming Warwick village.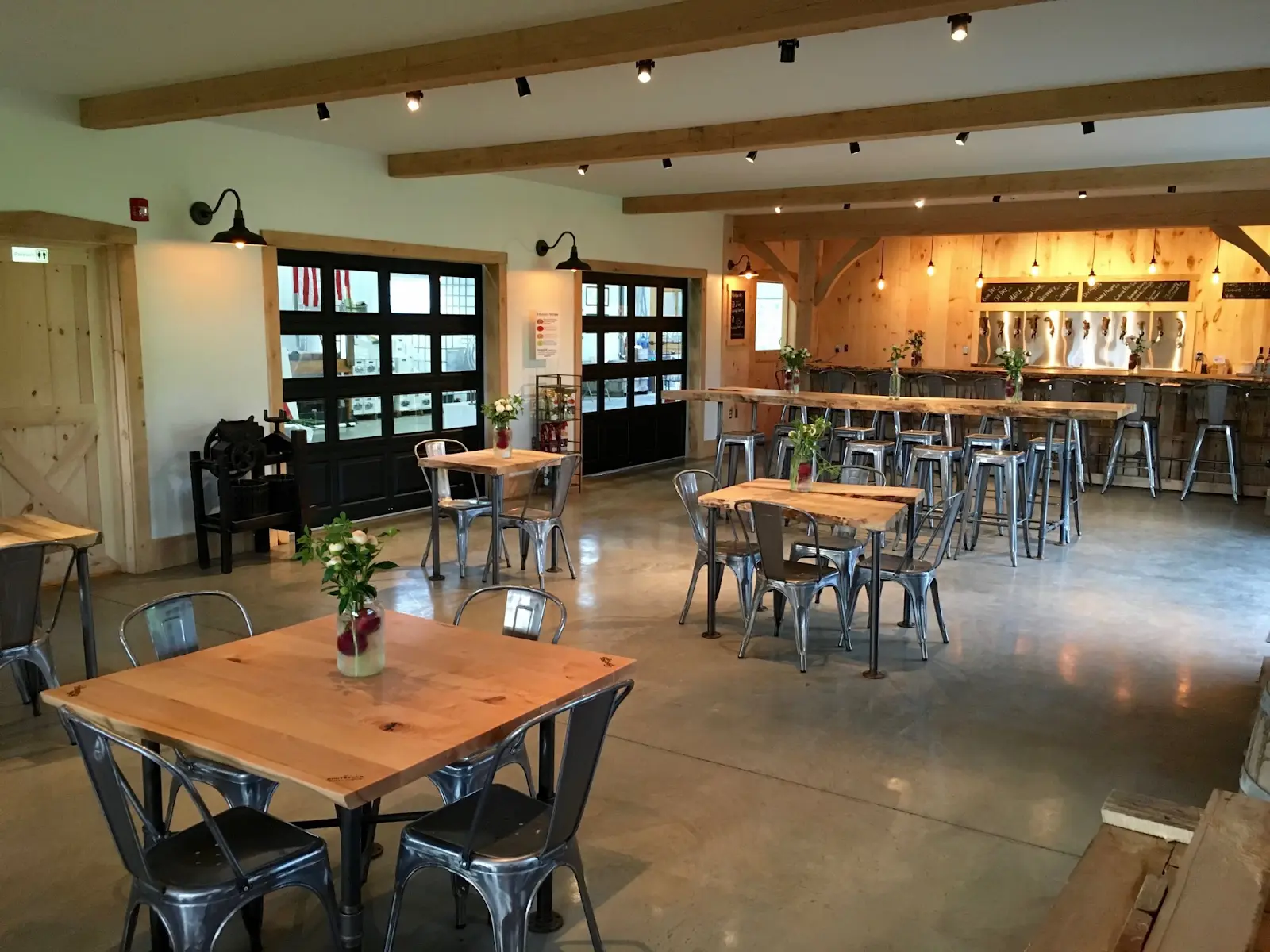 Festivals and Events
On any given weekend, especially in the warmer months, you'll likely find a festival, fair, concert, or celebration happening in Warwick. These lively events infuse the town with community spirit, bringing residents and visitors together to eat, drink, dance, browse arts and crafts, and make merry.
Savor the Village Green Outdoor Market
From May to November, downtown Warwick springs to life every Sunday with the open-air Village Green market. Nearly 200 vendors sell fresh produce, prepared foods, baked goods, crafts, jewelry, skincare products, and more. Grab brunch or lunch from area food trucks and dine al fresco. Live music fills the air to complete the festive atmosphere.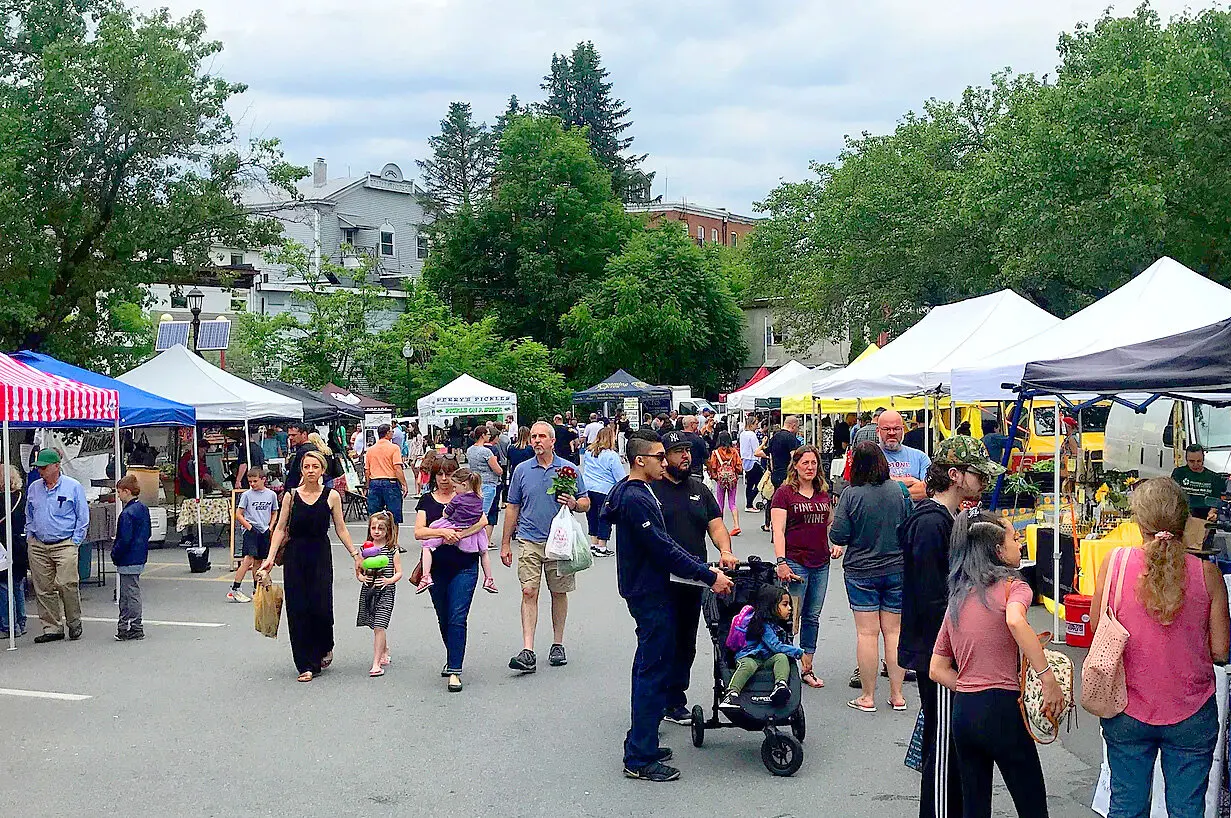 Smell the Roses at the Rose Festival
Held each June, Warwick's Rose Festival is one of the largest of its kind on the East Coast. The highlight is the parade down Main Street with floats decorated in thousands of colorful blooms. Events also include concerts, craft vendors, and crowning of the Rose Queen. Stop and smell roses planted around the Village.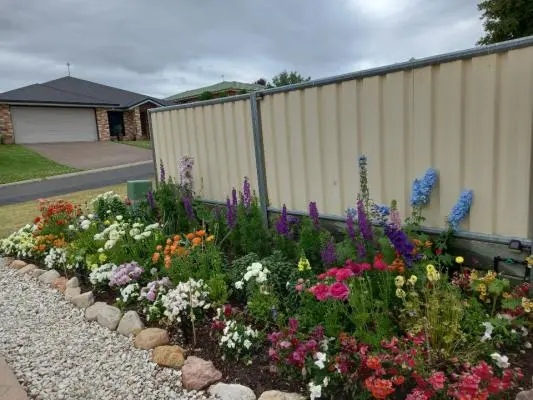 Time Travel at the Annual Applefest
Step back in time at the Applefest Colonial Fair, held on Pennings Farm each October. Hundreds of reenactors dressed in period costumes bring 18th century Warwick history to life. Watch demonstrations of traditional crafts and trades. Sample cider, apples, and other harvest foods. Enjoy live fife and drum music, puppet shows, magic acts, wagon rides, and more immersive historic fun for all ages.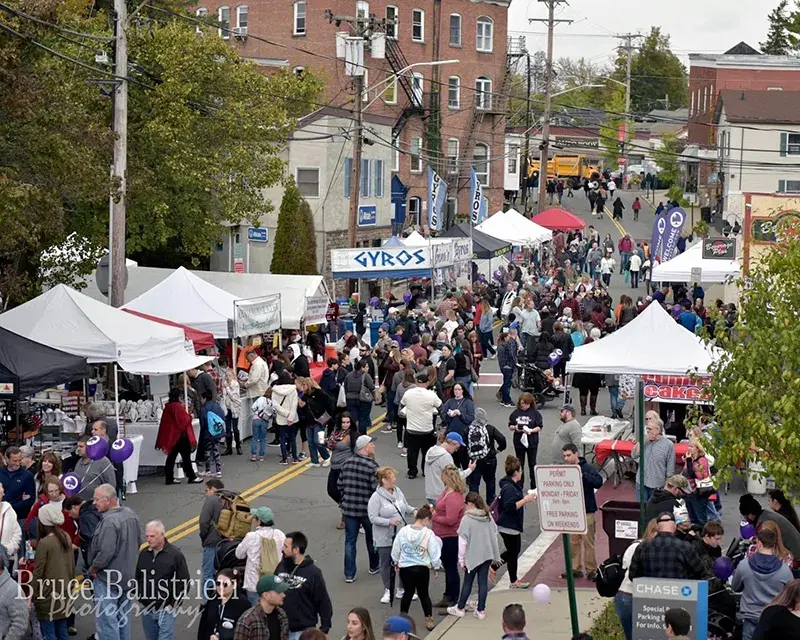 Groove at the Jazz Festival
Spend a summer weekend afternoon immersed in the smooth sounds of jazz artists who perform live on outdoor stages around the Village during the Warwick Valley Jazz Festival. Pack a picnic or stroll the streets sampling food from vendors. Browse crafts and art from local purveyors. Don't miss the Dixieland-style jazz march down Main Street.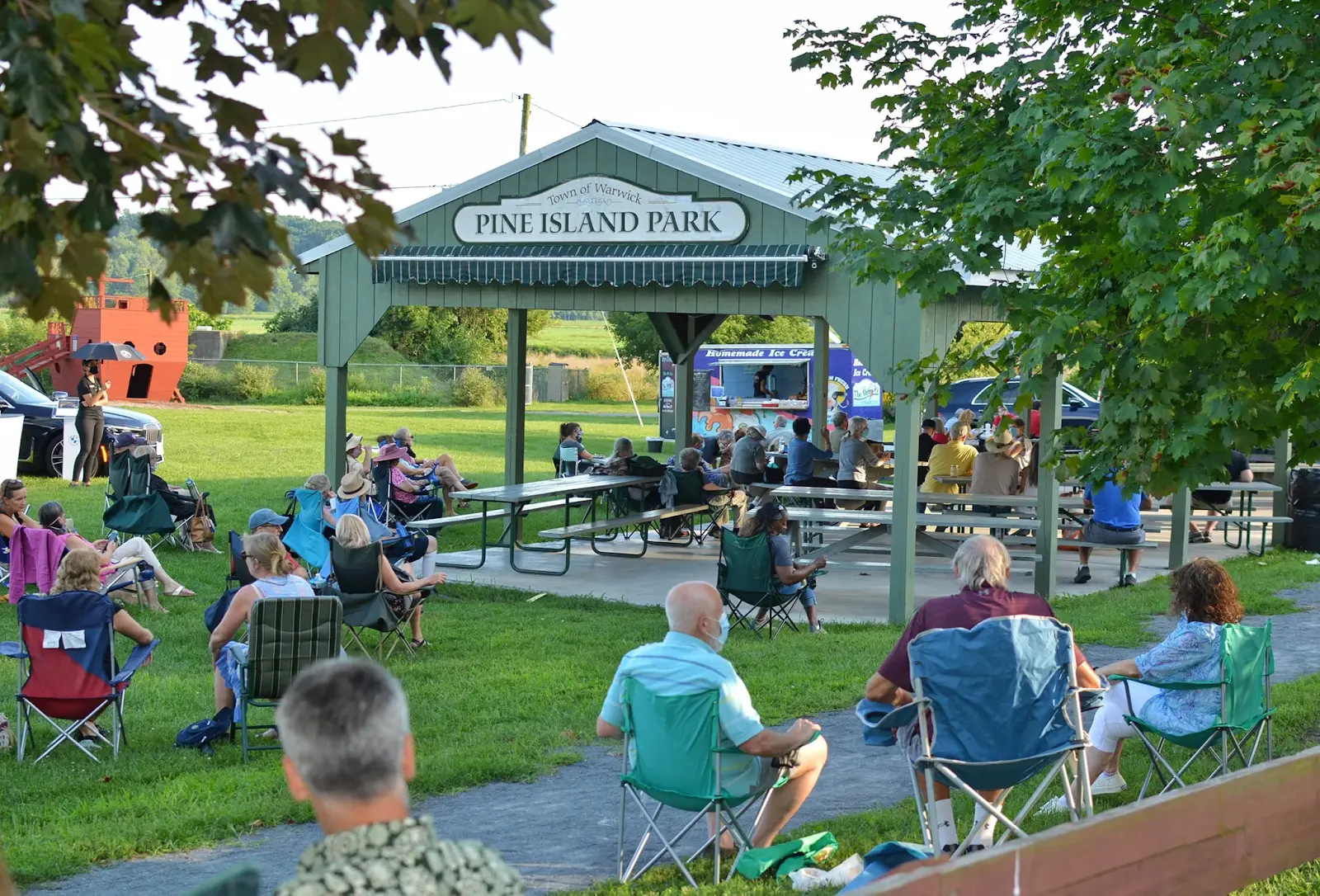 Crunch Through "Art in the Park"
Bundle up for a post-Thanksgiving tradition in Warwick. On the Saturday after Turkey Day, the Village parks transform into outdoor art galleries showcasing works available for purchase by over 200 artists and craftspeople. Sip hot chocolate as you browse paintings, photography, jewelry, woodworking, and more. The Lions Club sells Christmas trees, wreathes, and holiday plants.
Conclusion
With this comprehensive guide detailing 25 top attractions, restaurants, accommodations, and events—plus ideas for even more activities—you are now fully prepared to plan your Warwick getaway. Whether its outdoor adventures, historical explorations, arts experiences, or simply strolling about town that piques your interest, Warwick offers something for every taste and age. Its balance of natural beauty, historic charm, and modern amenities makes Warwick an ideal destination any time of year. Get out there and start enjoying everything this Hudson Valley gem has to offer!