Things To Do With Kids In Gulf Shores & Orange Beach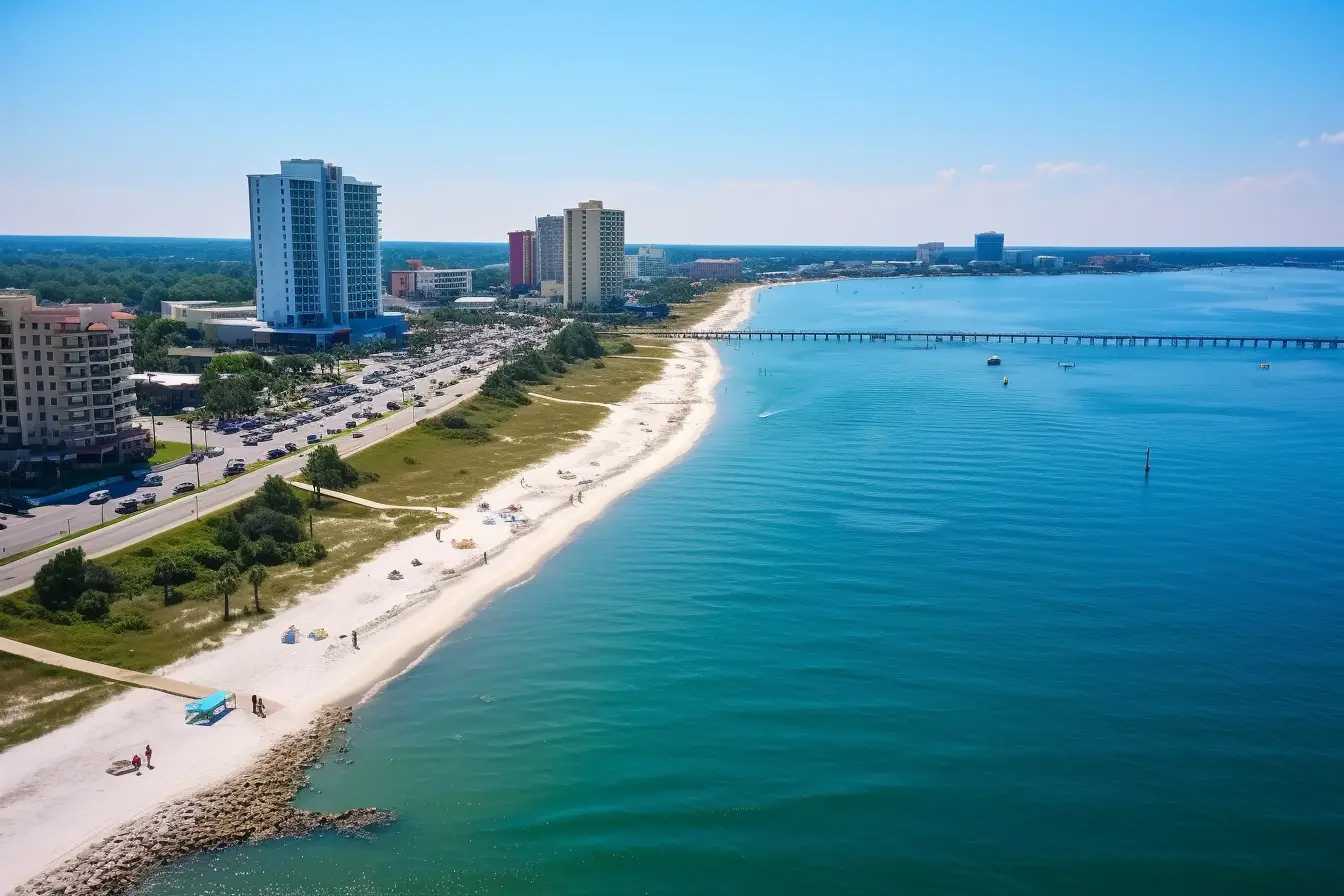 Nestled along the sparkling waters of the Alabama coast lies a treasure trove of family adventures: Gulf Shores and Orange Beach. Here, the rhythm of the waves sets the pace for a world where worries drift away and laughter fills the air. Whether you're a family of thrill-seekers, nature lovers, or culture enthusiasts, this coastal paradise offers a mosaic of experiences that cater to the whims and fancies of kids and adults alike. The charm of this destination is not just in its stunning beaches but in the myriad of activities that make every visit memorable. This guide, things to do with kids in Gulf Shores & Orange Beach, is your compass to navigating a holiday sprinkled with joy, discovery, and unforgettable moments.
As you embark on this journey, imagine the magic of building towering sandcastles at the beach, with the experts from Sand Castle University guiding your little architects in transforming grains of sand into grand fortresses. These are not just castles made of sand; they are keepsakes of laughter and teamwork. Then, picture yourself and your family at The Wharf, a hub of vibrancy where shopping, dining, and a ride on one of the Southeast's largest Ferris wheels fuse into an experience that etches into your memory.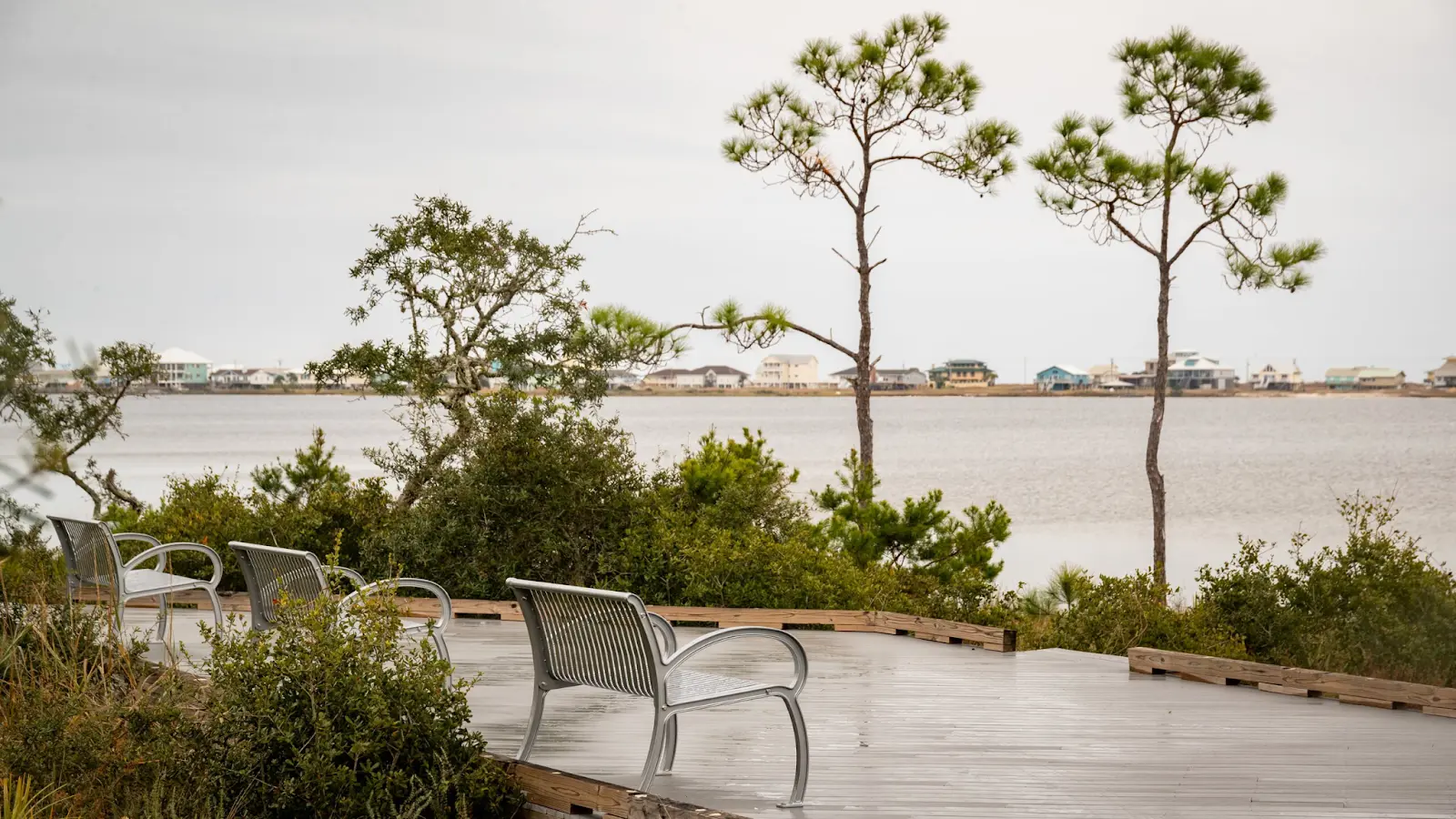 For those who yearn to connect with nature, the trails of Gulf State Park offer an escapade on two wheels, unveiling scenic vistas and whispering tales of the wilderness. Close by, the Alabama Gulf Coast Zoo beckons with its exotic inhabitants, promising encounters that spark curiosity and awe. Step back in time at Historic Fort Morgan, where history is not just read but felt, as you wander through the ancient fort's corridors.
In this blog, each section delves into these activities and many more, offering insights and tips to make your stay in Gulf Shores & Orange Beach a tapestry of joyful experiences. So, let's set sail on this adventure, where every moment is a wave of happiness waiting to be ridden. Welcome to things to do with kids in Gulf Shores & Orange Beach – your guide to creating stories that last a lifetime.
Sandcastle Building and Sand Castle University: Crafting Memories in Gulf Shores
In the warm embrace of Gulf Shores, families find a delightful blend of sun, sea, and sand, perfect for the timeless joy of sandcastle building. This shoreline activity, a favorite for many, transforms into an enriching and imaginative experience with the unique touch of Sand Castle University. Here, on the sandy beaches, where each grain tells a story, families gather to create more than just sand structures; they craft lasting memories.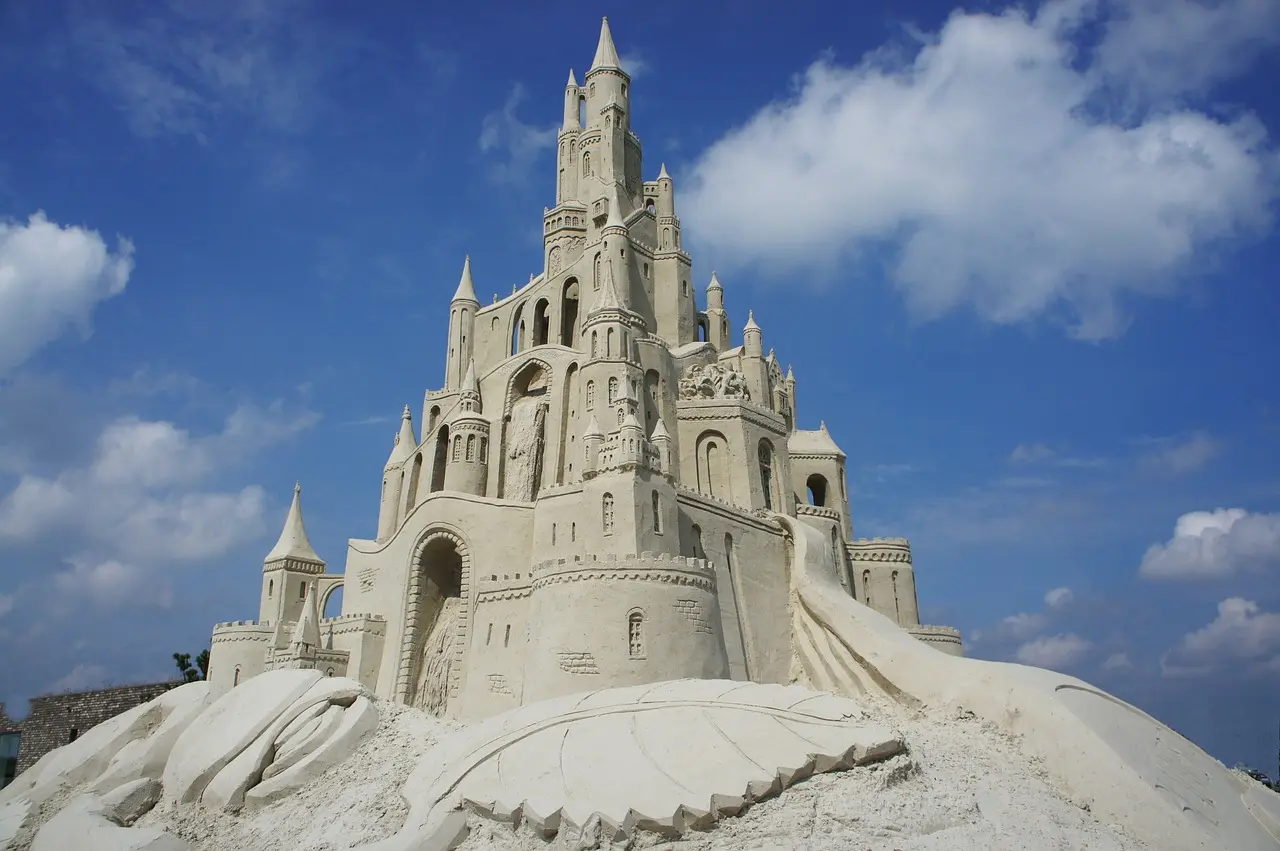 The charm of building sandcastles at Gulf Shores is rooted in its simplicity and the universal joy it brings. It's where children's fantasies of knights and princesses materialize, and adults find a whimsical escape, reconnecting with their inner child. The act of molding sand into shapes, from towering castles to mythical creatures, ignites creativity and fosters a sense of accomplishment in both young and old. Amidst this sandy playground, laughter and collaboration weave together, strengthening family bonds.
At Sand Castle University, this beachside pastime ascends to a new level of artistry. Here, professional sand sculptors share their secrets, turning casual builders into adept craftsmen. They teach families how to perfect their castles with intricate details, making each creation a testament to skill and imagination. The University's approach is inclusive, ensuring everyone, regardless of age or prior experience, finds joy and challenge in their sandy endeavors.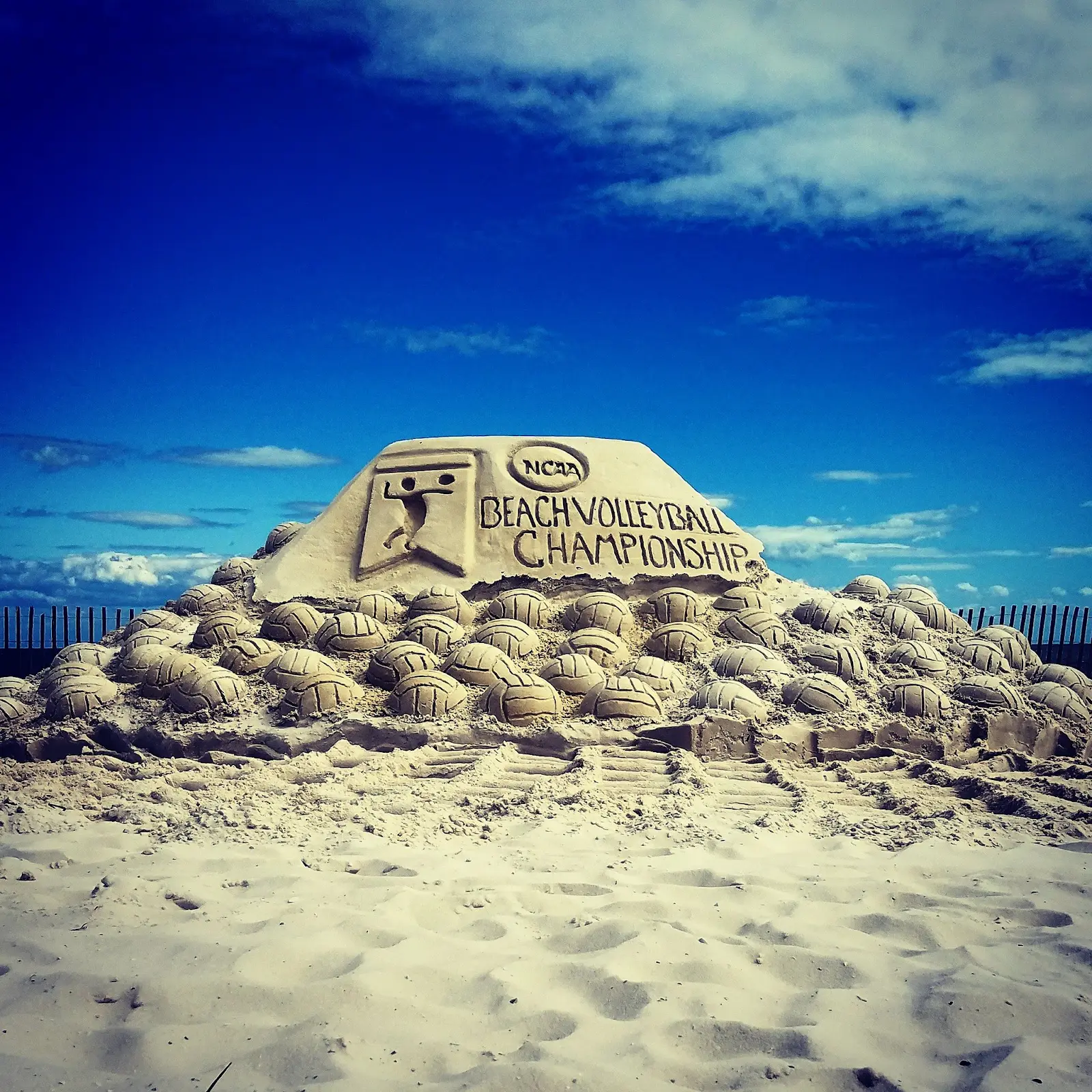 Beyond the fun, sandcastle building is subtly educational. As children shape and carve, they engage in a tactile learning experience, enhancing fine motor skills and learning about the beach's ecosystem. Sand Castle University weaves environmental education into their lessons, discussing the types of sand, the impact of tides, and the local flora and fauna. This adds depth to the experience, transforming a day of play into a meaningful exploration of nature.
In the age of social media, the creations at Sand Castle University gain an additional dimension. Each meticulously crafted castle becomes a subject for stunning photographs, capturing the essence of a family vacation and the joy of creation. These images serve as digital keepsakes, a way to share and remember a day filled with laughter, learning, and creativity.
The experience of building sandcastles at Gulf Shores, especially under the guidance of Sand Castle University, is a journey into the heart of what makes family vacations special. It's an opportunity for families to come together, to create, to learn, and to enjoy the simple pleasures of life. Each castle, no matter how elaborate or modest, is a symbol of shared moments and the beauty of imagination. Long after the tides wash away these sandy creations, the memories of building them remain, etched in the minds and hearts of those who built them.
The Wharf: A Hub of Family Entertainment in Orange Beach
Nestled in the heart of Orange Beach, The Wharf stands as a beacon of entertainment, offering a diverse array of activities that cater to every member of the family. From its iconic Ferris wheel to the myriad of shops, restaurants, and entertainment options, The Wharf is more than just a destination; it's an experience, brimming with excitement, flavors, and joyful memories.
As you step into The Wharf, the first thing that captures your attention is the towering Ferris wheel, one of the tallest on the Gulf Coast. This giant wheel offers a spectacular view of the coastline, turning a simple ride into an unforgettable aerial adventure. As the gondolas ascend, families are treated to a panoramic view of the shimmering waters, the bustling boardwalk, and the picturesque Orange Beach. Each rotation brings a new perspective, a fresh burst of wonder, especially enchanting as the sun sets, painting the sky in hues of orange and pink.
But The Wharf's allure extends far beyond its Ferris wheel. The boardwalk is lined with an array of shops and boutiques, each offering unique finds. From beachwear and souvenirs to artisanal crafts and toys, shopping at The Wharf becomes a treasure hunt, with each store presenting its own set of wonders. Parents can browse through the latest fashion, while kids delight in discovering toys and beach-themed trinkets, making shopping an activity the whole family can enjoy together.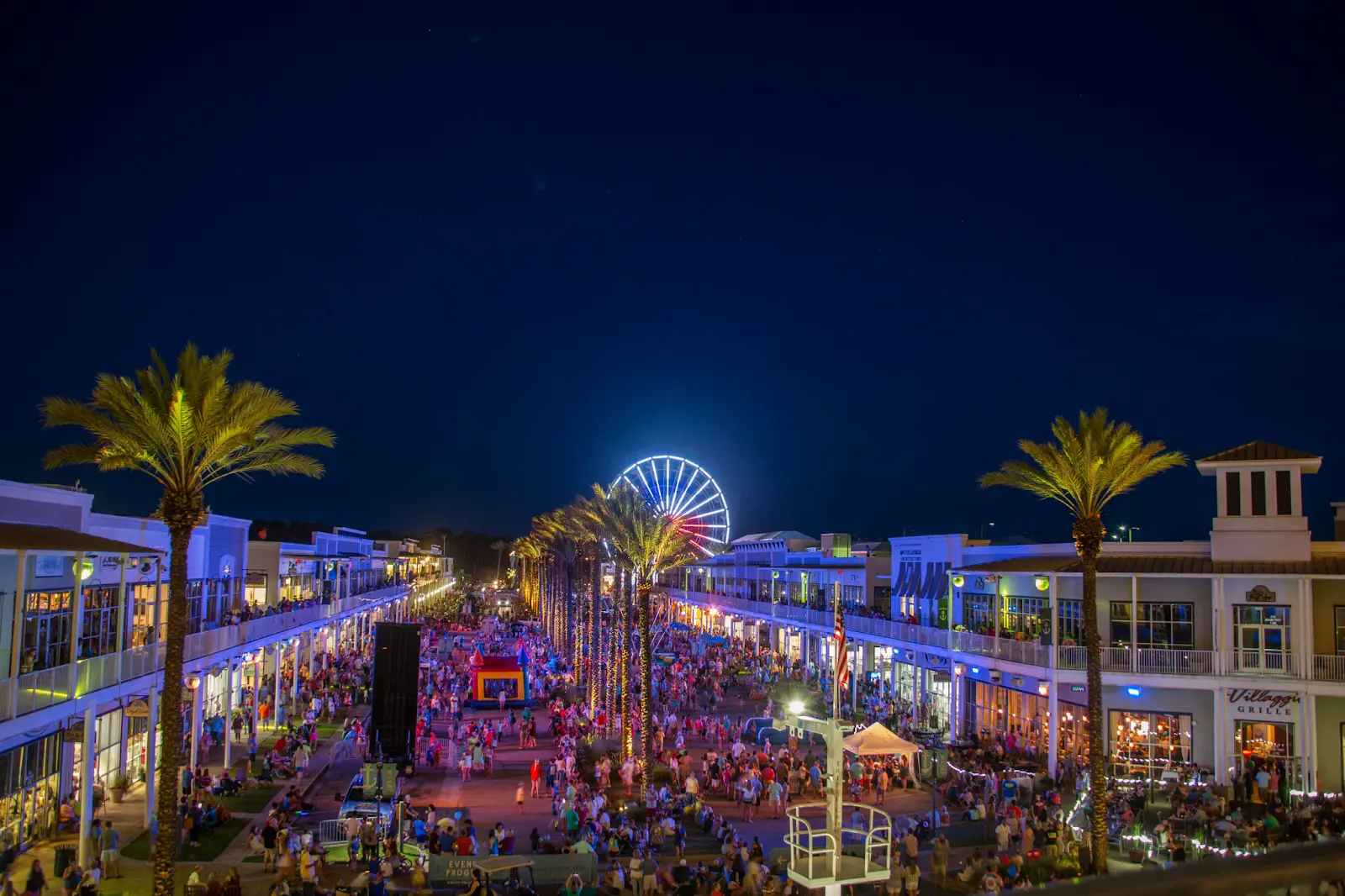 Dining at The Wharf is a journey through diverse culinary landscapes. Whether craving fresh seafood, classic American fare, or exotic international cuisine, the restaurants here cater to every palate. Family-friendly dining options abound, providing spaces where families can share a meal and stories of their day's adventures. Beyond just food, many of these eateries offer a view of the marina, allowing diners to enjoy their meal against the backdrop of boats gliding gently on the water.
Entertainment at The Wharf is as varied as its dining options. The complex hosts regular events, from live music concerts to seasonal festivals, ensuring that there's always something exciting happening. For families, the adventure zone, complete with mini-golf, a zip line, and other attractions, promises hours of fun. On days when the weather doesn't cooperate, the indoor options, including a movie theater and an escape room, provide delightful alternatives.
As night falls, The Wharf transforms. The Ferris wheel lights up, creating a luminous spectacle, and the boardwalk buzzes with energy. Families can stroll along the waterfront, enjoy the nightly light show, or simply soak in the vibrant atmosphere. It's a place where every evening holds the promise of a new memory, a new story to take back home.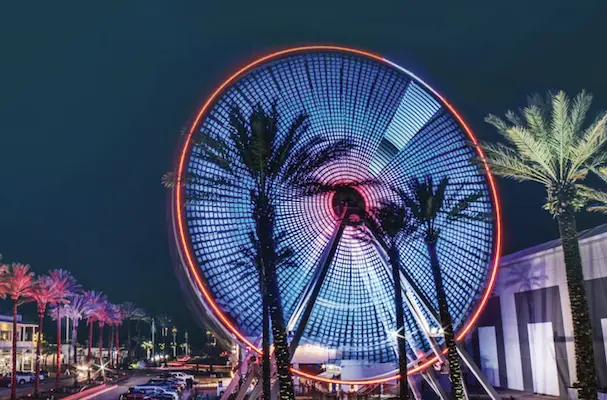 Gulf State Park: A Haven for Outdoor Family Adventures
Gulf State Park, sprawling over 6,500 acres, is a natural playground that promises an array of outdoor activities for families. It's a place where adventure blends with education, and the beauty of Alabama's Gulf Coast is showcased in its most pristine form. Whether it's biking along scenic trails, exploring diverse ecosystems, or simply enjoying the park's tranquil beauty, Gulf State Park offers an enriching experience for both kids and adults.
Biking is one of the most popular activities in the park, and for good reason. The Hugh S. Branyon Backcountry Trail, which meanders through the park, offers a safe and picturesque route for family bike rides. This trail system, comprising over 28 miles of paved paths, winds through nine distinct ecosystems, offering a chance to witness the park's diverse flora and fauna. Families can rent bikes at the park or bring their own, and explore the trails at their own pace, stopping along the way at various points of interest, including freshwater lakes, marshes, and coastal dunes.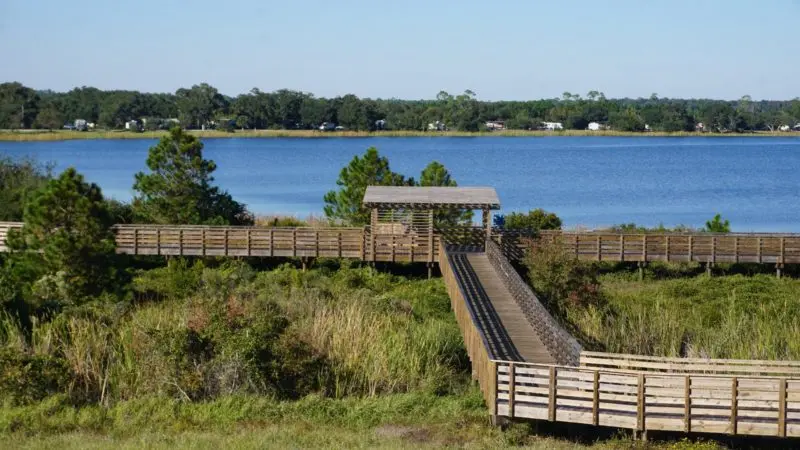 The park's natural beauty extends beyond its biking trails. Hiking in Gulf State Park is an immersive experience, with trails suitable for all ages and abilities. These paths lead visitors through habitats ranging from maritime forests and coastal marshes to sandy beaches. Along the way, interpretive signs provide valuable insights into the environment, turning a hike into an educational journey. Children can learn about the local wildlife, plant species, and the importance of preserving these natural areas.
For families interested in a more guided experience, the park often organizes nature walks and educational programs. These programs, led by knowledgeable park staff, are an excellent way for kids to learn about the Gulf Coast's ecosystem. Topics can range from bird watching and butterfly gardens to the life cycles of the park's many amphibians and reptiles. These activities not only educate but also instill a sense of wonder and respect for nature in young minds.
The park also offers a range of water-based activities. The Lake Shelby area provides opportunities for kayaking, paddleboarding, and fishing. Families can rent equipment on-site and enjoy a day on the water, whether it's leisurely paddling around the lake or trying to catch a fish. For those who prefer saltwater activities, the park's two miles of beaches along the Gulf of Mexico are perfect for swimming, sunbathing, and beachcombing.
Alabama Gulf Coast Zoo: An Up-Close Encounter with Wildlife
Situated just a few miles from the beach, the Alabama Gulf Coast Zoo is a hidden gem in Gulf Shores, providing families an opportunity to explore the world of animals in an intimate and educational setting. Known as "The Little Zoo That Could," this zoo offers a remarkable experience where visitors can not only see but also interact with a diverse range of wildlife.
The zoo's layout is designed for easy navigation, making it ideal for families with children. As you stroll through the zoo, you'll encounter various habitats housing over 300 animals, including lions, tigers, bears, monkeys, and many more. Each exhibit is carefully crafted to mimic the animal's natural environment, providing visitors with a glimpse into how these creatures live in the wild.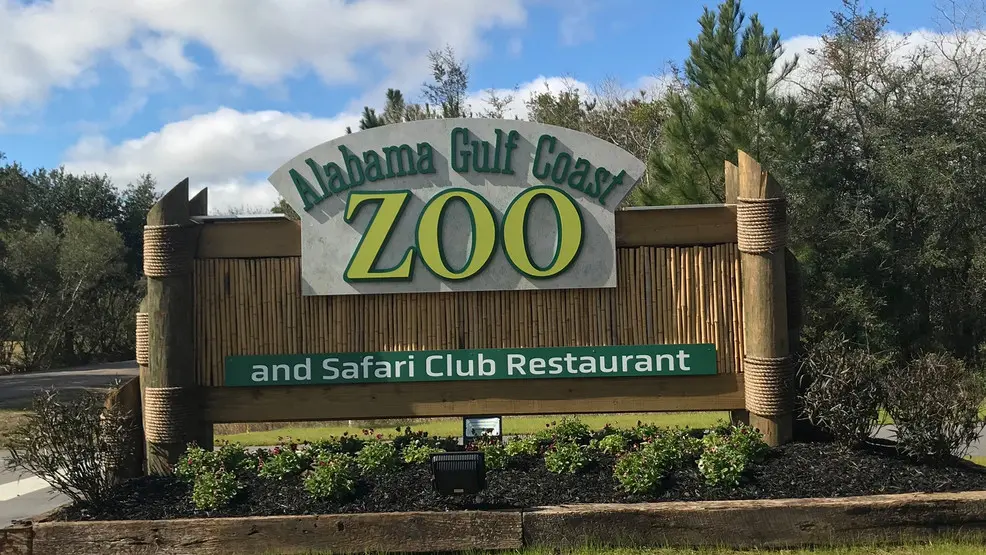 One of the standout features of the Alabama Gulf Coast Zoo is its interactive animal encounters. These encounters allow children and adults alike to get up close with certain animals under the supervision of trained zookeepers. Imagine the thrill for kids as they pet a kangaroo, hold a sloth, or even play with a lemur. These experiences are not only exciting but also educational, as they offer insights into the animals' behaviors, diets, and conservation efforts.
The zoo also places a strong emphasis on education. Through various programs and signage throughout the zoo, visitors learn about wildlife conservation, the importance of biodiversity, and the role humans play in protecting these creatures and their habitats. The zoo's commitment to education extends to hosting school field trips and educational workshops, making it a hub for learning and discovery.
In addition to the animal exhibits, the zoo features amenities that cater to families. There are shaded areas, benches, and picnic spots where visitors can relax and enjoy snacks or a meal. The zoo's layout and facilities are designed with accessibility in mind, ensuring that everyone, regardless of mobility, can enjoy their visit.
The zoo is more than just a place to see animals; it's a community-centered institution. Throughout the year, it hosts various events and celebrations, from holiday-themed festivities to conservation awareness events. These occasions provide an additional layer of entertainment and learning opportunities for families.
Historic Fort Morgan: A Journey Through Time
Located at the tip of the scenic Fort Morgan Peninsula, Historic Fort Morgan stands as a sentinel over Mobile Bay, offering families a unique opportunity to step back in time. This well-preserved fortress, a pivotal site in American history, is not just a monument; it's a living history lesson, inviting visitors to explore, learn, and imagine life as it was centuries ago.
As you walk through the gates of Fort Morgan, you're immediately transported to a different era. The fort's massive walls, battle-scarred and standing tall, tell a story of a past filled with conflict and bravery. Families can wander through the fort's many corridors, rooms, and ramparts, each turn revealing a new piece of history. Plaques and exhibits throughout the fort provide historical context, helping visitors understand the fort's significance during the Civil War and its role in defending the coastline.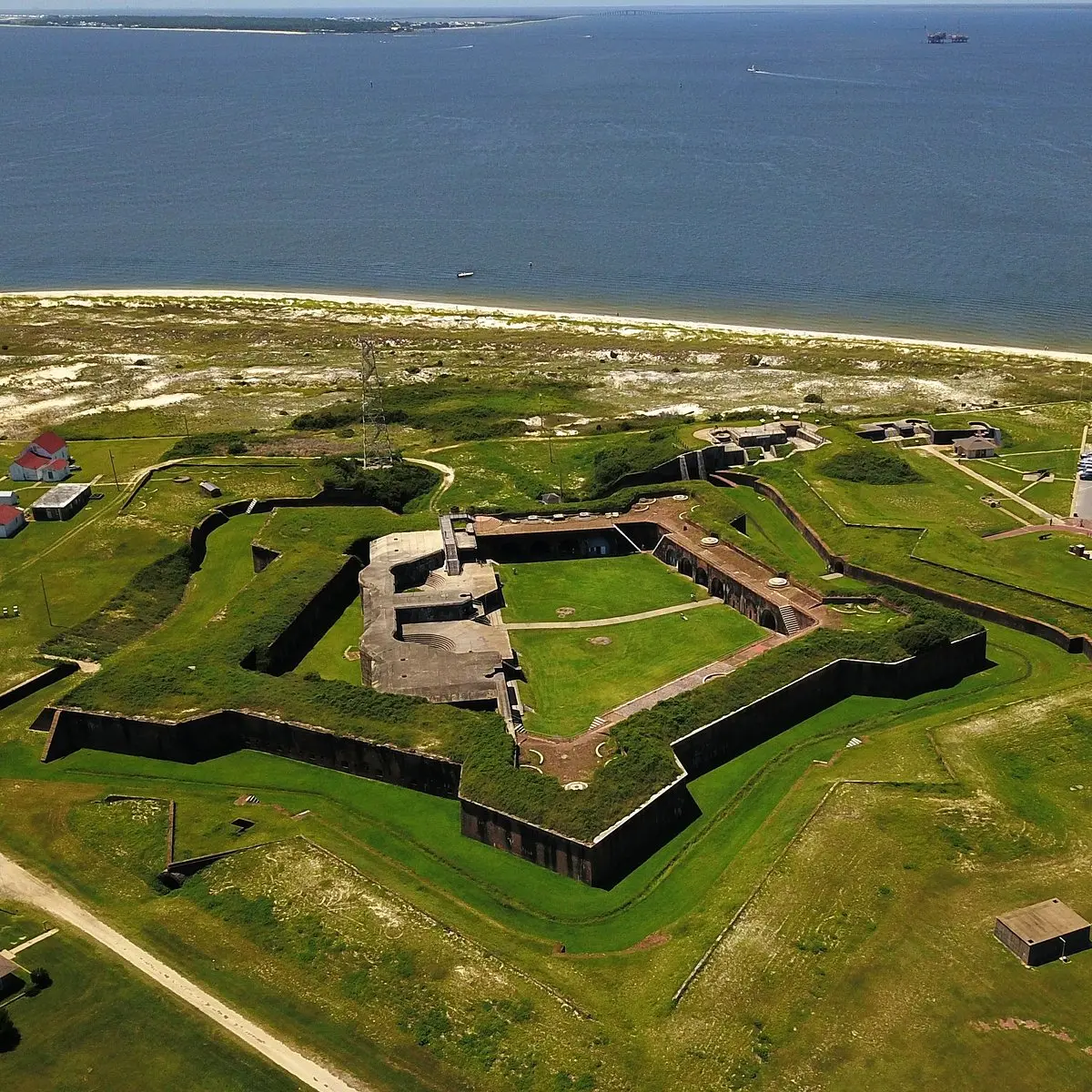 One of the highlights of a visit to Fort Morgan is the interactive experiences it offers. The fort regularly hosts reenactments, where actors in period costumes recreate scenes from the fort's past, bringing history to life. These reenactments are not only entertaining but also educational, providing insights into the daily lives of the soldiers and the workings of the fort. Children, in particular, find these live demonstrations fascinating, as they see history unfold before their eyes.
In addition to the reenactments, Fort Morgan offers guided tours. These tours, led by knowledgeable guides, delve deeper into the fort's history, uncovering stories and facts that aren't immediately apparent. The guides' narratives often include tales of battles, life during wartime, and the fort's strategic importance. This interactive approach to learning history engages children and adults alike, making the past relevant and interesting.
Fort Morgan is also an excellent place for self-guided exploration. Families can take their time to explore the fort's many nooks and crannies, imagine what life was like for the soldiers stationed there, and enjoy the stunning views of Mobile Bay and the Gulf of Mexico. The fort's grounds are also ideal for picnics, offering a peaceful setting to relax and reflect on the day's discoveries.
Paddleboarding and Kayaking: Tranquil Adventures in Gulf Shores & Orange Beach
Gulf Shores and Orange Beach are not just about sandy beaches and ocean waves; they are also a haven for tranquil water adventures, particularly paddleboarding and kayaking. These activities offer families a unique way to explore the area's natural beauty, providing a peaceful escape and an opportunity to connect with the environment.
Paddleboarding and kayaking in the backwaters of Gulf Shores & Orange Beach are accessible to all skill levels, making them ideal for families. Beginners can easily learn the basics, while experienced paddlers find plenty to explore. Rental shops along the shore provide all the necessary equipment, including boards, kayaks, paddles, and safety gear, ensuring a hassle-free experience for families.
The calm waters of the area's bays, lagoons, and inlets are perfect for paddleboarding and kayaking. As you glide over the clear water, you're likely to encounter a diverse array of wildlife. It's not uncommon to see dolphins playfully swimming nearby or to spot a variety of birds, including herons and ospreys, along the shorelines. These encounters with nature are not just exciting; they're educational, offering kids a first-hand look at marine and bird life in their natural habitats.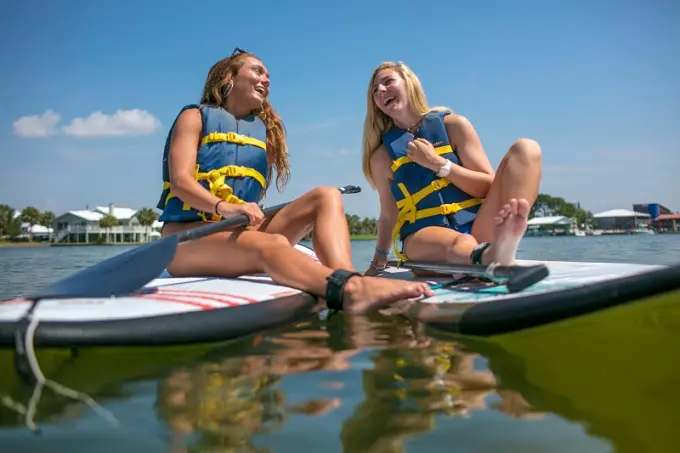 These water activities are more than just recreational; they're a form of relaxation and a chance for families to spend quality time together. Paddling through the serene backwaters allows for a quiet, unhurried exploration of the area. It's a time when families can talk, laugh, and enjoy each other's company, away from the distractions of daily life. The peaceful environment also provides a moment for individuals to reflect and connect with nature, adding a wellness aspect to the adventure.
Safety is a key consideration, and the calm waters of the backwaters make these activities safe for families. Additionally, many rental shops offer brief training sessions and tips on navigating the waters, ensuring a secure and enjoyable experience. For those seeking guided adventures, several local companies offer tours led by experienced guides who can share insights about the area's ecology and history.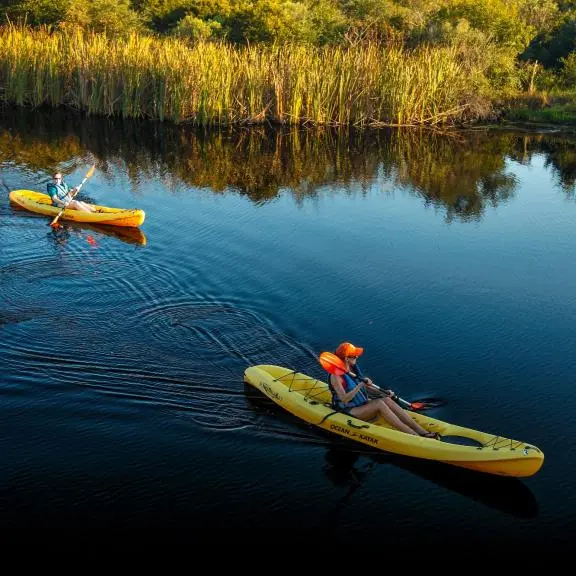 Dolphin Cruises: A Magical Encounter with Marine Life
Dolphin cruises in Gulf Shores & Orange Beach are a mesmerizing way for families to connect with marine life. These cruises offer a unique opportunity to see dolphins in their natural environment, creating a memorable experience that combines wildlife observation with the beauty of the Gulf Coast.
Setting sail from various points along the coast, these cruises take families into the heart of dolphin territory. The Gulf waters are home to a large population of dolphins, and spotting them is almost guaranteed. As the boat glides through the water, anticipation builds until the first dorsal fin is spotted breaking the surface. The sight of these graceful creatures swimming and playing in the wake of the boat is a thrilling experience for both kids and adults.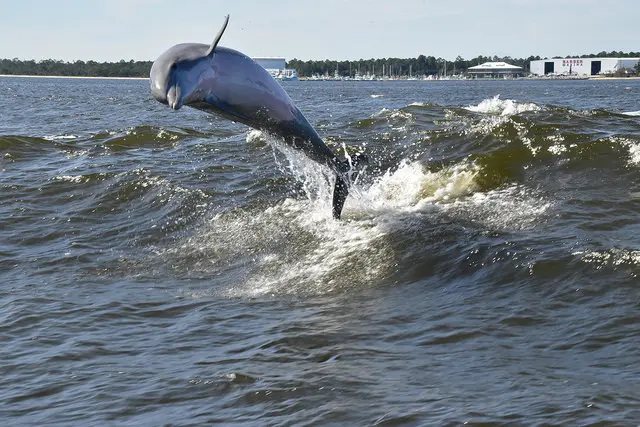 Dolphin cruises are not just about watching these magnificent mammals; they're also educational. Many cruises are led by knowledgeable guides who share fascinating facts about dolphins. Families learn about dolphin behavior, their social structures, and the importance of conserving their habitat. This educational aspect turns a fun outing into a learning experience, instilling a sense of wonder and respect for marine life.
The boats used for these cruises are designed with safety and comfort in mind, ensuring a pleasant experience for all ages. With open decks and spacious viewing areas, everyone gets a chance to observe the dolphins without feeling crowded. Some cruises even offer sunset trips, combining dolphin watching with the stunning beauty of a Gulf Coast sunset, creating a perfect backdrop for family photos and lasting memories.
In addition to dolphin watching, these cruises often provide a broader tour of the Gulf Shores & Orange Beach coastline. Passengers get to see the scenic beauty of the area from a different perspective, including lush coastal marshes, pristine beaches, and maybe even other wildlife, like sea turtles or a variety of seabirds.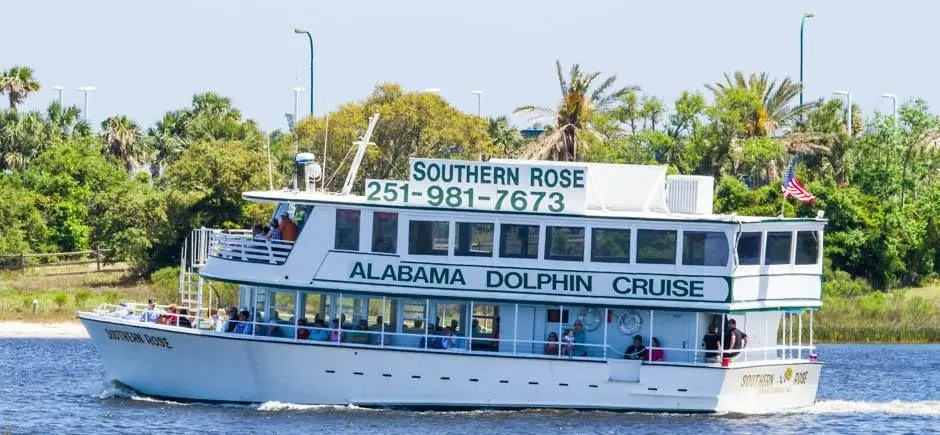 National Naval Aviation Museum: A Flight Through History
The National Naval Aviation Museum, located a short drive from Gulf Shores & Orange Beach, is a treasure trove of aviation history and a must-visit for families. This museum, one of the world's largest aviation museums, provides a fascinating journey through the history of naval aviation, filled with awe-inspiring aircraft, interactive exhibits, and educational displays.
As families step into the museum, they are greeted by an impressive collection of over 150 restored aircraft representing Navy, Marine Corps, and Coast Guard aviation. These range from historic biplanes to modern jets, including rare and one-of-a-kind aircraft. Walking among these giants of the sky, visitors can appreciate the advancements in aviation technology and the bravery of those who flew these machines.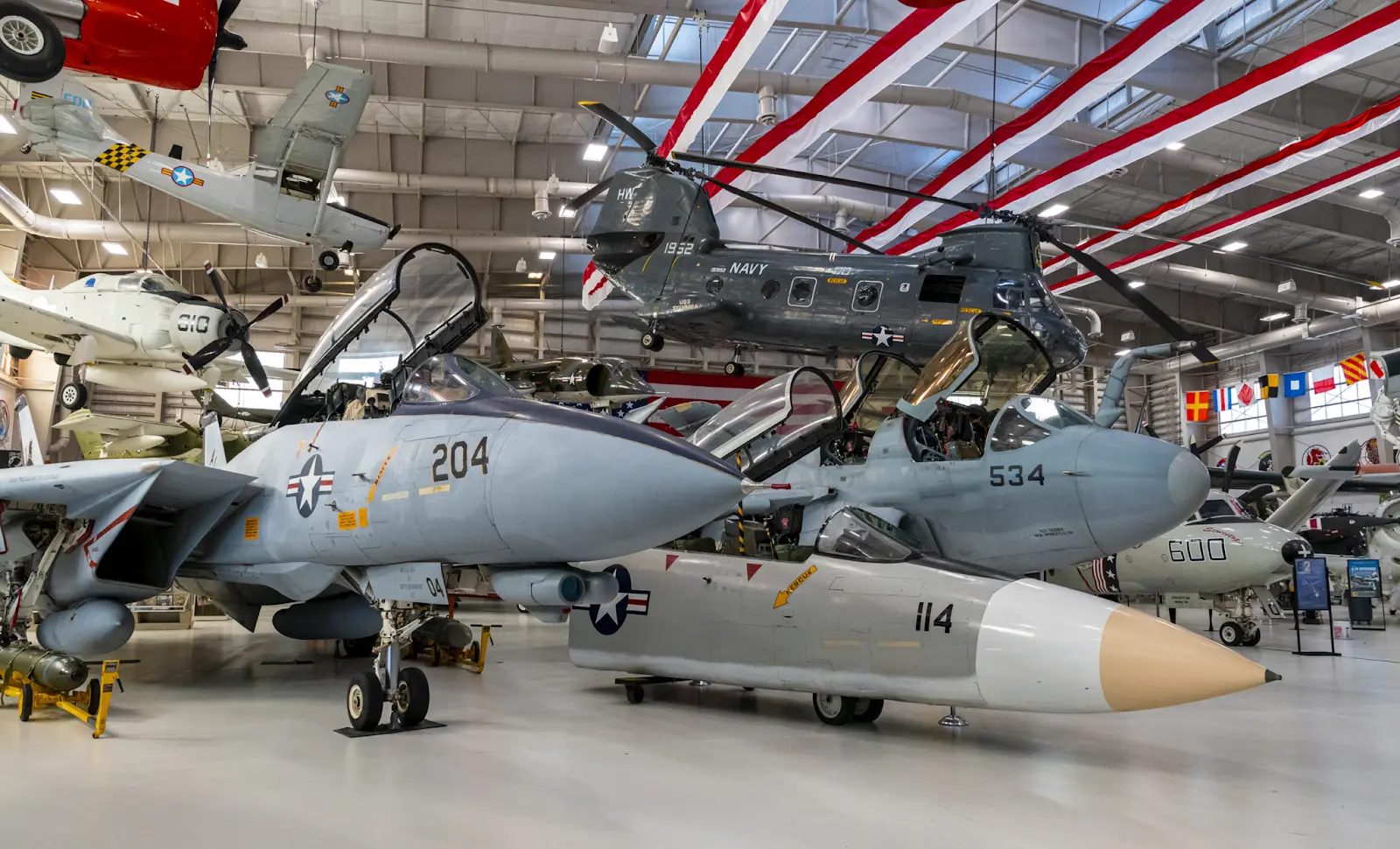 The museum's exhibits are not only about aircraft but also about the people and stories behind them. Through interactive displays, personal narratives, and historical artifacts, visitors gain insights into the lives of aviators and their experiences in times of both war and peace. These stories bring a human element to the exhibits, making the experience more relatable and impactful for visitors of all ages.
One of the highlights of the museum is the array of simulators and interactive activities available. Families can experience the thrill of flight in one of the flight simulators, getting a taste of what it's like to pilot an aircraft. For younger visitors, the museum offers hands-on activities and discovery areas where they can learn about the principles of flight and aviation in a fun and engaging way.
Educational programs at the museum add another layer to the visit. These programs, often led by veterans and aviation experts, provide deeper insights into specific aspects of naval aviation, from historical battles to the science behind flight. These talks and tours are not only informative but also inspiring, especially for children who dream of a future in aviation or the military.
The museum also features a giant screen theater, showing films related to aviation and military history. These films, often immersive and high-quality, provide a visual and auditory experience that complements the exhibits, making history come alive in a dynamic way.
Mini-Golf Adventures: Fun for the Whole Family
Mini-golf is a classic family activity, and in Gulf Shores & Orange Beach, it's taken to a whole new level with a variety of themed courses. These mini-golf adventures offer not just a game, but an experience, complete with creative designs, challenging holes, and an atmosphere of fun and laughter for all ages.
Each mini-golf course in the area has its own unique theme, ranging from tropical paradises and pirate adventures to dinosaur landscapes. These themes are brought to life with elaborate decorations, sound effects, and even animatronics, making each course a mini adventure in itself. As families navigate through these courses, they're not just playing mini-golf; they're embarking on a whimsical journey through different worlds.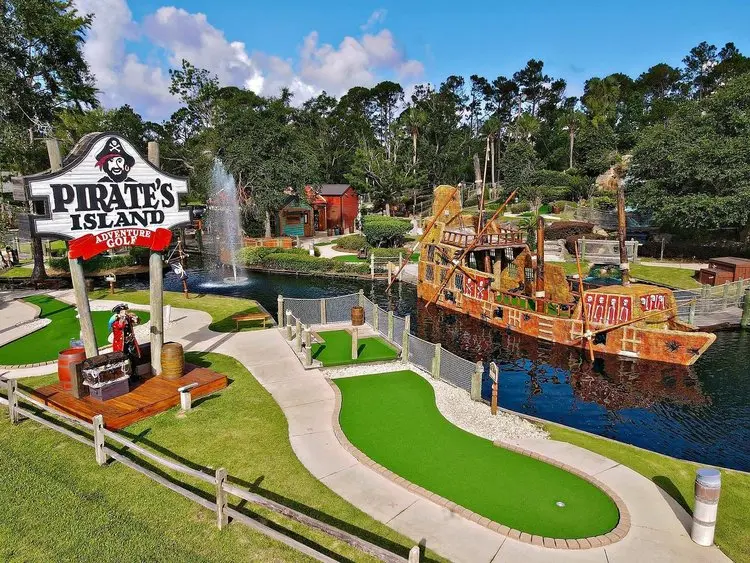 One of the joys of mini-golf is its accessibility. The game is easy enough for young children to understand and enjoy, yet it can still offer a challenge to older kids and adults. This makes mini-golf a great activity for families with children of varying ages. Everyone can participate and have a good time, whether they're seasoned players or first-timers.
Playing mini-golf is not just about competing to get the lowest score; it's also a wonderful opportunity for family bonding. Parents and children can team up, share strategies, and cheer each other on. It's an activity that encourages conversation, cooperation, and friendly competition, all while enjoying the outdoors and engaging in light physical activity.
Many of these mini-golf courses are located near other attractions in Gulf Shores & Orange Beach, making them convenient options for families looking to fill an afternoon or evening with fun. Some courses even offer additional amenities, such as arcades or snack bars, providing a complete entertainment experience.
Coastal Arts Center of Orange Beach: A Canvas of Creativity
The Coastal Arts Center of Orange Beach stands as a beacon of artistic exploration and creativity, offering a unique cultural experience for families visiting the area. This center is not just an art gallery; it's a dynamic space where art comes to life through interactive workshops, classes, and exhibits.
As visitors enter the center, they're greeted by the stunning view of Wolf Bay, which serves as a backdrop for the center's main gallery. This gallery showcases an array of artworks from local and regional artists, spanning various mediums like painting, sculpture, pottery, and glass art. The ever-changing exhibits provide a visual feast, inspiring visitors with the beauty and diversity of artistic expression.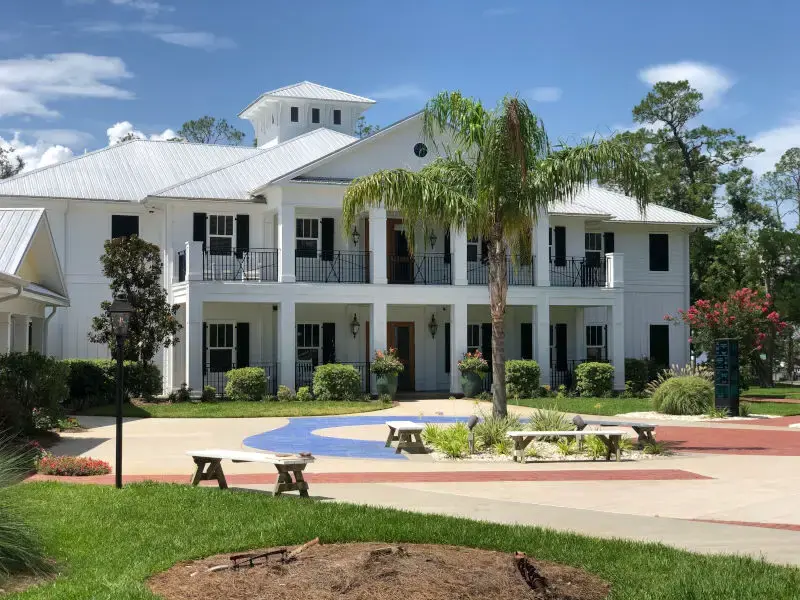 One of the most engaging aspects of the Coastal Arts Center is the opportunity for hands-on artistic experiences. The center offers a variety of classes and workshops suitable for all ages. Glassblowing is a particular highlight, where families can watch skilled artisans transform molten glass into beautiful objects or even try their hand at creating their own glass masterpiece. Pottery classes are another popular option, offering a chance to shape, glaze, and fire clay into functional and decorative items.
For children, the center provides specially designed programs that foster creativity and self-expression. These programs often include arts and crafts activities, storytelling, and music, making art both accessible and enjoyable for younger visitors. Participating in these activities not only enhances children's artistic skills but also boosts their confidence and imagination.
The Coastal Arts Center is more than a place to view and create art; it's a community hub that brings people together through cultural events and exhibitions. The center regularly hosts art festivals, live music performances, and community art projects, creating a vibrant atmosphere that celebrates the arts and the local community.
Bon Secour National Wildlife Refuge: A Natural Escape for Families
Nestled on the Alabama coast, the Bon Secour National Wildlife Refuge is a haven for nature lovers and a wonderful destination for families looking to explore the great outdoors. Spanning over 7,000 acres, the refuge is home to a diverse range of habitats, including beaches, dunes, forests, and marshes, each offering its own unique natural experiences and wildlife viewing opportunities.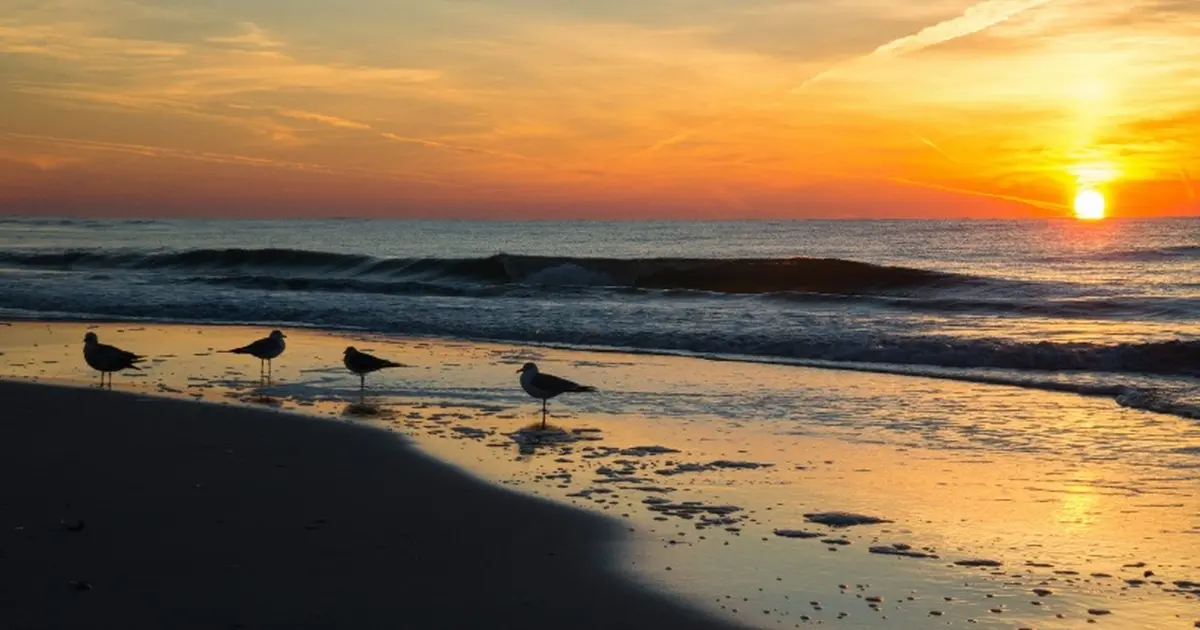 One of the main attractions of Bon Secour is its hiking trails, which meander through various landscapes within the refuge. These trails are well-marked and range in difficulty, making them accessible for families with children of all ages. As you walk these paths, you're likely to encounter a variety of wildlife, from migratory birds and butterflies to the occasional sighting of an alligator basking in the sun. The Pine Beach Trail, in particular, offers a scenic hike with views of both the forest and the shoreline.
Birdwatching is a popular activity at Bon Secour, especially during the migratory seasons. The refuge is part of the Alabama Coastal Birding Trail and is known for its abundance of bird species. Families can bring binoculars and observe birds like ospreys, herons, and perhaps even the endangered Alabama beach mouse. For budding naturalists, this is an excellent opportunity to learn about different bird species and their habitats.
In addition to hiking and birdwatching, the refuge offers educational programs that provide insights into the area's natural and cultural history. These programs, often led by knowledgeable rangers, can include guided walks, talks about the local ecosystem, and activities focused on wildlife conservation. These experiences not only educate but also inspire a deeper appreciation for the natural world among visitors of all ages.
Conclusion
Gulf Shores & Orange Beach shine as family-friendly destinations, offering a perfect blend of beach fun, outdoor adventures, and educational experiences. Whether it's the joy of mini-golf, the tranquility of paddleboarding, or the excitement of exploring the National Naval Aviation Museum, these activities ensure that every family member, regardless of age, finds something to enjoy.
The natural beauty of the area, from the serene beaches to the wildlife-rich Bon Secour National Wildlife Refuge, provides a backdrop for families to reconnect with nature and each other. These settings are not just playgrounds but classrooms without walls, where children and adults alike can learn about wildlife, history, and the importance of conservation.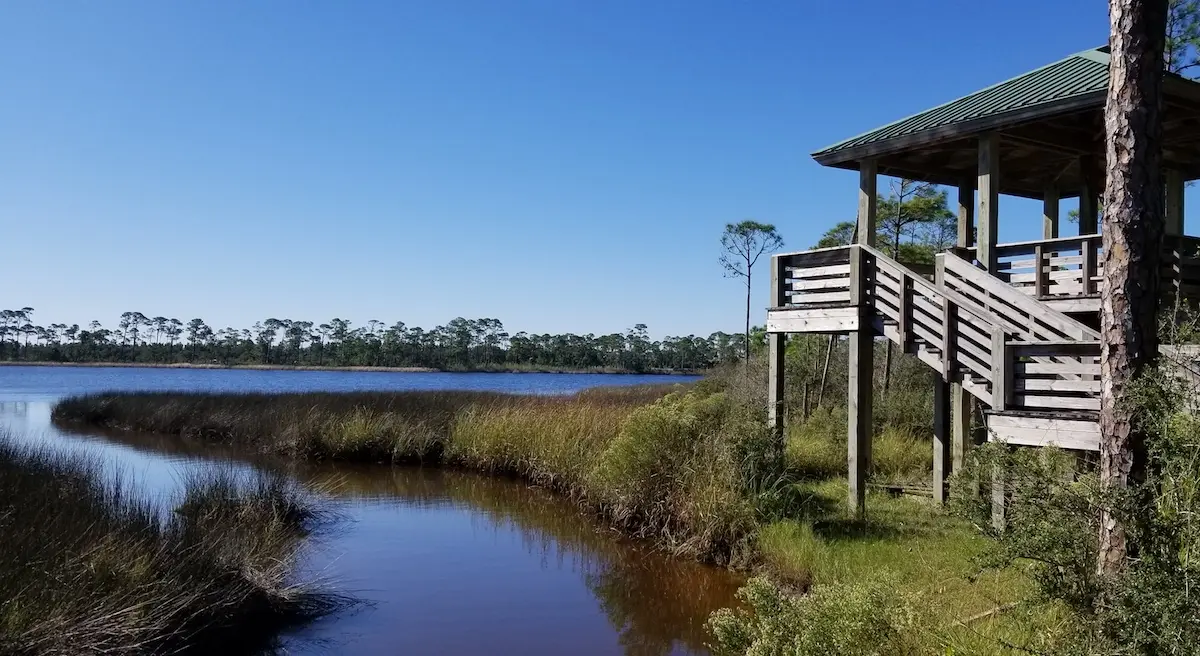 Moreover, the emphasis on interactive and educational experiences, such as hands-on animal encounters at the Alabama Gulf Coast Zoo and the immersive history at Fort Morgan, enriches these outings. They are not just about having fun but about gaining knowledge, understanding, and appreciation for the world around us.
In essence, Gulf Shores & Orange Beach offer a treasure trove of experiences that combine entertainment with education, relaxation with adventure, and leisure with learning. These destinations embody the spirit of family vacationing, where every activity, from the simplest to the most thrilling, contributes to a tapestry of unforgettable experiences.
In conclusion, things to do with kids in Gulf Shores & Orange Beach is more than just a list of activities; it's a guide to creating moments that families will cherish for years to come. It's a reminder that the best family vacations are those that offer a mix of fun, discovery, and the opportunity to grow closer while exploring the wonders of our world.